Maybe it's just me, but when there's a chill in the air and the leaves begin changing color, I immediately feel an impending sense of dread that colder days are coming. But while probably it means I'm going to be spending a lot of time indoors, it also means I can start dreaming again about my favorite warm weather fall vacation spots where the sun shines bright year-round. Transforming your standard fall vacation into a tropical getaway is a great idea because autumn actually offers the perfect combination of nice weather, smaller crowds, cheaper hotel rates, and an all-around better experience in many of the best year-round destinations.
My Favorite Tropical Destinations to Visit in the Fall
Of course, fall is also hurricane season in many warm weather destinations—typically through the end of November—so whether you're taking the kids out of school or looking for a romantic escape without the little ones, be aware that weather may impact your travel plans. If you can tolerate that risk, though, you'll be rewarded with a warm weather fall getaway that'll drive those cold fall nights far from your mind.
To help you decide where to visit this fall, I've put together this list of my favorite tropical vacation spots that are especially great this time of year.
EVERYTHING'S INCLUDED: 12 Best All-Inclusive Family Resorts in the World
1. Aruba
My fall tropical getaway pick for beachgoers and adventure seekers
If you're looking for a Caribbean vacation destination that has everything from beautiful beaches to breathtaking diving spots, Aruba is my pick for you. It's easy to get away from the already light fall crowds by heading to Andicuri Beach, a favorite among the locals. I also recommend Baby Beach as a family-friendly option with calm seas and soft sand. These beaches, and most of the others on the island, offer plenty of opportunities beyond swimming and sunbathing as well. Surfing, jet skiing, and stand-up paddle boarding are popular on the island. Snorkeling and diving reveal coral reefs and offshore shipwrecks.
BEST OF THE BEST: 10 Caribbean Family Resorts That Belong on Your Bucket List
Where to Stay: You can get a two-for-the-price-of-one experience at Tamarijn Aruba All Inclusive and Divi Aruba All Inclusive, sister properties boasting 11 shared restaurants, four pools, bike tours, and a kids club for children ages four to 12. Beach access, water activities, and proximity to outside tours and restaurants complete the experience at these popular all-inclusive Aruba resorts.
2. Key West, Florida
My passport-free warm weather fall vacation pick for couples, adult families, and friends traveling together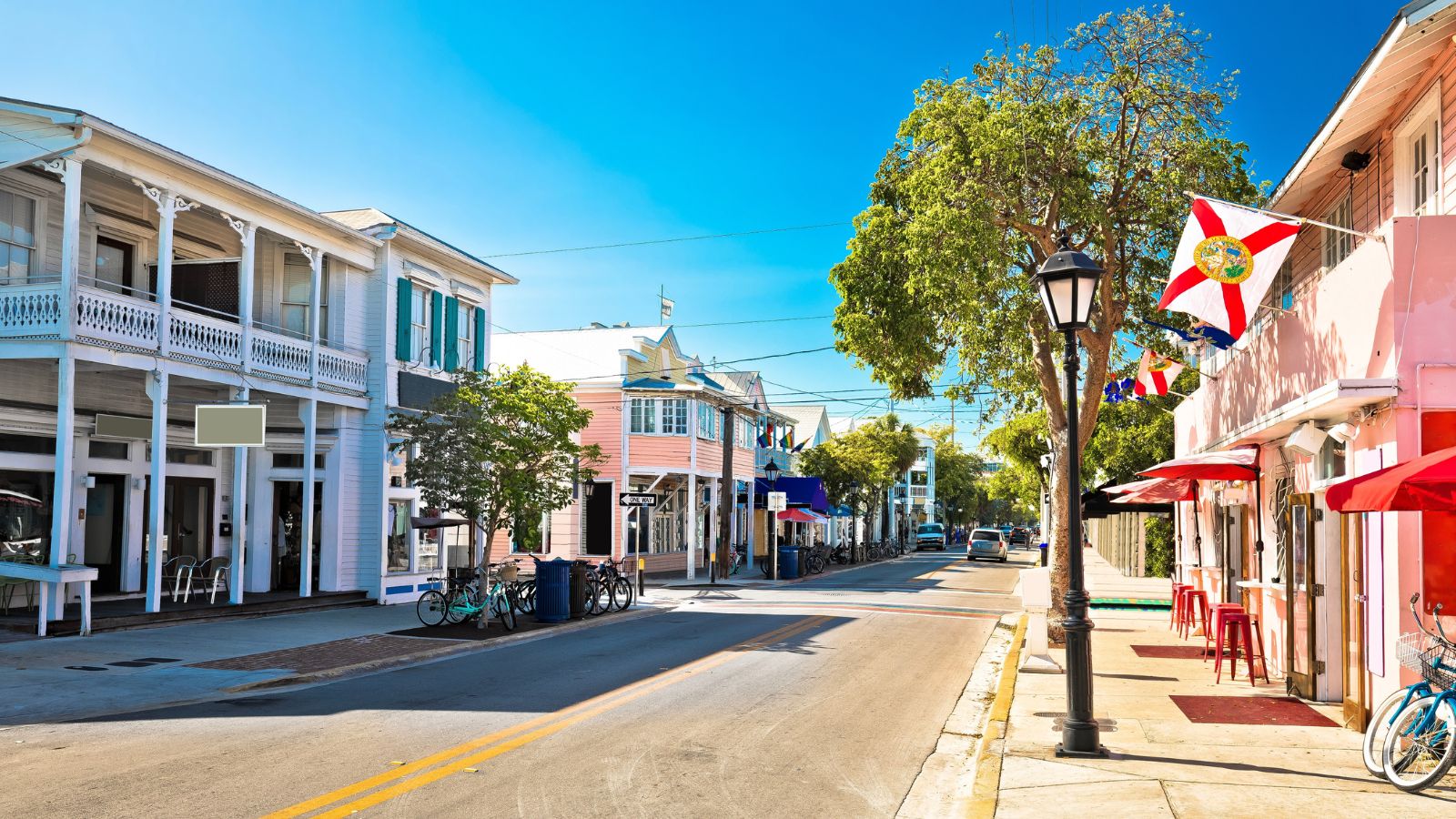 You can leave your passport (and the hassle of International travel) at home when you make Key West your pick for a fall tropical vacation. Here, the temperatures rarely dip below 70 degrees Fahrenheit from September through November, making it ideal for walking around and enjoying the lively historic streets. Key West is perfect for adults looking for romantic getaways in Florida thanks to its stunning sunsets at Smathers Beach and ample boutique hotels. The town's party vibe goes from morning until late night, making it great for friend groups looking to have a good time too.
FLORIDA FUN: 7 Best All-Inclusive Resorts in Florida for Families
Take a trolley around the city to learn about the history of Key West, and be sure to dine at one of the many places that have drawn in celebrity chefs like Guy Fieri for his show Diners, Drive-Ins, and Dives. Don't skip a tour of the Hemingway Home and Museum to see the prolific writer's Key West home and the iconic six-toed cats, either.
Where to Stay: I recommend the renovated 1920s resort Casa Marina Key West for a romantic fall getaway. Many rooms here have large oceanfront balconies and every guest has access to a private beach. Another alternative is Havana Cabana, where classic cars greet you outside and the spirit of Cuba is evident on the inside. The hotel has Key West's largest pool, daily churros in the lobby, and a 90s throwback pool party every last Thursday of the month.
3. Puerto Rico
Best fall tropical getaway spot for families with older kids
If you have adventurous kids who love getting out in nature, Puerto Rico is my fall warm weather vacation pick for you. The island, a passport-free U.S. territory, is known for its rum, waterfalls, and more than 300 beaches. Older kids will enjoy surfing off the beaches near Aguadilla or kiteboarding at La Parguera. For exciting nighttime water activities, try kayaking through one of Puerto Rico's three bioluminescent bays. This natural spectacle can be viewed year-round, and even though the best time is from December to mid-April, the bioluminescence is also gloriously bright on late fall nights when the weather is good.
NO PASSPORT NEEDED: 25 Best Family Vacation Spots in the U.S. for All Ages
Where to Stay: Puerto Rico has some world-class luxury resorts, and my favorite is Dorado Beach, A Ritz-Carlton Reserve. The resort has its own 11-mile nature trail and activities for kids that focus on wildlife and history. The concierge can also book tours for everything from cave exploration and zip lining to a walking tour of Old San Juan.
4. Bermuda
Best fall warm weather vacation spot for families with adventurous kids
It's a cinch to get to Bermuda if you live on the East Coast, and the rewards—especially in terms of family travel adventures—go well beyond the beautiful pink sand beaches. Seek out the Crystal Caves of Bermuda, where underground lakes and stunning rock formations are the star attraction. Also be sure to explore Hamilton, the country's capital, for great shopping and dining. And when it's time for a sweet treat, head to Bailey's Bay Ice Cream Parlour for more than two dozen delicious favors to enjoy under the warm Bermuda sun.
SPLASH ZONE: 10 Best Caribbean Resorts with Water Parks
Where to Stay: I like Grotto Bay Beach Resort in Hamilton Parish, a family-friendly spot on Bailey's Bay. It has a private beach with Bermuda's iconic pink sand and a spa located in a cave.
5. Bonaire
My fall tropical getaway pick for families with water-loving teenagers
If you're looking for a warm weather fall vacation that focuses on scuba and snorkeling, Bonaire is the place to be. The tropical island is known for its coral reefs and abundance of ocean life. Some of the best underwater viewing opportunities anywhere in the Caribbean are just about a half a mile from the mainland at Klein Bonaire, which can be accessed by water taxi. And when you're done in the water, make a point to visit the Donkey Sanctuary, which is home to orphaned donkeys that you can feed and pet during your visit.
TEEN-FRIENDLY TRIPS: 10 All-Inclusive Family Resorts Even Teenagers Will Love
Where to Stay: Harbour Village Beach Club is a boutique hotel that caters to those who want to spend time outdoors. The resort has a private beach, kayaks, paddle boards, a diving service, and round-trip airport transfers. This is also a resort you can feel good about staying at because of its sustainable practices that help preserve the ocean and reefs.
6. Fiji
My far-flung tropical getaway pick for a truly epic romantic fall vacation
My go-big-or-go-home fall tropical vacation pick is a literal tropical paradise for couples. Fiji is home to some of the best all-inclusive beach resorts in the world, and of course snorkeling and diving are among the top activities—but there's a lot more to Fiji than that. The country is home to more than 330 islands, some of my favorites of which are the Mamanuca Islands, a day trip destination where you can enjoy swimming, a beachside lunch, and water sports. Over on Vanua Levu, you can learn about and buy pearls in an array of colors at J. Hunter Pearls. You can also take a boat tour of the pearl farm. The pearl harvest is still in full swing during the early part of fall.
MAKE IT SPECIAL: 7 Stunning Overwater Bungalows Totally Worth the Splurge
Where to Stay: Tucked on Malolo Island, Six Senses Fiji has cozy pool villas and larger three-, four-, and five-bedroom residences. The resort offers plenty of activities for adults, too, including participating in island rituals, watching movies under the stars, and culture nights that highlight Fijian ways of life.
7. Barbados
My favorite fall warm weather vacation spot for active families
Head to Barbados for a tropical getaway that pairs beach activities with inland options for a truly adventurous warm weather fall vacation. The island is home to plenty of beaches that are ideal for surfing, swimming, and scuba diving. For the best snorkeling, head to Carlisle Bay, where calm waters allow you to see shipwrecks and turtles. On land, be sure to check out Harrison's Cave Eco-Adventure Park for an all-in-one day trip that includes limestone caves, zip lines, a challenge course, and a rum experience.
NO KIDS ALLOWED: 11 Best Adults-Only All-Inclusive Caribbean Resorts for Couples
Where to Stay: I love The Sandpiper, on the west coast of the island, for a luxury pick. The resort welcomes families year-round with babysitting services, baby equipment, and family programming including water sports and tennis. Another option is Cobblers Cove, where you can pick from one of 40 suites and engage in activities like yoga classes, horse rides, and complimentary boat trips each day of your trip.
More from FamilyVacationist: