There's a reason Aruba is called the "Happy Island." Who could ever be sad on a perpetually sun-drenched, Hurricane-free Dutch West Indies island in the Southern Caribbean Sea? Throw in all of the fantastic white sand beaches, crystal clear water, and Aruba all-inclusive resorts, and happiness just seems the order of the day every day on this little slice of paradise.
The sea takes center stage in a special way on Aruba. Whether your family wants to swim, snorkel, dive, kayak, windsurf, canoe, paddle board, sail, go deep-sea fishing, or just work on your tan, Caribbean vacations in Aruba have something for every kind of water worshipper.

And land lovers won't be disappointed on Aruba, either. Arikok National Park takes up nearly 20 percent of Aruba's landmass, and it's the backdrop for 20 miles of wild desert-like terrain just waiting to be explored on an ATV, UTV, Jeep Safari, horseback, or on foot. It's in Arikok that you'll find many of Aruba's best hidden beaches. A great island for birdwatching, too, Aruba boasts more than 200 species of birds, and many of them are viewable from a birdwatching tower Bubali Plas Bird Sanctuary (a natural home to sandpipers, pelicans, wood stork, and black cormorants).
The Best All-Inclusive Aruba Resorts for Families
Of course, Aruba is great for relaxation, too. And if you want a truly stress-free all-inclusive Aruba vacation without ever leaving the resort, who could blame you? Here's a look at the best all-inclusive resorts on the Happy Island.
NO HIDDEN FEES: 13 Best All-Inclusive Family Resorts in the World
1. Tamarijn Aruba All Inclusive and Divi Aruba All Inclusive
Oranjestad, Aruba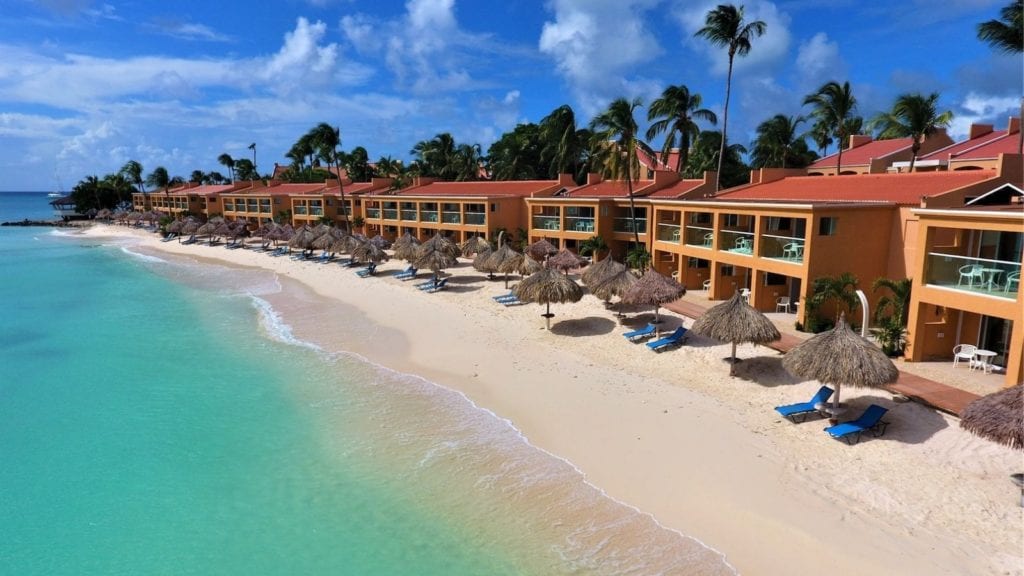 Both Tamarijn Aruba All Inclusive and its adjacent sister property Divi Aruba All Inclusive share Druif Beach. You can stay at either resort and play at the other, one of the sweetest deals anywhere on Aruba. Take your pick of 10 restaurants and eight bars between the two Aruba all-inclusive resorts. Cool off with a cocktail at one of several freshwater pools.

Water sports like snorkeling, windsurfing, kayaking, catamarans and floats are included in the resort price. Also included are electronic mountain bikes and group or private tours to Boca Cataavlina, rated the number one thing to do on Aruba by Tripadvisor. For an extra fee, play golf at nine-hole The Links at Divi Aruba course. To wind down, head to the Indulgence by the Sea spa at Divi Aruba. 
GORGEOUS GETAWAYS: 7 Stunning Overwater Bungalows That Are Totally Worth the Splurge
Your day is not complete until you've experienced the two resorts' nightlife, which could be a live jazz show, salsa dancing, an Aruban steel drum set, theme parties, fire eating, karaoke, or movie nights. Divi Aruba is also the closest all-inclusive resort to the nearby Alhambra Casino and shopping area.
For children ages four to 12, the Sea Turtles Club offers fun activities like beach scavenger hunts, sandcastle building contests, and kite building. There's also pool basketball, tennis, and golf for kids, as well as an oceanfront fitness center and a 30-foot beachside rock-climbing wall for the adults. Want more? Go for water aerobics, Pilates, Hatha yoga, and Zumba.
2. Barcelo Aruba
Oranjestad, Aruba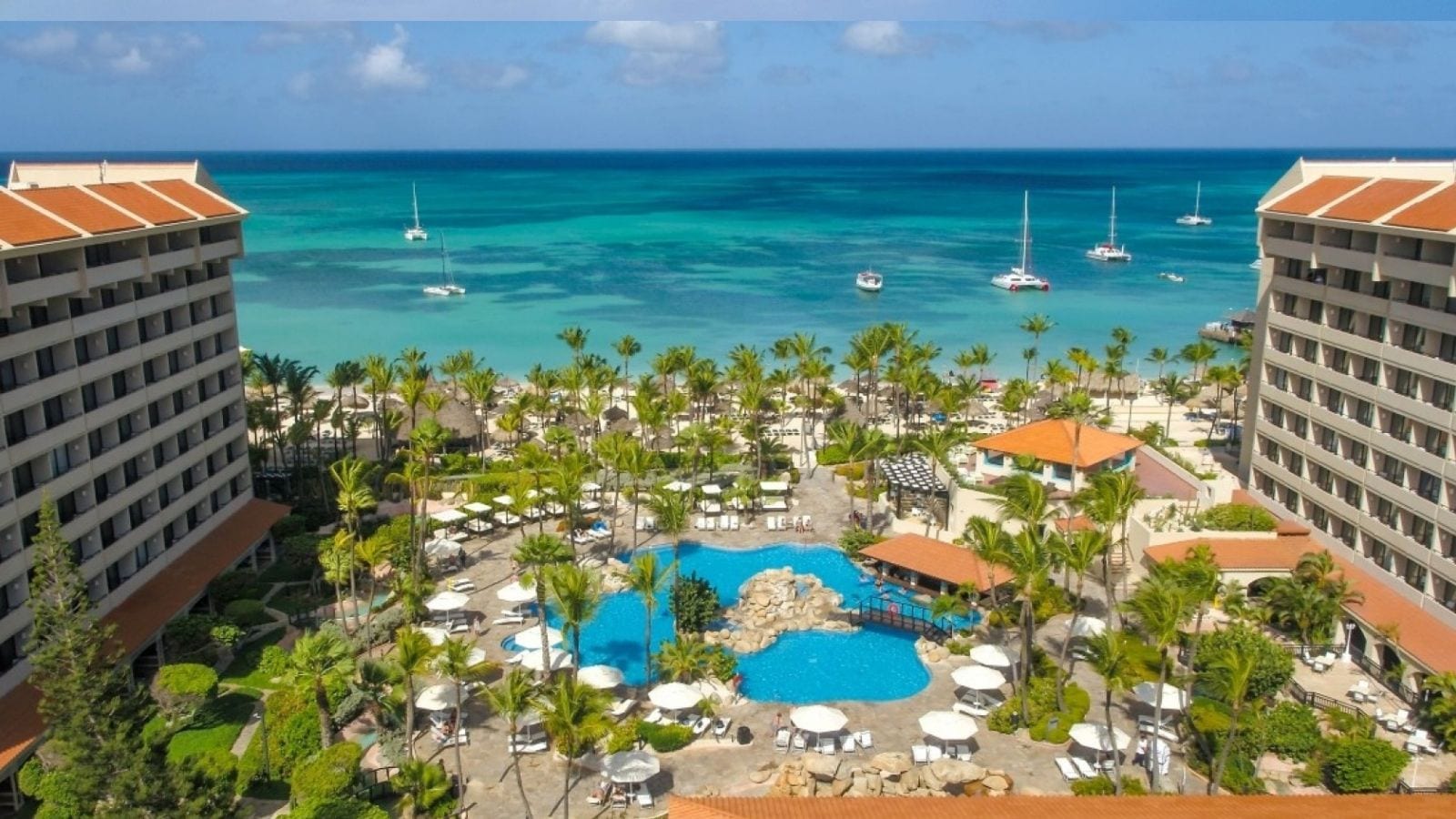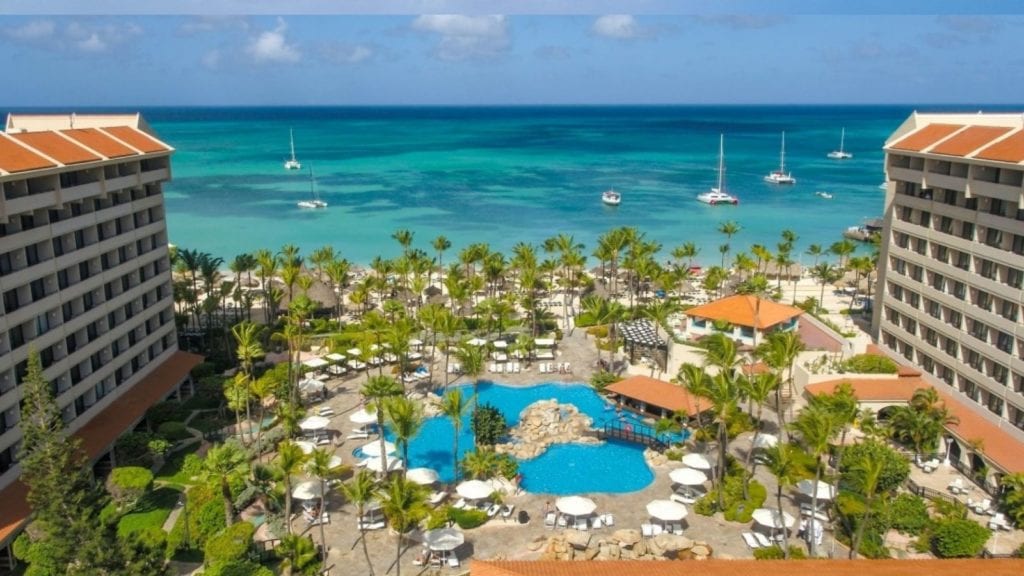 Located on Aruba's much-loved Palm Beach, the five-star Barcelo Aruba all-inclusive resort also boasts a stunning lagoon-shaped swimming pool fringed with rocks and palm trees. Flop into a hammock to sunbathe, or take a dip in one of Barcelo's two hydromassage pools. 

If you're in the mood for action, there's kayaking, water polo, darts, windsurfing, kite surfing, snorkeling, scuba diving, tennis courts (you can also get private lessons if you want to step up your game), and a fitness studio decked out with the latest equipment. You can request scuba diving classes in the pool, too, and there's plenty of golf options nearby. After a day of fun, your biggest decision at the Barceló will be whether you'd prefer to be pampered by a masseuse in your room or at the spa.
BEACH VACATIONS: 10 Most Beautiful Caribbean Beaches (and Where to Stay Near Each)
When it comes time to dine, you can feast at seven different on-site restaurants and drink up at three bars, including the Lobby Bar featuring live music. Feeling lucky? This Aruba all-inclusive resort's newly refurbished casino awaits. And a kids club for children ages four to 12 will keep the younger ones entertained when the adults need some play time of their own.

If you feel the urge to splurge, go for the resort's Royal Level Service: The upper three floors of the North Tower are an elegant boutique hotel where you'll enjoy the "All Inclusive Premium" experience that includes access to exclusive amenities and services just for VIPs, in addition to the regular all-inclusive plan.
3. Divi Dutch Village Beach Resort
Oranjestad, Aruba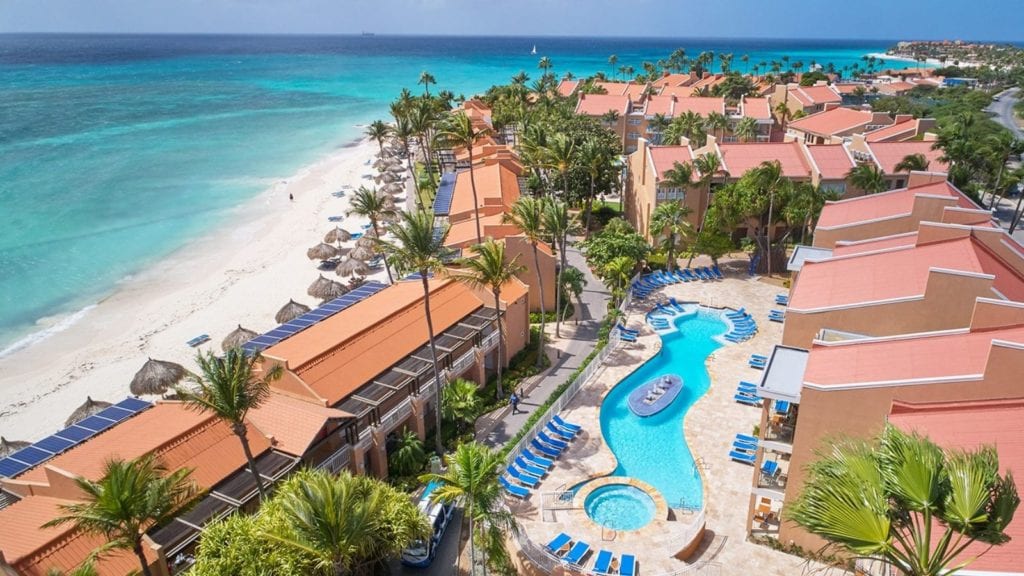 The oversized rooms and suites with fully equipped kitchens at the quiet seaside Divi Dutch Village Beach Resort are ideal for families. You can take your pick of patios with garden, pool, or ocean views, too. 
TOP PICKS: 10 Best All-Inclusive Beach Resorts in the World
Ready for a swim? Head for Druif Beach or one of the resort's three freshwater pools. (If you're in the mood for a cocktail, one of them even has a swim-up bar.) Snorkel, play tennis or beach volleyball, or enjoy a game of golf at The Links at Divi Aruba across the road. Your tweens will want an Instagram moment on the rock-climbing wall. And the 24-hour fitness center will help ease the guilt of your inevitable overindulgences.
While not a traditional all-inclusive resort, Divi Dutch Village does does offer fully all-inclusive packages that give you access to 10 different dining options, eight bars, a half dozen freshwater pools, and plenty of activities and amenities at the nearby Tamarijn Aruba All Inclusive and Divi Aruba All Inclusive.
4. Divi Village Golf and Beach Resort
Oranjestad, Aruba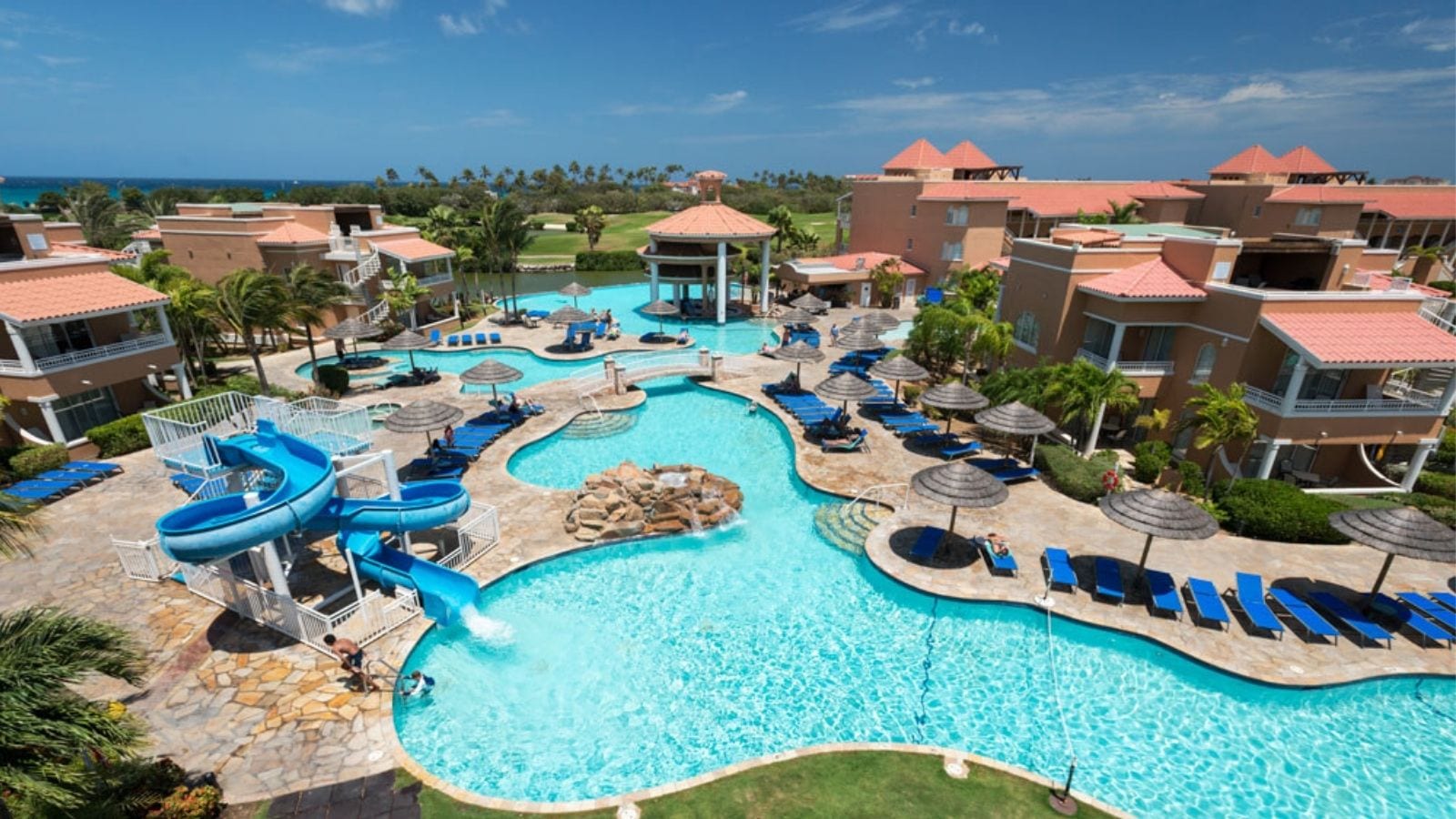 With four freshwater pools, everyone in your family can choose their own favorite to swim in at Divi Village Golf and Beach Resort. The kids will go wild for the water slides. The grown ups will love the the swim-up bar and quiet adult area. Of course, if you prefer the beach, there's a gorgeous strip of sand directly across from the resort where you can dive, snorkel, kayak, go rafting, join a game of beach volleyball. 
SOUTH OF THE BORDER: 13 Best Mexico All-Inclusive Resorts for Families

Golf fans can get their fill at The Links at Divi Aruba. No worries if you're a beginner, either: There's a golf learning center to help you get up to speed. (The resort also has a tennis learning center as well.) Dining at Divi Village Golf and Beach Resort include poolside restaurants and gourmet offerings at the golf course. Similar to Divi Dutch Village, Divi Village Golf and Beach Resort is not a standard all-inclusive resort, but you can purchase all-inclusive packages that also give you access to three other Divi resorts on Aruba. 
5. Holiday Inn Resort Aruba
Oranjestad, Aruba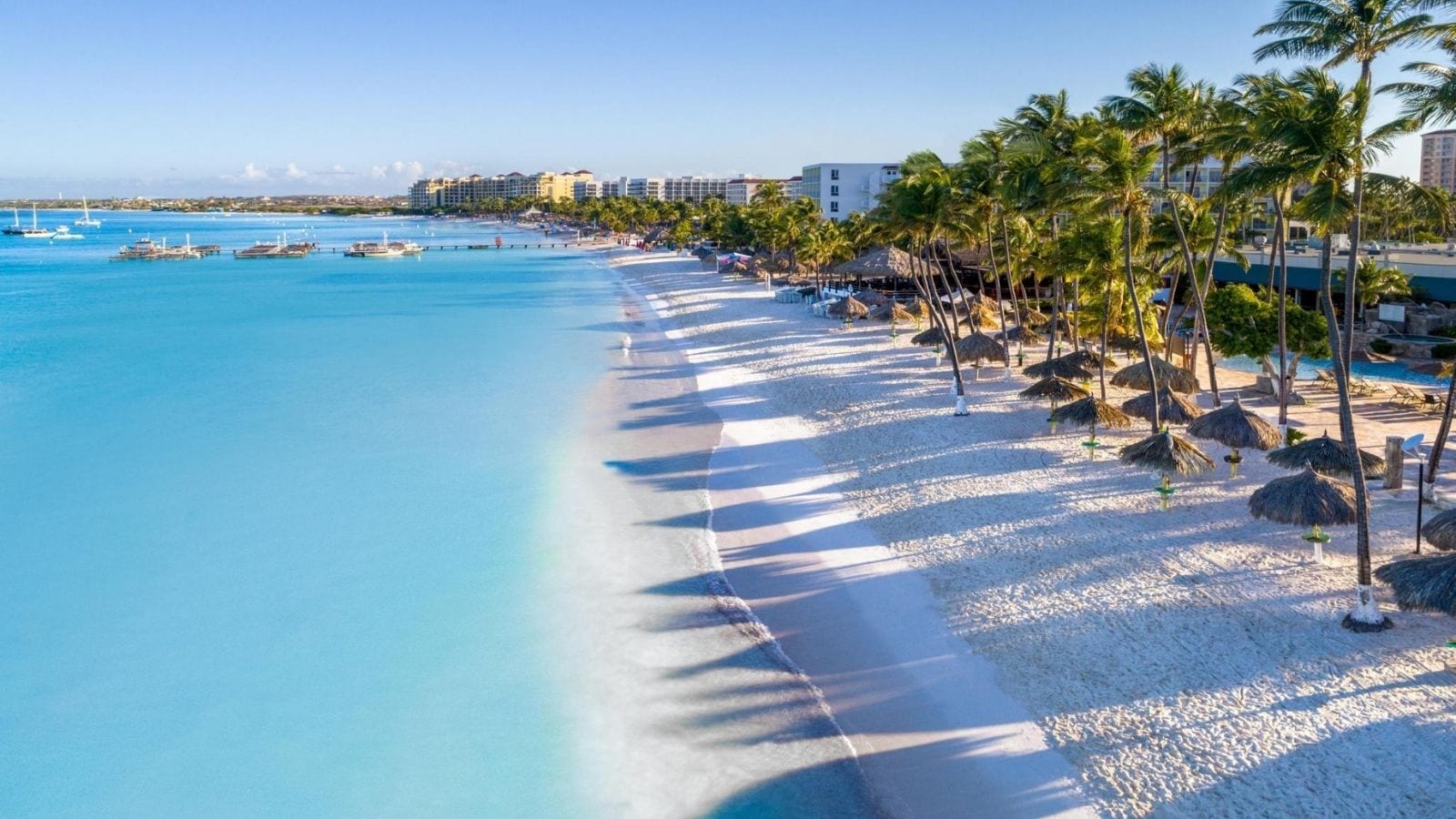 Positioned along a quarter-mile strip of Aruba's famous Palm Beach, Holiday Inn Resort Aruba has a lot going for it: on-site restaurants, a la carte dining, a great location, and spacious rooms with ocean views, just to name a few.
HOTEL DEALS: 10 Best Hotel Booking Sites for Cheap Prices

With the resort's all-inclusive package, kids eat free and adults will enjoy breakfast, lunch, and dinner at any of the hotel's restaurants, plus get unlimited drinks, a $75 spa credit, and a 25 percent discount at Pelican Adventures (for tours and water sports such as sailing, snorkeling, sunset cruises, kayak and paddle boat rentals, and even a beach safari).
6. Hotel Riu Palace Aruba
Oranjestad, Aruba
You can do as much or as little as you like at Hotel Riu Palace Aruba, a little slice of paradise on Palm Beach. Start your morning with a walk on the beach or time in the gym. Later, try surfing, diving, kayaking, or take a scuba lesson in the pool. How does a hot stone massage at Renova Spa sound? Finish off your spa time with a whirlpool bath.
BRING THE WHOLE FAMILY: 13 Best All-Inclusive Resorts for Big Families
For kids ages four to 12, the kids club and playground has lots of activities. The littlest ones aren't forgotten at this Aruba all-inclusive resort, either. There's an infant pool for swimming and splashing.
7. Manchebo Beach Resort and Spa
Oranjestad, Aruba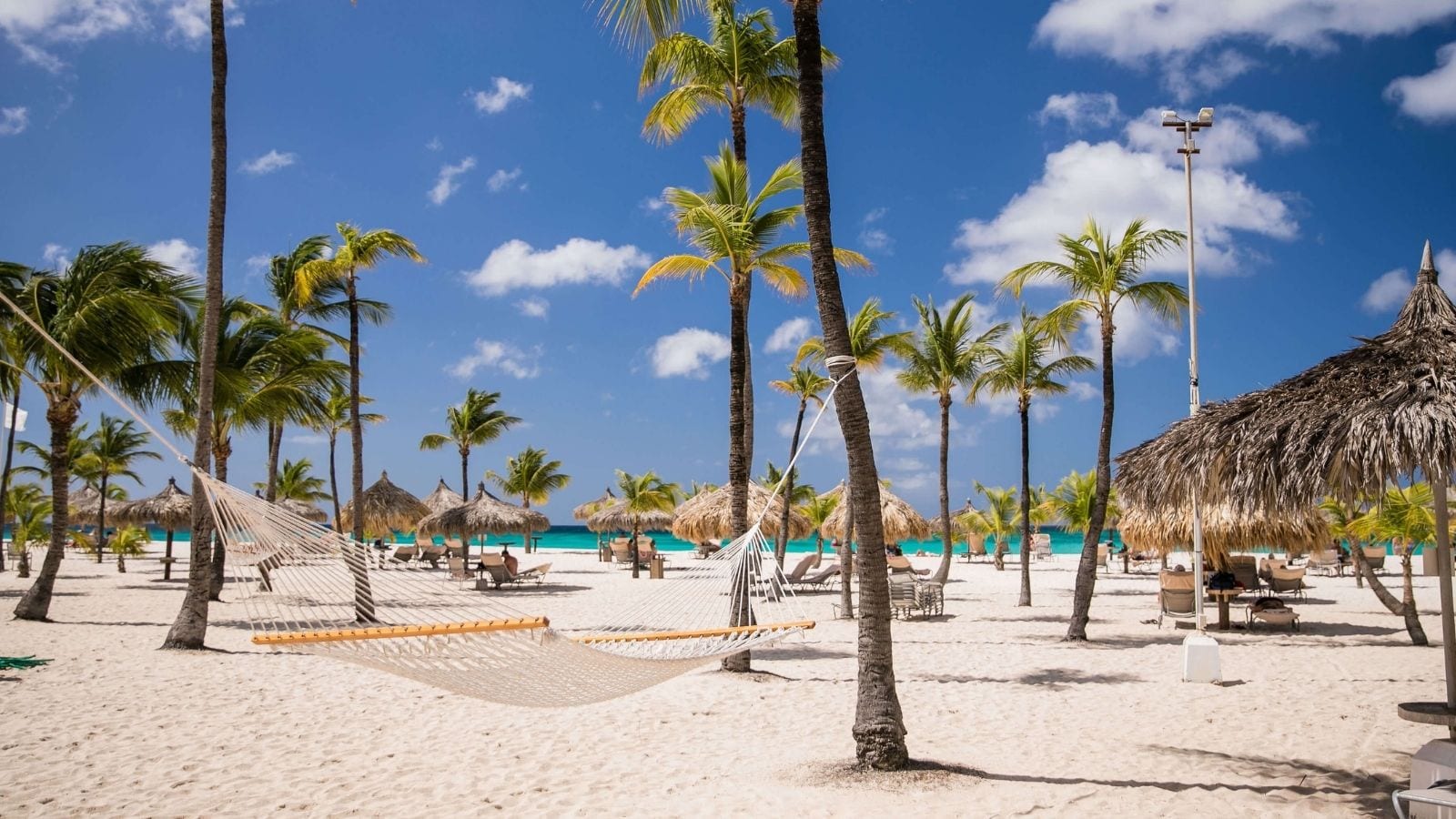 For a walk on the quieter side, consider the 72-room boutique Manchebo Beach Resort on Eagle Beach, one of Aruba's top wellness resorts. The oceanfront Spa del Sol is an intimate, open-air center for respite. There are daily Yoga and Pilates classes, plus wellness workshops and personal training options. And the resort's brand-new fitness studio with tropical garden views has cardio and strength training equipment to maintain your mojo while on vacation. 
SAVE MONEY: 7 Family Travel Adventures Where Someone Else Does All the Planning
Four restaurants at the resort feature health-conscious cuisine with an abundance of vegan and gluten-free options. Meat lovers, be sure to dine at The Chophouse, where you can tickle your palate with the finest cuts of meat, fresh-caught Caribbean fish, and fine wines.
Manchebo Beach Resort's premium all-inclusive culinary package includes daily breakfast (buffet or a la carte), a la carte lunch and dinner, as well as open bar cocktails, wines, and beverages. When you stay four or more nights, you also get a special dinner off-property.
Frequently Asked Questions about Aruba All-Inclusive Resorts
1) What is the cheapest time to go to Aruba?
August and September are typically the cheapest months to visit Aruba. Airfares are down from their summer highs, and haven't yet gone up again for pre-holiday travel.
2) What are the cheapest days to fly to Aruba?
The cheapest days to fly to Aruba are highly dependent on the airline and departure airport. But, generally speaking, you will find the cheapest flights to Aruba mid-week. Wednesdays are often a safe bet for the cheapest airfare to Aruba.
3) What is considered off season in Aruba?
Aruba's location outside of the hurricane belt and consistently sunny weather year-round means it doesn't experience the same kind of dip in visitors that most Caribbean islands do during their respective off seasons.
SUNSCREENS: 13 Kid-Friendly Sunscreens the Whole Family Can Use
4) What should you avoid in Aruba?
Avoid all single-use plastics in Aruba. In November 2019, Aruba banned all single-use plastics, including straws, plastic cups, plates, and cutlery. Avoid sunscreens containing Oxybenzone, which can damage coral reefs. And, finally, avoid sticking to just one beach: While Eagle Beach and Palm Beach are two of the most beautiful beaches in the Caribbean, don't be afraid to visit other beaches like Manchebo or Baby Beach, especially if you're looking to avoid crowds.
5) Is it expensive to eat out in Aruba?
Aruba's culinary scene has a wide range of options depending on what price point you're looking to stick to. It can get expensive to eat out for most meals on any vacation. That's one of the reasons an all-inclusive Aruba resort can be such a good bargain, especially for families with kids.
More from FamilyVacationist: