No matter what else you're considering for a trip, if you're flying, chances are your main priority is to find the best flight for you—often the cheapest. Dozens of online travel agencies (OTAs) and flight metasearch companies promise to do that, and they do, but each of these flight booking sites does it a slightly different way.
The main difference when it comes to finding cheap flights is the one between an online travel agency and metasearch system:
A metasearch flight booking website searches multiple airline ticket sellers, including both individual airlines and OTAs, and displays the options. To book a flight, you click through to whatever actual seller offers the itinerary you want. Examples of metasearch sites include Kayak, Google Flights, and Momondo.
An online travel agent (OTA) is a true flight booking site because it actually sells you the ticket. Your transaction deal is with the OTA, and if you need help or adjustments with your booked flight, you go through the OTA. Some OTAs add small booking fees to some transactions—a fact that's not always clearly disclosed. Among the best known OTAs are Expedia, Hotwire, and CheapOair.
HOTEL BOOKING FTW: 12 Best Hotel Booking Sites for Cheap Prices
Click on any flight booking site in the list below to go straight to the site and start your search, or scroll down and read our reviews detailing what you'll get from each site, plus the relative strengths and weaknesses of OTAs and metasearch sites.
The Best Flight Booking Sites
Metasearch Sites:
OTAs:
The Difference Between Online Travel Agents (OTAs) and Metasearch Flight Booking Sites
Flight searches these days are more complicated than searches a decade ago, when the mix of services and amenities was pretty standard among all major airlines. Now that so many formerly standard features (being able to bring carry-on baggage, etc.) are now extra-cost options, flight searches that mix standard economy fare for some airlines with pared-down basic economy for others don't deliver an apples-to-apples comparison, and make true cheap flight comparisons difficult.
TRAVEL TIP: How Early Should I Get to the Airport?
Our list of the best flight booking sites includes both metasearch options and OTAs. Just about every site allows filtering for the most basic factors: nonstop flights, specified airports, and the ability to display fares for a range of possible dates. Many also now include information on COVID-19 policies and cleaning procedures. No single site is best at everything, but some do especially well in certain searches important to families.
Best Metasearch Flight Booking Websites
You won't be able to book directly on metasearch flight booking sites, but they're a great place to search multiple providers at once, and an easy way to shortcut needing to check a bunch of sites on your fare search. Note that, though they do display fares from dozens of airfare booking sites, metasearch engines aren't comprehensive (for instance, you're unlikely to find airlines such as Southwest on metasearch sites), so it's still worth taking a bit of time to compare fares across sites (and checking airline websites).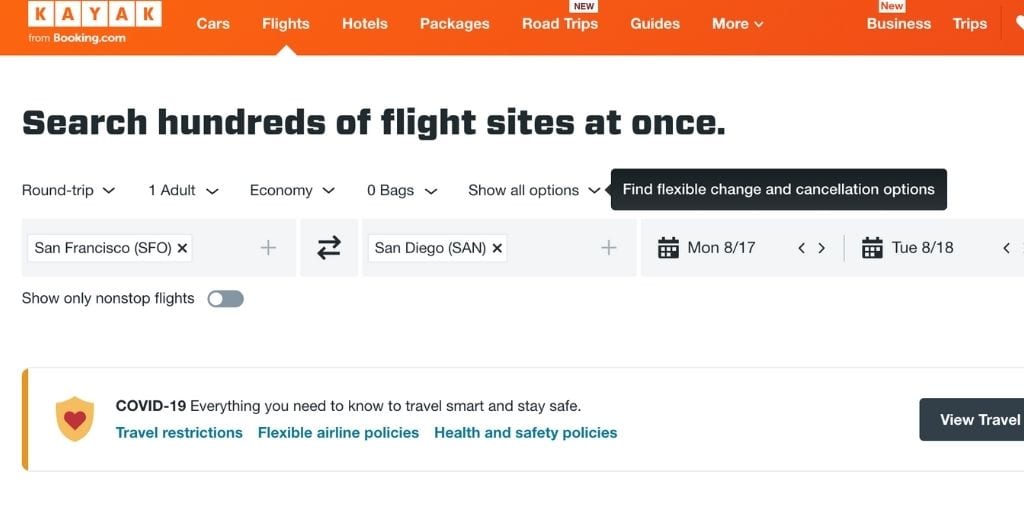 Kayak has a huge number of loyal users, and with good reason. This longtime favorite owned by Booking.com is clear and easy to use with filters for nonstop flights, bag charges, specific airlines, connecting airports, and so on. Kayak's flight search additionally allows you to enter the number of bags you want to check as an initial filter on all search results—a particularly nice feature for families flying with kids. You can also sort fares by "cheapest," "best," and "quickest."
If you're watching a particular route, you can opt into price tracking emails so you'll be the first to know if the price drops.
You can't go wrong with Google Flights. It's based on the ITA Software system, which Google acquired, that is the back-end system for many other metasearch flight booking sites. It's particularly good for providing a quick look at optional dates: When you first enter your trip dates, the entry calendar automatically shows fares for each day for a two-month period on the calendar. You can also select a display showing fares to/from whichever nearby airports you choose.
Google Flights offers several other useful filters, too, such as for nonstop flights, bag charges, specific airlines, and connecting airports. Google Flights also gives you price histories on routes so you can see before you book if the fare is higher or lower than average.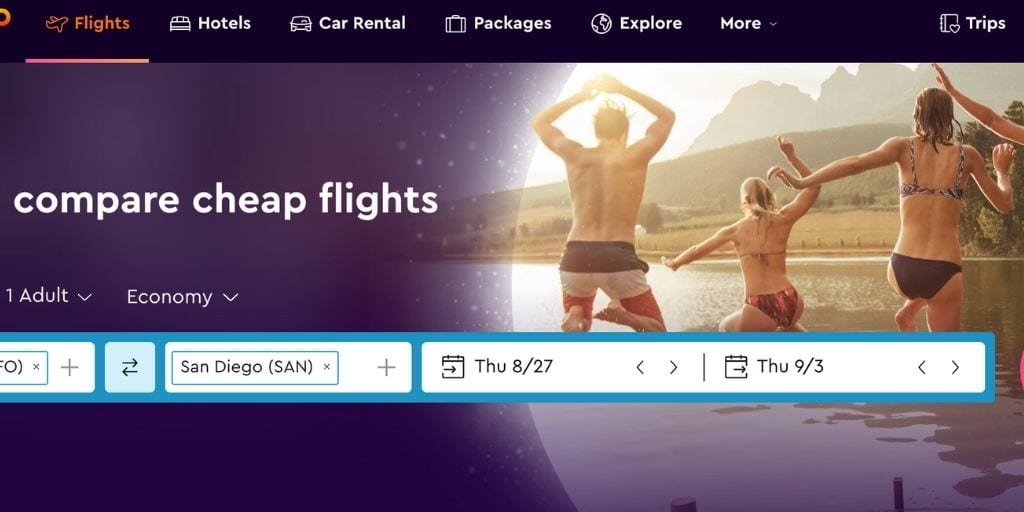 Like Kayak, Momondo is a metasearch site owned by Booking.com with some unique features. In its listings, Momondo's flight search flags "cheapest" and "best" options, and highlights fares with flexible change policies. It combines standard filters like airline, number of stops, and nearby airports with helpful-but-niche filters like airline alliance, layover duration, and type of aircraft. Like Kayak, it allows you to sort fares by "cheapest" and "best," and also has the option to arrange flights by lowest CO2 emissions.
Momondo also offers price alerts and has handy bar graphs that show fare differences around your dates. And unlike most metasearch flight websites, Momondo is introducing some of its own fares, which can be booked directly on the site, into the mix.
Momondo also adds opaque fares from "major airlines" that the site does not identify until you buy the flight. Those fares are often lower than openly posted fares by individual lines. Opaque searching is basically the original Priceline shtick; no surprise, given that Momondo and Priceline are both owned by the same parent company. Momondo also mixes in alternative forms of transport, like bus fares, which can be an interesting point of comparison even if you prefer to fly.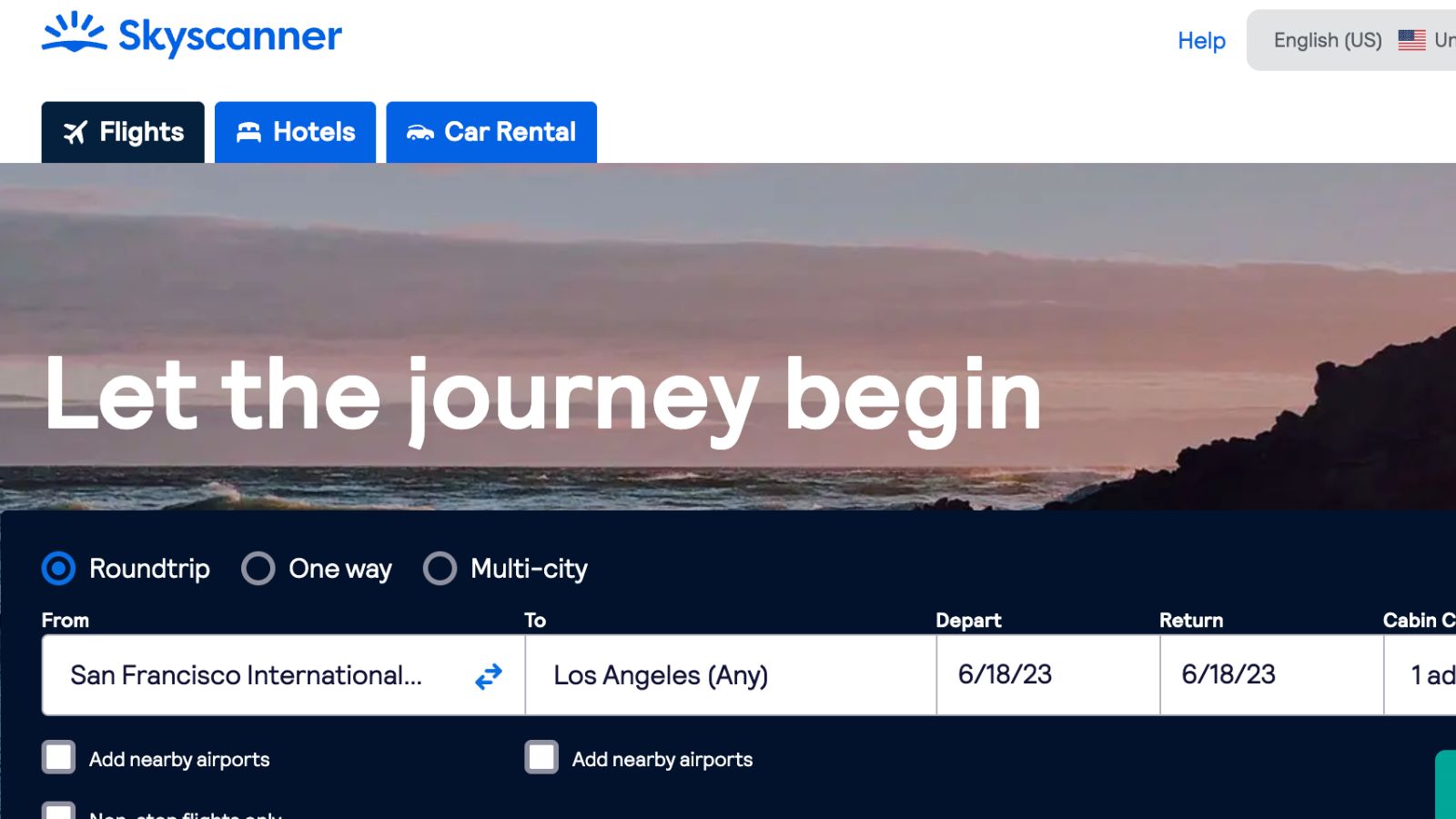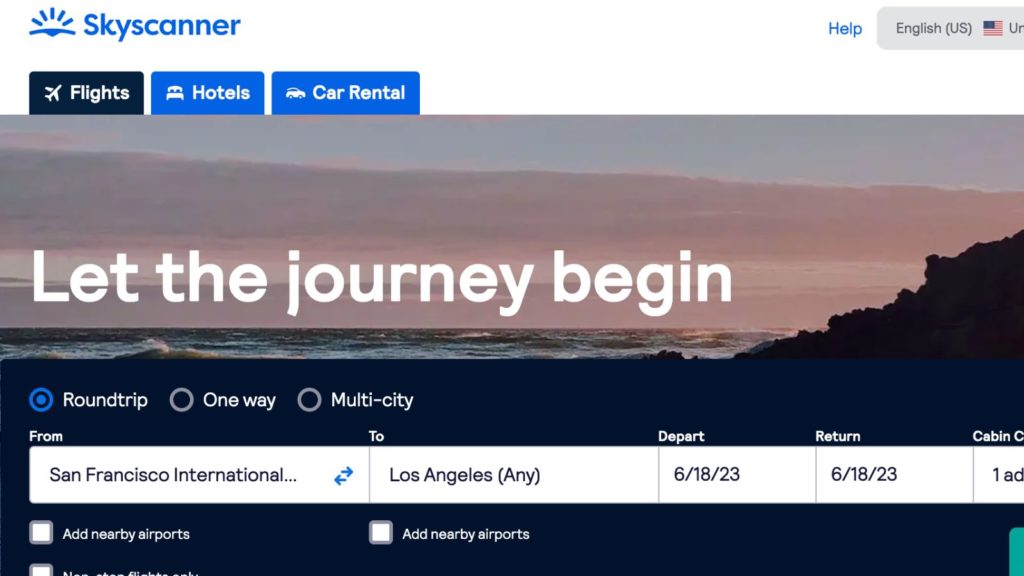 If you're not already using Skyscanner as one of your standard flight comparison sites, you should be. While the flight booking metasearch site has a pretty standard set of filters including number of stops, departure times, airlines, and alliances, it does tend to find good fares, and its additional features makes it a standout.
Case in point: You can search with just your departure city in mind to browse cheap fares to many destinations by choosing the "Everywhere" option when you search. Search results are categorized into "best," "cheapest," and "fastest," which can be hugely helpful depending on what's more important to you, finding the cheapest flight or the most convenient one.
The site clearly marks "Greener choice" flights, those flights that emit less carbon dioxide than average flight for your search.
Skyscanner pulls fares from a lot of different ticket sellers, but addresses the "Can I trust this company I've never heard of?" question by offering extensive user reviews of each seller. And it offers alerts for cheap flights, so you can be among the first to know if the fare on your route drops.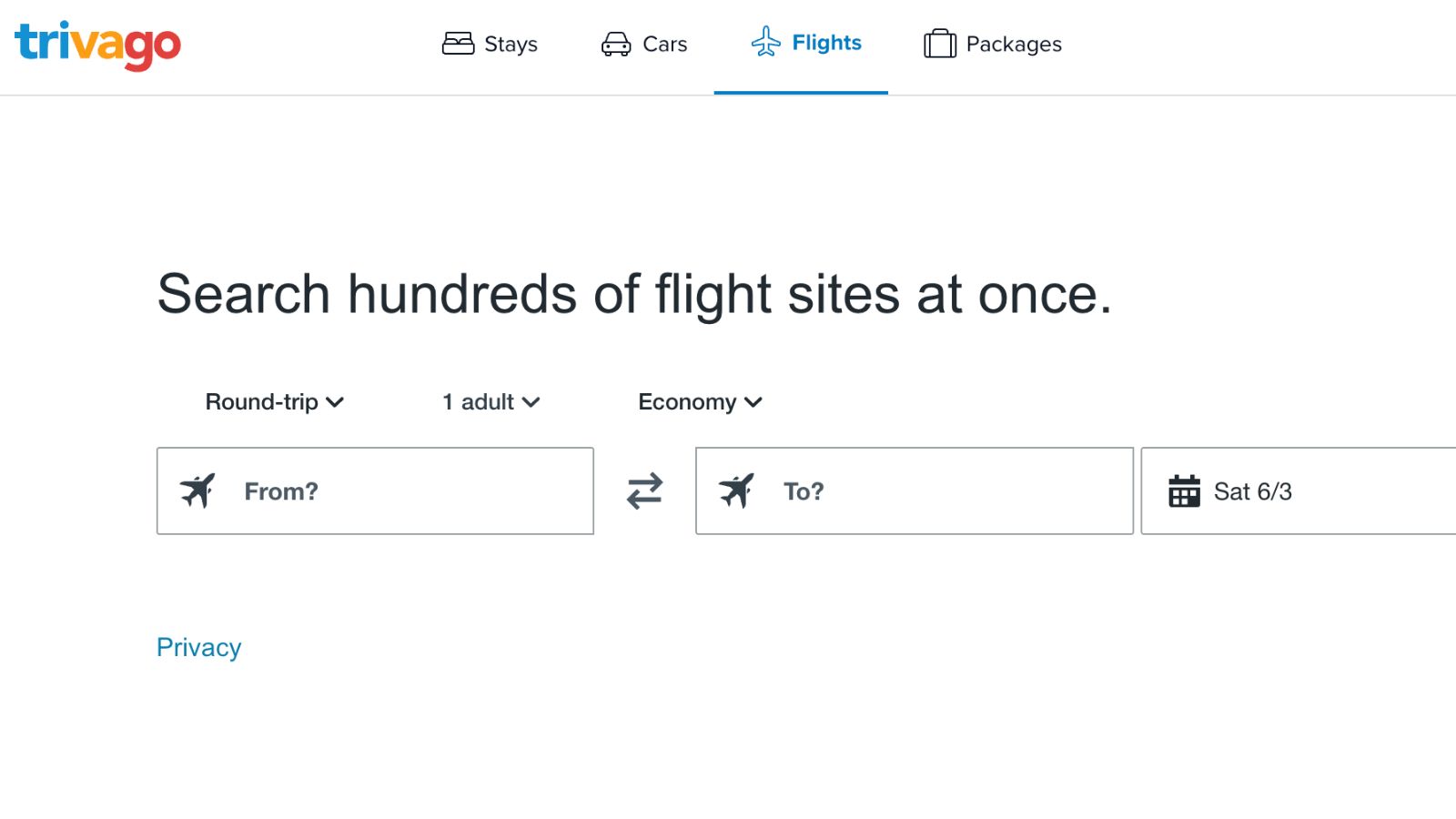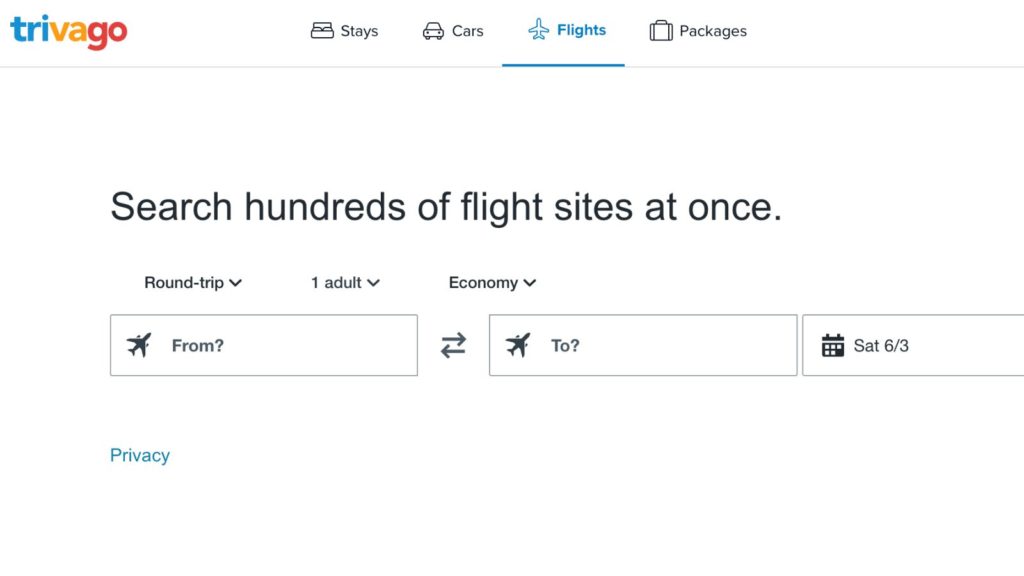 Good news: the hotel metasearch site Trivago now offers flight listings as well, and its airfare listings are both competitively priced and easy to browse. Trivago pulls fares from hundreds of sources, including airlines websites and OTAs. And while its flight search box is pretty barebones, the results pages have plenty to recommend them, including a fare trend box that advises whether it's better to book now or wait.
Trivago's airfare search results also include filters like number of stops, change fees, mode of transportation (which can include trains and buses along with flights), layover airports, and more. There's also a "fee assistant" that lets you specify number of carry-on and checked bags so you can get an accurate read on fares.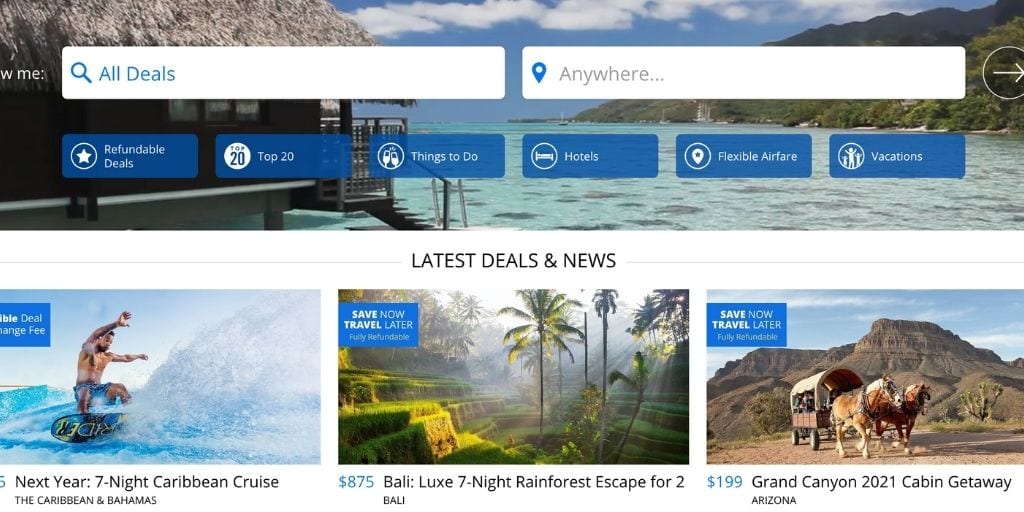 Similar to the OTA Kiwi.com, Travelzoo is among the best sites for booking airfare if you're not looking for a specific date/destination combination. Instead, Travelzoo excels at finding affordable flights to families who know they want to go on vacation, but who don't have specific plans in mind.
You can put in departure and destination parameters, but in our searches, this often didn't yield flights. You're better off browsing the featured deals, which include flights deals, change often, and highlight short-window offers.
Each week, Travelzoo features a Top 20 list of great airfare, air-inclusive vacation package, and cruise deals. Deals are reviewed in a narrative style, so you get a sense of why it's a good offer before you click through to the provider.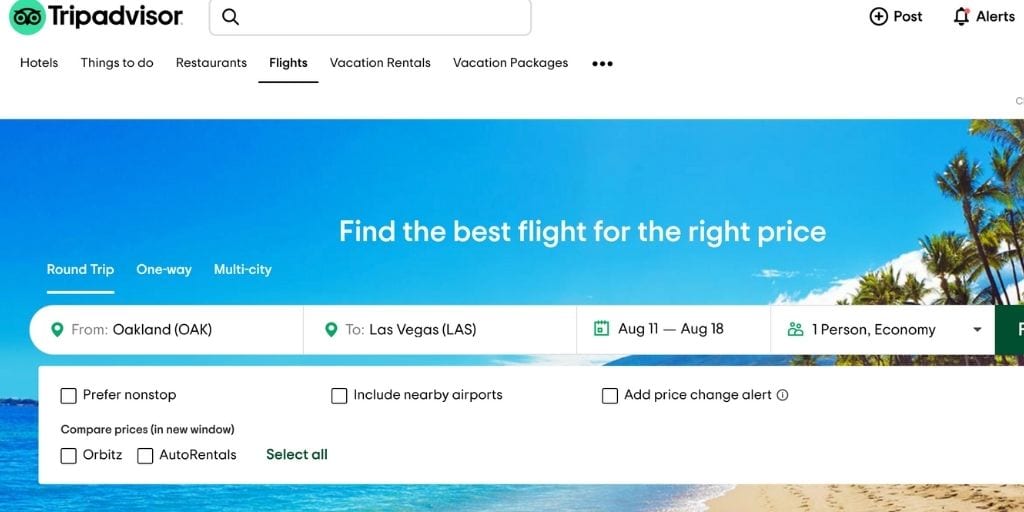 Tripadvisor Flights offers similar functionality to Google and Kayak but differentiates itself with a user-review angle. Clicking through on a particular fare yields detailed user reviews of the airline(s), rated by factors including legroom, seat comfort, customer service, cleanliness, and onboard experience.
On the downside, Tripadvisor Flights doesn't offer the same fare pricing history and trend predictions that some of the other metasearch flight booking sites provide.
Best Online Travel Agent (OTA) Flight Booking Websites
Online travel agents (OTAs) are the actual book-and-buy sites. There are many of them, and all offer a slightly different browsing and booking experience. Here's the lowdown on the top flight booking sites.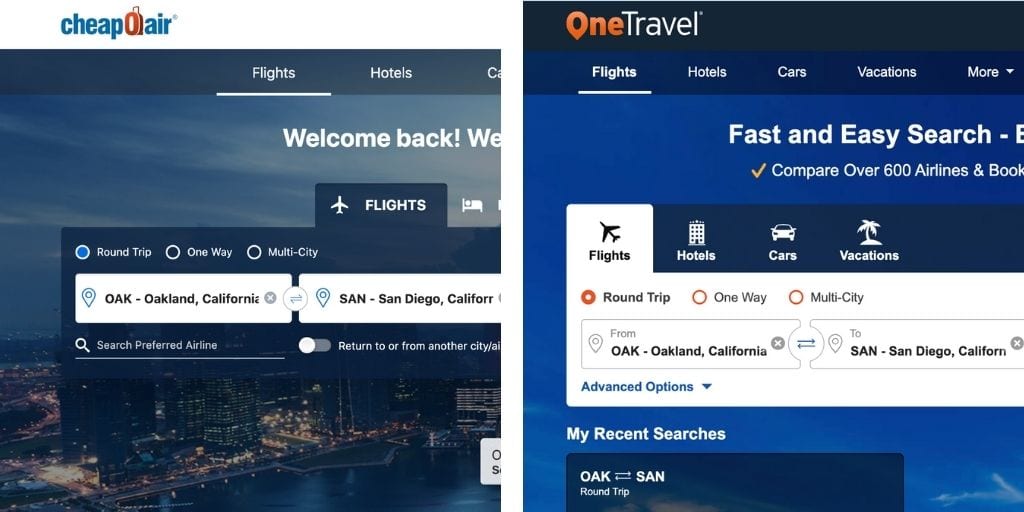 CheapOair and OneTravel are both owned by Fareportal. Since the layout and filters are very similar, we're reviewing them together here. However, the airfare prices aren't always identical, so it can be worth checking both sites in your airfare search. Note that both also charge a booking fee that varies by flight.
COMPARE AND SAVE: 10 Best Car Rental Booking Sites for Cheap Prices
Filters include number of stops, layover times, airports (you can add in other nearby airports to both your departure and arrival city list), airlines, flight times, and so on. Prices are listed in a matrix at the top of flight search results, and you can search by class of service—including premium economy, business class, and first class. There's clearly labeled additional information about flight cancellation flexibility, though not much in the way of COVID-19-specific airline-specific policies.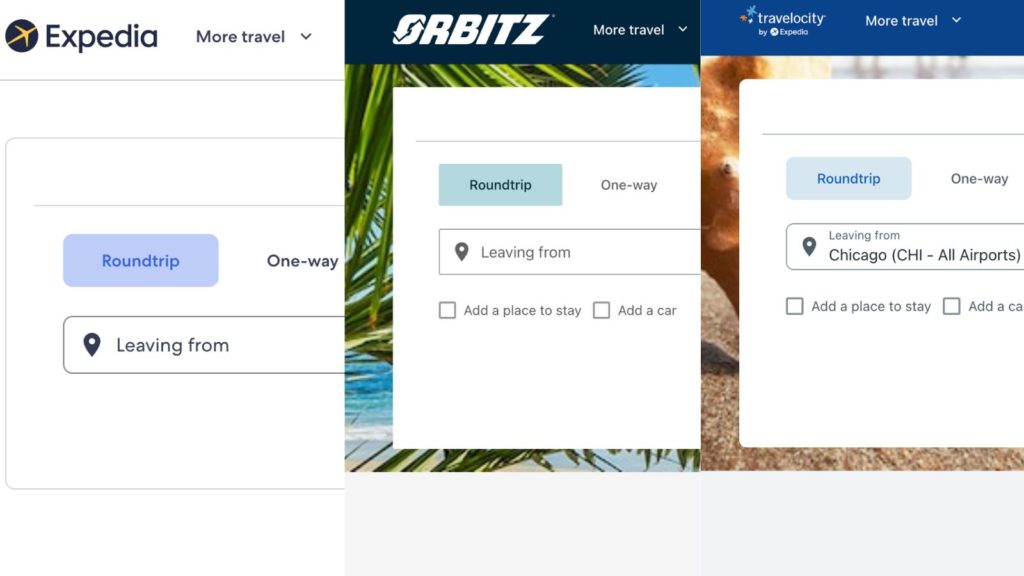 Expedia, Orbitz, and Travelocity are all owned by Expedia, and offer similar user experiences across all three sites. Prices on these flight booking sites tend to be the same or similar (a few cents or dollars difference) in most—but not all—cases, so if the lowest price is your priority, it's a good idea to compare prices across Expedia flights, Orbitz flights, and Travelocity flights. On each of the sites, you'll get standard filters including number of stops, airlines, departure and arrival times, and whether or not to include nearby airports.
The sites do a great job clearly displaying flexible change policies. Icons on each of the flights listed make it easy to check for things like in-flight WiFi and in-seat power. You can also quickly scan to see what extra fees (seat choice, carry-on and checked bag fees, etc.) an airline charges on a flight by clicking on a specific flight. And across Expedia, Orbitz, and Travelocity's flight search, you can opt to "Show flexible dates" to get a matrix that helps you see the cheapest days adjacent to your search.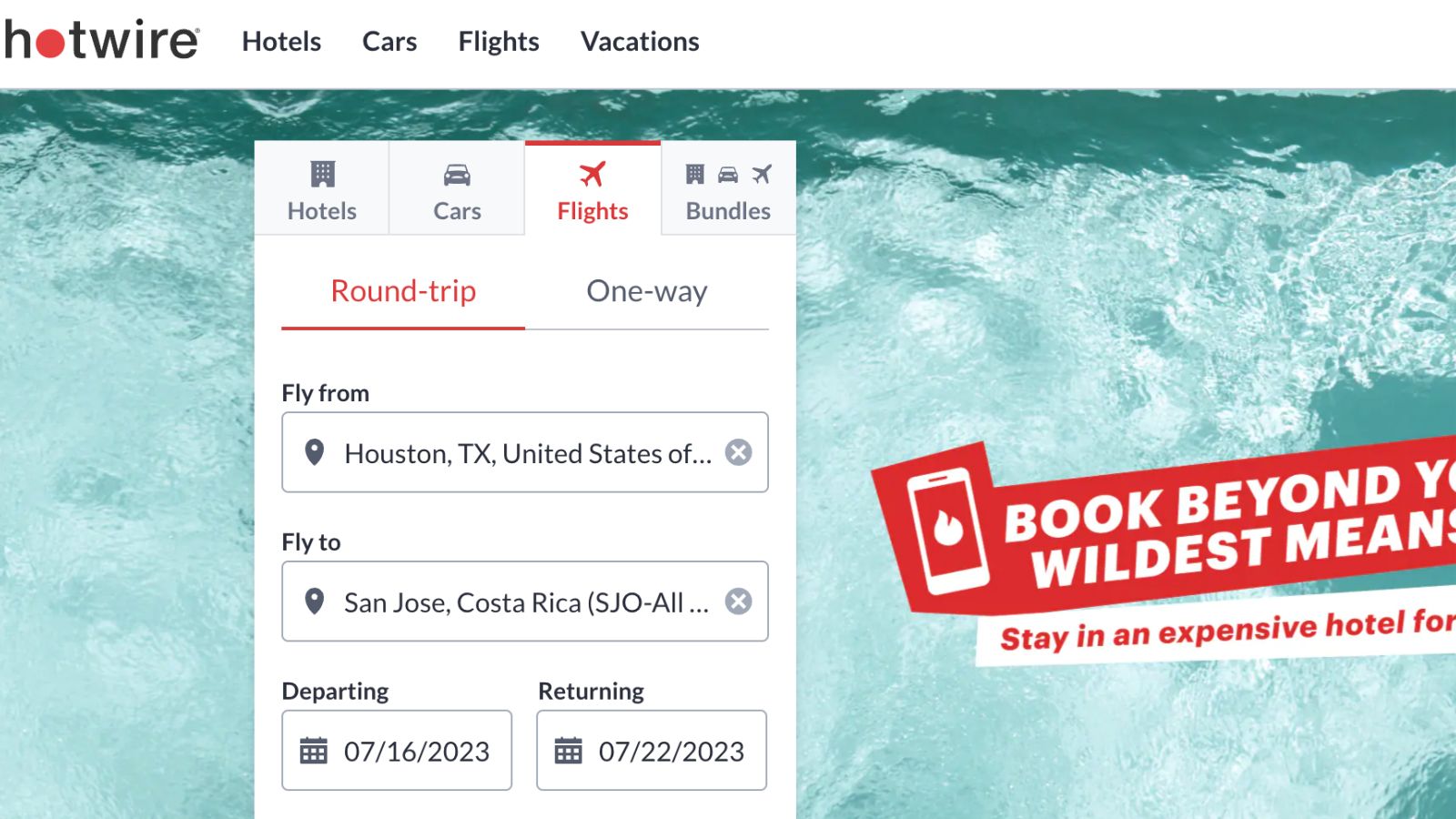 The flight booking feature for Hotwire offers a pretty standard major OTA layout, with the same filters as Expedia and the other biggies. There's a seamless and easy-to-use (if you know it's there) flexible date matrix at the top of the search results page, and you can sort flights by number of stops, airline, and so on. Particularly useful is the set of filters that allow you to surface flights with no change fees, no cancellation fees, no extra charge for carry-ons, and flights that come with the ability to choose your seat at no additional charge.
BIG TRIP: 27 Amazing Family Vacation Ideas
One important thing to note about Hotwire is that it really wants you to use its app—so much so that it says that the lowest prices are only available in its app. So if price is your primary motivator, the app should be the primary way you use Hotwire.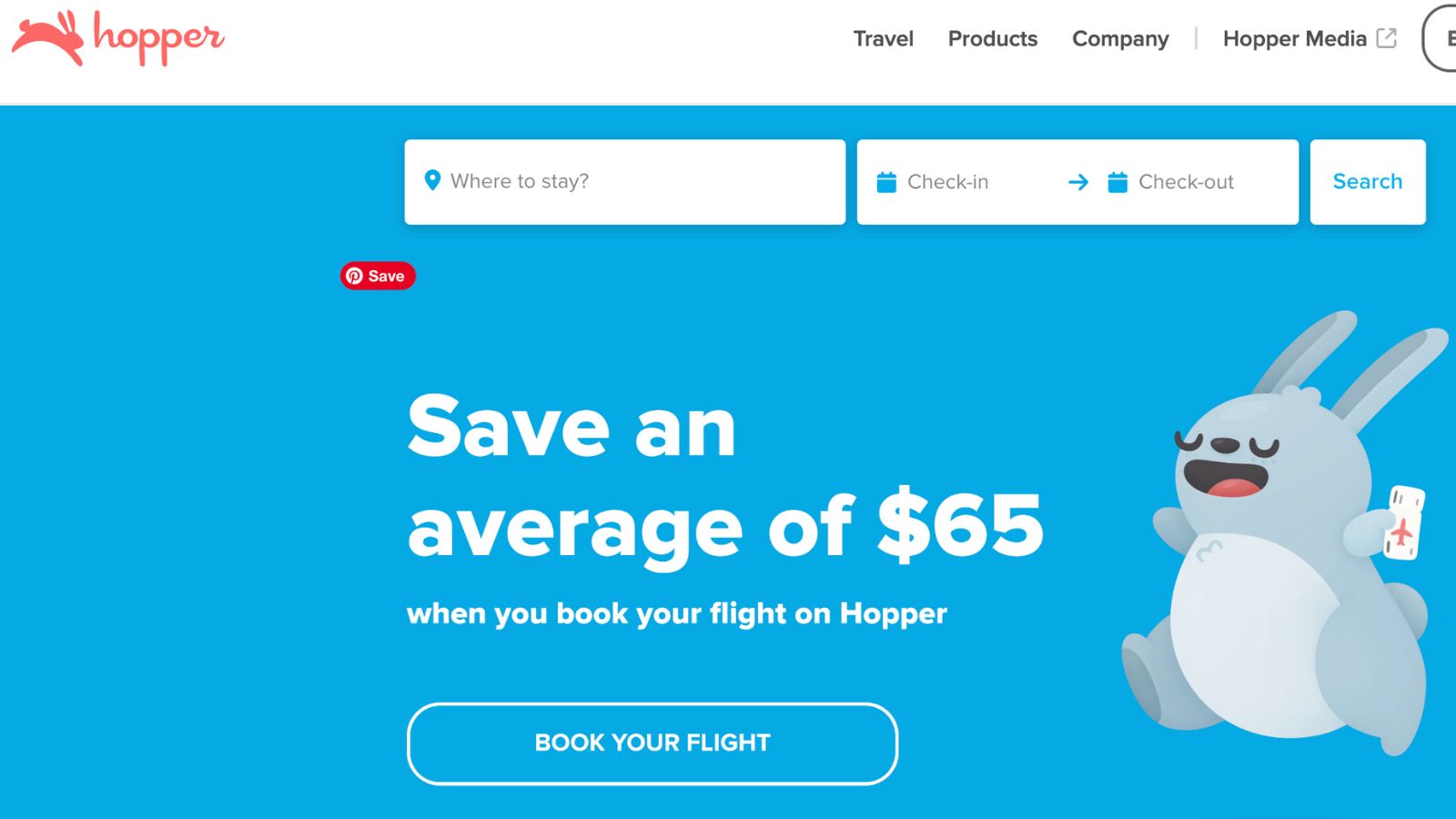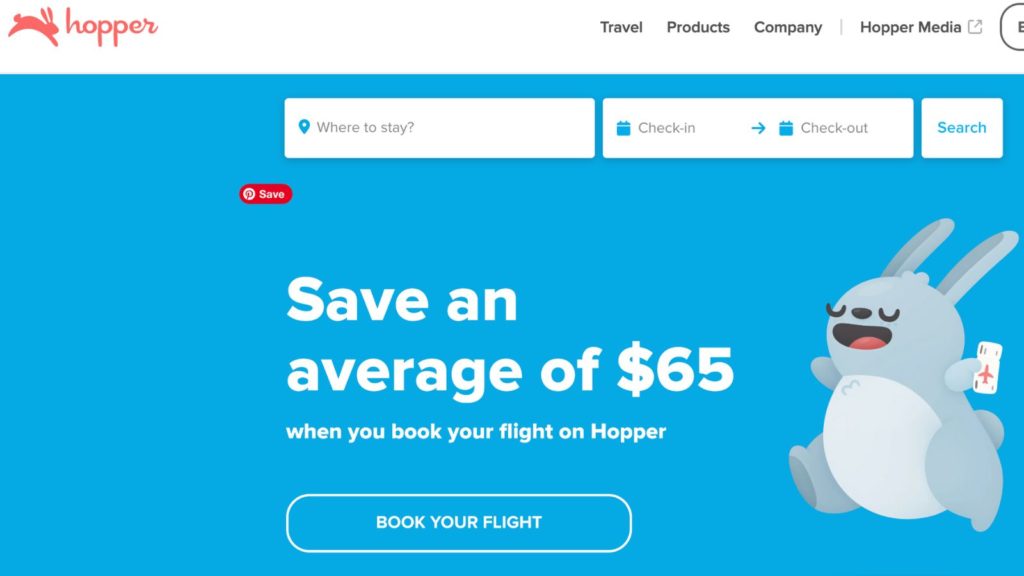 A flight booking app, Hopper touts its ability to predict prices with 95 percent accuracy up to a year in advance. Input your departure and destination cities, then specify your dates using the color-coded calendar (so you can see as you're selecting price differences in your date range). You'll then see the lowest price along with advice about whether you should book now or wait for prices to drop. There's a Price Prediction section that outlines when prices are likely to rise or drop.
There are other features as well, including the fee-based Price Freeze, which allows you to lock in the price you see without needing to book for seven days. There's a lot of useful information, but also a lot of vertical scrolling to find it all, since this is a mobile-based app. Filters are minimal but include layover lengths and listing or hiding basic fares (that are cheaper but have a lot of restrictions).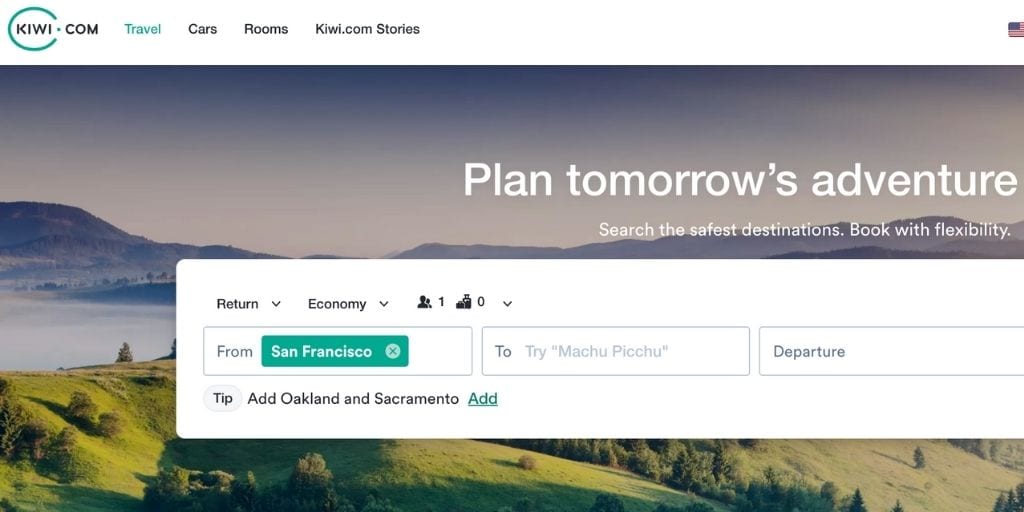 You can use Kiwi.com as an OTA if you're looking for a simple round-trip, but where this flight booking site really excels is in complex, multi-step itineraries. It lets you start with a budget and a flexible plan to craft multi-country or multi-region trips, so its filters are set to combine flights, buses, and trains (you can uncheck the transportation types you want to avoid). It also allows you to exclude countries you don't want to pass through on your trips.
To use Kiwi to its fullest, use the filters (duration, stops, countries, etc.) to build a framework and see what it returns. Flights tend to be surprisingly affordable, though you are likely to have to give up some convenience in terms of connection times and layovers.
WORRY-FREE: 17 Best All-Inclusive Resorts
Kiwi.com's Nomad tool takes things a step further: You create your bucket list of destinations, specify any time constraints, and find the most affordable way to piece together your destinations into a single trip.
With Priceline you'll find a clean layout with limited but standard filters like number of stops, time of day, and airline. Flights with no change fees are marked clearly. Icons under flight prices show what's included and not (carry-on bags, checked bags, and seat selection) in the fare.
In flight search results, Priceline shows little icons under prices to identify flights that have included carry-ons, seat selection, and checked bags. In a retro twist, Priceline also advertises its phone number (855-940-4266) that you can call for flight deals as well.
Skiplagging is the practice of using "hidden-city ticketing" (i.e., a flight connection airport as your final destination to save money) is reviled by the airlines. And while it's not illegal, airlines can do things like confiscate your frequent flier miles if they catch you doing it. The airfare booking site Skiplagged allows you to search for these hidden-city fares, but it's also a great place to find totally above-board fares. We tested it for those legitimate fares.
The key to using Skiplagged in a way that isn't going to get you in trouble with an airline is to uncheck the "Hidden-City" box at the top of the list of filters. Filters are standard, but Skiplagged doesn't show a lot of extra information the way many airfare booking sites do. You can't scan search results to see which offer easy cancellation, or have enhanced cleaning policies, or offer in-seat power.
But, in a sea of OTAs and metasearch sites that tend to return very similar fares, Skiplagged—even the standard, non-hidden-city fares—somehow manages to find lower-than-average fares a noteworthy amount of the time. However, note that Skiplagged really is focused on price over convenience, so if your measure of good value in an airline ticket includes fewer stopovers, Skiplagged may not be your best fit.
The Best Flight Booking Site Strategy: Cast a Wide Net
Many prior studies of the "best" airfare search sites have come to the same conclusion: Fares often vary among them, with no one site consistently better or worse than others. If you're looking to trim the last penny off your plane tickets, try as many flight booking sites as your patience permits.
KIDS ON PLANES: What You Should Know Before Booking a Flight for Unaccompanied Minors
And never forget to check with individual airlines for flight deals. Checking Southwest is essential: It does not allow metasearch or OTA sites to display its fares. Also, individual airline sites often offer more useful first-screen options.
How it Should Work (But Doesn't)
No metasearch flight booking site or OTA yet offers an ideal search formula, which we think would look something like this: You first enter the number of bags you want to check and carry on, whether you want assigned seats (especially important for families), whether you want inflight meals, whether you want extra legroom, and what degree of refundability you need.
FLYING WITH KIDS: When Do You Need a Child Travel Consent Form?
The flight search engine would then return apples-to-apples fare comparisons: What you pay for the specific requirements for your family trip. The technology to do this is available, and some components are already being done, but so far nobody has assembled all the parts. Let's hope some enterprising OTA or metasearch system gets it done.
More from FamilyVacationist: