Miles of white sand beach, warm turquoise waters, and fun activities for all ages: Grand Cayman, the largest of the Cayman Islands' three islands, really is a Caribbean family vacation paradise. On a recent visit, I scoped out the Grand Cayman resorts, hotels, and vacation rental villas along the island's famed Seven Mile Beach and found the ones that provide a perfect home base for families. Seven Mile Beach resorts put families in a central location for playing, eating, and relaxing. 
What Is Seven Mile Beach?
Seven Mile Beach regularly earns awards as one of the best beaches in the Caribbean. It hugs the western side of Grand Cayman and is a fantastically long stretch of soft coral sand and welcoming warm Caribbean waters. It's a public beach, so you can walk for miles along the water, stopping at beach bars and destination restaurants along the way. 
DREAM VACATIONS: 10 Caribbean Family Resorts That Belong on Your Bucket List
A Note about All-Inclusive Resorts on Grand Cayman
Many Caribbean islands are known for their all-inclusive family resorts, but Grand Cayman isn't one of them. When I chatted with local experts, they told me that there used to be some Grand Cayman all-inclusive resorts but over the years they closed. Why? Grand Cayman is both safe and easy to navigate so it makes perfect sense that visitors wouldn't want to stay in one place on their vacation. There's simply too much to do and see all around the island. It's also great for locals, since visitors out and about on the island help support Grand Cayman's standout food and art scene as well. 
The Best Seven Mile Beach Resorts for Families
With so many Seven Mile Beach resorts to choose from, though, how do you decide? These spots across the price spectrum wowed me with their family-friendly offerings.
1. The Westin Grand Cayman Seven Mile Beach Resort
George Town, Cayman Islands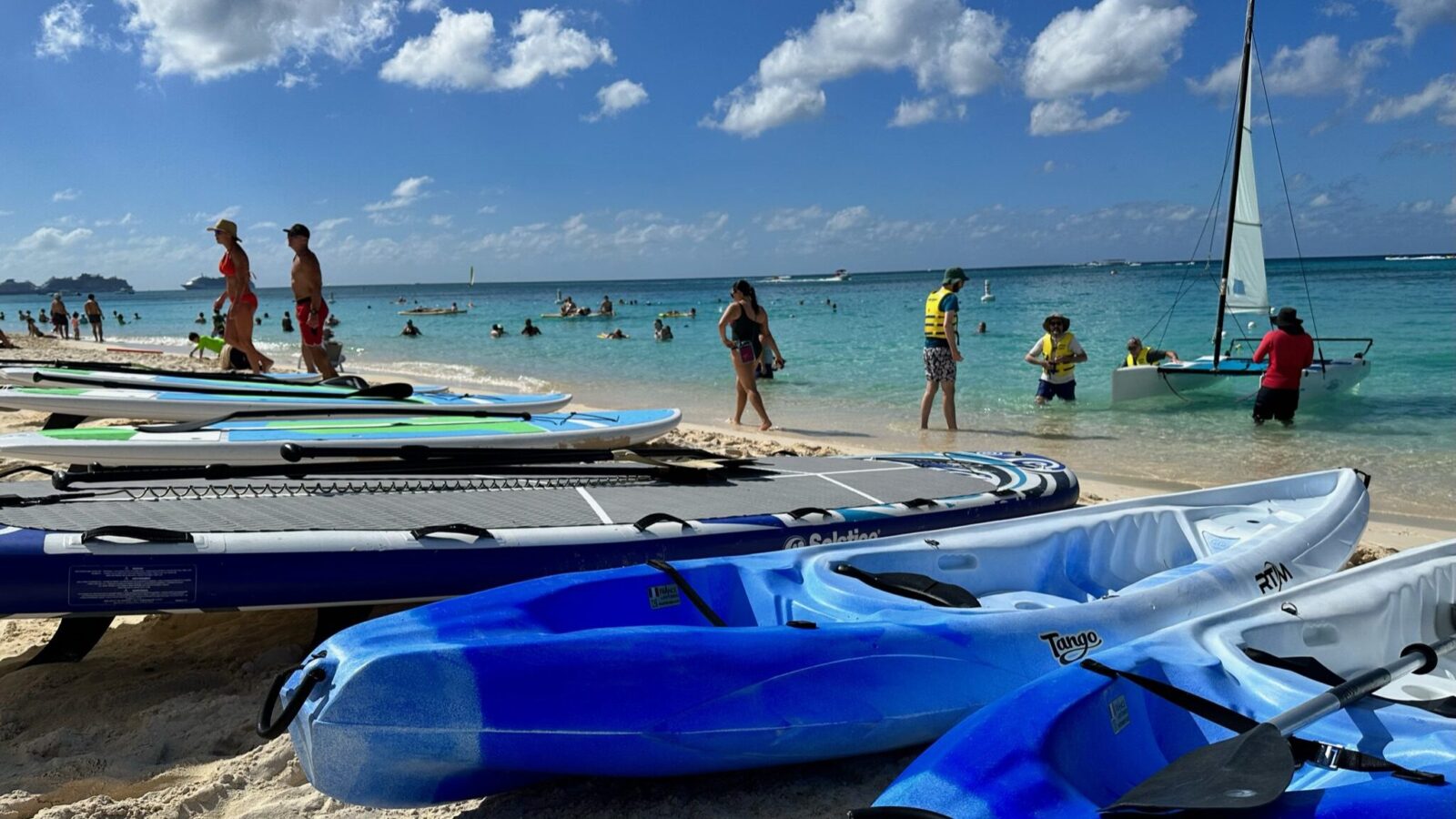 At five stories tall, The Westin Grand Cayman Seven Mile Beach Resort offers an antidote to high-rise resorts. It's big enough to support all sorts of amenities–including its own outpost of water sports outfitter, more than half a dozen bars and eateries, fitness classes, and a spa–but small enough that it never feels like you're fighting for space to relax.
Of its 343 rooms (refurbished in 2018), half offer views of the Caribbean Sea—that's the most ocean view rooms on Seven Mile Beach. And unlike many other resorts in the area, it really is right on the beach: 32 steps will get you from the lobby to the sand. Staying there, I was always within earshot of the gentle lapping of the waves—a definite sign of a good vacation.
CALIFORNIA TO CARIBBEAN: LA Now Has a Nonstop to Grand Cayman
The Westin Grand Cayman has a lot to offer families. Rooms have comfortable pull-out sofa beds and/or two beds, there are a number of connecting rooms, and there are also suites with multiple bedrooms. There's a Red Sail Sports hut right on the beach with everything from jet skis and banana boats to paddleboards and kayaks. Tuesdays are movie nights and during school holidays there are a ton of extra family activities including sand sculptures. Bonus: Westin's focus on wellness and health translates to healthy food options for kids (and activities like its guided running program for adults).
2. Kimpton Seafire Resort + Spa
West Bay, Cayman Islands
At the north end of Seven Mile Beach, the Kimpton Seafire Resort + Spa shines like a beacon of relaxed luxury. The very-well-reviewed eight-story resort was built after restrictions on height along Seven Mile Beach were adjusted to allow for taller hotels, which gives many of its 264 guest rooms unbeatable island and water views. Local designers and island artists bring a bit of island cool to the hotel's common spaces, restaurants, and guest rooms. During my visit, I found myself stopping in the hallways to admire art and design touches that were simultaneously cool and told a bit of the story of the Cayman Islands.
PLAY ALL DAY: 10 Best Caribbean Resorts with Water Parks
Upscale but family friendly, and big enough that people with different vacation goals (families letting kids be kids and couples in search of a little relaxation and romance) can easily coexist. The biggest draw for kids might be Splash at Seafire, the resort's splash pad and waterslide area (with plenty of comfy seating for adults). Camp Seafire is the onsite kids club for children ages 5 to 12. There's also a family-friendly pool and plenty of beach toys (including kayaks and paddleboards) along the resort's long stretch of beach. Rooms geared to families include family suites with bunk beds in a separate sleeping area for kids and two bathrooms. 
3. Hampton by Hilton Grand Cayman Seven Mile Beach
George Town, Cayman Islands
Among the most affordable Seven Mile Beach hotels, Hampton by Hilton Grand Cayman Seven Mile Beach is a great fit for families looking for a Grand Cayman experience that's fun and centrally located but doesn't break the bank. Rooms and clean and pristine, with crisp, comfortable linens and unfussy, peaceful decor. 
BEST AIRFARES: 17 Best Flight Booking Sites for Cheap Airfares
Unlike many of the hotels along Seven Mile Beach, the Hampton by Hilton doesn't have beach access right at the hotel; instead you'll need to walk down a small path to reach the southern end of Seven Mile Beach. But the hotel's backyard is super charming; it's a perfectly sized tropical garden with pink and white striped umbrellas, a small and cheery pool, plenty of seating, and the destination restaurant Ms. Piper's (even if you don't stay here, it's worth booking a meal at Ms. Piper's).
Bicycle rentals, shuttle service to and from favorite local beaches, and various snacks throughout the day are included in the resort charge. The hotel has a range of family-friendly accommodations, including studios, one-bedroom and two-bedroom suites.
4. Grand Cayman Marriott
George Town, Cayman Islands
Grand Cayman Marriott has a prime position along Seven Mile Beach, though its approach to waterfront is slightly different than some of the other family-friendly resorts on the beach—a large part of the Marriott's oceanfront is seawall, and its beach sits off to one side of the resort. It does mean that the Marriott's pool, which sits on a deck next to the ocean, has one of the best ocean views on the island though. 
HAPPY HOTEL STAYS: 10 Best Hotel Booking Sites for Cheap Prices
The Marriott has two-bedroom family suites, and standard guest rooms come with either two beds or a pull-out couch to maximize sleeping room. There are also some connecting rooms for larger families or families with older kids.
5. Caribbean Club
For families looking for a mix of vacation rental spaciousness and hotel amenities, the Caribbean Club is a strong choice that earned "Best of the Best" status on Tripadvisor. The Club has 37 suites and villas that range in size from one to three bedrooms. At 2,700-square feet, the three-bedroom villas are legitimately spacious, and come with long balconies and private jacuzzis.
TEEN-FRIENDLY TRIPS: 10 All-Inclusive Family Resorts Even Teenagers Will Love
The staff will stock your kitchen so you don't have to spend vacation time grocery shopping. Hotel-like amenities include a fitness center and pool, concierge service, an onsite restaurant, and beach cabanas and lounge chairs on Seven Mile Beach. 
6. The Locale Hotel Grand Cayman 
West Bay, Cayman Islands
The Locale Hotel Grand Cayman is a 42-room boutique hotel that sits 500 feet from Seven Mile Beach–meaning it's a five-minute walk from your room to the sand. But even though it's not right on the beach, this particularly well-reviewed hotel is of particular interest to families for two reasons: First, it has roomy 675-square-foot family suites that sleep six people; and second, it's among the most affordable options along Seven Mile Beach. Included in the rate are daily breakfast, Wi-Fi, and amenities like the hotel's saltwater pool. 
CLOSER TO HOME: 19 Best All-Inclusive Resorts in the U.S.
Bonus: Seven Mile Beach Vacation Rentals
All licensed vacation rentals are inspected yearly by the Cayman Islands tourism board, so travelers can feel confident in licensed properties (all properties should be licensed in order to be posted online). Since there's a lot to see around Grand Cayman, and since it's easy and safe to get around, a vacation rental can be a good fit for families looking for a little more space and independence. Booking sites including VRBO, Tripadvisor, and Luxury Cayman Villas list properties on or near Seven Mile Beach.
Among the most popular condominium and villa rentals along Seven Mile Beach are Villas of the Galleon and Casa Caribe. Going this route gives you less in the way of hotel-standard amenities but plenty of space and extras like kitchens and living rooms, which can be great if you're trying to manage costs, since eating out all the time inflates vacation costs quickly.
More from FamilyVacationist: