Caribbean vacations can be anything you want them to be. To some, that could mean together time spent lounging on a blissful tropical beach. To others, it could be a more active vacation with scuba diving lessons, rainforest excursions, and visits to ancient ruins. In a place as diverse as the Caribbean, there's a perfect island vacation for every taste and budget.
The Best Caribbean Vacations and Destinations for Families
The best Caribbean destinations have many things in common, including a variety of beaches ranging from pebbly to powder white. And the best Caribbean vacations for families also come with a good mix of accommodation options that range from sprawling all-inclusive resorts to boutique-style inns, paired with plenty to do both on and off the beach. Here are the tropical destinations that practically guarantee a great Caribbean vacation for everyone in the family.
CLOSER TO HOME: 10 Best East Coast Vacations for Any Time of Year
1. British Virgin Islands
Sailors love the British Virgin Islands for the ease of "line-of-sight" sailing (read: you can navigate visually because everything is within eyesight). Whether you choose to go the bareboat route or charter a catamaran with a captain from a company like The Moorings for the ultimate island-hopping itinerary, the British Virgin Islands make for idyllic Caribbean vacations.
CARIBBEAN VACATIONS: 10 Caribbean Family Resorts That Deserve a Spot Your Bucket List
For beach lovers, spots like White Bay Beach on Jost Van Dyke and Tortola's Cane Garden Bay are the stuff of screen saver fantasies. Your family will feel like Robinson Crusoe's gang traipsing around the giant boulders lining the sand at The Baths on Virgin Gorda. And there are snorkeling reefs everywhere, lined with swaying sea fans and teeming with tropical fish.
Where to Stay in the British Virgin Islands
If you prefer to be land-based in the BVI, choose from one of the great resorts on Tortola, Anegada, Virgin Gorda, or Jost Van Dyke. On Virgin Gorda, Oil Nut Bay is a family-favorite Caribbean vacation spot, offering adventure packages that include guided snorkeling excursions with sea turtles and road safaris to visit The Baths. And you can go the family glamping route at Anegada Beach Club when you stay in one of the beachfront tents set under a palm-thatch palapa.
2. Jamaica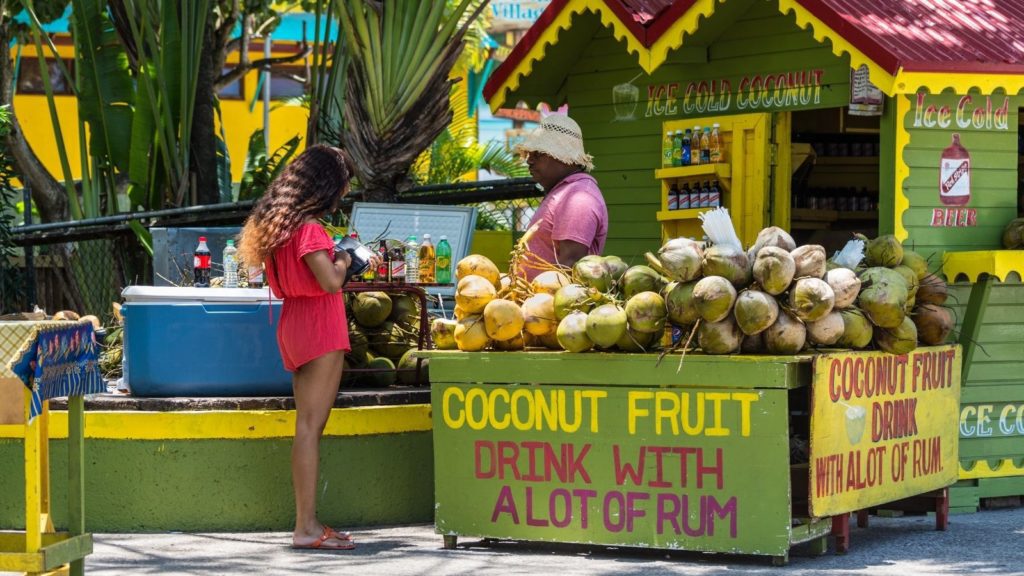 With its fascinating culture, music, and all-around laidback vibe, Jamaica makes for great Caribbean vacations. Accommodation options on the island run the gamut from all-encompassing Jamaica all-inclusive resorts that target families to boutique beachfront escapes that come with your own private nanny.
LEAVE THE KIDS AT HOME: 7 Couples Resorts in Jamaica That Are Perfect for Romance
The third largest island in the Caribbean, this lush land laden with tropical fruit and full of spices (hello, jerk chicken!) is packed with adventure, too. Family vacation activities range from forays into the Blue Mountains and zip line adventures to riding a bamboo raft down the Martha Brae River and visiting famous waterfalls like Dunn's River Falls (or lesser-known spots like YS Falls).
For the best beach on the island, make your way west from Montego Bay to Negril's Seven Mile Beach, lapped by turquoise water and lined with restaurants, bars, and hotels.
Where to Stay in Jamaica
Consistently ranked among the best all-inclusive beach resorts in the world, it's hard to beat Beaches Negril on Seven Mile Beach, with its huge pools, complimentary kids club, and included activities like snorkeling trips, scuba diving, Hobie Cat adventures, and paddle boarding. In Montego Bay, the elegant Half Moon is another Caribbean vacation favorite for families who prioritize beautiful beaches. And for all-out family fun with a dedicated nanny for the kids during your stay, nothing can top the all-inclusive Franklyn D. Resort and Spa in Runaway Bay.
3. Puerto Rico
The mix of Latin culture, mind-blowing natural attractions, and Old San Juan's historic streets—not to mention no passport requirement for U.S. citizens—makes Puerto Rico an exceptional spot for Caribbean vacations with the family.
NO PASSPORT REQUIRED: 5 Best Puerto Rico All-Inclusive Resorts for Families
When you're not lounging on the beaches of Isla Verde or Culebra or taking surf lessons in Rincon, you can go kayaking in a bioluminescent bay on Vieques, snorkel among sea turtles on colorful coral reefs, or soak up the sound of salsa music while trying Puerto Rican specialties like mofongo on the streets of the lively capital city, San Juan.
Where to Stay in Puerto Rico
For a luxury splurge, the longstanding go-to for Caribbean vacations in Puerto Rico is Dorado beach, a Ritz-Carlton Reserve, with its multi-bedroom suites and residences fronting one of the island's very best beaches on the north coast, west of San Juan. Closer to the city, the Fairmont El San Juan Hotel hugs a beautiful beach and has four pools and a swim-up pool bar.
4. Grenada
You're thinking outside of the Caribbean beach resort box when you plan a vacation to Grenada, and you'll be rewarded with a friendly island where mass tourism is still in its infancy and the beaches are as golden and welcoming as they come.
ROOM TO SPARE: 13 Best All-Inclusive Resorts for Large Families
Dubbed the Spice Isle for the nutmeg, ginger, cinnamon, and other goodies that grow here, Grenada is a chilled-out Caribbean vacation spot where nature rules and you can spend your days tubing along the Balthazar River, hiking along the crater of an extinct volcano at Grand Etang National Park, or dipping in the Seven Sisters Falls.
For a swim in the sea, there's no beating a day at Grand Anse Beach, lined with coconut palms and tropical flowers, and located to the south of the island's pretty capital, St. George's.
Where to Stay in Grenada
For a boutique stay on Lance aux Epines Beach, hit the family-owned Calabash Luxury Boutique Hotel, with its onsite water sports center from which you can head out snorkeling, sailing, or diving. On Grande Anse Beach, Mount Cinnamon Resort and Beach Club is renowned for its Caribbean elegance, flowering grounds, and direct access to the island's best family beach.
5. Antigua and Barbuda
A beach for every day of the year. That's right, the islands of Antigua and Barbuda bring 365 beaches to the table for your Caribbean vacations. And if a fun time together sounds like trying a new beach every day, then this east Caribbean paradise might be the place for you. Don't miss Half Moon Bay, arguably the prettiest of the many beaches, then road trip around and see what you can discover on your own. In this Caribbean destination, all roads lead to a beautiful beach.
AROUND THE WORLD: 10 Best All-Inclusive Beach Resorts in the World
You can add a good dose of history to a Caribbean beach vacation in Antigua, too, with a visit to English Harbour, the only Georgian harbor in the world still in operation.
Where to Stay in Antigua and Barbuda
Set on a beautiful sweep of sand on Antigua's southern coast, Carlisle Bay appeals to active families with its onsite water sports and tennis facilities. For a similar splurge off Antigua's north coast, Jumby Bay is the ultimate private island all-inclusive experience.
6. Dominican Republic
From the beautiful beaches of Punta Cana and the elegant golf courses of La Romana to vibrant Santo Domingo and quiet kite surfing towns like Cabarete, the Dominican Republic offers many of the best Caribbean vacations for parents and kids.
NO KIDS ALLOWED: 11 Best Adults-Only All-Inclusive Resorts in the Caribbean
Families in search of adventure will find it here, too, in the form of mountain biking trails in the highlands and canyoning or white water rafting on roaring rivers like the Rio Yaque in Jarabacoa.
Where to Stay in the Dominican Republic
In the tourism hub of Punta Cana, there are so many all-inclusive family resorts to choose from that it's almost dizzying. Top choices include the Hilton La Romana Resort and Waterpark and Nickelodeon Hotels and Resorts Punta Cana. In La Romana, Casa de Campo has resort rooms as well as private villas (many of them more like mansions) for rent. 
7. Bonaire
If your family likes to scuba dive and snorkel—and wants to spend a whole Caribbean vacation doing it—Bonaire is far and away the favorite island destination for blowing bubbles underwater. Known as the shore diving capital of the world, this island in the Dutch Antilles even has drive-through stations where you can refill air tanks, not to mention unlimited shore diving from many of its resorts.
BEACH BLISS: 10 Most Beautiful Caribbean Beaches (and Where to Stay Near Each)
Just don't come to Bonaire seeking palm trees. Below the hurricane belt, this Caribbean vacation spot is an arid island full of cactuses, not rainforests.
Where to Stay on Bonaire
If all you want to do is dive and snorkel, stay at Buddy Dive Resort, where you can spend all your family time finning among tropical fish on the gorgeous house reef or heading out on boat dives around the island. Divi Flamingo Beach Resort and Casino is another oceanfront favorite with a wonderful pool.
8. Turks and Caicos
The beaches of your dreams await in spots like Grace Bay on the island of Providenciales in the Turks and Caicos. You know the scene: blindingly white sand that parfaits into a sea of turquoise, then sapphire so bright you'll think you're looking at it through polarized sunglasses even if your eyes are bare.
TRAVEL WITH TEENS: 10 All-Inclusive Family Resorts Even Teenagers Will Love
If all you really want to do on a Caribbean beach vacation is lounge on a picture-perfect strip of sand, dip into the water from time to time, and retire to your resort for a sunset meal of spectacular local seafood, you won't go wrong in the dreamy isles of the Turks and Caicos.
Where to Stay in Turks and Caicos
All the luxury comforts are at your fingertips (or sandy feet) when you stay at The Shore Club on Long Bay Beach in Providenciales, with its complimentary kids club, spacious suites, and villas fronting the powdery sand. For a stay in a stand-alone vacation home, Beach Enclave has ultra-luxe options on Long Bay and Grace Bay. And Beaches Turks and Caicos is a home run for families looking for a nearly endless list of activities and restaurants built into the all-inclusive cost.
9. Cancun, Mexico
Along Mexico's Caribbean coast, Cancun is the undisputed queen when it comes to offering the most options for beautiful family beach resorts. There are Cancun resorts for every type of family traveler here, whether all you care about is having a cabana on the sand or you want to feel like you're actually in Mexico (and not Miami) during your stay.
MEXICO VACATIONS: 13 Best All-Inclusive Mexico Resorts for Families
Even if you don't rent a car for your whole vacation in Cancun (most resorts make it easy to never leave the property), it's worth hiring one for at least a day to check out the cenotes (freshwater swimming holes) south toward Tulum. For another fun day trip, hop the ferry from Cancun to Isla Mujeres, just offshore, where you can rent a golf cart to explore the island's palm-lined beaches and sandy backroads. As one of the top family vacation spots in Mexico, Cancun is close to many kid-friendly attractions and fascinating archeological sites.
Where to Stay in Cancun
Cancun is full of excellent all-inclusive resorts, with most of the big brands represented on its sandy shores. To stay at a Mexican all-inclusive chain with a great reputation and excellent food, check out Fiesta Americana Condesa All-Inclusive, which has clubs for teens and kids, an excellent spa, and some of the best food you'll find at an all-inclusive resort anywhere.
10. Playa del Carmen, Mexico
Another favorite in Mexico's Quintana Roo state along the country's Caribbean coast, Playa del Carmen has a more mellow vibe than Cancun, yet beaches that are just as beautiful. You're closer to the Yucatan's famous cenotes here, too, when you're ready to switch things up from the salty Caribbean Sea for a splash in some freshwater.
RELAXING GETAWAYS: 10 Best Mexico Resorts for Couples
While the beaches in town can be crowded, it's a short drive south to spots like Xpu-ha on the way to Akumal, which have more of a virgin appeal. And as things cool off later in the day, Mexican and tourist families alike love to stroll Playa del Carmen's main pedestrian drag, Quinta Avenida (5th Avenue), lined with cafes, bars, and shops.
Where to Stay in Playa del Carmen
Part theme park and part hotel, the all-inclusive Hotel Xcaret Mexico is an over-the-top wonderland with 900 suites and cultural and natural attractions to explore. And the new Nickelodeon Hotels and Resorts Riviera Maya includes oceanfront swim-up suites and a waterpark with more than 20 slides (read our full review here).
11. The Bahamas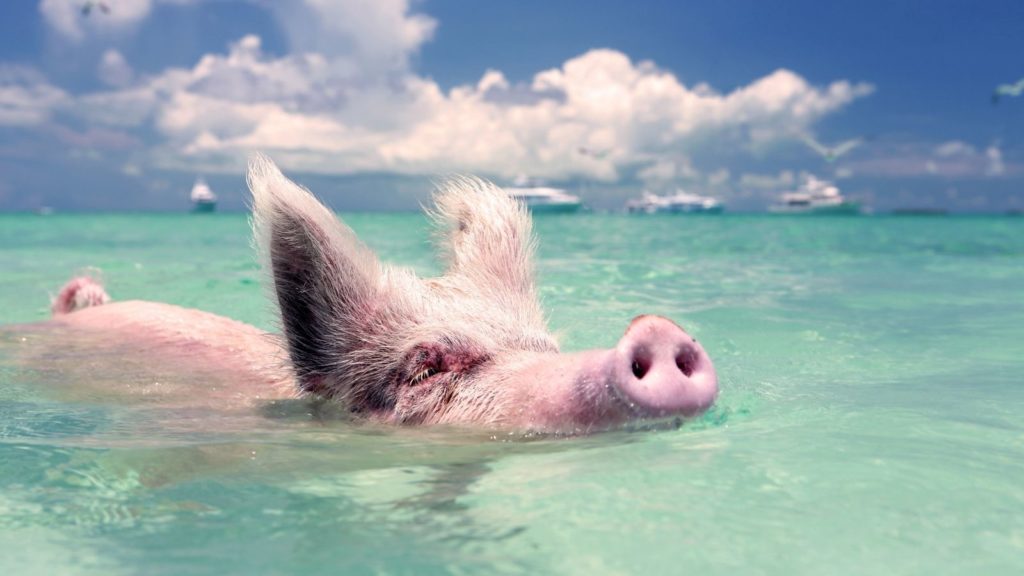 Technically located in the North Atlantic and not the Caribbean, it's impossible to ignore the blissful Bahamas when dreaming of tropical family vacations. There's a reason the islands' tourism slogan is, "It's better in the Bahamas." When you're sifting your fingers through powder fine sand, frosty beverage in hand, watching the kids splash through shallow warm waters, you'll be hard-pressed to disagree.
BETTER IN THE BAHAMAS: 8 Best Bahamas All-Inclusive Resorts
In fact, with its hundreds of coral cays and islands to choose from, the only thing the Bahamas doesn't make easy on vacationing families is deciding where to go. If you like long sandy stretches, then Eleuthera might be the island for you. Fancy something more tropically-urban? Then set your sights on the flashy hotels of New Providence and Nassau, or the large resorts on Grand Bahama Island.
Whatever you do, make sure your Caribbean family beach vacation includes a boat ride or two—if money is no object, charter the Motor Yacht Loon—to get out onto the beautiful Bahamian waters, where it's hard to find any hues of blue that compare to these.
Where to Stay in the Bahamas
The big players in Nassau are Atlantis Bahamas, with its legendary water park and aquariums with manta rays; and the sprawling Baha Mar complex, home to three luxury hotels. Don't overlook smaller properties like Compass Point Beach Resort for a more rustic appeal on equally fine stretches of sand, though.
Private island stays are a thing for travelers with deep pockets in the Bahamas, too, with spots like Royal Island on Eleuthera—with five bungalows and three suites begging for a multi-generation escape—leading the pack.
More from FamilyVacationist: