You may have heard that time moves a little differently in the Caribbean. It's not an exaggeration. There's a leisurely pace to beach life, and that's especially true when you're swimming with starfish, searching for seashells, or listening to a chorus of tropical birdsong at some of the best Caribbean beaches.
The Best Caribbean Beaches
If you're dreaming of a family beach vacation, the Caribbean should be at the top of your list. With world-class beaches and turquoise waters that will impress your cranky toddler and jaded teenager alike, these sandy oases might as well be custom-made for a harmonious family trip. So, pack your sunscreen and flip-flops, because the perfect Caribbean family vacation is just a beach away.
BRING THE KIDS: 10 Caribbean Family Resorts for Your Bucket List
1. Paynes Bay Beach, Barbados
The island of Barbados is part of the British Commonwealth, so it's not surprising that the country favors some very British traditions, including playing cricket and drinking tea. Paynes Bay Beach enjoys a privileged position on the island's Platinum Coast, where a string of breathtaking beaches dangle like charms on a bracelet. The sea is ringed with golden-hued sand and enjoys water as gentle as what's in your bathtub.
NO EXTRA FEES: 6 Best Barbados All-Inclusive Resorts for Families
Don't miss Oistin's Fish Fry, an island culinary tradition that's close to Paynes Bay Beach. Each Friday, dozens of stalls sell fresh fish cooked on the grill. If the kids don't like fish, they can order macaroni pie, a fortifying riff on macaroni and cheese. Music and dancing accompany your meal.
Where to Stay Near Paynes Bay Beach in Barbados
The all-inclusive Tamarind by Elegant Hotels sits on a dreamy slice of Paynes Bay. Kids will enjoy the in-water trampoline, banana boat rides, and multiple swimming pools. At the kids club, children will be introduced to activities that local kids enjoy, including cricket, beach walks, and island crafts.
2. Reduit Beach, St. Lucia
While Saint Lucia enjoys a bounty of photo-worthy Caribbean beaches, the balmy breezes at Reduit Beach are catnip for sun-starved families. Crystal-clear azure water, golden sand, and a view of Pigeon Island National Park paint a pretty picture. One of the coolest things on this beach is the Splash Island Water Park, the first open-water sports park in the Caribbean, a blast for the entire family. And you won't go hungry thanks to vendors who stroll Reduit Beach selling homemade roti and refreshing coconut drinks.
LEAVE THE KIDS AT HOME: 11 Best Adults-Only All-Inclusive Resorts in the Caribbean
Beyond its beautiful beaches, this Caribbean island has numerous worthwhile attractions, including the UNESCO World Heritage Site Piton Mountains, a tropical rainforest, and a drive-in volcano.
Where to Stay Near Reduit Beach in St. Lucia
Bay Gardens Beach Resort and Spa is an easygoing resort on Reduit Beach. Rooms are bright and airy and decorated in festive colors. The kids club offers supervised activities for guests ages four to 12. And, the resort is a short stroll from Baywalk Shopping Mall's many restaurants.
3. Ambergris Cay, Turks and Caicos
If you're looking for a hidden gem and money is no object, exclusive Ambergris Cay in the Turks and Caicos is for you. Visitors connect to the tiny island of Ambergris Cay on an 18-minute flight from the Turks and Caicos international airport, flying in on the island's private plane.
KID-FRIENDLY VACATIONS: 12 Best All-Inclusive Family Resorts in the World
Once you arrive on this pristine island, you'll enjoy a deserted beach with blue-green water and sand as smooth as a pearl. Along with the stunning seascape, the island overflows with colorful flowers, native Turks Head cactus, and a rainbow assortment of rare birds.
Accommodations at Ambergris Cay Private Island in Turks and Caicos
All guests on the island stay in beachfront suites with private plunge pools or spacious hillside three-and- four-bedroom villas with swimming pools. Service is highly personalized, with a dedicated butler for each family. Gourmet meals, resort activities, water sports, use of golf carts, bikes, and a 30-minute daily spa treatment for adults are included.
There's also a fully equipped arts and crafts space where kids can let their creative juices flow. If beautiful beaches aren't quite enough, tweens and teens can enjoy an assortment of video games and a pool table, too.
Can't afford a private island vacation? Many of the best Turks and Caicos all-inclusive resorts have private beaches of their own at a much more budget-friendly price.
4. Grand Anse Beach, Grenada
With the scent of locally grown nutmeg, cloves, and cinnamon wafting through the air, it's no wonder Grenada is known as the Spice Island. Home to dozens of beautiful beaches, none are more beautiful than Grand Anse Beach on the sheltered leeward coast. This two-mile-long treasure of powdery alabaster sand offers a tropical trifecta of sun, sand, and surf. It's a mere 15 minutes from the airport, so your toes will be in the sand soon after clearing customs.
TRAVEL WITH TEENS: 10 Best Vacation Ideas for Families with Teenagers
Beaches in Grenada are public, which provides you the opportunity to watch fishermen haul in their daily catch and local children build sand castles at any of the island's many lovely beaches.
Where to Stay Near Grand Anse Beach in Grenada
Mount Cinnamon Resort and Beach Club is an eco-friendly property on Grand Anse Beach. The suites and villas each have their own veranda with sweeping views of the sea and the majestic sunsets. There's an on-site restaurant and kid-friendly amenities, including an outdoor ping-pong table and a beach volleyball court.
5. Playa Knip, Curacao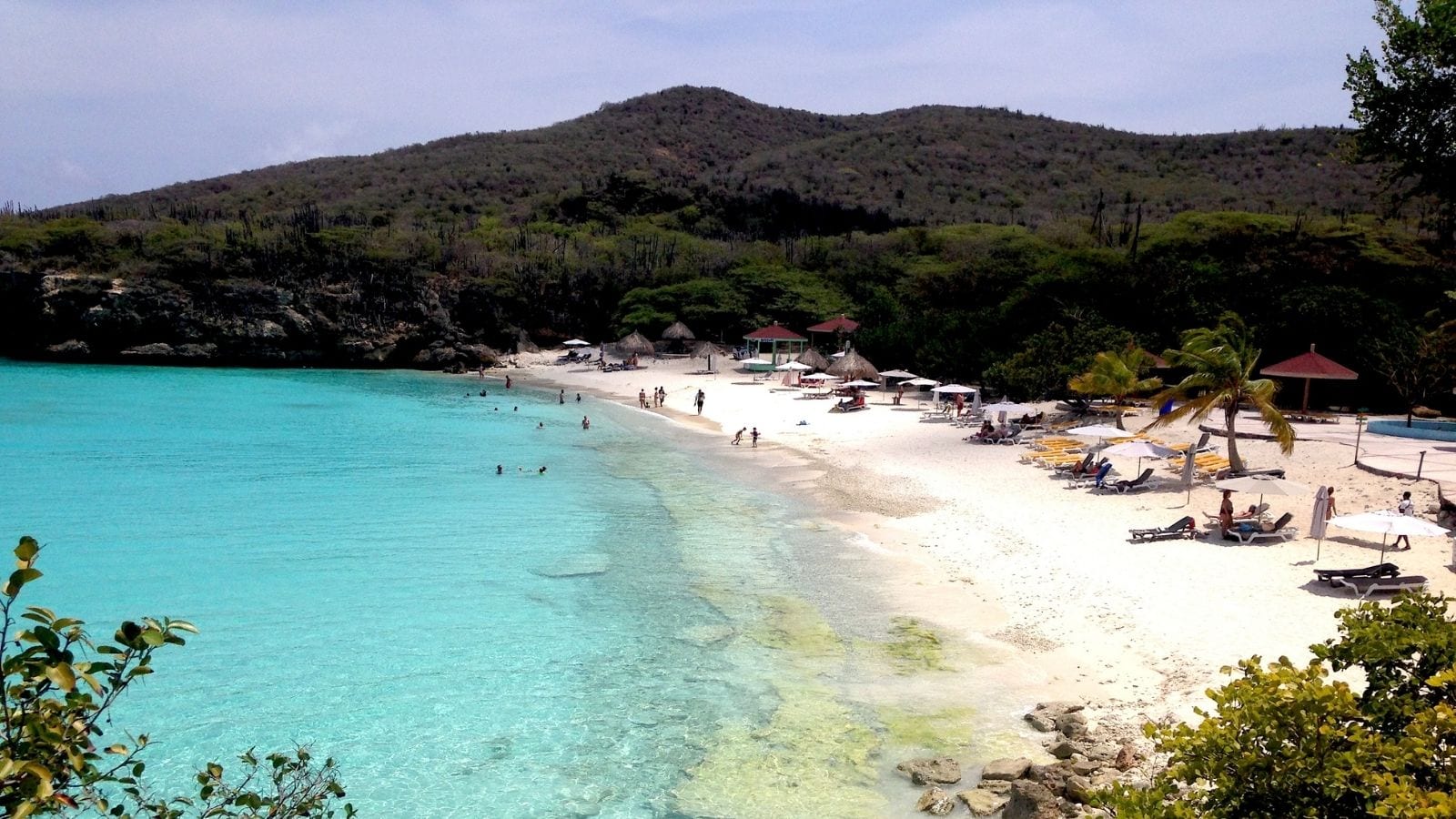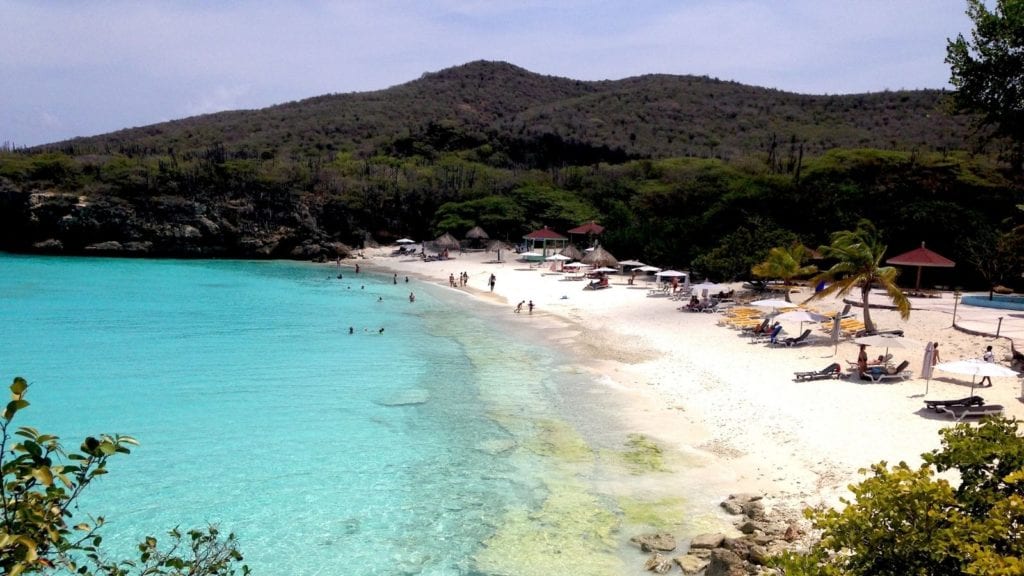 If you're not yet convinced that the Caribbean is the Platonic ideal of tropical paradise, a swim at Playa Knip on Curacao may change your mind. Composed of two protected beaches, Grote Knip (Big Knip) and Klein Knip (Little Knip), these blissfully undeveloped and uncrowded twin beaches feature satiny sand and cobalt-colored waves.
AROUND THE WORLD: 10 Best All-Inclusive Beach Resorts in the World
An autonomous country within the Kingdom of the Netherlands, Curacao blends Caribbean and Dutch cultural elements and traditions. And though it's tempting to spend every waking moment on this stunning beach, the capital city Willemstad—with funky street art and Dutch colonial architecture in a palette of candy colors—is well worth exploring, too.
Sold at many shops around the island, Chichi dolls are one of Curacao's most recognizable crafts. Look for paint-it-yourself Chichi doll workshops, which are good fun on a rainy day.
Where to Stay Near Playa Knip in Curacao
Landhuis Klein Santa Martha is a casual hotel approximately five miles from Playa Knip. There are four rooms plus one spacious apartment with a kitchen and small terrace. A pool, garden, library, restaurant, and attentive service are among the perks.
6. Eagle Beach, Aruba
In stark contrast to the lush terrain found in much of the Caribbean, Aruba presents a dramatic arid desert landscape. On Eagle Beach, photo-worthy cacti and twisted divi-divi trees lay just beyond the soft white sand and emerald-colored water.
ARUBA VACATIONS: 8 Best Aruba All-Inclusive Resorts for Families
Aruba's widest beach is postcard-pretty, with calm water that's ideal for swimming. Low-rise hotels and condos frame the coastline without overwhelming its natural beauty.
Where to Stay Near Eagle Beach in Aruba
Manchebo Beach Resort is a low-key boutique resort located on the shores of Eagle Beach. The 72 spacious rooms are inviting and come with contemporary furnishings, soft bed linens, and soothing waterfall showers. The resort's beach hammocks are a step up from standard beach chairs and make a splendid spot for a snooze while the kids play in the sand.
7. Maho Beach, St. Maarten
With a French and a Dutch side, St. Maarten has plenty of European panache. In addition to cultural and linguistic diversity, vacationers will find scores of beautiful Caribbean beaches.
GORGEOUS GETAWAYS: 7 Stunning Overwater Bungalows Worth the Splurge
At Maho Beach on the island's Dutch side, the sand is pure white and the waves roll in at a steady pace, but it's the low flying planes landing at adjacent Princess Julianna Airport that draw plane spotters young and old. Aviation geeks make pilgrimages here to watch the jets as they approach the runway, passing just over their heads in dramatic fashion.
Where to Stay Near Maho Beach in St. Maarten
Sonesta Maho Beach Resort, Casino and Spa provides an all-inclusive launch pad for your family's next vacation. The hotel is set on 10 prime beachfront acres with a kids club, pizzeria, and water park. You'll have a view of the planes landing from many of the luxurious guest rooms.
8. Isla Verde Beach, Puerto Rico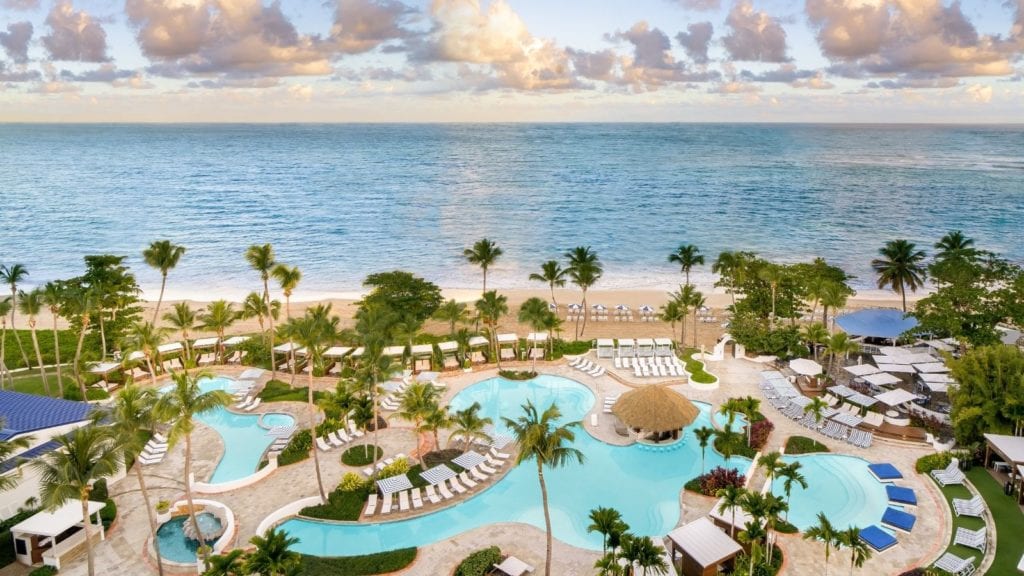 Isla Verde feels like a resort beach, yet San Juan's urban attractions are right at your fingertips, too. This three-mile stretch of playa is composed of three beautiful beaches, each with glistening golden sand and tall palm trees swaying in the breeze. There can be sizeable waves, which makes it a favorite Caribbean beach spot for body surfing and boogie boards.
FUN FOR EVERYONE: 10 All-Inclusive Family Resorts Even Teenagers Will Love
Where to Stay Near Isla Verde Beach in Puerto Rico
While there aren't many Puerto Rico all-inclusive resorts, the newly restored Fairmont El San Juan Hotel on Isla Verde beach epitomizes beachfront elegance while also welcoming families. Kids will enjoy multiple swimming pools, a pizzeria, and outdoor movies screened under the stars.
9. Bávaro Beach, Dominican Republic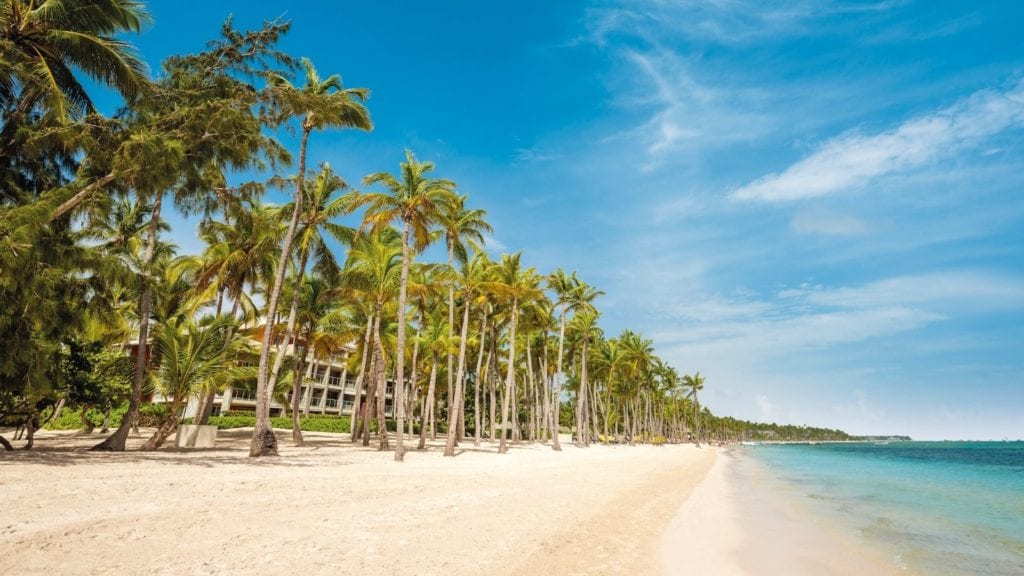 Stunning Bávaro Beach is one of the Caribbean's finest, a long strip of white sand and deep-blue water fringed by a canopy of palm trees. These natural attributes help to explain why it's one of the most popular Caribbean beaches, so be prepared to share the scenery with a large number of fellow vacationers staying at the resorts concentrated nearby.
BABY ON THE WAY: 7 Best All-Inclusive Resorts for Couples on a Babymoon
It'll be worth braving the crowds, though, once you snag a spot of sand on one of the most beautiful beaches not just in the Dominican Republic but in the whole Caribbean.
Where to Stay Near Bávaro Beach in Dominican Republic
Located on this idyllic swath of sand and sea is the Barceló Bávaro Palace, a beachside all-inclusive resort. Kids can splash at the waterpark, try a round of mini golf, aim for a strike at the bowling alley, and test their wits in the escape room. Tennis courts, a baseball field, and an array of non-motorized water sports provide more options for active families.
10. Seven Mile Beach, Cayman Islands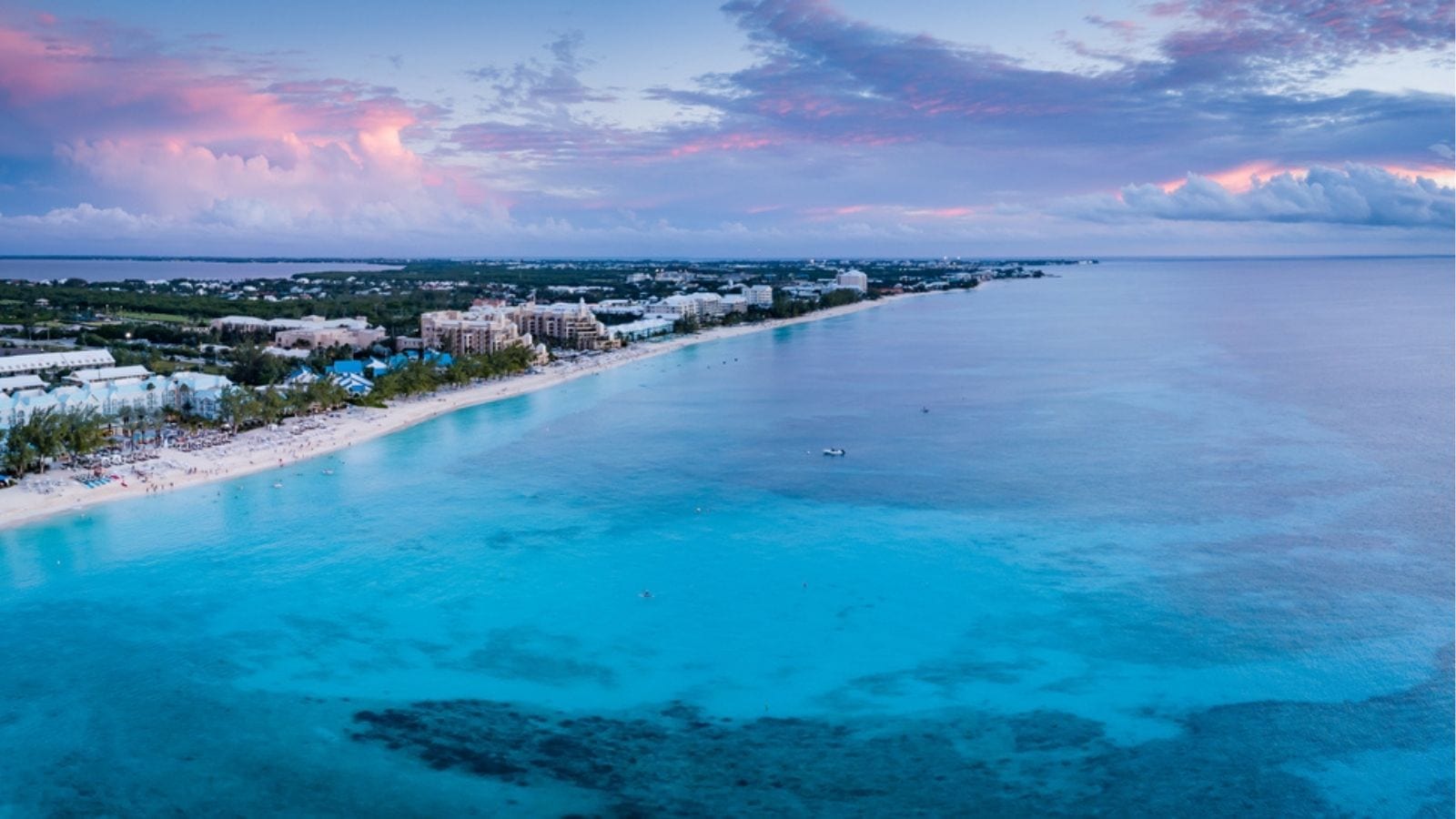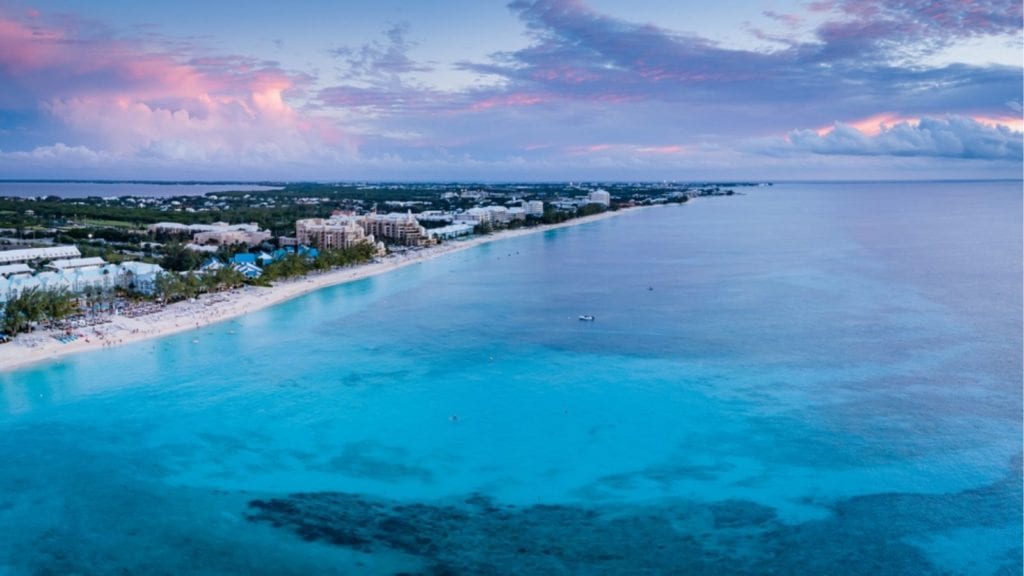 The Cayman Islands' Grand Cayman is home to the crescent-shaped Seven Mile Beach. It's a wonderland of sparkling sapphire water and coral-hued sand. Miles of uninterrupted beach, fabulous snorkeling, and restaurants serving fresh fish still briny from the sea await lucky visitors.
FIND A DEAL: 10 Best Hotel Booking Sites for Cheap Prices
Kids won't want to miss Stingray City, a sandbar populated with numerous stingrays just a short boat ride away. Visitors may interact with these surprisingly friendly sea creatures for a memorable vacation experience.
Where to Stay Near Seven Mile Beach in the Cayman Islands
Grand Cayman Marriott Beach Resort enjoys a prime position on this stunning beach. Luxurious rooms, a beachfront pool, and an array of restaurants add to the offerings.
More from FamilyVacationist: