When I think of all-inclusive family resorts, my daydreams take me instantly to the turquoise waters of Mexico and the sandy beaches of the Caribbean. And don't get me wrong, I love a tropical all-inclusive. But when I realized there are a ton of closer-to-home all-inclusive (or nearly all-inclusive) options in the United States, too, I felt like I'd cracked the code on an easy and closer-to-home family vacation where everyone—parents and kids—could kick back and just enjoy vacation. And that was a real game changer.
America's best all-inclusive resorts are tailor-made for families, couples, and multigenerational groups. With fantastic kids clubs that go above and beyond, resorts offering all-inclusive vacations pretty much guarantee something for everyone in a simple no-hidden-fees package price.
The Best All-Inclusive Resorts in the U.S.
From coast to coast, here are my picks for the best fully inclusive and mostly inclusive resorts in the USA that cater equally to the needs of kids, teens, parents, and even grandparents.
FIND A DEAL: 10 Best Hotel Booking Sites for Cheap Prices
1. Migis Lodge on Sebago Lake
South Casco, Maine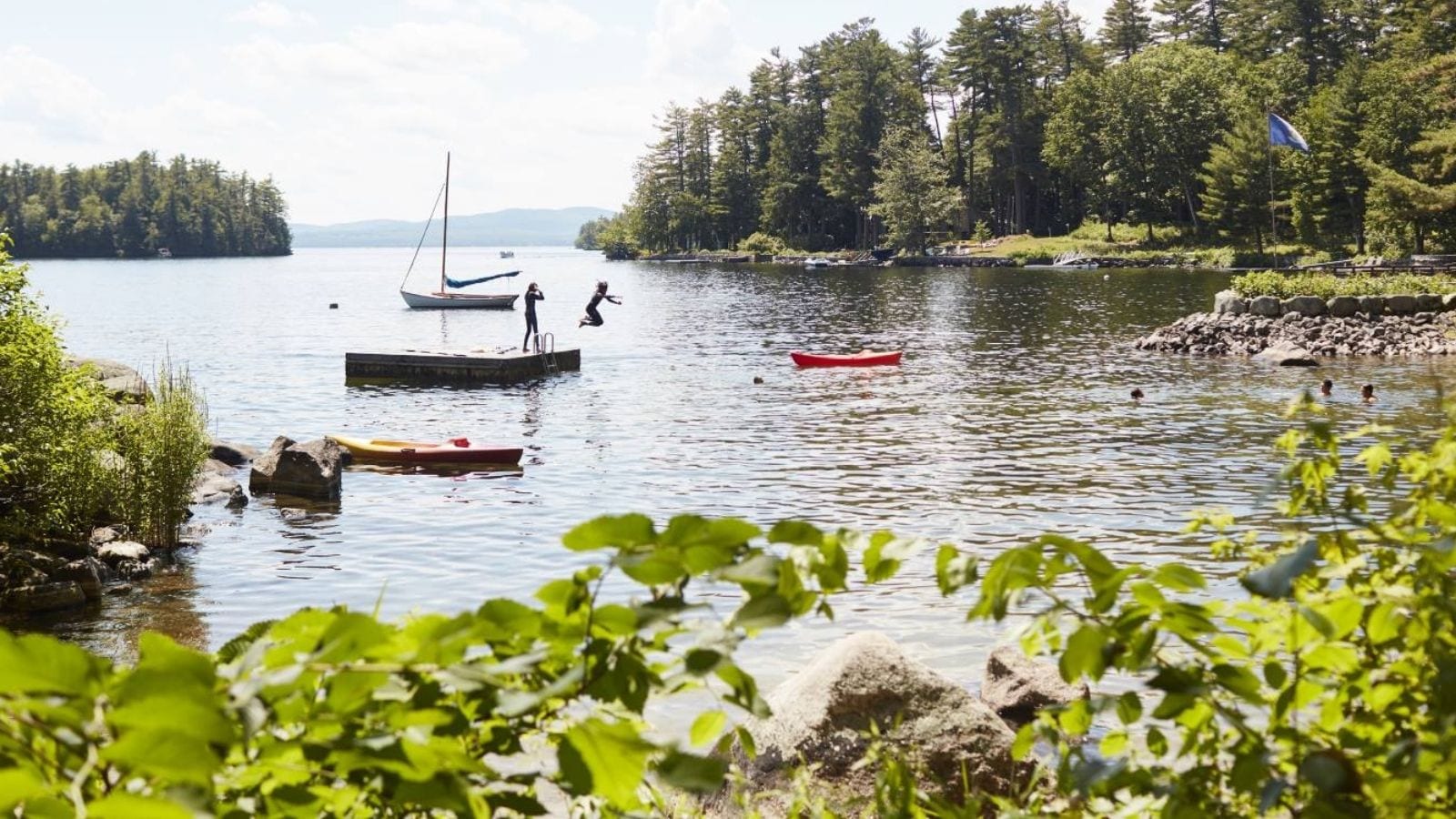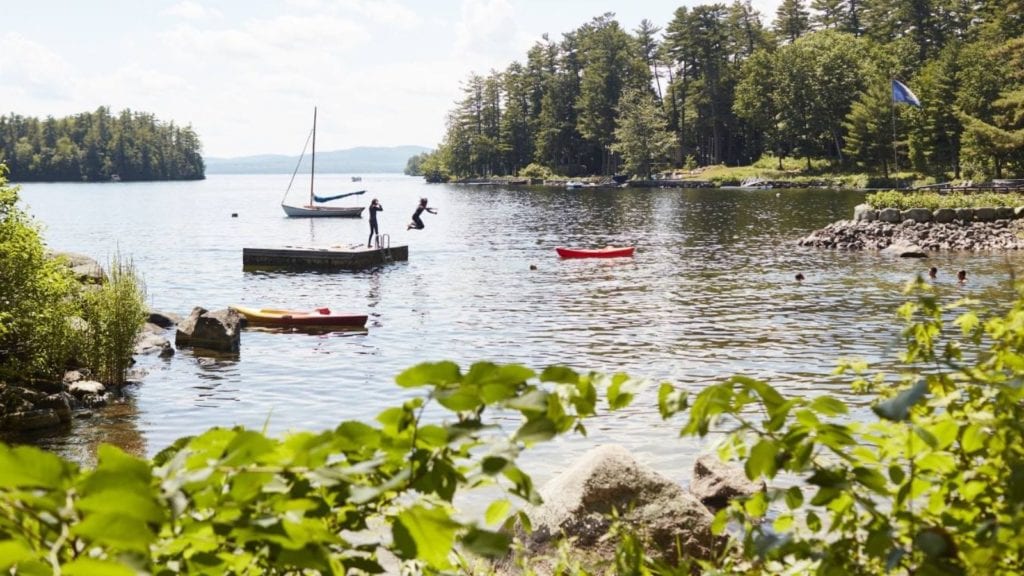 While there's a lot I love about Migis Lodge, I think the resort's best feature is its location, which is both scenic—it sits on Sebago Lake in Southern Maine—and convenient, since it's within an hour's drive of Portland, Kennebunkport, and other well-loved coastal villages and scenic lakes in New England. But what truly sets Migis Lodge apart from other family resorts in the northeast is the fact that it's practically all-inclusive.
WORLD'S BEST: 10 Best All-Inclusive Beach Resorts in the World
When you opt for the Full American Plan, the resort packages your accommodations, three meals per day, and most activities and amenities (including access to a private island) into one inclusive rate. With both dining room and outdoor cookout options, plus a children's dining plan, dining at Migis Lodge is relaxing for the whole family. Note that drinks from the bar and personal use of motorboats are not included in the price.
2. The Lodge on Little St. Simons Island
St. Simons Island, Georgia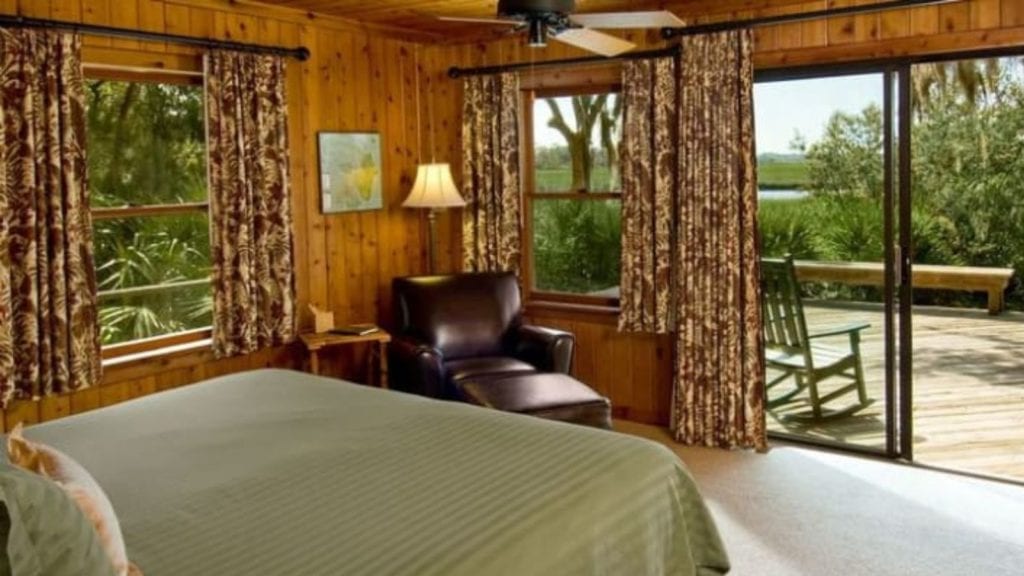 Speaking of private islands, did you know you can vacation on an all-inclusive private island in Georgia? Only accessible by boat, The Lodge on Little St. Simons Island is located in Georgia's Golden Isles, where you and your family can enjoy seven miles of unspoiled beaches, 8,000 acres of salt marshes, 3,000 acres of upland, and personalized naturalist-led activities such as bird watching, fishing, hiking, and kayaking. In this way, the resort stays true to its "nature is the luxury" tagline, and its partnerships with conservation organizations demonstrates its commitment to protect the island's flora and fauna.
TRIP IDEAS: 50 Family Vacation Ideas for the Best Trip Ever
Boat transfers, three meals per day, non-alcoholic beverages, use of recreational equipment, guided excursions, and accommodations are all included in nightly rates, and the Instagram-worthy cottages and 32-guest occupancy limit make it feel like you have the island to yourselves. (In fact, you can have it all to yourself: Packages are available for cottages, a single room, or the entire island.)
3. Sandpiper Bay All-Inclusive Resort by Wyndham
Port St. Lucie, Florida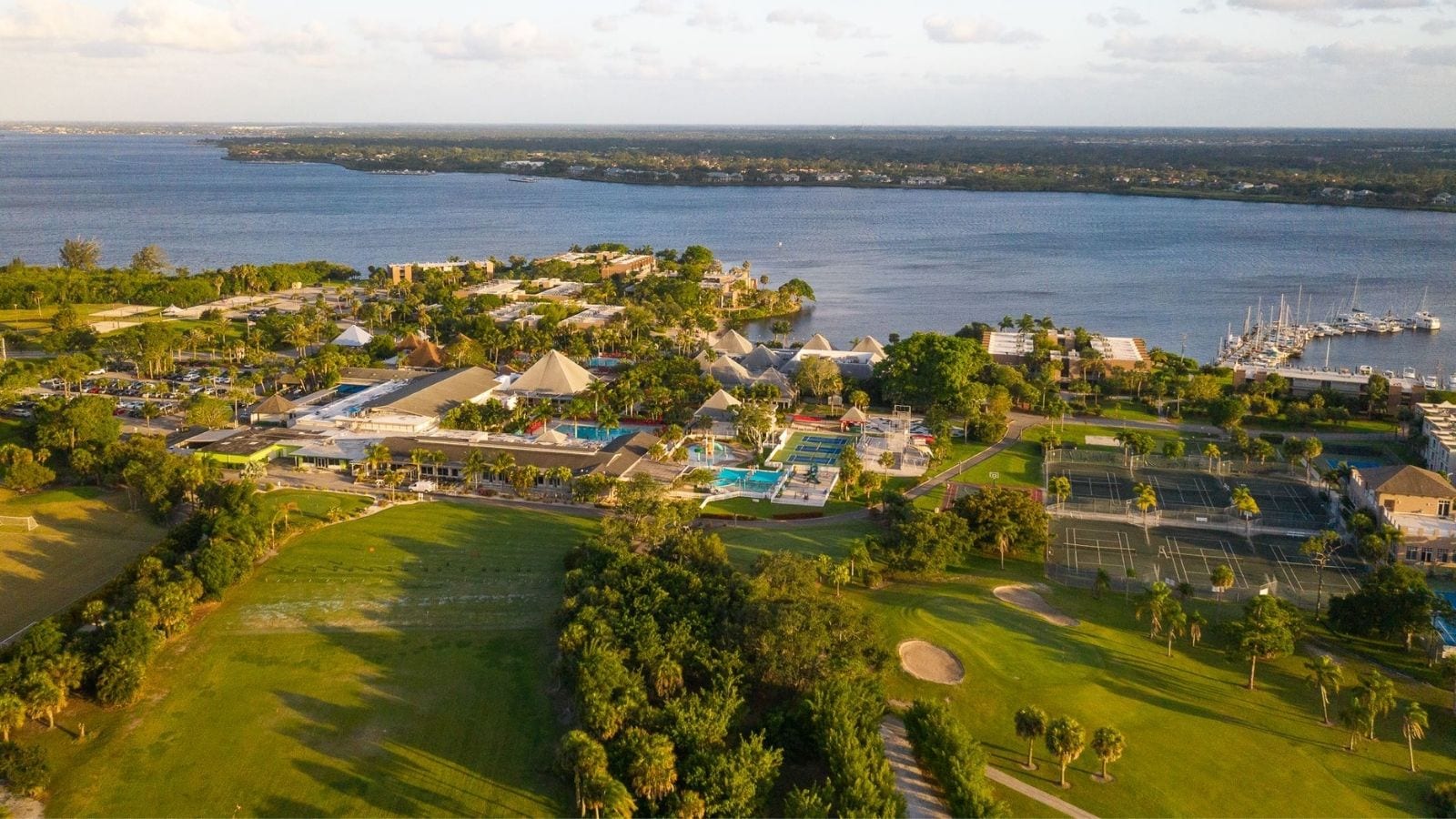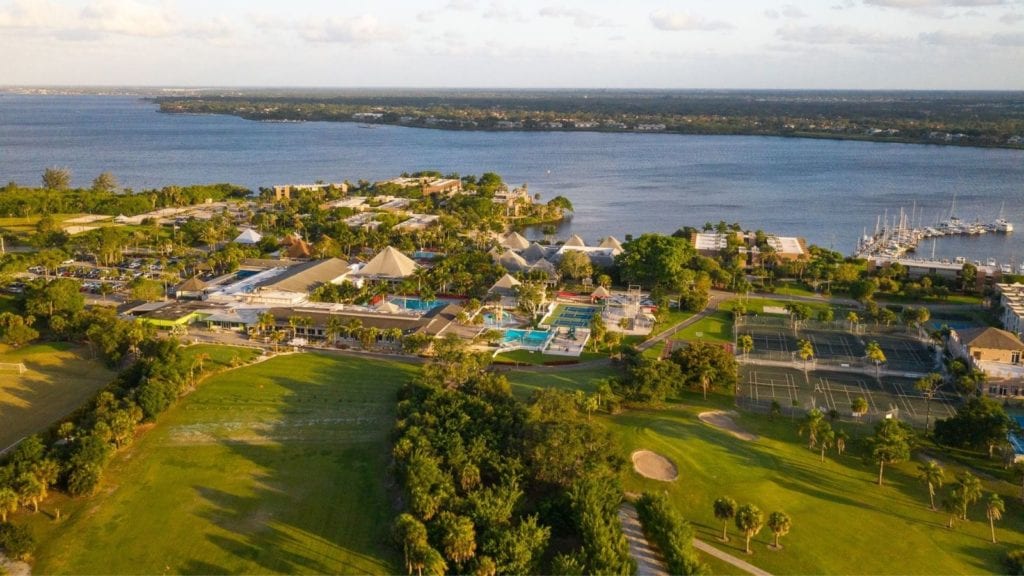 Located in Port St. Lucie on Florida's east coast, Sandpiper Bay All Inclusive Resort by Wyndham (formerly Club Med Sandpiper Bay) is a classic Florida beach resort where families can enjoy a bona fide all-inclusive experience. Among the amenities are swimming pools, water sports, a driving range and golf course, tennis courts, a spa, and private beach access.
MAKE MEMORIES: 25 Best Family Vacation Spots in the U.S.
Sandpiper Bay Resort is located about an hour's drive from Palm Beach and about two hours from the Orlando theme parks, though staying on site affords visitors many sports and adventure options. It's one of several Florida all-inclusive resorts to consider if you're planning a family vacation in the Sunshine State.
4. Mohonk Mountain House
New Paltz, New York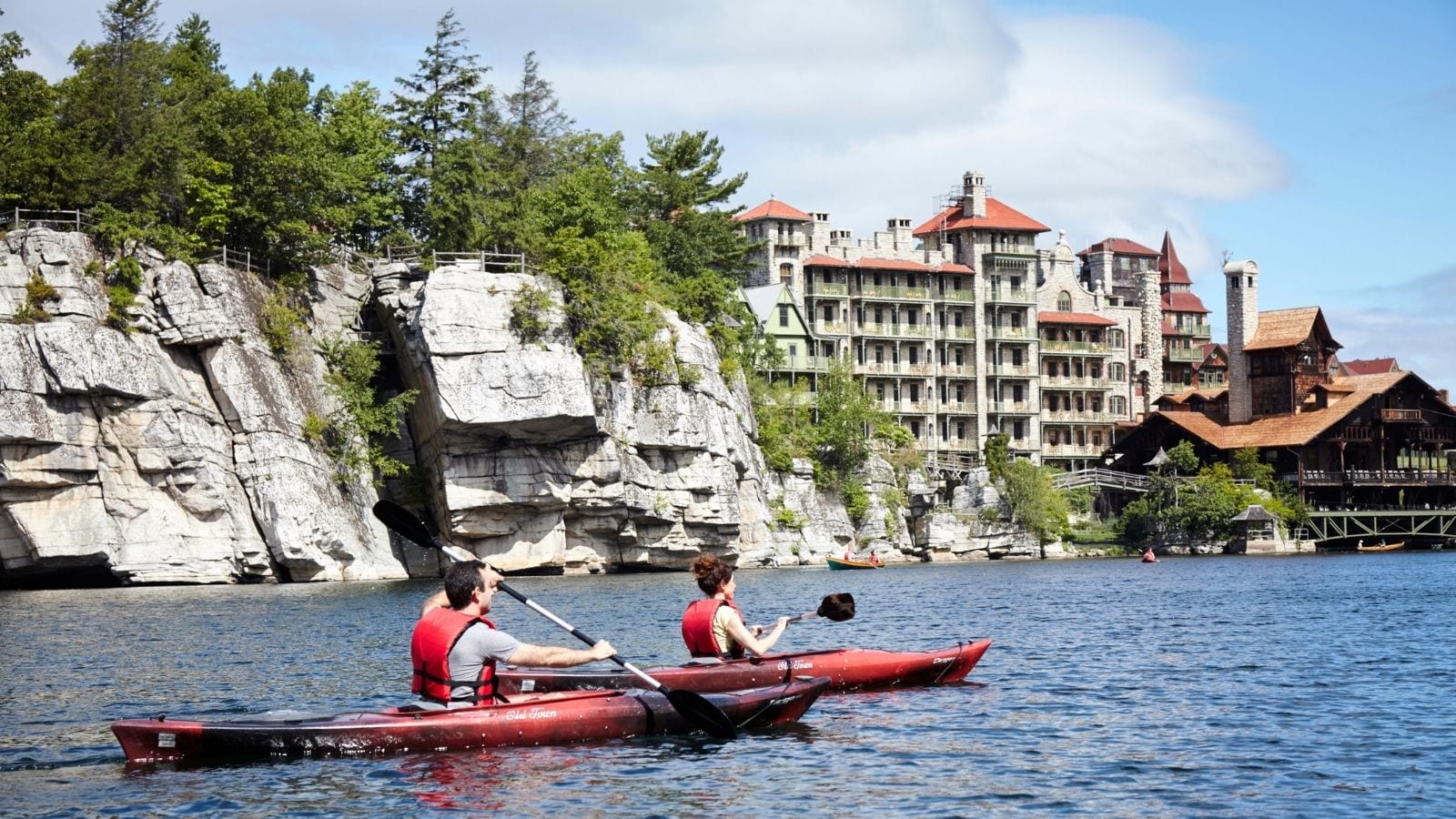 A bucket list New York vacation destination in the Hudson River Valley, Mohonk Mountain House's stunning location on a mountaintop above glistening Lake Mohonk affords opportunities for kayaking, row boating, and swimming, while its 40,000 pristine acres of forest means countless trails for hiking and picnicking. Kids love this Victorian castle resort's old-fashioned soda fountain and glow-in-the-dark disc golf at night, and a kids club runs all summer long summer for little ones looking to play sans parents. There's crafting, archery, tomahawk throwing, and a Junior Naturalist program to keep children entertained.
TAKE THE KIDS: 15 Most Kid-Friendly Resorts in the U.S.
Mohonk Mountain House's rates include most activities and three farm-to-table meals per day. Spa treatments, horseback riding, and rock climbing are available at an extra cost. While Mohonk Mountain House New York is a four-season resort, it's especially beautiful during the fall foliage season. The resort is listed as a National Historic Landmark (it was built in 1869) and is located just 90 miles from New York City.
5. Red Mountain Resort
Ivins, Utah
Opt for one of the Adventure Retreat packages at Red Mountain Resort and you'll get accommodations, three meals daily, and use of resort facilities (which include indoor and outdoor pools) covered in one inclusive rate. Plus, you can easily upgrade to a villa—perfect for families—and complement your stay with a visit to Zion National Park, located just an hour from Red Mountain Resort.
BRING THE LITTLE ONES: 10 Vacations for Toddlers (That Parents Will Love Too)
Situated on 55 acres, the resort boasts 82 rooms and 24 villas. Other amenities offered in the Adventure Retreat price include fitness classes, daily guided hikes, and use of indoor and outdoor swimming pools. Red Mountain Resort's Family Aventures private experiences add opportunities to climb, repel, do yoga, and even play music together, too. If you do not book a special package, a $25 per day resort fee is added to the standard rate.
6. Woodloch Resort
Hawley, Pennsylvania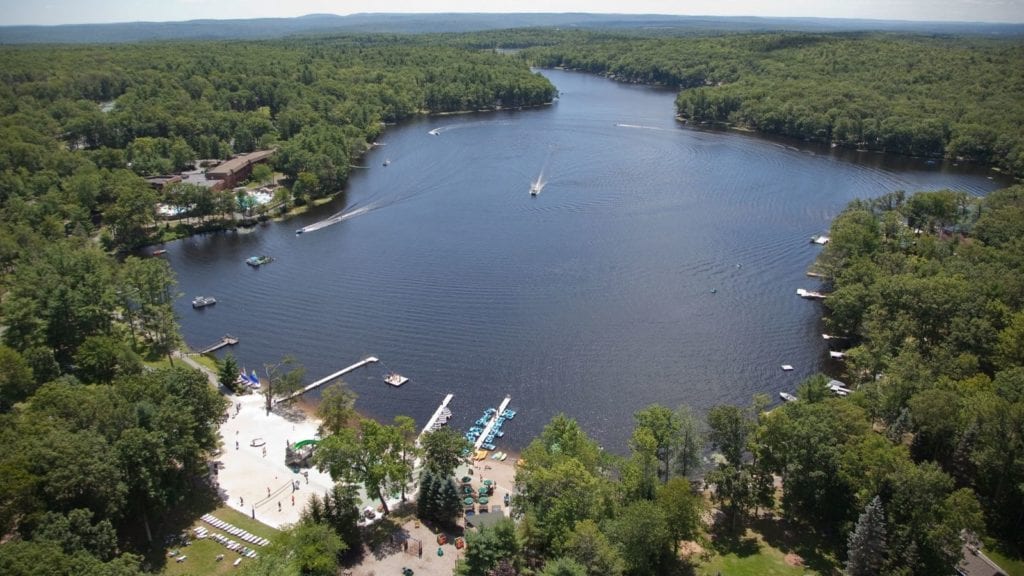 With outdoor activities year-round, Pennsylvania's Poconos Mountains are already an ideal place for a family vacation. But did you know there are all-inclusive resorts in the area, too? One of the very best for families is Woodloch Resort (also called Woodloch Pines), a lakeside getaway that offers a plethora of activities included in its daily rate, along with meals and lodging. Be sure to check out Woodloch's seasonal packages and discounts too. Families can bond while competing on bumper boats, at the speedway, or in organized games.
EXPECTING PARENTS: 7 Best All-Inclusive Resorts for Couples on a Babymoon
With adjoining room options, suites, and even on-property multi-bedroom homes, it's easy to find accommodations to suit your party size. Traveling without kids? Consider a stay at the neighboring The Lodge at Woodloch. More upscale than its sister property (with prices to match), the lodge is well-known for its spa treatments, heavenly soaking pools, and outdoor hot tub.
7. Rocking Horse Ranch Resort
Highland, New York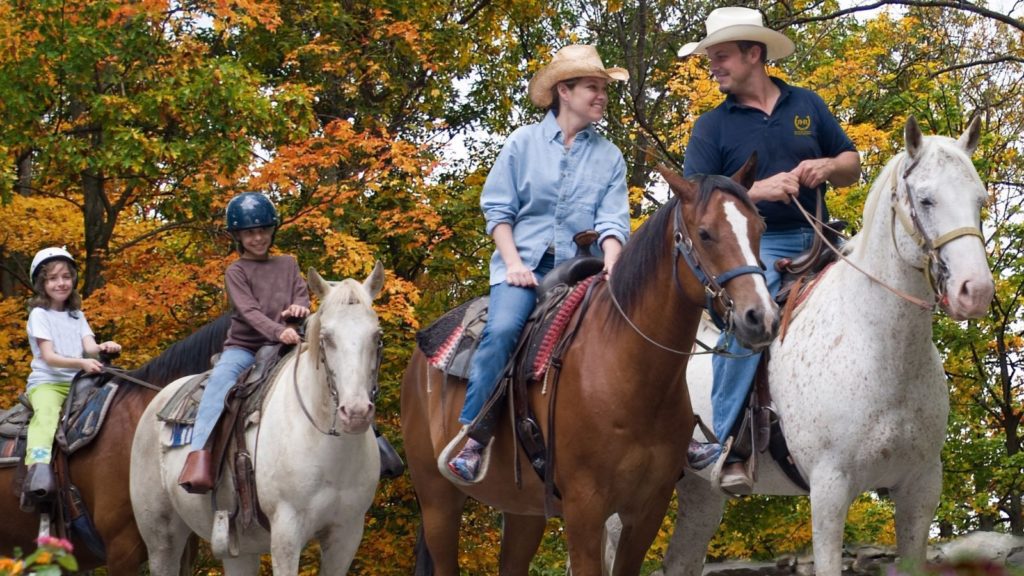 The all-inclusive Rocking Horse Ranch Resort dude ranch (just 30 minutes from another resort on this list, Mohonk Mountain House) offers a full roster of varied activities each season, from ice skating and snow tubing in the winter vacation season to banana boat rides, hiking trails, and super bungee jumping in the summer. There's also an indoor water park and outdoor pools with waterslides.
HOW TO CHOOSE: Hotels vs. Vacation Rentals: Which Are Better for Families?
Even with all those other activities, horseback riding is at the center of all the action at Rocking Horse Ranch, with trail rides and barn tours front and center during your stay. Visit during a holiday weekend or week for themed events. Meals, snacks, and activities are included in the regular resort rate. In addition to regular meals, there are also chef's tasting and coffee/pastry stations available for snacking. With bunk bed rooms and suites, the whole family will be comfortable either in Rocking Horse Ranch Resort's Main Lodge or Oklahoma Lodge.
8. Skytop Lodge
Skytop, Pennsylvania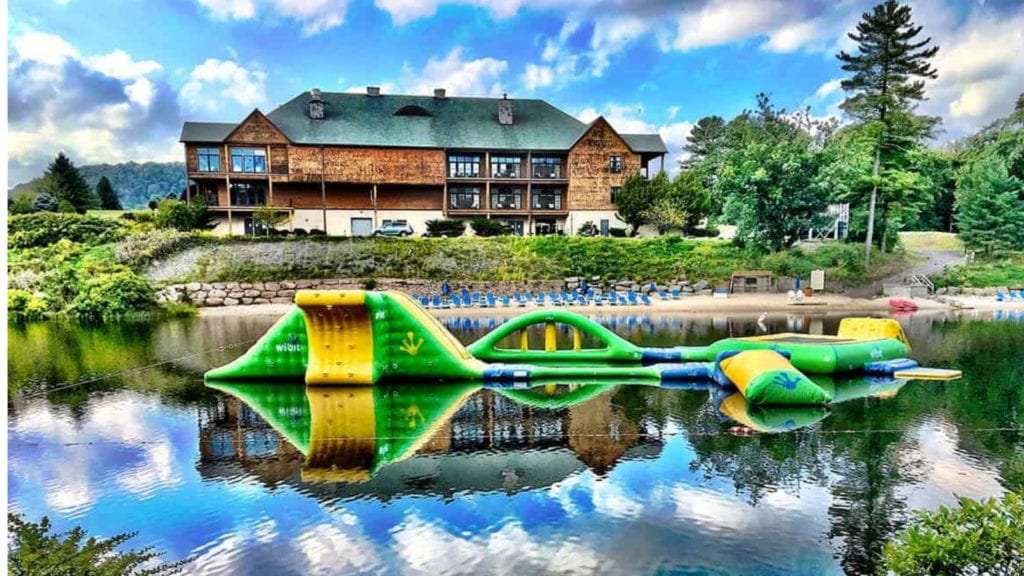 Family-friendly Skytop Lodge's location on 5,500 sprawling acres in the Poconos means myriad outdoor activities for families ranging from hiking, biking, and kayaking to zip lining, paintball, and archery tag (a game that combines dodgeball, paintball, and archery with foam-tipped arrows) at the action-packed Skytop Adventure Center.
COUPLES VACATIONS: 11 Best Adults-Only All-Inclusive Resorts in the Caribbean
While Skytop Lodge isn't a traditional all-inclusive resort, you can typically find inclusive packages that allow you to combine accommodations and some meals in one rate, including B&B and "modified American plan" options. With varied lodge and inn rooms, as well as free-standing cottages, Skytop offers plenty of variety in both activities and accommodations, making it a great option for all kinds of family travel. When you're done playing in the Great Outdoors, head to The Nest (the resort's spa) for a relaxing treatment.
9. Miraval Arizona Resort
Tucson, Arizona
If you've got little kids, this one won't be a good fit (skip to my next pick, which is perfect for adventurous kids and their adults). But for families with college-age or adult kids, there's no better place for an all-inclusive wellness-focused escape than Miraval Arizona Resort in Tucson, Arizona.
EASY VACATIONS: 7 Family Travel Adventures Where Someone Else Does All the Planning
The resort's inclusive Miraval Unlimited Package covers all meals, snacks, smoothies, and non-alcoholic beverages; unlimited wellness activities like fitness classes, yoga, and hiking; access to the resort's Body Mindfulness Center and Life in Balance Spa; and five nights accommodations for the price of four. When you book the inclusive package, you also get a $175 nightly credit. Note that Miraval Arizona Resort only allows guests aged 18 or older.
10. White Stallion Ranch
Tucson, Arizona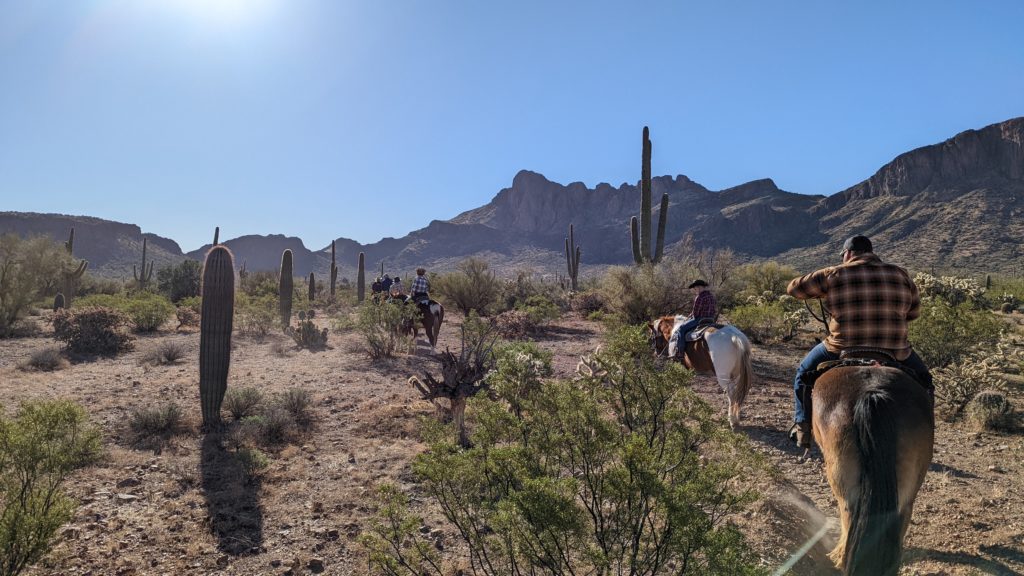 A more kid-friendly all-inclusive resort option right in the heart of Tucson is White Stallion Ranch, one of the best dude ranches in Arizona with activities for all ages and interests. And it's not just a full-service dude ranch, either. Beyond horseback riding, rodeos, and a shooting range, White Stallion Ranch offers a spa, pools, hot tubs, petting zoo, movie theater, rock climbing, archery, and even e-bikes. And bonus for parents with young ones: kids five and under stay free.
SADDLE UP: 11 Best Dude Ranches in the U.S. for Families
White Stallion's all-inclusive rates cover meals, accommodations, and most activities. Be sure to look into the variety of special packages offered before you book as well. Horseback riding lessons serve different skill levels (ages five and up) and are offered several times per day. You can add private lessons for an extra fee. An activity concierge and a helpful phone app help keep everyone in the family busy and on schedule.
11. Blackberry Farm
Walland, Tennessee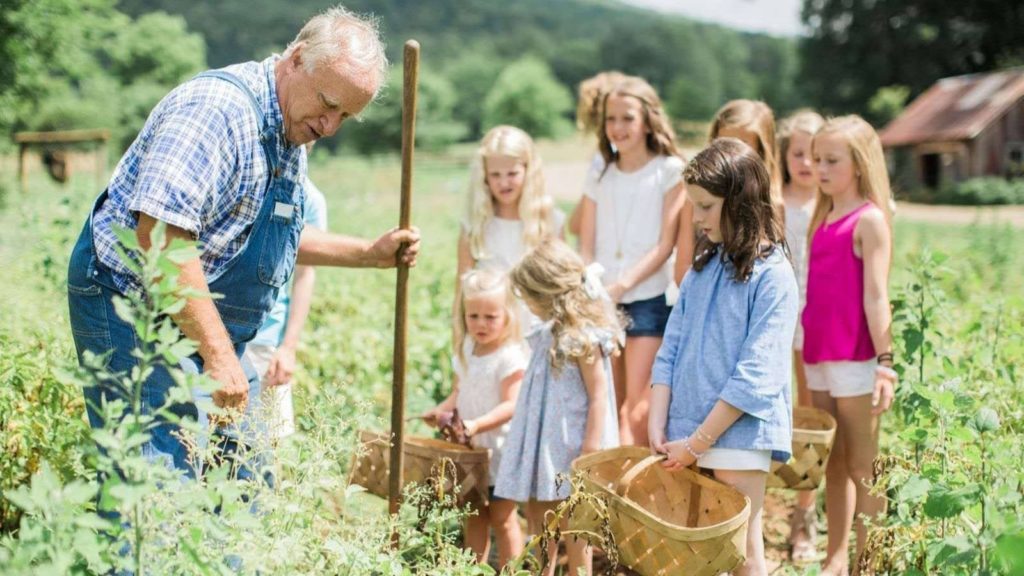 Kid-friendly Blackberry Farm is the creme de la creme of all-inclusive resorts in the U.S. (especially for toddlers), so much so that past guests have included Carrie Underwood, Jesse Tyler Ferguson, and Neil Patrick Harris. Located in Great Smoky Mountain National Park, this over-the-top luxurious resort features unique programming for kids, including kids' clubs and youth discovery classes that focus on geocaching, stream ecology, acrylic painting, and textile arts. The whole family can come together to get in on the play with both daytime and evening activities (s'mores, anyone?) for the young and young at heart.
FUN HOTELS FOR KIDS: Hotels with the Best Kids Clubs in the U.S.
While the kids go for a naturalist-led hike, adults have the opportunity to enjoy a food tasting or artisan cooking demonstration at the Farmstead Field School. Guests can stay in cottages and multi-bedroom houses, as well as traditional guest rooms and suites. With an on-site brewery and spa, there are endless options for relaxation and entertainment.
12. Grand Hotel
Mackinac Island, Michigan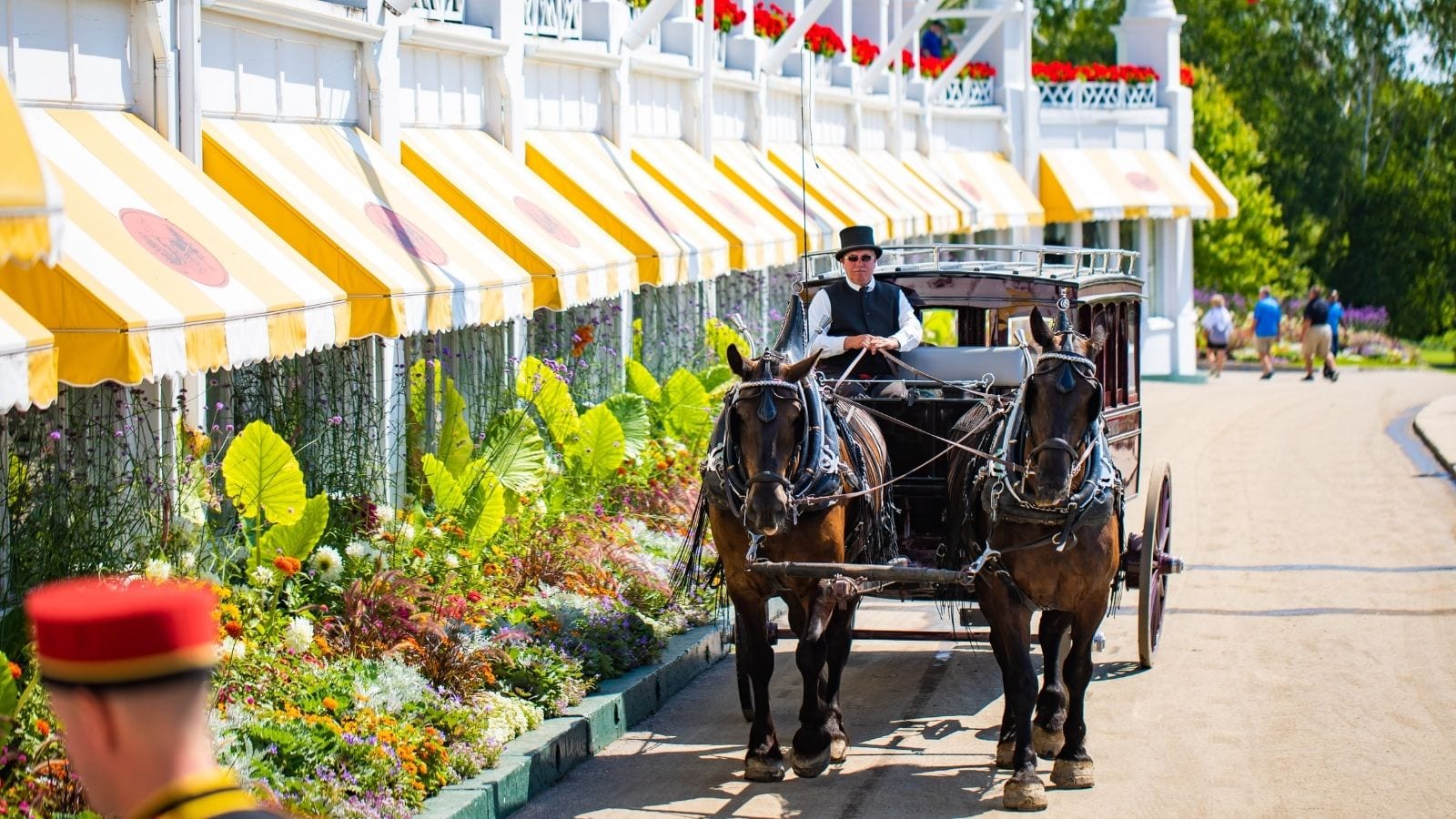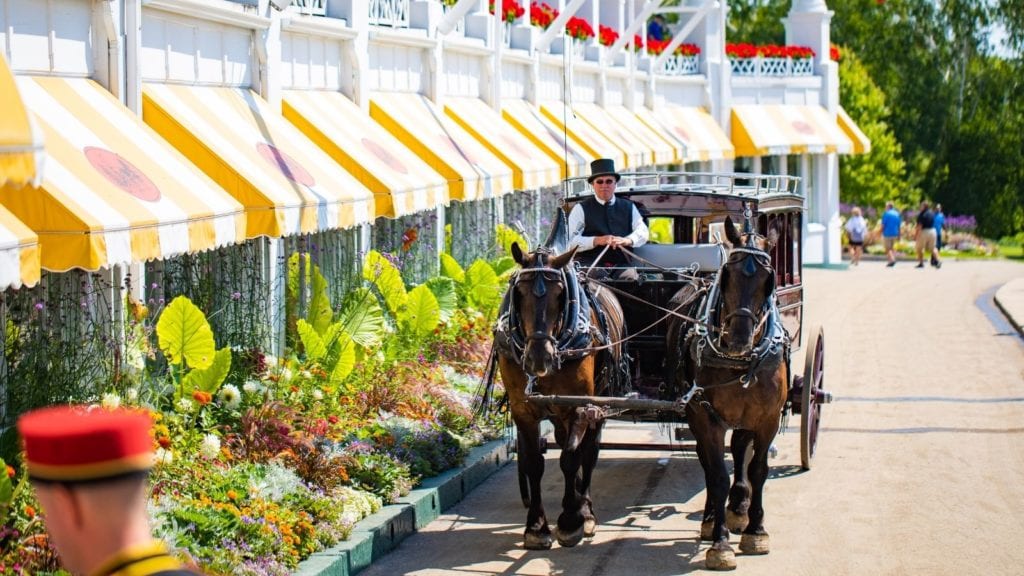 Since its opening in 1887, the Grand Hotel on Mackinac Island has been a popular Midwest vacation destination for families. Known as "America's Summer Place," the historic hotel transports guests to yesteryear from the moment they arrive by ferry (the only way to get there) with activities including lawn games (think croquet and bocce) and afternoon tea. Families can enjoy the view from the world's largest porch or dance to the beat of the hotel's very own Grand Hotel Orchestra.
BEAT THE HEAT: 5 Cool Northeast Summer Vacation Destinations for Families
The Grand Hotel is nearly all-inclusive, too, as most packages include breakfast and dinner, as well as accommodations (no two guest rooms are alike) and all resort amenities (including complimentary kids' programming, a golf course, swimming pool, tennis courts, lawn games, and carriage tours). Lower rates and themed weekends may be an added incentive to head to the Grand Hotel early in the season.
13. The Ranch at Rock Creek
Philipsburg, Montana
Escape to Montana for an all-inclusive resort experience at The Ranch at Rock Creek. This high-end family-friendly glamping resort offers luxury cabins and homes—ideal for a little extra privacy—as well as lodge rooms and a historic barn.
YOUR NEXT VACATION READ: 33 Books Like Harry Potter for Kids and Adults
Unique activities (covered in the rates) include sapphire mining, learning frontier skills, and taking a photography class. Off-ranch excursions such as ATV tours and float trips are available for an additional fee.
14. Canyon Ranch Lenox
Lenox, Massachusetts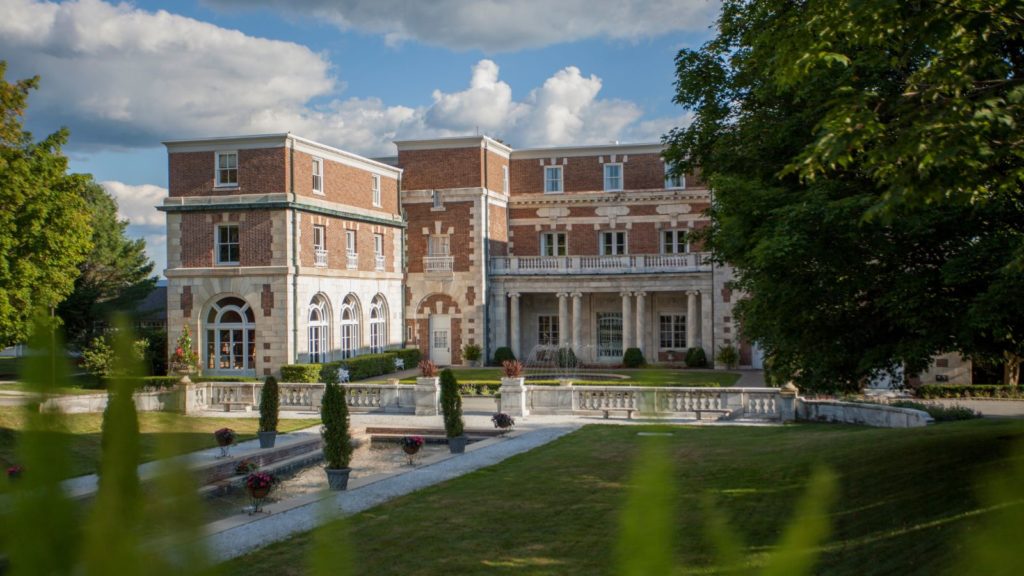 Teenagers 14 and older are welcome at Canyon Ranch Lenox, a wellness retreat in the Berkshires of Western Massachusetts. With daily activities (think snowshoeing in the winter and canoeing in the summer), indoor and outdoor pools, fitness center, a high ropes course, and even airport transfers included in the price, it's a nearly all-inclusive option for a family vacation with teenagers.
TRAVEL WITH TEENS: 10 All-Inclusive Resorts Even Teenagers Will Love
Canyon Ranch is known for its outstanding spa experiences, so be sure to book a treatment for added pampering during your stay; travelers should also take advantage of the retreat's unique wellness features, for instance aerial yoga classes and shiatsu massages. Canyon Ranch's kitchen inspires even the most picky eaters, and the all-inclusive nature of your experience will encourage your teens to try something new (and healthy). Bonus: the resort's cooking classes just might inspire your next weekly meal plan. The glorious Berkshire mountains and a bevy of fun college towns are nearby if you want to go off-property and explore.
15. Tyler Place Family Resort
Swanton, Vermont
For a lakefront resort where you can enjoy a classic summer vacation with the kids, head to Tyler Family Place Resort on the shores of Lake Champlain in Vermont. The resort's all-inclusive rates cover nightly accommodations (think cozy cottages or family suites with a separate bedroom for parents), most activities (land and water sports), and three meals per day (plus snacks).
GROUP TRAVEL: 11 Guided Tour Companies with Trips around the World
One of the resort's unique perks is separate dining for parents and kids at dinner. Children are encouraged to bond with other kids while parents enjoy some much-needed peace and quiet. But it's not only the dining options that set Tyler Place apart. The resort also has nine different kids programs for children as young as infants all the way to teenagers.
Parents and adult family members will appreciate the resort's adult spaces and evening activities, such as live music, dancing, and cocktail hour. Of course, for families looking to stay together, there are family-centered activities throughout the day and evening.
16. Aulani, A Disney Resort and Spa
Oahu, Hawaii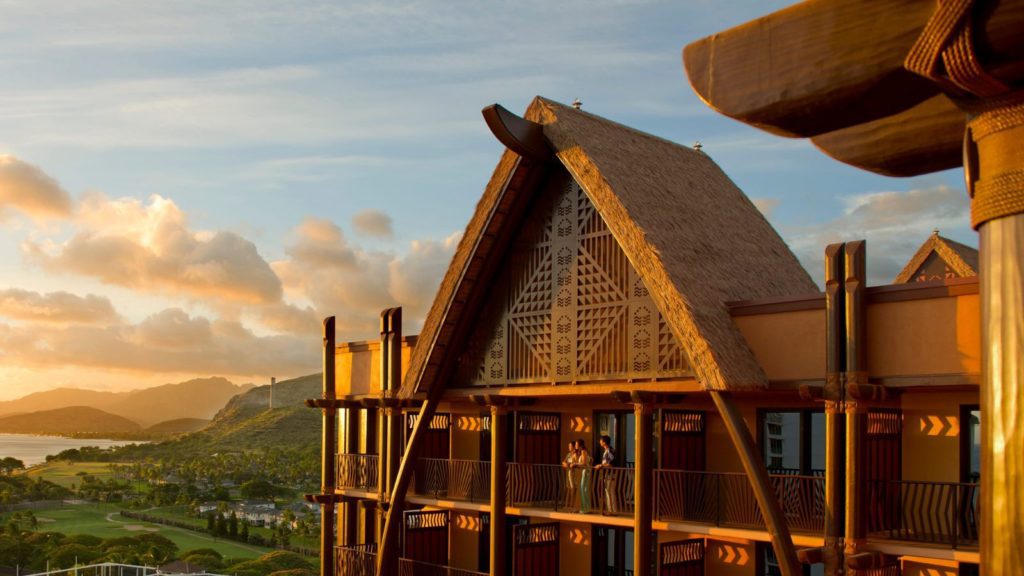 You may not find any true all-inclusive resorts in Hawaii, but you can get pretty close with a stay at Aulani, A Disney Resort and Spa, a favorite among Disney Vacation Club members. Located on the island of Oahu, Aulani's nightly rates cover quite a few resort activities and offerings, including access to a private beach, kids' clubs, live entertainment, and a daily schedule of kid-friendly events.
DISNEY MAGIC: How to Use Disney Genie and Genie+ at the Disney Parks
Disney worked closely with local artisans, chefs, and historians to respect the land on which this resort was built and showcase the magic that is not just Disney but also Hawaiian culture. With local food options and art from indigenous craftspeople, you can get a real taste of Hawaii while at Aulani.
17. Wyndham Grand Rio Mar Puerto Rico Golf and Beach Resort
Rio Grande, Puerto Rico
There are only a few Puerto Rico all-inclusive or semi all-inclusive resorts, but they all pack in the family-friendly fun. The Wyndham Grand Rio Mar Puerto Rico Golf and Beach Resort is a family favorite, with three sparkling pools, plenty of kids' activities, spa treatments for parents, onsite dining, and ease of access to off site excursions.
EXTRA SAVINGS: Kids Stay Free at These 10 Family-Friendly All-inclusive Resorts
The hotel occasionally offers a meal plan package for guests staying three or more nights, and it consistently offers a daily breakfast package that includes your morning meal served a la carte at this Wyndham resort's Marbella Restaurant.
18. Vista Verde Guest Ranch
Clark, Colorado
Colorado's Vista Verde Guest Ranch is ideal for families looking for an active all-inclusive vacation in the mountains. Open in winter and summer (avoiding "mud season"), Vista Verde offers family time as well as scheduled weeks for adult-only bookings. Vista Verde caters to the audience in attendance, and once you're on site you can kick back and let the resort take over on the planning, including kids programs organized by age.
REWARDING STAYS: 11 Kid-Friendly All-Inclusive Resorts You Can Book with Hotel Rewards Points
With lodge rooms and private cabins, you'll have a choice of accommodation types, though no matter where you lay your head you can expect to be treated to delicious snacks and meals throughout the day. And you'll need that sustenance for the wide range of seasonal activities, including ice or fly fishing and fat tire or mountain biking.
19. Fair Hills Resort
Detroit Lakes, Minnesota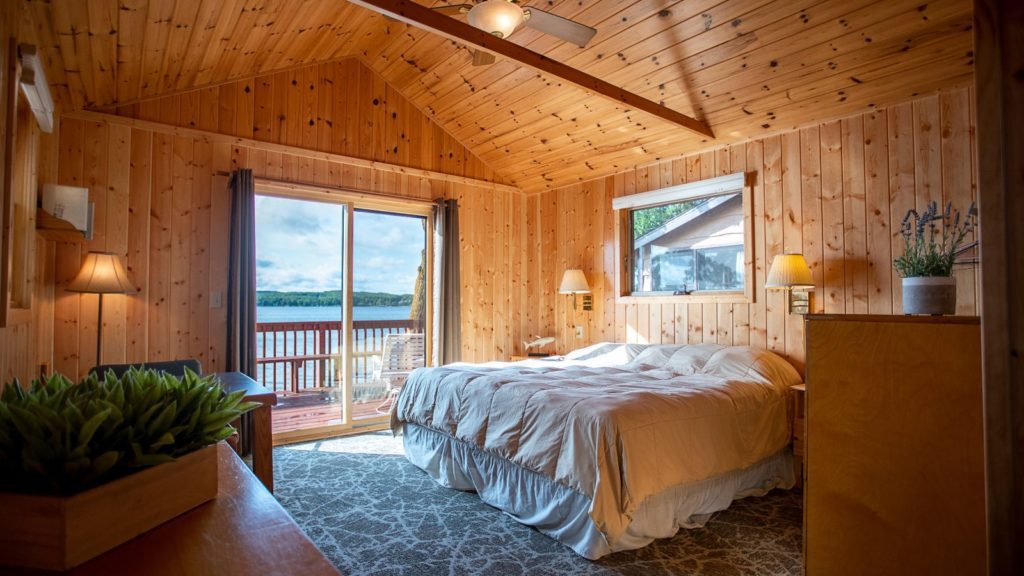 A low-frills, high-fun family resort open May through September, Fair Hills Resort is as close to a sleepaway camp for the entire family as you're likely to find anywhere in the country. With activities, games, and meals centered around play and together time, Fair Hills is all about family. All-inclusive is the name of the game at Fair Hills, with golf, tennis, sailing, and even waterskiing lessons included in your rate.
SAIL AWAY: 7 Best All-Inclusive Cruise Lines in the World
Most accommodations are cabins with one to four bedrooms, and these are assigned based on your family's size. There are several cabins with fully stocked kitchens (you bring the food), however guests must still use the resort's One Meal Plan when taking this option during peak season. Whether you decide to go to Fair Hills or not, be sure to take down Grandma's Brown Bread recipe!
20. Alisal Guest Ranch and Resort
Solvang, California
Spread across 10,500 acres in Santa Barbara Wine Country, the nearly all-inclusive Alisal Guest Ranch and Resort puts a modern spin on the classic Old West-style vacation. Accommodations are done up in cowboy-chic decor, and the nightly rate includes two daily ranch-style meals (plus beverages) and an array of complimentary activities. On that list? Courtesy bikes, arts and crafts sessions, non-motorized recreational watercraft and fishing equipment, lawn games, a petting zoo, and a year-round pool and hot tub.
SAVE MONEY: Kids Stay Free at These 10 Family Resorts in the U.S.
Additional activities like horseback riding, golf, and guided excursions can be added on to your stay à la carte, or you can opt for special packages that incorporate some of your extra must-dos. Families will love the fact that kids six and under stay for free.
21. C Lazy U Ranch
Granby, Colorado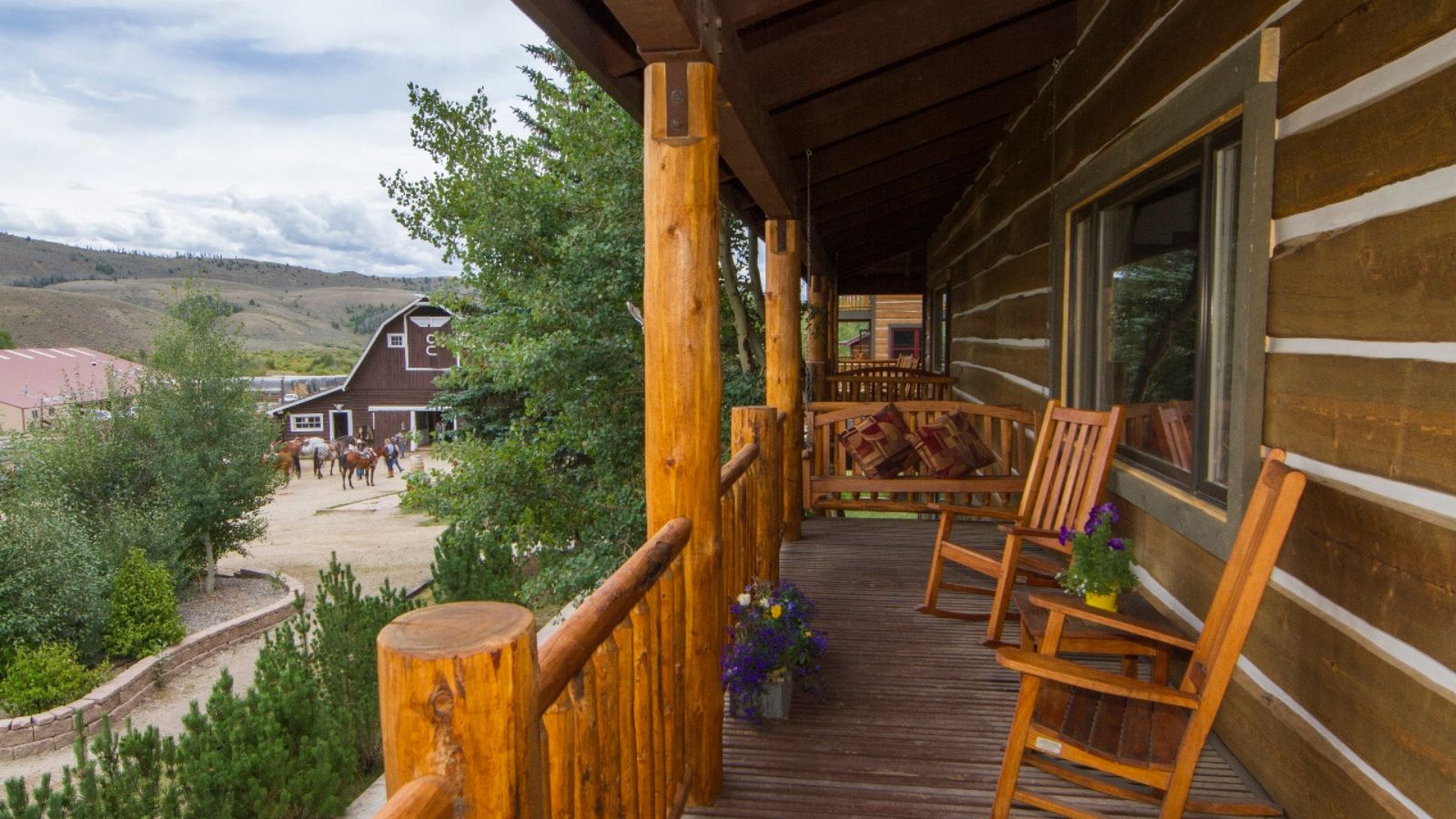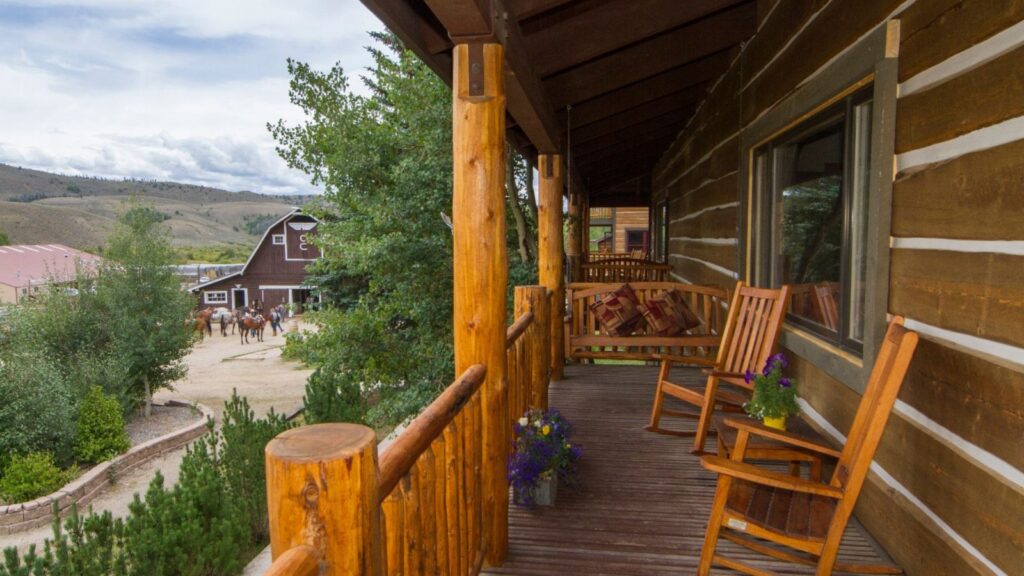 Easy to reach from Denver, all-inclusive C Lazy U Ranch has been welcoming guests for more than 100 years. Horseback riding is a focus here, with regular trail rides on the schedule and the opportunity for extra riding instruction sessions. When you're not saddling up, you can fly-fish, hike, swim, mountain bike, or take on the ropes course during the warmer months of the year. Cold weather means sleigh rides, snowshoeing, sledding and snow tubing, ice skating, and cross-country skiing.
This popular dude ranch offers stellar programming for kids and teens, with counselor-supervised activities like archery, swimming, and games, plus off-site trips for teenagers like overnight camping and whitewater rafting. Families eat breakfast and dinner together, then the kids and teens head off with their peers while the adults get to choose their own daily adventures. You stay in luxe cabins, most of which have stone fireplaces and hand-crafted wood furniture made at an on-site lumber mill.
More from FamilyVacationist:
Additional reporting by Amanda Norcross, Nina Cohen, and Beth Luberecki.