Decades before statehood in 1912, the riches of the Sonoran Desert attracted prospectors and the outlaws who followed them. Wyatt Earp, Doc Holliday, Johnny Ringo, and the wildest of the Wild West roamed the Arizona territory. These days, you can live that Old West experience in relative luxury at the best Arizona dude ranches, because dude ranch vacations in Arizona offer a taste of Sonoran beauty along with plenty of modern creature comforts.
Why Choose an Arizona Dude Ranch?
Today, historic Arizona dude ranches celebrate the legends of yesteryear while focusing on guests more than cattle. Dude-ranch style ranges from rustic camp-outs to full-service resorts that offer something for everyone in the family.
Compared to other dude ranch destinations in the U.S., Arizona dude ranch experiences tend to be easier to get to and offer better weather over the spring break and winter vacation periods. Unlike the Northwest, however, heat and storms force some Arizona dude ranches to curtail activities or close in summer. (The Dude Ranchers Association has information on more family ranches if you're planning a trip for summer vacation.)
FIND A DEAL: 12 Best Hotel Booking Sites for Cheap Prices
The Best Arizona Dude Ranches for Families
Ready to ride? Stream any of the classic Westerns filmed around the Old Tucson Studios to stoke the excitement. Then, pack your saddlebags with sunblock, a hat with chin straps, water bottle, comfortable travel pants or leggings, and sturdy shoes, and prepare for the ride of your life at the best family dude ranches in Arizona.
1. Kay El Bar Guest Ranch
Wickenburg, Arizona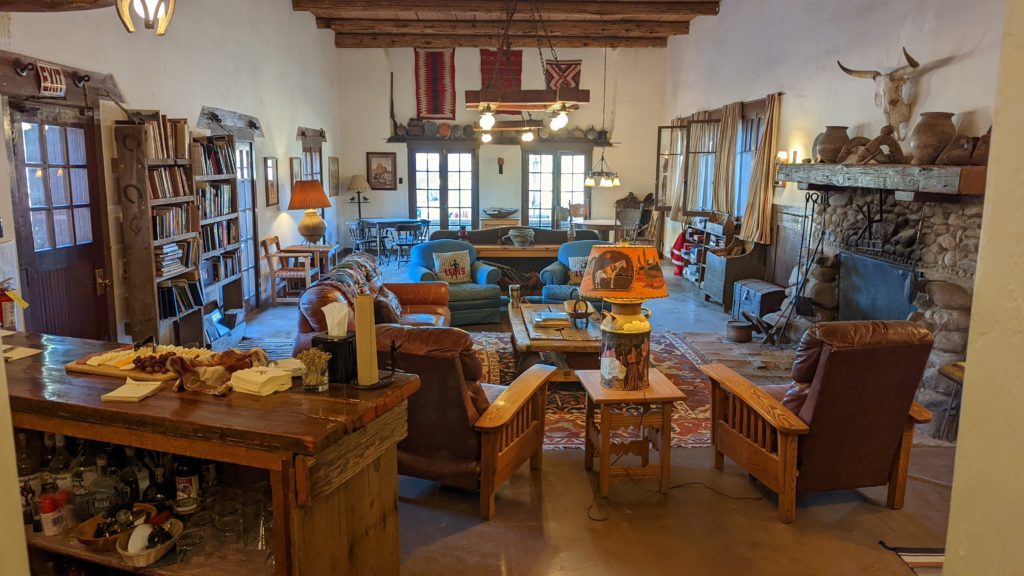 Kay El Bar's charms date to 1926, when buildings once used by cattle wranglers were converted for greenhorns arriving by railroad. Far from fancy, the handmade adobe lodge rooms and a homestead that sleeps six are still in use today. Now an intimate Arizona dude ranch hosting just two dozen guests, it's an ideal fit for families seeking an unstructured rustic getaway.
MAKE MEMORIES: 50 Family Vacation Ideas for the Best Trip Ever
The Hodges family manages the ranch and cares for trained falcons, a miniature pony, and cow horse and cutting horses. They welcome other families with loaner hats, chaps, boots and dress-up gear. Aspiring riders five and older go on escorted trail rides past Saguaro cactus and through narrow, thrilling slot canyons. Afterwards, guests enjoy meeting up for complimentary hot drinks and fresh-baked cookies to admire memorabilia from John Wayne, Gary Cooper, and the ranch's Hollywood past.
Kay El Bar Guest Ranch fits all budgets because rates vary from the all-inclusive Full American style (that includes lodging, meals, and ranch activities) to an a la carte-style Bed and Breakfast special. It's located just 70 miles from Phoenix outside the fun Western town of Wickenburg, also known as America's team roping capital.
2. Rancho De La Osa
Sasabe, Arizona
Rancho de La Osa is for the experienced rider who wants varied terrain and the excitement of the Mexican border as backdrops to a guest ranch experience. It's an especially great family vacation with teenagers and older children, who will appreciate its genuine frontier style—because Rancho de La Osa, where Lyndon Johnson kept his horses and John Wayne shot Hondo, is the real deal.
WHERE TO GO: 23 Best Family Vacation Spots in the U.S.
The historic, rustic-chic dude ranch with just 19 rooms is managed by celebrated cowboy poet Ross Knox and his gracious wife Lynne. Delicious meals are served in the 1830s-era Hacienda. Cantina, the center of nightlife, was built in 1721 as a Jesuit mission for followers of Padre Kino.
Horseback riders love this remote Arizona ranch because the arroyos, grassland, and mountainous terrain extend from tribal lands to the 120,000-acre Buenos Aires National Wildlife Refuge. Visit nearby early 19th-century ruins and petroglyphs on complimentary UTV tours, part of the daily activities package. Once home to Pancho Villa, the southern boundary is now the federal government's border wall.
3. Rancho de los Caballeros
Wickenburg, Arizona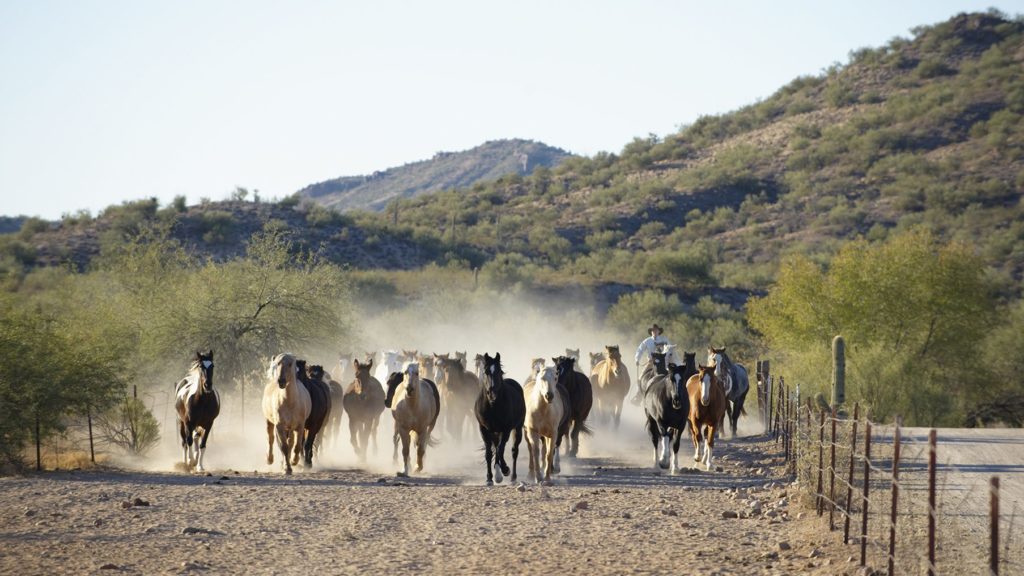 Founded in 1948, Rancho de los Caballeros is known for its broad range of activities, both with boots on and off. That means you can book a package that includes meals, and then pay separately for as much horseback riding and as many activities as you prefer.
Multigenerational groups appreciate the options for on-site golf, trap and skeet shooting, e-bike riding, archery, naturalist-led walks, tennis, pickleball, Jeep tours, and spa services. Guests are wowed by the morning and evening Horse Runs, when wranglers gather the herd from their pasture and guide them to or from the corral. While "Los Cab" is known for all of its dining options, families especially love the evening cookouts.
Supervised children's programs are available for kids aged five to 12. Book any of the daily riding classes for riders eight and older. Advanced riders even get to explore the property's 13,300 rideable acres. Roping, pony petting, and being a grooming assistant are open to younger children.
4. Stagecoach Trails Guest Ranch
Yucca, Arizona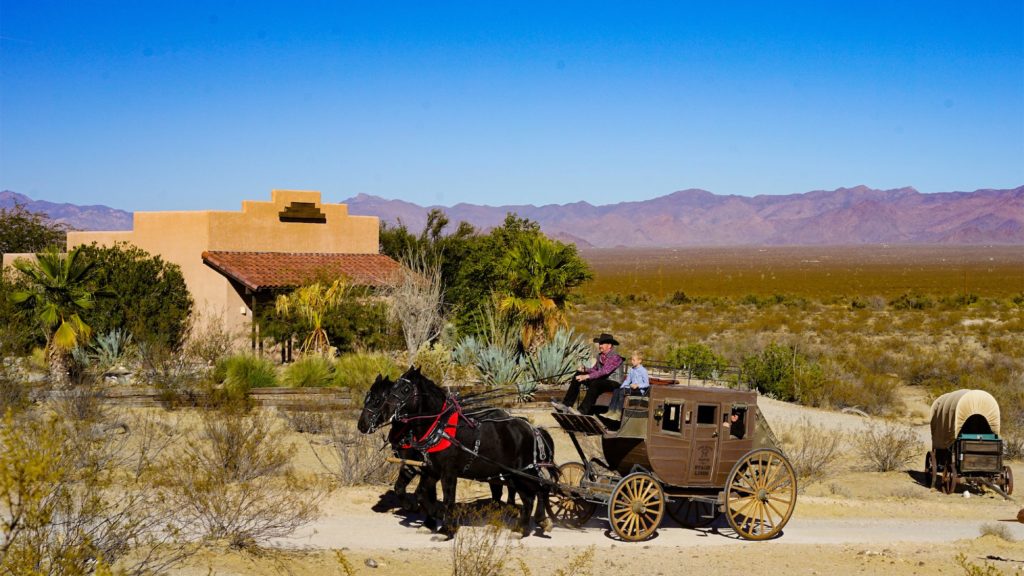 JP and Tricia McCormick welcome everyone from city slickers to ranch hands to Stagecoach Trails Guest Ranch, an Arizona dude ranch with its own stagecoach. If a wagon ride doesn't bring out the cowboy in guests, nightly fire pit singalongs, hearty family-style meals, and a petting zoo with miniature horse will. Staff participate in several of the activities and, with a maximum of 44 guests, most families make fast friends during their vacation.
WILD WEST: 7 Best West Coast Vacations for Families
The all-inclusive package here includes a Wild West-themed room, three meals, two daily trail rides, and most facilities. In between, fill your days with board games or billiards, toss horseshoes, and perfect your shot at archery or on the shooting range. Stagecoach Trails Ranch is a great option for road tripping families, as it's located at the foot of the Mohave and Hualapai mountains, about 2.5 hours south of Las Vegas and 1.5 hours west of Grand Canyon West.
5. Tanque Verde Ranch
Tucson, Arizona
Tanque Verde is a deluxe guest ranch where culinary, wellness, and recreation options are so extensive that it's often rated among the best all-inclusive family resorts in the world. While it's more costly than many Arizona dude ranches, families with mixed interests and those traveling with non-riders can save money on "Three Squares and a Bed" packages that omit riding altogether.
NO HIDDEN FEES: 19 Best All-Inclusive Resorts in the U.S. for Families
Tanque Verde, however, stands out for its commitment to horsemanship. Daily rides for ages four and older at all skill levels range from family rides to walking, loping (canter), intermediate, and cattle penning. Let your legs recover with yoga, tennis, swimming, hiking, or archery. Enjoy spa services and daily crafts activities, for a fee.
Because there's so much to do, families usually book the all-inclusive package. That rate includes one of the 69 guestrooms or casitas, all the horseback riding, meals, a kids club for ages four to 12, and use of all facilities. The 600-acre ranch, just 27 miles northeast of the Tucson Airport, adjoins another 50,000 acres of desert near Saguaro National Park East.
6. Tombstone Monument Ranch
Tombstone, Arizona
Ready to live out your cowboy fantasy? At Tombstone Monument Ranch, it's easy to immerse yourself in the Wild West because the entire ranch looks like a movie set. A saloon, post office, blacksmith shop, bordello, and other facades hide guest rooms and facilities, replicating the nearby town that was, famously, too tough to die.
MOVIE MAGIC: 11 Best Outdoor Movie Screens for Your Backyard Movie Night
Colorful Arizona Bill entertains fans with Wyatt Earp tales at the ranch's Chuckwagon breakfasts and gives shotgun lessons. He also hosts evening walking tours of the historic town of Tombstone. Back at the ranch, there's horseback riding and other activities to sign up for.
Tombstone Monument Ranch has all-inclusive packages including meals and trail rides for families of any size. If you have skilled riders, guests ages 12 and older can participate in the Working Ranch package, available Monday through Friday. A dream come true for some, guests are expected to work alongside Tombstone Monument wranglers to move cattle, fix fencing, survey the land, and check on wells, natural water sources, and the dam.
7. White Stallion Ranch
Tucson, Arizona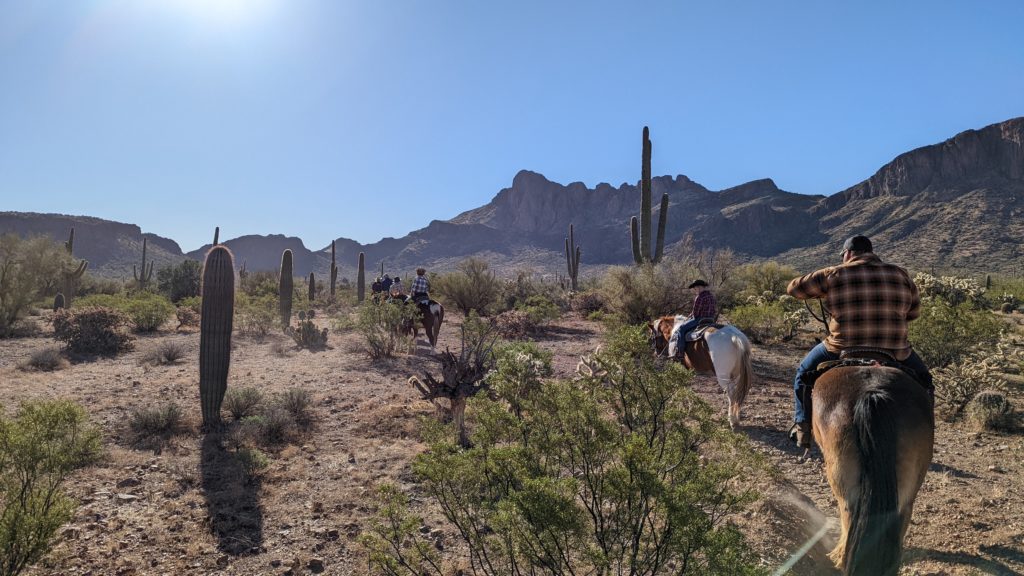 White Stallion is a full-service resort catering to amateur cowpokes looking to ride through landscapes made famous by Westerns starring Jimmy Stewart, William Holden, Gene Autry, and others.
Horseback riding can be your full-time focus, with different skill level rides for ages five and older offered several times each day. Plus, you can add private half-hour lessons for a fee. The cattle penning, when teams of riders lope out into a corral to move cattle into a new pen, is a fast and fun sport that guests grow to love.
NATIONAL PARKS: 12 Most Iconic U.S. National Park Lodges
White Stallion ranges over 3,000 acres so it takes about a half hour to ride out to the Chuckwagon breakfast. Don't be surprised by the modern restrooms nearby. They were installed by the True family—owners for more than 50 years—as a guest service. The Activity Concierge and the White Stallion app are more guest amenities designed to help you schedule your kids for the petting zoo, e-bike riding, rock climbing, archery, and marksmanship.
You'll find White Stallion to be one of the most convenient Arizona dude ranch destinations because it's almost in the heart of Tucson, so you won't waste precious vacation time getting there.
More from FamilyVacationist: