Traveling with children as they learn about the world is a gift for all. Adults have an opportunity to share their knowledge while also seeing things through the lens of youth, and younger travelers get a chance to ask questions, experience new places, and connect with different people and ways of being. Visiting iconic tourist attractions in the U.S. with kids is a win-win.
And while there are countless U.S. tourist attractions that deserve a visit, some particularly stand out as perfect family vacation ideas for their natural beauty and tremendous learning opportunities. Whether you're seeking a greater understanding of the origins of modern America (in all of its pain and struggle, power, and joy) or the natural wonders that make this vast country so inspiring, these seven iconic attractions are sure to leave an impression on all visitors… young, middle aged, and senior travelers alike.
MAKE MEMORIES: 23 Best Family Vacation Spots in the U.S.
1. Yosemite Valley
Yosemite National Park, California
Bringing your children to Yosemite Valley will be an experience none of you will forget. Though national parks can feel intimidating if you're not particularly outdoorsy, the accessibility of Yosemite Valley, a part of the larger Yosemite National Park, puts awe-inspiring nature within easy reach.
WOW-WORTHY VIEWS: The Best Yosemite Valley Sights for Families
Well-marked (and often paved) paths, the many kid-friendly hotels near Yosemite and a free bus that connects points around the valley makes it easy to spend several days admiring the valley from many different angles. Bring a camera, but know your best memories will come from those "Oh wow! Look at that! No way!" moments on your walks.
2. The Legacy Museum and National Memorial for Peace and Justice
Montgomery, Alabama
Spanning the origins of enslavement and reaching through Reconstruction, segregation, 20th century over-incarceration, and the fight for equal voting rights, The Legacy Museum helps children and adults learn this important history through first-person narratives and artifacts.
KNOW BEFORE YOU GO: Why Your Family Should Visit The Legacy Museum (and Where Else to Go)
While you're in Montgomery, visit the Freedom Rides Museum to understand the power and persistence of those who fought for equal rights and justice, and make a commitment to be part of that journey while visiting The Civil Rights Memorial Center.
3. Hawaii Volcanoes National Park
Big Island of Hawaii
From steaming sulfur banks to a lava tube you can walk through, Hawaii Volcanoes National Park is nothing short of jaw-dropping. This is the place to see how The Big Island of Hawaii was formed. For visits with kids, try the Thurston Lava Tube, Devastation Trail, or the Kilauea Iki Trail.
HAWAII VACATIONS: Tips for the Best Trip to Hawaii Volcanoes National Park
Beyond the national park, there's plenty more to explore. The Onizuka Center for International Astronomy Visitor Information Station (VIS) on Mauna Kea is a must for anyone who loves the night sky. On the Kona (west) side of the island, learn about Hawaiian history at Puʻuhonua o Honaunau (City of Refuge). And in Hilo on the island's east side, wow-worthy spots include Rainbow Falls and Boiling Pots, both of which come to life even after a short rain.
The best family resorts in Hawaii and Hawaii all-inclusive resorts give you plenty of options for where to stay on your Hawaii vacation as well.
4. The National Mall
Washington, D.C.
The National Mall is a center of American political, economic, and artistic history. A long stretch of grass between the U.S. Capitol Building and the Lincoln Memorial, the Mall is lined with art and history museums, memorials, government buildings, and even a botanical garden. Though some of the museums require timed entry reservations, all are free.
FAMILY FUN: Kid-Friendly D.C.: What to Do with Kids at the National Mall and Beyond
On your family visit, don't miss the National Gallery of Art, Air and Space Museum, National Museum of the American Indian (be sure to book ahead for timed entry), National Museum of American History, and National Museum of African-American History and Culture (which also has timed entry).
The Holocaust Museum is a must for older kids and teens (there's also an exhibit on the ground floor geared to elementary-aged children). Memorials that are good for family visits include the Lincoln Memorial, the Dr. Martin Luther King, Jr. Memorial, and Maya Lin's Vietnam War Memorial.
5. Navajo National Monument
Shonto, Arizona (Located within the Navajo Nation)
The combination of natural beauty and the history of several indigenous groups who lived on the land makes the Navajo National Monument and the surrounding areas a must-do trip with your kids. The Hopi, San Juan Southern Paiute, Zuni, and Navajo are tribes that have inhabited the canyons of Arizona and New Mexico for centuries, evidenced most dramatically in the cliff dwellings at Navajo National Monument.
PLAN A VISIT: Tips for a Trip to Navajo National Monument (and Navajo and Hopi Lands)
To learn more about the Native American experience past and present, head to the Navajo Code Talker Museum, which details the vital role of Navajo Code Talkers to transmit strategic military information during World War II. In Page, Arizona, the Navajo Village Heritage Center showcases authentic Navajo food, Plains Indian dance performances, and traditional storytelling.
6. Ellis Island National Museum of Immigration
New York, New York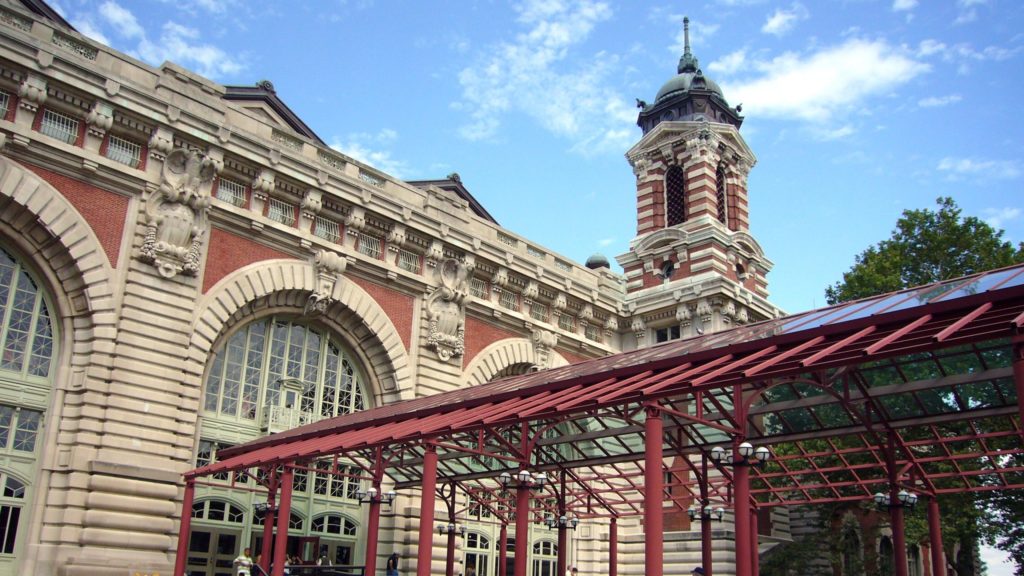 Known as "Island of Hope, Island of Tears," Ellis Island was the entry point for 12 million immigrants between 1892 and 1954. The National Museum of Immigration is a treasure trove of ship logs, artifacts, photos, and storytelling. And families with European ancestry can search the Ellis Island database to find family members who made the journey through Ellis Island.
BEYOND THE BIG APPLE: 13 Best New York Family Vacation Spots
The Lower East Side's Tenement Museum offers another powerful experience for visitors as they make their way through the historically restored tight quarters of the shared housing of immigrants of the 1860s through the 1980s. And while you're learning about the history of immigration with your family, make a stop at the Statue of Liberty (check the schedule before you go), which has long served as a beacon of hope for people in peril.
7. Grand Canyon National Park
Arizona
The Grand Canyon tells two amazing stories: geology and Native American history. The canyon began taking shape almost two billion years ago, and the first inhabitants of the land that came to be known as Grand Canyon National Park made up the indigenous tribes whose descendants continue to care for the land. Visitors can learn about this history through cultural demonstrations and at the newly renovated Desert View Inter-tribal Cultural Heritage Site.
AWE-INSPIRING: The Best Things to Do at the Grand Canyon with Kids
Ninety percent of Grand Canyon visitors opt for the dazzling views of the South Rim. Open year-round and more accessible than the North Rim, the South Rim attracts crowds, particularly during spring break and summer vacation. Visitors who prefer the road less traveled can check out the North Rim, which offers a more relaxed way to marvel at this truly grand canyon. North Rim facilities and lodging are seasonal, and are generally open between mid-May and mid-October each year. Both the North Rim and South Rim boast iconic national park lodges that will delight families.
More from FamilyVacationist: