A tropical dream destination where the beaches are as plentiful as the palm trees, Hawaii isn't just one of the most popular family vacation spots in the U.S., it's one of the most memorable family vacation ideas in the entire world. With rainforests, volcanoes, waterfalls, and a floral fantasy of tropical gardens, not to mention a wide variety of accommodations to choose from among the best family resorts in Hawaii, there's always something fun to see or do on the islands.
The Best Family Resorts in Hawaii
The best Hawaii family resorts come in all different sizes, locations, and even price points. While Hawaii will never be considered a cheap family vacation destination, you'll find a surprisingly robust collection of budget-friendly Hawaii hotels for families. From Maui to Lanai, from the Big Island to Oahu's North Shore, here are the top resorts in Hawaii that put kids and families first.
HASSLE-FREE HAWAII: 6 Best Hawaii All-Inclusive Resorts for Families
1. Fairmont Orchid
Big Island, Hawaii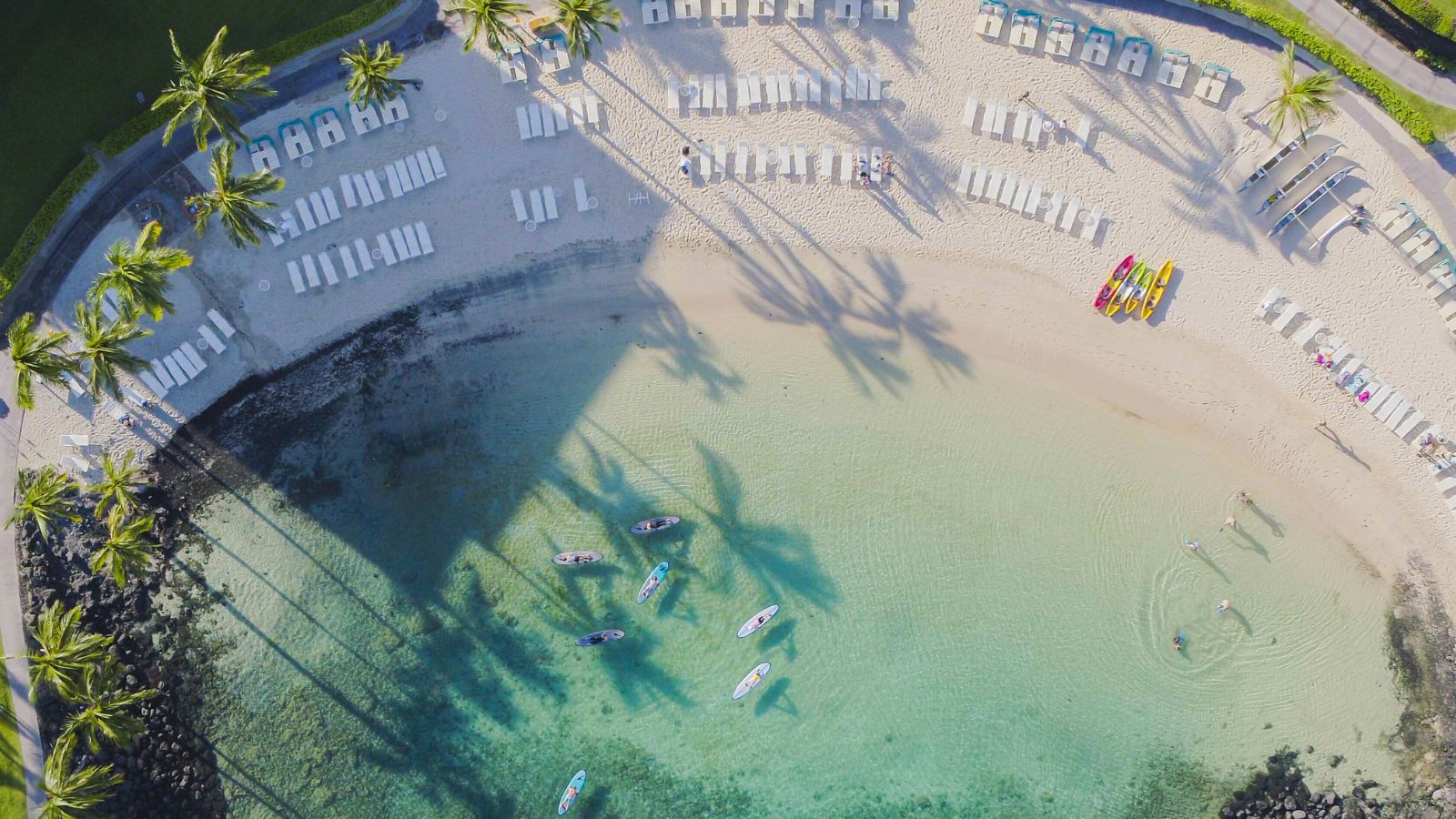 The Big Island's Kohala Coast is known for its striking volcanic landscape where jet-black lava contrasts with vibrant greenery. On this lush coast you'll find Fairmont Orchid, a luxury hotel surrounded by fragrant gardens, koi ponds, and waterfalls. The guest rooms are spacious and attractive, the cuisine leans local, and service is stellar.
FIND A DEAL: 10 Best Hotel Booking Sites for Cheap Prices
This family-friendly Hawaii hotel's beach is situated on a protected cove of turquoise water, perfect for tiny splashers. You'll view sea turtles at play, and if you're lucky, dolphins and humpback whales just a bit further offshore. For a taste of the island's rich folklore and traditions, join in on some of Fairmont Orchid's experiential programming: hula lessons to coconut frond weaving are among the highlights.
2. Wailea Beach Resort
Maui, Hawaii
Maui's photogenic terrain includes jungles, rainforests, and jagged mountains, but it's the island's sun-splashed beaches with sand from ivory to ebony that are the definition of coastal eye-candy. Among the best family resorts in Hawaii with a fabulous beach location, Wailea Beach Resort offers an array of aquatic activities in its kid-friendly calm waters. Here families can paddle a traditional Hawaiian outrigger canoe, challenge your balance on a SUP, and get up close with resident sea turtles.
KIDS WELCOME: 17 Best Family Resorts and Hotels in the U.S.
If the ocean isn't enough, the resort's adventure pool also has a splash zone with four waterslides. The Keiki Club welcomes kids ages five to 12 with Hawaiian-inspired arts and crafts and hands-on learning stations. Vintage arcade games and movie screenings are additional family perks. An adult-only pool, fitness classes, and meditation sessions at the resort's wellness center make it a winner for parents who crave relaxation.
3. Four Seasons Resort Lanai
Lanai, Hawaii
Once a pineapple plantation, the tiny apostrophe-shaped island of Lanai remains blissfully less developed than its neighbors. With no traffic lights and only a few paved roads, the atmosphere is laidback. You might consider that an unexpected setting for one of the best Hawaii family resorts, but the posh Four Seasons Resort Lanai, which overlooks Hulopoe Beach, will quickly convince you.
NO HIDDEN FEES: 19 Best All-Inclusive Resorts in the U.S. for Families
The resort makes traveling with kids a breeze, with amenities such as child-size bathrobes, in-room baby-proofing, and even babysitting. A complimentary children's program gives guests ages five to 12 the opportunity to appreciate Hawaiian culture as they learn about petroglyphs and build volcanoes, freeing parents to enjoy some adult-only time.
4. Halepuna Waikiki by Halekulani
Oahu, Hawaii
It may be a boutique hotel, but Halepuna Waikiki by Halekulani in the heart of Waikiki is right up there with the biggest family resorts in Hawaii. It's across the street from a stretch of sandy beach and near cultural venues such as the Bishop Museum, home to the world's largest Asia-Pacific natural history collection. Just present your room key for free admission.
ON THE WATER: 16 Best Lake Resorts and Hotels in the U.S. for Families
Foodie families will love the onsite Halekulani Bakery, which sells delectable treats ranging from artisan bread to a locally famous coconut cake. One of the hotel's most popular programs is "The Art of Surfing," where guests of all ages get a full introduction to the sport of kings. It's led by surfers with decades of experience, so you'll be hanging ten in no time.
5. Turtle Bay Resort
Oahu, Hawaii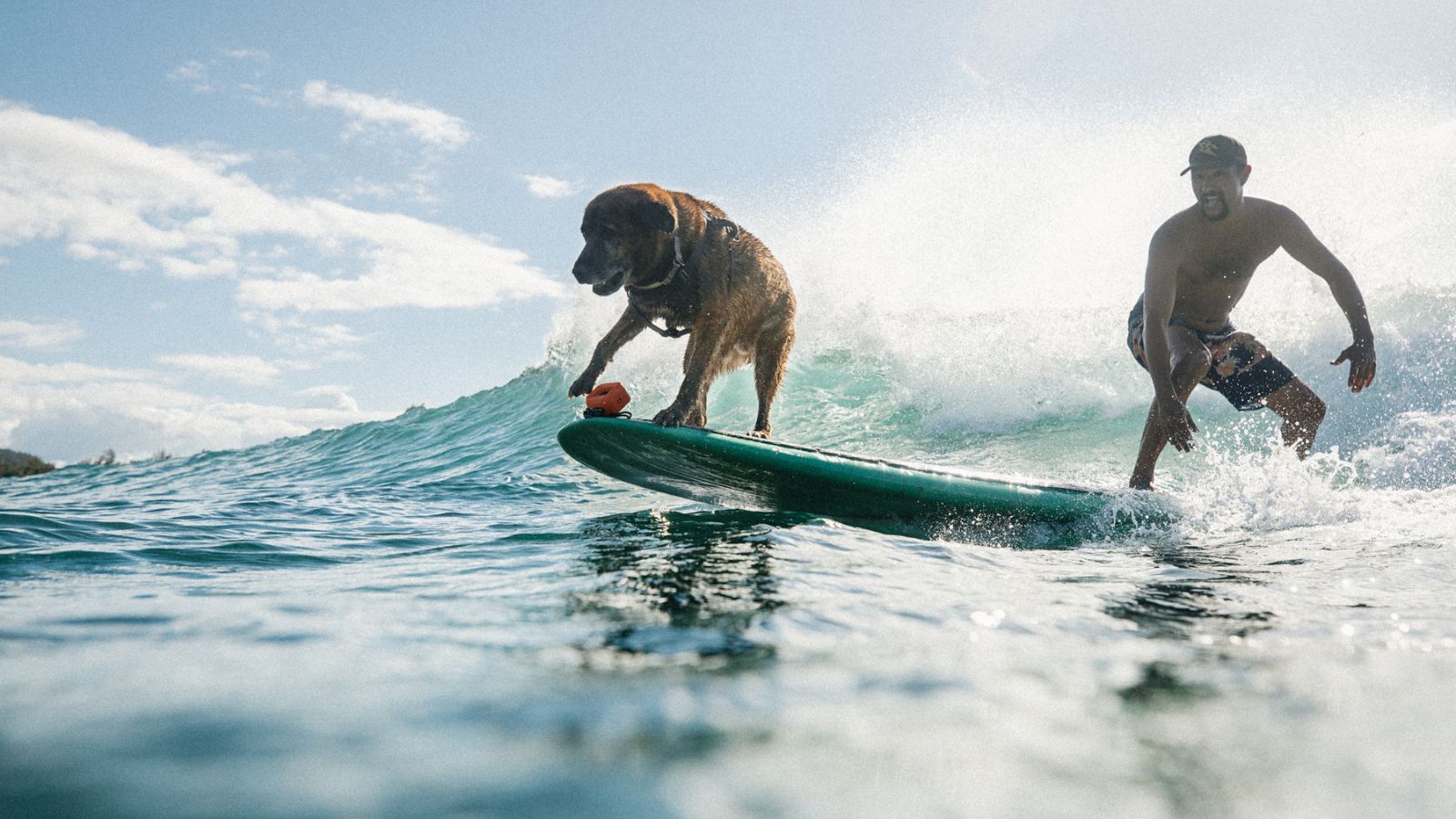 The legendary waves of Oahu's North Shore draw surfers from around the world, and Turtle Bay Resort is a North Shore hideaway grounded in local culture and a deep commitment to sustainability. Guest rooms and bungalows at this Hawaii family resort have natural touches of wood and wicker, bringing the outdoors inside.
BUDGET-FRIENDLY: 11 Cheap Family Vacations That Are Super Fun
There's a myriad of family-oriented activities, including a "surf with a pup" experience that will have everyone in the family smiling. At Kariel's Mermaid Academy, kids may join a mermaid on her life-size clamshell before they learn to move and swim like a mermaid. Take a hula class and enjoy a dinner show that pays homage to the island's little-known cowboy culture.
6. Mauna Kea Beach Hotel
Big Island, Hawaii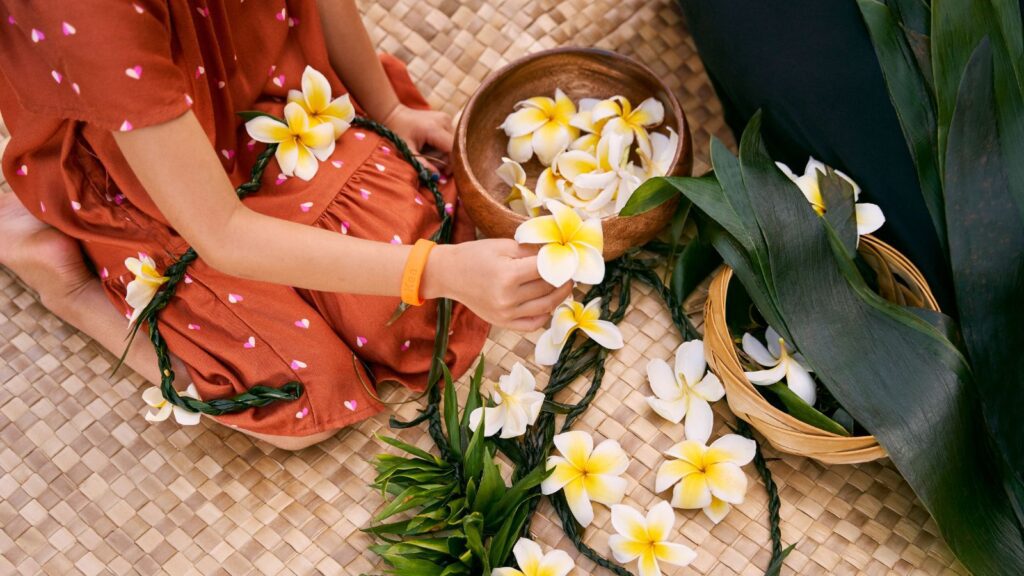 Situated on 1,800-acres of beach on the island of Hawaii's Kohala Coast, the Mauna Kea Beach Hotel makes for an idyllic escape for families. Ukulele lessons and Hawaiian language classes allow visitors to connect with the rich history and culture of the islands, while a resident beekeeper gives tours and honey tastings for a sweet diversion. The children's club for guests ages five to 12 offers lei-making workshops.
SUN AND SAND: 12 Best Beach Resorts in the U.S. for Families
But what truly makes Mauna Kea one of the best family resorts in Hawaii, especially for older kids, is the opportunity to participate in a once-in-a-lifetime guided offshore experience called the Manta Night Swim. Once the sky turns dark, harmless manta rays, known as Hawaii's ocean angels, swim into the bay to feed. Guests can snorkel around these graceful creatures as they nibble tiny crustaceans that are attracted to the light, enjoying an up-close view of the scene.
7. Sheraton Kauai Coconut Beach Resort
Kauai, Hawaii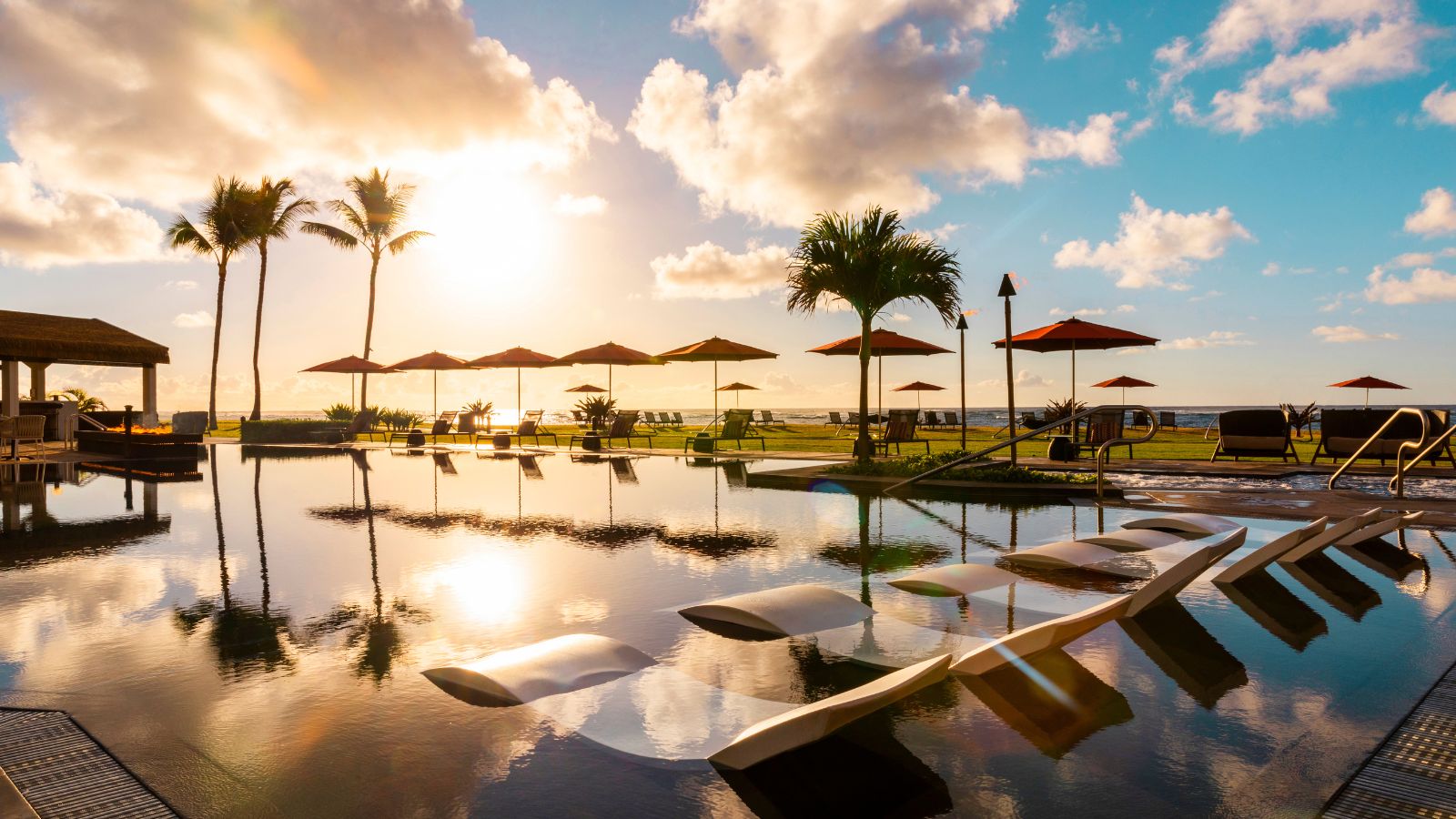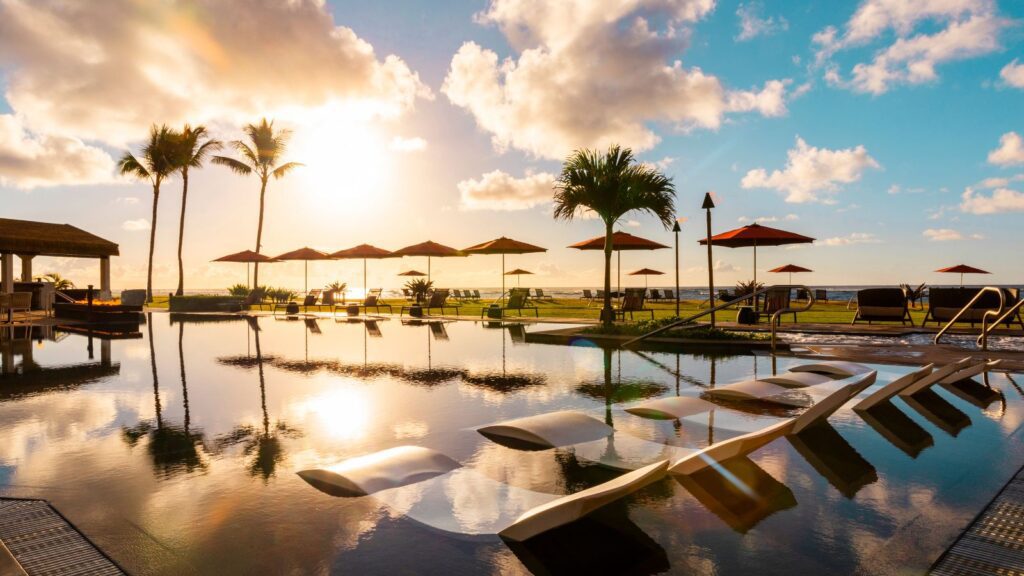 On Hawaii's "Garden Isle," the Sheraton Kauai Coconut Beach Resort feels like it could have been lifted straight from a Polynesian fairytale. This waterfront property has a zero-entry splash pool, fire pits for twilight s'mores, and multiple dining options. Guest rooms offer sweeping views of the Pacific Ocean from private lanais.
WHAT TO PACK: 25 Beach Essentials You Need for Every Sun-Soaked Vacation
Oceanfront bike baths and complimentary beach cruisers make it easy to pedal away and explore lush Kauai, too. And young guests at this delightful Hawaii hotel for families can try kite-making and coconut husking workshops and indulge in poolside shaved-ice.
8. Hana-Maui Resort (Formerly the Travaasa Hana)
Maui, Hawaii
Families who stay at the Hana-Maui Resort, formerly called the Travaasa Hana, can experience the raw beauty of Maui's less-explored eastern side. One of the best family resorts in Hawaii, it overlooks the Pacific and features 74 guest rooms, suites, bungalows, and family residences, each with a private lanai for enjoying the refreshing trade winds or admiring a colorful sunset.
ALL-INCLUSIVE FUN: Beaches Resorts Vacations: What to Know Before You Book
With limited Wi-Fi and no in-room TVs, it's the ideal destination to disconnect from technology and reconnect with loved ones. Saddle up and ride along historic trails, explore the black sand beach at Waiʻānapanapa State Park, and rent a Jeep Wrangler onsite to put the entire island at your fingertips.
9. Aulani, A Disney Resort and Spa
Oahu, Hawaii
Located on the leeward coast of Oahu, Disney's Aulani Resort and Spa is scenically situated between verdant mountains and the blue waters of the Pacific Ocean. A private beach, multiple pools, a water zone with slides, and a lazy river combine with Disney's special brand of customer service. Disney characters are part of the deal, so there will be lots of opportunities to say hello to Mickey and Minnie.
KNOW BEFORE YOU GO: Should You Stay at Disney's Aulani Resort in Hawaii? Here's How to Decide
Activities such as ukulele lessons, hula classes, and an evening luau make a genuine effort to infuse Hawaiian culture into the guest experience. Aunty's Beach House is a supervised play center for children ages four to 12, giving parents a chance to spend some time alone while the kids make new friends. When hunger strikes, everything from fine dining to snack bars are onsite, with Hawaiian staples like shave ice and Spam making an appearance.
10. Royal Kona Resort
Big Island, Hawaii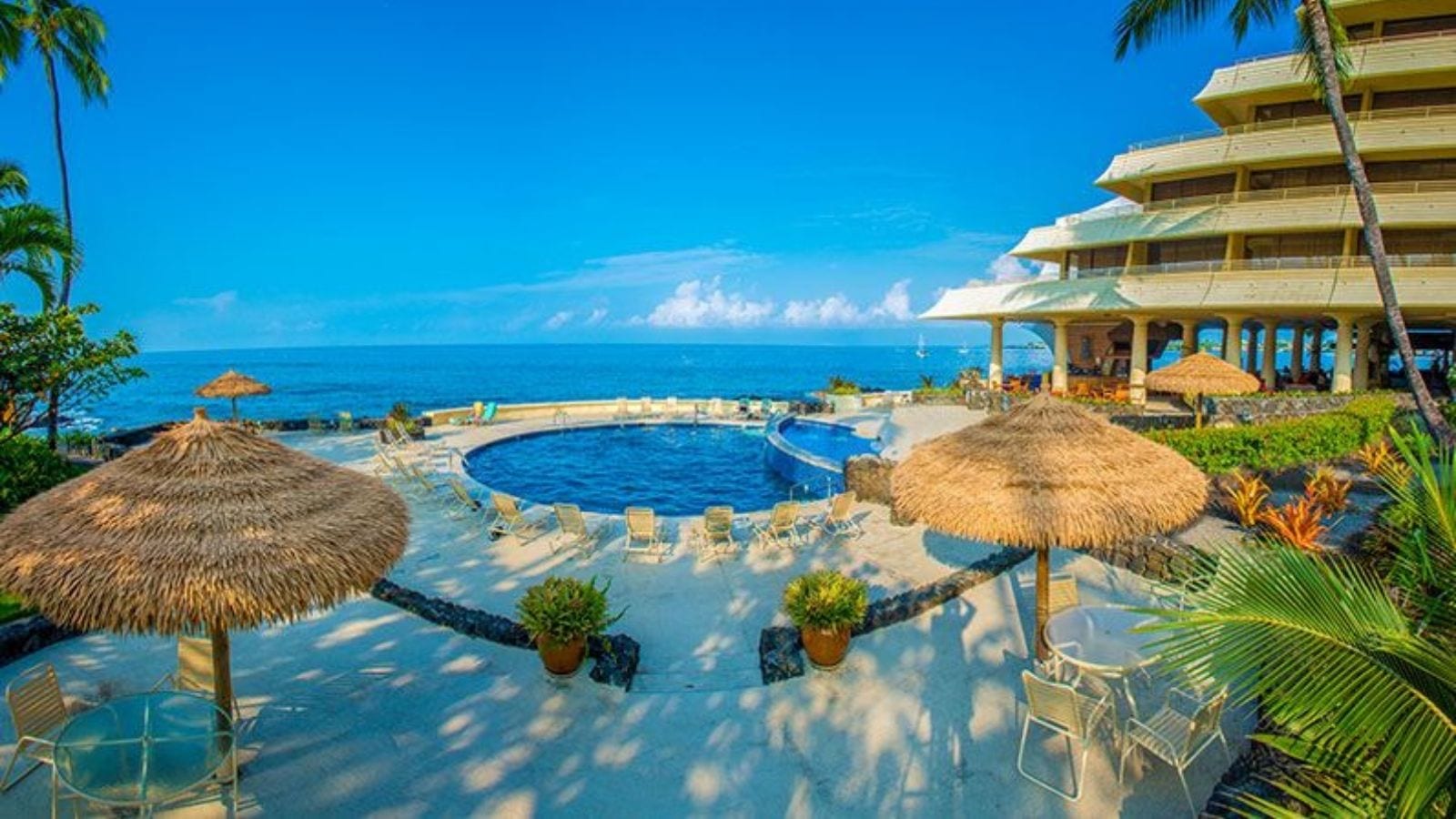 A popular Hawaii family resort choice for those looking to bundle amenities into something resembling an all-inclusive vacation, the Big Island's Royal Kona Resort runs frequent vacation package deals that typically include flights and accommodations in a single discounted rate. Additional "Added Value" packages offer discounts on everything from car rentals and parking to luau tickets and a dinner cruise.
SPRING BREAKS: The Best Places to Take the Kids on Vacation in May: New York, Hawaii, and More
Amenities at this kid-friendly resort in Hawaii include a saltwater lagoon, swimming pool, and scheduled activities. Royal Kona Resort is located close to a beach rather than right on it, but because every beach in Hawaii is a public right of way at no extra cost, you get the benefits of a Hawaii beach vacation here without the cost of paying to stay directly on the beach.
More from FamilyVacationist: