Though many activities and amenities are included when you stay at Aulani, A Disney Resort and Spa on the island of Oahu, dining is both an a la carte experience and expense. The dining options at this Disney hotel range from takeaway to multi-course, and your stay will likely include a mix of the various Aulani restaurants, eateries, and grab-and-go spots
With so many Aulani restaurants to choose from, first-time guests can sometimes feel overwhelmed with choices. But it's easy to get a hang of things once it's all been explained. Here's the scoop on eating at Aulani, with descriptions of what you'll find at each restaurant, eatery, and snack shack on the property.
Everything to Know about Aulani Restaurants
There's a lot of food at Aulani to choose from. In alphabetical order, here's everywhere to eat at Aulani (and other good options nearby). And keep reading to find even more choices, including which restaurants, cafes, and grocery stores are walkable from Aulani and which larger grocery stores you can find within a few miles.
ALMOST ALL-INCLUSIVE: 6 Best Hawaii Resorts That Are (Nearly) All-Inclusive
'AMA'AMA Restaurant at Aulani
Aulani's headliner restaurant, AMA'AMA, is far better than it needs to be, and that's a real boon for Aulani guests looking for a fine dining experience without leaving the property. Named after Hawaii's 'ama'ama fish, this open-air dining space has one of Oahu's most magnificent views out over Ko Olina Beach and the cove. The design feels both grand and homey, with a thatched roof, a reflecting pool, and light fixtures that call to mind local sea life and Hawaiian fish baskets.
NO PASSPORT NEEDED: 19 Best All-Inclusive Resorts in the U.S. for Families
For now, 'AMA'AMA is dinner-only for a four-course prix-fixe menu. Locally sourced fish and produce create a foundation for creative and well-executed dishes like ahi with Maui sweet onion, uni, and spicy greens. And though it serves a set menu, the kitchen easily accommodates dietary restrictions including vegetarian, vegan, and gluten-free.
Since this Aulani is a Disney resort, kids are taken into account in a way that's wildly different than what you'd expect at any other upscale restaurant. There's a four-course menu for kids (at a lower price point) that includes fun options like Mickey shaped grilled cheese and tomato soup as a starter, steak, fish, or pasta as mains, and "Grey Stuff" tarts or hot fudge sundaes for dessert.
It's not just the menu that takes kids into account, either. For families, 'AMA'AMA feels a bit like fine dining with training wheels. You never get the sense that kids are out of place here—they're treated gently and patiently but also seriously, a combination that I know from experience sets the tone for my own kids (ages eight and 10) to rise to the occasion. And yes, there are coloring sheets, but as a family we also got to practice filling the spaces between courses with conversations about our day, and our highs and lows (Spoiler alert: waterslides are probably going to be in the list of highs and kids seem pretty hard-pressed to come up with lows at Aulani).
TROPICAL BLISS: 8 Best Puerto Rico All-Inclusive Resorts for Families
During my visit, there were kids of all ages, from babies sleeping in their car seats to toddlers to older kids and teens. Generally speaking, it was kids older than seven or so who seemed to get the most out of the experience, but the waitstaff made the pacing and offerings work for kids of all ages.
Note the time difference, though: Since Hawaii is a minimum three hours behind the U.S. mainland, dinner can feel late for kids. To lessen at-the-table-sleepiness, consider waiting a few days before dining at the upscale 'AMA'AMA so your family can adjust to the time change. Also think about getting a reservation for earlier in the evening.
Makahiki Restaurant at Aulani
Best known as home to Aulani's character breakfast, Makahiki (located just below the lobby right next to the Olelo Room) also serves dinner. Be sure to make a reservation in advance and ask to sit outside—it's the prettiest part of this Aulani restaurant, located next to waterfalls and koi ponds and looking out on what at Aulani is referred to as the valley, the space between the towers that's filled with pools, lazy rivers, bridges, Disney-style surprises (including little Menehune sculptures), and lush landscaping.
For both breakfast and dinner, Makahiki serves a three-course meal, but at breakfast, the term "course" is stretched a bit for effect. In the morning, three courses include a fresh fruit plate, a basket of baked goods, and a main breakfast course. Mains include locally inspired items like Kalua pig omelets, Hawaiian style loco moco, and Hawaiian sweet bread french toast. There are also dishes like omelets, smoked salmon and bagels, buttermilk pancakes, and Belgian waffles. The Keiki (kids) menu has kid pleasers like Mickey and Minnie waffles.
COMPLETE GUIDE: Everything You Need to Know About Disney Vacation Club (DVC)
For dinner, the three courses include a starter, entree, and dessert. Entrees range from local catch of the day and pastas to steak, and desserts make the most of the setting with offerings like roasted pineapple cobbler and Kona coffee cheesecake. The keiki menu offers some of the same items as you'll see on the main menu with additional offerings like spaghetti and pizza.
The character breakfast is a popular option, and once again reservations are the way to go on this one. I watched a lot of people think they'd be able to get a seat without a reservation and walk away disappointed. The character breakfasts at this Aulani restaurant start with photo ops with Mickey and Minnie. You're then seated at your table and hang out and eat while live music plays and a host of characters make the rounds, stopping at your table like a chef coming to check on how you're enjoying your food.
Mama's Snack Stop at Aulani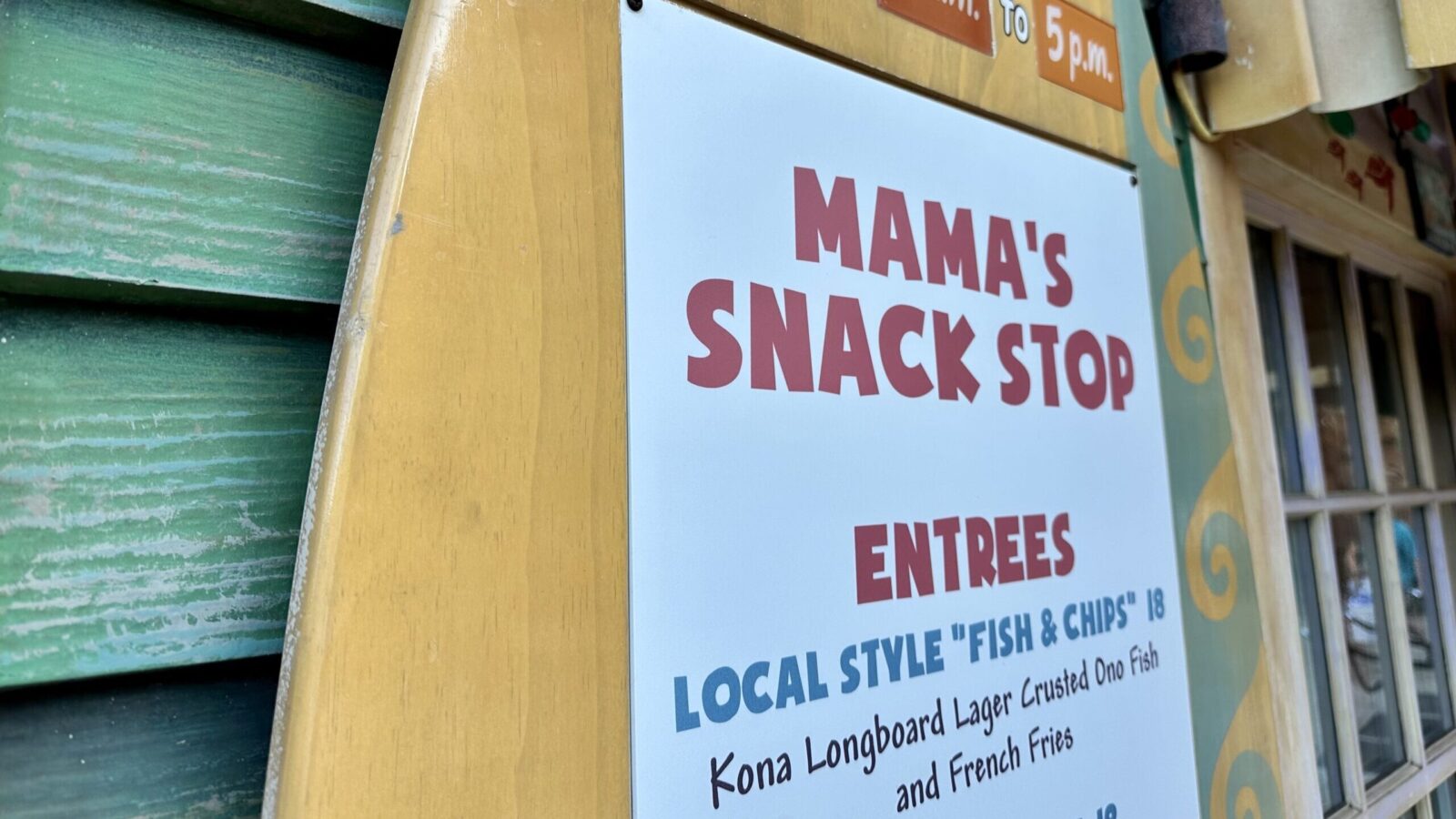 If you want to keep the pool groove going but need to fuel up, Mama's Snack Stop is an easy solve. Open from 11:00 a.m. to 5:00 p.m., this takeout window sits between the Waikolohe Stream and the Waikolohe Pool, just next to the Rainbow Reef. There's a picnic table and some places to lean in the shade of a tree, but most people just bring their food back to one of the many lounge chairs scattered nearby.
Options here are fish-focused, with standout items including fish and chips, a fish sandwich, and coconut shrimp. There's also chicken fingers, plus fries, mozzarella sticks, and mini corn dog bites.
ACCESSORIZING FOR DISNEY: Best Suitcases and Bags for Disney Fans
This is one of the Aulani restaurants where you can buy a refillable mug that gets you free drinks from one of the filling stations around the property for the length of your stay. The mug costs about the same as four or five sodas, so if you and the kids think you'll exceed that, this is your most cost effective option (plus a built-in souvenir). You'll find dozens of options at the drink stations (there's one just outside the Lava Shack and another outside Ulu Cafe) including lightly flavored sparkling water, soda flavors standard and unusual, ice tea, and more.
The Olelo Room at Aulani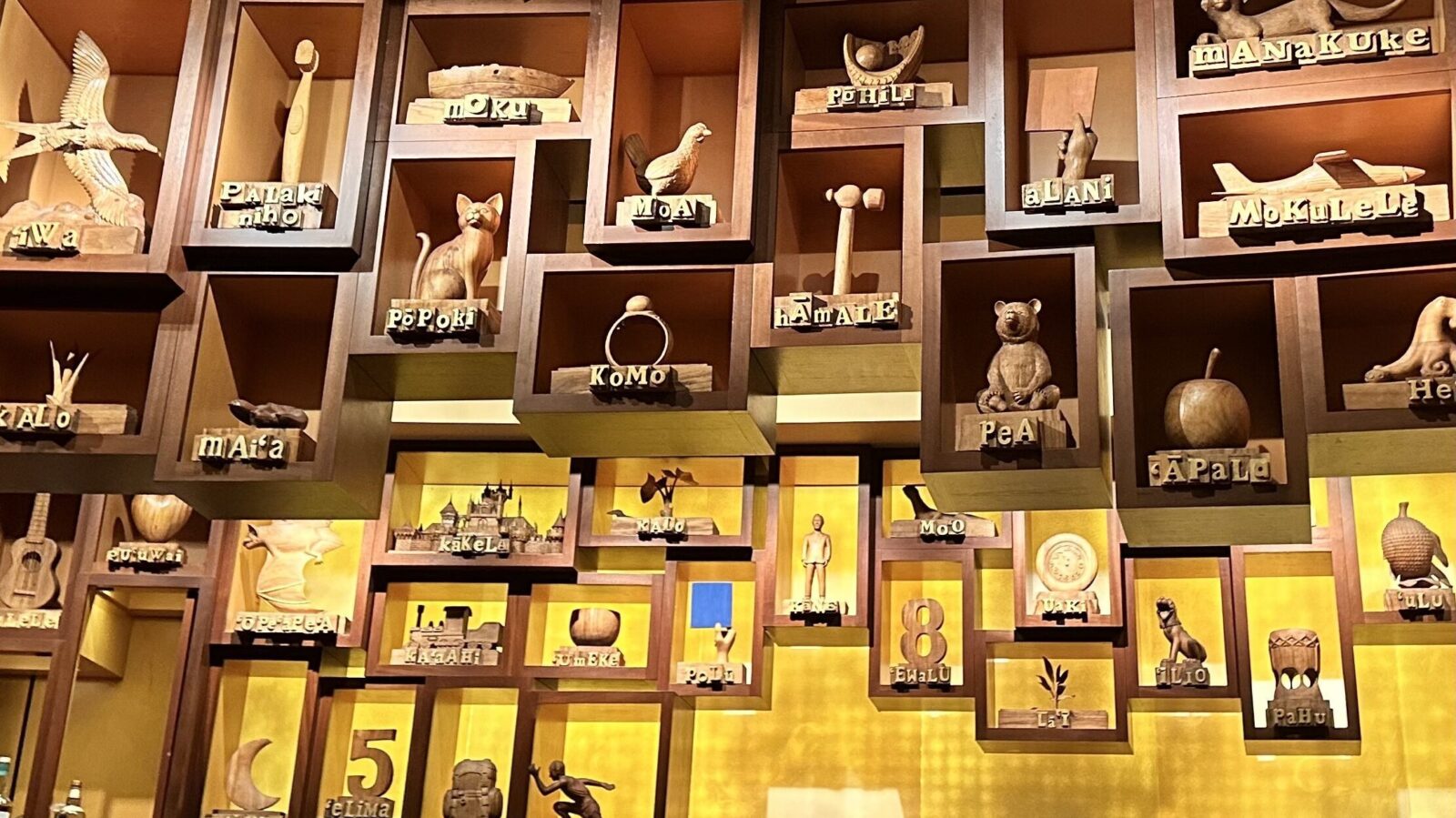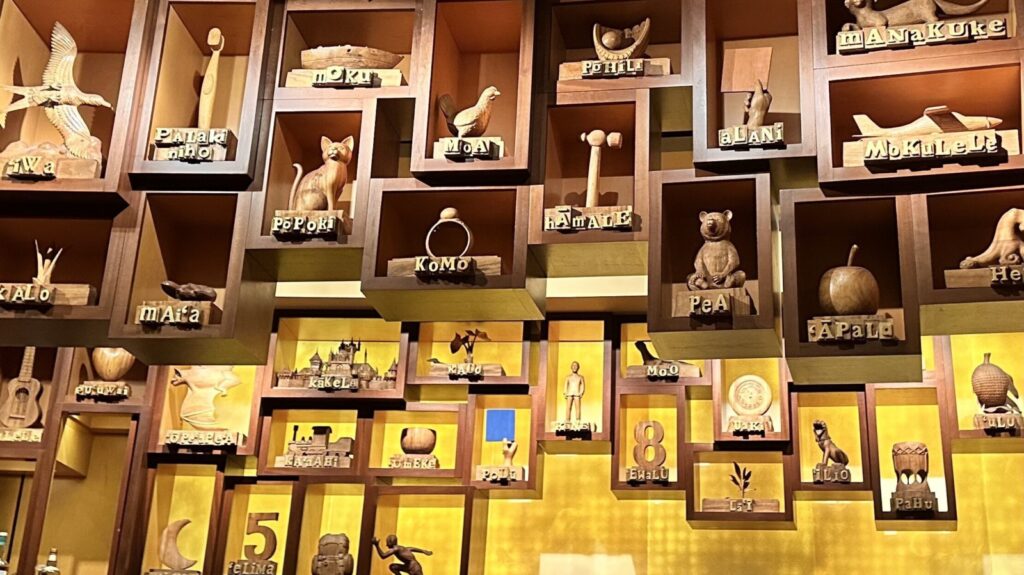 The Olelo Room is a bit of a hidden gem in terms of Aulani restaurants. It's a kid-friendly bar and restaurant that's open in the afternoon and evening (though you can—and should—stop by in the morning for a dazzling and big-enough-to-share cinnamon roll to go). It's a perfect easy dinner (sit down but no reservations necessary) for one of your first nights, or a great date-night option if you get some adult time.
SAY ALOHA TO VACATION: How to Choose the Best Hawaiian Island to Visit
The Olelo Room shines a light on Hawaiian language and culture. The design of the space features beautiful wooden carvings of common objects and their Hawaiian names. And everyone who works here speaks Hawaiian (not a small thing, since the Hawaiian language was banned from schools for most of the 20th century and has only in recent decades experienced a resurgence of native Hawaiian speakers). So it's a great place to get curious, ask questions, and learn a little Hawaiian.
Though the menu isn't as robust as you'll find at the full-service Aulani restaurants, there's plenty for everyone here, including kid-friendly menu items; a whole host of sashimi, nigiri, and sushi rolls; bar bites like sliders; and vegetarian and vegan dishes as well.
Off the Hook at Aulani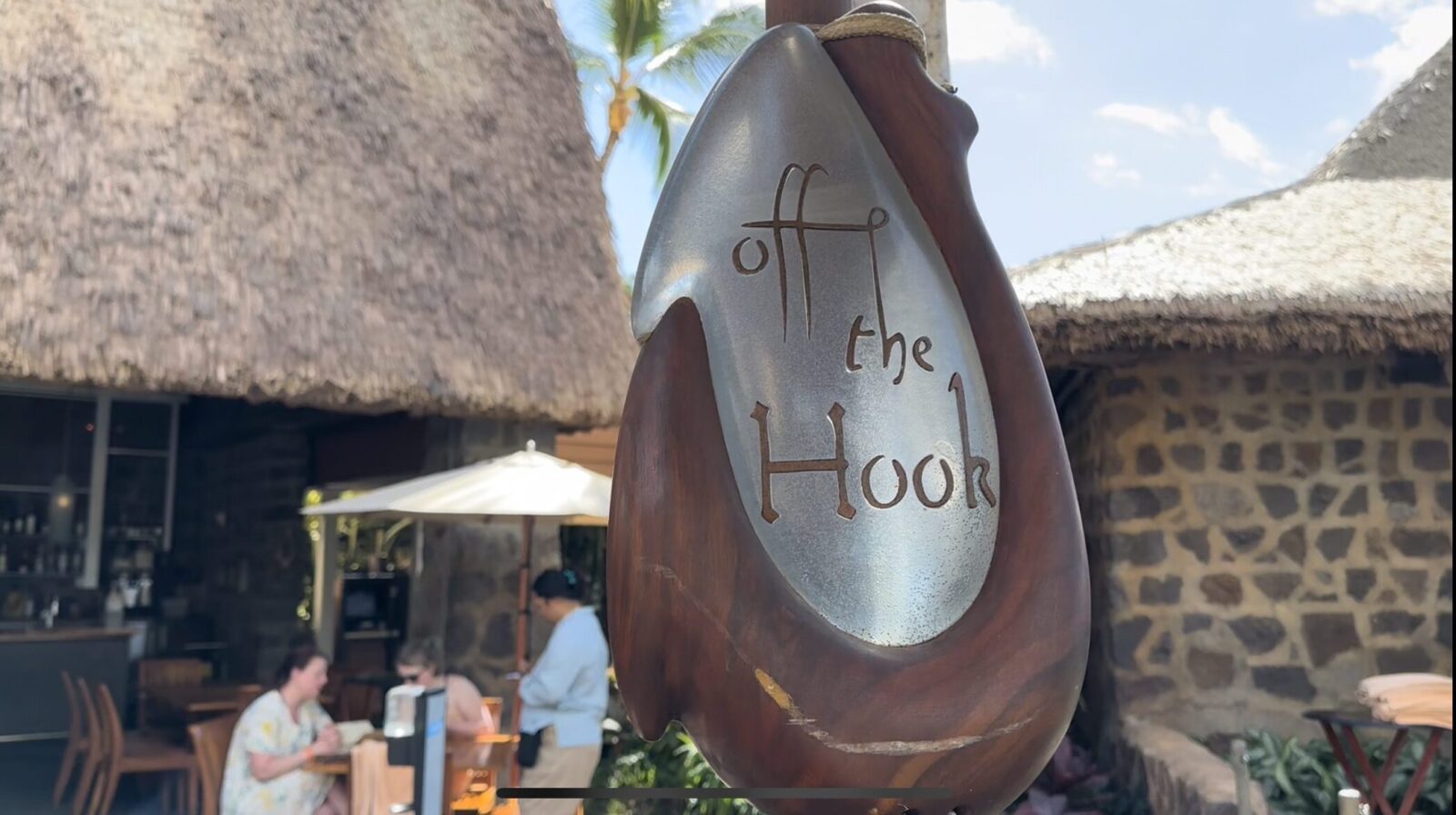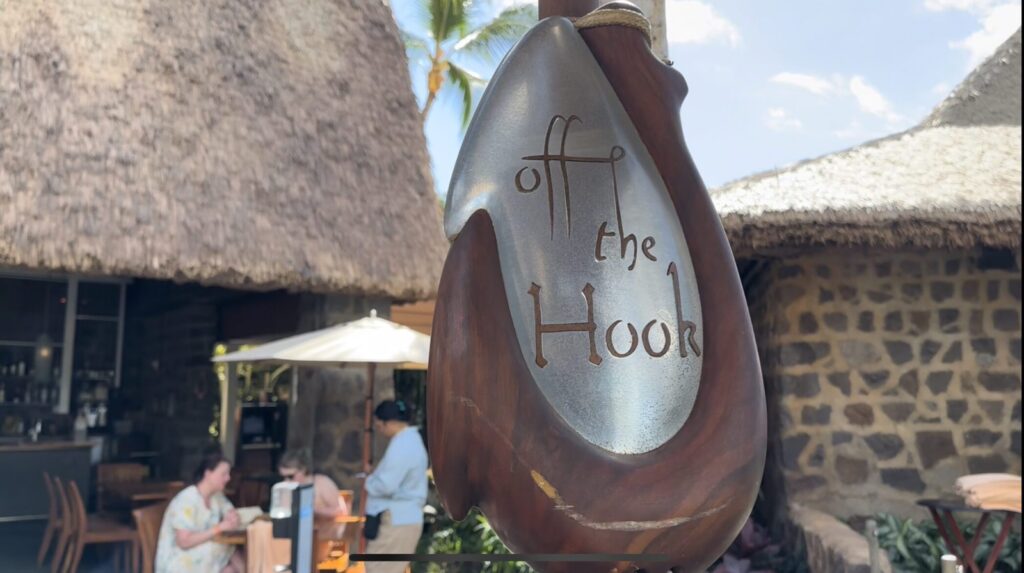 This lunch and dinner spot is perfect for a sit-down breakfast, lunch, or dinner by the pool. Off the Hook feels festive and in the middle of things but also unhurried. It's Aulani's only table-service lunch restaurant and has enough options that you could go more than once without exhausting your choices. If you check in before your room is ready, coming here for lunch is a great introduction to the property. It gives you a comfortable vantage point close to the pools, the water, and the outlet of the water slides. And new as of May 2023, Off the Hook is also offering both sit-down and grab and go breakfasts as well, including kid-pleasing Mickey Waffles.
TIME DIFFERENCE: 10 Steps to Help Kids (and Parents) Manage Jet Lag
The best way to kick off a meal at Off the Hook is with a festive drink. There are cocktail and mocktail options including mango mojitos, lava flows, and pina coladas for the 21 and up crowd and pineapple-ginger splashes, passion coladas, and strawberry-guava island coolers for kids and non-drinkers.
Whether you're there for a snack or a meal, you'll find plenty of options and many Hawaiian-inspired dishes like Maui-style onion rings, ahi poke, and garlic shrimp flatbreads. There are also bento boxes, burgers (meat and plant-based), sandwiches, and salads. The keiki menu here is pretty straightforward, with a meal deal that includes sandwiches and wraps, hot dogs, mac 'n cheese, burgers, and chicken strips; plus sides that range from veggies to fries and fruit for dessert.
Little 'Opihi's at Aulani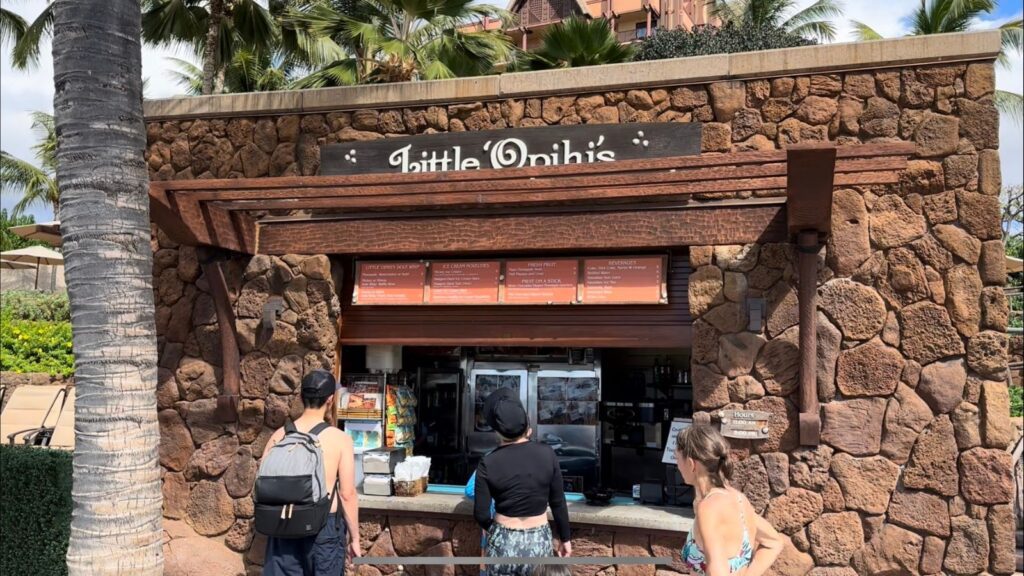 If what you want out of Hawaii is some combination of beach and Dole Whip, Little 'Opihi's is your spot. This beachside shack serves up both the classic pineapple Dole Whip and a watermelon variation. Choose one flavor or get a swirl. There are also ice cream treats like Mickey Ice Cream bars and ice cream sandwiches.
TIPS AND TRICKS: 10 Tips for Keeping Your Family Healthy on Vacation
Additionally, the menu features perfectly fresh (and ideal as a cooling healthy beach treat) cut-up pineapple or papaya, as well as white chocolate-dipped pineapple on a stick and milk chocolate-dipped banana on a stick. Rounding out the offerings of this quick service Aulani restaurant on the path across from the beach are drink options including all the standard sodas, water, and Hawaiian ice tea, plus beer and hard seltzer.
Ulu Cafe at Aulani
An always-busy grab-and-go spot at Aulani, Ulu Cafe offers both pre-made and on-demand meals and snacks. For breakfast, hot items include croissant sandwiches, breakfast flatbreads, steel-cut oatmeal, and kid-breakfast menu items like an eggs-and-bacon breakfast platter. For lunch, prepared-to-order options include poke bowls, acai bowls, flatbreads, and sandwiches. In the evening (but not at lunch) Ulu Cafe serves generously sized and reasonably priced pizzas.
There are also a ton of grab-and-go items that run the gamut from macadamia nut sticky buns, cinnamon rolls, and muffins to single-serve cereals, freshly cut fruit, and yogurt. There are also a variety of salads and sandwiches in the refrigerator cases, and a refill station on the patio outside Ulu Cafe where you can refill your pre-paid cup.
SUN FUN: 25 Beach Essentials for Every Sun-Soaked Vacation
Certain items must be ordered at the cashier even though they come from the hot food area. So, for instance, you'd order acai bowls at oatmeal straight from the people behind the counter, but you'd go straight to the cashier for breakfast wraps and french toast. There are signs as you enter that explain all of this, but because it can get crowded it's easy to miss the explanations and end up standing in line unnecessarily.
Pro tip: At mealtimes, the line gets long. To avoid waiting for food with a hangry kid, show up outside of standard breakfast and lunch times (before 8:00 a.m. or after 10:00 a.m. for breakfast; 11:00 a.m. to 11:30 a.m. or after 1:30 p.m. for lunch).
Pāpālua Shave Ice at Aulani
Right next to Mama's Snack Stop is the all-important Pāpālua Shave Ice stand, which is a must for families who love the frozen Hawaiian dessert. Though older kids have a lot of opportunities for independence at Aulani, the whole family should visit the shave ice stand the first time around since there are a lot of varieties to choose from.
NO MORE BLISTERS: 10 Comfortable Travel Shoes That Can Handle a Whole Day of Walking
Getting three flavors of shave ice is standard, but you can also add sweetened condensed milk, ice cream, or both. And then there's the decision of whether you want to pay a little extra to upgrade from the classic mounded shave ice shape to the Aulani signature Mickey ears shape.
Poolside Dining Restaurants at Aulani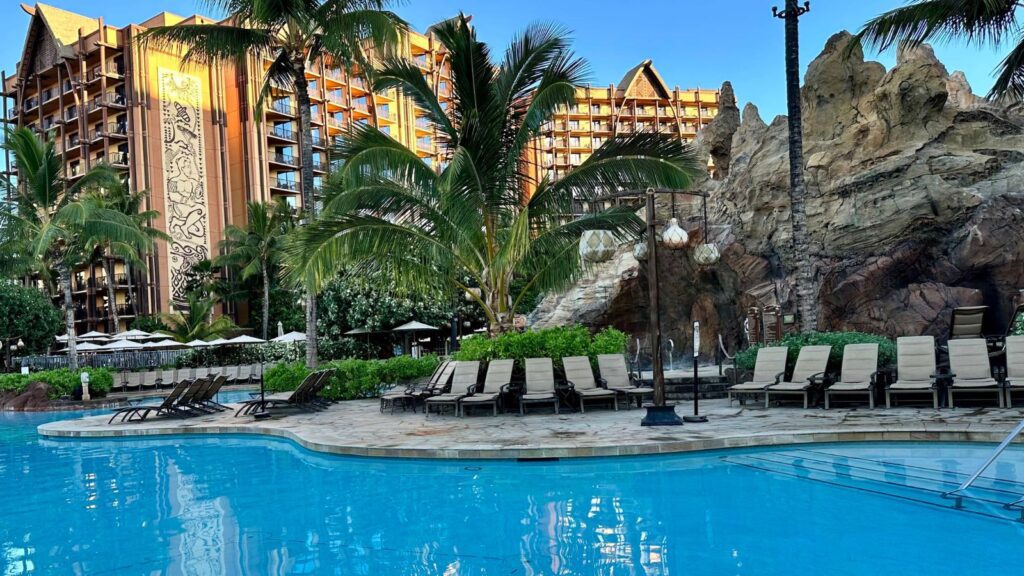 Here's a cool trick to know in advance: Sit in a lounge chair for longer than about five minutes and there's a good chance someone will walk by, hand you a menu, and see if you want anything to eat or drink. This is a great option for families who want to station themselves near one of the pools, then just kick back and let the food and drinks come to them. You can also head to Wailana for walk-up service and the same menu.
Wailana Pool Bar at Aulani
If what you want is coffee and maybe a pastry but the line is long at Ulu Cafe, walk around the corner to Wailana Pool Bar, where the lines tend to be shorter and the hot drink menu is expansive. There are basic coffee options along with espresso drinks (including Aulani's signature Mocha Mac-Nut, which you can get hot or iced).
SUN AND SAND: 10 Caribbean Family Resorts That Belong on Your Bucket List
There are also hot and iced teas—if you're an ice tea fan, check out the mango, lychee, and passion fruit varieties—and a handful of cold blended drinks like Vanilla Cream Shaka and the frozen caramel java Maui's Favorite. Later in the day, this is an easy spot to come for fun cocktails, drinks, and the spot to order the poolside dining menu.
Bonus: Kālepa's Store at Aulani
This gift shop next to the lobby has a ton of Aulani gear, but it also has a cold case with frozen items that will be most useful to you if you're in a villa or suite with a kitchen. You'll find stuff like frozen waffles, microwave meals, and Hot Pockets, plus a lot of ice cream options. There's also a lot of souvenir candy here.
Walkable Off-Property Dining Near Disney's Aulani Resort
Just across the street from Aulani (walk out the lobby doors, head to your left down the curving path to the street, walk left once you get to the sidewalk, and cross at the corner), about a five-minute walk away, is a cluster of shops and restaurants that can provide a little variety to your stay even if you don't have a car.
Here you'll find a well-stocked Island Country Markets (ABC Store) that's about half groceries, with plenty of prepared items on offer throughout the day. Outside are a few tables that face the parking lot, but you can also stock up and head back to Aulani; each room's private balcony is outfitted with seating and feels like the ultimate in private dining.
TRAVEL WITH TEENS: 10 All-Inclusive Resorts Even Your Teenager Will Love
There's also a Starbucks and an Island Vintage Coffee (Hawaii's answer to Starbucks that also has some great and healthyish food options), both of which get crowded early in the morning as people come across from Aulani and the Four Seasons next door. In the same spot, there's a Monkeypod Kitchen by Merriman that has a nice outdoor patio with occasional live music. Across the street is a Mexican cantina with a focus on local ingredients.
On the water side of Aulani, the resort shares a cove with the Four Seasons Resort Oahu at Ko Olina. That resort also has restaurants to consider, including Mina's Fish House, Southern Italian Noe, and the waterfront Mānalo Lounge.
Grocery Stores Near Aulani
There are more than half a dozen grocery stores within three miles of Aulani, including Foodland, Safeway, and Walmart in Kapolei. The only walkable option is the Island Country Markets across the street, which has a decent selection but is pricier than the larger grocery stores.
More from FamilyVacationist: