Family cruises with Disney combine the fun of the theme parks with the company's top-notch guest services for a vacation that's like a floating oasis on the open sea. And this year, Disney Cruise Line is celebrating its 25th anniversary with an event that's sure to bring sparkle and shine to Disney's five cruise ships like never before. 
The aptly named Silver Anniversary at Sea will bring all-new entertainment, dining, merchandise, themed evenings, and more to the Disney Cruise Line (DCL) fleet. If you're sailing on any of the DCL ships this summer, here's what you can expect onboard for the glittering affair. 
FAMILY CRUISES: 7 Best Cruise Lines for Families (and Their 12 Most Kid-Friendly Ships)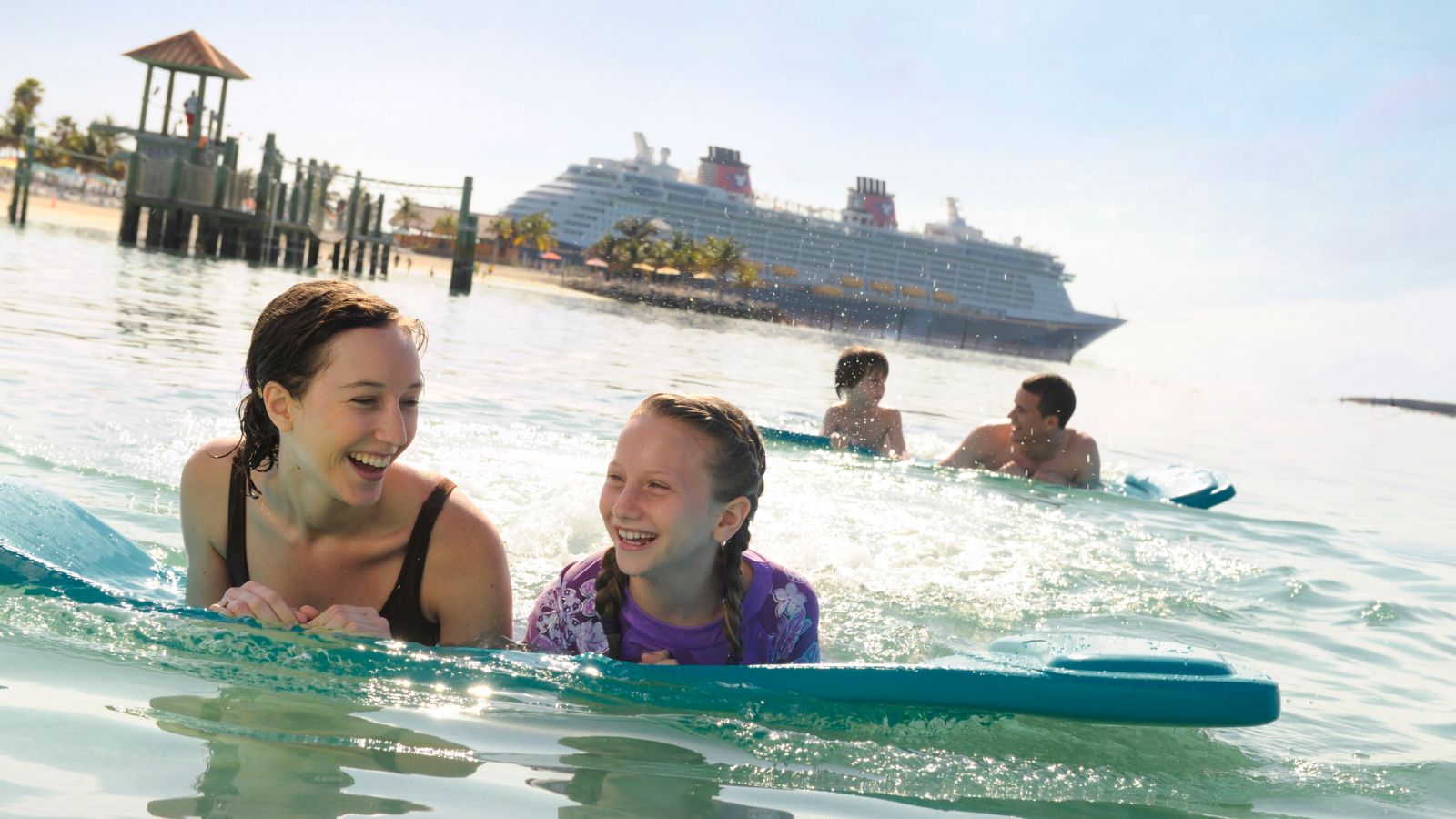 When Does the Disney Cruise Line Silver Anniversary at Sea Start and End?
All five of the DCL ships (Disney Magic, Disney Wonder, Disney Dream, Disney Fantasy, and Disney Wish) will offer sailings between May and September that give cruisers the opportunity to join the Silver Anniversary at Sea. 
Disney Wish
Sailings with the 25th anniversary celebrations take place on the Disney Wish from May 1, 2023, through September 8, 2023. The Disney Wish sails from Port Canaveral to the Bahamas. 
Disney Fantasy
The Disney Fantasy sets sail from Port Canaveral to the Caribbean, with the Silver Anniversary at Sea sailings taking place from May 6, 2023, through September 2, 2023. 
BIG-TIME SAVINGS: Kids Sail Free: 6 Cruise Lines Letting Kids Cruise Free This Year
Disney Dream
This year, the Disney Dream will spend its first summer in the Mediterranean. Along with brand-new itineraries, the ship will celebrate the landmark 25th anniversary from May 7, 2023, through September 17, 2023. 
Disney Wonder
The Disney Wonder spends its summers in Alaska. Guests can celebrate the Silver Anniversary at Sea alongside glaciers and wildlife from May 15, 2023, through September 11, 2023. 
Disney Magic
Cruisers on the Disney Magic can enjoy 25th anniversary sailings from Miami to the Bahamas and the Caribbean from May 24, 2023, through September 4, 2023. 
New Castaway Club Perks for DCL's Silver Anniversary at Sea
Anyone who's been on a Disney Cruise Line sailing is automatically a member of DCL's Castaway Club. This year, the cruise line has added a new loyalty program tier called Pearl. Those who have sailed with DCL 25 times or more will be privy to the perks of this new level, which include being able to book new itineraries four days before the general public, booking cruise activities 123 days before sailing, selecting port arrival times 40 days prior to sailing, a complimentary unlimited digital photo package, and all of the existing Silver, Gold, and Platinum Castaway Club benefits. 
FUN IN THE SUN: Everything to Know about Castaway Cay, Disney Cruise Line's Private Island in the Bahamas 
Every stateroom on a Disney cruise gets gifts depending on the highest level of Castaway Club membership in the room. Now with the start of the 25th anniversary, those gifts have changed. Those who are at the Silver level will get a Castaway Club tote bag; Gold gets the tote bag and a wet/dry bag; Platinum gets the tote bag, a wet/dry bag, and a beach towel; Pearl gets the tote bag, the wet/dry bag, the beach towel, and a pair of flute tumblers. 
Avid cruisers also know that keeping your key card to your room, known on DCL as the Key To The World (KTTW) card, close by is always important. The launch of the Silver Anniversary at Sea also brings new lanyards for your KTTW card. The lanyards are different colors based on each traveler's Castaway Club level and feature Captain Mickey on the front.
No matter your Castaway Club level, every member who sails during the 25th anniversary celebration will also get a limited edition framed art print featuring Captain Mickey. 
New Onboard Celebrations for Disney's Silver Anniversary at Sea
One of the many highlights of a Disney Cruise is being able to ooh and ahh over fireworks at sea. Travelers who book a sailing during the 25th Anniversary at Sea will be able to take part in the cruise line's iconic Pirate Night celebration and a second Silver Anniversary at Sea fireworks party on most four-night or longer sailings to the Bahamas, Caribbean, or Mediterranean. 
CRUISE REVIEW: Pixar Day at Sea Transforms the Disney Fantasy into a Delightful Toy Box 
Beloved Disney characters like Mickey and Minnie Mouse and all their pals will don a new shimmering outfit. Guests can see and take photos with the characters throughout the cruise, with specific times listed on the Disney Cruise Line app.
If you don't want to wait in line to see Captain Mickey and Minnie in their new outfits, you can also see them, and other Disney characters, at the Shimmering Seas Soiree, which is the themed Captain's Reception. During this special evening, guests are invited to the atrium of the ship to toast to 25 years of Disney Cruise Line with the ship's captain, cruise director, and Disney characters. The party time can be seen in the Disney Cruise Line app, and this is one party you aren't going to want to miss.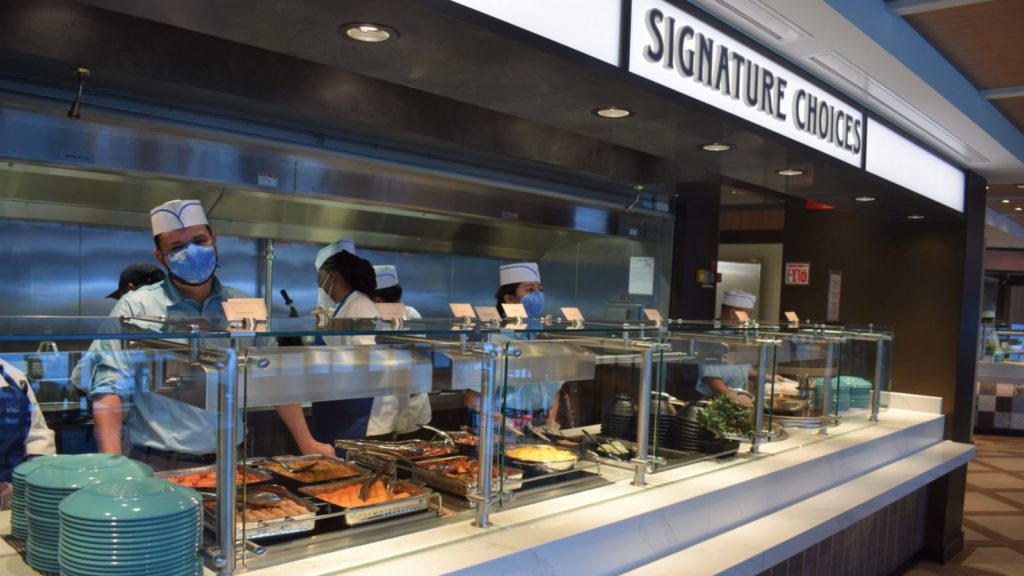 New Treats around the Ship for Disney Cruise Line's Silver Anniversary at Sea
No Disney cruise is complete without trying some sweets and treats from the poolside buffet or indulging in a cocktail or two. On DCL's 25th anniversary sailings s, you will be able to try some new festive treats including cupcakes with a chocolate emblem and shimmering sprinkles and Captain Minnie-themed crisped rice treats. The new sweets can be found in the Cove Cafe, Marceline Market, Cabanas, and other locations around the ships. 
INSIDER SECRETS: 6 Things You Didn't Know You Could Do on a Disney Cruise 
For those who want to sip on a sparkling cocktail, the signature drink, Jubilee by the Sea, will be available at some lounges around the fleet. The cocktail is made from tequila, Luxardo Maraschino, fresh lemon juice, silver dust, and a blue sugar rim. When you order this cocktail, you also get a keepsake bookmark with the recipe and directions to make the drink at home. 
Silver Anniversary at Sea Merchandise
Disney has also launched a new merchandise collection called the Shimmering Seas collection. The sparkly backpacks, ear headbands, spirit jerseys, and more can be found in select shops onboard each ship. Other limited-time merchandise options include a Silver Anniversary at Sea ornament, a trading pin, and a ship model. 
Ship Decorations
Around all five Disney cries ships you'll find sparkling decorations that add to the celebratory feel of the cruise. In the atrium, there are larger-than-life photo backdrops to take family portraits with, and around the ship nods to the milestone anniversary can be found on windows and staircases. 
More from FamilyVacationist: