Already well loved for its wide variety of onboard entertainment and shore excursions, Disney Cruise Line also offers a spectacular array of themed cruises (Halloween on the High Seas and Very Merrytime Cruises) and special themed days at sea (Marvel Day at Sea and Star Wars Day at Sea). And debuting this year, DCL has added another themed sea day to its cruise offerings: Pixar Day at Sea.
As a long-time fan of family cruises with Disney Cruise Line, I jumped at the chance to set sail on the Disney Fantasy for the inaugural voyage of Pixar Day at Sea. Here's what it was like, and what you should know if you're thinking of adding a Pixar Day at Sea cruise to your family vacation ideas wish list.
ULTIMATE GUIDE: Everything You Need to Know about Disney's Cruise Ships Before You Book a Disney Cruise Vacation
All about Pixar Day at Sea on Disney Cruise Line
This voyage would be my family's first trip together since the onset of the pandemic. My wife Dana and I found Disney Cruise Line's newest ship, Disney Wish, met her mobility and accessibility needs on our previous cruise when we sailed without our adult children, and we were eager to try a longer trip with the whole family. (Dana's mobility is affected by multiple sclerosis.) To that end, Disney's inaugural Pixar Day at Sea sailing on the Disney Fantasy had a number of things going for it that worked for our family:
The longer seven-day cruise made any difficulties of traveling with a wheelchair worth it.
The timing in early January fell in-between college semesters for our 20+ year-old daughters.
The Disney Fantasy was the only Disney Cruise Line ship we had yet to experience.
We love the Pixar films, and our daughters grew up with these stories and characters.
Pixar Day at Sea is just one day out of the seven-day voyage, but Disney packs a lot into that one toy box. Our Pixar Day at Sea experience overflowed with characters and activities everywhere we turned. From morning revelry with the Green Army Men to the final Incredibles-themed firework boom, we were immersed in familiar sights, sounds, and even tastes from the imaginative world of Pixar Studios.
DISNEY SECRETS: 6 Things You Didn't Know You Could Do on a Disney Cruise
Denise Case, director of entertainment/creative for Disney Cruise Line, says that this special Pixar Day at Sea was three years in the making. "We wanted to do a new day at sea, and felt we could do a full complement of stories with Pixar characters." Disney Cruise Line worked hand-in-hand with Pixar and looked at every film going back to, of course, 1995's original Toy Story.
Families that enjoy meeting characters will have no difficulty on a Pixar Day at Sea. Pixar pals were prominent on our cruise, including Woody, Buzz Lightyear, Jessie, and Bo Peep from the Toy Story films; Mike Wazowski and Sulley from Monsters, Inc.; Joy and Sadness from Inside Out; Dug and Russell from Up; Miguel from Coco; Remy from Ratatouille; and Mr. Incredible, Mrs. Incredible, Frozone, and their designer Edna Mode from The Incredibles.
Pixar-themed activities are prominent too. Families can test their memory skills with Dory's Memory Game; get in touch with their emotions at the Inside Out Game Show; become an honorary member of the Green Army Patrol during Sarge Says; make Remy's favorite dish, Ratatouille, at Anyone Can Cook; or take center stage during Monsters, Inc. Open Mike Nite. There are even specially themed activities for children in the kids' clubs, such as making music with Miguel from Coco and building their own Forky from Toy Story 4.
SAVE MONEY: Kids Sail Free: 5 Cruise Lines Letting Kids Cruise for Free This Year
Evening activities on our Pixar Day at Sea included dinner as well as a show on the pool deck. My family had the late seating for dinner (8:15 p.m.), so we headed up top for the Pixar Pals Celebration! deck party at 7:30 p.m. This was a delightful, high-energy show that gave us the opportunity to see all the Pixar characters who appeared during the day.
After watching the frenzied character dance, we headed to our dining venue (Enchanted Garden) for a special Pixar-themed dinner with dishes inspired by the films and flavors of Pixar Studios' northern California location. The Pixar fare included bao buns, Massimo Linguini's pasta, Sanjay's Makhani-Butter chicken, a Lava "Poke" bowl, and more. The signature dessert was a Playful Pixar Ball baked vanilla cheesecake with blueberry filling and lemon almond cake. A meal worthy of a Remy-sized chef's kiss!
Afterwards, it was back to the pool deck for An Incredible Deck Party – Celebrate the Supers! The evening was capped with an Incredibles-themed fireworks display set to the film's musical score.
Pixar-Themed Opportunities Beyond the Big Day
Pixar Day at Sea is so big that it couldn't actually be contained to a single day. On our voyage, there was also an interactive character breakfast show called Hey Howdy Breakfast with Woody and Friends offered on alternate sea days (reservations required, but no extra charge). This breakfast with Woody, Jessie, Bullseye, and singing cowboys was a fun sing-along experience with full country breakfast fixins'.
FIRST-TIMER'S GUIDE: 19 Things to Know Before Your First Cruise with Kids
Additionally, some of the character greetings (An Encounter with The Incredibles) and activities (Anyone Can Cook) were extended after Pixar Day at Sea to give more people a chance to experience them.
"As we learn, the Pixar characters and stories will shift to other days if it's too much in one day," explained Disney's Denise Case, noting that Disney Cruise Line is assessing this initial offering and pivoting to offer characters and experiences on other days.
What Else Can You Do on a Pixar Day at Sea Disney Cruise?
For my family, Pixar Day at Sea was the cherry on top of the seven-day Disney Fantasy cruise sundae. We were excited for everything else the cruise had to offer and the chance to experience it together as a family. For example, now that our daughters are both in their 20s, we took advantage of the adult-exclusive areas of the ship by spending afternoons lounging around the Satellite Falls sun deck, playing trivia in O'Gills Pub, and savoring an exquisite dinner and brunch at Palo.
GALAXY QUEST: On Disney's Newest Cruise Ship, Every Day Is 'Star Wars Day at Sea'
Our eastern Caribbean itinerary featured stops in Tortola, British Virgin Islands; San Juan, Puerto Rico; and Disney's private island in the Bahamas, Castaway Cay. The first port of call, Tortola, did not offer any shore excursions that were wheelchair accessible, so my wife booked a facial in the spa while my daughters and I went snorkeling near the islands and caves that inspired Robert Louis Stevenson's Treasure Island. After a fantastic day, we all gathered back to share tales of our adventures over dinner with our fantastic serving staff Gerda and Bruno (yes, he's heard the song and we can talk about him).
In San Juan, we booked a fully accessible tour of Old San Juan. We had a private van with wheelchair lift, driver, and guide that escorted us to the historic San Cristobal Fort, past El Morro, and on to the Paseo de la Princesa walk.
SPECIAL OCCASIONS: 5 Big Family Vacations You Can Take to Celebrate Life's Milestones
Our guides were passionate, knowledgeable, and very familiar with the requirements of those with disabilities. They stopped the van at every curb cut for wheelchairs and knew the most accessible bathrooms with ramps and wide doorways. The guides were highly responsive to our accessibility needs and took us back to the ship as quickly as possible when we needed to get out of the sun on a hotter than usual January day. We definitely recommend this San Juan excursion for anyone with limited mobility.
Accessibility on the Disney Fantasy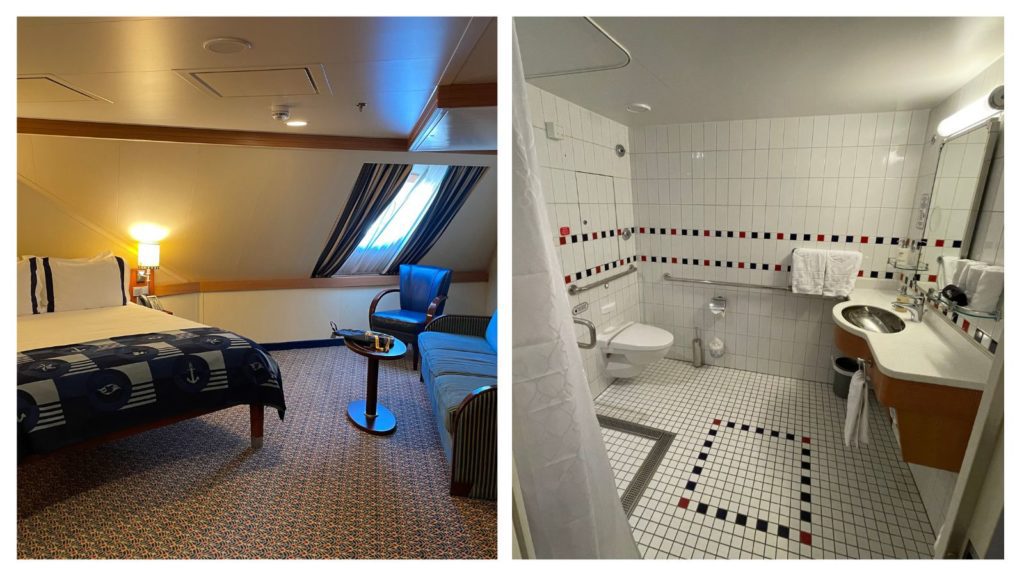 Near the end of our Pixar Day at Sea cruise on the Disney Fantasy, we reflected on the accessibility of this Disney cruise ship. Our stateroom, number 6006, was categorized as a deluxe oceanview stateroom, and located at the very front (forward-facing) part of the ship. Similar to our accessible stateroom on the Disney Wish, the door opened automatically with a wave of the keycard and had plenty of space to maneuver with a wheelchair and walker. We never felt cramped, even with four people and a wheelchair in the room.
NO HIDDEN FEES: 7 Best All-Inclusive Cruise Lines in the World
At the time we booked, there were no accessible staterooms with verandahs available. Because stateroom 6006 was located in the extreme forward part of the ship, the porthole wall was sloped. The porthole let light into the room, but the angle prevented someone in a wheelchair from effectively seeing out. We came to realize the importance of the accessible balcony for Dana to easily get outside, enjoy the breezes, and watch the ocean. On future trips, we will make sure to have an accessible stateroom with a verandah.
Public spaces were mostly accessible on the Disney Fantasy, and the restrooms in the Deck 4 adult entertainment district were some of the most wheelchair-friendly we've experienced. We were also thrilled to enjoy the wide outdoor promenade of Deck 4 that looped the entire ship. This area was fully accessible and much less crowded than the interior spaces. We even ran into a surprise encounter with Stitch during one of our strolls.
Final Thoughts on Our Pixar Day at Sea Review
Pixar Day at Sea is a great addition to Disney Cruise Line's themed sailings, and if DCL continues to offer the Pixar characters and activities on more than one day per cruise it will be even better. Cruising continues to be a wheelchair-friendly way for us to travel, and Disney Cruise Line offers experiences that everyone in our family can enjoy.
After we stepped off the Disney Fantasy, our daughters commented on how nice it was to totally unplug from the internet and social media and reconnect as a family.
More from FamilyVacationist: