"Who's your favorite Disney character?" a beaming Disney cast member asked my tweens as we boarded Disney's newest cruise ship, the Disney Wish.
"Um," they stammered, searching their father and me for backup.
"We've watched Frozen, The Lion King, and The Princess and the Frog together," I answered. It isn't that we don't like Disney; we just aren't big movie and TV buffs. I could tell the ship's crew members don't usually encounter this kind of response.
The Disney Wish sets sail on July 14, and even families that aren't super into Disney will be smitten with it. I know because my family of four had a smashing time on the preview sailing. Unfamiliar with most Disney franchises, we thought some of the magic might be lost on us. But while most of the immersive details probably went over our heads, Disney Cruise Line's creativity and showmanship completely drew us in. 
ACCESSIBILITY AT SEA: How Disney's Newest Cruise Ship Makes Cruising Even More Accessible for Travelers with Mobility Issues
Why Even Non-Disney Fans Will Love the Disney Wish
Disney Cruise Line does everything right. From the moment you board the ship, you feel like royalty. The warm, engaging crew immediately draws you into the excitement. The meals are quality over quantity. The shows are Broadway-caliber. Your service staff will remember your likes and dislikes and constantly cater towards your every preference. And there's just as much for the adults as there is for the kids.
Delightful Meals and Dinner Performances Anyone Can Enjoy
My favorite part about sailing with Disney is the dinner service, and the crew deserves as much praise as the high-end food. Most of the magic has to do with the fact that you're assigned a dining staff that floats with you to the various restaurants. They get to know you and do everything in their power to make you feel well cared for. On the Disney Wish, our servers played games with our kids, challenged them to puzzles, and anticipated when they might want seconds. Because of the pandemic, our family hasn't traveled internationally in the last few years, so it was a special delight to meet so many Disney cast members from across the globe.
DINING DELIGHTS: These Are the Can't-Miss Restaurants and Lounges on the Disney Wish
Frozen is the one movie our daughter watched over and over as a tiny tot. Now at age 11, with a 13-year-old brother by her side, we thought she might act like she wasn't into it when we dined at Arendelle: A Frozen Dining Adventure, a new theater-in-the-round-style restaurant and dinner performance excusive to the Disney Wish. Yet we were beaming with pride when she marched around the dining room, flag in hand, celebrating Anna and Kristoff's engagement with Olaf and Oaken.
While we literally know nothing about Ant-Man and the Wasp or the Marvel Cinematic Universe, the Worlds of Marvel dinner engaged our children into the immersive story running on screens around the dining room. Plus, each table had a device—called a quantum core, in keeping with the Avengers-themed restaurant's storyline—that would light up when everyone pushed buttons to participate in the action. Costumed characters ascended into the dining room as the dinner performance reached its grand finale, and our kids were thrilled with their towering donut sundaes.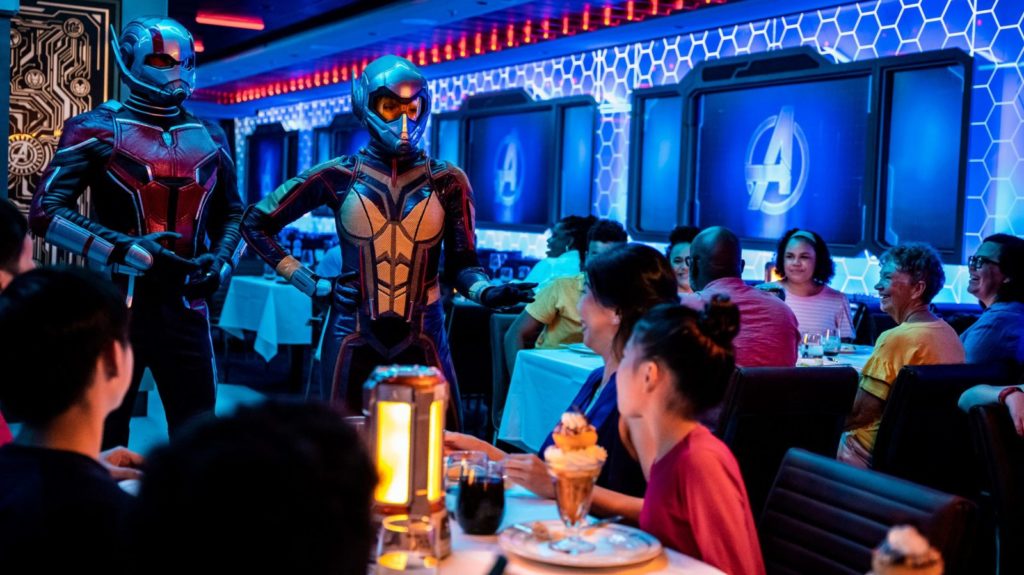 1923, a swanky restaurant divided into Roy and Walt Disney sides (the famous sibling founders) is decked out with drawings, props, and other objects that give you a behind-the-scenes look into what it takes to bring animations to life. As with all the dinners on the Disney Wish, I appreciated how Disney puts vegetables on every child's plate. My husband savored his herb butter-topped steak.
Onboard Fun for Kids (Even Kids Who Aren't Disney Devotees)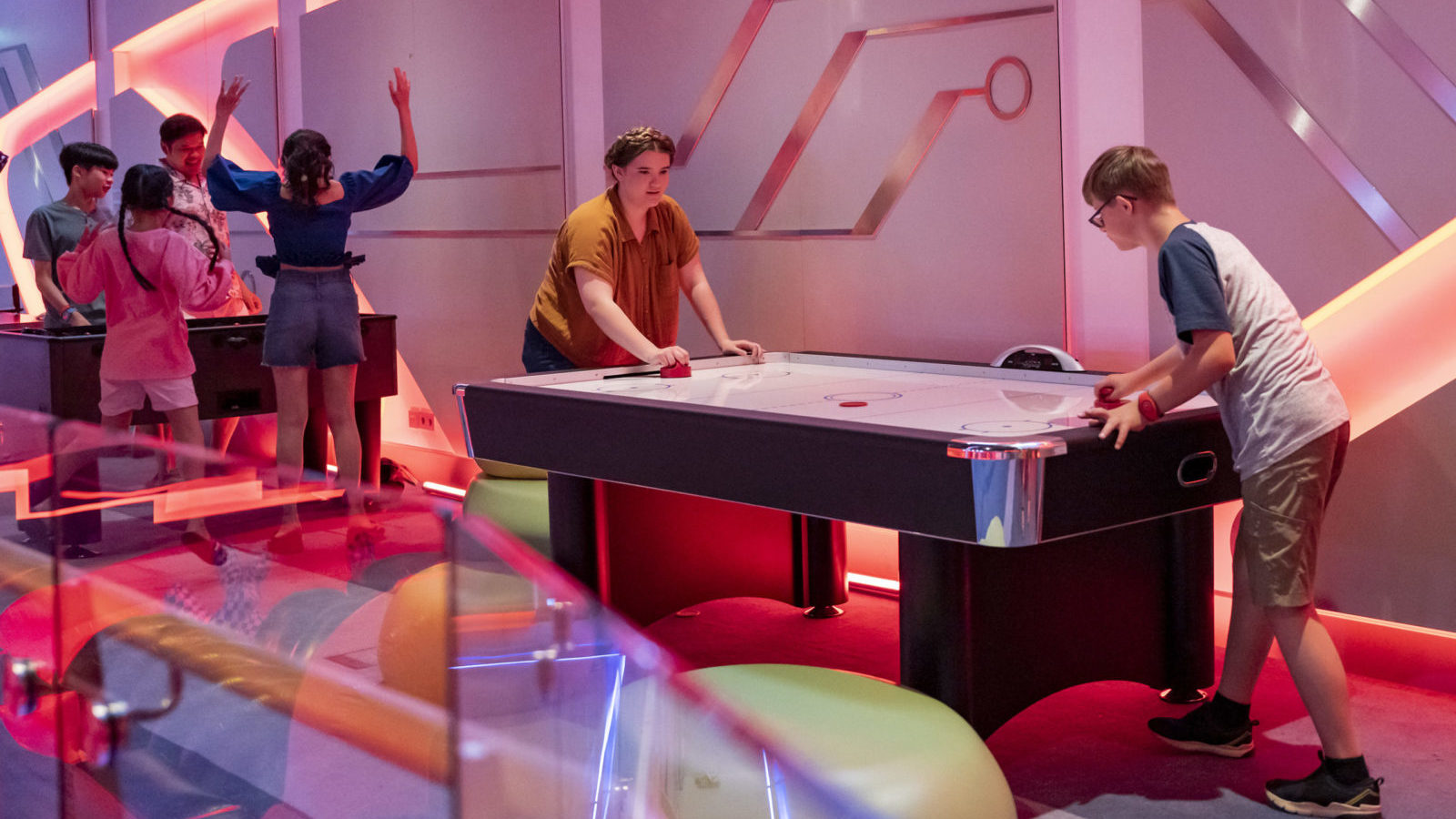 My family's favorite after-dinner activity was playing games in the Hero Zone. Basketball, foosball, ping pong, air hockey, and shuffleboard conjure up friendly competition.
FIRST LOOK: On Disney's Newest Cruise Ship, Every Day Is 'Star Wars Day at Sea'
Kids can literally slide into the Oceaneer's Club, for children ages three to 12. Since our tweens are 11 and 13, they hit up Edge, the space exclusively for tweens. I was enthralled to see them playing chess and cards with other human beings versus being transfixed by electronics the entire time.
AquaMouse, Disney Cruise Line's new water coaster billed as the first Disney attraction at sea, plays vintage Mickey cartoons as you climb skyward on your raft via a conveyer belt, then blasts you through a series of splash-inducing dips and turns.
Adult Spaces on the Disney Wish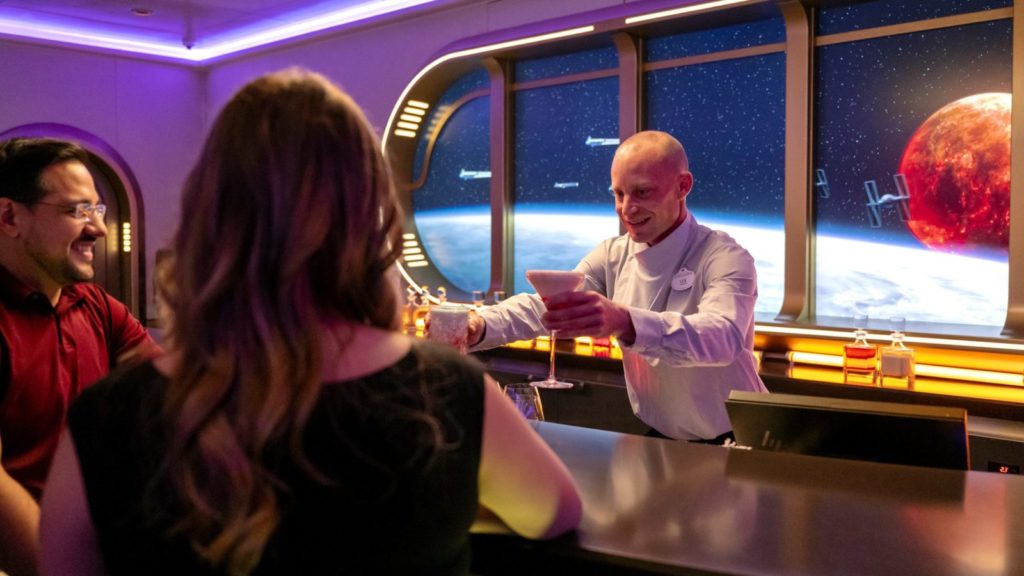 Friends of ours love Disney Cruise Line for all the adult amenities. Make no mistake, there is just as much to enchant the adults as the kids. One afternoon, my husband encouraged me to check out the Quiet Cove adult pool area. I squealed when friends suggested I order a strawberry basil popsicle in a glass of bubbly. Seriously, could it get any better?
CRUISE DEALS: Which Cruise Lines Let Kids Sail Free?
Another evening, I had the opportunity to drink cocktails in the new Star Wars: HyperSpace Lounge. A friend requested the most fun drink on the menu and Disney delivered with a smoking bubble gun to top off her cocktail. Behind the bar, you can gaze into the galaxy from what I think Star Wars fans would call a star cruiser. The specific details don't really matter to me, but the effect was perfect.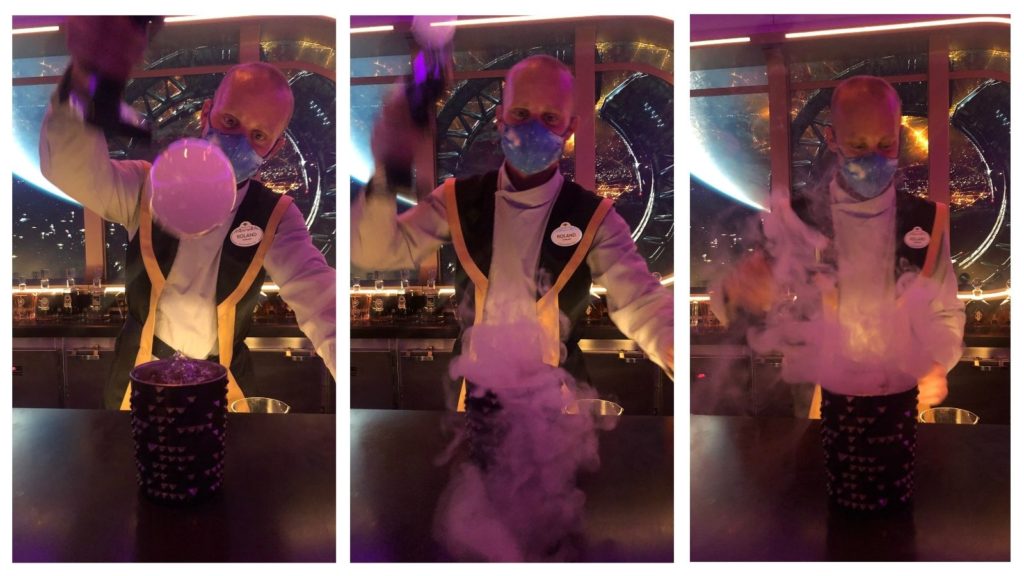 We didn't don Mickey ears and we don't know the names of Disney characters beyond the most iconic ones, but my family of four was dazzled by the Disney Wish. I'm sure super fans would uncover more immersive Easter eggs than we ever could, but a Disney sailing always brings a smile to my face.
Cruising with Disney inspires a you-can-do-anything-you-put-your-heart-into spirit, makes it easy to create warm vacation memories, and wows even those who aren't huge Disney enthusiasts.
More from FamilyVacationist: