It's been six years since Disney Cruise Line debuted its first Star Wars Day at Sea, a themed sea day on select voyages in which Star Wars characters and events take center stage. Now with the launch of Disney's newest ship later this month, every day can feel like a Star Wars day.
When the Disney Wish sets sail on July 14, guests will be welcomed into two exclusive new Star Wars experiences, including one that's only for adults. Both the kids-only Star Wars: Cargo Bay area and the adults-only (in the evenings) Star Wars: Hyperspace Lounge are accessible from Deck 3 just off the ship's Grand Hall, and their proximity to one another is intentional.
BATUU BOUND: The Ultimate Guide to Disney's Star Wars Land in Orlando
"It was a purposeful choice to have the Hyperspace Lounge and the kids' club access area on the same level," explains Laura Cabo, Portfolio Creative Executive, Walt Disney Imagineering, who led the team that brought the Disney Wish to life. "You can put your kids in the club to have their own Star Wars experience and then you can go enjoy a drink in Hyperspace while they play."
So, what are the two Star Wars spaces on the Disney Wish actually like? I had the opportunity to preview both (and speak with the people behind the magic) before the ship's inaugural voyage. Here's what you and your kids can expect inside the Hyperspace Lounge and Cargo Bay areas on Disney's newest cruise ship.
Star Wars: Hyperspace Lounge
Adults-Only in the Evenings, All Ages During the Day
Entering the Hyperspace Lounge through a short dark-paneled corridor, you're immediately transported from the Wish's castle-on-the-seas cruise ship atmosphere to a galaxy far, far away. Press a button and a space door whooshes open (complete with the signature sound) and suddenly you're no longer on the Disney Wish at all. Instead you're inside a gilded high-end space lounge befitting the galaxy's highest of high rollers.
GALAXY QUEST: Is Disney's Star Wars Hotel Worth it for Kids?
A surprisingly intimate space, the Hyperspace Lounge has just a handful of booths, tables, and bar stools, and your eye is immediately drawn to a hyperrealistic viewscreen designed by Lucasfilm to show off interstellar scenes from around the galaxy. Tatooine, Coruscant, and the forest moon of Endor (among others) all make appearances as the lounge "jumps" through hyperspace to a new scene every seven minutes. The scenes incorporate elements from every era of Star Wars, and eagle-eyed fans can pick out planets and spaceships spanning everything from the original trilogy to The Mandalorian.
The viewscreen is flashy, but it's all of the other details that complete the storytelling illusion. In one corner, colorful liquids bubble and burble in tall glass tubes, made even more otherworldly by the lounge's cool fluorescent hues. Elsewhere, collected oddities like volcanic crystals from Mustafar and an idol from Batuu adorn the walls and add a touch of ambiance.
ULTIMATE GUIDE: Everything You Need to Know About Disney Genie and Genie+
The menu features cocktails (and non-alcoholic beverages) from different parts of the galaxy, too. I tried the Chancellor, an impressively over-the-top concoction from Coruscant that coiled with smoky clouds while I sipped; and the dark ale from Mustafar, about as smooth a beer as I've ever sampled. (The mysterious $5,000 Kaiburr Crystal was sadly out of my price range.)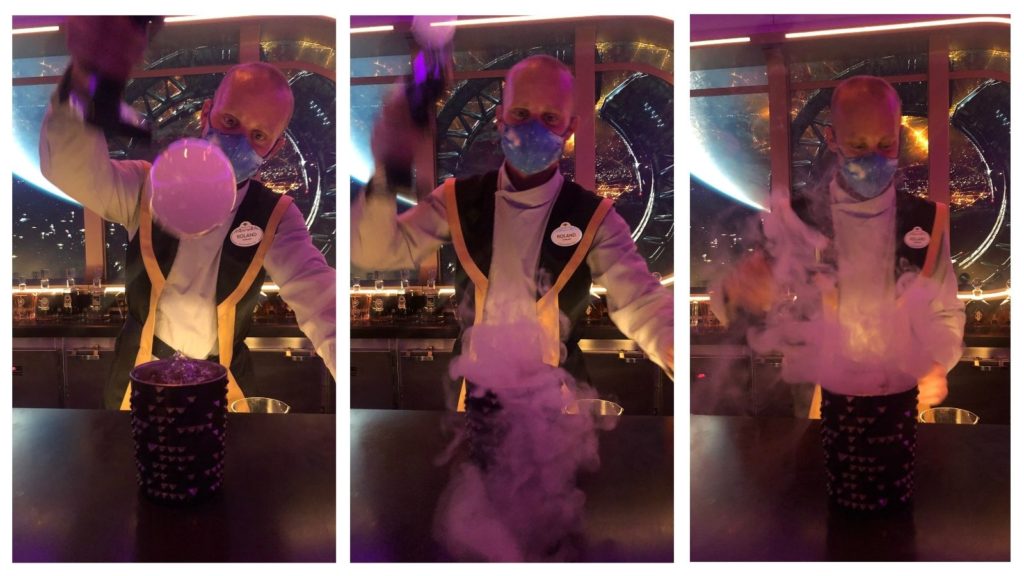 "We decided one of our bars would be fully immersive and we wanted to create a Star Wars experience for adults on the ship, so that's how we came up with the idea for the Hyperspace Lounge," says Danny Handke, a Senior Creative Director for Walt Disney Imagineering who worked on all of the immersive spaces on the Wish. "It's a clean-cut version different from Oga's Cantina at Galaxy's Edge. The idea is you can come to our ship and have the more luxurious version of Star Wars."
BIG FAMILIES: 11 Best Disney World Hotels for Families of 5 or More
The Hyperspace Lounge is a space that seems custom-made for cosplaying, and indeed Handke hopes that guests will show up in their Star Wars best. "That's the beauty of designing a space like this. We want guests to be able to play along and be part of the show," he told me.
But the Hyperspace Lounge works so well because it's also the kind of space that doesn't require that level of commitment to enjoy. I'm a pretty big Star Wars fan; my wife tolerates Star Wars because she loves me. We both enjoyed the spectacle of the Hyperspace Lounge, though. And the 30 minutes we spent sipping cocktails between jumps to hyperspace felt like a much more manageable commitment than a two-night stay at Disney's Star Wars hotel in Orlando.
Star Wars: Cargo Bay
Kids Only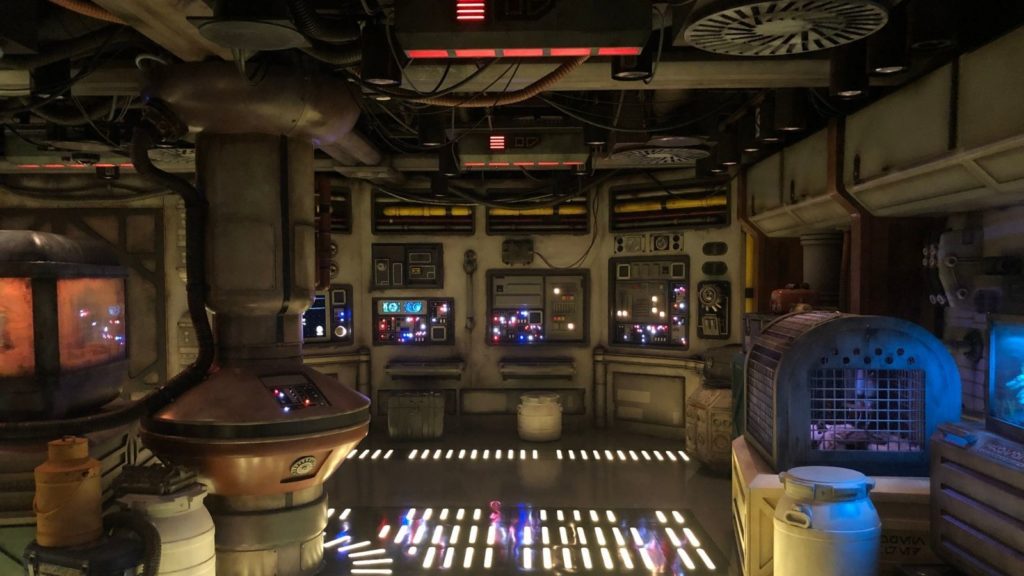 The Star Wars: Cargo Bay area on the Disney Wish is a themed play space inside the ship's Oceaneer Club for kids ages three to 12. And unlike the swanky Hyperspace Lounge, says Handke, "Cargo Bay is the grungy side of Star Wars."
For those of us who grew up with Star Wars, "grungy" is affectionate code for the lived-in feel of the original and sequel trilogies, compared to the relatively sleek style of the Republic's starships in the prequels. And the immersive play space and storyline of Cargo Bay fits neatly into that "grungy" description as well.
BE A VIP: Everything You Need to Know about Disney Vacation Club
"Cargo Bay was designed to feel like a grubby cargo ship that's transporting creatures and droids between different planets," Handke explains. "The idea is that when the kids come here to play, they're rescuing and rehabilitating creatures and bringing them to the creature shop down at Batuu." (The creatures are not actually transported to Bina's Creature Stall at Galaxy's Edge, but it's all part of the story that's being told.)
In the Cargo Bay, kids are given the task of caring for many different species using augmented reality datapads to track and study the creatures on a series of special assignments. Handke's team worked directly with Lucasfilm's Star Wars story group on all of the little touches that make the Cargo Bay space feel extra authentic, from the graphics that appear on the video screens to selecting which creatures are being transported. (Fans of porgs, Loth-cats, and one-eyed Dianogas will be especially thrilled.)
BRING THE WHOLE FAMILY: How to Plan a Multigenerational Disney World Vacation That Makes Everyone Happy
At certain times, kids will also be called upon to help stowaways Rey Skywalker and Chewbacca. That kids-only experience is part of an interactive Star Wars adventure inside the Cargo Bay in which giant rathtars break loose and the kids use different screens and buttons to recapture them.
Immersive Storytelling at Sea
Both the Hyperspace Lounge and Cargo Bay exemplify the Disney Wish's commitment to immersive storytelling around every corner. The whole experience is like environmental theater on perhaps the world's biggest stage.
If you're a Star Wars fan, this is definitely the cruise ship you're looking for.
More from FamilyVacationist: