Today Disney Cruise Line unveiled a wave of new details about the Disney Wish, the fifth ship in its fleet, which will make its inaugural voyage on June 9, 2022. General bookings for 2022 sailings opened May 27, 2021. 
A 'Castle on the Seas'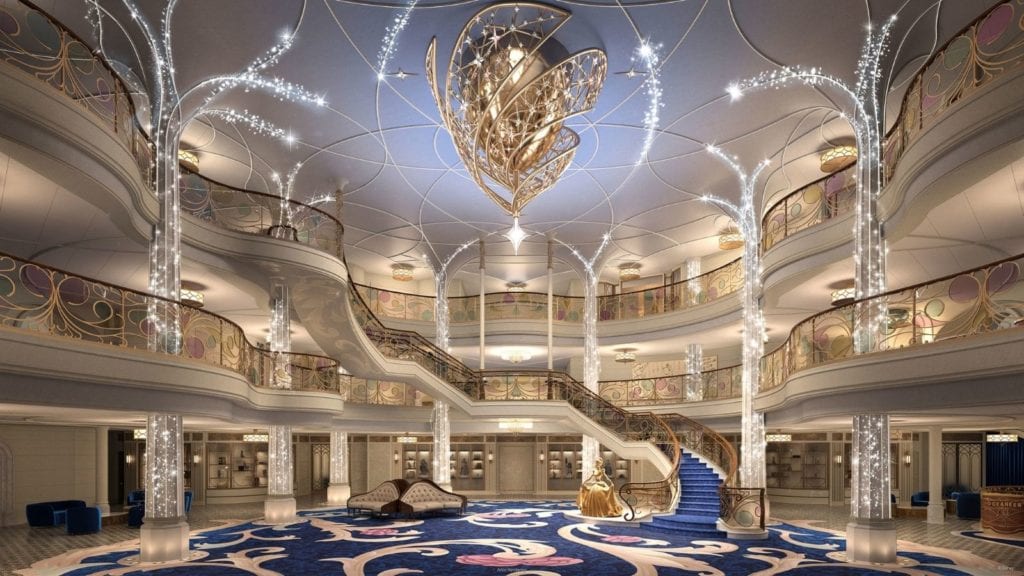 Like Disney Cruise Line's four other ships, Wish will feature immersive storytelling experiences, signature Broadway-style live shows, a top-notch kids' club and pools, and memorable themed dining experiences. But Disney's newest cruise ship raises the game with a number of first-of-its-kind features and experiences not found on any of the other ships.
READY TO WOW: Dazzling Kids Spaces on the Disney Wish
Guests will enter through the Grand Hall, a three-story fairytale-inspired atrium dubbed a "castle on the seas" by Disney's Imagineers. The atrium features a stage for live entertainment, a statue of Cinderella that greets guests as they arrive, a giant wishing star that adorns the hall's chandelier, and a "secret entrance" to the completely reimagined Oceaneer Kids' Club, where children can slide in directly from the Grand Hall. (A more traditional doorway to Disney's Oceaneer Club is also available onboard.)
The upper deck of the Wish features the first-ever Disney attraction at sea: AquaMouse, a 760-foot wraparound water ride that incorporates lighting, special effects, and storytelling for an immersive experience themed around classic animated Mickey Mouse shorts. The ship's upper deck also features six pools, a Toy Story splash zone for little kids, casual dining areas, a dedicated area just for adults, and space for everyone in the family to relax and hang out together.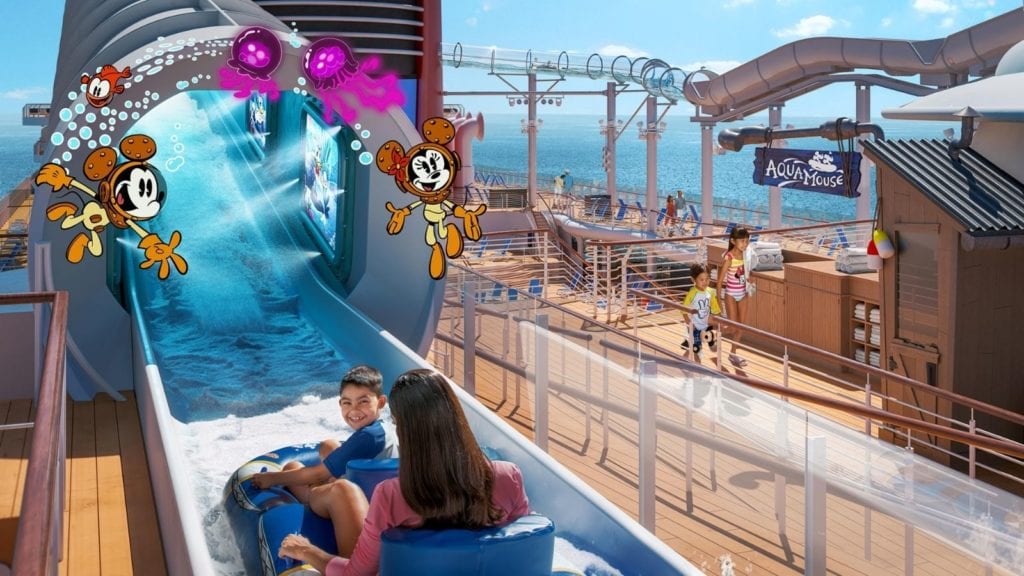 Completely Reimagined Kids' Club
In the Disney Wish's reimagined Oceaneer club, children ages three to 12 can see what it's like to be a Disney Imagineer in an interactive lab where they can design their own roller coaster and virtually ride it. They can also channel their inner artists with Rapunzel, explore Belle's library from Beauty and the Beast, and explore Anna's house from Frozen.
The Disney Cruise Line favorite Marvel Super Hero academy has a home on the Wish, too. Kids can choose their own superhero suits in the high-tech Avengers tower-themed area and visit with Marvel heroes such as Spider-Man, Black Panther, Ant-Man, and the Wasp.
Family Entertainment on the Disney Wish
Disney Wish's Broadway-style entertainment takes center stage at the ship's Walt Disney Theater, which—in a design unique to the ship—is inspired by a magical forest. The inaugural 2022 season will include a reimagined Aladdin musical spectacular alongside two original shows that will be revealed at a later date. 
EXCLUSIVE FIRST LOOK: The New Interactive Game That Will Be Aboard the Disney Wish
Also onboard, the ship's Wonderland and Never Land cinemas are smaller screening rooms that will show classic and first-run films from Disney, Pixar, Marvel, and Lucasfilm.
Other new Disney Cruise Line entertainment concepts include the stage inside the three-story Grand Hall atrium, where shows and programming surprises will happen throughout the day; HeroZone, a first-of-its-kind super hero-themed sports arena; and Luna, a family-friendly daytime space that transforms into an adults-only lounge in the evenings.
Adult-Exclusive Areas and Story Spaces
"Our guests are often surprised by just how much fun and relaxation there is for adults on a Disney cruise," says Laura Cabo, portfolio creative executive, Walt Disney Imagineering. "With the Disney Wish, we wanted to give our adult guests even more variety and options to customize their experience, whether they're looking for elegant sophistication with just a touch of pixie dust, or full-scale immersion into some of their favorite Disney stories."
GROWNUP TIME: 10 Best Vacation Spots for Couples in North America this Year
For adult Star Wars fans, the highlight of the new Disney Wish might well be the Hyperspace Lounge, a high-end luxurious yacht-class spaceship-style bar that features galaxy-wide panoramic views of planets like Tatooine and Mustafar in a fully immersive Star Wars setting, similar to Disney's new Star Wars hotel coming to Orlando later this year. Disney Cruise Line promises interactive tasting experiences and signature beverages inspired by the films.
The Disney Wish's suite of adult-exclusive dining spaces includes a Beauty and the Beast-inspired cocktail lounge called The Rose; Enchante, an elegant dining experience inspired by the Beast's kind-but-rebellious candlestick Lumiere; a reimagined Palo steakhouse for fine dining; and Quiet Cove, a top-deck adults-only retreat featuring a whirlpool, infinity pool, and adult beverages such as beer, wine, and cocktails.
Staterooms on Disney Wish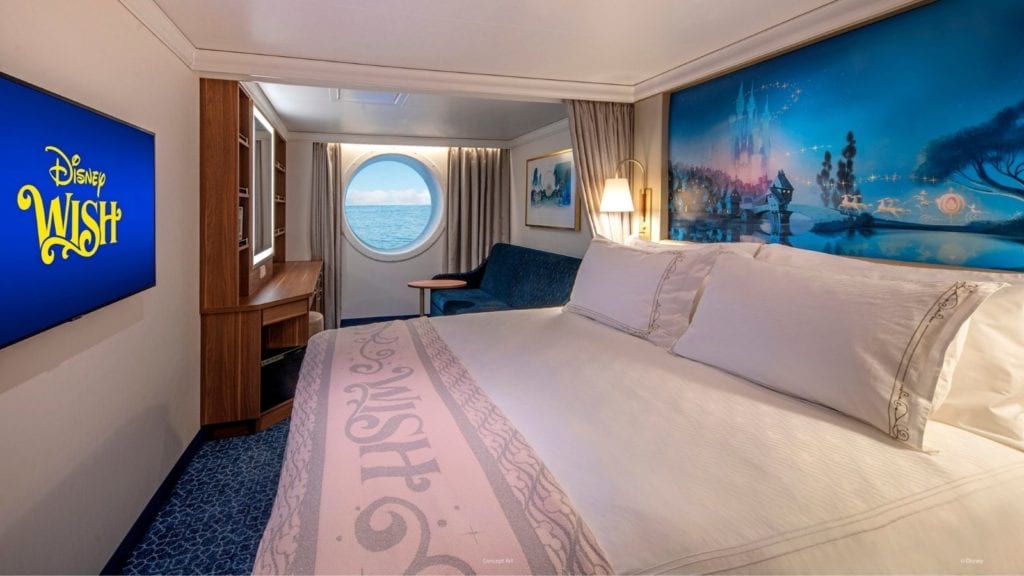 "With our signature attention to detail, Disney Cruise Line staterooms have always set the standard for family cruise travel," says Claire Weiss, creative director, Walt Disney Imagineering. "On the Disney Wish, we are elevating this approach with a new level of storytelling and artful design infused with the theme of enchantment that brings to life cherished Disney fairytales."
Ninety percent of the Wish's 1,254 storybook-inspired staterooms will have ocean views, including 877 staterooms with verandahs. To accommodate larger families, the Disney Wish will have 451 connecting doors for adjoining staterooms. The line's rooms have been redesigned with an enchanted new look that incorporates elegant details inspired by Cinderella, as well as luxe features such as expanded storage space. The ship's deluxe concierge staterooms and suites will display the rich color palette favored by Rapunzel from Disney's Tangled.
FUN FOR ALL: 12 Best All-Inclusive Resorts for Larger Families
And Disney Cruise Line's first-ever two-story "royal suites" come with a grand spiral staircase, stained glass artwork, and expansive ocean views in the impressively named Princess Aurora Royal Suites and Briar Rose Royal Suites.
Three New Family Restaurants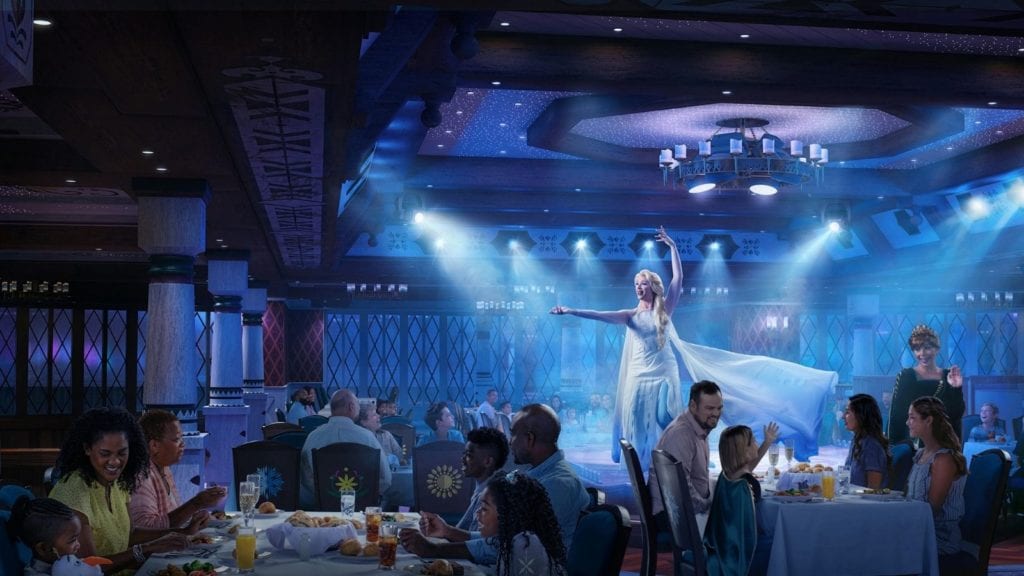 The launch of the new Disney Wish will also see three entirely new restaurant concepts for Disney Cruise Line.
At Arendelle: A Frozen Disney Adventure, characters from the Frozen movies perform a one-of-a-kind musical celebration marking Anna and Kristoff's engagement, picking up the story where Frozen 2 left off, while families dine in a theater-in-the-round environment. Invisible fiber optics will show off Elsa's icy magic, and the venue's panoramic windows will reveal the dancing lights of the Aurora Borealis. The menu features family-friendly Nordic-infused cuisine.
Old Hollywood comes to life at 1923, named after the year Walt Disney Studios was founded. The glitzy restaurant features a Hollywood-inspired menu, California fusion flavors, and Napa wines in a setting that pays homage to the golden age of Disney animation.
Details of the third new dining experience, Worlds of Marvel, remain mostly under wraps, but the cruise line did reveal it will feature Marvel characters in a "cinematic Marvel dining adventure." Dishes will be inspired by African Wakanda, Eastern Europe's Sokovia, and of course the Avengers' home city, New York.
Setting Sail in Summer 2022
Early bookings for Summer 2022 begin May 17, 2021. Bookings for Disney Wish opened to the general public on May 27. The ship's maiden voyage will set sail on June 9, 2022, for a five-night cruise from Port Canaveral, Florida, to Nassau, Bahamas, with a stop at Disney's private island, Castaway Cay. The inaugural season will feature three- and four-night cruises from Port Canaveral.
More from FamilyVacationist: