Editor's note: Disney's Star Wars-themed hotel will permanently close on September 30, 2023.
When you step onboard Disney's Star Wars: Galactic Starcruiser hotel in Orlando, you're obviously expecting a Star Wars-themed vacation. But the experience is so much more than a themed stay: It's a fully immersive two-day, two-night theatrical role-playing experience unlike anything you've ever encountered before.
On the Galactic Starcruiser (called the Halcyon in the Star Wars galaxy), you can align yourself with the Resistance or the First Order, or come aboard as a smuggler to help new and old Star Wars characters on a secret mission. Every decision you make from the moment you arrive at the Star Wars hotel via "transport pods" to the time of the final battle at the end of your stay matters. If you choose to align yourself with the Resistance, you might need to help break a certain Wookiee out of the brig. If you align with the First Order, you'll have an entirely different mission. You get to create your own story within the Star Wars universe, which is a a dream for Star Wars fans.
GALAXY QUEST: The Ultimate Guide to Disney's Star Wars Land in Orlando
Of course, the very first decision you'll need to make is whether or not to even book a stay at the Star Wars hotel. And that decision is a big one because two-night midweek stays start at $4,809 for a cabin that sleeps two. With such a hefty price tag, you may be wondering exactly what you get for the money—and how old your kids will need to be to really enjoy such a one-of-a-kind Star Wars experience?
Here's everything families should know before booking a voyage on the Star Wars: Galactic Starcruiser.
Is the Star Wars Hotel worth the cost for families with kids?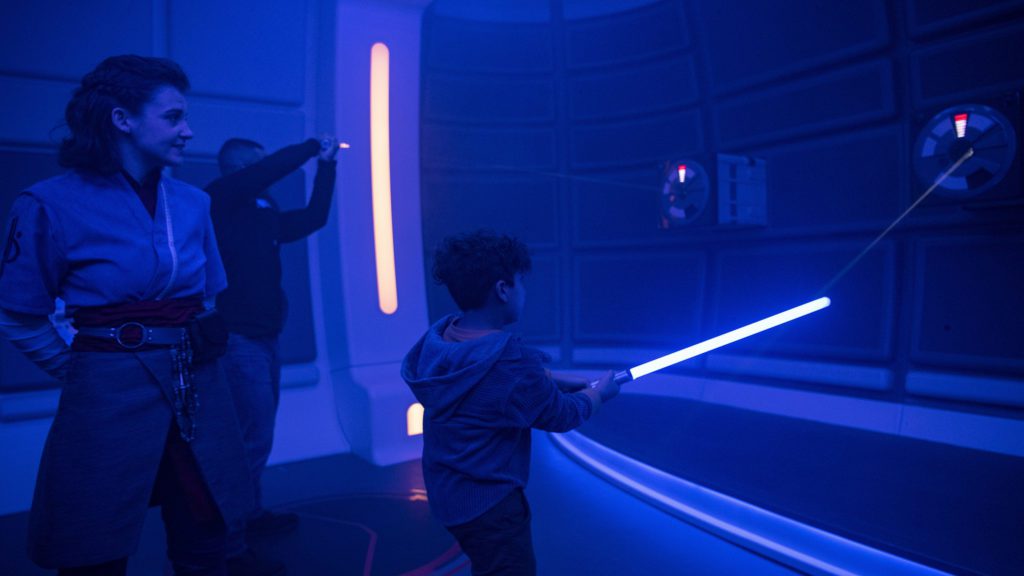 Let's start with the Bantha in the room: Staying two nights at the Star Wars hotel in Orlando is going to cost most families more than other Disney World hotels, theme park tickets, souvenirs, and meals combined. That $4,809 weeknight cabin-for-two price tag is the low-end of the cost spectrum. Depending on your room size, number of guests, and when you begin your "voyage" on the Halcyon, the price only goes up from there.
If you and your kids want to experience the Star Wars hotel, you'll need to weigh that price tag alongside a number of other factors, the biggest of which are:
How much is your family willing to go along with the fully immersive storytelling experience? It means staying in character and interacting with other guests and employees as if you're all truly in the Star Wars universe.
Will you and your kids enjoy interacting with Star Wars characters for extended periods of time?
Are your kids willing to go beyond their comfort zone with food and drinks?
The entire Star Wars hotel experience is based on interacting with actors dressed as Star Wars characters and with other guests as part of your unique storyline. Your two days onboard the Galactic Starcruiser will be filled with activities and missions that will keep the entire family going from breakfast until well after dinner. It can be exhausting, though for real Star Wars fans it will be the very best kind of exhaustion.
PLAN YOUR TRIP: When Is the Best Time to Visit Disney World and Disneyland?
If you want a laidback Star Wars vacation, you may want to consider a Star Wars Day at Sea with Disney Cruise Line or simply a day trip to Disney's Star Wars theme park areas in Orlando or Anaheim. But if you and your kids are all in when it comes to Star Wars role playing, there may be no price too steep for such an experience.
How old should your kids be to really enjoy the Star Wars Hotel experience?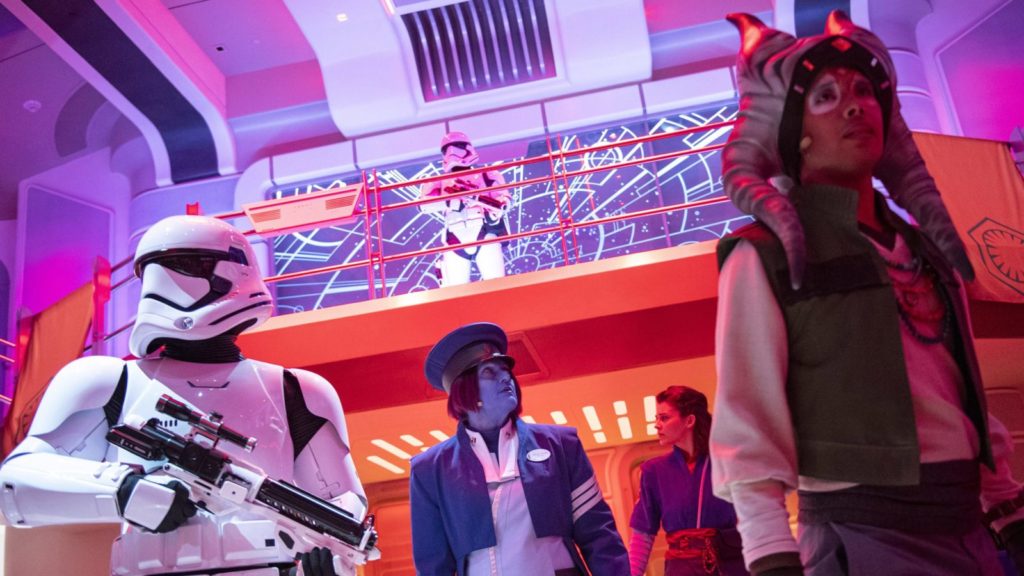 Kids of all ages are allowed aboard the Halcyon, but it's likely that older kids or teens who enjoy talking to characters and are somewhat proficient with technology will enjoy the experience the most. While Disney has not suggested a target age for the Star Wars hotel experience, kids should be at least seven (and really into Star Wars) to get the most out of a Star Wars: Galactic Starcruiser vacation. At that age, they will be able to participate in both of the most exciting onboard activities, bridge training and lightsaber training.
TRAVEL WITH TEENS: 10 All-Inclusive Family Resorts Even Teenagers Will Love
Those under seven will not be allowed to participate in lightsaber training like their older siblings or adults traveling with them. To avoid any disappointment it might be best to wait if your kids are not old enough.
If your child is not tall enough on their own for bridge training, a member of the Halcyon crew can provide a stool so they can see the buttons, knobs, lights, and control panel during bridge training.
What's included in the Star Wars Hotel experience?
1. Fully Immersive Live Entertainment and Role Playing
The signature thing that makes a voyage on Star Wars: Galactic Starcruiser like nothing else in the world is that Disney is literally inviting guests to be part of the Star Wars story. Once you introduce yourself to characters on the ship, they remember your name over the next two days, they know your storyline, and they will help to advance your role within the virtual game.
While there are moments of more traditional entertainment like the night one dinner performance by Gaya and Ouannii (more on them in a moment), guests are encouraged to get out and explore the ship to stumble across other entertainment options like a Sabacc tournament in the Sublight Lounge.
2. Meeting New Characters Created for the Star Wars Hotel
While onboard the Halcyon, you'll meet and interact with new characters created exclusively for the Star Wars hotel experience. These include Captain Riyola Keevan, who will lead the crew and passengers throughout the journey, and new astromech droid named SK-62O who ensures things are running smoothly onboard the Halcyon. A cruise is not complete without a cruise director, and on the Halcyon that's Lenka Mok, who's in charge of all of the entertainment on board (and possibly helping you gain access to certain restricted areas). You'll also interact with Sammie, a lovable new ship mechanic who's eager to prove himself.
Alongside the captain and her crew, you'll also encounter a performer called Gaya, whose music can also be heard at Oga's Cantina at Star Wars: Galaxy's Edge. Everyone will enjoy a performance from Gaya in the Crown of Corellia Dining Room. Never too far from Gaya is her smooth-talking manager, Raithe Kole, and Ouannii, a Rodian musician who works with Gaya. Sandro Alimander is another onboard musician who wants to catch a glimpse of Gaya, and entertains those onboard in the Atrium of the Halcyon.
DISNEY PARKS: Everything You Need to Know About Disney Genie and Genie+
If you choose to align with the First Order, you'll enjoy spending time with First Order Lieutenant Harman Croy, whose appearance on the Halcyon coincides with a visit to Batuu. Alongside Croy, First Order Colonel Grav Talis is on a mission to rid the galaxy of Resistance fighters.
A talkative droid named D3-O9 knows everything about the Halcyon and can be spotted on vidscreens in every guest cabin. And while completing lightsaber training, you'll meet the Saja, who are descendants of the Guardians of the Whills.
3. Food and Dining
All meals served at the Star Wars hotel are included in the price, just like on a real cruise. What's not included are specialty non-alcoholic drinks and any alcohol. Meals take place in the Crown of Corellia dining room, where breakfast and lunch are served buffet-style (though all of the dishes are pre-plated, so all you have to do is grab a plate and put it on your tray). Dinner is a traditional table service dinner with plenty of choices for appetizers, entrees, and desserts.
Each of the dishes prepared onboard the Halcyon are distinctly Star Wars, from blue shrimp that have an entire backstory about the planet Felucia to Bantha beef filets that are served with a purple mash. Guests are encouraged to go outside of their comfort zone for meals and experiment with tasting different dishes.
Picky kids will be glad to know that there is a younglings menu that features more traditional options like galactic pizza or fried tip-yip (which is Star Wars speak for chicken). Disney can also accommodate special dining needs and allergy-friendly diets by request.
4. Personalized Itineraries
Before staying at the Star Wars hotel, you should download the My Disney Experience and the Play Disney Parks mobile apps. Through the Play Disney Parks app you'll see your datapad with a personalized itinerary that changes based on which side of the Force you align yourself with. Your itinerary will also change based on what characters you've interacted with throughout the day and what activities you've done.
You will also be given a MagicBand that's exclusive to the Star Wars hotel. It does the same things as a regular MagicBand (like open your cabin door and charge drinks to your onboard folio), but it also unlocks messages on screens around the ship and lets you into more exclusive areas of the Halcyon. You should bring your personal phone and your MagicBand everywhere you go on the voyage.
5. A Batuu Shore Excursion
Like any good cruise, your voyage onboard the Halcyon will make a stop for a shore excursion. In this case, you'll be headed for Batuu, a.k.a. Disney's Star Wars land at Hollywood Studios. While on Batuu, you'll be able to ride both of the Star Wars: Galaxy's Edge attractions, Star Wars: Rise of the Resistance and Millennium Falcon: Smugglers Run. You'll also be required to collect data for your alliances and bring the information back to the ship.
Getting to and from the Halcyon is easy because you will board a transport vehicle that will take you right from the ship to be dropped off near the First Order section of Galaxy's Edge without ever breaking the immersion of the live-action story.
THRILL RIDES: 13 Best Walt Disney World Rides for Adults, Teenagers, and Big Kids
Disney suggests that guests spend a few hours in Star Wars: Galaxy's Edge to complete that part of the mission. For those wondering how guests aboard the Halcyon are identified among other guests inside Hollywood Studios, those coming from the Star Wars hotel are given lapel pins to wear in Galaxy's Edge that are a distinguishing mark. After the voyage aboard the Halcyon, you get to keep the pin.
Frequently Asked Questions about Galactic Starcruiser Vacations
Q: How should I dress for the Star Wars Hotel?
Disney is encouraging everyone who boards the Halcyon to dress in their galactic finest. Since the ship is a luxury starcruiser, that can mean everything from a full cosplay as your favorite character to just a cool outfit that fits the theme.
While touring Batuu, you will still need to follow Disney's in-park costume guidelines, but on the ship, anything goes! If you want to find some of the best pieces in the galaxy we suggest looking on Amazon, Her Universe, and RockLove Jewelry to get inspired.
Q: What are the rooms like at the Star Wars Hotel?
If you've ever been on a family cruise, you know how small the average cabin can be. You should expect the same from the rooms on the Halcyon.
Standard cabins have one queen bed, two bunk beds, and a pull-down bed, each of which can sleep an adult. From the wall, you can pull out two chairs and a table, and there's storage under the bed for clothes or smuggled goods.
The bathrooms are quite small with just one sink and not a lot of counter space. Families staying together in one cabin will need to be efficient with space and be sure to put things in their place so the room stays organized.
More from FamilyVacationist: