As one of the best family vacation spots in the U.S, Florida is well known for its world-class Orlando theme parks like Walt Disney World Resort and Universal Orlando Resort. But the Sunshine State is home to the some of the biggest and best outdoor water parks in the country, too. With splash-tastic lazy rivers, giant wave pools, and thrilling water slides, there's something for every age group and interest at the best Orlando water parks.
Yet some Orlando water parks are better suited for young kids while others have the big slides and larger waves that older kids (and parents) crave.
The Best Water Parks in Orlando
The best family vacation ideas almost always come down to choosing age-appropriate activities, and it's no different when deciding which of the Orlando water parks to visit with your kids. To help you make the right choice for your family's vacation, we've ranked the water parks in Orlando based on their fun level and accessibility for each age group. 
WATER WORLDS: 13 Best Outdoor Water Parks in the U.S.
Universal Orlando's Volcano Bay Water Theme Park
Best water park in Orlando for adventurous families
Universal Orlando Resort calls Volcano Bay a "water theme park" for the whole family, and with its immersive theming, interactive elements, and thrilling attractions, it's easy to see why. Plus, even the water park's most exciting slides (like the Krakatau Aqua Coaster and the Ko'okiri Body Plunge trap-door plunge slide) have a minimum height of just 48 inches, which means that many younger kids may be able to enjoy everything this Orlando water park has to offer.
SPLASH ZONE: 14 Best Indoor Water Park Resorts in the USA
There's plenty here for kids under 48 inches to enjoy, too. Younger kids love the Runamukka Reef and Tot Tiki Reef kids' areas—both have lots of room for kids to climb, splash, and slide to their heart's delight—and when parents are ready for a break, you can relax on Waturi Beach while the kids play in the sand or the wave pool.
When you arrive at Universal's Volcano Bay water park, you get a TapuTapu wrist band to use for the day. The band serves as your virtual line access and payment method, and it also unlocks fun interactive elements throughout the Florida water park.
WHERE TO STAY: Hotels Near Universal's Volcano Bay
Disney's Typhoon Lagoon Water Park
Best Orlando water park for families who need a break during their Disney vacation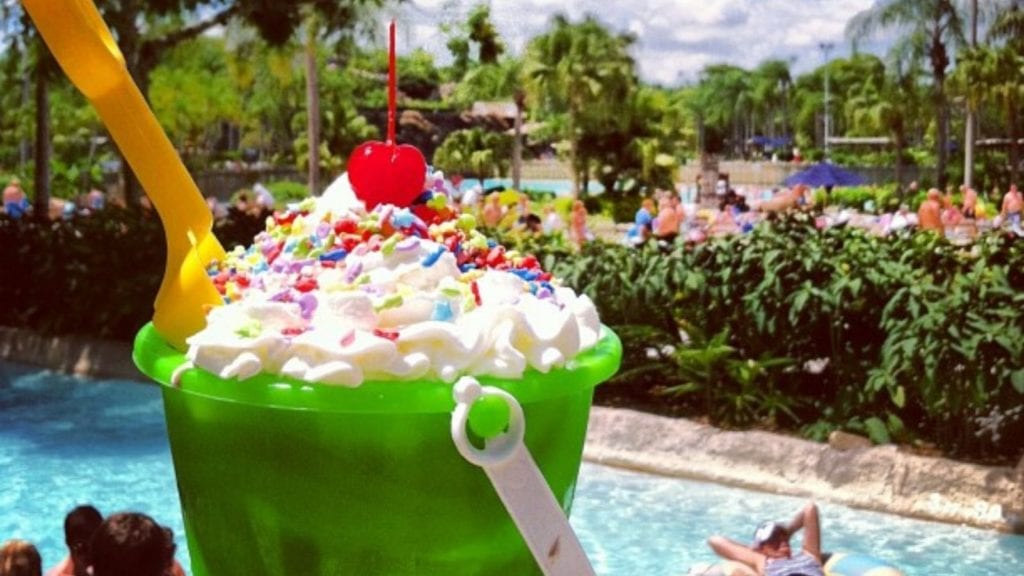 The secret to a happy family vacation is taking some time to rest and recharge, and Disney's Typhoon Lagoon Water Park is a great place to do just that while while still having plenty of family fun. Kids of any height are welcome on most of the slides at this Orlando water park, including its newest attraction, Miss Adventure Falls, in which a conveyor belt lifts your family to the slide entrance before the slide sends you twisting and turning toward the splash pool below.
WHERE TO STAY: Hotels Near Disney's Typhoon Lagoon
There's also a long lazy river that goes around the entire water park, a wave pool, and a large sea-themed kids' area called Ketchakiddee Creek. And if you want to catch some gnarly waves, you can even schedule a private surf session or surf lessons!
BLIZZARD BEACH VS. TYPHOON LAGOON: A Complete Guide to the Disney Water Parks in Orlando
Disney's Blizzard Beach Water Park
Best for families who love a little friendly competition
Disney has two water parks in Orlando, and while many of the attractions at Disney's ski resort-themed Blizzard Beach Water Park are similar to those at Typhoon Lagoon, what really makes Blizzard Beach stand out are the water slides where you can race against the other people in your family.
WHERE TO STAY: Hotels Near Disney's Blizzard Beach
Toboggan Racers, Downhill Double Dipper, Snow Stormers, and Runoff Rapids are all great for a little friendly competition. Kids and tweens can also test their skills on the zipline and obstacle course at the Ski Patrol Training Camp.
WATER PERKS: Tips for Visiting Blizzard Beach and Typhoon Lagoon
Aquatica Orlando
Best water park in Orlando for sea life lovers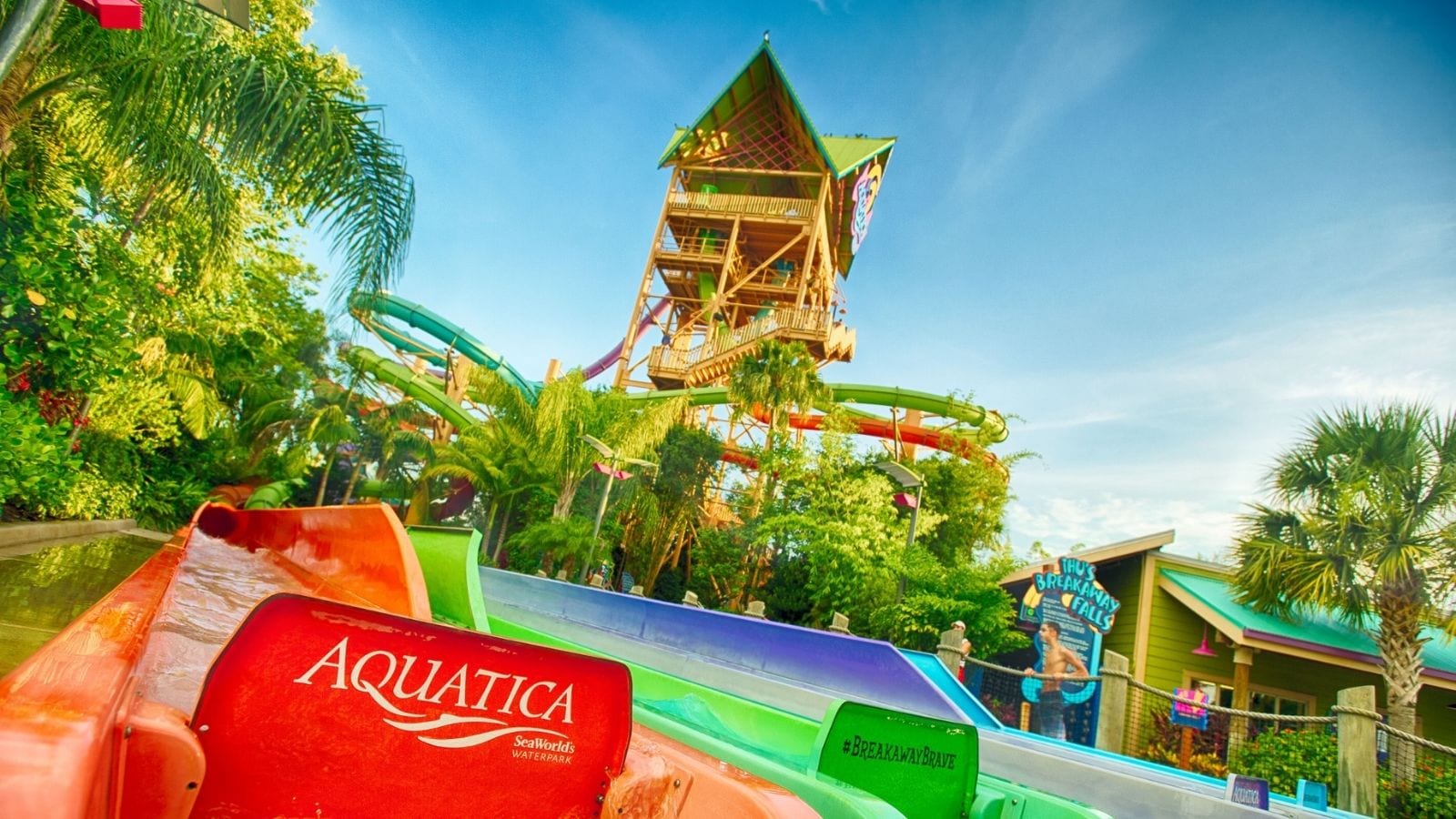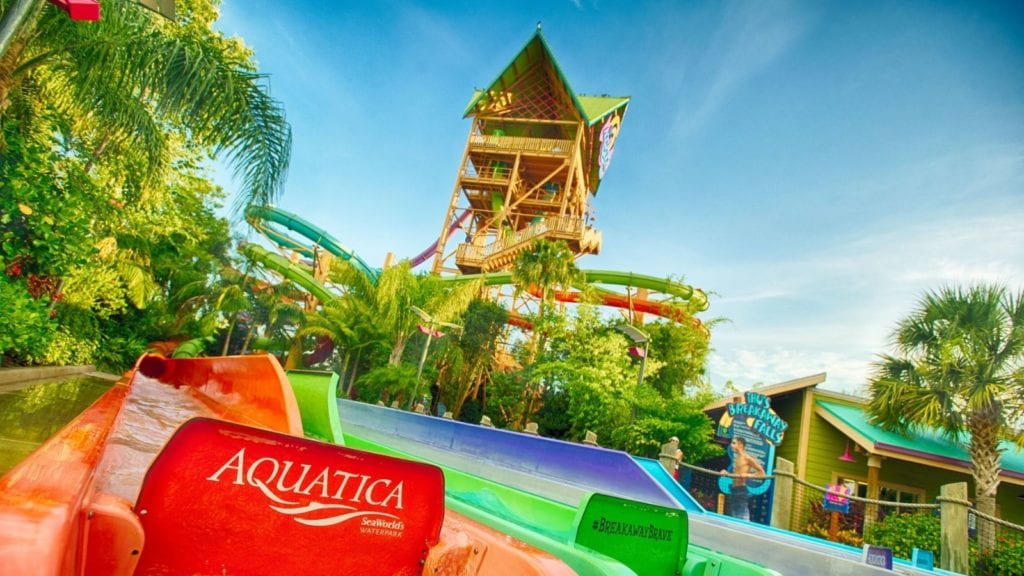 Conveniently located just across the street from SeaWorld Orlando, Aquatica Orlando shares many of the same aquatic touches as its famous sister park.
The Dolphin Plunge tube slide takes you through an underwater tank where you can see black-and-white Commerson's dolphins swimming all around you. (You can get an even closer look at them from the underwater viewing area.) The Loggerhead Lane lazy river also goes "under the sea" through a series of underwater tunnels teeming with tropical fish.
WHERE TO STAY: Hotels Near Aquatica Orlando
In addition to its many kid-friendly areas, Aquatica is also unique among the Orlando water parks because it's a Certified Autism Center with a designated quiet room, a low sensory area, ride accessibility program, and a helpful sensory guide for each attraction that makes it a great candidate for an autism-friendly vacation destination. Staff members also receive specialized training to better serve visitors with special needs.
HAWAII VACATIONS: The 4 Best Hawaii All-Inclusive Resorts for Families
LEGOLAND Florida Water Park
Best Florida water park for families with toddlers or preschoolers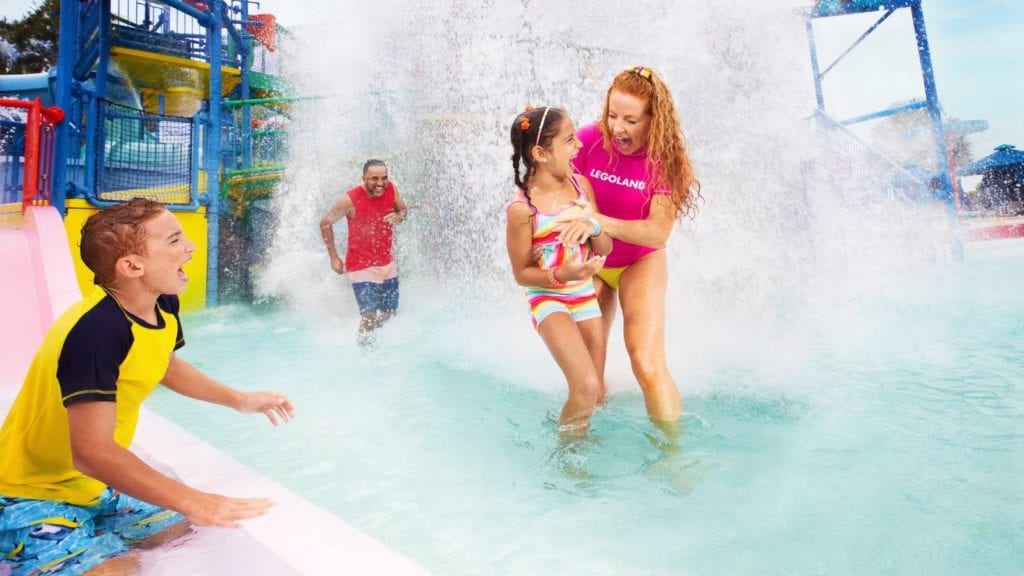 Just as LEGOLAND Florida is the premier Central Florida destination for families with younger kids, LEGOLAND Florida Water Park was designed with toddlers and preschoolers in mind. There's a DUPLO Splash Safari area where kids six and under can splash with giant DUPLO creatures, a Joker Soaker play area for larger kids, and a not-so-wild wave pool that won't overwhelm little ones.
WHERE TO STAY: Hotels Near LEGOLAND Florida Water Park
And because this is a LEGO park, there are also lots of activities for creative builders. On the Build-a-Raft Lazy River, kids can use floating LEGO bricks to design and build their own raft as they float! At the Build-A-Boat station, kids can build and race their own boat.
Island H2O Live! Water Park
Best Orlando water park for families with tech-loving teens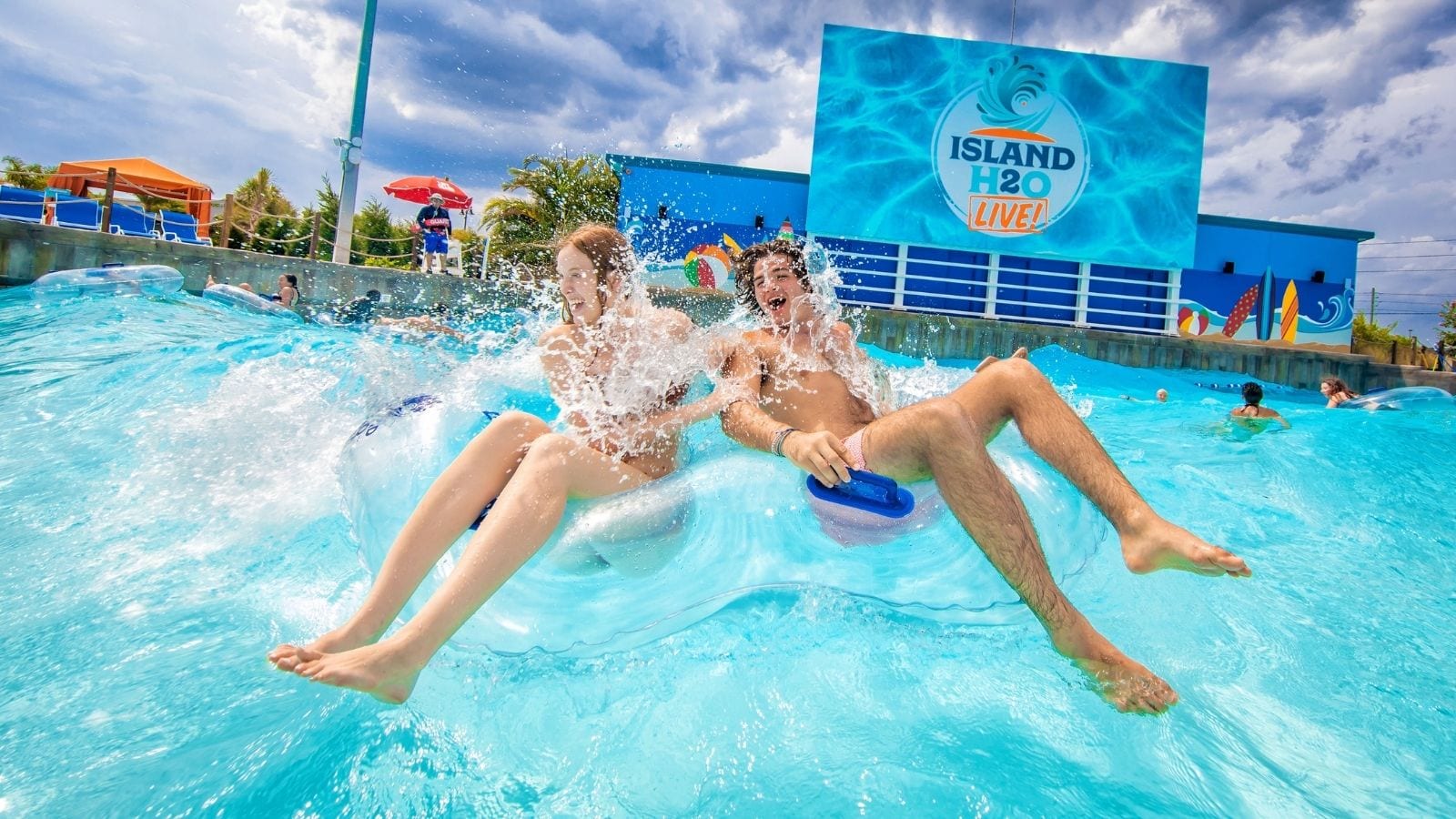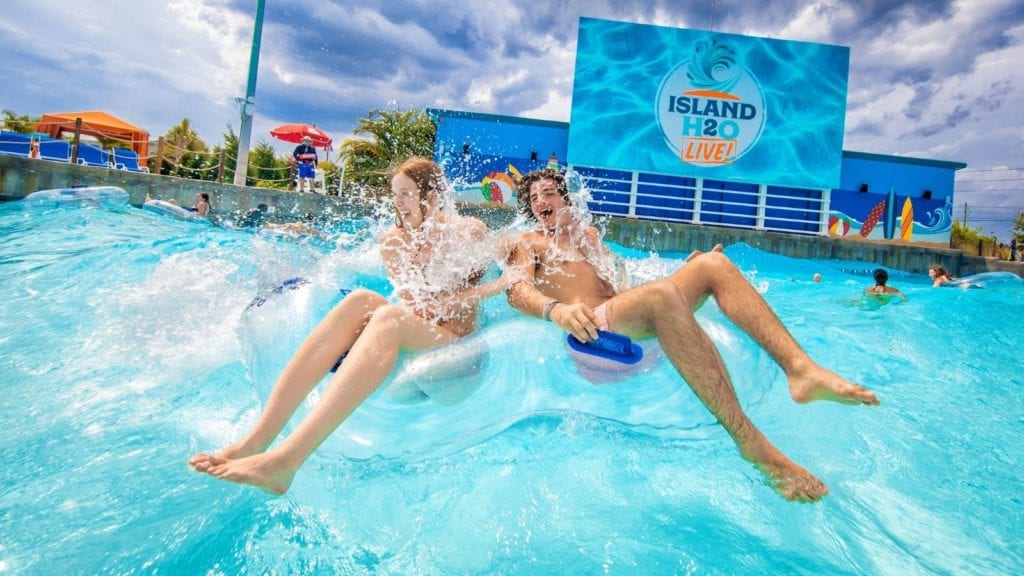 Slides and social media collide at Island H2O Live! Using the Island H2O Water Park app and the smart band you receive when you arrive at the park, you can view wait times, play interactive games to earn in-park food and drink discounts, capture on-ride videos, and even customize the lights and music on water slides. The attractions even have techy names like Profile Plunge and Hashtag Heights.
WHERE TO STAY: Hotels Near Island H20 Live! Water Park
There are slides and a splash area for kids, but most of the slides are meant for maximum thrills that may be too intense for little ones. Tweens and teens can share their day with friends and family back home in the Selfie Shack and Be Live!, a social media streaming attraction.
Adventure Island Tampa Bay
Best of the Florida water parks for epic slide enthusiasts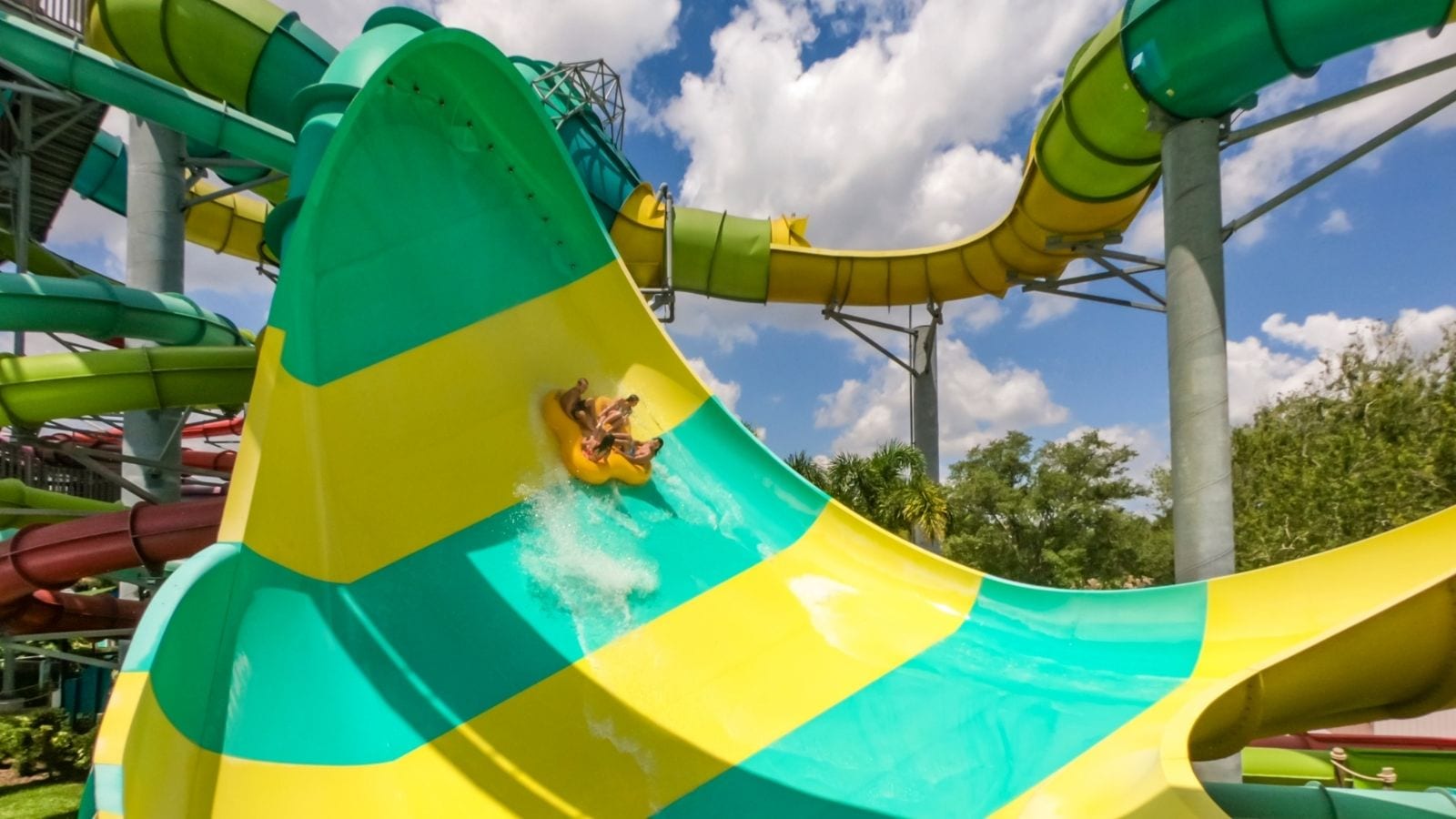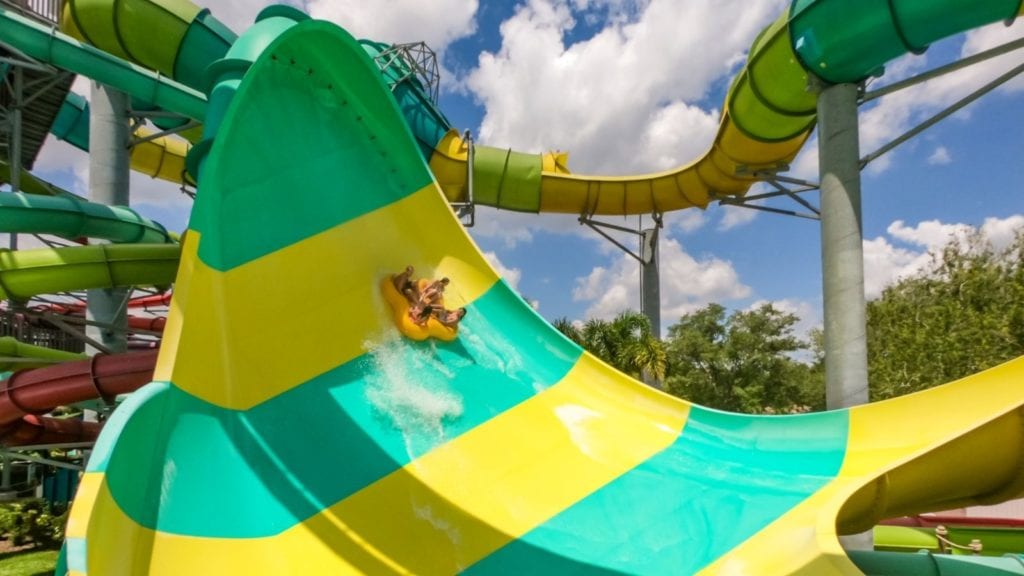 Located just across the street from Busch Gardens in Tampa Bay (less than a two-hour drive from Orlando), Adventure Island is tops among the Orlando-area water parks for wild water slides. Between the free-falling Vanish Point slide, the tailspinning Solar Vortex, and the corkscrewing Colossal Curl, there's no shortage of thrills at this topical-themed Florida water park. But don't worry, there are also plenty of chills to be had in the kids' splash areas, wave pool, and the lazy river.
WHERE TO STAY: Hotels Near Adventure Island Tampa Bay
What makes this water park even more impressive is its family-friendly pricing on extras like all-day dining, cabanas, and quick queue access that lets you skip the line on many of Adventure Island's popular attractions. If you want to hit up Busch Gardens while you're in town, certain ticket options include access to both parks (SeaWorld and Aquatica).
Orlando Water Park Hotels and Resorts
The best Orlando water parks are all-day attractions, but the fun doesn't have to end when you head back to your hotel. In Orlando, the hotels and resorts are vacation destinations in and of themselves—and many of them have their own on-site water parks as well.
If you want water slides, lazy rivers, splash zones, and oversize swimming pools to go alongside your overnight accommodations, consider one of these Orlando hotels with their own water parks right on the premises.
More from FamilyVacationist: