With so many roller coasters to ride, characters to hug, and Dole Whip to eat at the best Orlando theme parks, it's no wonder that the water parks in Orlando often play second fiddle to their flashier counterparts. But you're missing out if you don't make time to visit one–or both!–of the Disney water parks on your next Florida family vacation.
At Blizzard Beach and Typhoon Lagoon, the two Walt Disney World outdoor water parks in Orlando, you can cool off after a hot morning at the theme parks, enjoy a rest day between theme park visits, or even stop by in the morning before some nighttime fun at the Most Magical Place on Earth.
BE A VIP: The Complete Guide to Disney Vacation Club
Blizzard Beach vs. Typhoon Lagoon: How to Choose Between the Disney Water Parks
Disney's Blizzard Beach Water Park and Disney's Typhoon Lagoon Water Park have a lot in common: fun theming, attractions for all ages, and tasty food options. The two Disney water parks are also similar in size, have locker rentals, and boast large gift shops in case you forget your swimsuit or beach towels.
DISNEY WATER PARKS: Tips for Visiting Typhoon Lagoon and Blizzard Beach
Still, they're far from identical, and you may find that your family will prefer one over the other. Here's what you need to know about both Disney water parks before choosing which one to visit.
Purchasing Admission Tickets to the Disney World Water Parks in Orlando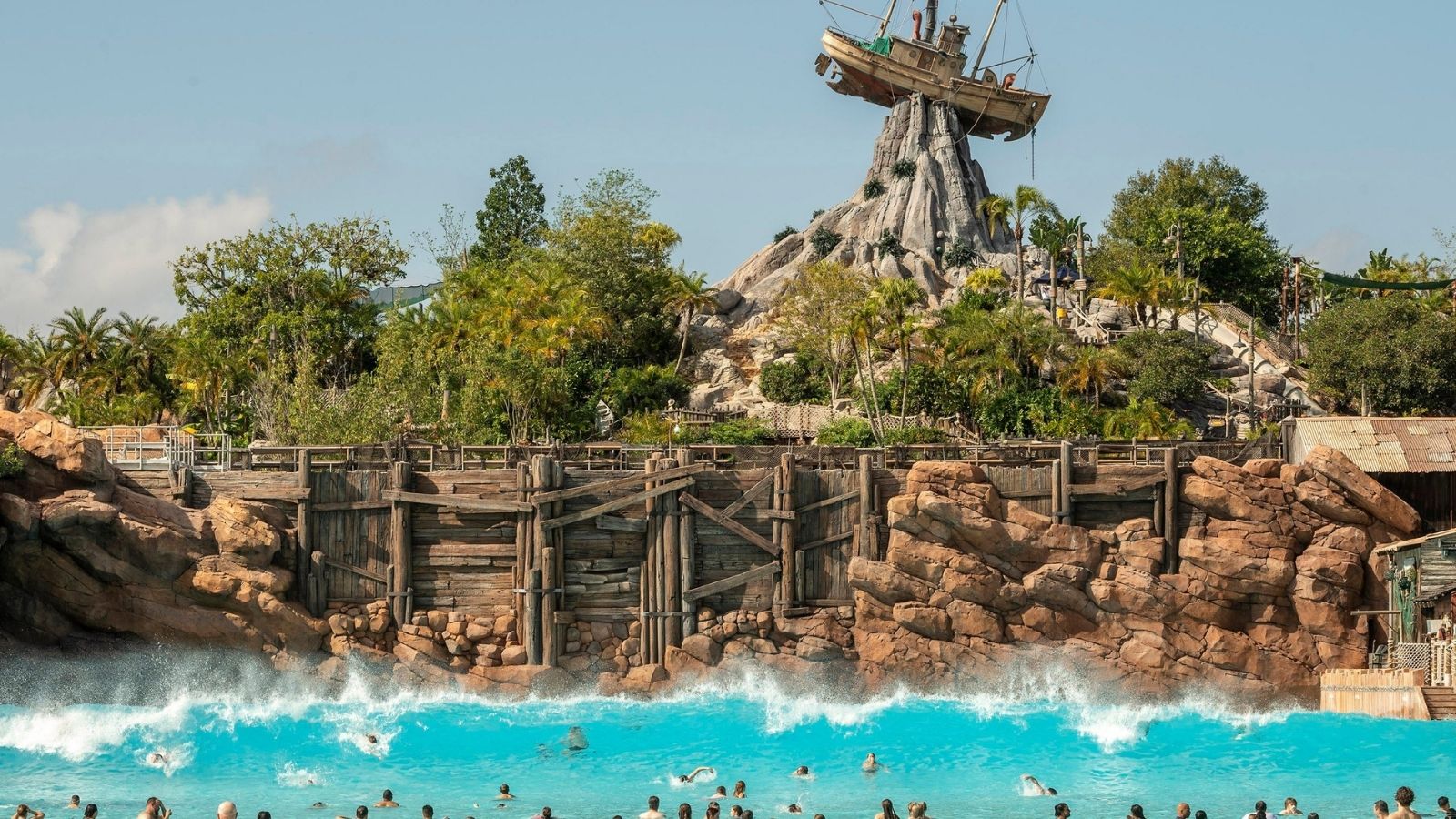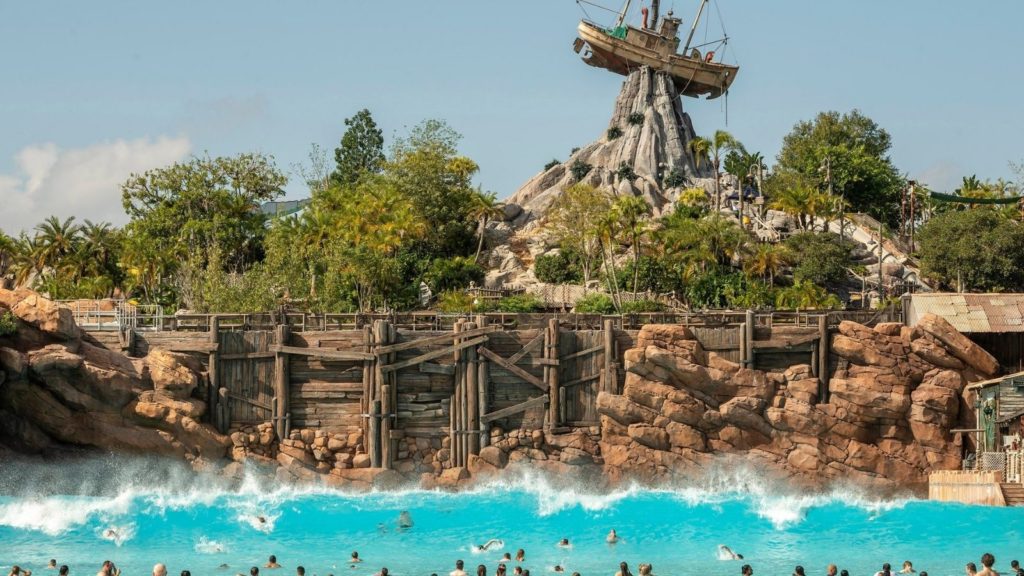 Walt Disney World Resort sells a one-day water park ticket that provides admission to either Disney's Typhoon Lagoon Water Park or Disney's Blizzard Beach Water Park. When you make your purchase, you don't have to choose which of the Disney World water parks you want to visit ahead of time and you don't need to pick a specific date you want to visit, either. You can save a little money by choosing the ticket option with blockout dates, which excludes admission during peak months (typically late May through early October).
SPLASH ZONE: 14 Best Indoor Water Park Resorts in the U.S.
You can also purchase water park access as an add-on to any standard Disney theme park ticket. The "Water Park and Sports Option" and "Park Hopper Plus Option" include access to the Disney water parks along with your admission to Magic Kingdom, Epcot, Animal Kingdom, and Hollywood Studios. With the Water Park and Sports plan, you can visit one theme park each day of your ticket. With Park Hopper Plus, you can visit multiple theme parks each day.
Both options also grant admission to the NBA Experience at Disney Springs, ESPN Wide World of Sports Complex, Oak Trail Golf Course, FootGolf at Oak Trail, Fantasia Gardens Miniature Golf Course, and Winter Summerland Miniature Golf Course.
Complete Guide to Disney's Blizzard Beach Water Park: Everything You Need to Know
Location
Disney's Blizzard Beach Water Park is located close to Disney's Animal Kingdom park. Most guests staying at the Disney World hotels in Orlando will need to take a bus to Animal Kingdom and then transfer to a Blizzard Beach bus (the only exceptions are guests staying at the All-Star Movies Resort and Coronado Springs). You can skip this extra step by driving or using a rideshare service, but you may also want to work a visit to Animal Kingdom into your Blizzard Beach day since you'll be close by.
THEME PARK MAGIC: The Ultimate Guide to the Wizarding World of Harry Potter in Orlando
Disney's Winter Summerland Miniature Golf Course is located right next to Blizzard Beach and typically stays open much later than either of the Disney World water parks. Advance reservations are not required, so you can walk right up and play a round before you head home.
Theming
What do you do when there's a huge snowstorm in Florida? Build a ski resort, of course! And when the snow begins to melt, you get Disney's Blizzard Beach Water Park, a truly unique water park theme that's incorporated into every little detail around the park—from the ski resort signage and chair lift that carries you to the top of Mount Gushmore to the names of the water slides, snacks, and drinks. There's even holiday music playing all year long!
Rides and Slides
Blizzard Beach is home to one of the fastest and tallest water slides in the world. Summit Plummet sends riders down a 12-story, near-vertical drop at speeds of up to 65 miles per hour. A walking path leads to the top, or you can take the scenic route on the ski resort-themed chair lift (32-inch height requirement). Those who don't meet the Summit Plummet's 48-inch height requirement can watch riders come down from the ground-level observation deck.
GALAXY'S EDGE: The Ultimate Guide to Star Wars Land at Hollywood Studios in Orlando
Other heart-pounding water slides and attractions at Blizzard Beach include the Downhill Double Dipper (48-inch height requirement), Runoff Rapids (no height requirement), and the Toboggan Racers (no height requirement). All three of these have multiple slides so you can race your friends or family members to the bottom. The winner gets bragging rights for the rest of the day!
The Cross Country Creek lazy river is one of the longest in the country and you can spend close to 30 minutes floating around. Melt-Away Bay is Blizzard Beach's wave pool. This large wave pool sits at the base of the snow-covered Mount Gushmore and produces kid-friendly bobbing waves all day long.
Kids' Play Areas
Disney's Blizzard Beach Water Park has two separate play areas for kids. The areas are relatively close to each other so you can bounce back and forth if you have kids of varying ages.
Tike's Peak is geared toward younger kids with pint-sized slides and a splash area with squirting ice sculptures. At Ski Patrol Training Camp, tweens and teens can walk across ice floes, zip line over a pool, and take on slides that are a bit longer than those in Tike's Peak.
Food at Blizzard Beach
There are no indoor dining restaurants at Blizzard Beach, but there are plenty of picnic tables around the park where you can dine. Most are located outside of Lottawatta Lodge, designed to look like a ski chalet, which is the main quick service restaurant. Lottawatta Lodge serves family-friendly burgers, flatbreads, and milkshakes, including a Salted Caramel Shake that adults can get spiked with bourbon.
ORLANDO VACATIONS: 12 Best Things to Do in Orlando Besides the Theme Parks
There are a variety of walk-up food stands and other dining options around the park that serve everything from hot dogs and pretzels to ice cream and cotton candy. Standout snacks include the hot and fresh Mini Donuts at Joffrey's Coffee, the huge Sand Pail ice cream sundae (yes, it's served in a real beach bucket and you eat it with a shovel) at I.C. Expeditions, and the adults-only frozen cocktails at the Polar Pub.
Some locations offer mobile ordering where you can skip the line.
Add-Ons
Towel and locker rentals are available at the Beach Haus at the front of the water park and Disney hotel guests can receive complimentary towels for each person in their party. There are lounge chairs stationed all over Blizzard Beach, but if you're willing to pay a little extra, you can get a reserved spot for the day along with a few other perks.
COMPLETE GUIDE: Everything You Need to Know About Disney Genie and Genie+
The Lodge Umbrellas are in a gated section of the park and come with two loungers, two beach chairs, an umbrella, and four towels. The Polar Patios are more expensive, but get you considerably more space, cushioned chairs, a locker, refillable drink mugs, free ice water, and a Disney Cast Member to take your food and drink orders. Advance reservations are highly recommended.
Complete Guide to Disney's Typhoon Lagoon Water Park: Everything You Need to Know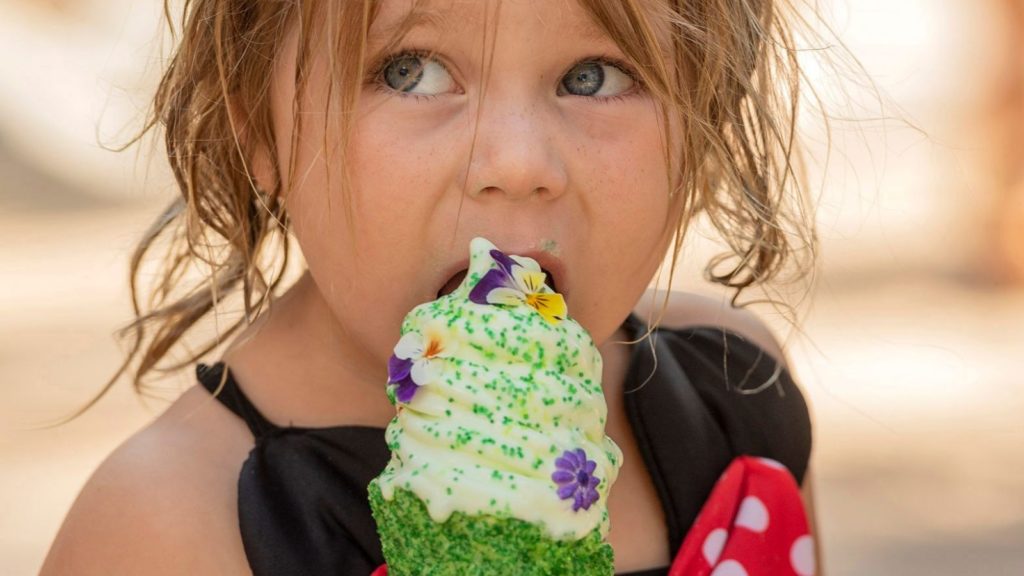 Location
Disney's Typhoon Lagoon Water Park is located close to Disney Springs. Direct transportation is available between Typhoon Lagoon and all Walt Disney World Resort hotels, as well as Disney Springs.
Theming
Like Blizzard Beach, Disney's Typhoon Lagoon Water Park has its own fictional backstory. As the story goes, a typhoon wreaked havoc on a seaside tropical paradise, leaving devastating wreckage in its wake. The lush greenery and turquoise blue water give the whole water park a relaxing, laid-back feel, but the washed-up cargo, deep sea relics, and large shrimp boat (called Miss Tilly) that's impaled on top of Mount Mayday add to the rogue storm legend.
BEACH VACATIONS: 10 Dreamy Beach Resorts in Florida That Are Perfect for Families
Rides and Slides
While the two Disney water parks share many features, Typhoon Lagoon does not have a sky-high body slide like Summit Plummet. It does, however, have a few things Blizzard Beach does not. The park's newest attraction, Miss Adventure Falls (no height requirement), takes families on a rip-roaring (and very wet) inner tube raft adventure; Mayday Falls (no height requirement) is the highest and longest water slide at Typhoon Lagoon; and Crush 'n' Gusher (48-inch height requirement) is Disney World's only water coaster.
The Humunga Kowabunga (48-inch height requirement) water slide sends riders down a five-story drop in the dark, while the Storm Slides twist and turn through the park's picturesque tropical setting before splashing down into a cool pool.
The Castaway Creek lazy river, while shorter than Cross Country Creek at Blizzard Beach, has a more serene rainforest vibe.
One of the biggest differences between the two Disney water parks comes down to the wave pools. While the wave pool at Blizzard Beach is consistently gentle, the Typhoon Lagoon Surf Pool pushes out six-feet-tall surf waves in addition to the its small bobbing waves. And yes, you really can surf them (more on that later).
PLAN YOUR TRIP: When Is the Best Time to Visit Disney World and Disneyland?
Kids' Play Areas
Unlike Blizzard Beach, which has two play areas, Disney's Typhoon Lagoon Water Park has only one area for kids. But there's still lots to keep little oceaneers busy in that one area, called Ketchakiddee Creek. There are water slides, a small beach area, a cave and waterfall to explore, and a leaky tugboat called the S.S. Squirt. There are also plenty of lounge chairs in this area where parents can lounge while their kids play.
Food at Typhoon Lagoon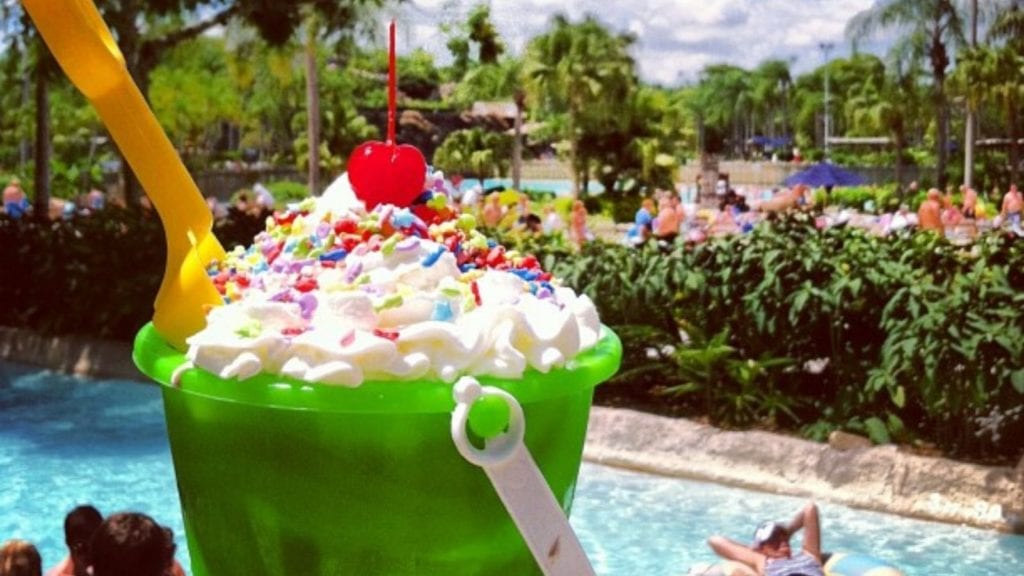 You won't find any sit-down restaurants at Typhoon Lagoon, but the water park does have a variety of dining options to suit your needs. Typhoon Tilly's serves island-inspired fare like fried shrimp and fish tacos, while Leaning Palms satisfies less-adventurous eaters with a menu of pizza, hot dogs, and the like.
BEACH DAY: 11 Beach Essentials You Should Never Forget
If you're looking for something sweet, Happy Landings Ice Cream and the Snack Shack serve the Disney water parks' famous Sand Pail ice cream sundae. Adults can kick back with an alcoholic beverage from Let's Go Slurpin', including a frozen blue concoction called the Typhoon Tilly.
Add-Ons
There are private shaded areas at both of the Disney water parks. Typhoon Lagoon's Beachcomber Shacks come with cushioned chairs, towels, a locker, refillable drink mugs, complimentary ice water, and an attendant to take your food and drink orders during your visit. Each shack accommodates up to six guests.
For shade and privacy at a lower price point, the Getaway Glen Umbrellas offer two loungers, two beach chairs, an umbrella, a small table, and towels. Advance reservations are highly recommended.
PACK IT ALL: 10 Sturdy and Stylish Beach Bags That Get the Job Done
In addition to these, Typhoon Lagoon offers two different surfing programs. Skilled surfers can hang ten in a three-hour surf session (up to 25 guests total) with 100 surf-ready waves. If you haven't yet mastered the art of surfing, you can book a private surf lesson, taught by surf pros who'll get you going in no time. Dining packages and photo sessions are also available.
Walt Disney World Hotels with Water Park Perks
A half dozen hotels near the Disney water parks have pools, slides, and lazy rivers that will satisfy your need for slipping, sliding, and splashing even if you don't buy a pass to Blizzard Beach or Typhoon Lagoon. These hotels include:
Disney's Polyneisan Village Resort: The Lava Pool features a 142-foot-long waterslide from the top of a volcano, a waterfall, and a kids' splash pad with a smaller volcano slide.
Four Seasons Resort Orlando: The Explorer Island water park has a lazy river, zero entry pool, splash zone, and two water slides.
Disney's Beach Club Resort and Disney's Yacht Club Resort: These side-by-side resorts share a beach-themed water park area called Stormalong Bay, including a 230-foot-long water slide, lazy river, three whirlpool spas, a large pool, and a shallow sandy area for kids.
Hilton Orlando Buena Vista Palace: This Disney Springs hotel has a pool, lazy river, and splash pad for kids.
Club Wyndham Bonnet Creek: This resort is located not far from Typhoon Lagoon, but has its own pools, lazy rivers, waterslides, hot tubs, and splash areas.
More from FamilyVacationiost: