Disney Genie and Genie+ are are a grouping of tools and services that help you make the most of your time in the Disney World and Disneyland parks. That sounds kind of vague, so here's the very quick summary, followed by a much more in-depth look at the services (and how to use them) in my complete guide to Disney Genie+.
Disney Genie, which is free, helps you plan the order of your rides, meals, and experiences inside the parks to minimize your wait times and maximize your fun.
Disney Genie+, which is a paid add-on, allows you to sign up for rides in advance and then head to the Lightning Lane entrance to bypass the big line (and head to a much shorter one) when it's your turn.
Other services are also included, which I'll get into below, but the planner and the faster ride access are the two big ones.
Not to melt your brain, but there's also a third thing to consider, which is that there are a few attractions that aren't on the Genie+ list. You can buy your way into skipping the line for these high-demand attractions, but only up to two of them per day. (Don't worry, I've got some tips for dealing with that in this Disney Genie+ guide, too).
One final note before I get started. Disney Genie and Genie+ are integrated with Disney's existing Disneyland and My Disney Experience apps. For those who haven't visited the parks since before the arrival of Disney Genie, the most important thing to know is that Genie+ replaces Disney's previous FastPass+ "skip the line" service inside the Disney parks.
What Is Disney Genie?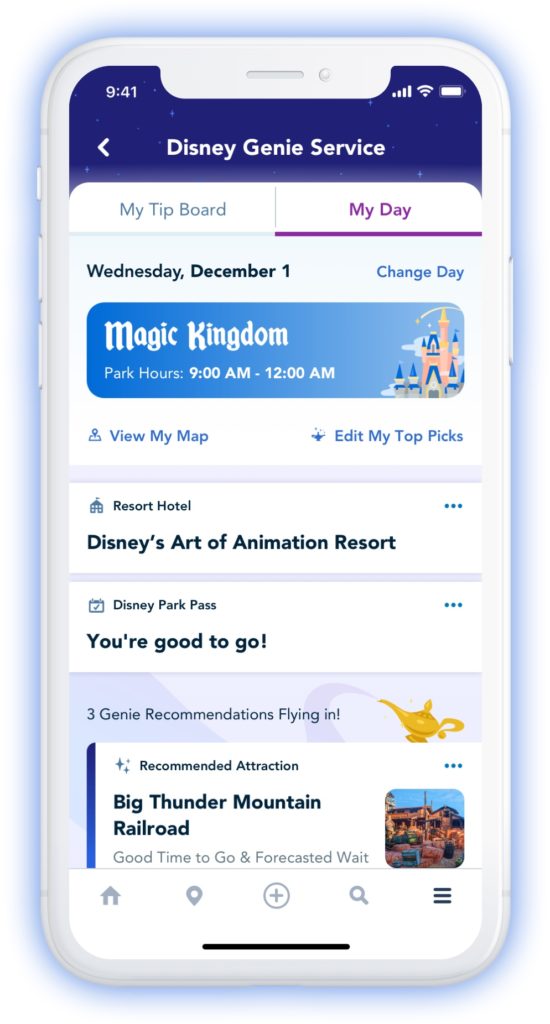 Disney Genie is a complimentary trip planning service that builds a personalized itinerary for you based on your preferences. From more general interests like princesses and Star Wars to specific choices like a favorite Disney ride or must-see show, you tell Genie how you want to spend your day, and it'll create a custom itinerary with suggestions that will help you spend less time in line and more time having fun.
PLAN YOUR TRIP: When Is the Best Time to Visit Disney World and Disneyland?
You can also view current and forecasted wait times, make a list of favorite restaurants and attractions on your "tip board," make dining reservations and mobile Disney food orders, hop in virtual queues for certain attractions, and get help from a virtual assistant.
Disney Genie is also flexible. Because the program can access real-time information, Disney Genie will continuously update your itinerary throughout the day based on your location and current wait times.
DISNEY RESORTS: 12 Best Walt Disney World Hotels for Families in 2024
Basically, if you are more of a "go with the flow" Disney trip planner, Disney Genie will make your job that much easier. You don't have to look up showtimes, operating hours, or wait times because Disney Genie does it all for you and maps out your day. And if you do have must-do attractions, you can use Disney Genie+ and Lightning Lane individual attraction selections as needed to make sure you don't miss out on those.
What Is Disney Genie+?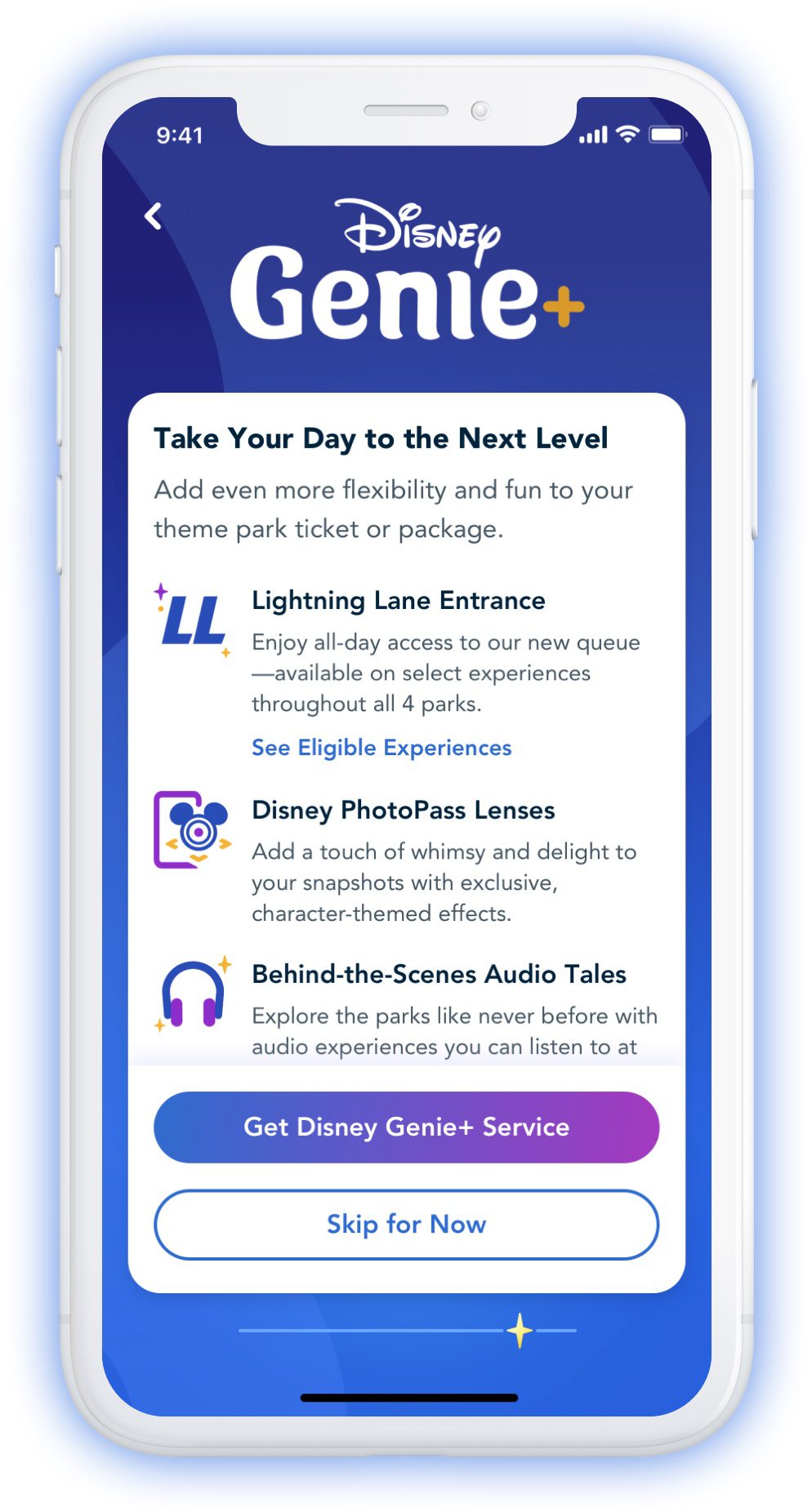 In addition to the complimentary Disney Genie service, you can purchase Disney Genie+ to reserve an arrival time at more than 40 attractions at Walt Disney World and at more than 15 attractions at Disneyland, and then use the Lightning Lane entrance to bypass the standby queue and get on your favorite rides without a lengthy wait (as fast as lightning, some may say).
FUN FOR ALL: 10 Best Disney Rides for Little Kids and Toddlers in 2024
Disney Genie+ costs on average between $15 and $23 per ticket per day at Walt Disney World, but prices can climb as high as $30 or more during the busiest times of year. Just as the cost of tickets is now tiered by park, so is Disney Genie+. The exact daily pricing for Genie+ varies by park, with Magic Kingdom typically costing the most, and EPCOT, Disney's Hollywood Studios, and Disney's Animal Kingdom costing a few dollars less. If you purchase a Park Hopper pass you can opt into buying a Multiple Parks Genie+ service for a one-time fee per ticket, per day. At Disneyland, Genie+ is priced at $30 for in-advance purchases and will start at $30 for day-of purchases (though pricing may vary).
DISNEY GENIE+ GUIDE: How to Make Lightning Lane Reservations Work for You
There are some slight differences in terms of what's included with a Genie+ purchase at Disney World versus Disneyland. At Walt Disney World, you receive Lightning Lane entrances as well as digital downloads of select Disney PhotoPass attraction photos, plus other in-app perks. Memory Maker, Disney World's photo package that includes all digital downloads of pictures taken by PhotoPass photographers, must be purchased separately. At Disneyland, anyone who purchase Genie+ gets access to Lightning Lane entrances as well as unlimited PhotoPass downloads, along with in-app perks.
When Disney Genie+ was first introduced, you could add it your vacation package ahead of time. Now, however, you can no longer buy Disney Genie+ beforehand at Disney World. Instead, you will have to purchase Disney Genie+ on the date of your park visit, one day at a time, through the My Disney Experience app. At this time, these day-of-visit restrictions have not been announced for Disneyland in California, and guests still have the option of buying Genie+ in advance.
How Does Genie+ Work?
Attraction arrival time selections can only be booked on the day of your visit. At Disney World, you can make your first selection at 7:00 a.m. if staying at a Disney World resort hotel; all other guests may make their first selection at park opening. To maximize your chances of snagging the skip-the-line attractions you want at Disney World, purchase Genie+ right at 12:00 a.m. on the day of your park visit, then wake up early to book your must-visit attractions when the booking window opens at 7:00 a.m.
At Disneyland, everyone makes their first selection after entering the park. Subsequent Lightning Lane selections can be made one at a time throughout the day.
What Does Genie Plus Include?
Lightning Lane Entrances: Genie Plus gets you Lightning Lane access to many of the most popular attractions, including Big Thunder Mountain Railroad, Pirates of the Caribbean, Space Mountain, Dumbo, and the Haunted Mansion. (Check the full list of Genie+ Disney World here and Disneyland here.) Note that some attractions are not included in Genie Plus (more on that below). Genie Plus can be used when park hopping with some timing restrictions.
Disney PhotoPass Service: At both Disney World and Disneyland, Genie Plus scores you augmented reality lenses to make your park visit even more magical. Same-day on-ride attraction photos for select rides are included with the purchase of Genie+ as well.
Audio Tales: Fun facts and behind-the-scenes info make the audio tales included in Genie Plus a true value-add to curious Disney fans.
What Are Individual Lightning Lane Selections?
Individual Lightning Lane selections are a la carte selections that you can purchase on the day of your visit. You can purchase Lightning Lane reservations for attractions that aren't included with Disney Genie+ up to two per day, one at a time. If the success of your vacation hinges on getting on Disney's most popular rides, you can pay for your group to get on the ride and then go relax and have fun for the rest of your trip.
THRILL RIDES: 13 Best Disney World Rides for Adults and Teens in 2024
You do not need to purchase Disney Genie+ to use this "pay per attraction" service. You can view a full list of Genie+ and individual Lightning Lane selections for Disney World here and Disneyland here.
How Will Genie/Genie+ Affect My Next Disney Trip?
Standby lines, dining reservations, and mobile ordering aren't going anywhere and you can use these new services at the theme parks as much or as little as you'd like.
THEME PARK ETIQUETTE: What to Wear to Disney World (and What to Leave at Home)
You can also mix and match Disney Genie, Disney Genie+, and the individual Lightning Lane selections. For example, you could use Disney Genie every day to build your plan for the day and not spend any additional money at all. If it's more important to you not to wait in any lines, you can purchase Disney Genie+, individual Lightning Lane selections, or both. It all depends on how you like to do Disney.
How Does This Affect Attractions That Use a Virtual Queue?
Individual Lightning Lane selections are especially helpful for Disney attractions that use a Virtual Queue like TRON Lightcycle/Run at Disney World and Mickey and Minnie's Runaway Railway at Disneyland. (Note that Mickey and Minnie's Runaway Railway only uses the Virtual Queue intermittently on an as-needed basis.)
BATUU BOUND: The Ultimate Guide to Star Wars: Galaxy's Edge in 2024
The Virtual Queue process hasn't changed in that any rides that use Virtual Queue don't have a standby line. Currently, if you don't get a Virtual Queue Boarding Group, you don't get to ride. If you don't want to take your chances on securing a Boarding Group using the Virtual Queue system, you can pay to schedule an arrival time to get on the ride.
Are There Any Benefits for Onsite Hotel Guests?
There is a benefit for Walt Disney World hotel guests to purchase their individual Lightning Lane selections for the Magic Kingdom and other parks beginning at 7:00 a.m. on the day of their visit. Offsite guests have to wait until the park opens for the day. There is currently no similar benefit for Disneyland guests, since you have to be in the park to start making Lightning Lane selections.
How Does Disney Genie Compare to Disney's Previous 'Skip the Line' Services Like FastPass+?
Since 1999, Disney has utilized some version of a FastPass system. Most recently Disney World used FastPass+, a complimentary service that allowed you to reserve time slots to visit attractions without waiting in the standby line, much like Disney Genie Plus allows you to do, but for an additional fee. At Disneyland, you could visit participating attractions and get a paper FastPass ticket for free, or pay a daily fee for MaxPass, which worked almost exactly like Disney Genie Plus.
MAGICAL READS: 33 Books Like Harry Potter to Binge on Your Next Vacation
There is no longer a complimentary skip the line service, which is sure to leave some guests understandably upset. With the option to use Disney Genie's free trip planning services, though, you can achieve virtually the same goal as FastPass—less time spent waiting in line. Disney Genie combines your preferences with current and forecasted wait times to suggest attractions, dining options, and more that are close by, meet your interests, and have short wait times.
If you want to spend money for an even more tailored experience, you can. The good news is, it's totally up to you.
What If I Still Have Questions About Disney Genie?
Both Disney World and Disneyland have a dedicated Disney Genie page that describes the service in detail and answers some common questions. Disney World's can be found here and Disneyland's is here. If you have specific questions about Disney Genie or Genie Plus, you can also ask a question to one of Disney's expert planDisney panel members.
More from FamilyVacationist:
Carly Neil also contributed to this story.