Hitting the best theme parks in Orlando and elsewhere in the United States requires plenty of planning and a decent-sized budget. And after you've made those kinds of investments in money and time, you want the hours (or days) you spend at the amusement park(s) to be as enjoyable as possible. That's why what to wear to Disney World and other amusement parks matters—but not necessarily in the way you might think.
What to Wear to Disney World and Other Theme Parks
Yes, you want to look decent in your Instagram pics, but a theme park vacation is not the time to embrace your inner fashionista. Comfort and ease of movement are what's most important, especially if you want to be screaming with joy, not pain. So here's what not to wear to the major U.S. theme parks and what you should wear instead.
ULTIMATE GUIDE: Everything You Need to Know about Disney Genie and Genie+
Do Wear: Breathable, Sweat-Wicking Clothing
Don't Wear: Your Casual Friday Attire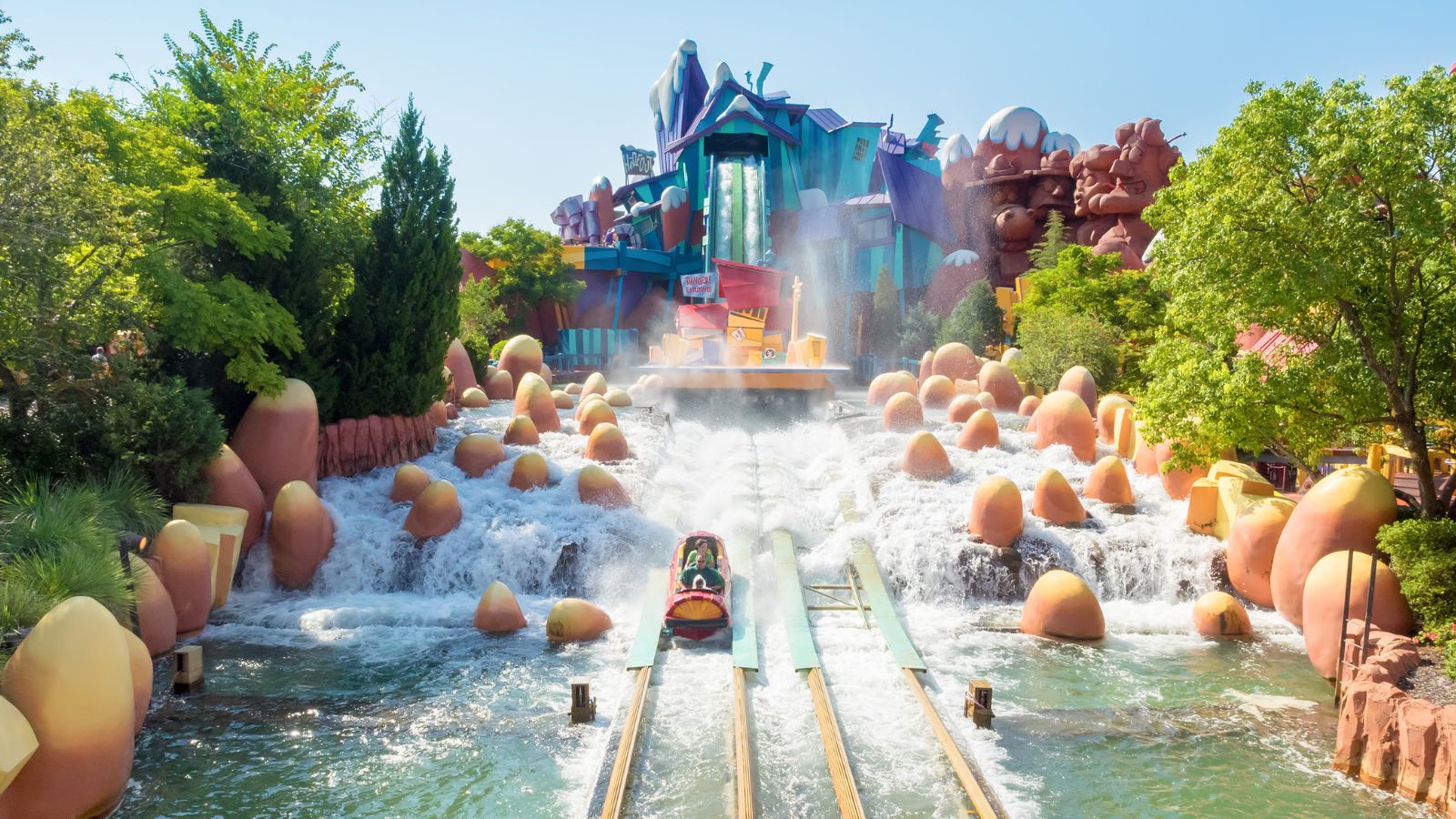 Unless you're visiting during one of the rare crowd-free periods, there's a good chance your theme park vacation will take place during summer vacation, spring break, or in a location where there's always the possibility of bright sun and extremely warm weather. (We're looking at you, Florida and California theme parks.) What you'd wear to the movies or weekend brunch might seem casual enough, but it probably won't feel great once things start to get hot and sticky at your favorite amusement park.
DISNEY DINING: 25 Best Disney World Restaurants: Where to Eat at the Disney's Orlando Theme Parks
For maximum comfort, wearing a sweat-wicking shirt is a good clothing choice for everyone in your group. Not only will it keep you feeling cooler even on long days at the parks, but it will also dry quickly after you get soaked on the log flume or another water ride. And these shirts come in so many styles these days, from V-necks to polos, that you don't have to look like you're in the middle of a workout.
FamilyVacationist recommends: We love the sweat-wicking shirts from Adidas, Under Armour, Athleta, Patagonia, and Nike. You can find options from these and other brands at retailers like Amazon, Walmart, and Target.
Do Wear: Comfortable Shoes or Sneakers
Don't Wear: Flip-Flops
Yes, flip-flops are a warm weather staple, but save them for the Disney water parks and Florida beach resorts. Navigating a Disney vacation (or a trip to any theme park) requires miles of walking. Visitors at Walt Disney World Resort, for example, are often overheard marveling at how many steps they've logged in a single day's visit.
MORE MAGIC: How to Get Extra Time at Disney or Universal Beyond the Regular Theme Park Hours
That's why sneakers, tennis shoes, or any good walking shoes are a better choice for what to wear on a Disney World vacation (or to any of the other theme parks) because of their long-lasting foot support during a marathon park session. If you absolutely have to wear some kind of sandal, choose sandals that offer more cushioning and arch support than standard flip-flops.
FamilyVacationist recommends: For sneakers, you won't go wrong with a pair from Asics, Brooks, New Balance, or Saucony. For sandals, we like the supportive options from Birkenstock, Teva, Vionic, and Naot. Retailers like Amazon, DSW, Zappos, and Dick's Sporting Goods carry a range of sneakers and theme-park-appropriate sandals from these and other brands.
Do Wear: Attire You Can Actually Move In
Don't Wear: Clothing You Can't Easily Sit Down in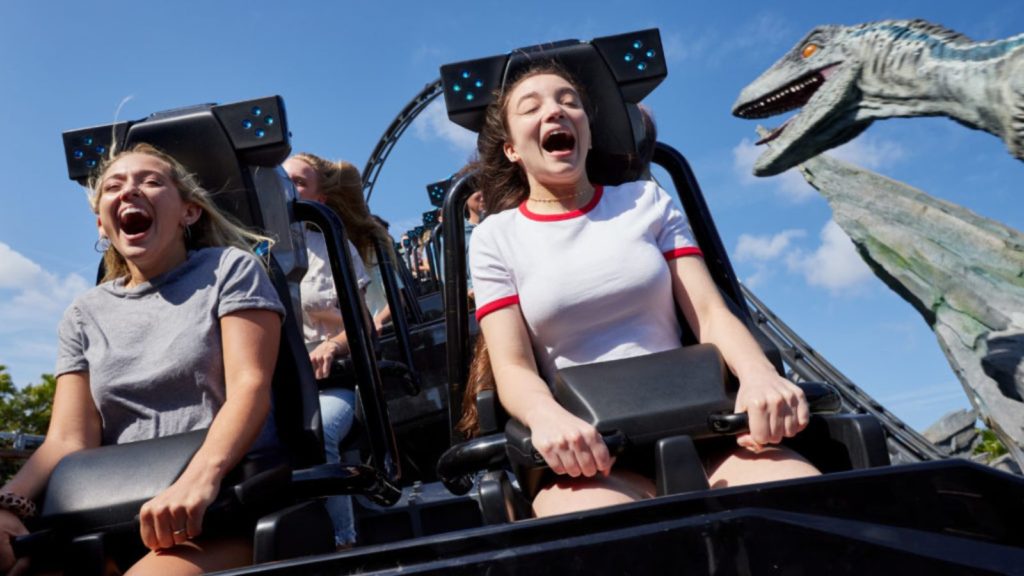 A Universal or Disney theme park vacation isn't the time for wearing that skintight dress or a miniskirt that barely covers your, ahem, assets. (Just think about how many other behinds have sat in that same rollercoaster seat before you.) You'll be climbing in and out of rides all day, so you want to be able to do that easily—and preferably without flashing anyone. That's why comfortable travel clothes are a must-wear at a theme park.
DOUBLE DUTY: The Best Multipurpose Clothing for Travel
For men or women, a good pair of shorts with pockets is tried-and-true. For women, if a good pair of shorts just aren't your thing then there are lots of cute travel dresses that are easygoing and practical enough for a day at the theme park. A skort can be another good option if you want the look of a skirt coupled with the practicality of shorts.
FamilyVacationist recommends: We love the sporty-yet-still-fashionable options from Title Nine, Athleta, Lululemon, and Columbia. You can find dresses and skorts that can stand up to a day at the theme park from a wide range of brands at retailers like REI, Dick's Sporting Goods, Amazon, Target, and Walmart.
Do Wear: A Crossbody Bag
Don't Wear: A Purse
It's understandable to want a place to stash your wallet, lip balm, and other must-haves besides just your pockets. But you don't want to be fumbling with a standard shoulder bag or another kind of purse better suited for a day at the mall. A crossbody bag makes it easy to corral your stuff and get on and off of rides. Plus it doesn't require as much hands-on attention as other kinds of purses and bags.
FamilyVacationist recommends: Baggallini, Kipling, Travelon, and Pacsafe offer hard-working crossbody bags that are ideal for a day at the theme park. Find bags from these and other brands at retailers like Amazon, Target, and Walmart.
Do Wear: Items that Help Shield the Sun
Don't Wear: Clothing that Exposes a Lot of Skin
This is for your own protection. You'll likely find yourself standing in line in the sun throughout the day, and if you're wearing nothing but a skimpy tank top, you'll probably go home with a sunburn as a souvenir. In addition to slathering on (and reapplying!) a good sport sunscreen, opt for a pair of UV protection sunglasses and clothing that offers sun protection. A baseball cap or cute straw hat also isn't a bad idea. Just be prepared to safely stow it for rides.
FamilyVacationist recommends: For sun protection clothing, we love Coolibar, Patagonia, Title Nine, Columbia, and Athleta. You can find a range of clothing that helps shield the sun, plus accessories like sunglasses and hats, at retailers like REI, Amazon, Dick's Sporting Goods, and Walmart.
Do Wear: A Small, Manageable Backpack
Don't Wear: A Giant Backpack
To successfully spend a day at a theme park, you need to be prepared for a variety of possibilities, especially if you're traveling with kids. A light backpack can come in handy for stowing snacks and refillable water bottles (if you're allowed to bring them into the park), sunscreen, hand sanitizer, band-aids, and other items you might need throughout the day.
SUMMER ESSENTIALS: 10 Sturdy Beach Bags with Special Features and Style
But you don't need a bag fit for backwoods camping or a Eurail adventure. Choose a smaller backpack for yourself (or your kids) that can still fit what you need but will be less burdensome to carry. And if you're at parks like Universal Studios and Busch Gardens, it will fit better in the smallish lockers and cubbies where you have to stash your bags before getting on most thrill rides.
FamilyVacationist recommends: Dagne Dover, Baggallini, Kipling, Lululemon, and Herschel are great sources for smaller backpacks well-suited for a day at the theme parks. You can find options from these and other brands at retailers like Amazon, Walmart, and Target.
Do Wear: Your Favorite Vacation T-Shirt
Don't Wear: Offensive Clothing
You'll want to save that funny-to-you T-shirt with all those curse words on it for your next adults-only party or trip to the bar. Most parks specifically prohibit clothing with offensive or objectionable language, graphics, or other content. Wear that kind of thing and you might be refused admittance, so it's absolutely not what to wear to Disney World, Universal, or any other amusement park. On the other hand, the Universal or Disney parks would be a great place to put on your favorite Hogwarts, Star Wars, or Marvel T-shirt.
FamilyVacationist recommends: You can find cute, theme park-ready T-shirts for the whole family at Old Navy, The Children's Place, Etsy, Shop Disney, while Amazon. Walmart, Target, and Kohl's are other good sources for family-friendly shirts featuring favorite cartoon or movie characters.
More from FamilyVacationist: