There's a reason why intrepid travelers favor carry-on luggage when jetting off to their next locale. There's no risk of it getting lost, which is especially important if you don't have a direct flight. And when you arrive at your destination, you can just grab your luggage and go, with no waiting for your suitcase to make its way to the baggage carousel. And while many of the best luggage brands have carry-ons that are sized to stow in the overhead bins, underseat luggage takes advantage of that guaranteed area by your feet, meaning you won't have to fight for precious overhead space. And, bonus: The compact dimensions of the small underseat luggage style helps prevent overpacking.
Best Underseat Luggage
A good underseat carry-on bag offers easy maneuverability, features to help you stay organized, and a size that maximizes packing space but fits under the seat without a struggle. There are great options from trusty underseat luggage brands like Samsonite, budget-friendly picks, and upscale versions from high-end lines. We've rounded up the best underseat luggage based on customer ratings and reviews. Read on for our top choices.
WHAT TO PACK: 10 Essentials for Your Carry-on Bag
Best Overall Underseat Luggage
Travelpro Maxlite 5 Rolling Underseat Carry-On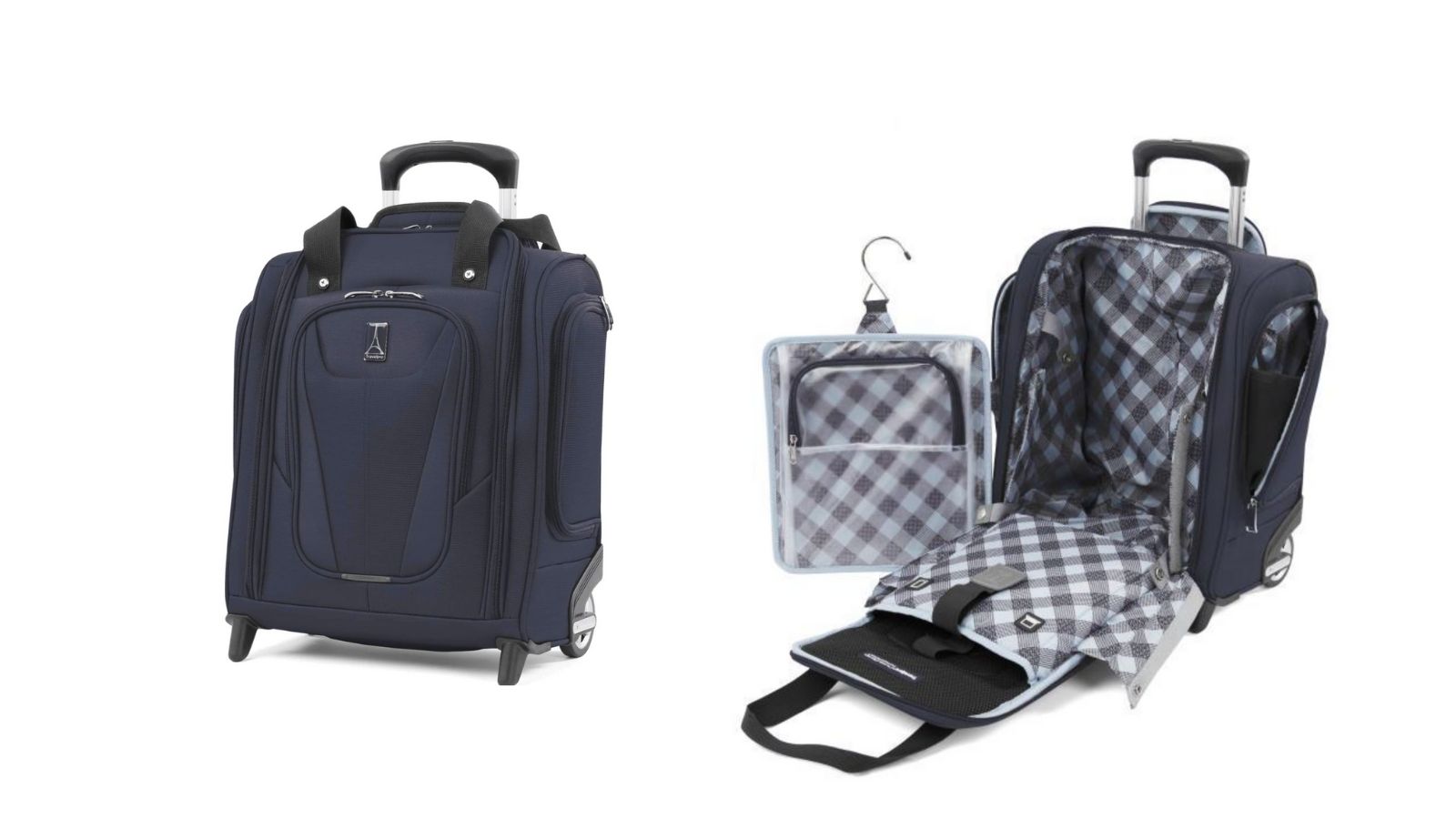 The small but mighty Travelpro Maxlite 5 underseat luggage has a place for almost everything. Unzip the main opening of this rolling carry-on to find a roomy interior that features a padded sleeve for storing a laptop or tablet and a removable, hanging "wet" pocket for toiletries or other items you want to keep separated. Exterior pockets are ideal for stashing must-haves within easy reach.
A lightweight but sturdy handle plus ball-bearing wheels help the bag roll easily without wobbling, while a rear strap lets you stack it on top of another rolling bag if you're traveling with more luggage. And it'll stand up to frequent trips thanks to the bag's coated polyester fabric that's water- and stain-resistant.
Buyers call the bag "a dynamo for packing, "very easy to maneuver throughout the airport and airplane aisle," and "so much better than I expected." One reviewer says, "It's cute, holds more than you would think, and rolls easily," while another proclaims, "It is a perfect, under-seat carry-on!"
Where to Buy: Travelpro and Amazon
Best Budget Underseat Luggage Carry-On
TPRC 15-Inch Smart Underseat Carry-On
The affordable TPRC 15-inch Smart Underseat Carry-On is made of durable polyester and features lots of zippered pockets inside and out, plus an open-side pocket for holding essentials. A telescoping trolley handle with push-button mechanism and smooth-rolling, in-line skate wheels make navigating around the airport easy and comfortable.
Keep cell phones and other devices charged and at the ready with this underseat carry-on's side USB port. Just add your favorite power bank and USB cord to avoid the dreaded dead battery.
BEST SUITCASES: 10 Stylish Luggage Brands Built to Last
The underseat carry-on bag has more than 2,400 five-star ratings on Amazon, with buyers praising its quality, price point, and ease of mobility. Shoppers call it "a great buy and extremely roomy," "a great little bag that holds a lot," and "the best carry-on piece I've ever owned." One reviewer notes, "I could fit a surprisingly high amount of items in this bag," while another says the "sleek, attractive design looks more expensive than it is."
Where to Buy: Amazon
Best Splurge Underseat Carry-On Bag
Briggs & Riley Baseline Rolling Cabin Bag
The interior of the Briggs & Riley Baseline Rolling Cabin Bag offers a spacious main compartment with three elastic mesh pockets for stashing smaller items. The exterior offers a slew of features like a front section with pen loops, a padded pocket for your tablet, and side zippered pockets for holding water bottles, cell phones, and other necessities.
Low-profile wheels and an aircraft-grade, aluminum handle with four stop heights make the bag easy to maneuver through the airport and into position under the seat. Webbing handles with a magnetic leather strap help you comfortably throw it into the trunk of your rental car or Uber. And the bag's ballistic nylon exterior fabric resists moisture, dirt, and other wear and tear.
Buyers give the bag rave reviews, calling it "so spacious yet compact," "super functional and well made," and "an excellent bag to be used when traveling." One reviewer notes that "This bag made traversing airports a breeze," while another says "Briggs & Riley luggage is the best luggage I have ever had."
Where to Buy: Briggs & Riley and Amazon
10 More Great Underseat Luggage Carry-On Bags
1. Samsonite Spinner Underseat Luggage with USB Port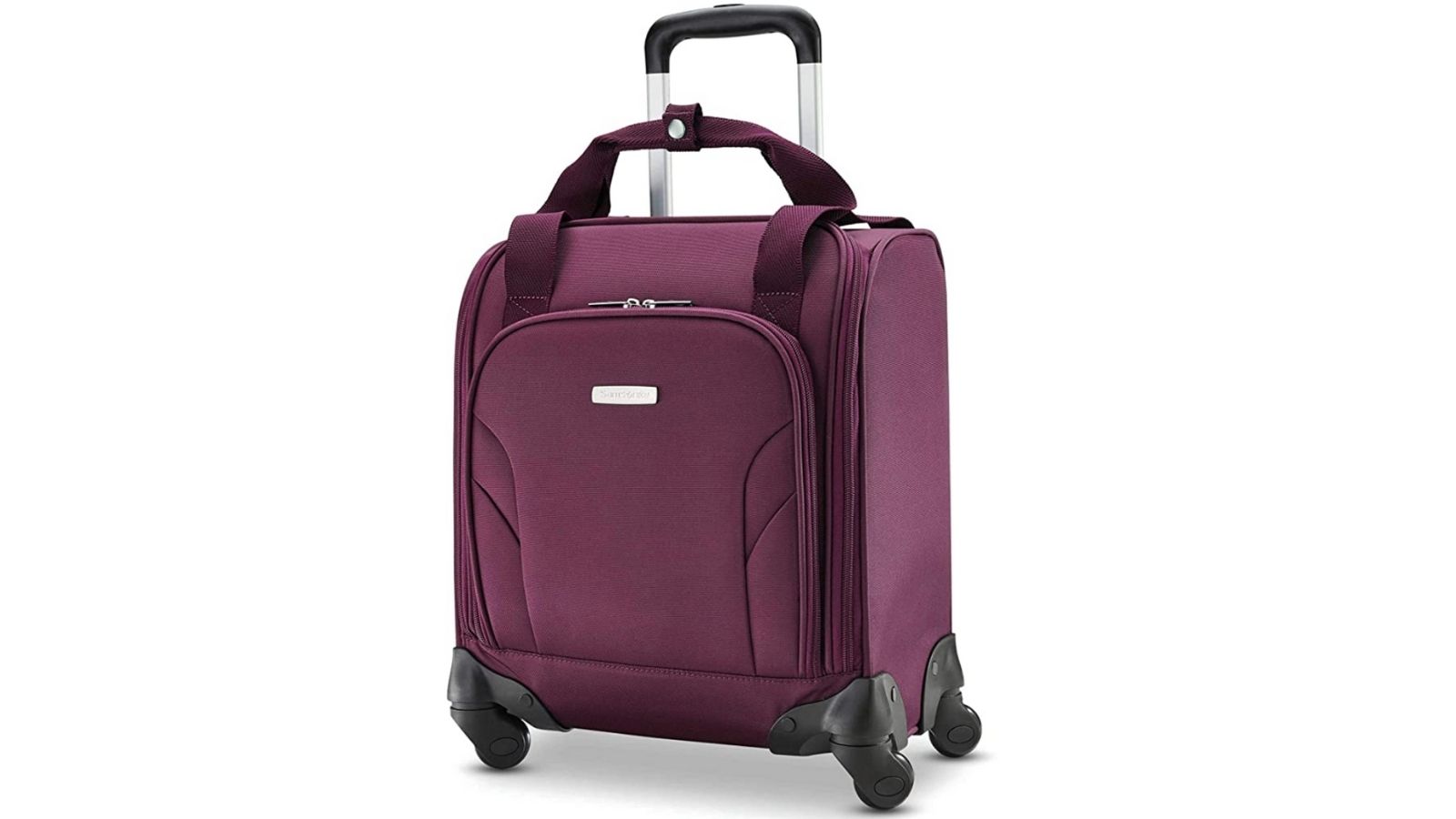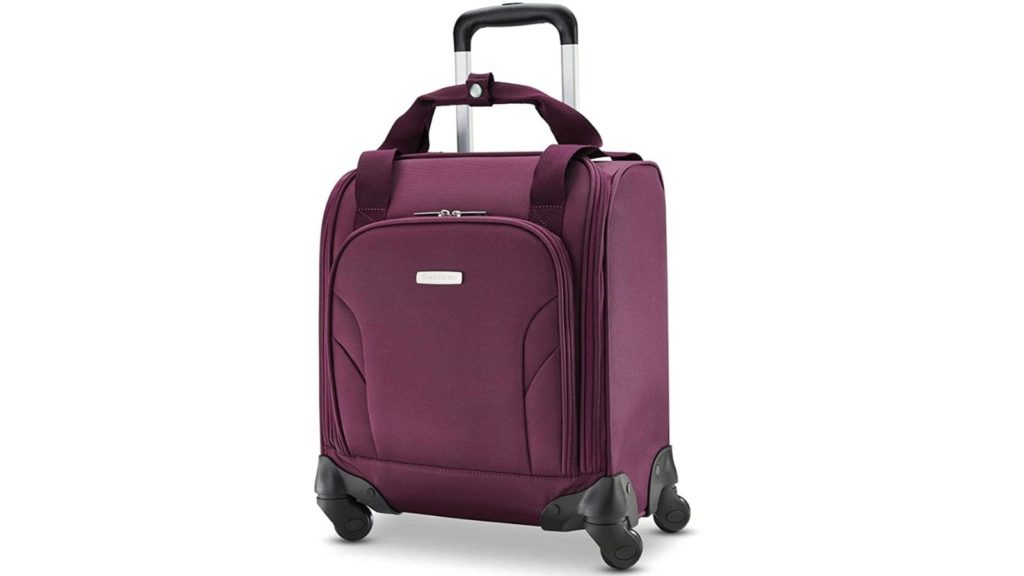 The well-priced Spinner Underseat Luggage from luggage brand fave Samsonite offers features like multidirectional spinner wheels for 360-degree rolling, a push-button locking handle, and a USB port for charging devices while on the move (batteries not included). There's a padded compartment for tablets and laptops up to 13.3 inches, a zippered mesh interior pocket, and lots of exterior pockets for headphones, books, and other travel gear.
TRAVEL WELL: The Most Comfortable Travel Clothing Brands
The underseat bag has more than 2,300 five-star ratings on Amazon, with buyers calling it "perfect for one-bag travel," "easy to maneuver," and "roomier than I expected." One reviewer says, "This little under-the-seat spinner is a must have…It has a lot more space than one would think."
Where to Buy: Samsonite and Amazon
2. Away The Daily Carry-On with Pocket
The hard-working Daily Carry-On with Pocket from Away includes a removable three-compartment accordion, a hidden laundry bag for separating dirty clothing, and an interior compression system to maximize packing space. A large exterior front pocket made from water-resistant nylon provides spots for boarding passes, passports, and other items you need at the ready plus a padded 13-inch laptop sleeve. A polycarbonate hard shell and 360-degree spinner wheels provide durability and maneuverability.
Shoppers call it "very well thought out and deceptively roomy," "simple, sturdy, functional, and well-built," and "great for short trips." One reviewer notes, "It's amazing how much practical space they have managed to build into a relatively small bag," while another says, "I get so many compliments on it!"
Where to Buy: Away
3. Verage Carry-On Under-Seat Luggage with USB Port
If staying organized is a struggle, Verage's Carry-On Underseat Luggage has you covered. A roomy interior has ample space for clothes and shoes, while a zippered front pocket includes a padded laptop sleeve plus spots for other must-haves. Stash sunglasses and other necessities in the zippered side pockets and use the USB port (batteries not included) to stay charged on the go. Multidirectional spinner wheels and a telescoping push-button handle make for easy mobility, while a water-repellent and anti-scratch fabric help the bag stand up to frequent use.
READY FOR ANYTHING: 10 Crossbody Bags Perfect for Travel
Buyers praise the bag's functionality, calling it "lightweight and easy to maneuver getting on and off the plane" and "by far the best under-the-seat bag available on the market today." One reviewer notes, "It is small and easy to maneuver but can hold a lot!" Another says, "I am VERY pleased with the roominess, ease of mobility, and convenience of this case!!"
Where to Buy: Amazon
4. L.L. Bean Carryall Rolling Underseat Bag
The Carryall Rolling Underseat Bag from the trusty outdoors brand features 360-degree spinner wheels, a telescoping handle, and the company's "travel-tough" abrasion-resistant polyester twill fabric, making it ideal for frequent travelers. The main compartment features a "clothes hugger" and mesh pockets to help keep everything in its place, and lots of zippered exterior pockets add extra storage for travel documents, snacks, and other items.
Buyers appreciate the bag's durability and ease of use, calling it "tough, yet lightweight," "strong and sturdy, very easy to wheel and guide," and "the perfect size for overnight and weekend stays." One reviewer notes, "This is better than I expected, and I have high expectations of L.L.Bean! It fits a lot of things, rolls beautifully, is sturdy and lightweight."
Where to Buy: L.L. Bean
5. Yotefe 18" Underseat Luggage with Multidirectional Spinner Wheels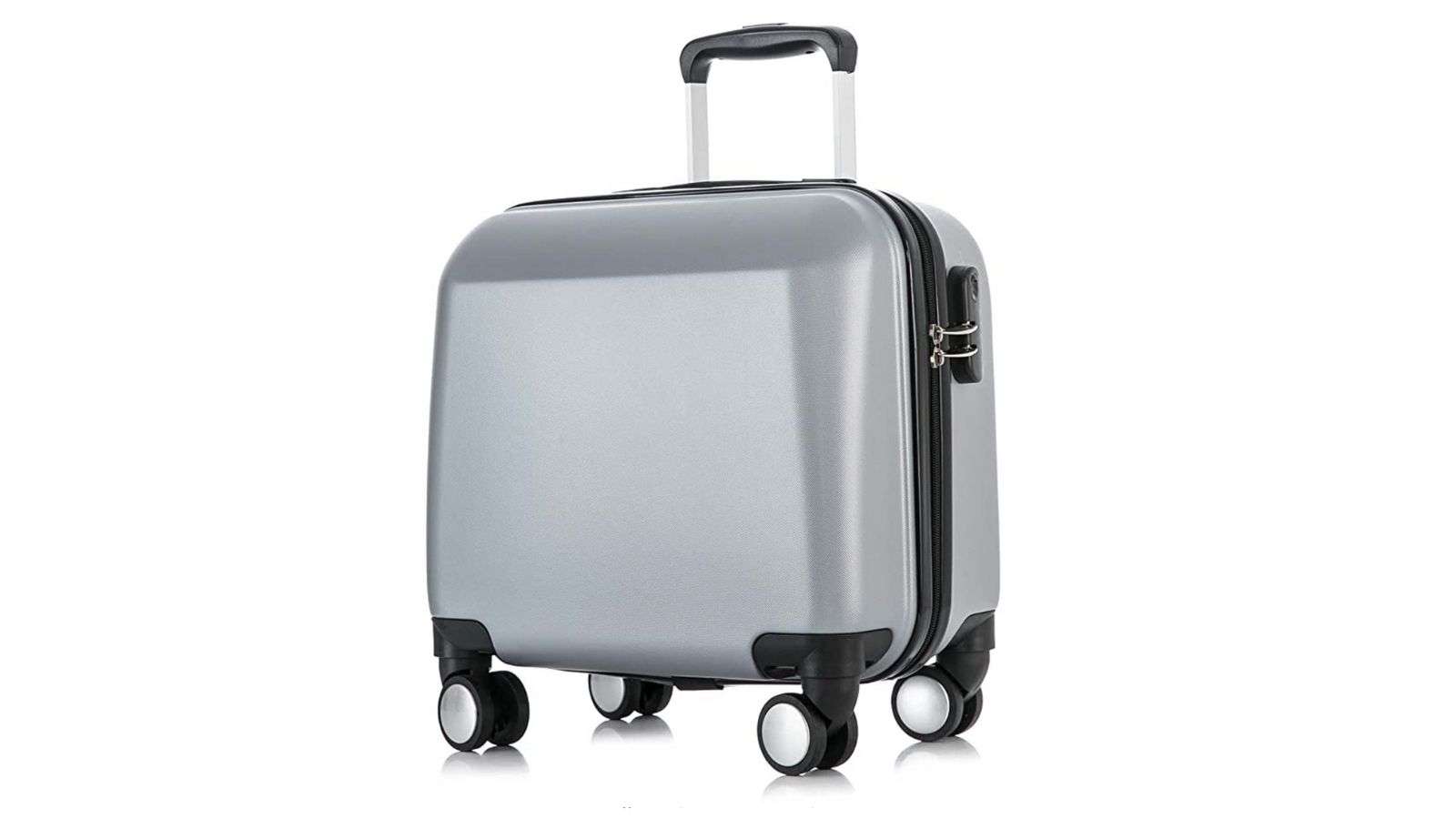 The sleek and stylish Yotefe Underseat Luggage comes in several metallic color choices that will look great in Instagram photos. Inside, find a high-capacity interior with a separate zippered mesh pocket plus cross ribbons for corralling all your gear. An adjustable telescoping handle and 360-degree double spinning wheels help make walking through the airport (and up and down plane aisles) easier.
PRO TIP: How to Avoid Long Airport Security Lines
Buyers call it "the perfect size, "convenient and practical," and "the prettiest suitcase I have ever owned." One reviewer says, "It's perfect for a short trip," while another proclaims it a "great carry-on for any airplane."
Where to Buy: Amazon
6. Target Open Story Weekender Bag
The simple yet stylish Target Weekender bag made from water-repellent nylon offers a roomy main compartment, a padded sleeve for laptops up to 15 inches, and lots of zippered pockets inside and out for keeping phones, glasses, headphones, and other items safe and secure. Carry it by the top handles, use the detachable padded shoulder strap, or hook it over a suitcase handle with its convertible trolley strap that doubles as a pocket when not being utilized.
Buyers give the bag glowing reviews, calling it a "perfect weekender bag," "extremely sturdy and functional," and "the best carry-on bag I have ever owned." One reviewer says, "Where has this bag been for all of my previous travels!!" Another comments, "It's well made, looks beautiful, and fits under the airplane seat. Win win win!!"
Where to Buy: Target
7. Nomad Lane Bento Bag V 3.0
Blending good looks with high function, the Bento Bag V 3.0 by Nomad Lane opens down the middle like a suitcase to make packing a cinch. It's got a place for everything, with features like a padded sleeve (for up to 16-inch laptops), tech organizer, clear toiletry pouch, key leash, water bottle loop, and two shoe bags. A detachable shoulder strap and TSA-approved, easy-access charging port up the functionality even more.
FLIGHTS AT THE RIGHT PRICE:16 Best Flight Booking Sites
More than 800 five-star reviews praise its organizational skills and quality, with buyers calling it "the perfect carry-on" and "well-constructed with lots of logical places to pack different items." One reviewer notes, "I was able to pack for a four-day trip with all my essentials!" Another says, "I love all the pockets so everything you need stays organized and you can put your hands on it quickly without opening up the entire bag on the plane."
Where to Buy: Nomad Lane
8. Baggallini Two-Wheel Under-Seat Carry-On
Available in options like basic black and less-basic silver, Baggallini's Two-Wheel Underseat Carry-On bag is clad in water-resistant nylon and offers a slew of interior and exterior pockets, including RFID-blocking card slots, a passport pocket, and a padded laptop sleeve. Smooth-rolling inline wheels, a telescoping handle adjustable to two heights, a built-in luggage-handle sleeve, and carrying handles provide options for transitioning from plane to airport to hotel.
Buyers call it a "very nice piece of luggage for the price," "perfect in every way," and "beautiful and made well." One reviewer says it "holds all that I need for short trips," while another comments, "The pockets are terrific, and the bag is light and very attractive."
Where to Buy: Baggallini and Amazon
9. Dagne Dover Landon Carryall Bag Large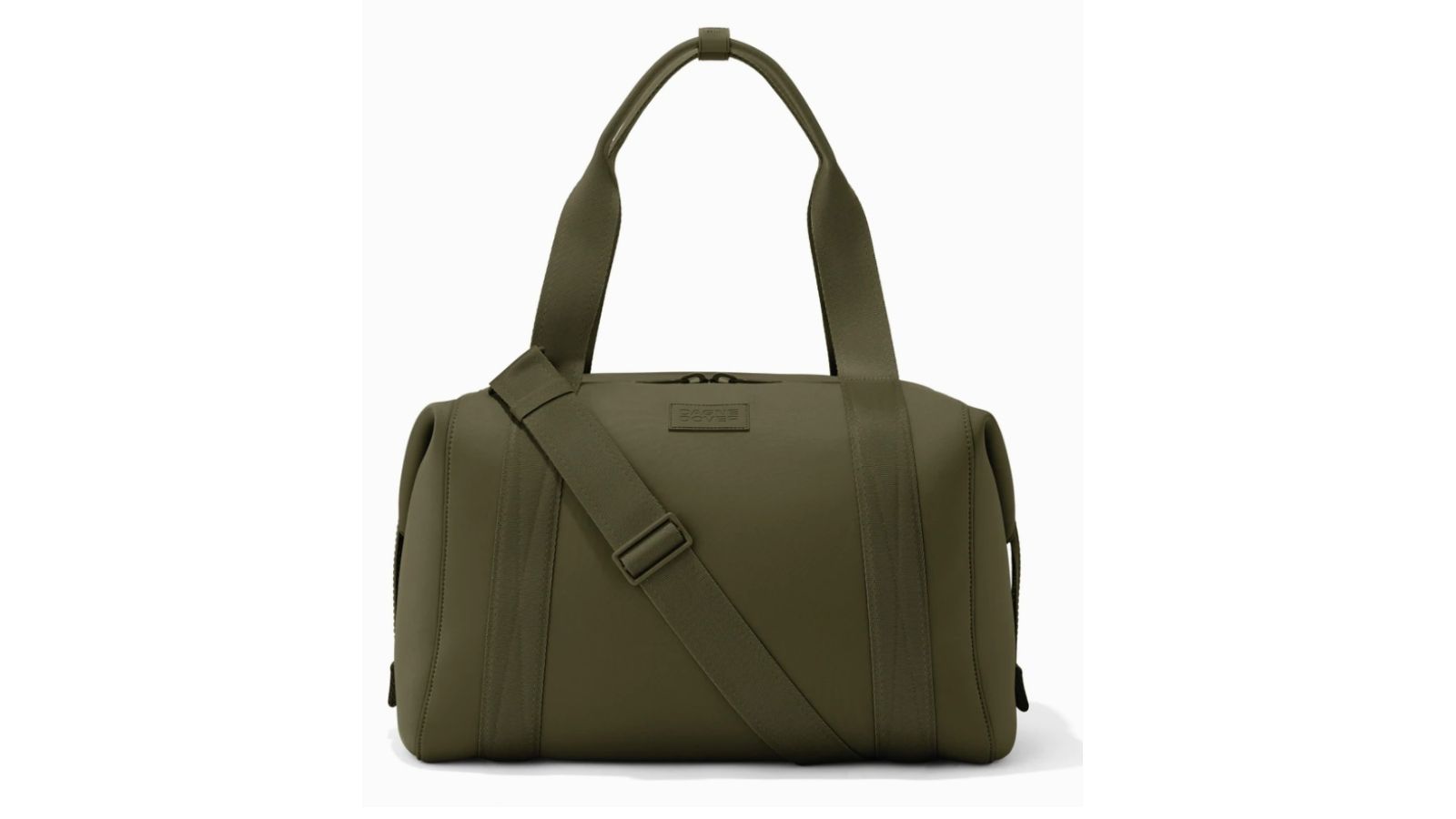 Dagne Dover calls its Landon Carryall "the ultimate travel buddy," and it's easy to see why. The water-resistant neoprene exterior provides durability, while the interior offers function galore, with a padded laptop sleeve, stretch key leash, and shoe bag. Zippered pockets inside and out serve as even more storage spots, and handles, a shoulder strap, and luggage-handle sleeve make for carrying choices.
BOOK WISELY: Vacation Rentals 101
Buyers call it the "perfect travel bag," "a game changer," and "built to last." One reviewer notes, "There are so many little pockets in this bag and it fits more than it appears!" Another says, "I am in love with my Landon Carryall! I traveled abroad with multiple layovers and was able to get all my essentials in this bag!"
Where to Buy: Dagne Dover
10. Birdling Weekender
The Birdling Weekender has preppy good looks and features lots of pockets—and three interior side-by-side structured compartments—for stowing everything you need for a trip. A removable padded shoulder strap makes carrying the bag more comfortable, while a luggage sleeve lets you slide it over a suitcase handle for longer trips with more luggage.
Buyers rave about the bag, calling it "perfect for a weekend getaway," "the perfect blend of pretty yet minimalistic in design," and "by far my favorite bag purchase." One reviewer comments, "I love all of the pockets and compartments this bag has to offer," while another says, "It's big enough to fit a ton of clothes in, but small enough to easily carry over my shoulder."
Where to Buy: Birdling
More from FamilyVacationist: