There's a reason savvy travelers favor carry-on luggage. There's no risk of a carry-on bag getting lost, which is especially important if you don't have a direct flight. I'm a big fan in particular of underseat luggage, rolling suitcases that are small enough to skip the overhead bin and fit perfectly underneath the seat in front of you.
How to Find the Best Underseat Luggage
A good underseat carry-on bag offers easy maneuverability, features that can help you stay organized, and a size that maximizes packing space but fits under the seat without a struggle. There are plenty of great options from trusty underseat luggage brands like Samsonite, Travelpro, and Briggs & Riley. Here are my picks for the best underseat luggage in a variety of price points from budget-friendly to splurge.
READY FOR ANYTHING: 10 Wildly Adaptable Crossbody Bags That Are Perfect for Travel
Travelpro Maxlite 5 Carry-on Rolling Underseat Bag
Best overall underseat luggage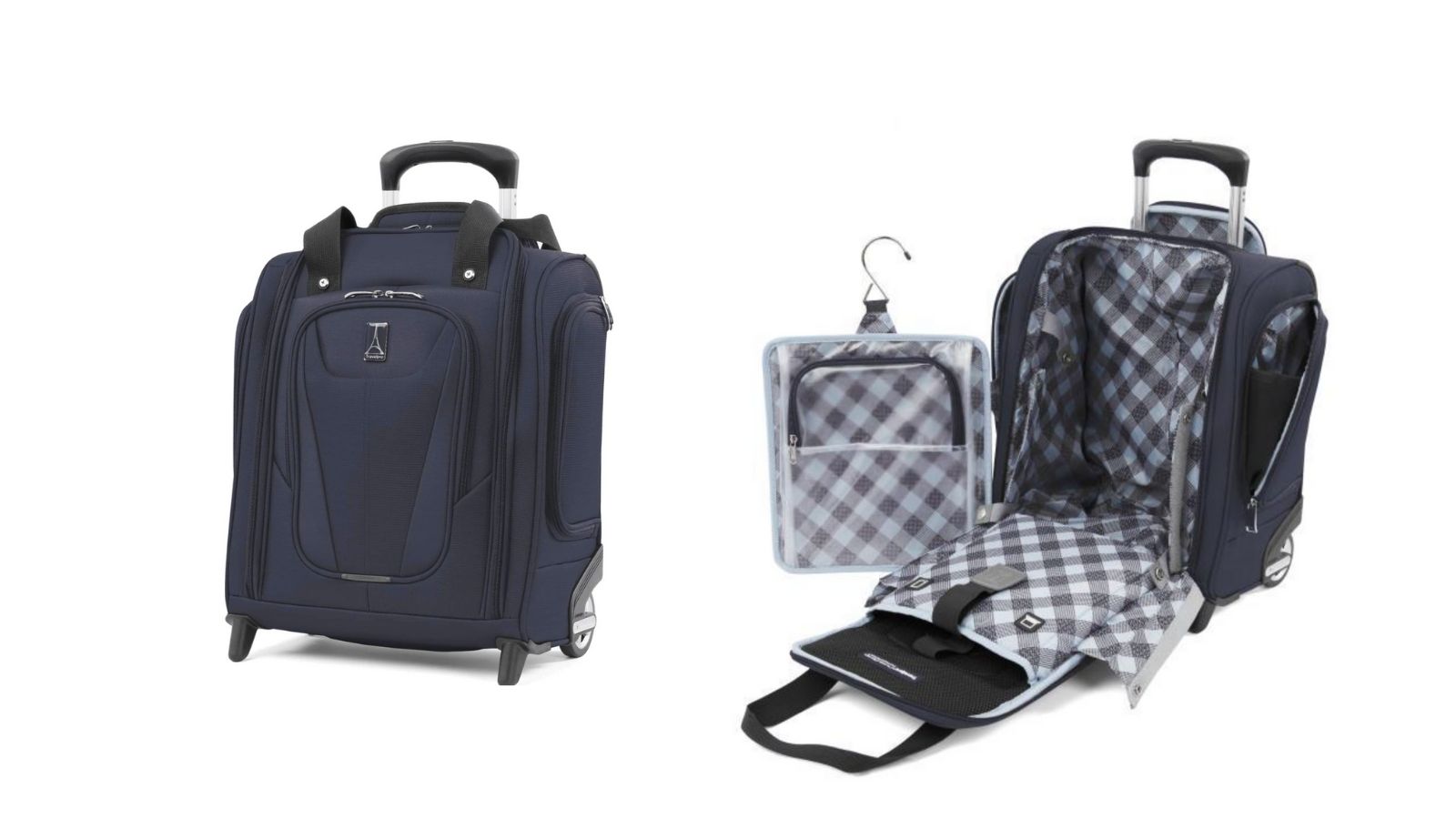 Where to Buy: Travelpro and Amazon
The small but mighty Travelpro Maxlite 5 underseat luggage has a place for almost everything. Unzip the main opening of this rolling carry-on to find a roomy interior that features a padded sleeve for storing a laptop or tablet and a removable hanging "wet" pocket for toiletries or other items you want to keep separated. Exterior pockets offer easy access for must-haves. Don't be shocked when you realize how much it can fit.
WHAT TO PACK: 10 Essentials for Your Carry-on Bag
A lightweight but sturdy handle plus ball-bearing wheels help the bag roll easily without wobbling, while a rear strap lets you stack it on top of another rolling bag if you're traveling with more luggage. And it'll stand up to frequent trips thanks to the bag's coated polyester fabric that's water- and stain-resistant.
TPRC 15-Inch Smart Underseat Carry-On
Best budget underseat luggage carry-on
Where to Buy: Amazon
The affordable TPRC 15-inch smart underseat carry-on is made of durable polyester and features lots of zippered pockets inside and out, plus an open-side pocket for holding essentials. A telescoping trolley handle with push-button mechanism and smooth-rolling in-line skate wheels make navigating around the airport easy and comfortable.
TRAVEL FASHION: 10 Best Travel Leggings with Pockets, According to Reviewers
Keep cell phones and other devices charged and at the ready with this underseat carry-on's side USB port—just add your favorite power bank and USB cord to avoid the dreaded dead battery. This is a hard-to-beat underseat carry-on bag for its quality, price point, and ease of mobility. And its minimal but still stylish exterior makes the bag appear more expensive than it is.
Briggs & Riley Baseline 2-Wheel Cabin Bag
Best splurge underseat carry-on bag
Where to Buy: Briggs & Riley and Amazon
The interior of the Briggs & Riley Baseline 2-Wheel Cabin Bag includes a spacious main compartment with three elastic mesh pockets so you can easily access smaller items. The exterior offers a slew of features like a front section with pen loops, a padded pocket for your tablet, and side zippered pockets for holding water bottles, cell phones, and other necessities.
TRAVEL WELL: 10 Most Comfortable Travel Clothing Brands
Low-profile wheels and an aircraft-grade aluminum telescoping handle with multiple stop heights make the bag easy to maneuver through the airport and into position under the seat. Webbing handles with a magnetic leather strap help you comfortably throw it into the trunk of your rental car or Uber. And the bag's ballistic nylon exterior fabric resists moisture, dirt, and other wear and tear. You can even get it monogrammed for a personal touch.
Samsonite Spinner Underseater with USB Port
Best spinner underseat carry-on bag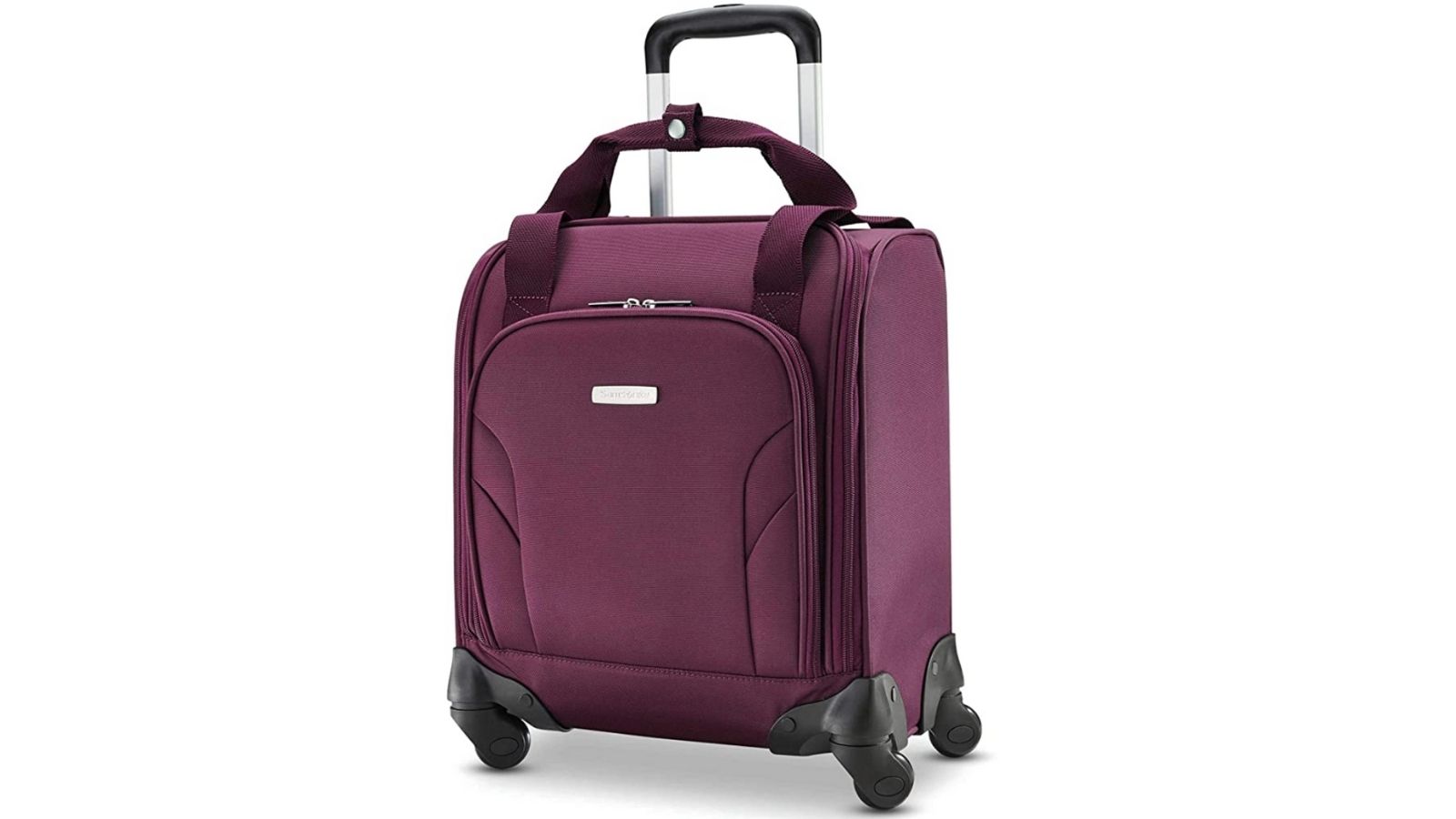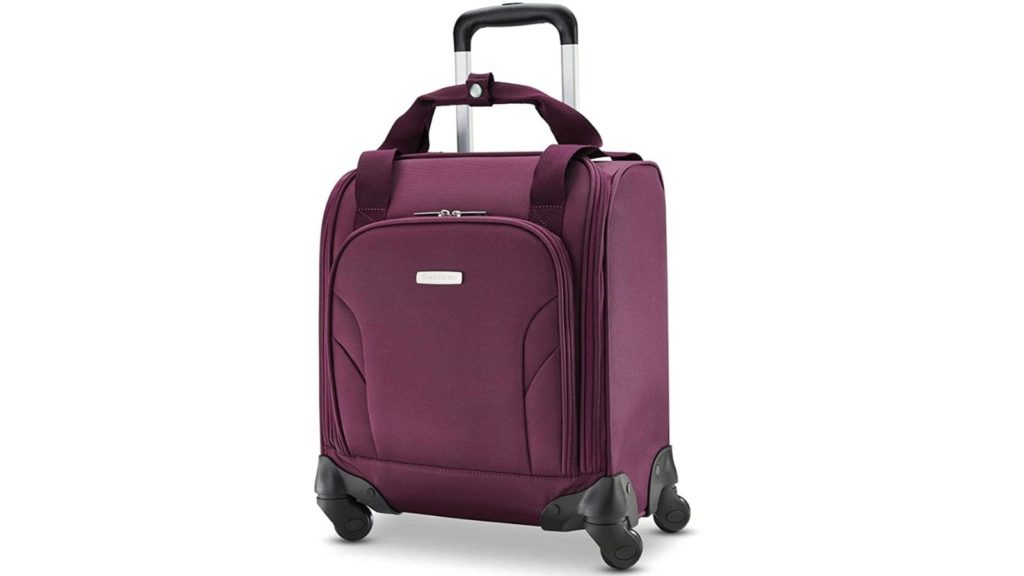 Where to Buy: Samsonite and Amazon
The well-priced Spinner Underseater from Samsonite offers features like multidirectional spinner wheels for 360-degree rolling, a push-button locking handle, and a USB port for charging devices while on the move (batteries not included). There's a padded compartment for tablets and laptops up to 13.3 inches, a zippered mesh interior pocket, and lots of exterior pockets for headphones, books, and other travel gear. A sleeve on the back allows it to be stacked onto a suitcase for trips when you need more luggage.
Delsey Paris Chatelet Air 2.0 Underseater
Best luxe-looking underseat luggage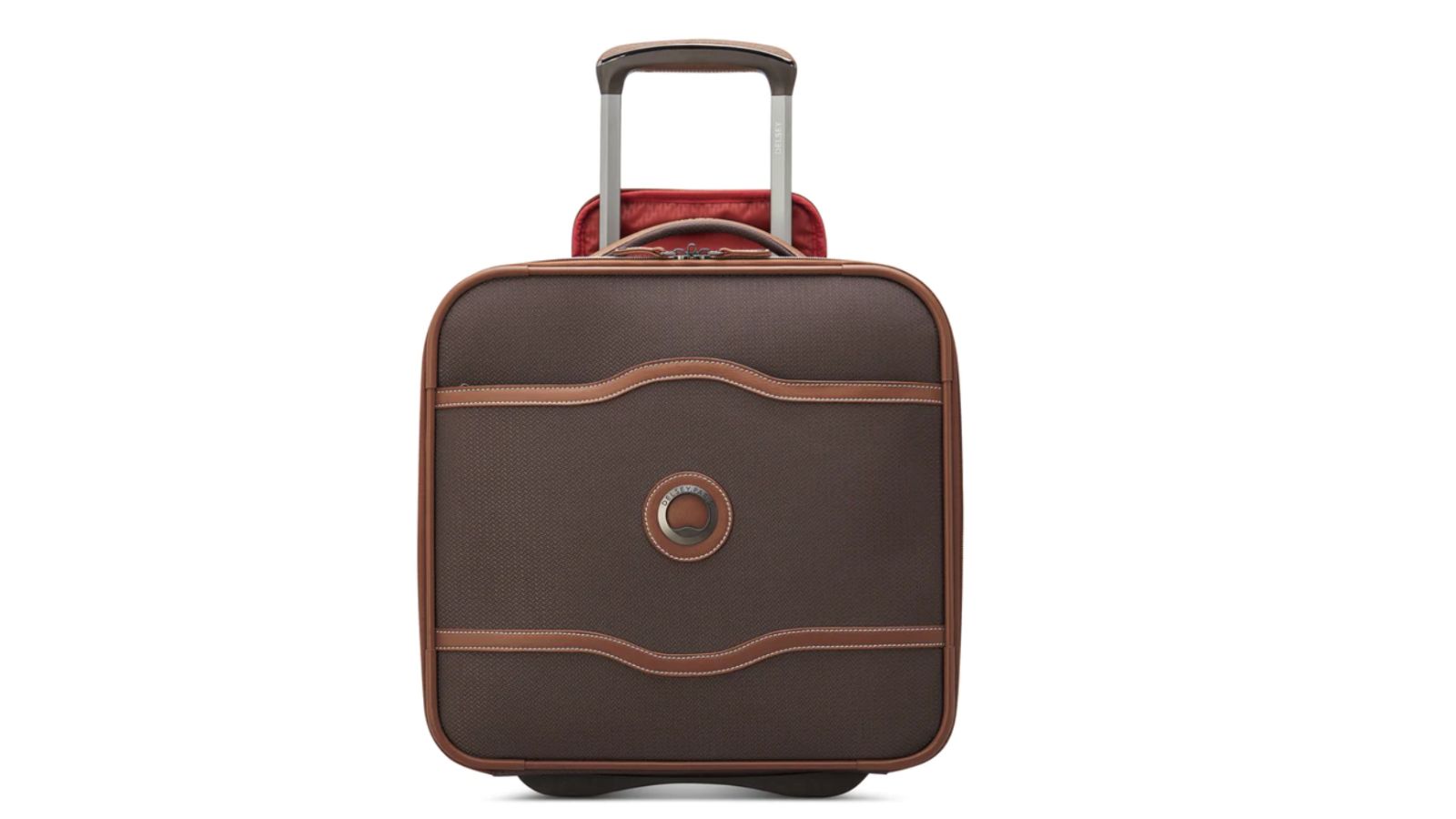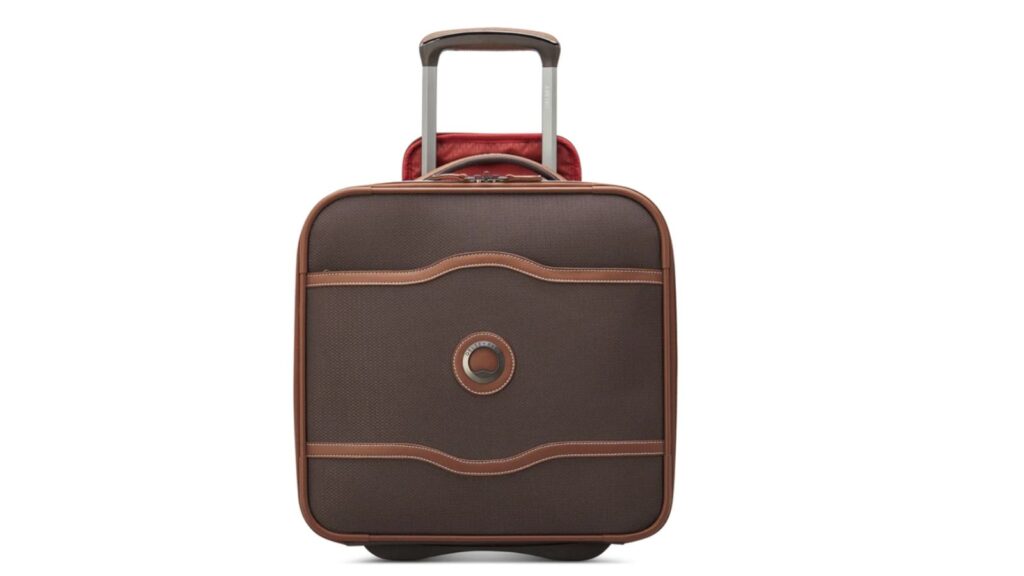 Where to Buy: Delsey Paris and Amazon
You'll look right out of the golden age of travel with the gorgeous Chatelet Air 2.0 Underseater from Delsey Paris. The rolling bag features an interior with elastic side pockets, a zippered pocket, and straps to keep everything just where you want it. A zippered exterior pocket and a combo trolley sleeve-pocket provide additional storage spots to help you easily store, say, a days worth of clothes, your toiletry bag, and medicines—all the things you should be carrying with you onboard even if you're checking luggage.
DOUBLE DUTY: The Best Multipurpose Clothing for Travel: 8 Essentials to Pack
A soft-grip handle makes the bag easy to transport through the airport, on the plane, and beyond. The durable, water-repellent exterior fabric is made from recycled water bottles and accented with vegan leather trim, while the interior lining is coated with antimicrobial technology to reduce odors and bacteria. Good looks, high function—this bag has it all.
Calpak Hue Mini Carry-on Luggage
Best colorful underseat carry-on bag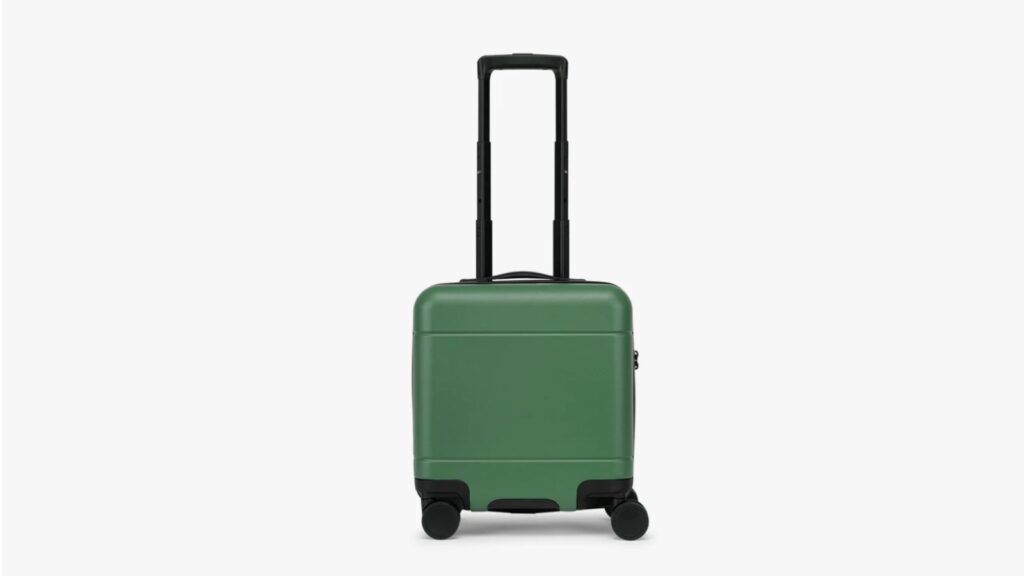 Where to Buy: Calpak
With color choices like "Poppy" and "Pink Sand," you won't lose sight of Calpak's Hue Mini Carry-on Luggage. The oh-so-cute polycarbonate hard-shell bag features lots of interior pockets plus straps for keeping everything in its place. Roller wheels make the lightweight luggage easy to maneuver, and it scores added points for its minimalistic design, quality construction, and ability to hold a lot in a small space. It's also a great size for kids who are amassing airline miles right alongside their parents.
Yotefe 18-Inch Underseat Luggage with Multidirectional Spinner Wheels
Best minimalist rolling underseat carry-on bag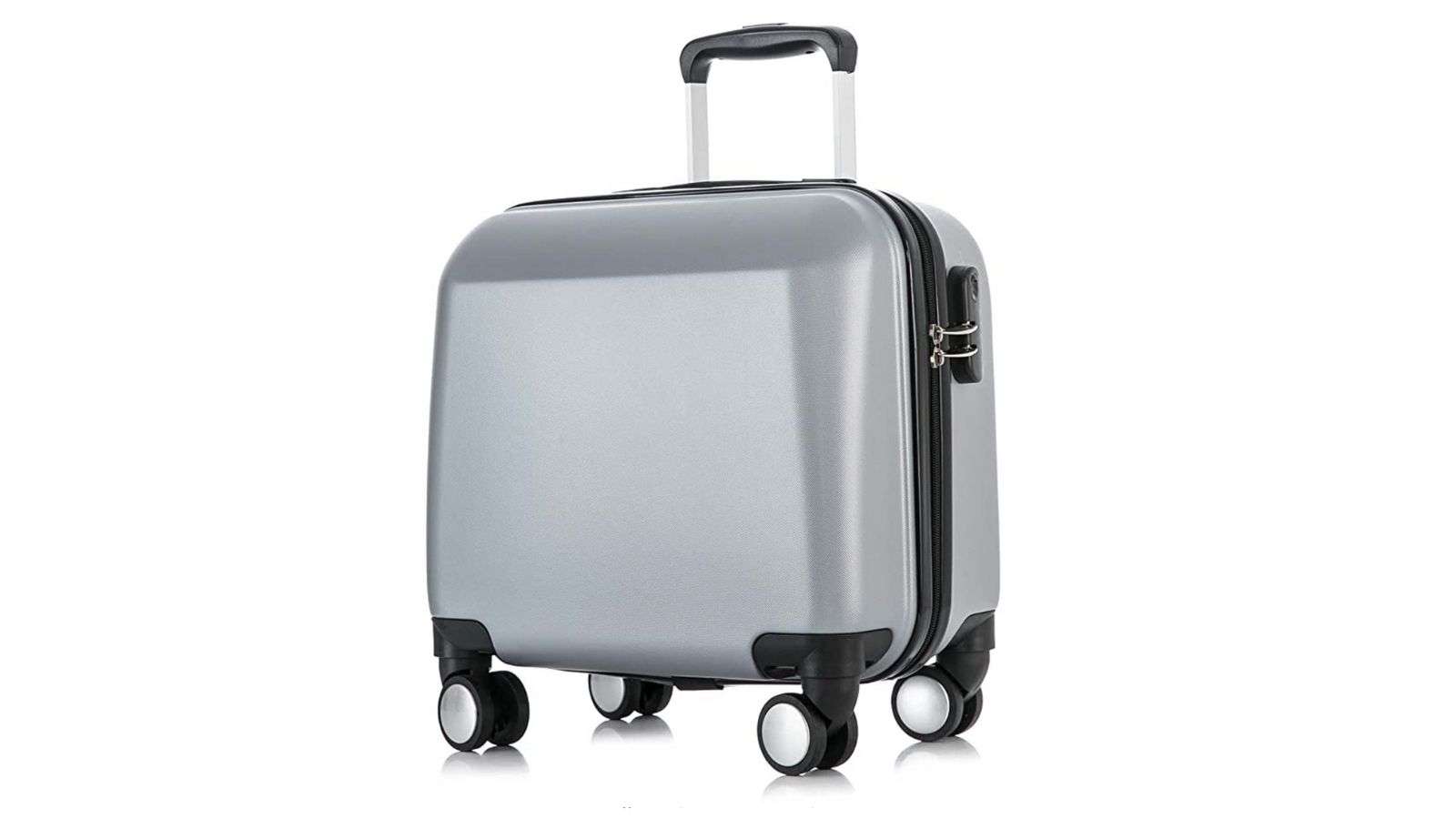 Where to Buy: Amazon
The sleek and stylish Yotefe Underseat Luggage comes in several metallic color choices. Inside is a high-capacity interior with a separate zippered mesh pocket plus cross ribbons for corralling all your gear. An adjustable telescoping handle and 360-degree double spinning wheels help make walking through the airport (and up and down plane aisles) easier.
Beyond Roller Bags: Weekender Bag Underseat Carry-Ons
If you want to skip the wheels, there are still some great underseat carry-on options that will allow you to make the most of your underseat space. Bonus: These weekender style bags are great for short trips (they're called weekenders for a reason), so you'll get plenty of use out of them. Here are two of my favorites.
Nomad Lane V4 Bento Bag
Best splurge weekender-style bag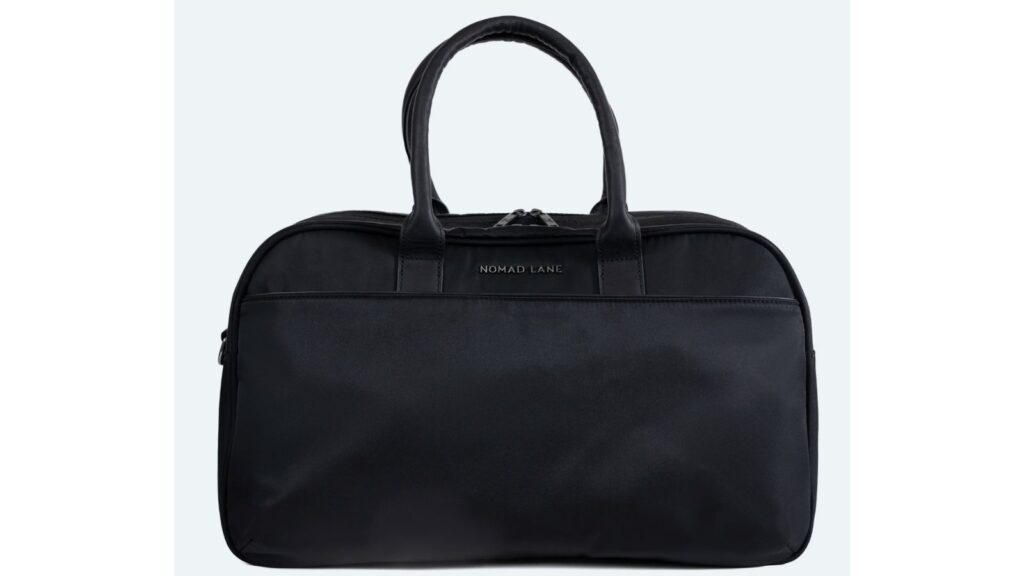 Where to Buy: Nomad Lane
Blending good looks with high function, the V4 Bento Bag by Nomad Lane opens down the middle like a suitcase to make packing a cinch. It's got a place for everything, with features like a padded sleeve (for up to 16-inch laptops), tech organizer, clear toiletry pouch, and key leash. An external water bottle pocket can be zipped away when not needed, while the trolley sleeve can be used as a pocket if desired. A detachable shoulder/crossbody strap and two quick-access top pockets up the functionality even more.
Dagne Dover Landon Carryall Bag Large
Best weekender underseat bag that can handle anything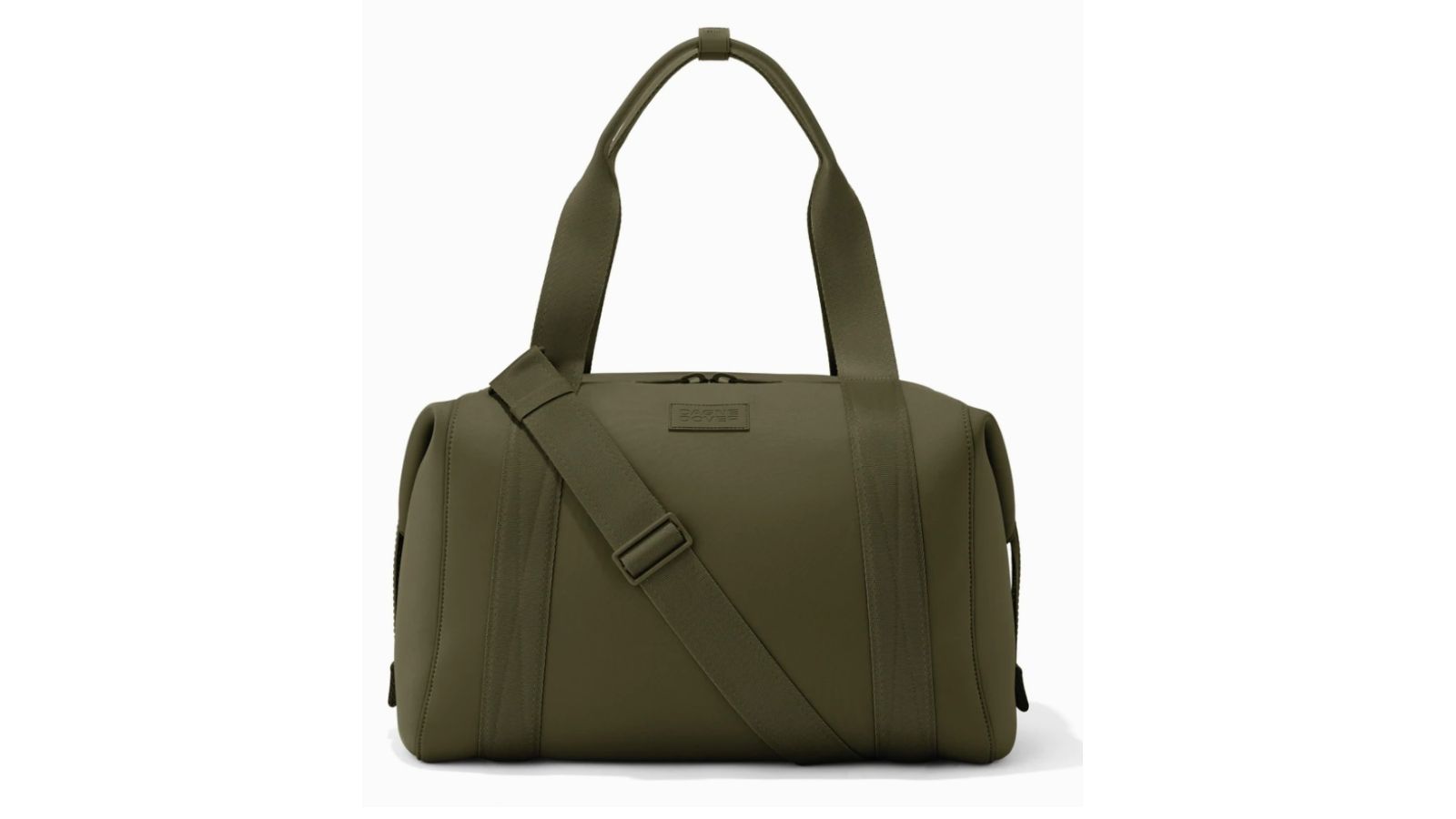 Where to Buy: Dagne Dover
The water-resistant neoprene exterior of Dagne Dover's Landon Carryall provides durability, while the interior offers function galore, with a padded laptop sleeve, stretch key leash, and shoe bag. An array of pockets inside and out serve as even more storage spots, and handles, a shoulder strap, and luggage-handle sleeve offer carrying choices.
KNOW BEFORE YOU BOOK: What's the Difference Between a Vacation Rental Agency vs. Booking Platform?
The lightweight neoprene bag comes in six go-with-anything colors, including basic black and a luxe-looking camel shade. And its durable, made-to-last exterior isn't the only thing to write home about: The bag's interior lining and its shoe bag are made from recycled polyester that gives recycled bottles a new life.
FAQ
What's the benefit of an underseat carry-on bag?
While many of the best luggage brands have carry-ons that are sized to stow in the overhead bins, underseat luggage takes advantage of that guaranteed area by your feet, meaning you won't have to fight for precious overhead space or be forced to check your carry-on at the gate on a crowded flight. The compact dimensions of the small underseat luggage style help prevent overpacking, too.
Does an underseat carry-on count as a personal item?
Yes. Really, anything that can fit under the seat in front of you counts as a personal item (rather than as a carry-on)—the idea being that the item isn't taking up space in the overhead bins. Underseat luggage is specifically designed to help you maximize every centimeter of underseat space (unlike a tote bag, purse, or backpack), so it can ultimately allow you to carry on more than you would otherwise.
What size bag can fit under an airplane seat?
How much space there is under a seat depends on the airplane and the configuration. Travelpro has a handy chart with dimensions by carrier. In general, the range is about 14 x 12 x 9 inches on the small side to 18 x 14 x 8 on the larger side. If you tend to fly a certain airline, check the dimensions of that airline before you invest in underseat luggage.
More from FamilyVacationist: