Are you one of those families? You know, those families who love to wear matching shirts on your Disney vacations? Good, because my family is, too. Not only are matching shirts great for family photos, but they also make it easier to spot wandering kiddos (and adults) in a crowd.
At many of the Walt Disney World hotels, you can often find a Mickey tie-dye shirt project on the recreation calendar. There's usually a small fee to make them, but matching Mickey tie-dye shirts make for a great memento of your family vacation.
How to Make Matching Mickey Tie-Dye Shirts
That said, you don't have to stay at WDW (or wait for the craft time) to make your own shirts. That's because the Disney Parks Blog shared the instructions for making Mickey tie-dye shirts at home.
I tested it out to see if it's really as easy as it seems. My family has had a lot of "Pinterest fails" so we went into it with high hopes, but also realistic expectations that it may not look quite like the example. Here's how we made our matching Mickey tie-dye shirts (and how they turned out).
PLAN YOUR TRIP: When Is the Best Time to Go to Disney World or Disneyland?
Step 1: Gather Supplies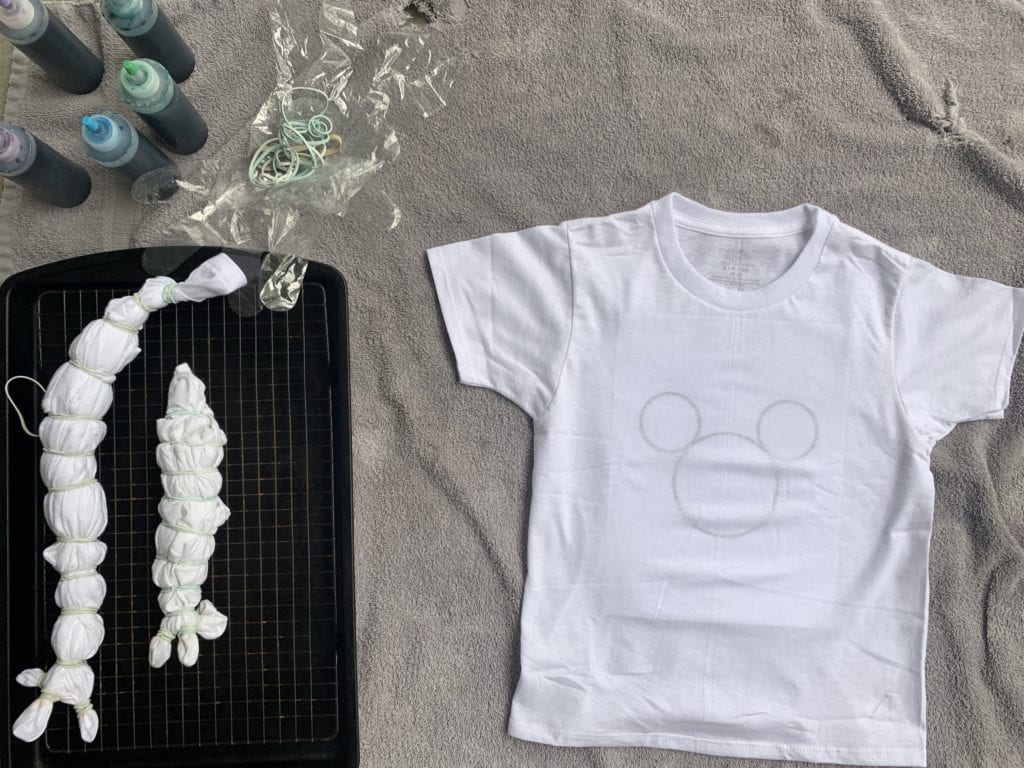 For this project, you'll need white T-shirts, a bucket of ice water, a tablecloth (or something similar to protect your work surface), plastic wrap, chalk, large Ziploc bags, and a tie-dye kit. Your tie-dye kit should include dye, gloves, and rubber bands, but if not, you'll need to get the gloves and rubber bands separately. A wire rack and large sheet pan, while optional, will also be helpful for containing your mess.
DISNEY GUIDE: Everything You Need to Know about Disney Genie and Genie+
You'll also need to print the Mickey outline available here. Print it out and check the sizing before you begin. If it's too small, it'll be hard to see the Mickey shape in your finished project. It should look like the example shown here.
Step 2: Prep Your Shirts
After a little trial and error (the "error" being that our first round of shirts didn't come out and we had to start over), we learned that it's very important to take your time preparing your shirts in order to make the Mickey shape come out clearly. If you're working with kids under 10, you may want to prep their shirt for them and let them do the fun part: the dyeing.
First, use a piece of chalk to trace the Mickey shape onto your shirts. Instead of tracing the ears and Mickey's head as they look in the printout, we traced the ears and then moved the printout down a bit before tracing the head. This gave us a little more space to work with to define the Mickey shape.
Next, you need to pinch the center of one ear, pull the top layer of the shirt up, and wrap the rubber band around the chalk line. Repeat this process with the other ear and the face to make your Mickey shape.
Gather up your shirt so Mickey's head and ears are at the top and then place rubber bands no more than two inches apart all the way down until you reach the end of the shirt. Once your shirt is all tied up, soak the shirt in a large bowl of water until it's soaked through. I learned from a friend who is pretty into tie dye that this is an important step that a lot of people miss, but it makes a big difference in how good the shirt ends up looking. Wring the shirt out and set it on a tablecloth or your wire rack over a sheet pan.
Step 3: Choose Your Colors
Now for the fun part! First, choose a darker color to dye Mickey Mouse's ears and head. This is the one part of the dyeing process you may want to do for your kids. Keep them involved by letting them choose the colors they want. Choose a much lighter or contrasting color to dye the rest of the area. We even left a little white space around the ears and head so the colors wouldn't bleed together.
BEST TRIP EVER: 50 Best Family Vacation Ideas for All Ages
Again, this will help define the shape. Continue dyeing the shirt in your preferred color pattern, ensuring you use enough dye to soak to the middle layers of the shirt.
When you're happy with the pattern, wrap the shirt in saran wrap and place it in a Ziploc bag to let that gorgeous color soak in. The hardest part for us was waiting the recommended 24 hours before unwrapping our shirts to see how they turned out. We managed, though.
Step 4: Rinse and Wash
When the 24 hours is up, put on a fresh pair of gloves, remove the rubber bands, and rinse the shirts out in the sink. Then, toss the shirts in the washing machine (make sure nothing else is in the machine other than your tie-dye shirts) and give them a spin in the dryer before showing off your creations.
PACKING TIPS: What to Pack for Disney World: The Ultimate Packing List
The Verdict on Our Matching Mickey Tie-Dye Shirts
Like we said, our first round of matching Mickey tie dye shirts looked OK, but the Mickey was not as defined as we would have liked. We learned a few things from our attempt, though, and adjusted our strategy the second time through.
We wish the instructions in the Disney blog post and video had been a little more clear, but we were really happy with the final results on our second try and can't wait to wear these tie-dye shirts on our next trip.
More from FamilyVacationist: