Time with friends is important, especially during the busy kid-wrangling years of parenthood. That's why the best girls trip ideas are like a little reset button that deliver good times, laughs, and totally fresh perspectives so that you can get back to your crew with renewed energy. And even if you can only escape for the day, a quick girls trip can still have a restorative effect.
Girls Trip Ideas for Friends Who Need to Recharge
Ready to get out with your gal pals and share some adventures? Here are some girls trip ideas you can customize for your own personalized girlfriend getaways.
GIRLS WEEKENDS: 10 Sweet Galentine's Day Ideas for Girlfriend Getaways
1. Go Wine Tasting with Your Girlfriends
A day of sipping wine and swapping stories is one of the most popular girls trip ideas across the country. There are more than 250 American viticultural areas (AVAs) in the U.S., and while California's Napa Valley and Sonoma wine country may be the most famous, more than two dozen other states also have wine regions. Whether you're in the West, East, Midwest, or South, you're likely not far from a wine region with tasting rooms.
BRING THE WHOLE GANG: 9 Napa Valley Hotels That Welcome Kids and Families
Another bonus of building your girls weekend around wine tasting: Wine regions tend to have good restaurants and other girls trip activity ideas like spas and hiking, so you can round out your tasting tour. The Lake Michigan Shore Wine Trail is a favorite of mine in the Midwest. This collection of 21 wineries is located in scenic little towns near beaches and sand dunes, and is a girls weekend destination you're sure to find a restful and rejuvenating.
2. Go for a Trail Ride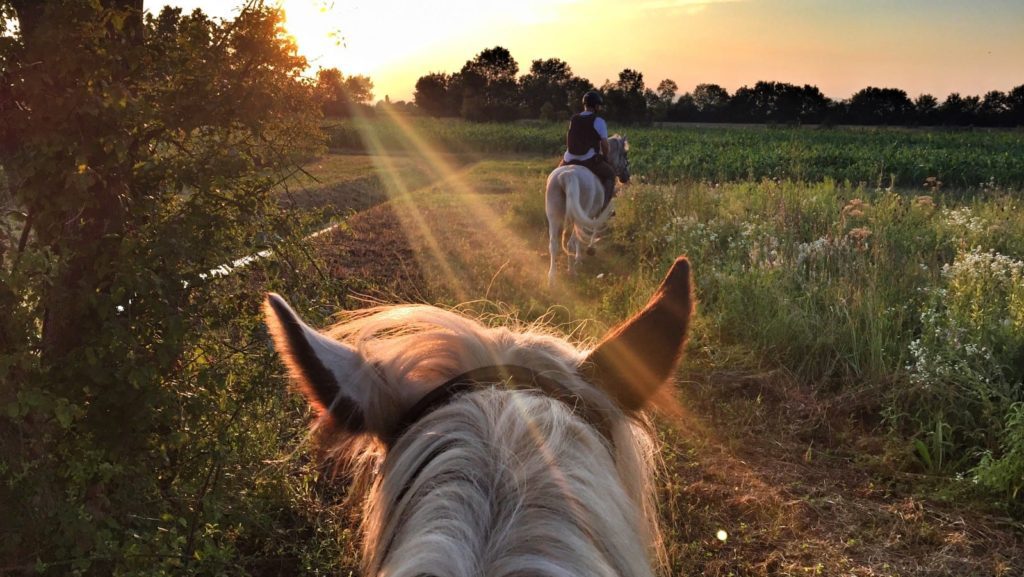 There's something soothing about connecting with animals in the outdoors, and girls trip ideas don't get any more fun than horseback riding with your friends at a dude ranch or stables around the U.S. offer horseback trail rides. Even the most family-friendly dude ranches in the U.S. tend to have great offerings for adults traveling together.
GO WEST: 7 Best Arizona Dude Ranches with Something for Everyone
If you can escape for a long girls weekend or more, consider rounding up some friends for a girls trip to Vista Verde Guest Ranch near Steamboat Springs, Colorado. The expansive blue skies seem almost as endless as the bounty of chef-prepared meals, the myriad of outdoor activities (yoga, rock climbing, paddle boarding, and more), and the herds of beautiful horses grazing outside your luxury cabin door. Spend your days cowgirling, rafting, fishing, or doing whatever your soul desires. Then toast by the campfire to days well-lived. 
3. Rent a Fancy Car
If a scenic road trip in a sports car gets your motor running, rent a convertible or classic ride and hit the open road (or race track!) with your girlfriends. There are even outfits around the U.S. that offer the chance to drive exotic and luxury cars. Las Vegas' Exotics Racing, for instance, has the largest fleet of exotic super cars in the country. Xtreme Xperience runs cars on racetracks in 35 locations around the U.S. Its motto? No speed limits and no experience necessary.
MAKE MEMORIES: 22 Romantic Babymoon Ideas for Expecting Couples
For a classy outing off the track, head to Wisconsin. The Grand Geneva Resort and Spa in Lake Geneva partners with Classic Car Rentals to offer guests the opportunity to take a 1969 Rolls Royce Silver Shadow or 1980 red Corvette out for a spin. Cruise around Geneva Lake or explore the countryside. With the wind in your hair and your best friends in the car, you'll feel wild and free—and able to catch up on everything. 
4. Go for a Hike with Your Girlfriends
Hiking is one of my absolute favorite girls weekend ideas. It's so much more fun to hike while chatting with friends rather than breaking up fights between kiddos. One of the most gorgeous hikes I've ever done was around deep blue Lake Tahoe. Among the tall evergreens, climbing toward sunny skies, and surrounded by cool mountain air, you can't help but become entranced by the calm serenity of this massive alpine lake. There are hundreds of hikes around Lake Tahoe and into neighboring Desolation Wilderness.
PLAY ALL DAY: 10 Best Things to Do Outdoors in South Lake Tahoe
After your hike around Lake Tahoe, why not see it from above by parasailing the lake with a local outfitter like Action Watersports. Parasailing—being pulled into the sky behind a boat while riding the wind on a giant kite—is not nearly as scary as you may think, and the views are spectacular.
5. Trek with Goats
Many have tried goat yoga, but have you considered goat trekking? Frolicking with goats is a guaranteed good time. With roots in the Alps, goat trekking has become a popular way for backcountry hikers to haul their loads. But for a more relaxed approach to goat trekking, try a playful stroll through forests and meadows with baby goats from Hoof It in Galena, Illinois.
LODGE LIFE: 12 Most Iconic National Park Lodges in the U.S.
On a recent girls trip, my good friend and I wandered prairie trails with goats that would nibble and munch leaves along the way, then scamper along to catch up. Round out the day with a post-goat-trek bonfire and wine tasting.
6. Explore Food Trails and Festivals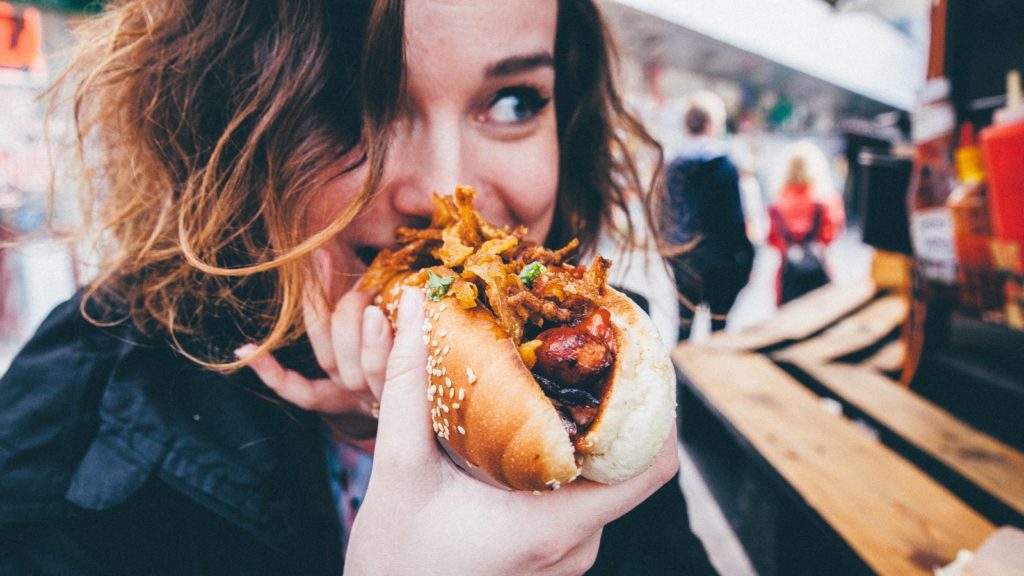 Even better than going out to dinner with girlfriends is taking your time on a food trail, trying all sorts of different dishes along the way, and turning a meal into a whole girls trip idea. In Buffalo, New York, sample your way along the Buffalo Wing Trail. In Kentucky, hit the Kentucky Bourbon Trail. Love cheese? You'll find plenty to enjoy on a tour of Wisconsin Cheese or while exploring the Sonoma Farm Trails in California.
FOOD HEAVEN: 12 Foodie Hotels That Will Delight Your Taste Buds
Want to ditch the car and celebrate food in one single spot? If you're on a Midwest vacation with friends, try Chicago Gourmet, one of my absolute favorite food festivals. Other fun food and drink celebrations that make a great place for a girls getaway include Queens Taste in New York City, Colorado's annual Great American Beer Festival, Walt Disney World's Taste of Epcot International Food and Wine Festival, Oakland's Eat Real Festival, and Atlanta's Chomp and Stomp Chili Cook-Off and Bluegrass Festival.
7. Bliss Out at a Spa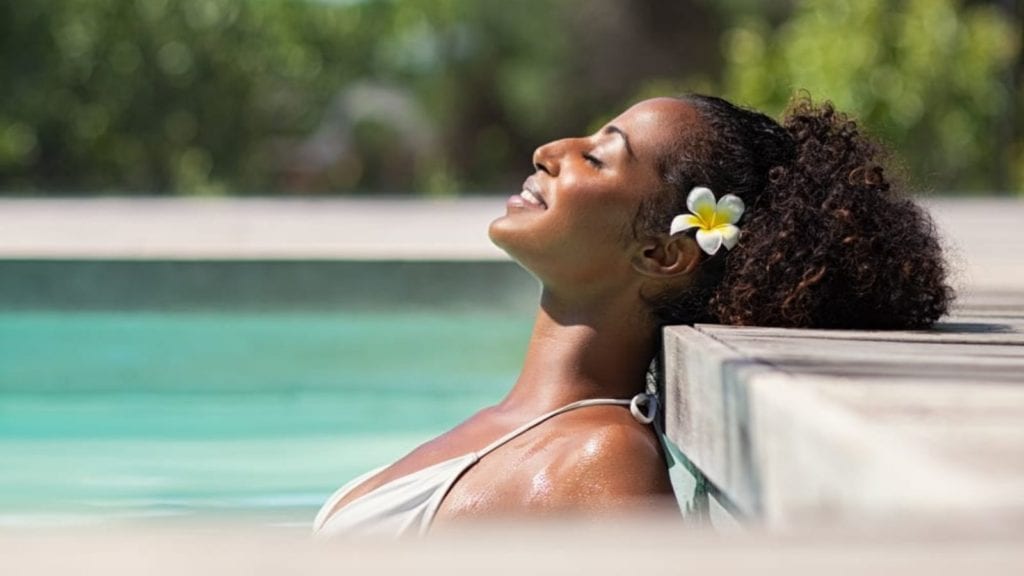 To me, there are no better girlfriend getaways than a day of pampering that includes a deep tissue massage. Plus, what's a better girls trip idea than blissing out together at a day spa?
FLIGHT DEALS: 17 Best Flight Booking Sites for Cheap Airfares
You and your girlfriends can find amazing day spas and resort spas around the country, but if you're looking for a spa worth traveling for, I love Aji Spa at Sheraton Grand at Wild Horse Pass. In the heart of the Arizona desert, this revitalizing luxury retreat features services that draw on Native American healing practices and local ingredients. Plus, you can see wild horses roaming in the distant landscape as you lounge poolside. If you can escape for a whole girls weekend or weeklong getaway, bravo to you.
8. Go for a Walk on the Beach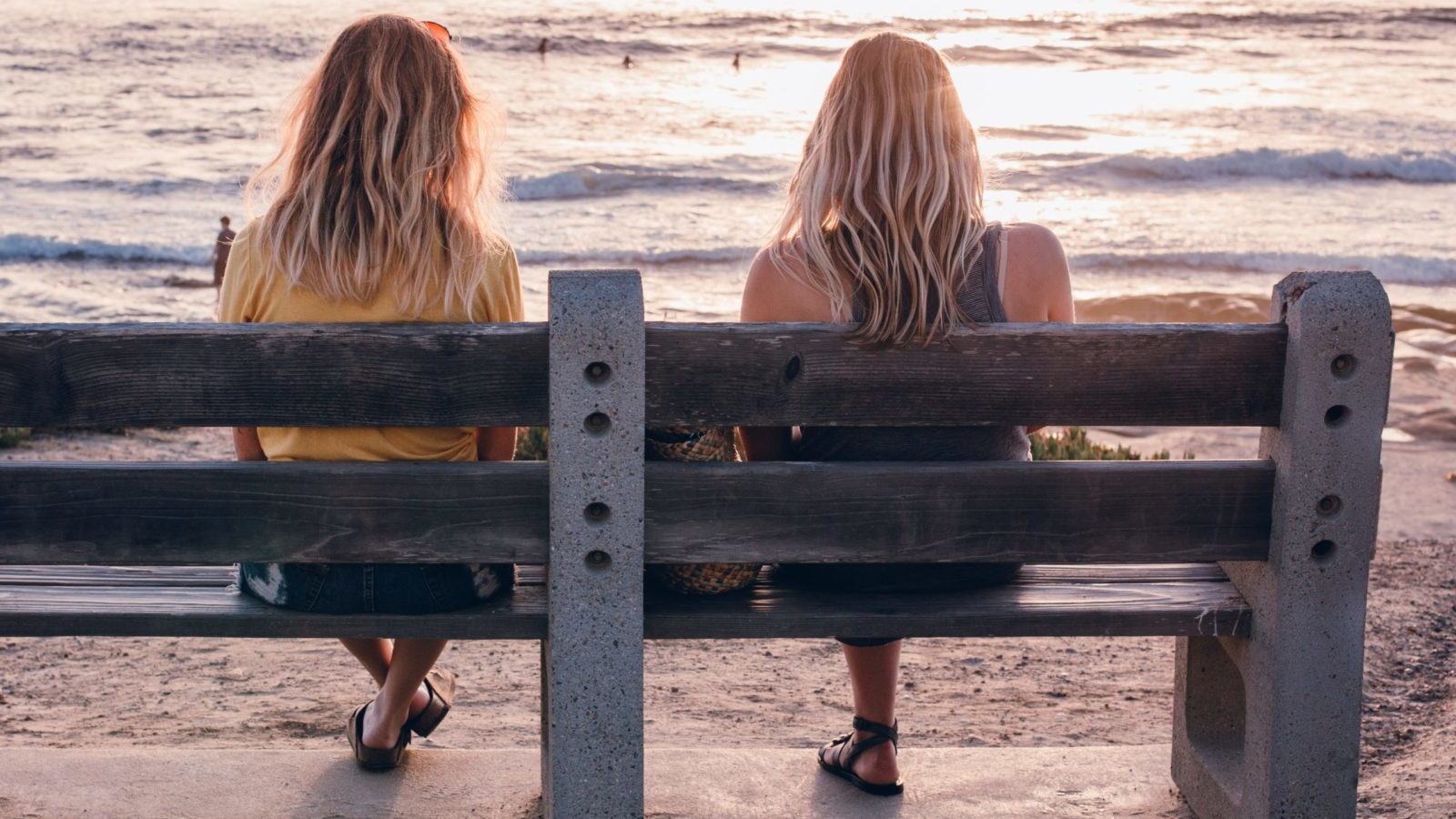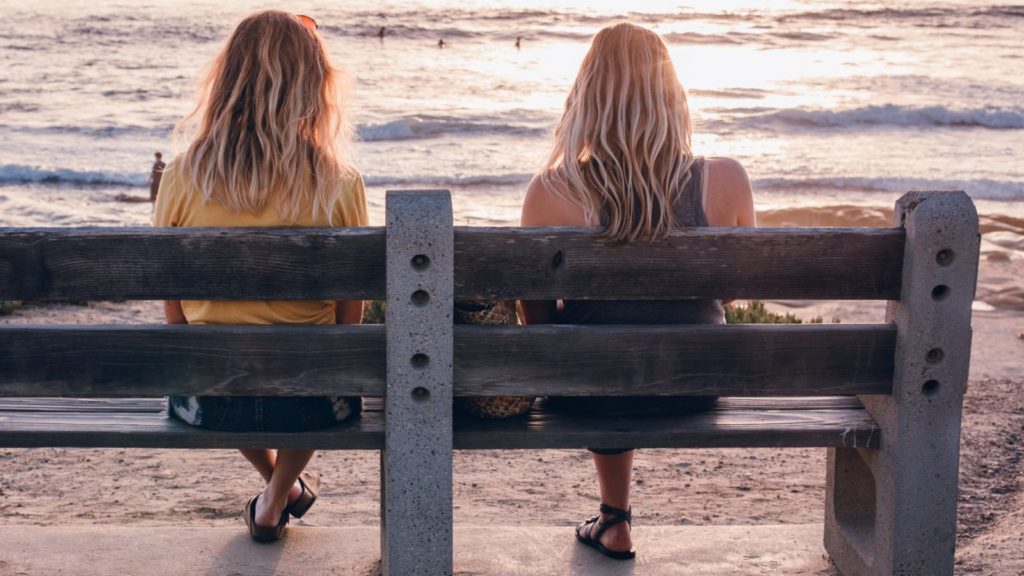 No matter the weather, there's something refreshing about a walk on the beach. And while family beach vacations are always fun, my friends and I can walk and talk for hours on a girls getaway without the kids tagging along.
LEAVE THE KIDS AT HOME: 10 Best Adults-Only All-Inclusive Caribbean Resorts for Couples
Beautiful beaches (and U.S. beach resorts) abound across the country. I love the squeaky sand in Gulf Shores, Alabama; the seaside cliffs of Monterey and Big Sur, California; the impressive beaches of North Carolina; the coastal beaches of New England, and of course the colorful beaches of Hawaii. If you have the time and resources for something more tropical, nothing beats the beautiful beaches of the Caribbean for a girls getaway, too (just be careful of traveling to a beach destination during hurricane season).
9. Kayak, Paddleboard, or Bike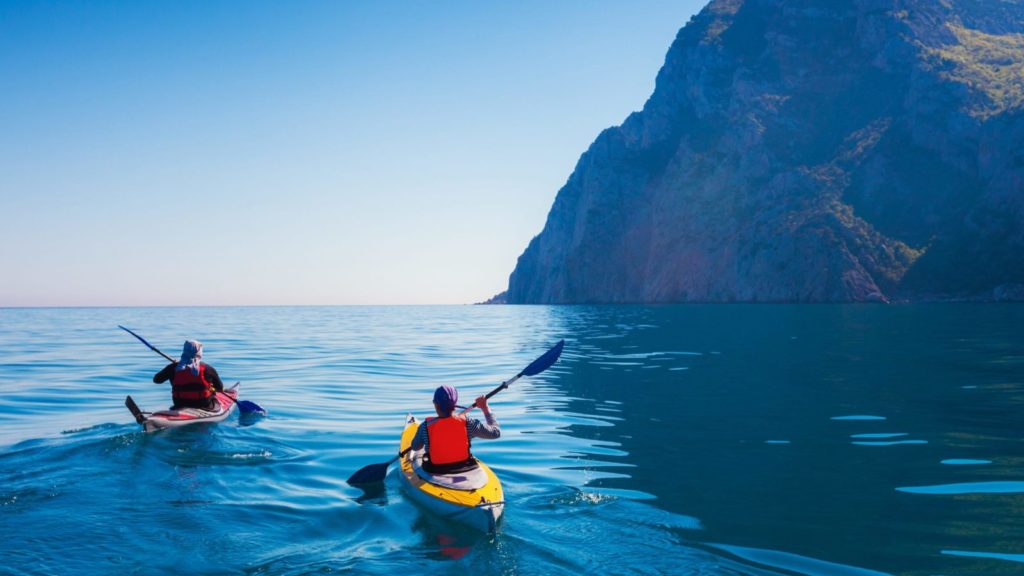 Sometimes a different mode of transportation is all you need to reset your mind. That's why renting a kayak, paddle board, or bike is a fantastic girls trip idea. One of my favorite bike rides with a gal pal was in Anchorage, Alaska. We pedaled 11 miles on the Tony Knowles Coastal Trail.
LEAVE THE KIDS AT HOME: 11 Best Adults-Only All-Inclusive Caribbean Resorts for Couples
Not only were we surrounded by snow-capped mountains and serene waters, we also encountered a mother moose with her young, fuzzy-antlered babies munching leaves along the trail. Grab your favorite girlfriends and paddle or pedal your way to a new view of the world.
More from FamilyVacationist: