There's something uniquely special about New England's best family beaches. Boogie boarders catch waves, beachcombers search for shells, and kids build castles in the sand, while nearby candy shops sell saltwater taffy by the boardwalk and fishermen show off their fresh catches. It may sound like a Norman Rockwell painting, but at the best family beaches in New England these scenes are everyday occurrences.
The Best New England Beaches to Visit with Kids
If you're craving a classic New England seaside getaway, you can't go wrong with any of these family vacation ideas in Massachusetts, Maine, Connecticut, Rhode Island, New Hampshire, and Vermont. And all you need for one of these family beach vacations are some beach essentials such as a beach tent, beach bag, sunscreen, beach towels, and maybe a cooler backpack for lugging around those refreshing beach day snacks.
SUMMER FUN: 12 Best Beach Resorts in the U.S. for Families
1. Mohegan Bluffs
Block Island, Rhode Island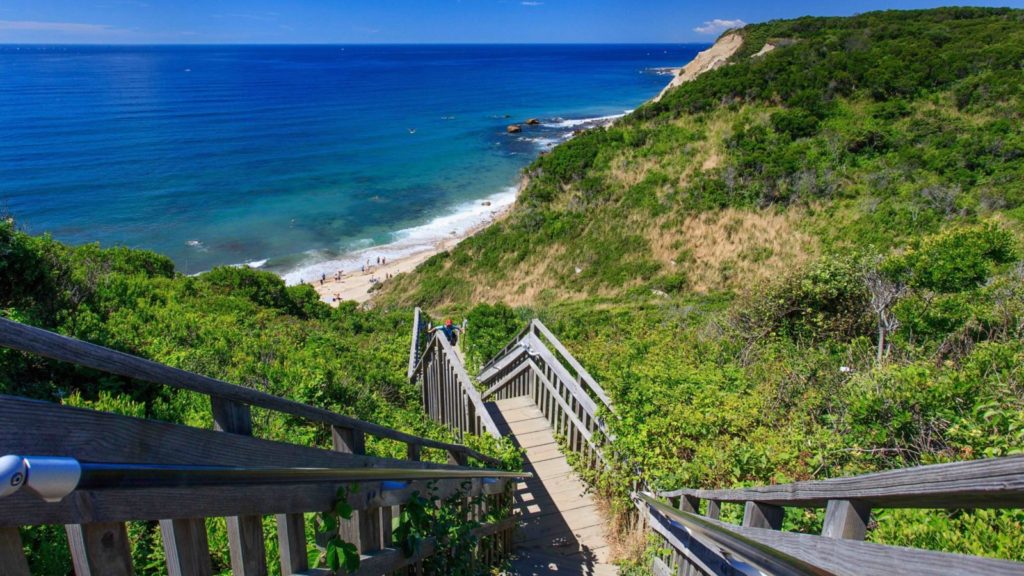 Walk 141 steps down a wooden staircase and you'll arrive at the windswept haven of Mohegan Bluffs at the base of a towering cliff on Block Island. With views all the way to Montauk on Long Island's tip on a clear day, the payoff for your descent is serenity and a spectacular seaside landscape. Families vacationing with toddlers take note: Access to Mohegan Bluffs is not stroller-friendly.
Where to Stay Near Mohegan Bluffs in Rhode Island
Part of this New England beach's beauty is its seclusion. Because there are no adjacent hotels, consider staying a few miles away at Champlin's Marina and Resort, where a waterfront pool and active marina sing with maritime charm.
2. Children's Beach
Nantucket, Massachusetts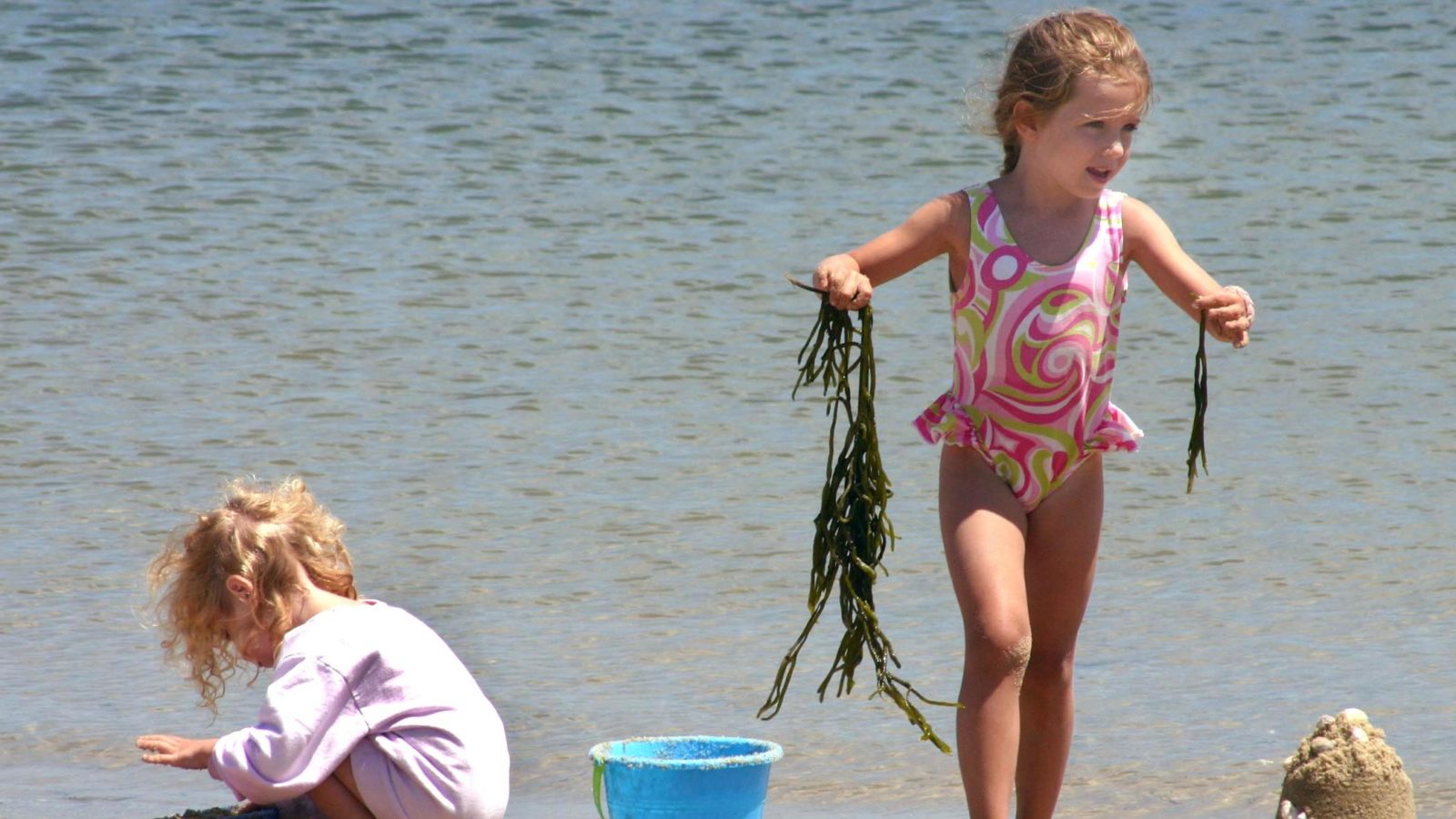 Some of the best family beaches in New England can be found on the former whaling island of Nantucket off the coast of Cape Cod. On the island's North Shore, Children's Beach is close to town and situated within the calm of Nantucket Harbor. A playground will keep little ones occupied when they need a break from the sun and sand, while the picnic grove is a fine spot to enjoy a seaside snack.
Where to Stay Near Children's Beach in Massachusetts
Nantucket's White Elephant Hotel is a stone's throw from Children's Beach. Luxurious rooms, a heated outdoor pool, an old-fashioned ice cream cart, and loaner sand toys are some of the hotel's perks for families.
3. Joseph Sylvia State Beach
Martha's Vineyard, Massachusetts
The island of Martha's Vineyard bewitches visitors with its classic New England flavor (think historic lighthouses, picturesque homes, and old-fashioned beach town vibes). Beaches around the island are uniformly stunning, so there's no wrong move.
WATER WORLDS: 13 Thrilling Water Parks Where You Can Beat the Summer Heat
But Joseph Sylvia State Beach is known for sand that gradually slopes towards the water and a variety of seashells (bring water shoes to protect tender little feet from any sharp bits of shells). Once you're on the island, it's easy to get to this family beach via car, island bus, or flat bike path.
Where to Stay Near Joseph Sylvia State Beach in Massachusetts
Not far from the center of Edgartown, the island's Harbor View Hotel is also just 3.7 miles from Joseph Sylvia State Beach. Guests of all ages may enjoy old-fashioned lawn games and the hotel's loaner bikes.
4. Herring Cove Beach
Provincetown, Cape Cod, Massachusetts
Part of the Cape Cod National Seashore on the Cape's northernmost tip, Provincetown is a progressive LGBTQI-friendly community where families of every stripe can learn about many lifestyles as they become acquainted with this welcoming town. It's also home to some of the best beaches in all of New England.
WHAT TO PACK: 25 Beach Essentials for Every Sun-Soaked Vacation
One particular favorite is the bayside Herring Cove Beach, which is a gentler alternative to the bigger waves at the ocean beaches. Numerous species of protected shorebirds nest here, making it a birder's paradise. It's accessible, too, with beach wheelchairs available from the lifeguards. Scenic sunsets, a snack bar, and summer concerts sweeten the deal.
Where to Stay Near Herring Cove Beach in Massachusetts
The charming Cape Colony Inn has uncluttered rooms and a free breakfast featuring Belgian waffles. A heated pool, volleyball net, fire pit, and gas grills take family fun to the next level.
5. Hammonasset Beach State Park
Madison, Connecticut
With two miles of sandy beach facing the calm waters of the Long Island Sound, Connecticut's largest beach is a family favorite. Fishing, boating, swimming and onsite camping are all popular here at Hammonasset Beach State Park.
FURRY FRIENDS: 15 Pet-Friendly Hotels in New England Where Dogs Are Always Welcome
Don't miss Meigs Point Nature Center, a free environmental learning center where exhibits, touch tanks, and an observation deck are complemented by hands-on experiences led by the enthusiastic staff.
Where to Stay Near Hammonasset Beach in Connecticut
Located on a cove-like beach, Madison Beach Hotel is a seaside retreat with authentic New England flavor.
6. Popham Beach State Park
Phippsburg, Maine
Midcoast Maine's Popham Beach State Park has one of those classic New England beaches with sublime scenery and rolling Atlantic surf. At low tide, you can walk out to uninhabited Fox Island, paying attention to the swift rising tides as to not get marooned. After your adventure, rinse off in the freshwater solar showers and have a cookout at one of the park's charcoal grills.
Where to Stay Near Popham Beach in Maine
A 15-minute drive from the beach, Hampton Inn Bath has an indoor pool and complimentary breakfast. It's located in downtown Bath, a traditional village with family-friendly attractions like the Maine Maritime Museum. If you're here on a Saturday, the farmers' market is a treat.
7. Easton's Beach
Newport, Rhode Island
With its Gilded Age mansions and dramatic cliff walk, Newport has a reputation as a summer vacation playground for millionaires, but it's also a fine New England family weekend getaway destination. At Easton's Beach, there's a playground, showers, picnic tables, and seasonal surfboard and SUP rentals from Rhody Surf. For a refreshing thirst-quencher, a frozen drink from the Del's Lemonade stand is the local's choice.
Where to Stay Near Easton's Beach in Rhode Island
In Newport, The Wayfinder Hotel's large swimming pool, guest rooms decorated in cool coastal colors, and relaxed vibe is a good fit for families.
8. Sand Beach
Mount Desert Island, Maine
Nestled between the mountains and the shore, Sand Beach in Acadia National Park is a breathtaking example of the best New England beaches have to offer. The granite steps to scenic Great Head Trail, where you can enjoy fine kid-friendly hiking, are located to the left of the shoreline. There are restrooms and parking, too, and the area's Island Explorer Shuttle Bus stops here in season.
QUICK ESCAPES: Top 5 Family Weekend Getaways in New England
Water temperatures rarely exceed 55 degrees Fahrenheit even in the height of summer, so it's more suited to beachcombing and a quick splash than proper swimming.
Where to Stay Near Sand Beach in Maine
In Bar Harbor, Atlantic Oceanside Hotel is an informal oceanside resort and conference center set on 12 acres near the national park. An indoor and outdoor pool, nature cruises departing from the private dock, and a morning meal included in the room rate keep families happy.
9. Baby Beach
Block Island, Rhode Island
Tiny Block Island is a popular day trip for residents and visitors to Southern New England, and the island's Baby Beach is an easy walk from the ferry dock, making it a sensible base for day-trippers. Jutting rocks are rare and it's well sheltered, so the water is usually calm. Take a break and walk to town for a creamy cone at the cash-only Ice Cream Place.
Where to Stay Near Baby Beach in Rhode Island
Consider Block Island Beach House, just steps from Baby Beach, the ferry dock, and town, if you're making an overnight trip of it. The hotel has large rooms suitable for families at Gables, its annex.
10. Corporation Beach
Dennis, Massachusetts
You'll have your pick from dozens of beaches in the Mid-Cape town of Dennis, but families with young children should head straight for Corporation Beach. This classic New England family beach has a break wall that tempers waves and currents, and its crescent-shaped swath of sand is excellent for splashing and wading.
WINTER IS COMING: 10 New England Winter Getaways for Families Who Don't Like to Ski
Concession stands, lifeguards, restrooms, and showers enhance the experience. At low tide, explore tide pools and walk far out in ankle-deep water. Wind surfers and kite surfers ply its waters year-round.
Where to Stay Near Corporation Beach in Massachusetts
Ten miles away in Dennis Port, Pelham House Resort has a beachfront pool with live music on summer nights. Rooms are spacious and airy, and they all come with sea views, patios, and decks overlooking the Nantucket Sound.
11. Main Beach
Ogunquit, Maine
The beaches and scenic harbor in Ogunquit are as pretty as a picture. This cute coastal town is home to Marginal Way, a 1.25-mile paved footpath perched high atop dramatic cliffs, enticing people of all ages to meander through the bayberry bushes and sea roses while enjoying expansive views of the Atlantic.
AUTUMNAL BLISS: 8 New England Fall Getaways That Will Charm the Kids (and Parents, Too)
Near the center of town, Ogunquit's Main Beach is the sort of place where kids bury each other in the sand, explore tide pools, and toss a frisbee. Public restrooms, umbrella rentals, and concessions add comfort.
Where to Stay Near Main Beach in Maine
The family-owned Meadowmere Resort's indoor and outdoor swimming pools, seasonal outdoor hot tub, and game room will put a smile on your child's face.
12. Goose Rocks Beach
Kennebunkport, Maine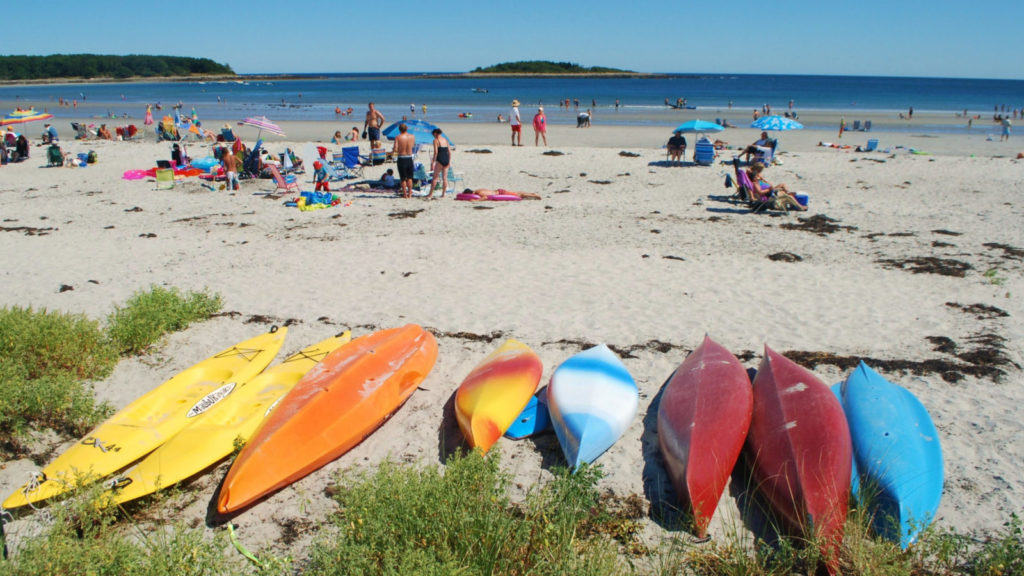 Southern Maine's Kennebunkport is an understated seaside village that has been the summer home to several U.S. Presidents. It's where you'll find the quiet and kid-friendly Goose Rocks Beach, a pristine expanse of white sand with adjacent salt marshes and estuaries that attract a variety of migratory birds. Kayaking and swimming are favored pastimes.
Where to Stay Near Goose Rocks Beach in Maine
The casually elegant Tides Beach Club is right across the road from Goose Rocks Beach. The wide front porch is an excellent spot to soak in the sounds and sights, perhaps after a bike ride on one of the hotel's complimentary cruisers.
13. Crescent Beach State Park
Cape Elizabeth, Maine
Simply put, Cape Elizabeth is coastal Maine. Tourists stop here to see the venerable Portland Head Light, eat fried clams at the Lobster Shack at Two Lights, and enjoy Crescent Beach, a mile-long, half-moon shaped state park beach that is perfect for swimming, sunbathing, and picnicking. There's a playground and cold-water showers for a true New England beach experience.
Where to Stay Near Crescent Beach in Maine
Idyllic Inn by the Sea is classic New England family hotel that's also one of the most pet-friendly resorts in the country. A short path leads through a wildlife sanctuary straight to Crescent Beach, and there's even a live-in dog fostered from a local pet shelter that's available for adoption in case you grow attached.
14. Watch Hill Beach
Watch Hill, Rhode Island
Rhode Island's Watch Hill is a discreet Old Money summer colony with a lighthouse, old-fashioned carousel, and retro penny candy shop. The town's aptly named Watch Hill Beach is a favorite sandy sweep with views of Block Island's bluffs on a clear day. Surfers and boogie boarders will enjoy the waves. Lifeguards (in season), public toilets, and outdoor showers appeal to families.
Where to Stay Near Watch Hill Beach in Rhode Island
Posh Ocean House is a New England beachfront classic. Swanky rooms, top-notch dining, and an array of family activities equals vacation perfection.
15. Harvey's Beach
Old Saybrook, Connecticut
Beloved by New England families for its soft white sand, Connecticut's Harvey's Beach is only about 100 yards in length, though it makes up for its postage stamp size with fine fishing, boating, and swimming. Families enjoy the playground and Friday night concert series. Lifeguards are on duty Memorial Day through Labor Day.
Where to Stay Near Harvey's Beach in Connecticut
Situated on the confluence of the Connecticut River and the Long Island Sound, Saybrook Point Resort and Marina is surrounded by water. Indoor and outdoor pools, onsite dining, and a soothing spa are amenities.
16. Weirs Beach
Laconia, New Hampshire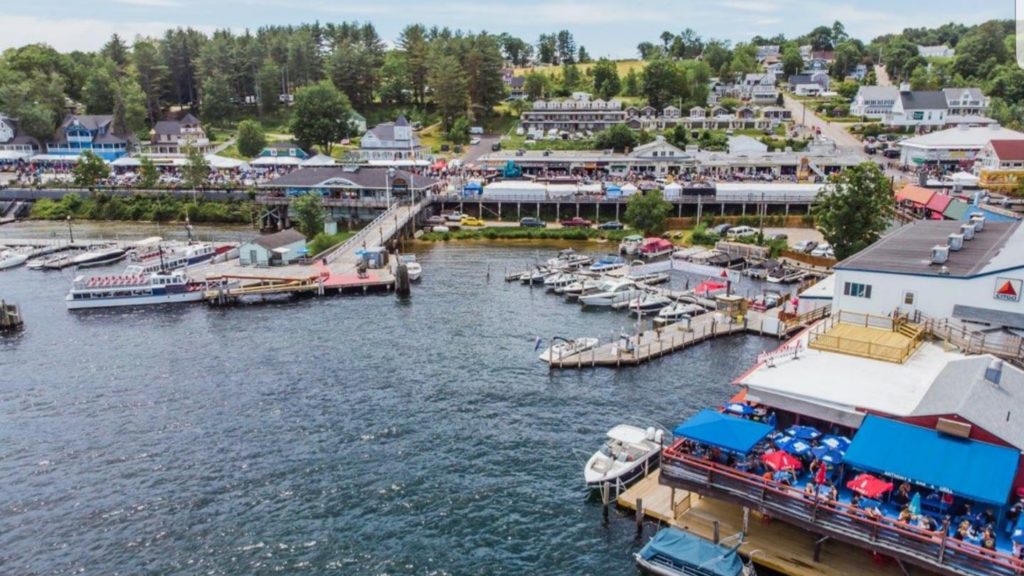 With a surface area of 72 miles, Lake Winnipesaukee is the largest lake in New Hampshire. Villages and beaches dot its shoreline, and none offer a more authentic New England beach town experience than Weirs Beach in Laconia. Numerous arcades, a boardwalk, and waterslides provide active families with lots of choices.
Where to Stay Near Weirs Beach in New Hampshire
Guest rooms at Bay Top Motel in Laconia are clean and simple, with everything you need and nothing you don't. Ping pong tables, gas grills, a hot tub and pool are welcome additions. The motel is a half mile from Weirs Beach.
17. Spectacle Island
Boston Harbor Islands National Recreation Area, Boston, Massachusetts
The Boston Harbor Islands National Recreation Area is comprised of thirty-four islands off the city's coast. One of the best for families is Spectacle Island, where the sea grass and wildflowers are just a breezy 20-minute ferry ride from urban Boston.
GO NORTH: Where to Beat the Heat: 5 Family-Friendly Summer Getaways in the Northeast
Swimming is permitted at the island's West Beach, so pack a bathing suit and towel. Additional kid-friendly recreational options include ranger-led hikes, nature watching, and picnicking. Concession carts sell ice cream and snacks in season. Ferries depart from Boston's Long Wharf North.
Where to Stay Near Spectacle Island in Massachusetts
Stay in Boston and you can spend the day building sand castles and arrive home in time for dinner, perhaps at an Italian restaurant in the North End. Boston Harbor Hotel is an upscale hotel that's an easy stroll from the ferry, welcoming young guests with kid-size bathrobes and an indoor lap pool.
18. Jenness State Beach
Rye, New Hampshire
New Hampshire's 17-mile wisp of a coastline may not be abundant, but it's absolutely picture-perfect. A prime example is Jenness State Beach and its wide parcel of white sand. Thanks to a small parking lot with room for only 67 vehicles, this New England family beach is rarely crowded, even during a summer heat wave. Get here early to enjoy a day of fun in the sun.
Where to Stay Near Jenness State Beach in New Hampshire
A lovingly renovated seasonal motor-lodge, The Inn at Rye Place's guest rooms have kitchenettes, large televisions, and keyless entry. Grab-and-go breakfast is complimentary.
19. Sand Bar State Park
Milton, Vermont
Vermont may be landlocked, but mighty Lake Champlain is a one of New England's most beloved beach spots. At Sand Bar State Park, the clean, shallow water and gentle slope are a dream for novice swimmers. A play area, boat rentals, and shady groves with picnic tables are convenient additions. A stop at the Sand Bar Wildlife Refuge is a must for animal lovers.
Where to Stay Near Sand Bar State Park in Vermont
Six miles away in the town of Colchester, The Starlight Inn is a thematic immersion for cinephiles. Kitschy guest rooms are decorated as shrines to various movie stars, and there's a drive-in theater right next door.
20. Mt. Sunapee State Park
Newbury, New Hampshire
In the shadow of towering Mount Sunapee, lakeside Mt. Sunapee State Park's clear water, spotless beach, shaded picnic tables, and playground are all a hit with families. Rent kayaks or SUPs for a reasonable fee. If you crave a bolder water-bound adventure, Goodhue Boat Company rents motor boats at Sunapee Harbor.
Where to stay near Mt. Sunapee State Park in New Hampshire
Bluebird Sunapee is a nostalgic roadside lodge with panache. Upscale in-room touches like Pendleton Blankets and custom upholstered headboards defy the modest price point. An indoor saltwater pool, game room, and retro record collection add all-weather fun. Walk a pine-scented path surrounded by birdsong and you'll arrive at the lake in three minutes.
More from FamilyVacationist: