The last time I tried to leave my dog at home with a pet sitter, it didn't go particularly well for either of them. My 12-year-old Lab mix is what our veterinarian diplomatically calls "medically complicated." He's not the kind of dog who does well being separated from his pack—and if I'm being honest, the feeling is mutual. Our spring break getaways and summer vacations are just more fun when he gets to come along.
But choosing a dog-friendly hotel in New England is harder than it seems. Some have weight limits that only allow for smaller dogs, others allow all sizes but don't offer good access to outdoor areas, and still others have contradictory policies that "welcome" dogs but don't actually seem to want them.
With so many things to consider, finding pet-friendly hotels anywhere in the U.S. can quickly get confusing, and even frustrating—especially when you're trying to choose just the right dog-friendly property for your New England getaway. So, whether you have a large dog or a pocket pup, a pampered pooch or a four-legged hiking buddy, here are the top dog-friendly hotels in New England that cater to all kinds of canines.
FAMILY FUN: 10 Best Northeast Family Resorts: Where to Stay in Maine, Vermont, More
Dog-Friendly Hotels in New England That Will Pamper Your Pup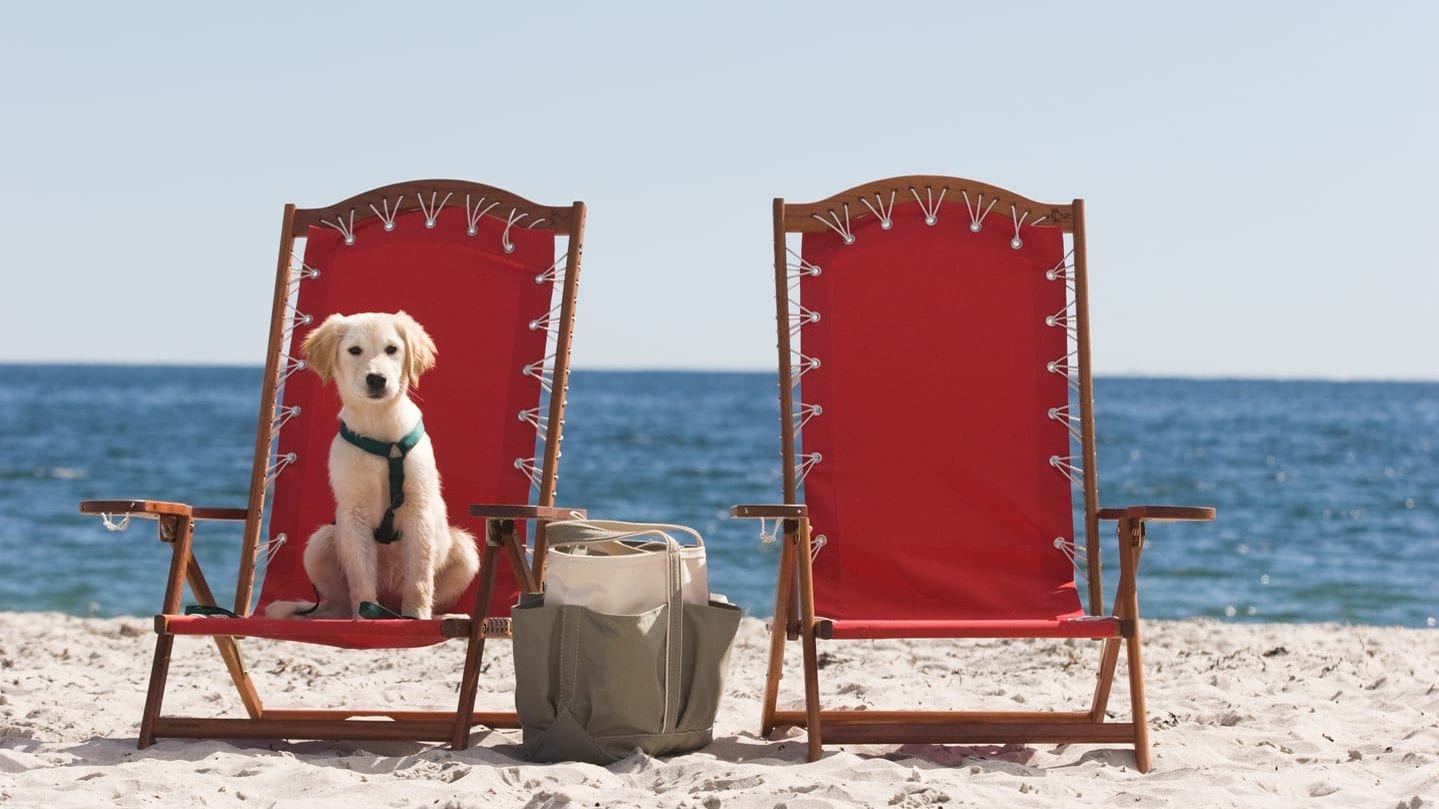 If your four-legged friend is accustomed to a certain level of creature comforts, why stay at a hotel that simply tolerates dogs when you can instead spend the night somewhere that your dog (and you) will be treated like royalty? Here are the top dog-friendly New England properties that put your dog's needs front and center.
1. Inn By the Sea
Cape Elizabeth, Maine
It would be an understatement to say pets are welcomed at the Inn By the Sea, an oceanfront inn on the Maine coast recognized as one of the best beach resorts in the U.S. for families and couples. The inn has been pet-friendly for nearly 30 years and not only invites guests with dogs but also fosters rescue dogs from the Animal Refuge League of Greater Portland, often matching them with guests who leave the inn with a new canine companion. 
WATER WORLDS: 13 Thrilling Water Parks Where You Can Beat the Summer Heat
The pet-friendly service at this luxury resort starts before you check in. Guests are advised to speak with the hotel staff before arriving to let the inn know all about your dog's unique needs so that you and your furry friend can be placed in an appropriate room (at no additional charge). Then the real pup pampering begins. Water bowls, beach towels, cozy blankets, gourmet pet menus, and turndown service with the inn's signature treats are just a few of the dog-friendly amenities that come standard.
Another pooch perk: The inn will provide you and your companion with a list of pet-friendly beaches, walking trails, and free-range parks nearby. And while the inn is always pet-friendly, you can get an extra dose of VIP treatment if you request the special INNcredible Pets package, which includes two nights in a pet-friendly single bedroom suite, an Inn by the Sea dog bowl, and a personalized L.L. Bean dog bed, among other pooch-perfect touches.
2. Hotel on North
Pittsfield, Massachusetts
Dogs are welcomed with open arms at the Hotel on North, a gorgeously cosmopolitan hotel in the heart of the Berkshire Mountains. The Victorian-era hotel's two 19th-century brick buildings have been lovingly updated with modern touches and style, and its central location puts everything in the scenic Berkshires within easy driving distance. 
DOG-FRIENDLY DRIVES: 10 Unforgettable RV Road Trips in the U.S. for Families
That central location is part of the appeal of bringing your dog for a stay here. There's plenty to do with your furry friend in the Berkshires, including dozens of pet-friendly walking trails and state parks for outdoor fun. Hotel on North even keeps a few small and large crates on hand if you want to leave your well-behaved pup for a while and head out to explore one of the many nearby art museums or restaurants.
When you're spending an afternoon in, dogs are welcome on leash with you on the hotel's second floor, and all staff members carry treats and are happy to dispense them (and maybe a few belly rubs) at the slightest prompting.
Pet-Friendly New England Hotels for Reactive Dogs That Need a Little Space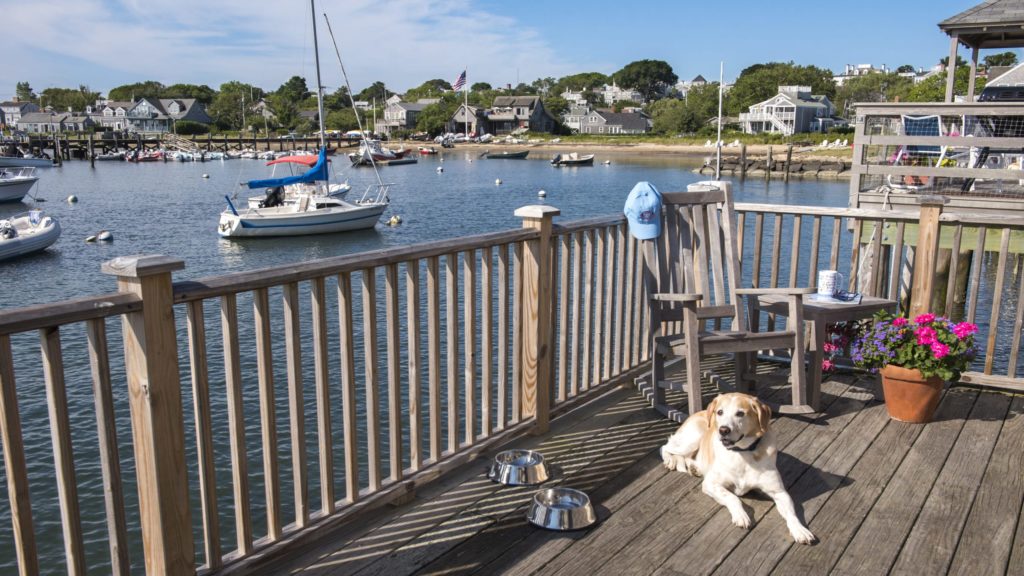 If your furry friend doesn't react well to other dogs or people, your ideal dog-friendly New England hotel is probably one where you can keep your distance from the other guests. Well-spaced cottages and cabins are perfect for pups who prefer a little personal space. Rooms with private entrances that open to the outdoors rather than a hallway are another great option.
3. The Cottages at Nantucket Boat Basin
Nantucket, Massachusetts
At the waterfront Cottages at Nantucket Boat Basin, the seaside setting at the most popular Northeast summer getaway destination of Nantucket is postcard-perfect, and each individual cottage comes with a full kitchen and luxe amenities like Turkish towels, cushy robes, and comfy slippers. Pet-friendly accommodations come in the form of special Woof Cottages, which can accommodate up to two dogs each.
AUTUMNAL BLISS: 10 Best New England Towns for Fall Family Getaways
Woof Cottages are available in one- or two-bedroom varieties and come with additional dog-pleasing amenities like nautical-themed chew toys, dog beds and bowls, and pet turndown service. There's even a dog-walking service, if needed.
4. Fireside Inn and Suites Ocean's Edge
Belfast, Maine
Dog-friendly rooms at the Fireside Inn have patio doors that open to green space. That makes it incredibly convenient to reach a grassy area when your dog needs to go. An additional per night pet fee is required.
5. Interlaken Inn
Lakeville, Connecticut
Interlaken Inn boasts eight dog-friendly hotel rooms in a secluded guest house that offers direct entry from the outside. Located in the foothills of the Berkshires, the resort also sometimes offers pet-lover packages designed with you and your pooch in mind.
Pet-Friendly New England Hotels That Welcome Small and Medium-Sized Dogs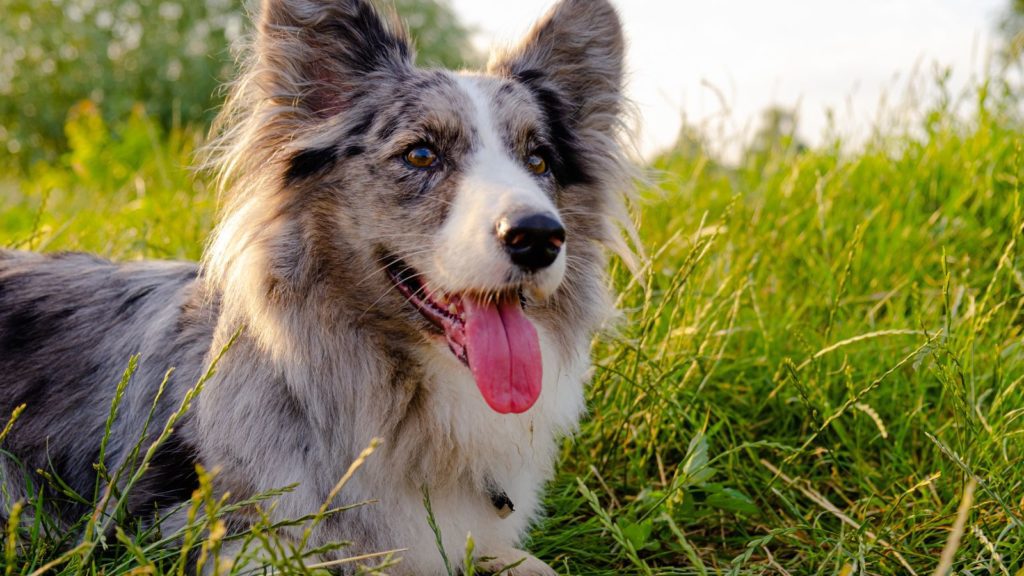 If you have a small dog, you're probably not worried about your pup being too big for the hotel. But you might worry about other dogs being too large or aggressive to be around your little love. In that case, it's worth looking for dog-friendly hotels that cater to smaller dogs (and don't allow bigger breeds to spoil the fun).
6. Lamb and Lion Inn
Barnstable, Massachusetts
Widely recognized as one of the best dog-friendly hotels in New England, Lamb and Lion Inn on Cape Cod goes the extra mile to make small and medium-sized dogs feel welcome and at ease. The inn only allows three to four pets on the premises at any time, which means your pet will get plenty of attention, and with four acres of space to wander, there's always a good place to take a walk on-site.
BEYOND THE BIG APPLE: 13 Best New York Vacations for Families
Dogs must be at least one year old and weigh no more than 40 pounds (though exceptions may be made on a case-by-case basis). And while it's generally discouraged for dogs to be left alone in the guest rooms (though again, exceptions may be made), there's no shortage of dog-friendly activities nearby. The hotel staff can recommend pet-friendly beaches, ferries, restaurants, and even whale watches in the area.
7. Seaport Hotel Boston
Boston, Massachusetts
Dogs under 25 pounds are given their choice of toys and pet beds when they check into Boston Harbor's Seaport Hotel. During the summer, there's even a Canines and Cocktails nightly event at the terrace bar. In October, enjoy the Howl-O-Ween Pet Costume Party. A one-time $100 pet cleaning fee is required.   
8. Four Columns Inn
Newfane, Vermont
The Four Columns Inn rolls out the red carpet for your furry friend. Dogs up to 50 pounds are provided treats, water bowls, and waste bags. The property includes grassy areas and hiking trails so your pup can enjoy the beautiful surroundings.  
9. Hotel Viking
Newport, Rhode Island
Hotel Viking offers several dog-friendly rooms and two outdoor dining venues that welcome pets. The hotel also maintains a partnership with a local pet sitter for occasions when you want to explore the town's unique history. Dogs up to 25 pounds are accepted, and a nightly fee is charged. 
Dog-Friendly New England Hotels That Welcome Large Breeds
When I got my rescue dog as a puppy, I thought I was probably getting a small- to medium-sized lap-lander. Call it a failure of imagination on my part, but the delusion was quickly dispelled when the veterinarian took one look at his paw size and prescribed "large breed puppy" kibbles. Now all grown up, my pup is a slim 80-pounder (who still thinks he's a lap-lander).
All this is to say: Sometimes, even the sweetest big dogs aren't welcome at dog-friendly hotels where size limits are in place. If you need a pet-friendly New England hotel that doesn't mind large breeds, here are some great options to consider.
10. 16 Bay View
Camden, Maine
Let your pooch enjoy the beauty of a quaint seaside village at 16 Bay View. The hotel is dog-friendly for larger breeds, welcoming dogs of any size with "open paws." The hotel asks guests not to leave dogs unattended in the room, but pet-sitting services are available. The Pampered Pooch Accommodations comes with a plush dog bed, gourmet dog biscuits, water and food bowls, and a list of local outdoor recreational activities.
11. Golden Eagle Resort
Stowe, Vermont
Let your dog run 'til his heart's content along the hiking trails at the Golden Eagle Resort, where dogs of all sizes are welcome. As long as your furry friend is under voice control, you can let him or her off-leash on the resort's trails, and pets are welcome on-leash throughout most of the resort.
Well-behaved dogs may be left unattended in your room if you need to step out without your pup, or for an additional fee, dog-sitting and dog-walking services are available at the resort. Up to two dogs are allowed per guest room.
12. Sebasco Harbor Resort
Sebasco Estates, Maine
The Sebasco Harbor Resort wants your dog to enjoy their stay as much as you. There are designated VIP areas of the resort where your dog can go, provided he or she is well-behaved and on a leash. Two dogs up to 70 pounds are accepted, and a pet fee applies. Several cottages are dog-friendly, as is the first floor of the Main Lodge and Harbor Village Suites. 
13. Basin Harbor
Vergennes, Vermont
What could be better than a dog-friendly swimming beach at one of the most beautiful New England lakes for summer fun? How about a beachside hotel that welcomes large breeds! That's just what you'll find at Basin Harbor in Vergennes, Vermont. Dogs can swim and frolic off-leash at Fanny's Beach on the south side of the property. Dogs of all sizes are welcome to stay in cottages for an additional per-day fee.
Pet-Friendly Hotels in New England That Accept Cats and Dogs
My dog loves my cat. My cat… tolerates my dog. My kids love them both equally, and delight at the opportunity to bring all their furry friends along for vacation. Here are a few top dog-friendly hotels in New England that make it easy to pack your entire menagerie.
14. The Whitney Hotel Boston
Boston, Massachusetts
The Whitney Hotel in Boston's famed Beacon Hill neighborhood bills itself as an "urban sanctuary" for pets. And the hotel truly goes the extra mile to make dogs and cats alike feel welcome. From the artisanal treats and specialty pet feeders to the plush beds, this dog-friendly New England hotel has thought of everything to pamper your pet. Dogs and cats up to 50 pounds are allowed. 
15. The Red Lion Inn
Stockbridge, Massachusetts
Both cats and dogs are welcomed at The Red Lion Inn in Stockbridge. The first floor of the inn is cat- and dog-friendly, so you won't have far to go when nature calls. Plus, the entire town of Stockbridge and surrounding communities welcome pets. There are loads of dog-friendly restaurants in town. Just ask the staff for a recommendation.
More from FamilyVacationist: