With school back in full swing as the leaves begin to change, October may seem like an unlikely choice for a family vacation. But those who can get away during the fall vacation season will find that some of the county's top family vacation spots know how to celebrate the changing season in style. And that doesn't just mean smaller crowds, either. In October, discounts abound for hotels, vacation rentals, flights, and car rentals.
The Best Places to Visit in October
There are some big benefits to traveling in October. Many destinations see a drop in tourism and hotel prices, while others celebrate the season with festivals. The top places to take the kids in October include thriving historical destinations, an island preserved in time, a hot air balloon festival, a city surrounded by nature, and even one of the most popular European family vacation spots.
SUMMER NEVER ENDS: 7 Best Fall Beach Vacations in the U.S. for Families
1. Boston, Massachusetts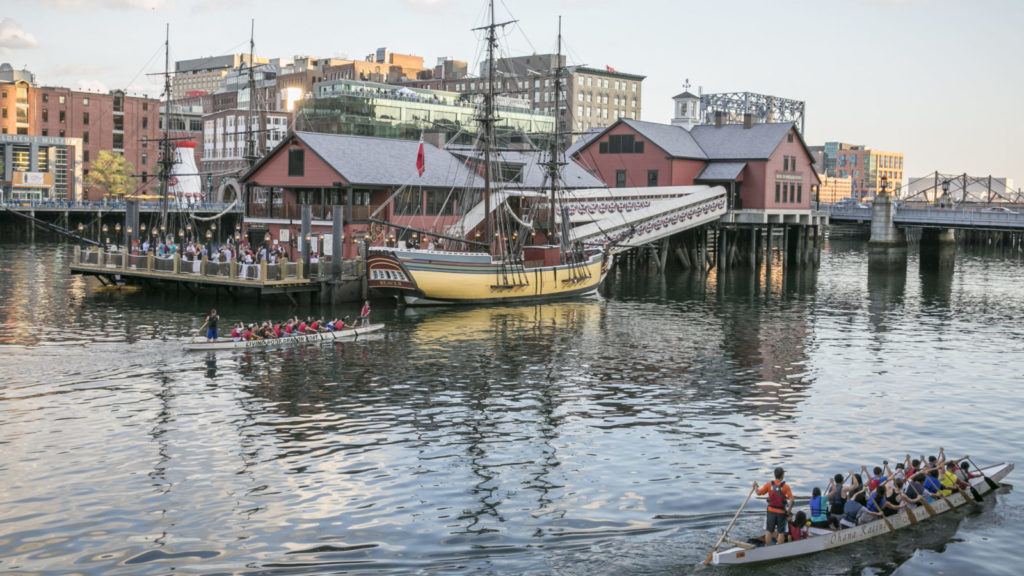 It's hard to beat fall in New England. With a fascinating history and family-friendly activities galore, Boston is a great spot to visit in October. Families will find pleasant weather (highs average 62 degrees Fahrenheit), the last burst of the fall color, and smaller lines at top attractions like the Museum of Science, with its planetarium, Omni theater, and rotating exhibits; the New England Aquarium, featuring thousands of aquatic animals; and the Boston Tea Party Ships and Museum, an interactive experience with live actors, hands-on exhibits, and a full-scale replica 18th-century sailing vessels.
OCTOBER HAUNTS: 5 Best Halloween Vacations in the U.S. for Families
If you're vacationing with toddlers, make time to visit the second-oldest children's museum in the world, the Boston Children's Museum. Families can participate in STEAM activities; explore a three-story maze; or learn about art, music, culture, or health and wellness through hands-on experiences.
For insight into the city's interesting history, follow the 2.5-mile Freedom Trail on a journey through Boston's most notable sites and neighborhoods, including Beacon Hill, Charlestown, and the North End.
Where to Stay in Boston in October
Located directly across from the Boston Common (with plenty of outdoor space to run around), Ritz-Carlton Boston is ideally situated for a family getaway. Kids are given special treatment with the Ritz Kids program, which provides a red wagon full of toys, a scavenger hunt through the hotel, and coloring book menus at all on-site restaurants.
2. Mackinac Island, Michigan
When it banned motorized vehicles in 1901, Mackinac Island preserved a piece of history that's hard to find anywhere else: the sound and tempo of life before cars. Located between Michigan's two peninsulas, the island is only accessibly by plane or ferry. Victorian architecture helps set the scene for days gone by, while local shops selling homemade fudge add to the appeal.
GREAT OUTDOORS: 13 Best National Parks for Families to Visit in the Fall
Summer is a busy time for the island, but visitors who come in October—when the crowds have departed and right before the ferries stop running and shops close for the season—will be rewarded with extra savings on lodging and shopping. The crisp fall weather can get a bit cool, with daily average highs around 53 degrees, but it's nothing a few extra layers can't handle. However, some of the attractions and restaurants may close in early October, so plan accordingly.
To get acquainted with the historic town and area, take a guided carriage ride with Mackinac Island Carriage Tours, where you will stop at the Surrey Hills Museum, Arch Rock, and Fort Mackinac, among others. Be sure to stop by the Original Murdick's Fudge shop to sample the world-famous treats that help put the island on the map.
Where to Stay on Mackinac Island in October
As a National Historic Landmark, the Grand Hotel isn't just aptly named—it also makes our list as one of the very best family resorts in the entire country. Families will appreciate the entertaining activities available for the entire family, including lawn games, Afternoon Tea, or enjoying the views of the Straits of Mackinac from the longest porch in the world.
3. Albuquerque, New Mexico
October is a great time to visit Albuquerque thanks to more moderate temperatures (high in the upper 60s) than the hot summer months. The city also celebrates it biggest event of the year in October, the Albuquerque International Balloon Fiesta, which brings people from all over the world. Hotel prices may reflect that, but it's worth the extra cost to see more than 500 hot air balloons rise in the sky at once. Kids of all ages will delight in the nine days of festivities that include light shows, morning glows (balloons lighting up but not flying), and fireworks. Be sure to book as soon as possible to get the best deal.
RIDE THE RAILS: 10 Best Fall Foliage Train Rides in the U.S.
The fiesta isn't the only reason to book a trip in October. Other family-friendly activities include learning about Native American and Spanish cultures in the Old Town; gazing upon an 11,000-square-mile panoramic view from the Sandia Peak Tramway; gaining insight into the living world at the ABQ BioPark, with its zoo, aquarium, and botanic garden; and playing with more than 250 interactive STEAM (science, technology, engineering, art, and math) exhibits at iExplora.
Where to Stay in Albuquerque in October
Hotel Albuquerque at Old Town has a prime location in, you guessed it, Old Town. Just steps from some of the city's top sites, the hotel provides a great jumping-off point for any family vacation.
4. Vancouver, British Columbia, Canada
Overlooking the ocean and surrounded by mountains, Vancouver seamlessly combines the beauty of nature with the perks of a big city (art, culture, cuisine, and attractions). It's no wonder Vancouver is such a popular spot for families, especially during summer. October, however, is the best time to save on hotels and avoid big crowds at major attractions. Even though temperatures may hover in the upper 50s with a chance of rain, locals are still outside having fun at the city's 1,000-acre Stanley Park. Pack a few extra layers and an umbrella and live like a local.
FALL COLORS: 10 Best New England Towns for Fall Family Getaways
Since there are fewer tourists in the city, major attractions are easier to navigate in October, especially with kids. Some of the top spots for families are the Space Center, boasting an out-of-this-world planetarium and cosmic courtyard gallery; the Greater Vancouver Zoo, housing more than 400 species, including red pandas, grey wolves, and Siberian tigers; Science World, which celebrates curiosity with interactive exhibits centered around discover; and Playland, featuring a variety of rides and a haunted mansion.
For a different kind of city tour, hop on an Aquabus and see Vancouver from the water. The ferry stops at another must-see family stop, Granville Island, which promises hours of entertainment thanks to an indoor public market, a Kids Market with its own adventure zone, and an array of art galleries.
Where to Stay in Vancouver in October
Centrally located in the downtown area, Fairmont Pacific Rim provides bike rentals for guests to use to get around the city with ease. Children's amenities and babysitting services are also available.
5. Paris, France
With a passion for art, cuisine, culture, and history, Paris promises a family vacation unlike any other. October is a great time for families to visit, as the City of Light experiences more temperate weather (highs in the lower 60s), fewer crowds, and a drop in hotel and airfare prices.
CHRISTMAS IS COMING: 10 European Christmas Markets Where You Can Celebrate the Season
There's no shortage of entertaining things to do with little ones in Paris. First visit some of Europe's top tourist attractions like the Eiffel Tower, Arc de Triomphe, and the Basilique du Sacre Coeur. Then take the kids to the zoo, Parc Zoologique de Paris, to view more than 3,000 species of animals; the children's museum, Cite des Enfant, to experience hands-on learning exhibits for kids two to 12 years old; and the botanical garden, Jardin des Plantes, to see 10,000 types of flora and fauna.
Creative types will find inspiration at L'Atelier des Lumieres, where art comes to life through music and video exhibitions. History lovers should hop aboard the Miraculous Cruise, a one-hour immersive show and treasure hunt on the Seine River. And if the kids (or adults) are in need of an afternoon pick-me-up, stop by Angelina for a hot chocolate or Laduree for a macaron.
Where to Stay in Paris in October
The family-owned Le Bristol Paris welcomes those traveling with kids with open arms. Children receive a gift upon arrival, as well as a special surprise in their room. Plus, the Parisian Kids Club is cleverly adjoined to the hotel's spa, just in case a parent needs a little break.
More from FamilyVacationist: