When you tell people you're going to Michigan's Mackinac Island, they often get a wistful look in their eyes. Car-free for more than a century, this charming and thickly forested island (whose name is pronounced "Mackinaw") evokes a bygone age with its Victorian homes, elegant hotels, horse-drawn carriages, and fudge. Lots and lots of fudge. With more than a dozen fudge shops, Mackinac Island is the fudge capital of the world, which might explain why it's one of the most popular family vacation spots in the U.S. for kids (or anyone with a sweet tooth).
Surrounded by the rich blue waters of Lake Huron and the Straits of Mackinac, the tiny eight-mile island is blanketed in state park greenery. After arriving by ferry, you'll spend your days strolling the adorable downtown, bicycling the lakeshore, and riding carriages past historic sites. Relaxing, listening to live music, playing lawn games, and drinking in the endless blue skies are popular pastimes on Mackinac Island.
But those are also just a handful of the things to do on Mackinac Island as a family. You can also kayak, mini golf, and attend special events like the annual Lilac Festival in June and the Fudge Festival every August.
MAKE MEMORIES: 50 Best Family Vacation Ideas for a Trip They'll Never Forget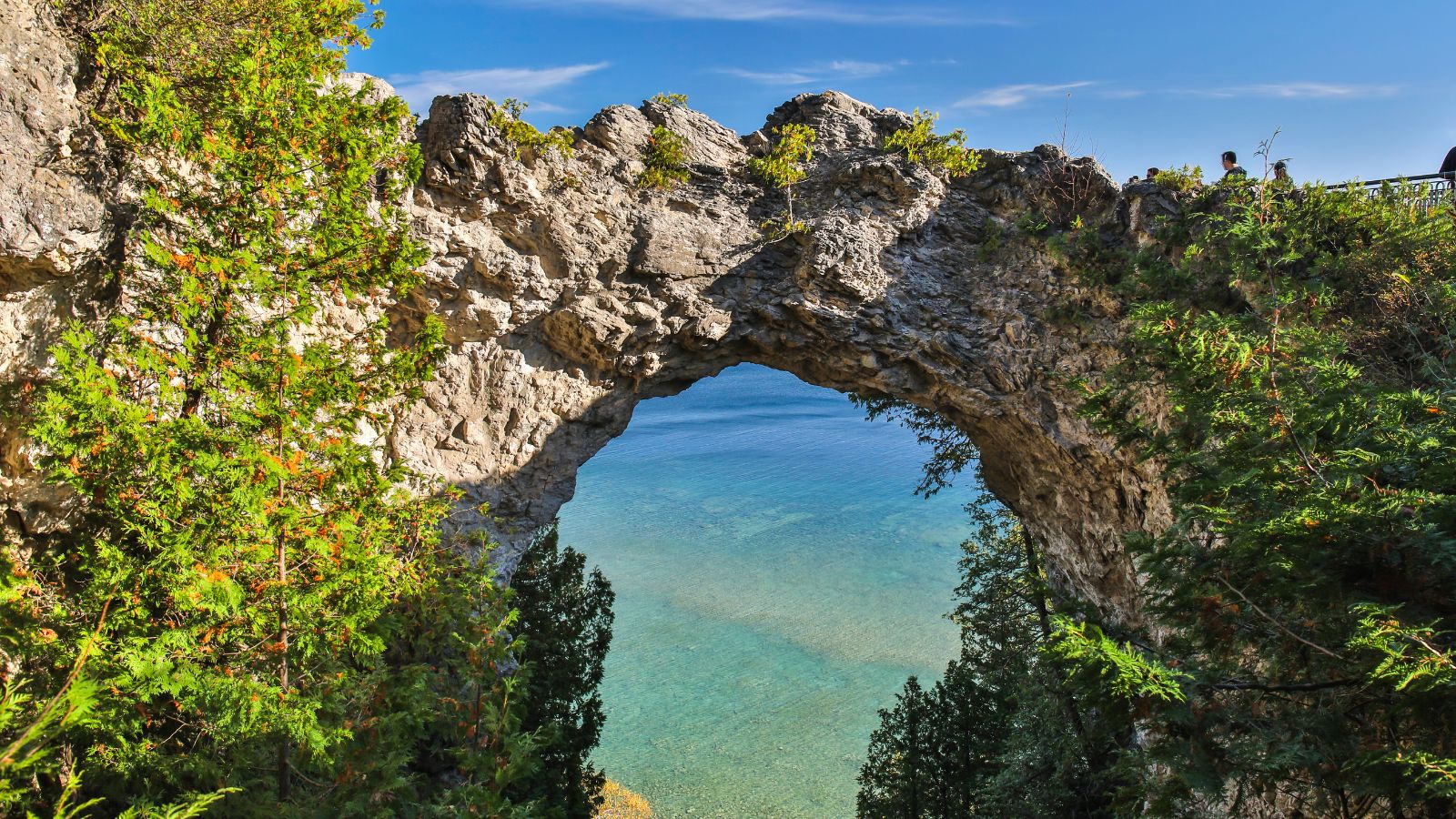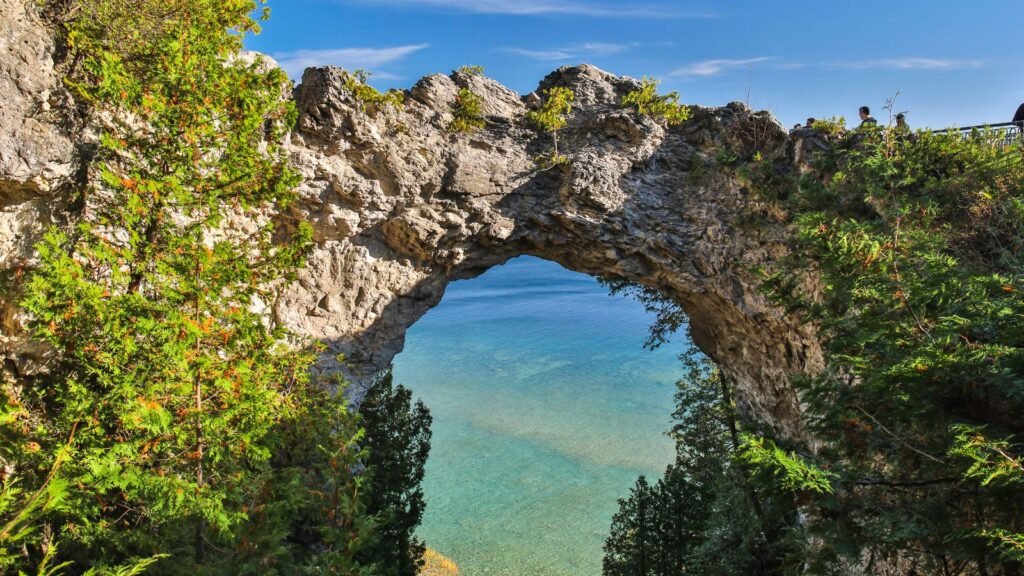 Family-Friendly Things to Do on Mackinac Island
Many families enjoy the simple pleasure of strolling the car-free streets of Mackinac Island. The island is dotted with boutiques, bookstores, restaurants, ice cream parlors, and fudge shops. The sweet lure of all that fudge and ice cream is all but impossible to resist as you listen to the clip-clop of horses through the adorable downtown.  On our family vacation to Mackinac Island, my teen son thoroughly enjoyed the freedom of riding his bike around the island and to the many fudge shops.
YEAR-ROUND FAMILY FUN: 12 Best Midwest Vacations for Families
Speaking of bikes, you can easily rent bicycles and pedal around the entire island. Mackinac Island's M-185 is the only U.S. highway where cars are banned. You'll roll past gorgeous views of the Mackinac Island Bridge and make plenty of scenic stops along the way. You can also paddleboard or kayak the cool waters surrounding Mackinac Island if you'd rather get out on the water than on two wheels. And if you'd rather let someone else do all the hard work of getting around, don't miss a horse-drawn carriage ride with Mackinac Island Carriage Tours, whose Belgian draft horses will take you on an informative ride past the Grand Hotel, historic houses, parks, and stables.
Active kids and teens will enjoy climbing to Mackinac Island's Arch Rock, a natural limestone arch over the Lake Huron shoreline where you can climb the 207 steps for a great photo opp overlooking the aquamarine waters below. Arch Rock can also be reached by horse-drawn taxi or with a tour group for those who aren't interested in the steps.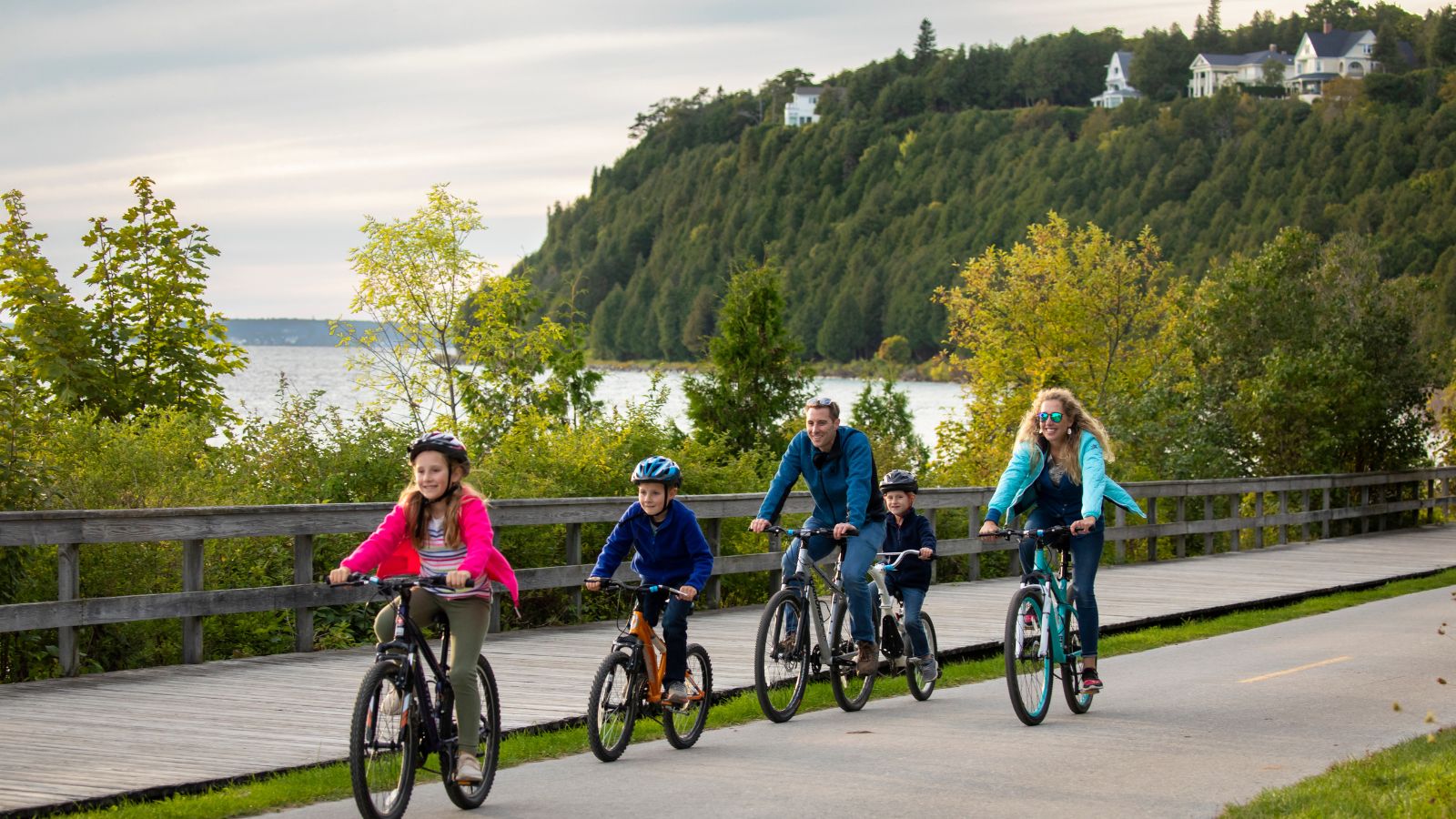 One of the more unusual things you can do on the island is fire the morning cannon at Fort Mackinac. Atop a bluff over Marquette Park, a Fort Mackinac soldier will help those over age 13 blast a wakeup call to the island. You can then tour the fort and explore the historical exhibits.
Over at Mackinac Island Butterfly House and Insect World, you can enjoy the experience of live butterflies fluttering all around you in a warm, indoor tropical garden. Kids delight in seeing the different shapes, colors, and varieties, and bug lovers of all ages will appreciate the displays of insects from around the world.
HIT THE ROAD: 11 Best Family Road Trip Ideas in the U.S.
Play a round of putt-putt at the Greens of Mackinac at Mission Point Resort. This 18-hole mini golf course features real bent grass greens and serene views of the Straits of Mackinac. Grab a drink at Bistro on the Greens and swing for a hole in one. Glow golf lights up evening play with glow-in-the-dark golf balls.
Hop aboard a Sip N' Sail sunset cruise to listen to live music as you sip a drink and sail past the Mackinac Island Bridge. The captain often allows passengers to take the wheel and steer. (While children under age four are free, this trip might be best enjoyed as adults-only.)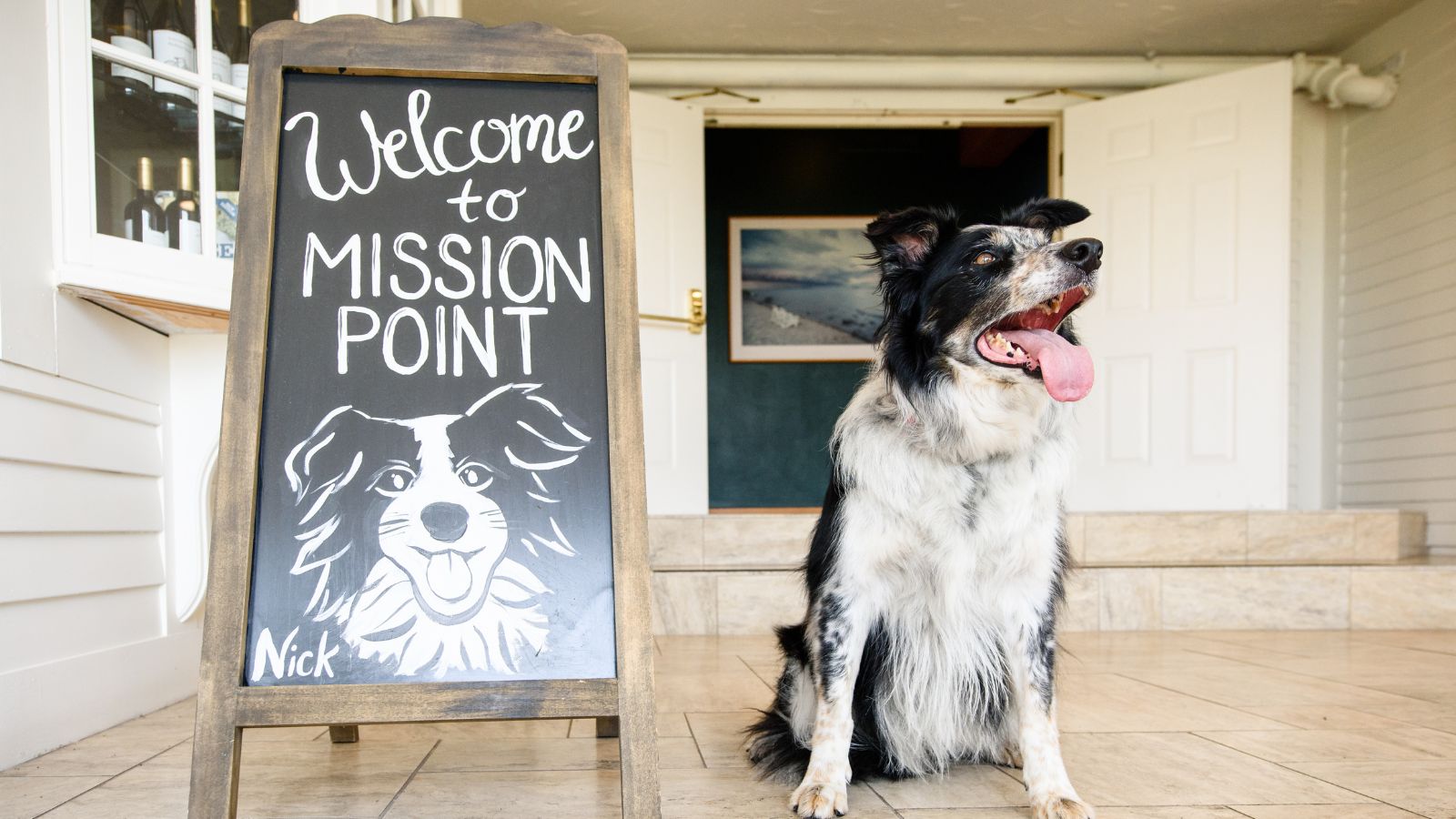 Where to Stay on Mackinac Island
There are no chain hotels on Mackinac Island. The famous Grand Hotel might be the most storied accommodations on the island. Considered one of the best family resorts in the U.S., this large and luxurious hotel can boast that no two rooms are decorated alike. Rocking chairs and fresh flowers line the world's largest front porch. Guests dress up for dinner. Golf, children's programs, swimming, tennis, and shopping entertain overnighters, and day trippers enjoy visiting for afternoon tea to get a sense of the grandeur.
WHERE TO STAY: 17 Most Kid-Friendly Family Resorts in the U.S.
The only dog-friendly resort on the is Mission Point Resort, also known for its attractive grounds dotted with white Adirondack chairs overlooking the Straits of Mackinac. It's a storybook location with many weddings held on-site. The heated outdoor pool and hot tubs make it fun to swim even on cool days, and the complimentary kids club gives parents a chance to reconnect while kids get their energy out. Farm-to-ferry dining can be savored al fresco or inside with sweeping views.
Other family-friendly accommodations include the downtown Main Street Inn and Suites with connecting rooms. Bicycle Street Inn and Suites is located by the ferry docks and offers rooms with balconies overlooking Main Street or Lake Huron. Lake View Hotel is home to downtown Mackinac's only indoor heated pool.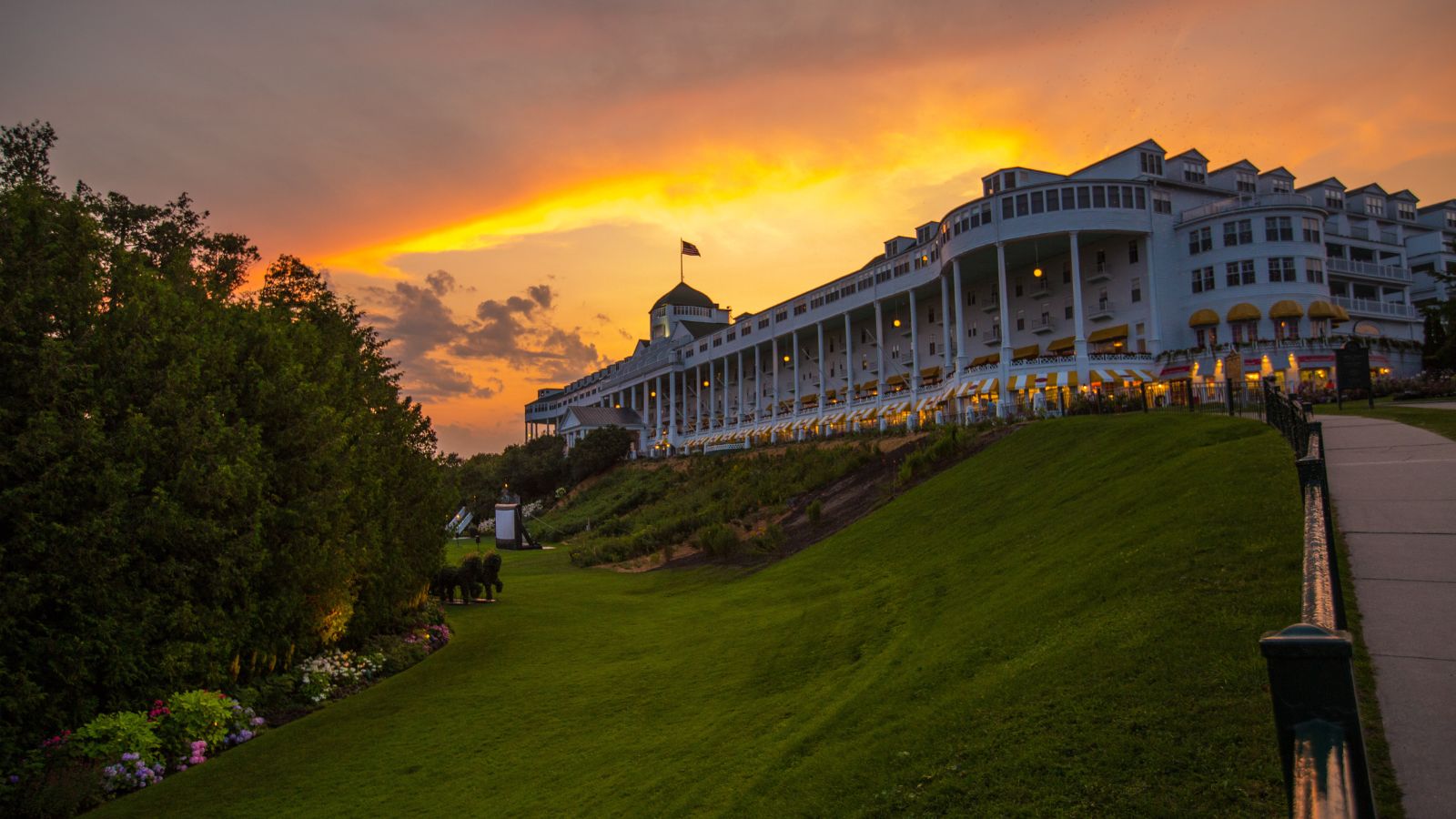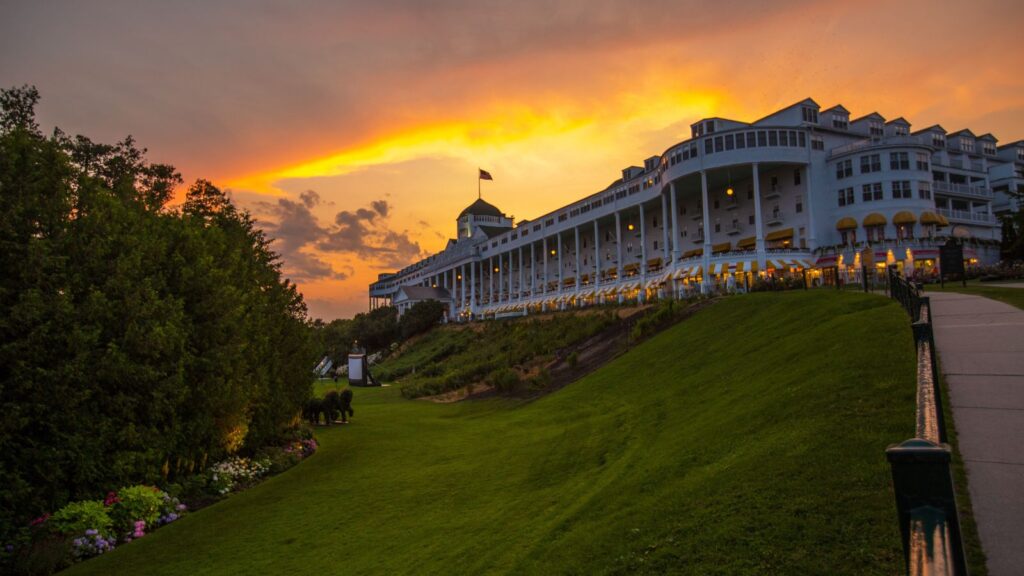 Family-Friendly Dining on Mackinac Island
Mackinac Island is peppered with casual to fine dining restaurants and sweet shops. Let's start with dessert since Mackinac Island is all about the fudge and ice cream. There are 13 fudge shops on Mackinac Island. Joann's Fudge, Murdick's Fudge, and Ryba's Fudge are the main outlets where you'll find fudge being folded on marble tables. ("Folding cools it down, making it less grainy," the folks at Joann's Fudge explained to me.)
AT THE WATER'S EDGE: 16 Best Lake Resorts and Hotels in the U.S. for Families
Ice cream is also a big deal on Mackinac Island. After all, what summer vacation is complete without lapping up a creamy treat from a waffle cone? The salted caramel ice cream from Moomers was so magnificent that the four members of my family all had to share that flavor.
Round Island Kitchen at Mission Point Resort makes the most delicious smoked whitefish dip with warm, buttered crostini. Bistro on the Green serves up sensational views next to a picturesque mini golf course while you enjoy Mediterranean-inspired dishes and indulgent chocolate mousse, often to the tune of live music. Pick up a picnic basket from the boutique at Mission Point and picnic on the lawn or at Marquette Park.
The iconic Pink Pony is a downtown bar that's been named one of America's best outdoor dining spots. Breakfast, sandwiches, salads, and soups can be enjoyed on the balcony overlooking the harbor.
How to Get to Mackinac Island
Reaching Mackinac Island is an experience in and of itself. Since it's a car-free island, most people arrive by ferry. Board Shepler's Ferry from Mackinaw City or St. Ignace and you'll soon arrive to the sound of clip-clopping horse hooves on Main Street. From the ferry docks, your luggage can be transferred to your hotel while you stroll past fudge and ice cream shops to your destination, sweet treat in-hand.
More from FamilyVacationist: