What is it about lighthouses that captures our imagination? Maybe they make us feel hopeful because they symbolize safety and security in stormy weather. Maybe they appeal to our romantic souls by harkening back to a bygone era. Or maybe—and this is probably a very big part of it—they just look pretty darn cool all lit up at night against a backdrop of rocky cliffs and crashing waves.
Whatever the reason, people don't just want to visit lighthouses. They also want to spend the night in them. And lighthouse hotels are a very big deal, especially for somebody like me who loves everything about lighthouses. Fortunately, there are quite a few lighthouses you can sleep in here in the U.S., including lighthouses on both coasts and Alaska.
The Best Lighthouse Hotels in the U.S.
If you're dreaming of spending the night in a lighthouse or a lighthouse keeper's cottage, put these special hotels, B&Bs, and rental properties on your travel wishlist.
AT THE WATER'S EDGE: 16 Best Lake Resorts and Hotels in the U.S. for Families
1. Haig Point Lighthouse
Daufuskie Island, South Carolina
Historic Haig Point on Daufuskie Island dates back to 1735 when George Haig purchased 500 acres on the island. Nearly four centuries later, Haig Point is now a 1,100-acre luxury retreat with a historic mansion guesthouse, a golf course, tennis courts, an equestrian center, and a lighthouse with two guest bedrooms, a kitchen, a dining room, and a porch overlooking Calibogue Sound. Haig Point is also a highly sought-after wedding destination.
SOUTHERN CHARM: Where to Go on the Perfect South Carolina Lowcountry Vacation
I had a travel dream come true when I visited Haig Point. Due to a scheduling issue when I arrived, the suite I'd booked at the mansion was unavailable and I was offered the lighthouse instead. I played it cool, but on the inside I was dancing around like I'd just scored a touchdown in the Super Bowl. Built in 1873 and operated until the 1930s, the two-bedroom, two-bathroom lighthouse houses a 40-foot tower, fireplace, clawfoot tub, and a back porch that runs the length of the house. And as someone who'd always wanted to spend the night in a lighthouse, it was heavenly.
Haig Point offers three types of "Discovery Visits" for travelers: one themed around golf, another around golf and equestrian sports, and a third around real estate. Depending on availability, you can stay in either the Strachan Mansion or the 1873 Lighthouse.
2. East Brother Light Station
Point Richmond, California
Also built in 1873, East Brother Light Station in Point Richmond is a lovingly restored lighthouse hotel on a sliver of an island between San Francisco and San Pablo. Spending the night in this bed-and-breakfast-style lighthouse is like a walk down memory lane full of vintage books and photographs from one of California's last remaining Victorian lighthouses.
GOLDEN GETAWAYS: 8 Best Hotels on the Beach in California
Upon arrival, you'll be greeted with Champagne and hors d'oeuvres. Then there's a four-course dinner with wine and a full gourmet breakfast every morning. Throughout your visit you'll be wowed by the views of the San Francisco skyline, Mount Tamalpais State Park, and the Marin coastline. Choose among four rooms in the historic lighthouse and one in the original fog signal building. Each room has a queen-sized bed and is named for its decor and view (e.g., the San Francisco Room, the Marin Room, etc.). Overnight stays at East Brother Light Station can be booked for one to four nights.
3. Rose Island Lighthouse Hotel
Newport, Rhode Island
Make your way to the top of the fully restored Rose Island Lighthouse in Newport and you'll be rewarded with unbeatable sunrise and sunset views of Rhode Island's Narragansett Bay. Constructed in 1869, the Rose Island Lighthouse operated from 1870 through 1970, when it was decommissioned and taken out of service.
COASTAL CLASSICS: New England Vacations: 11 Charming Coastal Towns in Maine, Massachusetts, More
Today the well-preserved Rose Island Lighthouse is on the National Register of Historic Places and open to the public for daytime visits in the spring and summer months. Overnight stays at the lighthouse hotel are available April through October, and you can spend the night in one of four unique rooms, including the second floor Lighthouse Keeper's Apartment that can accommodate a family of four.
Getting to the lighthouse hotel is an easy ride on the hop-on hop-off Jamestown Newport Ferry. Adventurous travelers can also reach the Rose Island Lighthouse by canoe, kayak, or small boat.
4. Saugerties Lighthouse
Saugerties, New York
Located on the Hudson River at the mouth of Esopus Creek, the circa-1869 Saugerties Lighthouse is home to a popular bed-and-breakfast. Welcoming guests Thursday through Sunday nights year-round, this lighthouse hotel offers two second-floor bedrooms, each with a double bed. Both rooms must be rented together, making the lighthouse a great option for both family travel adventures or romantic weekend getaways. (Cots are also available for larger families who need more sleeping space.)
BEYOND THE BIG APPLE: 13 New York Family Vacations Everyone in the Family Will Enjoy
The first-floor bathroom features a clawfoot basin shower and a composting toilet (due to the lighthouse's location.) There's a propane grill available for guests to use and a delicious breakfast is included in your stay. The lighthouse is reached via a half-mile trail, and there's no air-conditioning available—but you might not even notice because you'll be having fun picnicking, wildlife watching, and relaxing by the water.
5. Lighthouse Inn
Cape Cod, Massachusetts
The Lighthouse Inn celebrated its 85th anniversary in 2023, but the actual lighthouse built at the mouth of the Bass River in West Dennis dates all the way back to the 1850s. Located on nine acres along Nantucket Sound, this New England lighthouse hotel makes for a a relaxing seaside escape. Accommodations include standard rooms, suites, and oh-so-charming classic Cape Cod cottages.
SURF'S UP: 20 Best Family Beaches in New England (and Where to Stay)
The full-service resort has an outdoor heated swimming pool, tennis courts, mini golf, volleyball, a game room, and a fire pit for hours of family fun, as well as easy access to nearby golf courses, boat tours, biking and hiking trails, and other activities. An on-site waterfront restaurant makes it easy to grab a bite after a long day at the beach.
6. Sitka Lighthouse
Sitka, Alaska
Make an already-amazing trip to Alaska even more amazing with a stay in the two-bedroom Sitka Lighthouse. First built in 1983 and remodeled in 2018, this lighthouse hotel comes with wraparound decks and 360-degree views of Sitka and the Eastern Channel.
MAKE MEMORIES: 50 Best Family Vacation Ideas for a Trip They'll Never Forget
When you explore the area using provided kayaks and paddle boards, you might be lucky enough to spot humpback whales, sea lions, eagles, and other wildlife. Take a respite in the hot tub, sit around the fire pit, or just relax on the deck with a good book and watch the activity on the water.
7. Thirty Mile Point Lighthouse
Barker, New York
Part of Golden Hill State Park, the circa-1876 Thirty Mile Point Lighthouse originally served as a coastal light on Lake Ontario. Today, guests can stay in the Lighthouse Cottage, which includes a private entrance, full kitchen, living area with an electric fireplace, three bedrooms with queen-sized beds, and a full bathroom complete with an old-fashioned tub.
SUN AND SAND: 12 Best Beach Resorts in the U.S. for Families
You can take in views of Lake Ontario from the cottage and head out into the scenic park for some fishing and hiking during the warmer months (and snowshoeing in the winter). There's also lots to explore nearby, from wineries and museums to Niagara Falls, which is less than an hour away.
8. Heceta Lighthouse Bed and Breakfast
Yachats, Oregon
Six rooms are available for stays in one of the last remaining lightkeeper's cottages on the Pacific Coast. Each of the historically decorated rooms at the Heceta Lighthouse Bed and Breakfast have queen-sized beds, with some offering views of the Pacific Ocean and the nearby lighthouse.
SUMMER SPLASH: 10 Best New England Lakes for Summer Fun
Claw-foot tubs and four-poster beds add to the charm at the inn, where you can enjoy afternoon wine and cheese socials, seven-course breakfasts, and self-guided evening strolls to the still-illuminated lighthouse. A wraparound porch is the perfect spot for relaxing and admiring the scenic landscape of the Central Oregon Coast. Add-on experiences include picnics and romance packages.
9. Big Bay Point Lighthouse Inn
Big Bay, Michigan
You'll find sweet seclusion and sweeping vistas at Big Bay Point Lighthouse Inn. Listed in the National Register of Historic Places and located on the cliffs of Lake Superior in Michigan's Upper Peninsula, this lighthouse hotel has guest rooms with private baths but no TVs or phones for a true escape.
FAMILY FUN: Mackinac Island with Kids: What to Do and Where to Stay on Michigan's Idyllic Car-Free Island
Breakfast is provided each day. Your activities could include hiking, canoeing, mountain biking, wildlife watching, a visit to the town of Big Bay, or a climb up the inn's adjoining 60-foot-high square lighthouse tower. Do that and you'll be rewarded with views of Lake Superior and the Huron Mountains that will have you reaching for your camera.
10. Two Harbors Lighthouse
Two Harbors, Minnesota
The Two Harbors Lighthouse on the north shore of Lake Superior was first lit in 1892. The lighthouse bed-and-breakfast opened in 1999, allowing guests to stay in the three-room Keeper's Quarters (which sleeps up to six guests) or the Skiff House cottage (with a Jacuzzi tub ideal for couples).
SUNSHINE STATE: 10 Dreamy Beach Resorts in Florida That Are Perfect for Families
The lighthouse hotel is a proud "Wi-Fi free zone" and supplies board games and books for passing the time instead. Vouchers are provided for breakfast at nearby local restaurants, and you can stroll the lighthouse grounds, sit around the fire pit, gaze out at the water, or walk to Castle Danger Brewery for a pint or two. Museums, hiking trails, and a range of other activities are also located close by.
11. Salmon River Lighthouse and Marina
Pulaski, New York
Book a stay in the circa-1838 Salmon River Lighthouse for a unique family getaway. This upstate New York stone-covered site sleeps up to eight people and features historic details as well as modern conveniences like an updated full kitchen, high-speed Internet, and air-conditioning.
SEASIDE CHARM: 7 Best Coastal Towns in the U.S. to Visit with Kids
There's a porch, gas grill, and picnic table for al fresco dining, and views of the Salmon River (which flows into Lake Ontario) are plentiful from the lighthouse. You can arrange for a tour of the light tower if weather permits during your stay. The property also boasts a number of cottages available for vacation stays, and you can book fishing charters or rent canoes or kayaks to further explore the area.
12. Little River Lighthouse
Cutler, Maine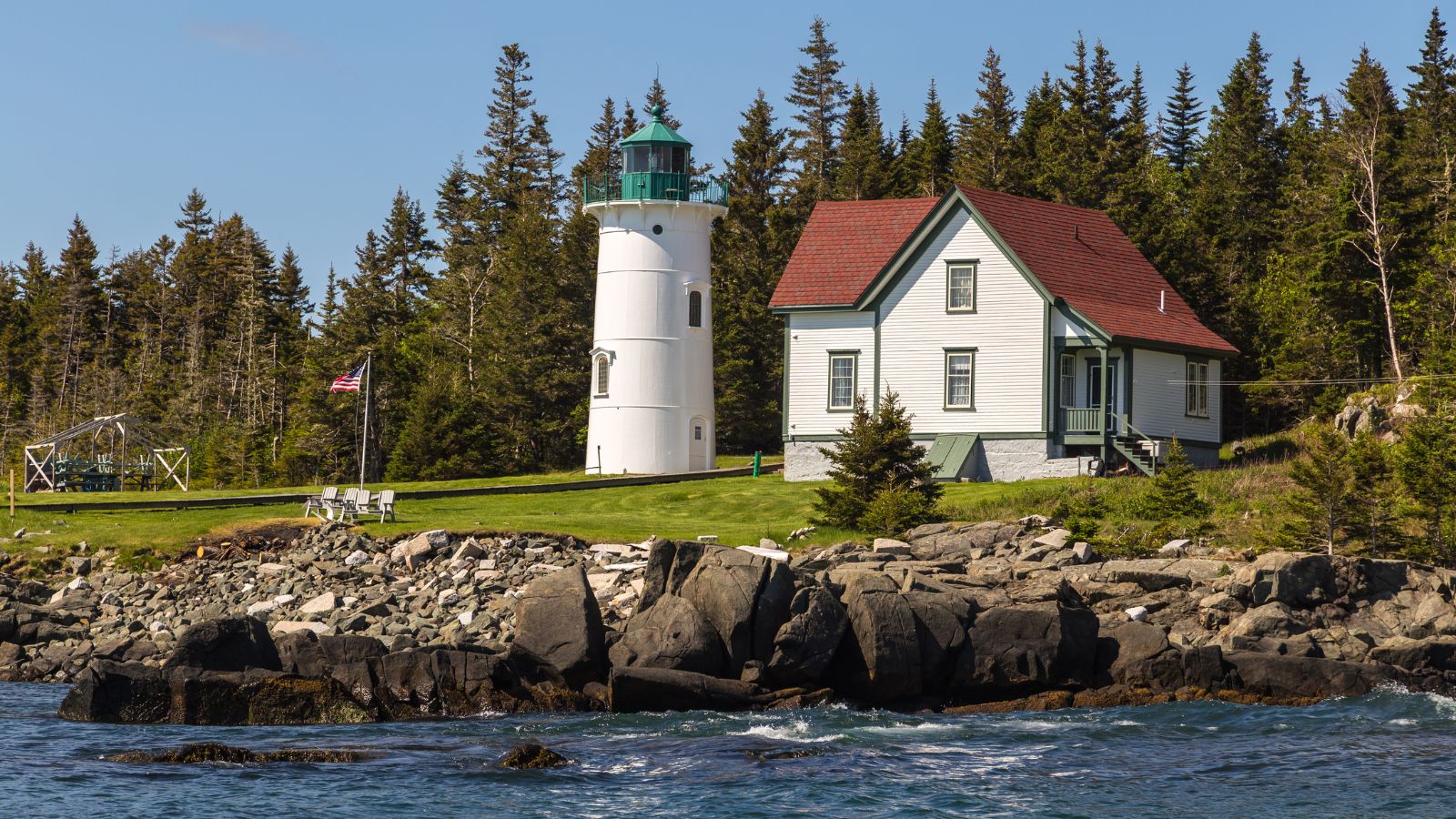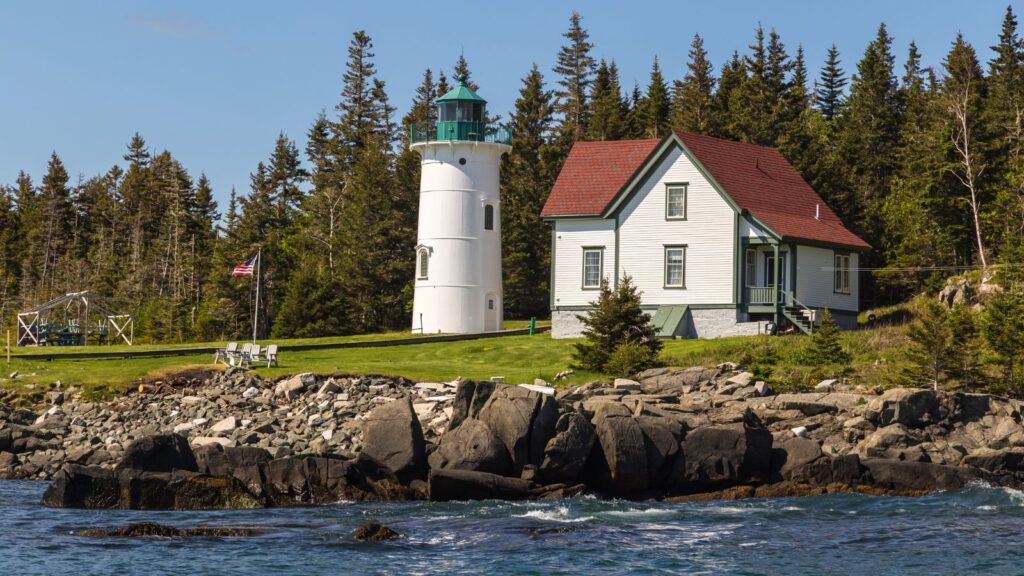 Volunteers from the Friends of Little River Lighthouse take guests on a 12-minute boat ride to reach this lighthouse on a 15-acre island at the entrance to Cutler Harbor in Downeast Maine. Solitude abounds at the restored 1888 lightkeeper's house, which still boasts plenty of historic charm and can accommodate groups of up to six people.
FALL FUN: 7 Fall Beach Vacations Where Summer Never Ends
Sunrises are spectacular at this northernmost island light station in the U.S., but the sunsets and stargazing aren't too shabby either. You can climb to the top of the lighthouse for bird's eye views of the area or wander among the island's pine trees or along the water's edge during your stay.
13. Lighthouse Hotel Kimpton Key West
Key West, Florida
If you're looking to vacation somewhere unique while enjoying warm weather, Lighthouse Hotel Kimpton Key West might be the perfect tropical lighthouse destination. The name is a bit misleading as this hotel is not in a lighthouse but rather offers views of one, but there are plenty of amazing activities and amenities (think pool and bar, for starters) to enjoy in this centrally located Kimpton property in Key West.
More from FamilyVacationist:
Beth Luberecki also contributed to this story.