Between work, kids, and life in general, sometimes there just isn't enough time to dedicate an entire vacation to romance. Thankfully, it's a bit easier (and much more affordable) to squeeze in a couples weekend getaway or midweek break. In fact, at some of the best vacation spots for couples in the U.S. you can "fit it all in" over just a few of days and still come home refreshed, recharged, and in love all over again.
Romantic Weekend Getaways for Couples
The key to planning a couples weekend getaway or midweek escape is choosing a destination or resort with activities and amenities you'll both enjoy—one that's easy to reach by car or has frequent flights so that getting there won't cut into your quality time together. With that in mind, here are some of the most popular and romantic destinations in the U.S. for weekend getaways for couples.
LEAVE THE KIDS AT HOME: 11 Best Adults-Only All-Inclusive Caribbean Resorts for Couples
1. Las Vegas, Nevada
A couples weekend in Las Vegas gives you just enough time to take advantage of the best of what Sin City has to offer without giving in to its excesses. With one of the hottest dining scenes in the country, you can easily fill a couples weekend getaway dining at the city's top restaurants. And after dinner, it's fun to enjoy one of the many live entertainment spectacles. Outside the city, day trip activities like visiting Red Rock Canyon or the Hoover Dam give you options beyond the Strip.
THE LOVE BOAT: 7 Best Cruise Lines for Couples (and Their Most Romantic Voyages)
There aren't many weekend getaway destinations in the U.S. where your hotel can be the main attraction of your visit, but Las Vegas is home to some of the most well-known resort casinos in the country. For a romance, consider a stay at the Bellagio Las Vegas (go all-out by booking a room with views of their famous fountains), The Venetian Resort, or ARIA Resort and Casino.
Las Vegas is a year-round destination, but the most comfortable weather can be found in spring (March through May) and fall (September through November). Thinking about visiting in the summer? Hotel prices tend to drop as the mercury approaches 100 degrees Fahrenheit during the summer months, but the heat may not matter much on your couples weekend getaway anyway if you plan to spend most of it inside an air conditioned resort and casino.
2. Cape Cod and the Islands, Massachusetts
In the northeast, Massachusetts's Cape Cod and the nearby islands of Martha's Vineyard and Nantucket are popular weekend escape destinations for couples and families alike. A leisurely weekend at the beach is all you need on the Cape for a couples weekend in the summer, but the touristy seaside towns of Chatham and Provincetown have great spots for dining and shopping any time of year. There are more than enough low-key hiking and biking trails to keep you busy for a weekend, too, including the Cape Cod Rail Trail and Shining Sea Bikeway.
SOUTH OF THE BORDER: 10 Romantic Mexico Resorts That Cater to Couples
Cape Cod and the islands are known for their romantic inns and hotels. A few favorites for couples include Chatham Bars Inn in Chatham, Wequassett Resort and Golf Club in Harwich, and Brass Key Guesthouse in Provincetown. If your romantic weekend getaway wouldn't be complete without your dog, head to the Lamb and Lion Inn in Barnstable for one of New England's top dog-friendly hotels.
Summers are spectacular on the Cape, but the warm weather and coastal attractions also make it the busiest and most expensive time of the year to visit, especially on the weekend. If true peace and quiet is what you're looking for, aim to visit in late spring or mid to late fall. You may not get those picture-perfect New England beach days, but you will have an easier (and less experience) couples weekend
3. New York, New York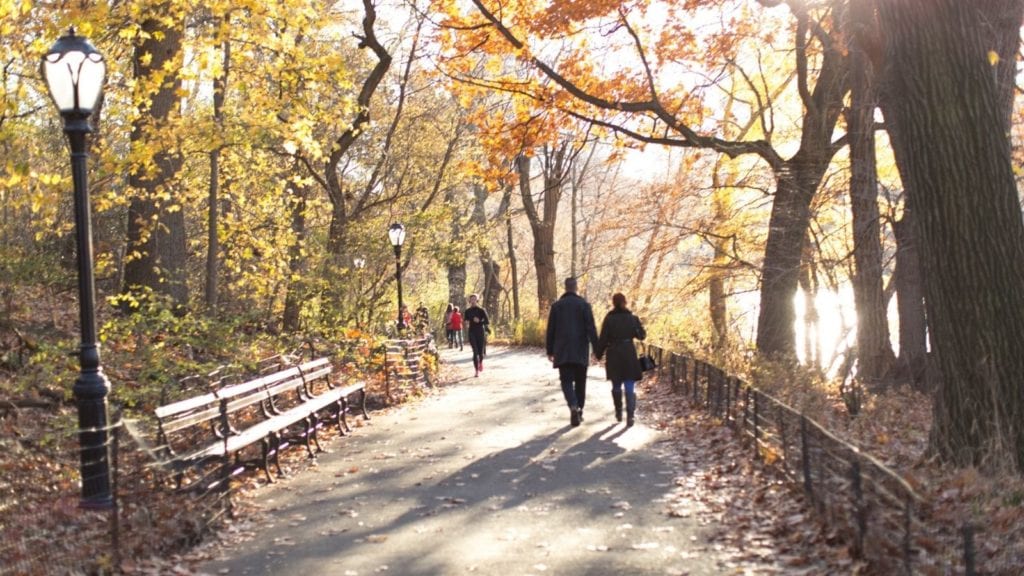 You can pack a lot of fun and romance into a couples weekend getaway in The City That Never Sleeps. In just a few days, you can dine at some of New York City's top restaurants, catch a Broadway show, visit an art museum, and do some sightseeing by foot around Central Park or by double-decker bus just about everywhere else. In fact, your biggest concern might be that there's too much to choose from.
GO WEST: 6 Romantic Weekend Getaways in Northern California
The sheer number of restaurants in New York could only be challenged by the number of places to stay. You can go all-out with ultra-luxury stays at The Plaza New York or The Carlyle, or enjoy something more moderately priced (yet still centrally located) like the The Muse New York (formerly the Kimpton Muse Hotel) in Midtown less than a two-minute walk to Times Square.
There's always something to do year-round in New York, so you can't go wrong visiting any time of year. For optimal weather and slightly lighter crowds, though, time your visit for late spring or fall.
4. Asheville, North Carolina
Three hundred miles east of Nashville, Asheville is perfect for outdoorsy weekend getaways for couples. Hiking and biking are popular pastimes here—there are loads of trails—and once you've worked up a thirst there are plenty of breweries (like New Belgium and Highland Brewing) to satisfy your cravings.
EAST COAST GETAWAYS: The Most Romantic Hotels in Pennsylvania for Couples Getaways
Local cafes like Old Europe Pastries and Double D's Coffee and Desserts are a great place to start your days, while restaurants such as Blue Ridge and Sunset Terrace are well-suited to romantic dinners. The historic 1899 Wright Inn and Carriage House is a romantic lodging choice for couples while the The Omni Grove Park Inn, nestled right into the North Carolina mountains, is an upscale option.
Fall is a prime season to visit Asheville if you're the kind of couple that enjoys autumnal activities like leaf peeping and apple picking (head to family-owned Sky Top Orchard for a taste of both).
5. North and South Carolina Beaches
Both North Carolina and South Carolina are notable for their picturesque coastlines. Popular weekend getaway spots for couples in the Carolinas include Myrtle Beach, Charleston, Nags Head, and Hilton Head, but the options are nearly endless up and down the coast. Quiet Isle of Palms is a peaceful, low-key spot, while Atlantic Beach and Corolla Beach are frequently overlooked gems.
TOGETHER TIME: 7 Couples Resorts in Jamaica That Are Perfect for a Romantic Getaway
No matter which beach town you choose for your couples weekend getaway, you can expect accommodations ranging from simple campsites and cabins to luxury resorts like The Sanctuary at Kiawah Island. Bike trails, golf courses, and of course miles of beach will quickly fill your weekend. The Carolinas are a great summer destination, but be wary when traveling during hurricane season (roughly June 1 through November 30) as the weather can be unpredictable.
6. New Orleans, Louisiana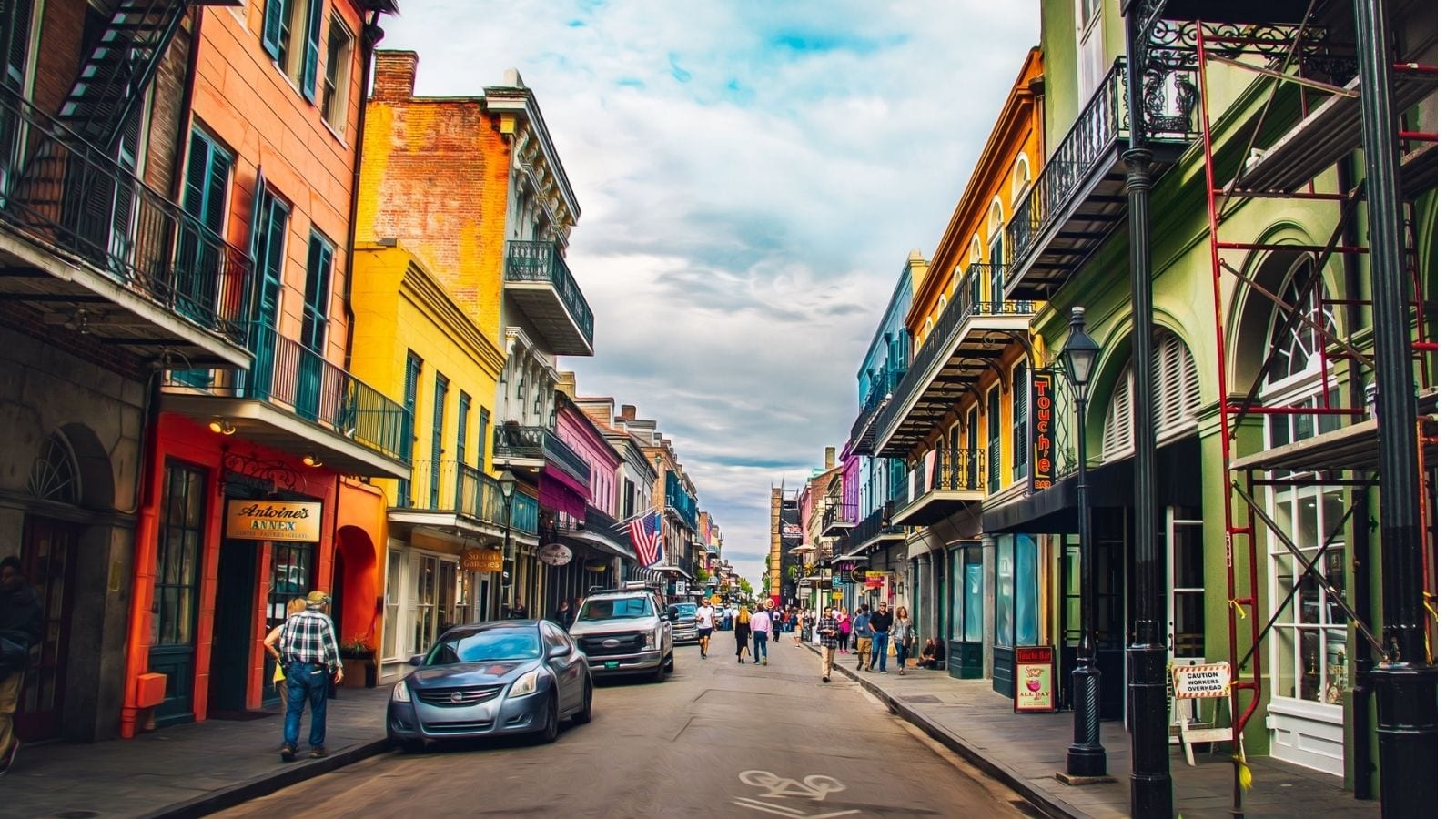 There's more to New Orleans than Mardi Gras parties and parades. Though the city's annual celebration is as lively and memorable as you would imagine, you won't be missing out if you plan your romantic couples weekend getaway for another time. New Orleans's rich history, unique cuisine, and one-of-a-kind entertainment can and should be enjoyed year-round.
BABY ON THE WAY: 7 Romantic All-Inclusive Resorts for Couples on a Babymoon
Scope out the jazz clubs and art galleries in the French Quarter or admire the historic homes of the Garden District before taking in a show at Preservation Hall. You can easily fill an entire weekend of culinary indulgence by hopping from restaurant to restaurant, too. For tasty Creole dishes, head to Heard Dat Kitchen, Dooky Chase's Restaurant, or Arnold's. After dark, spend the night at the romantic Hotel Monteleone, Hotel Provincial, or Bourbon Orleans Hotel.
New Orleans is at its busiest and most expensive during Mardi Gras, which is celebrated in either February or March depending on the calendar year. For quieter and more romantic weekend getaways, visit in December and January when you're likely to find cooler weather, cheaper hotel rates, and smaller crowds. Visiting after Mardi Gras in the spring (April and May) is another good option, as you're likely to experience ideal weather before the summer heat settles in.
7. The Florida Keys, Florida
You don't need a passport for a tropical weekend escape that feels worlds away. Though most of the Florida Keys's 1,700 islands are uninhabited, others (like Key West and Key Largo) go all-in with restaurants (like Latitudes or Hot Tin Roof), water sports, hiking and biking trails, and even romantic adults-only resorts.
SUNSHINE STATE: 10 Most Romantic Hotels in Florida for Couples Getaways
While you're never more than a two-hour drive from one end of the Florida Keys to the other, each island is well-suited to a weekend getaway all on its own. For a couples weekend, Key West has a more lively scene with enough sightseeing to fill several weekends, while Key Largo has more options for dining and shopping but at a slower pace. Romantic accommodations include the all-inclusive Bungalows Key Largo on Key Largo and Little Palm Island Resort and Spa on Little Torch Key.
Many couples head to the Florida Keys in the winter and spring months when the warm temperatures offer a nice alternative to the temperatures back home. The Atlantic hurricane season is generally considered to be June 1 through November 30, so it might be wise to avoid the summer and fall seasons altogether if you want to reduce the risk of severe weather.
8. Pacific Northwest
The Pacific Northwest offers a variety of attractive weekend getaway destinations for couples. Head to Seattle or Portland for a romantic city break, or look to the outdoors for adventurous fun at Cannon Beach or Mount Rainier National Park. (Stay at Stephanie Inn near Cannon Beach or Alta Crystal Resort near Mt. Rainier.)
WELCOMING DESTINATIONS: 10 Best U.S. Vacation Destinations for LGBTQ+ Travelers
The Pacific Northwest is also home to some beloved wine regions, and wine aficionados will find plenty of options to fill a weekend getaway in the region as well. Looking to catch some theatre? The annual Oregon Shakespeare Festival in Ashland runs from spring through late fall. If you want to take in the sights of the Pacific Northwest without the hiking boots, Amtrak has a number of scenic routes.
Summer offers the warmest temperatures of the season with less rain, but that also means an influx of other tourists looking for their own weekend getaway. Plan your visit for autumn to find the best balance of mild temperatures and smaller crowds.
9. Mackinac Island, Michigan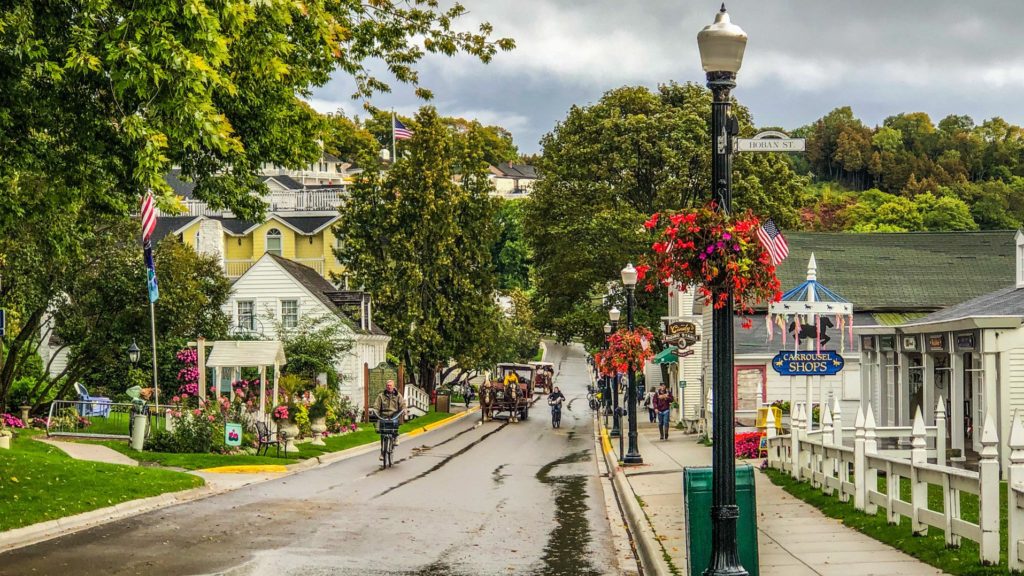 Nestled between Michigan's upper and lower peninsulas, cute little Mackinac Island pairs its old-timey island vibe with a surprisingly robust number of things to do. With a near-total ban on cars and no bridges connecting Mackinac Island to the mainland, moving around town means going by foot, bike, or horse-drawn carriage, and that's all part of the romantic charm.
ROOM TO RELAX: 19 Best Vacation Rental Sites for Cheap Prices
There are no chain hotels on Mackinac Island. Instead, plan your couples weekend at one of the many family-owned inns, resorts, or B&Bs. Some accommodations, like The Grand Hotel and Hotel Iroquois, date back to the 1800s and shine with the throwback spirit of yesteryear.
Mackinac Island is situated close to the Canadian border along one of the most northern latitudes in the continental United States, which make for cold winters. Visiting during the summer will be your best shot at ideal weather, but trips in late spring or early fall provide the benefit of lighter crowds. You can visit the island year-round, but ferry service may be limited during the off season.
10. California Wine Country
Romantic weekend getaways in California Wine Country aren't just about the vineyards and vintages (though when in Rome…). Both Napa and Sonoma have plenty of fun things to do as a couple and an exceptional culinary scene to match.
GOLDEN STATE: 8 Romantic California Getaways for Couples
Catch a hot air balloon ride in Yountville or take a horseback riding trip along Lake Sonoma. Then, of course, there are the wineries. While there are simply too many to fit in a single weekend getaway, you can cover a fair number with the Napa Valley Open Air Trolley Tour or a private wine tour customized to your tasting preferences. For romantic places to stay, consider The Inn on Pine, Rancho Caymus Inn, and North Block Hotel.
Summer has the most idyllic weather for visiting Wine Country (and it sees the bulk of visitors as well). The slowest time of the year is winter, which is considered the rainy season.
More from FamilyVacationist: