Winter boots may be a packing challenge but they're also a cold-weather must. The best boots are multi-tasking wonders that help keep you warm, safe, and stylish all at the same time. And since you can wear them on the plane, you don't even really need to figure out where they'll fit in your suitcase.
Best Women's Winter Boots for Travel
Here are five of our favorite women's boots for winter travel. They're comfortable, cozy, and cool, and with their non-slip rubber outsoles and sturdy construction, they'll help you stay steady on your feet in slick conditions.
WHAT TO PACK: 10 Essentials for Your Carry-on Bag
1. Manitobah Waterproof Pacific Half Winter Boot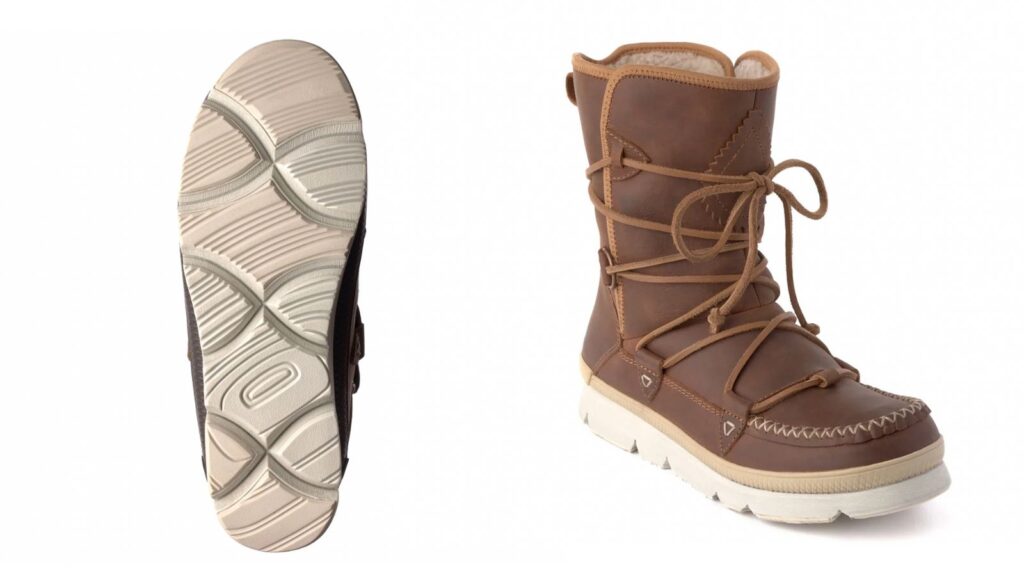 Traditional mukluks meet modern materials in the Pacific Half Boot. Waterproof fabrics and a supportive rubber and EVA sole turn these beautiful boots into performance-wear. And the super-soft shearling footbed makes them an absolute joy to slip into every time. These boots are rated to -17 degrees celsius, so they've got you covered on even the coldest days.
HEAD TO TOE: Packable Winter Layers Perfect for Travel
The Canadian brand Manitobah was founded in the 1990s by Sean McCormick, member of the Métis Indigenous people, with the goal of selling Indigenous-designed products that return value to Indigenous communities. The sole of the Pacific Half was designed by John Brent Bennett, member of the Yahgulaanaas Raven Clan of the Haida. According to Bennett, the design is "the ripples in the water emanating out from the one source in the middle."
Why We Love It: These boots look great, feel amazing (the shearling footbed feels as comfortable and cozy as slippers), and celebrate and support Indigenous-designed products.
2. Sorel Explorer II Joan Explorer Boot
Sorel has been winning at finding that sweet spot between form and function with its winter boots in recent seasons. Equally at home slogging through slush and pounding the pavement, the Sorel Joan Explorer boot delivers comfort and dry cozy feet wherever you go. It looks like an updated classic and has high-traction rubber down the center of the sole for maximum grip.
BUILT TO LAST: 11 Stylish Luggage Brands
A footbed lined with micro fleece insulates against cold temperatures, and the many color options mean you'll be able to find the right match for your favorite winter wear. Heads up that these run a little small though, so you're better off rounding up if you're in between sizes.
Why We Love It: Sorel was wise to update a classic, virtually guaranteeing that you'll be able to get multiple winters of fashionable wear out of this comfortable workhorse.
3. Merrell Chateau II Mid Pull Waterproof Boot
There's a lot to love about these winter boots from Merrell, but before I get into all that, know this: these boots will last a long time—I've had a pair for years and they still look brand new, even though I wear them in rain and snow every winter. They're a soft, supple sort of suede-y leather with nice textile detailing and look like they're mostly for show, they're actually remarkably adaptable winter boots in disguise.
WOOL FTW: The Best Allbirds for Travel
The Chateau II boots are waterproof and have special outsole traction to keep you from slipping in slick conditions. And they've got a bit of a heel but still manage to be ultra-comfortable for a lot of walking. And when you travel, they're nice enough that they work for both day and evening.
Why We Love It: They're ultra comfortable and add just enough height (without sacrificing comfort). And the tweed details lift these boots out of the realm of predictable and straight into compliment-land.
4. Columbia Women's Minx Mid III Boot
Full disclosure: Because of their height, these amazingly warm and comfortable tall boots from Columbia are a pain to pack. But if you're OK with wearing them in transit, the fact that Columbia's Minx boots are bulky will only work for you, not against you, keeping you insulated against the cold in a way that will make the rest of your body jealous.
DAY PACKS: The Best Travel Backpacks for Everyone
Faux fur fleece lining keeps things fun, humane, and cozy, and the boot's breathable waterproof fabrics keeps things dry but not sweaty. These snow boots have the warmth, rubber sole traction, and style that works for both apres ski and a snowy city weekend out.
Why We Love It: These boots do not mess around when it comes to keeping your feet dry and warm. And the quilted pattern and faux fur lining exude fun winter vibes.
5. Timberland Authentics Waterproof Roll-Top Boots
Thanks to bulky winter clothing, packing space is in short supply when you travel in winter. Which makes the magic of Timberland's Authentics Waterproof Roll-Top Boots all the better, since it essentially gives you two looks in one boot. The quarter panel at the top features faux fur lining and can be worn up for maximum cozy or rolled down for a more fashion-forward look.
These water resistant boots from Timberland also feature an anti-fatigue footbed to keep you comfortable so you can wear them for long periods of time. These boots for women come in half a dozen colors, including black with leopard print and the classic light brown nubuck and cream lining.
Why We Love It: Any boot that lets you double your shoe wardrobe on vacation is a win in our book. The fact that Timberlands are both comfortable and effortlessly stylish is just icing on the cake.
More from FamilyVacationist: