Travel shoes need to check a lot of boxes. Comfort is, of course, of utmost importance. No one wants to suffer from sore feet or painful blisters while touring Europe, exploring the wonders of U.S. national parks, or riding rollercoasters at a theme park.
But even the most comfortable travel shoes also need to be versatile, lightweight, and take up as little suitcase space as possible. And if they look good? Well, that makes them even better.
Comfy Travel Shoes for Walking All Day
Whether you're looking for women's or men's travel shoes, it's a good idea turn to trusted brands and shoes with lots of glowing customer reviews. Here are our picks for this year's best travel shoes for men and women.
TRAVEL FASHION: 10 Best Travel Leggings with Pockets, According to Reviewers
1. Birkenstock Arizona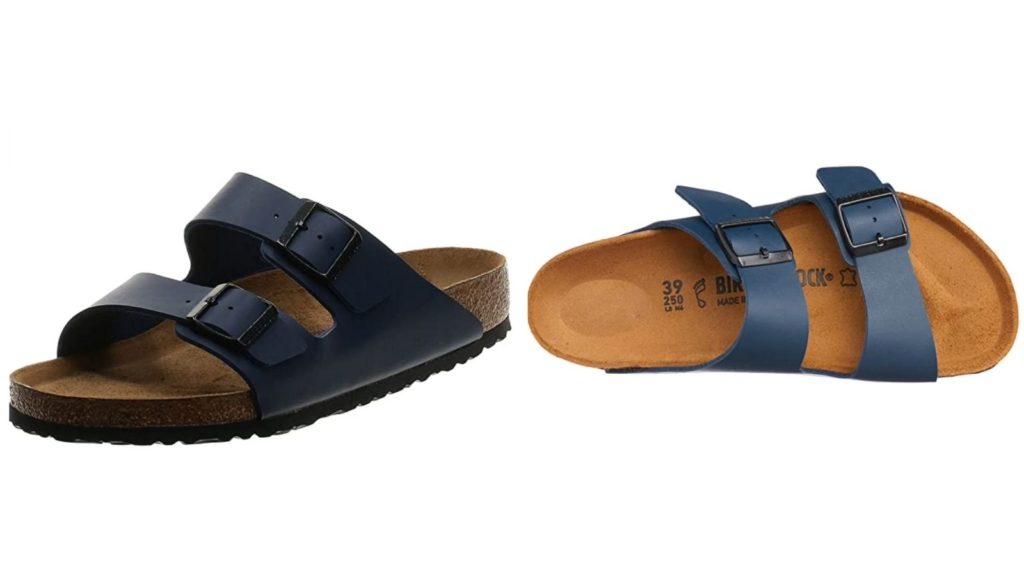 There's a reason why these unisex, two-strap sandals are a classic. They've got the original Birkenstock cork footbed that offers good arch support and molds to the shape of your foot. And they're available in a slew of colors and materials, like breathable leather and suede.
TRAVEL HAPPY: The Most Comfortable Travel Clothes Brands
Shoppers call them "great for travel and walking," "my favorite sandals of all time," and "perfect in every way!!!" One reviewer noted, "They go with everything and they'll last forever," while another commented, "l ordered them for vacation and they were amazing!"
Where to Buy: Birkenstock | Zappos | Amazon
2. Toms Alpargata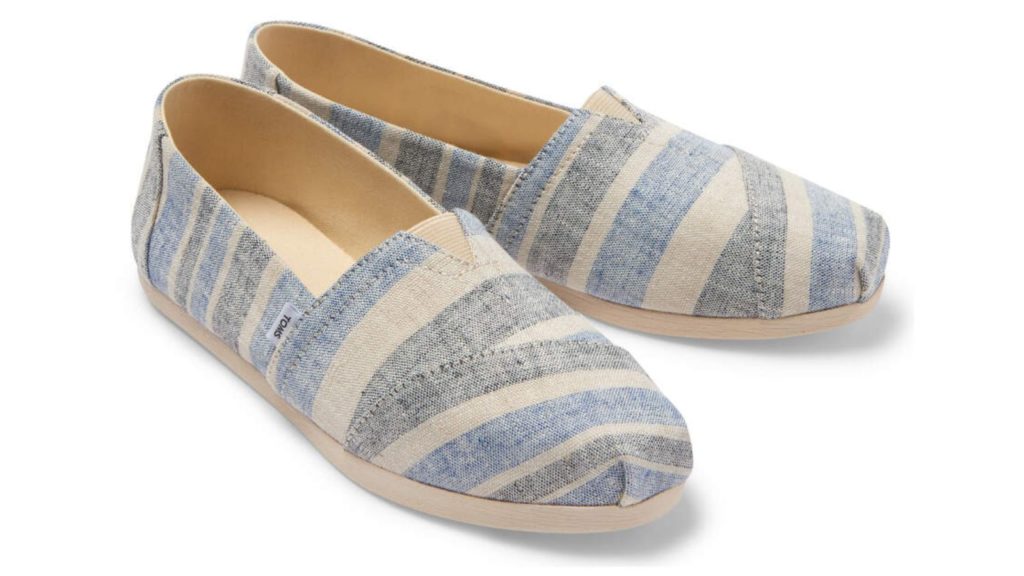 Folks on the go love this oft-purchased slip-on from the philanthropic shoe company. (It donates a third of its profits to grassroots causes.) The men's and women's canvas Alpargatas feature a cushioned suede insole, durable rubber outsole, and an elastic V in the canvas upper to make the on-and-off process a breeze. Versions made with other materials are also available, from leather to linen.
SUN AND SAND: 11 Beach Essentials You Need for Every Sun-Soaked Vacation
Buyers call them "a classic that never fails," "light and comfortable," and "great for travel." One reviewer said they're "cute, comfortable, and perfect for travel and walking through airports," while another called them "without exaggeration, the most comfortable pair in my entire collection!"
Where to Buy Women's Alpargatas: TOMS | Zappos | Amazon
Where to Buy Men's Alpargatas: TOMS | Zappos
3. Allbirds Wool Runners
The OG shoe from the popular brand, Allbirds' Wool Runners put sustainability at the forefront. That means using materials like Merino wool that meets high standards for animal welfare, environmental care, and social sustainability; a castor-bean oil–based insole foam; and shoelaces made from recycled plastic bottles. Available in a variety of color combos in men's and women's versions, these travel shoes score points with buyers for comfort, style, and versatility.
COMFORT AND FIT: 17 Comfortable Maternity Pants for Work, Yoga, Relaxing, and More
One reviewer said, "These have been great while traveling. Easy to slip off at airport security and very breathable." Another reviewer noted, "This shoe proved to be the perfect choice for traveling and walking in various terrains."
Where to Buy Women's Wool Runners: Allbirds
Where to Buy Men's Wool Runners: Allbirds
4. Teva Men's Forebay Sandals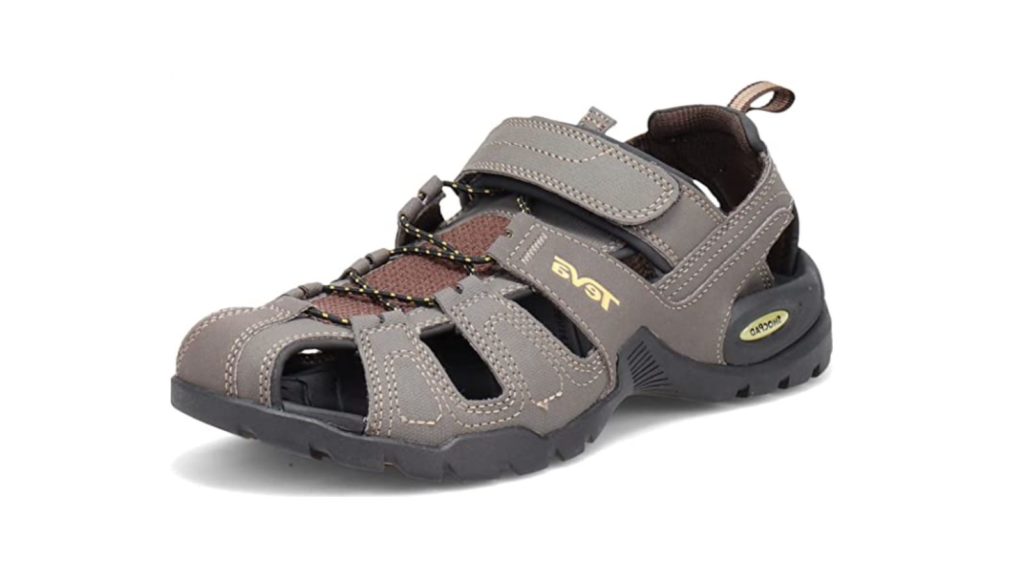 These quick-drying, vegan men's sandals are great for water-based activities, hiking, and walking. They've got a hook-and-loop closure that makes adjusting the fit easy, a cushioned pad in the heel to absorb impact, and a rubber outsole that offers plenty of traction.
VERSATILE AND STYLISH: 7 Cooler Backpacks That Can Easily Double as Daypacks
Reviewers rave about the comfort and support of these travel shoes, calling them "great shoes" and "the most comfortable sandals ever made!" One reviewer noted that the sandals "fit great and feel wonderful on the bottoms of my feet," while another said they're the "best sandal on the market…bar none."
Where to Buy: Teva | Zappos | Amazon
5. KEEN Women's Whisper Sandals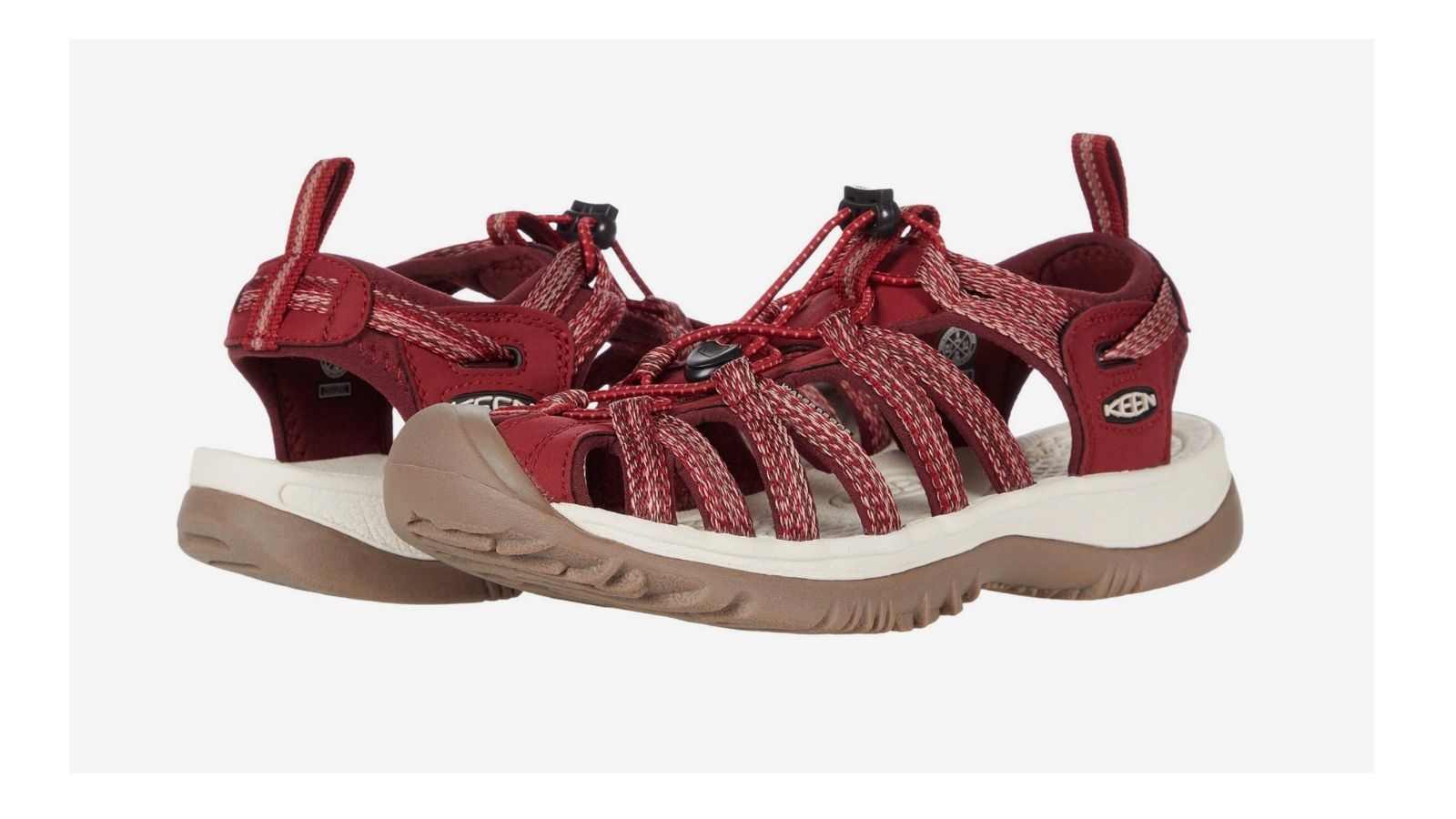 This classic women's active sandal from KEEN is designed to be lightweight (so they're easy to pack), fast drying, and up for walking, hiking, and water activities. Grippy soles offer protection against slick surfaces, and the comfort-focused design touches include midsole cushioning and an EVA insole for arch support.
BETTER FLIGHTS: 16 Best Flight Booking Sites for Affordable Airfare
The quick-cinch bungee lacing makes them fast to get on and off. And key for shoes that may spend time wet, the Whisper sandals have built-in odor control and are machine washable. Reviewers praise the "springy and structured" comfort of these walking shoes for travel, and say that these are "perfect outdoors shoes."
Where to Buy: Keen | Zappos | Amazon
6. Rothy's Loafer
There's a lot to love about these sustainable women's shoes. They're knit from the Rothy's signature thread that's spun from plastic water bottles. They're soft and flexible, which means they don't need to be broken in. (Bye-bye blisters!) And they're machine washable to help them look (and smell) fresh and clean for the long term. The loafers come in versatile solid colors like black and navy as well as a handful of fun prints.
MOVIE MAGIC: 11 Best Outdoor Projector Screens for Your Backyard Movie Night
Buyers have given them thousands of glowing reviews and ratings, calling them "so comfortable" and "my favorite shoes." One reviewer noted the loafers feel "like a sock hugging your foot!" Another said, "They go with everything and I get tons of compliments."
Where to Buy: Rothy's
7. Skechers Summits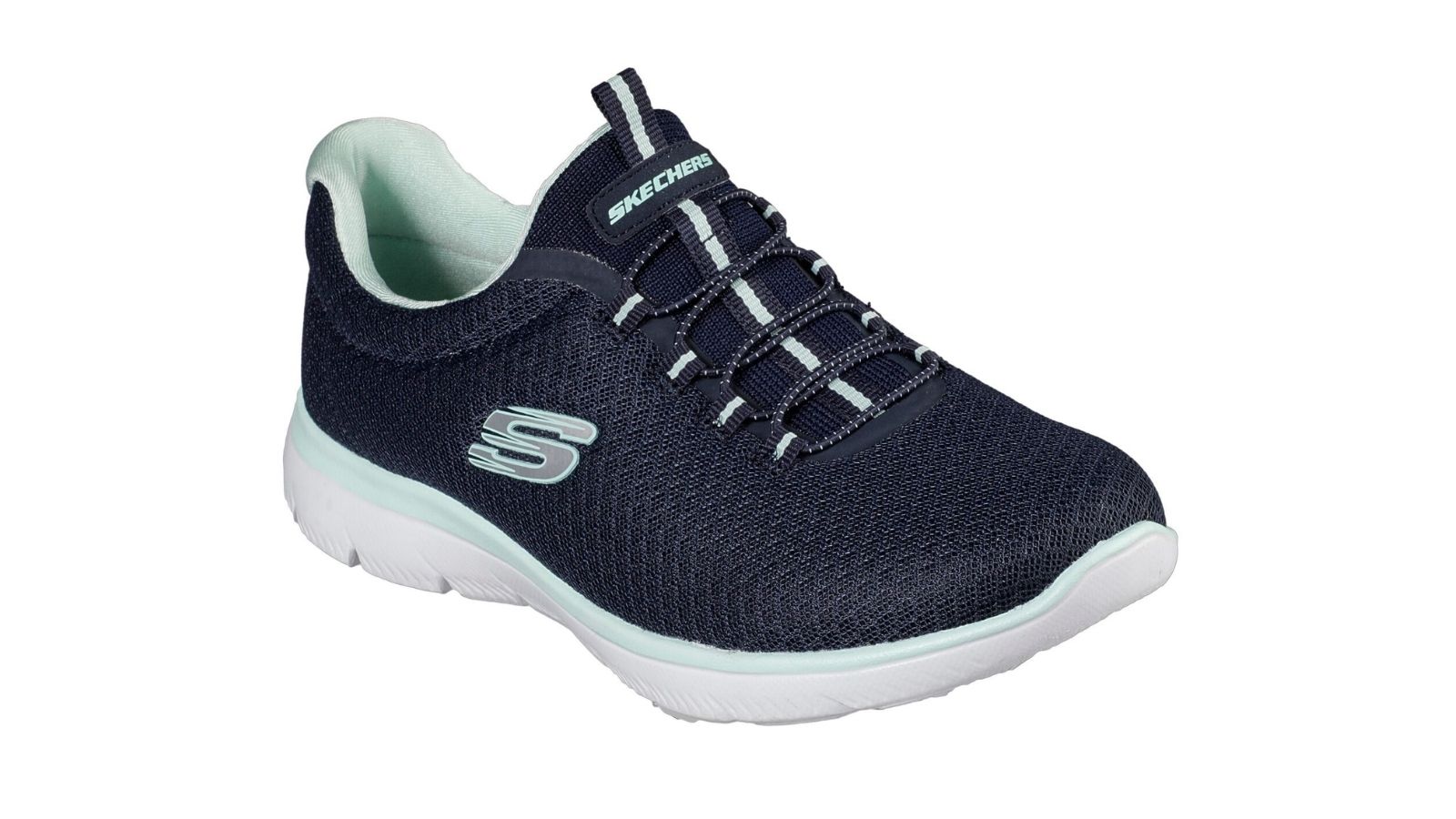 This machine-washable, women's slip-on sneaker features a lightweight, flexible, shock-absorbing midsole; a memory-foam–cushioned insole; and a flexible rubber outsole for traction. Available in several stylish color combos plus solid-color options, these comfortable travel shoes have gotten a lot of love from customers and thousands of five-star ratings for their comfort and style, with buyers saying they "feel like walking on air" and are the "only shoes I will wear."
ON THE GO: The Best Kids Backpacks for School, Travel, and Sports
One reviewer said they are "perfect shoes for travel or every day," while another said, "They are the most comfortable sneaker I have ever worn."
Where to Buy: Sketchers | Amazon
8. Merrell Men's Moab 2 Ventilator
Merrell says its Moab shoe has been worn by almost 20 million people since its inception, so it must be doing something right. This ventilated hiking shoe includes features like a protective rubber toe cap, breathable mesh lining, and contoured footbed with arch and heel support. Its durable rubber sole offers slip-resistant traction for all kinds of terrains and surfaces, making them perfect travel shoes for walking all day.
FORM AND FUNCTION: 10 Durable Luggage Brands for Suitcases Built to Last
Buyers call them "super comfy and light" and a "very comfortable walking shoe." One reviewer stated they are "my go-to, favorite shoes for everyday wear," while another called the Moab the "best shoe ever for hiking and walking."
Where to Buy: Merrell | Zappos | Amazon
9. Adidas Women's Cloudfoam Pure Running Shoe
These lightweight sneakers offer a foot-hugging knit upper and the company's "Cloudfoam" cushioning technology that provides heel and arch support. The stylish shoes also feature a Cloudfoam memory sockliner and textile lining.
PERFECT FIT: 11 Best Kids Sneakers for School, Travel, and Play
Buyers call them "super comfy and cute," "great for any occasion," and "easy to wear." One reviewer called them "my airport shoes" because they're "very easy to take off when going through customs/security," while another commented that they're "great for travel and easy to pack."
10. Vionic Tide II Toe Post Sandal
This popular pick for travel shoes offers the look of a flip-flop with a whole lot more comfort and support than the typical beach sandal. The women's travel shoes feature the company's signature Vio-Motion Support technology that offers stability, cushioning, and arch support. Both lightweight and durable, the sandals also have a soft woven toe post and foam-lined strap for extra comfort.
DOUBLE DUTY: The Best Multipurpose Clothing for Travel: 8 Essentials to Pack
They've gotten thousands of five-star ratings from shoppers, who call them "heaven sent," "my 'go to' flip flops," and "very well made." One reviewer noted, "They are great to travel in and go to theme parks in," while another said, "I wish I had started wearing them years ago." There's also a version of the shoe for men.
Where to Buy Women's Vionic Tide II Sandals: Vionic | Zappos | Amazon
Where to Buy Men's Vionic Tide II Sandals: Vionic | Zappos | Amazon
More from FamilyVacationist: