Getting decent sleep on a plane is a real challenge for a lot of people. But it's also a vital part of getting the rest you need to make the most of a trip, and avoiding the worst of the jet lag symptoms. Even if you're not a natural plane sleeper, there are plenty of ways to make it easier to get the shut eye you need.
Snoozing your way through part of a long flight makes the journey seem so much faster, too. Here are tips for sleeping on a plane, courtesy of some easy to pack and inexpensive tools and sleep aids. 
WHAT TO PACK: 10 Essentials for Your Carry-on Bag
1. Neck Pillow
First things first: you're going to need a travel pillow that suits your plane-sleep style if there's any hope of getting some ZZZs. Forget the idea that there's one single best travel pillow–the truth is that your preferred plane sleep position is going to be a big part of choosing the best neck pillow for you. Are you a throw-your-head-back-and-doze-off snoozer, or a head-down-on-the-tray-table type? However you prefer to rest your head, a travel pillow is key, especially if you didn't score one of the window seats.
MAXIMIZE SPACE: 13 Best Underseat Carry-Ons
Some of our favorites include Sea to Summit's ultra-packable travel Aeros pillow, which features soft fabric, different levels of firmness depending on how much you inflate it, and a snap to keep you snugly ensconced in its support. There's also the Trtl Travel Pillow, which is essentially a scarf with a built-in headrest; and the goofy-but-perfect-for-tray-sleepers faceplant style travel pillow.
2. SleepPhones
Noise canceling headphones are great at blocking out noise, but most are super uncomfortable for sleep. Enter SleepPhones, which I've been using for more than a decade. Essentially a stretchy, comfy headband with flattish headphones, SleepPhones give you the functionality of headphones without the discomfort of something poking your ears while you try to sleep.
By playing white noise, meditations or music, you can build a nice buffer against the roar of the engines and the sounds of the cabin. The classic version has a cord you plug into your phone, but there's also a wireless version that simplifies plane use, since you can then tuck your phone into a bag or pocket so you won't lose it in the airplane seat.
3. Eye Mask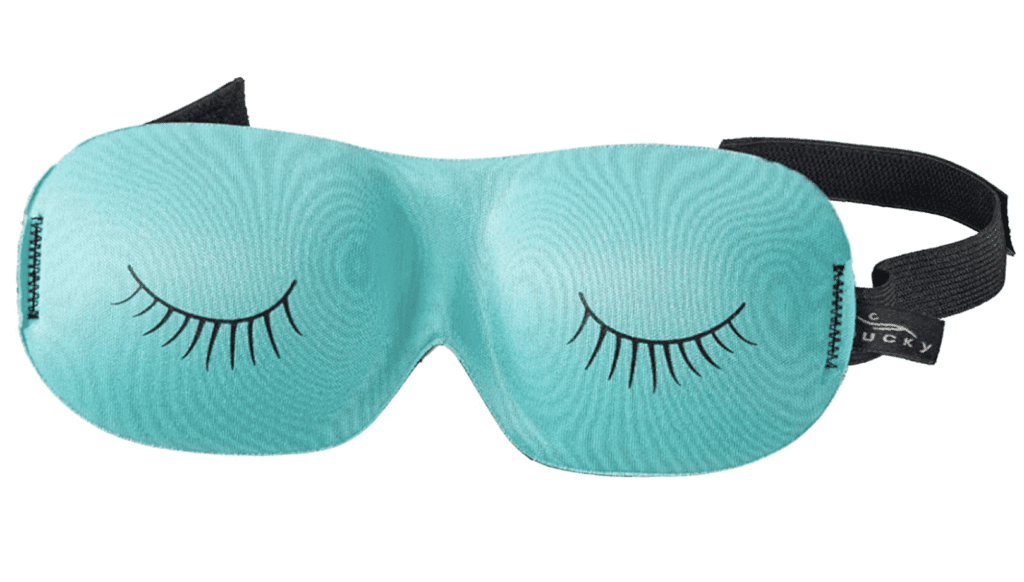 When you're trying to sleep, the last thing you need is to not be in control of lighting. Whether you're trying to block out cabin lighting or just the searing brightness of your neighbor's reading light, you're going to need a good eye mask. For maximum comfort, look for a contoured eye mask that doesn't push on your eyes but does effectively block out light.
CLEAN ROOM: How Much (and How Often) to Tip Hotel Housekeeping
Not only will an eye mask help you fall asleep, but they also tend to be effective when you're trying to stay asleep, since you'll be protected against inflight annoyances like the flickering of the blue light on other people's screens in an otherwise darkened cabin. 
4. Foot Sling
Premium economy seats sometimes have built-in leg rests, but regular economy seats almost never do. And since leg cramps are a common side effect of trying to sleep upright, a little foot support can make a big difference when it comes to sleeping on a plane. A foot sling can be an easy-to-pack part of your sleep comfort plan. Foot slings (also called hammocks) can be threaded through the tray table, taking a bit of the extra pressure off your feet for more comfort (or at least less discomfort).
5. Blanket
Feeling cozy is key when it comes to sleeping on a plane, and a blanket is no longer something you can expect on most flights (at least in economy). If you're willing to carry a blanket, there are plenty of great options.
ALL DAY WALKING: 10 Best Comfy Travel Shoes
But if packing a blanket seems too single purpose and bulky for you, bringing along something that can do double duty on vacation is a great option. Consider a quick-dry microfiber towel, compact picnic blanket, sarong, or travel shawl or scarf–all great things to have along on your travels. 

6. Medications
People are wildly different when it comes to which sleep remedies work best. Though you'll of course want to check with a doctor before trying anything new (and definitely don't try anything for the first time on the plane), there are options that range from natural supplements to prescription meds for sleep.
Just make sure to take the length of your flight (and your goal for how long you hope to sleep) into account when you're deciding how to approach it—you definitely don't want to overshoot the mark and end up groggy at your destination. In my own travels, I've used melatonin, Rescue Remedy Sleep, Benadryl, and Unisom (just a half) with appropriately sleepy results.
More from FamilyVacationist: