Taking a summer vacation with the kids to a U.S. national park is one of the most popular family vacation ideas for many Americans. The summer months of late May, June, July, August, and early September are peak travel times, though—and peak times mean the peak crowds. With that in mind, the best national parks to visit in summer are either off-the-beaten-path gems or parks that are so spectacular (and spacious) that they're worth battling the crowds.
Best National Parks to Visit in Summer with Kids
While there's never a wrong season for visiting any of the best U.S. national parks, here are the national parks that stand out as particularly worthwhile for a visit during the high temperature and high visitation levels of the summer travel season.
FAMILY ROAD TRIPS: 10 Best Car Rental Booking Sites for Cheap Prices
1. Kenai Fjords National Park
Alaska
If you want to escape the summer heat, a trip to witness the awesome glaciers of the Harding Icefield at Alaska's Kenai Fjords National Park may be in order. The best way to experience this national park park in summer is from the water, and there are plenty of cruise tours available to take in the scenery and wildlife (think seals, sea lions, sea otters, puffins, orca, whales, and eagles).
SPRING FORWARD: 19 Best National Parks to Visit in Spring
Those interested in hiking can head to Exit Glacier, the only portion of the park accessible by road. A number of trails and guided ranger walks make it accessible for active families.
Where to Stay Near Kenai Fjords National Park
Just outside the town of Seward along the Resurrection River, the Seward Windsong Lodge operates a collection of small wildflower-named buildings that evokes the feeling of summer camp in the woods. The lodge operator also runs Kenai Fjords Tours, making it convenient to bundle your lodging with a day cruise or shuttle to Exit Glacier.
2. Grand Canyon National Park, North Rim
Arizona
Every summer, the South Rim of the Grand Canyon packs in tourists like Disneyland's Main Street U.S.A. But the harder-to-reach North Rim is only open seasonally, May through October, and it's much more manageable in terms of crowds. Only 10 percent of Grand Canyon visitors make their way to the North Rim, which is great news for families looking to visit one of the country's best national parks in the summer.
MAKE MEMORIES: 22 Best Family Vacation Spots in the U.S.
There are a number of scenic drives and hiking trails around the North Rim, including some spectacular views along the short trail from Grand Canyon Lodge to Bright Angel Point. And if your family has its heart set on an iconic mule ride, you're in luck: Grand Canyon Mule Rides offers everything from an hour to a half-day excursion that's every bit as good as what you can experience at the South Rim.
Where to Stay at Grand Canyon North Rim
Make reservations early to stay in one of the cabins at the Grand Canyon Lodge, which is perched right on the rim. There are also motel rooms located within walking distance to the lodge. Savor the view along with your meal in the lodge's dining room.
3. San Juan National Historic Site
Puerto Rico
Take a trip 500 years back in time at Puerto Rico's San Juan National Historic Site, settled by Europeans in the 1500s. The famed Castillo San Felipe del Morro (a.k.a., "El Morro"), a stone fort built by the Spanish, guards the entrance to the Bay of San Juan from its 140-foot-high perch. Consisting of six-levels, the "unconquerable" El Morro was used by troops up until World War II. In 1983, El Morro was designated a UNESCO World Heritage Site.
NO HIDDEN FEES: 8 Best Puerto Rico All-Inclusive Resorts for Families
In addition to exploring the forts and lighthouses, families can enjoy coastal trails, bird watching, and stargazing. The fort's expansive lawn is tailor-made for picnicking and flying kites.
Where to Stay Near San Juan National Historic Site
A stay at the luxury beachfront La Concha Renaissance San Juan Resort just outside the Old San Juan historic district makes it easy to combine a tropical beach vacation with your summer national park visit. La Concha also offers packages that include food and beverage credits, making your stay partially all-inclusive. 
4. Mammoth Cave National Park
Kentucky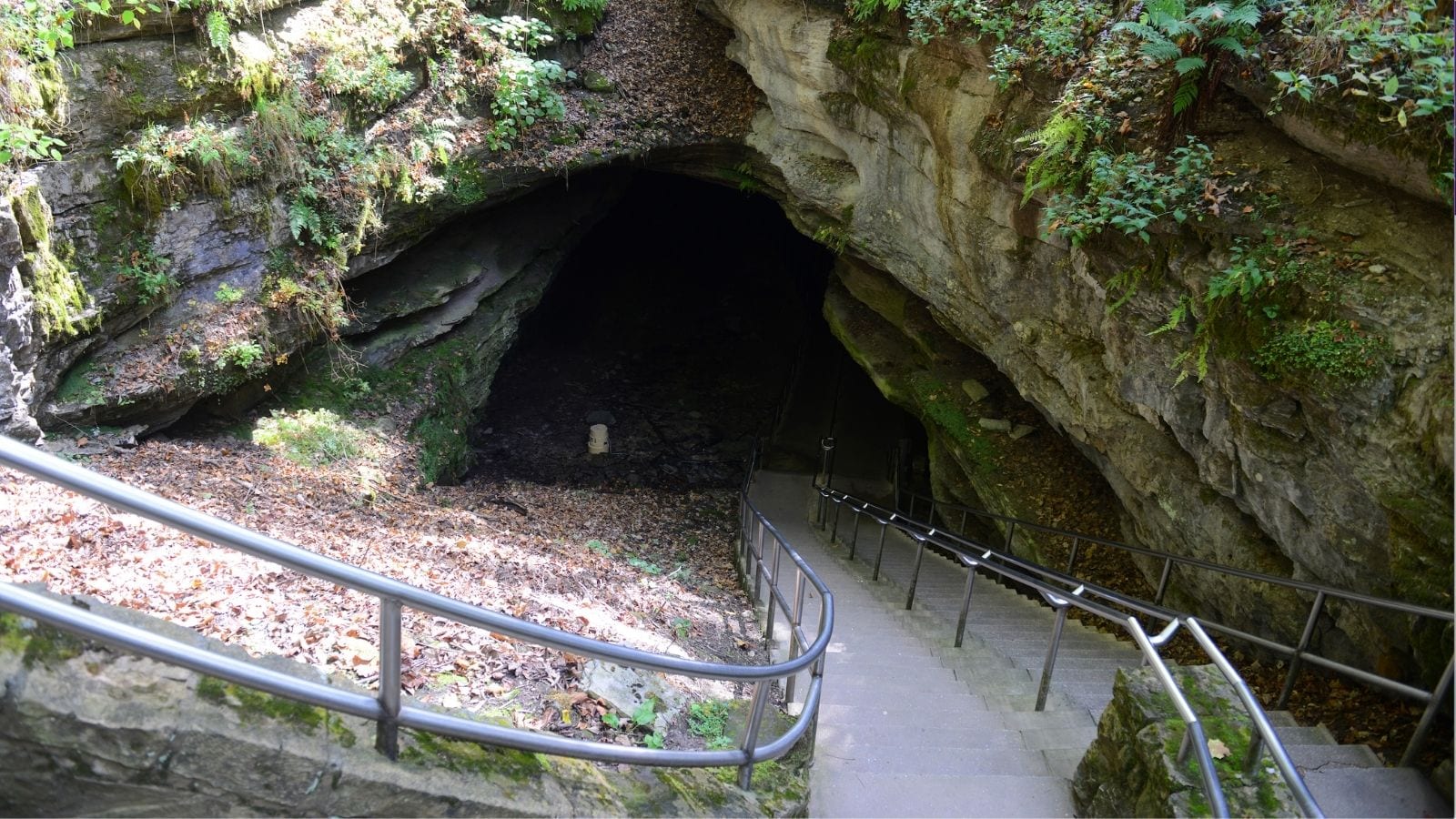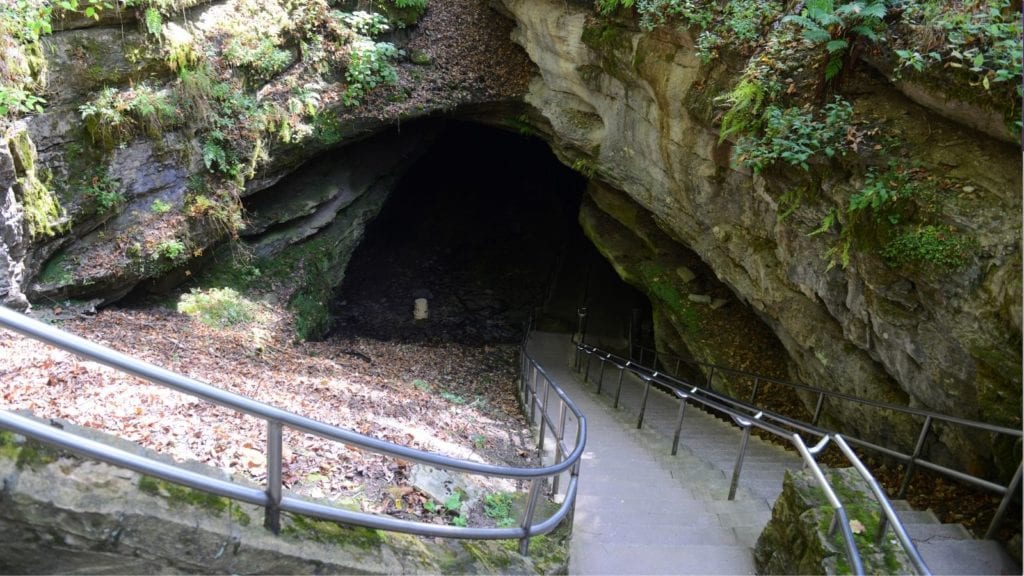 In the dog days of summer, head underground at Mammoth Cave National Park, where it's always a cool 54 degrees Fahrenheit year-round. At more than 400 miles long, Mammoth Cave is the longest known cave system in the world, a UNESCO World Heritage Site, and an International Biosphere Reserve.
STAY UNDERGROUND: 6 Luxurious Cave Hotels Where You Can Spend the Night
Admission to the national park is free, but access to the cave itself is only through a paid guided tour. There are plenty of different tours to choose from when you visit this national park in summer, including the classic two-hour historic tour, lantern tours, and spelunking adventures.
Mammoth Cave National Park encompasses more than 52,000 acres of south central Kentucky, and is essentially two parks in one. Most visitors come for the underground experience of the cave itself, but there's plenty of aboveground adventures to be had too, including miles of hiking trails, biking, canoeing and kayaking on the Green and Nolin Rivers, and horseback riding.
Where to Stay at Mammoth Cave National Park
Nestled in a grove near the visitor's center are the rustic Woodland Cottages of The Lodge at Mammoth Cave. These historic cabins are perfect for families, have two to four bedrooms, and are pet-friendly.
5. Zion National Park, Kolob Canyons
Utah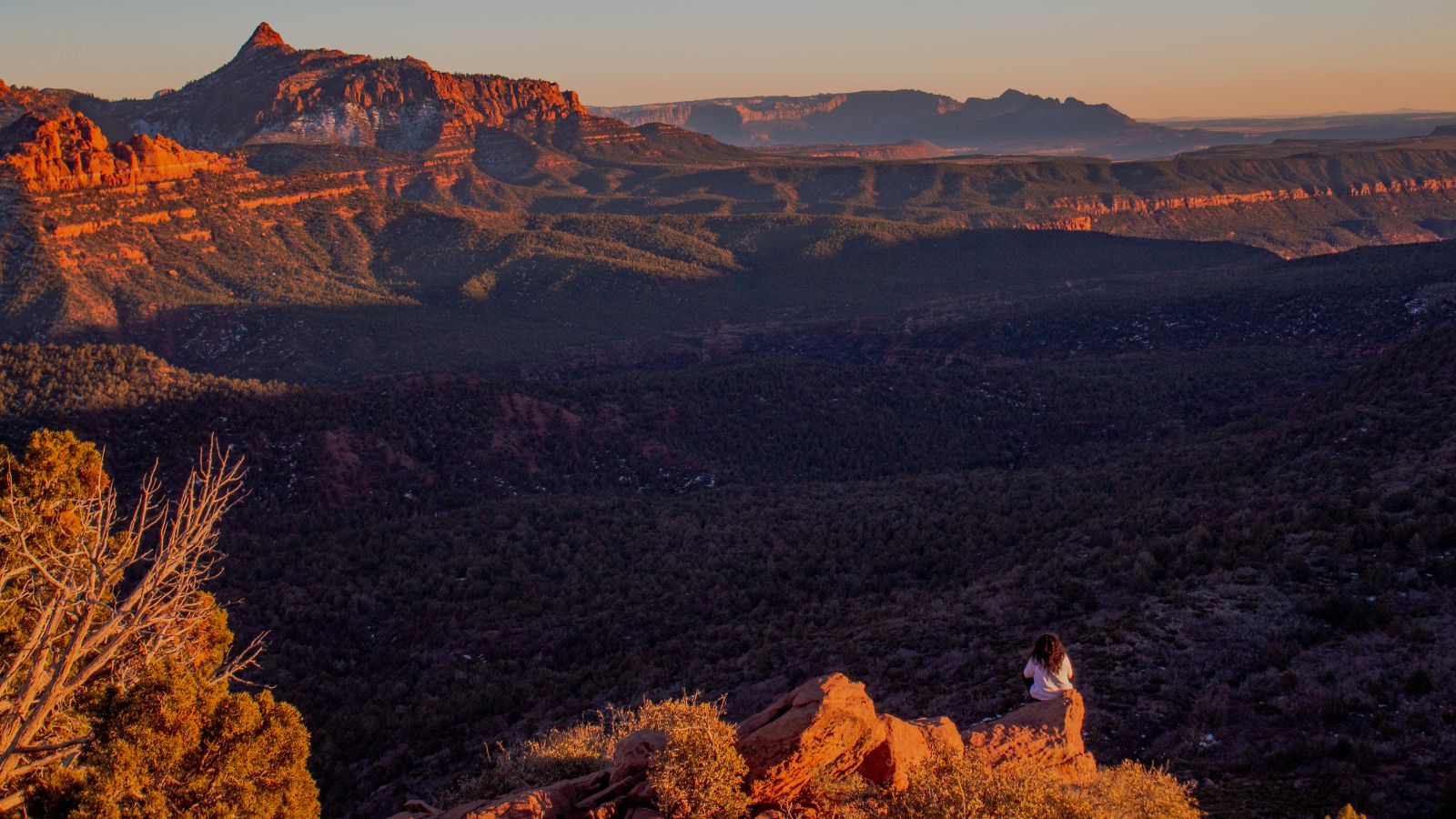 No doubt about it, Zion National Park is busy. Parking lots are full by 9:00 a.m., and crowds are extreme around the holidays with queues for the canyon shuttle stretching to multiple-hour waits. However, 40 miles northwest of Zion's narrow slot canyon is the Kolob Canyons district of Zion National Park. Kolob Canyons do not receive near the crowds as Zion Canyon, which makes it one of the great alternative national parks to visit in summer.
BUDGET-FRIENDLY: 11 Cheap Family Vacations That Are Super Fun
Kolob sits 2,000 feet higher in elevation, too, making it typically 10 degrees cooler than Zion. Here families will find brightly colored red rock walls with multiple parallel "finger" canyons. Each of these finger canyons is like a miniature Zion Canyon, broad at its mouth and narrowing to a deep slot at the upper end. Hiking in Kolob Canyons offers the kind of peaceful solitude that's difficult to find in Zion.
Where to Stay Near Zion's Kolob Canyons District
The St. George/Hurricane KOA is located 20 miles south on I-15 from the Kolob Canyons Visitor Center. It's also about 30 miles west of the main Zion National Park entrance in Springdale, Utah. This KOA could easily be a home base for both sections of the park, and it has a pool, shuffleboard court, mini golf course, playground, and a trail to archaeological ruins of a settler homestead.
6. Agate Fossil Beds National Monument
Nebraska
The Agate Fossil Beds National Monument, managed by the National Park Service, provides a glimpse into life on the High Plains 20-plus million years ago. It's a prehistoric fossil hotspot that features two trails for visitors to hike and explore.
FAMILY FUN: 17 Most Kid-Friendly Family Resorts in the U.S.
The one-mile Daemonelix Trail reveals original fossil exhibits of creatures that lived in the Miocene (about 23 million to five million years), and the 2.7-mile wheelchair-accessible paved Fossil Hills Trail takes you to historic dig sites where you walk the same ground that paleontologists walked when they found the Miocene-age bonebed. In the summer, you can also check out two teepees raised by members of the Lakota tribe along the Fossil Hills Trail.
In addition to exploring the trails, several learning experiences are available for families. The "Touching Table" in the visitor's center is full of things to be held, examined, and identified. Junior Ranger and Peewee Ranger programs are also a great way to turn a vacation or weekend getaway to into an enriching and educational experience.
Where to Stay Near Agate Fossil Beds National Monument
Agate Fossil Beds does not offer camping or overnight stays within Park Service boundaries. However, there are great options in surrounding communities. Just an hour north of the monument is Our Heritage Guest Ranch, a working dude ranch and itself national landmark surrounded by the Oglala National Grasslands. Families can enjoy trail horseback rides, day-to-day ranch experiences, prime stargazing, and even continue their fossil exploration through a guided tour in the White River Badlands of northwest Nebraska.
7. Glacier National Park
Montana
Located in northern Montana on the border with Canada, Glacier National Park is one of the most popular U.S. national parks to visit in summer. With its glacier-capped peaks, aquamarine lakes, and exciting hiking trails, it's easy to see why.
WINTER WONDERLANDS: 13 Best National Parks to Visit in Winter
The park was established in 1910 and contains seemingly endless acres of rugged and breathtaking landscapes, historic national park lodges, Swiss-style hut-to-hut hiking, and classic Red Buses whose drivers are known as "jammers." With year-round outdoor activities, there's something for everyone here, but the hiking, boating, biking, and fishing are unquestionably best during the summer months.
If you're driving your own car or RV to Glacier National Park, be aware that there are some vehicle size restrictions for the must-see Going-to-the-Sun Road corridor (which is only open during the summer months). The park also requires a vehicle reservation to reduce congestion in certain areas as well.
Where to Stay Near Glacier National Park
Located just outside Glacier National Park, Cedar Creek Lodge is inspired by the people, cultures, and landscapes of Montana. Activities at the mountain lodge include fly fishing on Whitefish Lake, backcountry adventures inside Glacier National Park, and championship golf. The complimentary hot breakfast and indoor pool make the lodge perfect for families.
8. Yellowstone National Park
Wyoming, Montana, and Idaho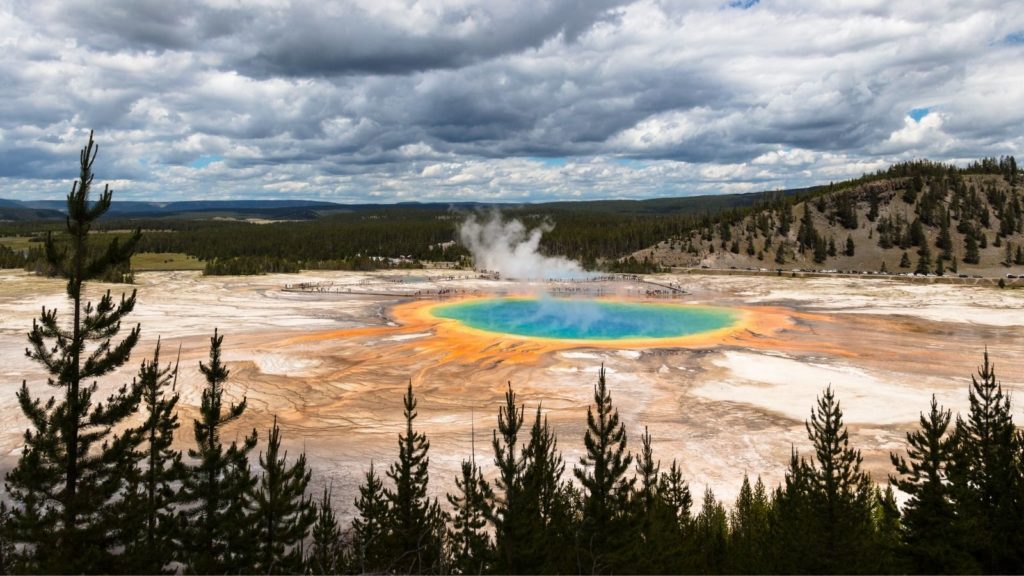 Signed into law by President Ulysses S. Grant as America's (and the world's) first national park, Yellowstone was set aside to preserve the area's unique scenery, cultural heritage, and geologic and ecological systems for the benefit of future generations. Visitors have ooohed and aaahed ever since.
HOTEL DEALS: 10 Best Hotel Booking Sites for Cheap Prices
With 25 sites, landmarks, and districts on the National Register of Historic Places, the park is rich in cultural and historical resources. Yellowstone is one of the most visited national parks in the country, but most visitors never get more than half a mile from their car—meaning the park is not overrun with tourists once you get a little bit off the beaten path. Explore deeper into the park, not just the congested main corridors, and you will find that Yellowstone is actually one of the best national parks to visit in summer.
Where to Stay at Yellowstone National Park
Yellowstone National Park offers nine different lodging facilities with a variety of summer packages for all ages and interests, from families to hiking and wildlife viewing. The iconic Old Faithful Inn is considered the world's largest log structure. In addition to the lodges, families can pitch a tent or park an RV at one of the park's various campgrounds (rates start around $30 per night).
9. Lassen Volcanic National Park
California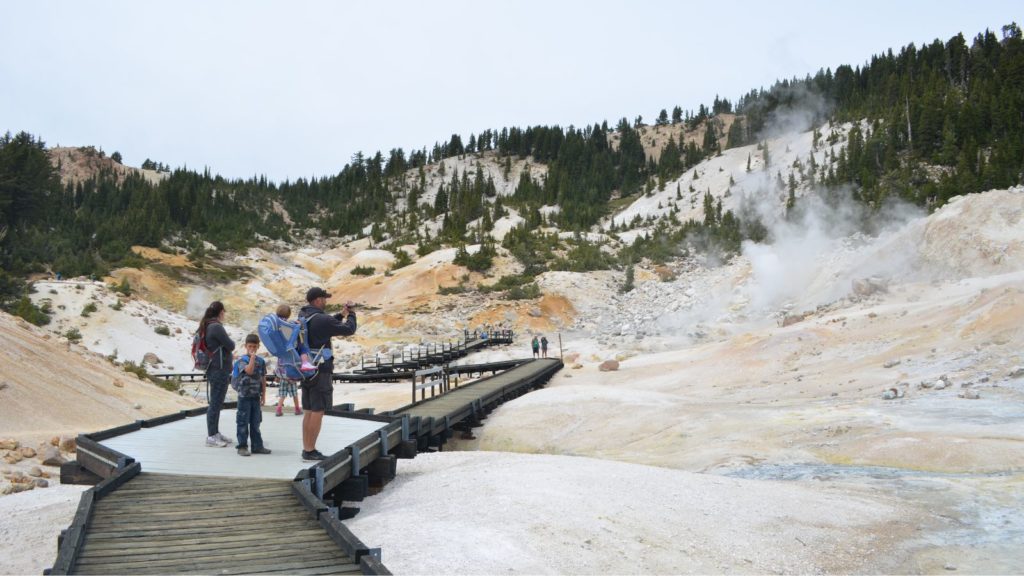 With geothermal features, mud pots, and lava rocks aplenty, Lassen Volcanic National Park is a West Coast vacation alternative to Yellowstone. This northern California park has acres of hydrothermal attractions with fantastic names like Bumpass Hell, Fart Gulch, and Devils Kitchen. Portions of Lassen Volcanic National Park were closed due to the devastating effect of the Dixie Fire in 2021, but since then the majority of the park has reopened.
GOLDEN STATE: 7 Cheap California Vacations for Families
Manzanita Lake offers swimming, hiking, and camping. The Southwest Area of the park has the best-known geothermal areas as well as steep, rugged terrain and beautiful vistas. Butte Lake Area features views of Cinder Cone, the youngest volcano in the park.
Where to Stay in Lassen Volcanic National Park
Close the Loomis Museum and visitors center, Manzanita Lake Campground offers rustic one-room, two-room, and bunkhouse cabins. There are miles of hiking trails around Manzanita Lake, and kayaks are available for rent at the camper store. The nearby museum contains exhibits about the eruption of Lassen Peak, and the visitors center has information about other popular locations in the park.
10. Assateague Island National Seashore
Maryland
Wind, waves, and wild horses—there's a lot for families to love at Assateague Island National Seashore, a long stretch of beach where untamed horses roam free. A national park that's best visited in summer, this scenic area is the perfect setting for swimming, fishing, crabbing, kayaking, and other kid-friendly beach activities.
AMERICA'S BEST IDEA: 12 Most Beautiful National Park Lodges in the U.S.
Assateague Island is about an hour from the Harriet Tubman Underground Railroad National Park, making it possible to combine your family beach vacation with an opportunity to teach your kids about an American hero who repeatedly risked her life to guide enslaved people to freedom.
Where to Stay Near Assateague Island
Maryland's Ocean City is a short drive to Assateague Island National Seashore, and Aloft Ocean City is located right on the water steps from the Ocean City Boardwalk. After your visit to see the wild horses, come back to Ocean City to play on the beach, watch a giant kite show, and enjoy outdoor movies, dance parties, and fireworks.  
11. Virgin Islands National Park
U.S. Virgin Islands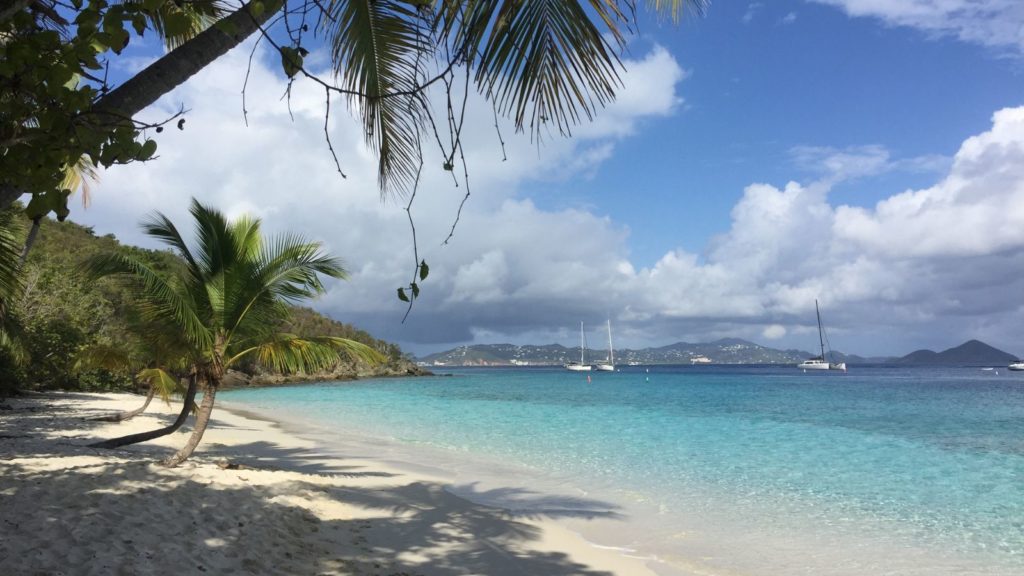 The U.S. Virgin Islands are an official U.S. territory in the Caribbean consisting of three individual islands: St. Croix, St. John, and St. Thomas. The Virgin Islands National Park makes up two-thirds of St. John, but there are portions of the national park throughout all three islands.
NO PASSPORT NEEDED: 19 Best All-Inclusive Resorts in the U.S. for Families
Activities include relaxing on white sand beaches, swimming, snorkeling, and fishing. Archaeologic sites include ancient petroglyphs of the indigenous Taino people. Virgin Islands National Park is known for its biodiverse reefs such as Buck Island Reef National Monument, located in St. Croix. Visiting is hassle-free for parents of young children because no passport is required for U.S. Citizens arriving from the United States to the U.S. Virgin Islands.
Where to Stay in Virgin Islands National Park
Camping is the only option inside Virgin Islands National Park. Cinnamon Bay Beach and Campground is located within the park overlooking Cinnamon Bay. The campground offers all the amenities of the best family glamping resorts, including tents with electricity, a queen-size bed, cooking kit (with cooler, pot, pan, cooking utensils, plates, bowls, cups, eating utensils, and two burner propane cooktop), fan, light, linens, towels, picnic table, and porch chairs. Eco-Tents sleep two, and Family Eco-Tents include extra space with twin bunks in addition to the queen and sleep four people.
More from FamilyVacationist: