Do all-inclusive Hawaii resorts exist? The answer is both yes and no. While you won't find traditional all-inclusive resorts that package accommodations, activities, meals, and gratuities in one rate per person, you will find all-inclusive Hawaii family vacation packages at full-service resorts plus other incentives that allow you to have a nearly all-inclusive experience on the islands.
The Best All Inclusive Hawaii Resorts
From the sand and surf of Oahu to tropical oasis that is the Big Island, here are the best Hawaii all-inclusive resorts for families.
BEST FIT: How to Choose the Best Hawaiian Island to Visit
While these Hawaii resorts aren't traditional all-inclusives, they give you options to build your own all-inclusive-alike experience, freeing you up to sit back and just enjoy the vacation.
1. Aulani, A Disney Resort & Spa – Oahu, Hawaii
Okay, so Aulani isn't technically a Hawaii all-inclusive resort. But this Disney resort on Oahu includes so many activities and amenities in its nightly rates that it certainly feels all-inclusive! Among the inclusions are nightly bonfires with storytelling, resort walking tours, a game room, ukulele lessons, character experiences, kids' clubs, and live entertainment. There are over 30 included activities, enough to easily spend a week busy and happy without paying an extra dime on things to do.
EMBRACE BEACH LIFE: World's 10 Best All-Inclusive Beach Resorts
Of course, access to the resort's beach, as well as the countless pools, lazy rivers, and splash pad is included in rates, as are the pool parties and dive-in movies hosted there. Like most Disney hotels and resorts, Aulani has thought of pretty much everything.
2. Embassy Suites by Hilton Waikiki Beach Walk – Oahu, Hawaii
Located steps from world-famous Waikiki Beach on Oahu, the Embassy Suites by Hilton offers a different kind of all-inclusive Hawaii experience: spacious suites with fully equipped kitchens. Stock up on groceries at a local supermarket and cook lunch and dinner in your room (but not breakfast—that's complimentary and includes a bountiful buffet each morning). The hotel also hosts evening receptions with complimentary snacks, beverages, and often live entertainment.
GO BIG: 12 Best All-Inclusive Resorts for Large Family Groups
Other complimentary perks include the Grand Lanai, where you'll find a heated pool, whirlpool spa, children's pool, and sun deck with cabanas and day beds for lounging. Be sure to inquire about the hotel's specials before you book, too—it regularly offers packages, many of them designed for specifically for families.
3. Royal Kona Resort – Big Island, Hawaii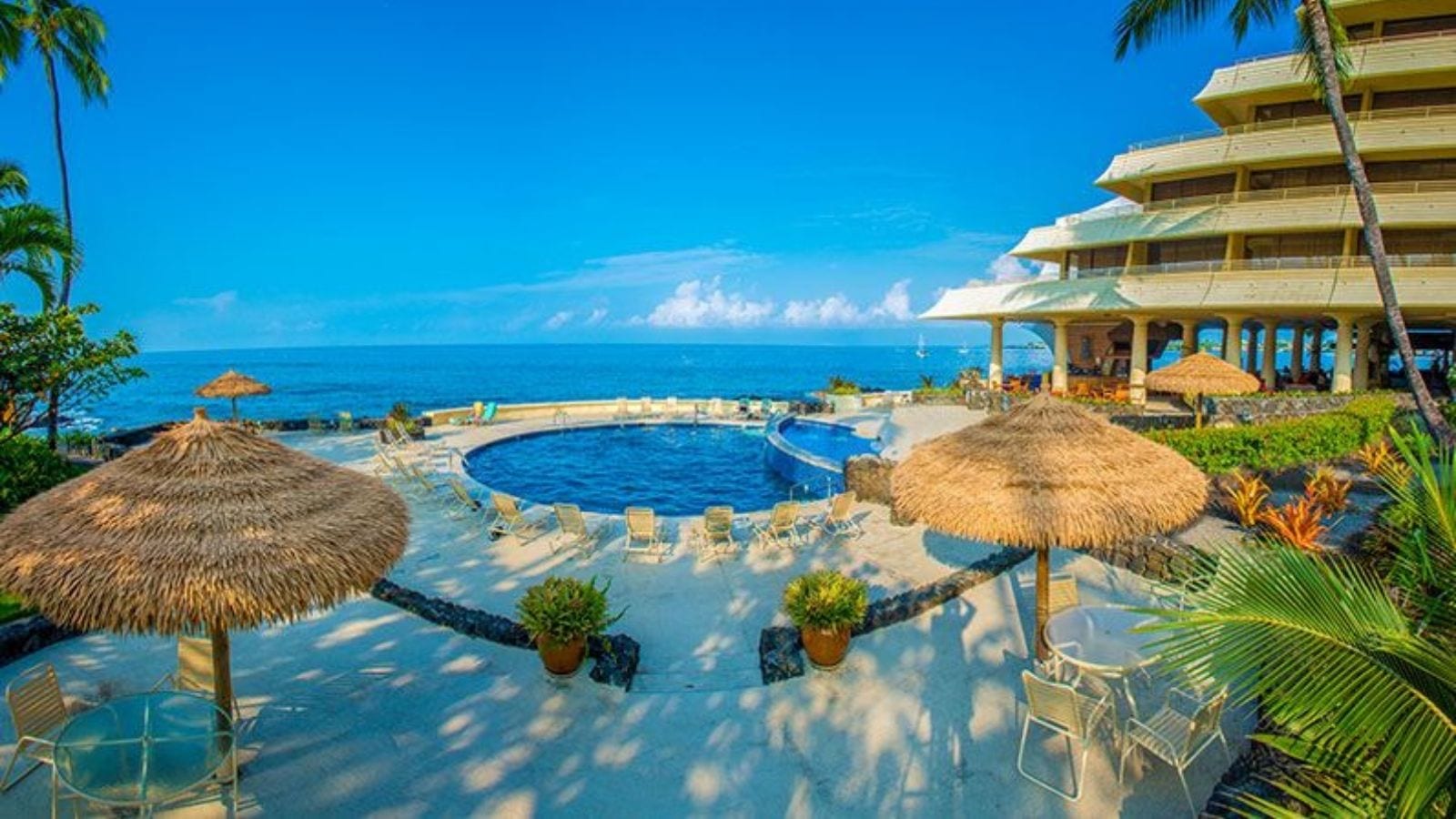 On the Big Island, Royal Kona Resort has offered all-inclusive pricing in the past, and is currently offering a number of vacation packages, including an air-inclusive vacation package that combines accommodations and airfare in one discounted rate; a car rental and parking package that ensures you'll get a car rental in Hawaii; and a royal experiences package, which adds on special-event perks like luau tickets and a dinner cruise.
ALOHA KAUAI: How to Travel Sustainably on Kauai, Hawaii's Garden Isle
Once you arrive at this tropical oasis, you can take advantage of scheduled activities, the swimming pool and saltwater lagoon, and of course the nearby beach at no extra cost, just like a true Hawaii all-inclusive resort.
4. Royal Lahaina Resort and Bungalows – Maui, Hawaii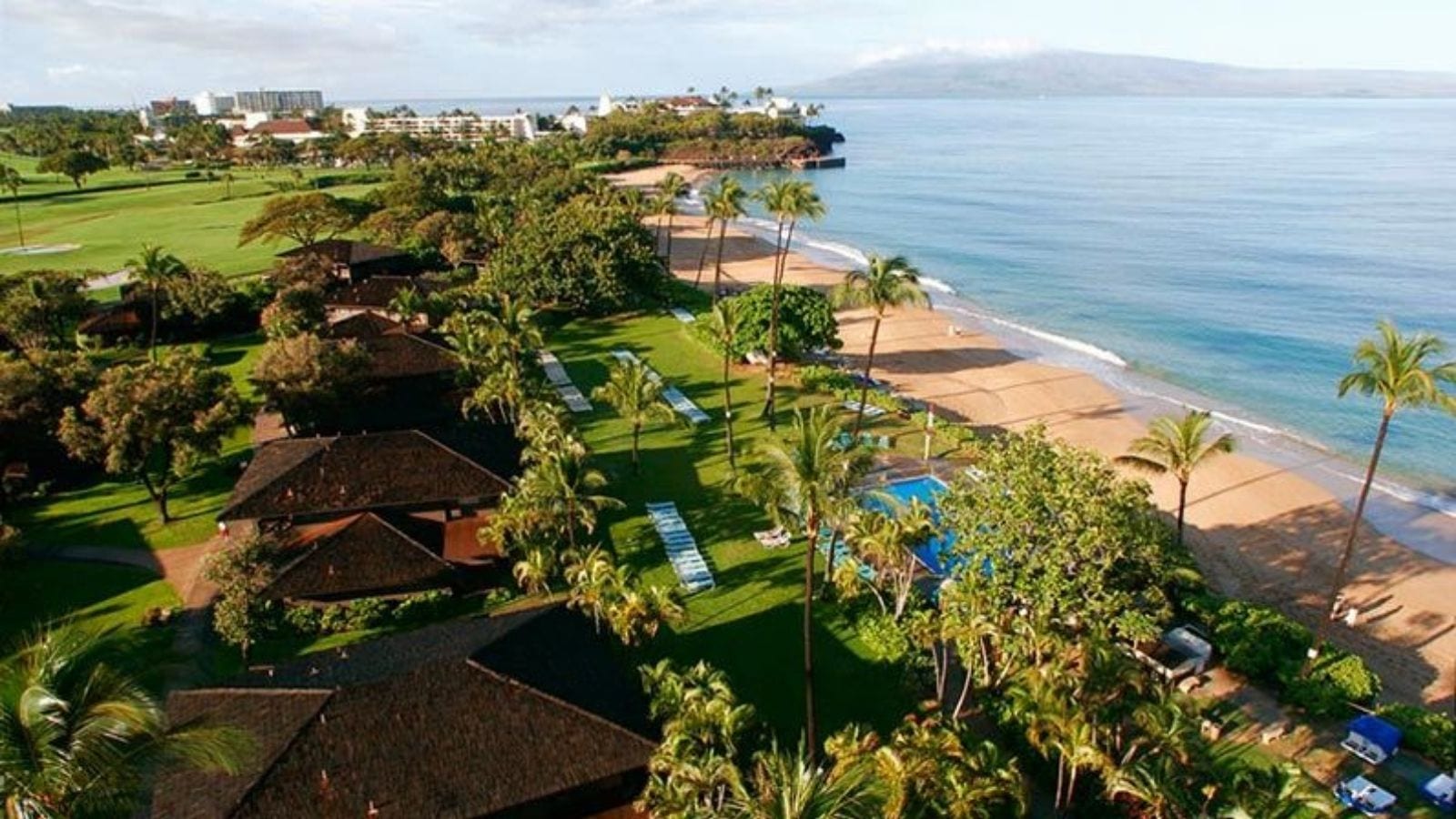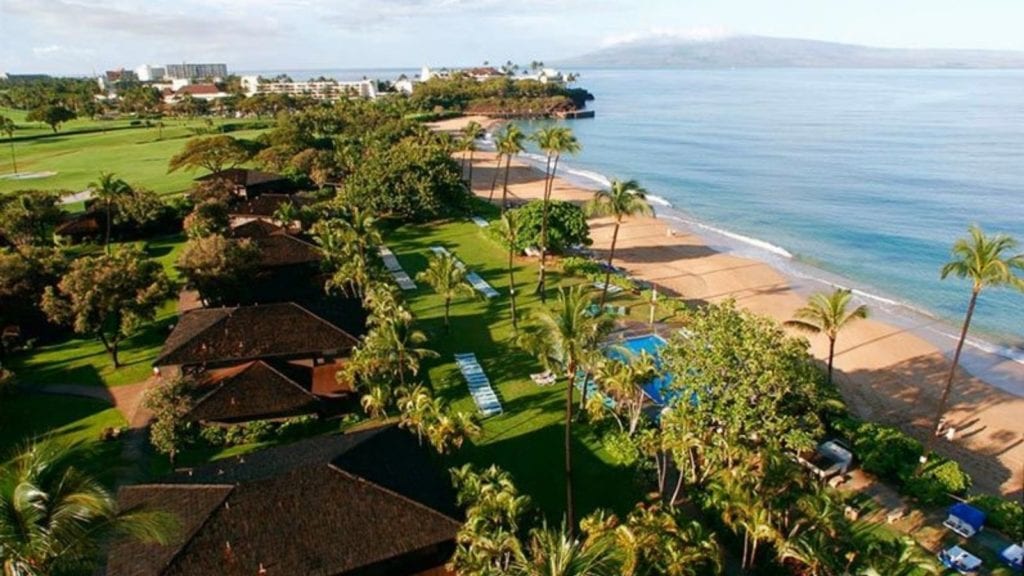 Royal Kona Resort's sister property on Maui, Royal Lahaina Resort, is not an all-inclusive resort, but it sometimes offers an air-inclusive package with discounts on both airfare and room rates. This resort is located right on the beach, where all guests enjoy complimentary access to the sand and surf, as well as beach activities and rentals. Families also enjoy free access to three outdoor pools (two of which are oceanfront) and two hot tubs.
SMILES ALL AROUND: 10 All-Inclusive Resorts Even Teenagers Will Love
Noteworthy Hawaii Resort: Hana-Maui Resort (Formerly the Travaasa Hana), Maui Hawaii
For years, the secluded and relaxed Travaasa Hana resort offered near-all-inclusive amenities to Hawaii visitors. A rebrand and update has turned the resort into the Hana-Maui Resort, a Destination by Hyatt Residence property. And while the appeal of the original resort remains (the vast and gorgeous property overlooking Hana Bay, for instance), there are no longer all-inclusive add-ons but rather a more traditional-for-Hawaii a la carte pricing structure for dining at the two main restaurants, the poolside bar, and the grab-and-go shop.
LAVA WOWS: Tips for the Best Trip to Volcanoes National Park
Looking to splurge? The resort offers a Plane to Paradise package, which whisks you from one of Hawaii's main airports to the resort's perch along Maui's east coast in a private 10-seat Cessna.
Does Hawaii Have Any All-Inclusive Resorts?
Unlike the most Mexico all-inclusive resorts and Caribbean all-inclusive resorts, in Hawaii you won't find many fully inclusive resorts that include all your food, drinks, tips, and activities. But many Hawaiian resorts offer inclusive packages that make trip planning and budgeting a bit easier.
EASY FUN: 6 Best All-Inclusive Resorts in Florida
Some packages include accommodations and airfare along with water sports, beach access, and use of the resorts' pools. Others include all those same amenities plus a breakfast buffet or golf course access. For the most part, though, you should plan to pay for your meals separately from your Hawaiian vacation package when staying at a Hawaii resort.
Does Honolulu Have All-Inclusive Resorts?
Honolulu, on the island of Oahu, has several resorts that feature all-inclusive-style amenities. Embassy Suites by Hilton on Waikiki Beach sells inclusive package deals designed with families in mind. The resort also has kitchenettes and complimentary breakfast, activities, pools, nightly receptions with snacks, and live entertainment.
Does Maui Have All-Inclusive Resorts?
Maui has resorts that offer inclusive packages. Your best bet for an all-inclusive resort experience on Maui is Royal Lahaina Resort, which offers airfare-inclusive packages with discounts on both airfare and room rates. Other packages come with full American breakfast daily and other inclusive perks.
The resort formerly called Travaasa Hana, which once offered the most truly all-inclusive resort experience on Maui, has rebranded as Hana-Maui Resort by Hyatt and no longer offers all-inclusive package deals.
How Much Does the Average Trip to Hawaii Cost?
The cost of a trip to Hawaii depends on factors like your total length of stay, where you'll be flying from, which island you plan to visit, and the time of year you travel. Your choice of accommodations will also influence the cost.
HOW TO GIVE BACK: Malama Program Lets You Show Your Love for Hawaii
A budget hotel will obviously cost less than luxury lodgings. Round-trip flights generally cost between $500 and $875, with cheaper airfare available from West Coast cities like Los Angeles and San Francisco. Hotel costs range significantly, but according to the Hawaii Tourism Authority, the average nightly hotel rate is $264. Plan for $50 to $200 per day per person for food. That's a wide range and may depend on the amenities offered at your resort. If you want to rent car for your family vacation, you'll need to factor in the cost of the rental and parking fees as well.
What Is the Best Month to Go to Hawaii?
Determining the best month to go to Hawaii really depends on your vacation goals. If you're looking for the cheapest rates, you'll want to pick a month in the fall, like September or October. Crowds are usually smaller during these months, so hotels offer lower rates to attract visitors.
BEACH TIME: 10 Dreamy Beach Resorts in Florida That Are Perfect for Families
If you have a specific activity in mind, you'll need to do a little research. For example, if you want to see humpback whales frolicking off the islands' coasts, go in February. If you want to go hiking on Kauai, go in the summer when the trails are drier and there's more daylight.
How Much Does an All-Inclusive Trip to Hawaii Cost?
Many variables will impact the cost of an all-inclusive vacation in Hawaii. The number of nights you plan to stay and the type of accommodations you choose will greatly influence the cost. If you want to stay at a luxury resort like Embassy Suites by Hilton on Oahu, for example, expect a higher per night cost than a budget hotel. You are paying for the location and inclusive resort amenities.
Want accommodations that include a kitchen, but not necessarily looking to stay at an all-inclusive Hawaii resort? Search your favorite hotel booking sites for all-suite or condo hotels and resorts, as these type of accommodations typically have full kitchens and other useful amenities (think in-unit washers and dryers and bicycles for exploring) to help you save and have an genuine Hawaii all-inclusive resort experience.
Are there All-Inclusive Hawaii Vacations with Airfare?
Some Hawaii vacation packages are considered "air-inclusive," which means your airfare cost is factored into the total cost. If you're looking for a range, nightly rates for an all-inclusive Hawaii vacation in early 2021 ranged as low as $179 a night, but $380 per night was the average.
What Is the Cheapest Time of Year to visit Hawaii?
The cheapest time of year to visit Hawaii is September and October. Hotel rooms tend to be least expensive between September and mid-December. However, you should expect higher rates during the week of Thanksgiving when many folks look to get away for a holiday. You can sometimes get great rates in June and July, but these may be last-minute bargains. Hawaii vacations are most expensive from mid-December through April.
When Should You Not Go to Hawaii?
In terms of weather, there's really not a bad time to go to Hawaii. The average daily temperature in the summer is 85 degrees Fahrenheit. In the winter, the temperature is around 78 degrees. At night, expect these temperatures to fall by about 10 degrees. Winter sees more rain than summer, but that's not why you should avoid visiting between December and April.
NO PASSPORT NEEDED: The 15 Best All-Inclusive Resorts in the USA
These months typically see the most tourists, so prices go up for all kinds of accommodations, including all-inclusive Hawaii resorts. If you're looking for low-season rates, plan to go between late spring and early June, or between September and mid-December.
What Month Has the Best Weather in Hawaii?
There's really not a bad month to visit Hawaii. However, it can be more humid in the wet season, and it's a little hotter at the peak of summer. Therefore, the best months to visit Hawaii are April, May, September, and October. You'll have more pleasant temperatures, less rain and humidity, and better rates since these months fall in the off-season.
What Is the Rainy Season in Hawaii?
Given its tropical locale, Hawaii has two seasons: wet and dry. The dry season occurs in the summer months, from April until October. The rainy season in Hawaii occurs during the winter months, with November to March being the rainiest. As temperatures decrease, precipitation and clouds increase. This means you might experience some cloudy, gray days during your trip. Fortunately, Hawaii rarely experiences multiple days of cloud cover, so even during the wet season, expect plenty of sunshine.
More from FamilyVacationist:
Updated: October 12, 2022