A trip to Hawaii Volcanoes National Park is worth the effort it takes to get there. From steaming sulfur banks to an easy-to-reach lava tube and a walk across a still-hardening lava lake, if you can get your family to The Big Island of Hawaii you won't be disappointed by this magnificent volcano national park. Oh, and bonus? It may actually be erupting when you're there!
The Big Island of Hawaii has been formed by five volcanoes, two of which are considered active and are part of Volcanoes National Park: Kilauea, which makes up much of the park, has been actively erupting since 1983. Mauna Loa, which also lies in the park, had not erupted since 1984 before it began again in November 2022. Keeping tabs on NPS alerts is key in times of active eruptions.
Also on the Big Island and considered dormant are Kohala; Hualalai, which last erupted in 1801; and Mauna Kea, which last erupted about 4,000 years ago.
WHERE TO STAY: 6 Best Hawaii Resorts That Are (Almost) All-Inclusive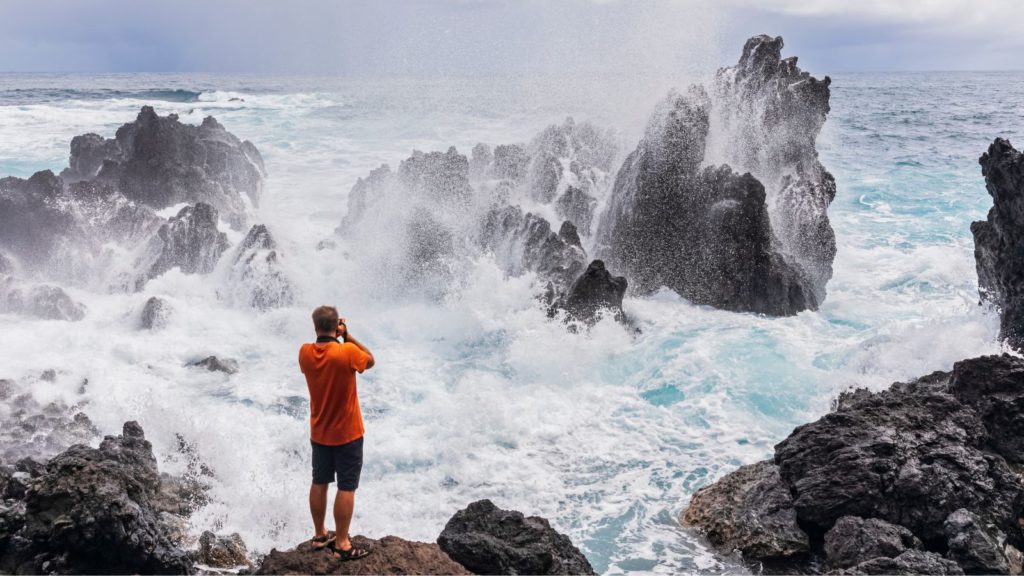 A Family Guide to Hawaii Volcanoes National Park
1) Get Ready!
First and foremost, active lava flow isn't the only aspect of Volcanoes National Park that you can't predict; the fog, vog (volcanic fog or unclear air), mist, and rain move through without much predictability. The National Weather Service may anticipate 30 percent chance of rain in the morning on a day you spend soaked to the core all day (I've experienced this more than once).
NO PASSPORT NEEDED: 12 Best Beach Resorts in the U.S. for Families
If you're looking for a clear day, your best bet is to call the Visitor Center or Volcano House to check on what it looks like "on the ground" (do not trust an app or widget on this one) and be flexible. If you only set aside one day of your trip to the Big Island for the national park, there's a chance you may not get the views you were hoping to see. That said, the park is magnificent and otherworldly no matter the weather and is most certainly worth the trip, especially if you' a're prepared with layers, rain gear, flashlights, good walking shoes, snacks, and water.
2) Get Set!
To this point, there are few places to find food or water in the park, so plan accordingly. While the town of Volcano is nearby, and there is one convenient store, you can't guarantee it being open or having what your family may want or need. Also, even on the shortest hikes in Volcanoes, visitors need a lot of water—remember, it's mostly fields of black rock!
DISNEY DOES HAWAII: Should You Stay at Disney's Aulani Resort in Hawaii? Here's How to Decide
And lastly, when lava flow is happening, it's most impressive to see the park at night, and typically, access to that glowing red, steamy view (and photo op) is a walk in the very, very dark. If you stay for night viewing, come prepared for cold and dark—a phone's flashlight will not be enough for night hiking, so definitely have one flashlight on hand for at least every two walkers (but best is one per person).
3) Go!
Volcanoes' Main Entrance leads you to your first stop at the Visitor Center to get oriented. Take the time to check out the maps, both flat and in relief, learn about the regularly changing conditions, and ask any questions before you head out. On a clear day or evening, your first vista should be out the back door of Volcano House across the street from the Visitor Center.
HIGHLY RECOMMENDED: I Took a Dog on a Field Trip in Hawaii and it Was the Best
The breathtaking view of Halema'uma'u Crater (within Kiluea Caldera) gives you a sense of the ever-changing nature of this park. From the Volcano House viewpoint, you can see where the lava lake has risen and fallen and where rock slides have changed the nature of this crater. If it's a time of visible lava, it's best to get here either in the dark hours of the morning or in the late evening (check the park's information page about parking and traffic for night visiting) to see the lava and smoke plume in the contrast of night; the best view, however, may be an access point around the sides of the crater.
Given the change in lava activity, road and trail openings are variable, so always confirm with the National Parks Service. If it's open, drive around Chain of Craters Road and stop at the sulfur banks for a treat. Sightseeing along this road will give you ample perspectives on the ever-changing Halema'uma'u crater on Kilauea.
The Best Hawaii Volcanoes National Park Hikes for Families
There are several days worth of hikes in and around the park, but the best hikes for families in Hawaii Volcanoes National Park are Thurston Lava Tube, Devastation Trail, and Kilauea Iki. Here's what you need to know about each of the hiking trails.
Thurston Lava Tube at Hawaii Volcanoes National Park
Parking can be tight at Thurston Lava Tube, but this is a great first walk for anyone visiting Hawaii Volcanoes National Park, but especially for families with kids. The beginning of the loop through the tube has walkers going down, down, down through lush Hawaiian rain forest on a paved trail with handle rails.
NO BLISTERS: 10 Comfortable Shoes That Can Handle a Full Day of Walking
This leads to the main part of the gentle walk through a vast lava tube which is mostly illuminated. Tall adults should watch the side walls, and note that puddles persist year round. If you're looking for lava tube adventure, check out Kaumana Caves in nearby Hilo; there you'll see how valuable that illumination really is!
Devastation Trail at Hawaii Volcanoes National Park
Slightly less devastating than it was 30 years ago because, well, things grow, Devastation Trail exemplifies what happens when once-lush tropical land is completely covered in lava and ash. The further your family strolls the short, half-mile paved walkway out into the (somewhat) barren landscape, the greater the sense of the vastness of the (natural and healthy) destruction.
CAN'T DECIDE? Here's How to Choose the Best Hawaiian Island to Visit
You may not remove rocks from a national park, and despite the temptation Hawaii Volcanoes National Park is no exception. Still, young and old alike will enjoy crouching along the trail to look for emerald-like crystal olivine in the dark black obsidian rock. You'll be extra lucky if you find one of Pele's tears—a lava rock in the shape of the teardrops of the Hawai'ian Goddess of Fire.
Devastation Trail leads to an awesome overlook of Pu'u Pua'i, site of the 1959 eruption that catapulted lava 1900 feet into the air, and a new perspective on the Kilauea Iki trail and lava lake.
Kilauea Iki at Hawaii Volcanoes National Park
Because it's longer than the other two more gentle walks and has several steep switchbacks on the way up, you may need to gather your reserves to do the Kilauea Iki hike. It's certainly doable for kids eight and up, and I know five-year-olds who have done it, but it's still a little beyond "easy" as family hikes go.
EXOTIC ESCAPES: 10 Best All-Inclusive Honeymoon Resorts in the World
A gentle slope around the flank of the lava lake brings you through native forest where you may get to see Hawaiian birds such as the apapan'e or the amaki'hi and flora like the ohi'a lehua tree or amaʻu ferns. Eventually, you descend into the still-hardening lava lake where steam rises out of cracks and new plants fight their way into existence through the cracks of the lava. Once you've crossed the crater, it's back to the forest, where steep switchbacks challenge you as you appreciate more native forest (or at the least focus on the ground in front of you!).
Things to Do with Kids Beyond Hawaii Volcanoes National Park
Articles, books, and documentaries don't do justice to the diversity and awesomeness of The Big Island. Here's more inspiration for exploration around the Island of Hawaii.
What to Do in and around Hilo
If your main goal is Volcanoes National Park, it's likely that you'll come in through Hilo. Hilo's famous Farmer's Market happens every day, but things really get jumping with local artisans and chefs on Wednesdays and Saturdays.
Richardson's Bay in Hilo is a great spot for (brackish) water snorkeling, turtle spotting year-round, and whale sightings in winter. Also of note in Hilo are Rainbow Falls and Boiling Pots, both of which change dramatically even after a short rain.
Speaking of rain, if you happen to be in Hilo when it's showing off its claim to fame as the "rainiest city in America," check out the Pacific Tsunami Museum, Mokupapapa (or NOAA's Marine National Monument museum of the Hawaiian Island chain), or 'Imiloa—Hilo's awesome astronomy center.
Kona Side Things to Do
On the "sunny" (Kona) side of the Big Island, you can get a deep understanding of Hawaiian history at the National Monument that is Puʻuhonua o Honaunau, or City of Refuge, and then can hop across the way to go snorkeling at the pristine Honaunau Bay.
Many of Hawaii's famous beaches line this coast, most notable being Hapuna Beach and the beach at the Mauna Kea Beach Hotel. Note that all Hawaiian beaches are public right of way, but the Mauna Kea Beach Hotel beach keeps most people out by limiting parking spaces. My advice is to gather your beach essentials and either get there very early in the morning or wait until late afternoon to get a public access parking space. (It's worth noting that the Mauna Kea Beach Hotel ranks as one of the best family hotels in Hawaii across all of the islands.)
SHADY DAYS: 10 Breezy Beach Tents That Are Easy to Set Up and Take Down
A visit to the Big Island wouldn't be complete without a trip the visitor information station at the Onizuka Center for International Astronomy, situated at the 9,200-foot elevation point on Mauna Kea. Most important, check the weather and road conditions before you go and make sure it will be a clear night.
Drive up in late afternoon to watch the sunset over the peaks of the island, then enjoy one of the most dramatic starry nights on earth, but come prepared for cold and elevation. Stop along the way to let your body acclimate to the dramatic elevation change, drink plenty of water, and bring a flashlight/head lamp and layers. Since visitor information station is no longer is hosting stargazing tours, it's best to book with a tour group to get the full experience.
More from FamilyVacationist: