Snorkeling is a terrific family activity that children as young as five can participate in, but it's only fun when you have the right snorkeling gear for kids. That means masks, snorkels, and fins that are well-fitting, durable, and made of high-quality materials, not cheap or ill-fitting. It may also mean comfortable wetsuits, snorkel vests, and even snorkel socks.
Although many family hotels and all-inclusive family resorts rent or offer complimentary snorkel gear to guests, these kinds of snorkel sets generally aren't the best choice for kids just starting out. And when it comes to snorkeling with kids, the wrong gear can make all the difference between a good time at the beach and a day of whining and complaints. That's because the key to success, especially when your kids are very young or still learning, is equipping them with familiar snorkeling gear that helps them feel safe and comfortable in an undersea environment.
The Best Snorkeling Gear and Snorkel Sets for Kids
If you plan on trying some below-the-sea adventures with your family, it makes sense to invest in good snorkeling gear for kids that they'll actually want to wear again and again. Here are my picks for the top snorkel sets and specialty gear for budding underwater explorers.
WHAT TO PACK: 25 Beach Essentials You Need for Every Sun-Soaked Vacation
1. Seavenger Aviator Snorkeling Set with Gear Bag
Best all-in-one snorkeling gear option for kids
A good snorkeling starter set will feature a dry top splash guard and purge valve to keep water out of the tube when your child is in the water. The all-in-one Aviator Snorkeling Set from Seavenger checks those boxes and has a scratch-resistant tempered-glass mask that offers a panoramic view. The mask's silicone-injected skirt is comfortable yet snug.
BEACH DAY: 10 Sturdy and Stylish Beach Bags That Get the Job Done
The 16-inch fins have an open foot pocket and are compact enough for travel, and the food-grade hypoallergenic mouthpiece has a one-way purge valve to clear water out of the tube. It's flexible, too, so your child can comfortably wear it. Available in multiple colors, this snorkeling kit for kids also comes with a quick-dry gear bag to stash everything away neatly when not in use. Bonus: You also get a pad to help the fins keep their shape when they're not on little feet.
2. Ocean Reef Junior Full-Face Snorkeling Mask
Best full-face snorkel mask for kids
Full-face masks with angled glass that allows panoramic and peripheral vision are especially smart to buy. With its anti-fog design, the Junior Full-Face Snorkeling Mask from Ocean Reef features a special air-circulation system so kids can breathe through their noses or mouths without worrying about constantly defogging their mask.
With no mouthpiece to bite down on, the mask helps reduce jaw discomfort too. And with its 180-degree panoramic view, your child won't miss a thing underwater. The mask comes with a carrying bag with mesh bottom for drainage and a set of stickers kids can use to personalize it. It's compatible with other Ocean Reef gear as well.
3. U.S. Divers Dorado Jr. Kids Snorkeling Set
Best snorkeling set for kids who need a little extra help learning to breath underwater
This kid-friendly mask and fins combo from U.S. Divers was specifically designed to fit the faces of children ages six and up. The two-window silicone mask is ideal for small faces and offers clear views plus a pinch-and-pull Pro-Glide buckle system so kids can adjust their equipment on their own. 
The submersible dry-top snorkel features an ergonomically shaped mouthpiece that minimizes jaw fatigue for extra comfort, and has Pivot-Dry Technology to keep water out of the breathing tube. The fins have a three-way adjustable heel strap and can fit a range of foot sizes, so kids can wear this snorkel gear for several seasons. Available in three sizes and several colors, the snorkel set comes with a lightweight gear bag with mesh panels for drainage and ventilation.
4. Gintenco Kids Snorkel Set
Best no-frills mask and snorkel set for beginners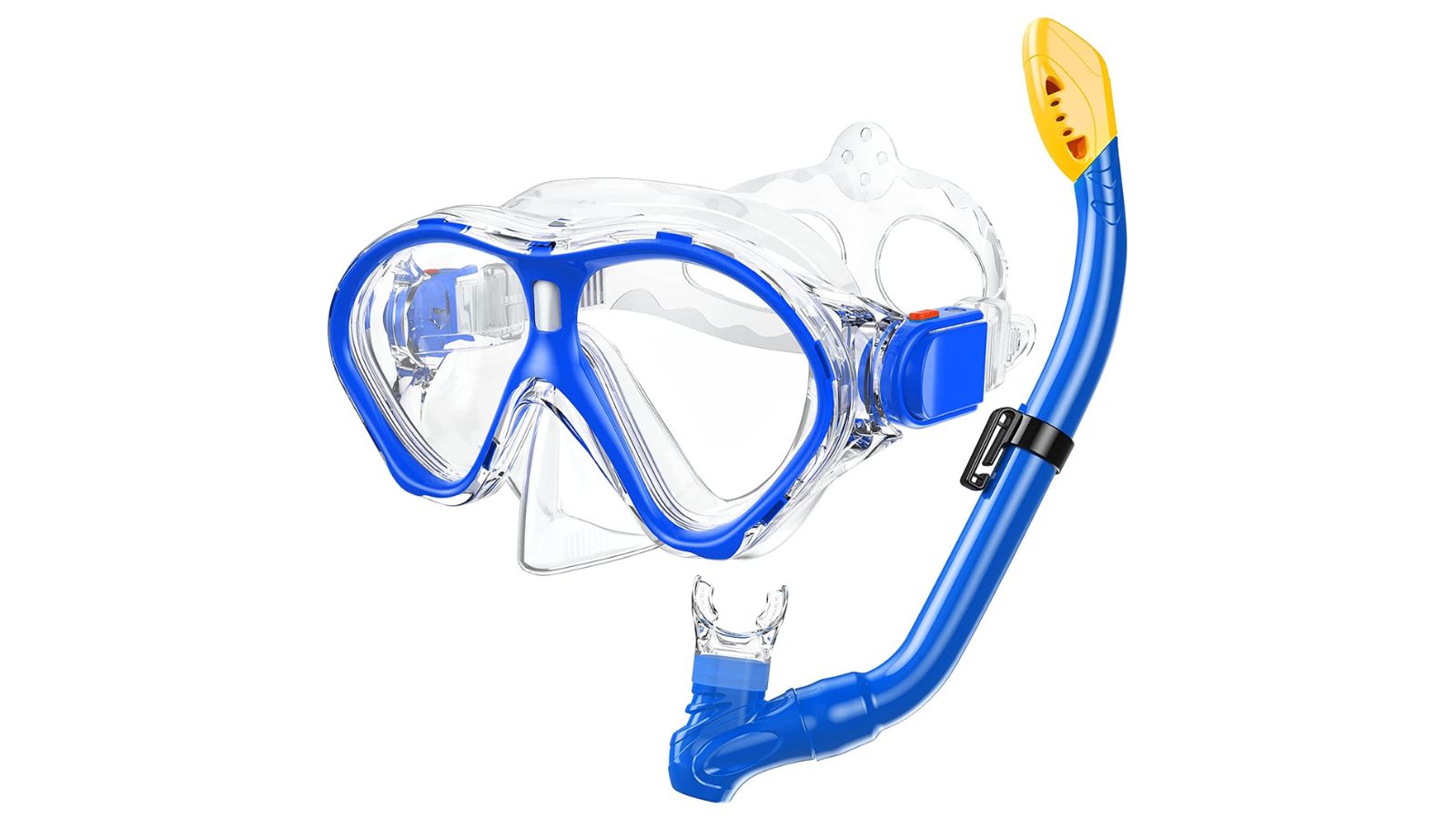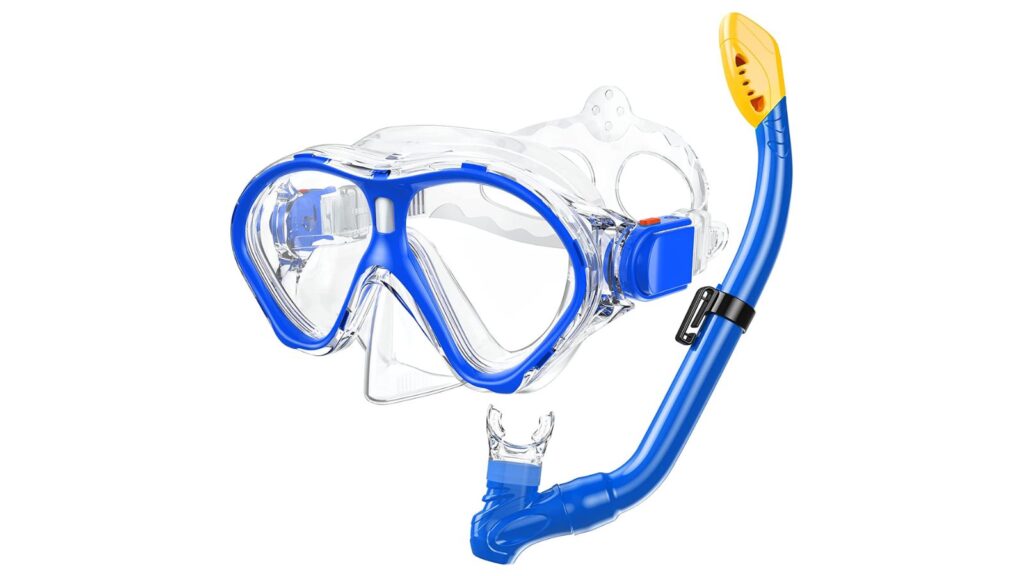 The Kids Snorkel Set from Gintenco is an excellent mask and snorkel option for swimmers ages four to 16. The mask features anti-fog tempered glass lenses, a 3D nose pocket, and a soft and flexible silicone skirt for a leak-free but still comfortable fit. Adjustable straps help the mask grow with your child.
QUICK DRY: This Summer's Best Beach Towels for Kids and Teens
The snorkel itself has a one-way inhalation valve and a buoyancy ball that closes off the top of the tube when it's underwater, which come in handy for snorkeling beginners. A fixed buckle on the snorkel keeps it connected to the mask, and the set comes in a wide range of color choices.
5. Cressi Short Floating Swim Fins
Best starter fins for young learning-to-snorkel beginners
Developed for toddlers, the Short Floating Swim Fins from Cressi are perfect for newbie swimmers. These rubber fins are designed to make sure your child has proper foot position while kicking and help develop endurance and leg strength. A tab makes slipping the fins on and off much easier, plus they float so you won't have to worry about them filling with water and sinking.
MOVIE MAGIC: 11 Best Outdoor Projector Screens for Your Backyard Movie Night
Flexible fins like these make it easier for beginners to master all the right moves, while experienced swimmers are better off with more rigid fins so they can generate more power underwater. Available in several sizes, these fins will turn your young water-lover into a snorkeling champion before you know it.
6. Rrtizan Children Portable Inflatable Life Jacket and Snorkel Vest
Best kids snorkeling vest that won't take up much room in your suitcase
A good choice for young kids, those who need a little confidence boost, or careful snorkelers who don't want to get too tired, this inflatable children's snorkel vest from Rrtizan will help keep them afloat and horizontal at the surface of the water while snorkeling.
FUN IN THE SUN: 12 Best Beach Resorts in the U.S. for Families
Available in several colors, the easily inflatable, durable canvas vest features adjustable vertical and horizontal straps for a comfortable fit and works for kids ages five to 16 (up to 130 pounds). Perfect for packing up, it folds down to about the size of a book when deflated and comes with a mesh carrying bag that's easy to throw into a suitcase. Rrtizan also makes adult-sized portable and inflatable snorkel vests so the whole family can get some extra support in the water.
7. Head by Mares Italian Collection Premium Youth Sea Pals Character Kids Snorkel Set
Most adorable all-in-one snorkeling set for kids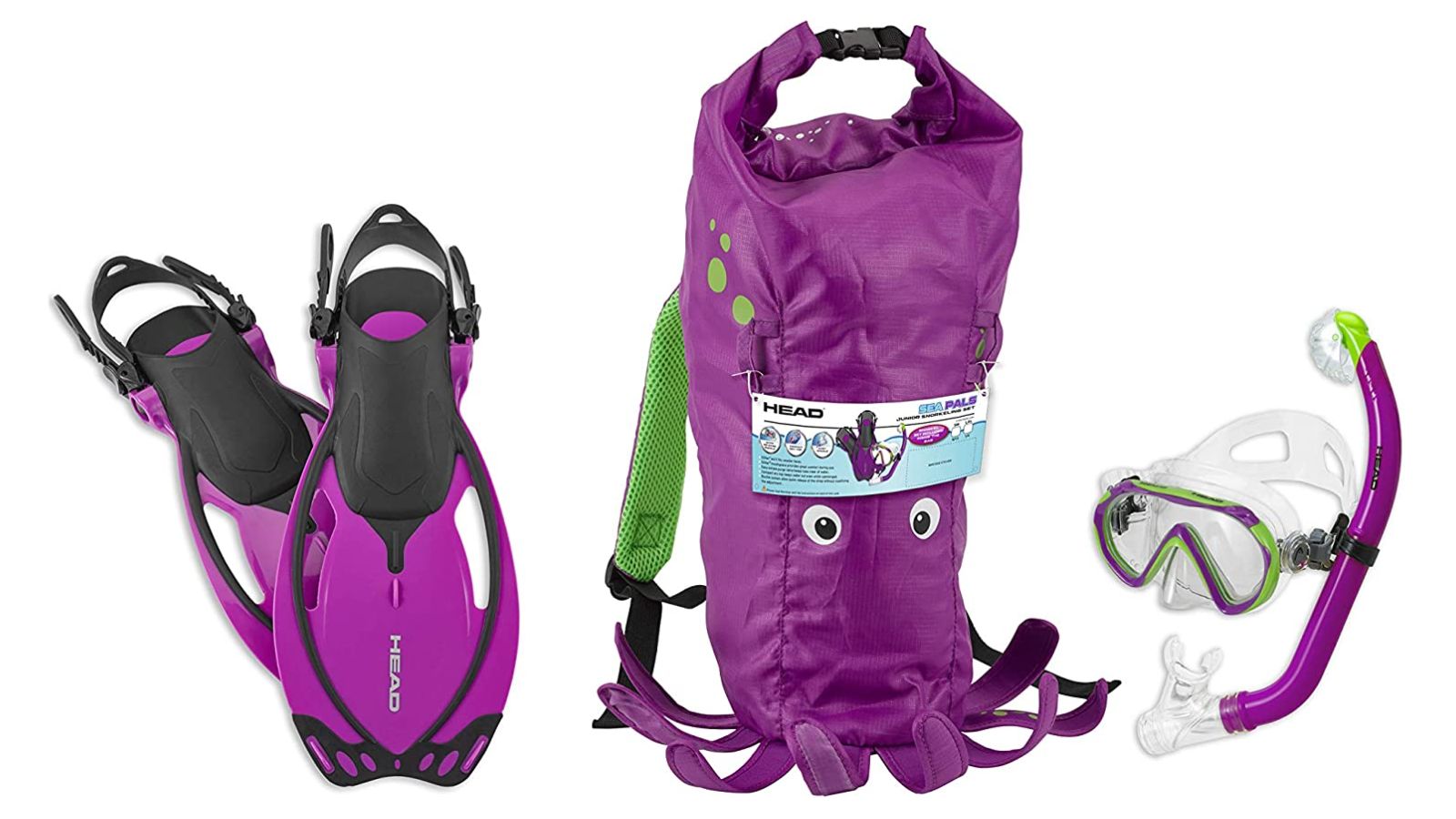 A great all-in-one kit for young children (that's also super cute), the Premium Youth Sea Pals Character Kids Snorkel Set from Mares comes with a mask, snorkel, and fins plus a cute animal-themed carrying bag.
NO PASSPORT NEEDED: 19 Best All-Inclusive Resorts in the U.S. for Families
The compact dry-top design guards against water splashing in and the quick-release system on the mask disconnects the strap without having to loosen it. The mask has a tempered-glass lens and the snorkel features a flexible silicone mouthpiece. The silicone-lined fins have a quick-disconnect strap for easy on and off. Bonus: The colorful gear bag doubles as a carry-on if you're going somewhere without your snorkel stuff.
8. TEAM MAGNUS 5mm Kids Wetsuit
Best short wetsuit for kids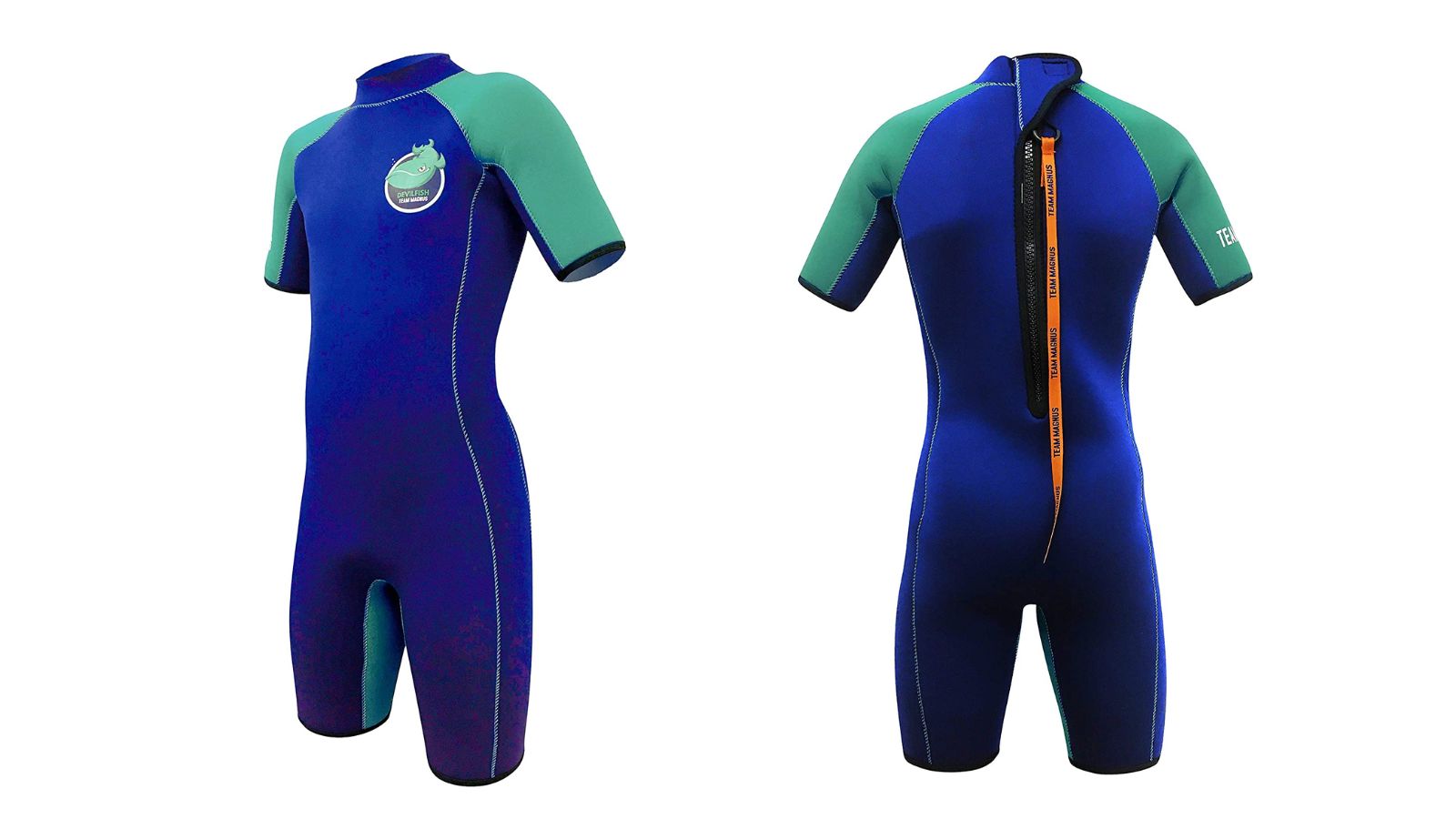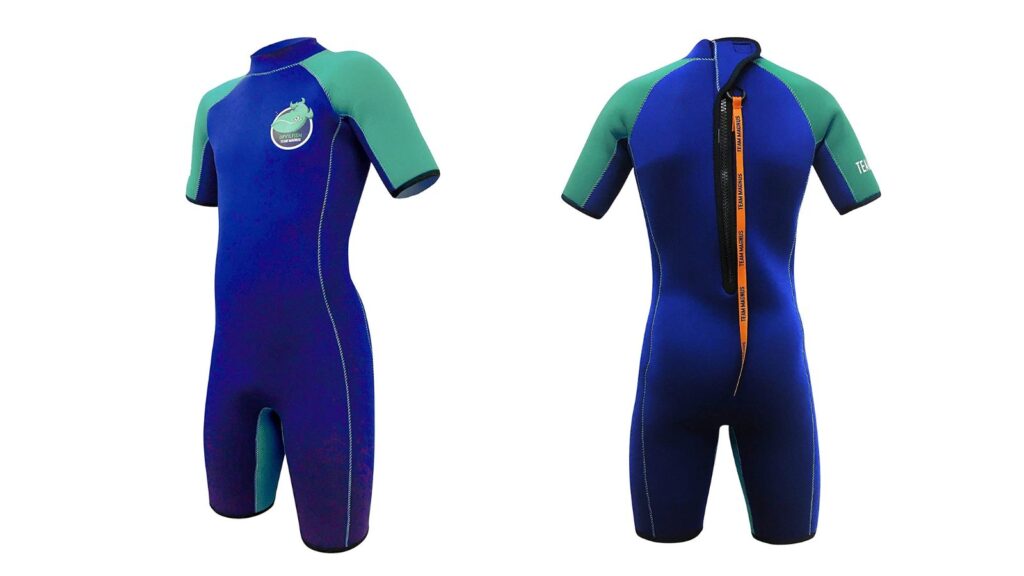 Ocean water can be pretty chilly, even in warmer months, so I recommend outfitting the whole family with a good-quality wetsuit. The TEAM MAGNUS 5mm Kids Wetsuit helps lock in your child's body temperature and also prevents scratches and impact from rocks or coral in the water.
SUNSHINE STATE: 10 Best Florida Beach Resorts for Families
This thick and elastic "shorty" wetsuit is crafted with a thin layer of neoprene and is designed for kids ages three to 14. The seams are welded and blind-stitched on the inside, so they're non-irritating to sensitive skin. The eight-panel design offers premium heat retention, allowing your family plenty of snorkeling time without the kiddos getting cold. Available in two color combinations, these short snorkeling wetsuits also have a zipper extension on the back, which means even the tiniest hands can zip and unzip themselves.
9. O'Neill Youth Reactor-2 3/2mm Back Zip Full Wetsuit
Best full-body wetsuit for kids and teens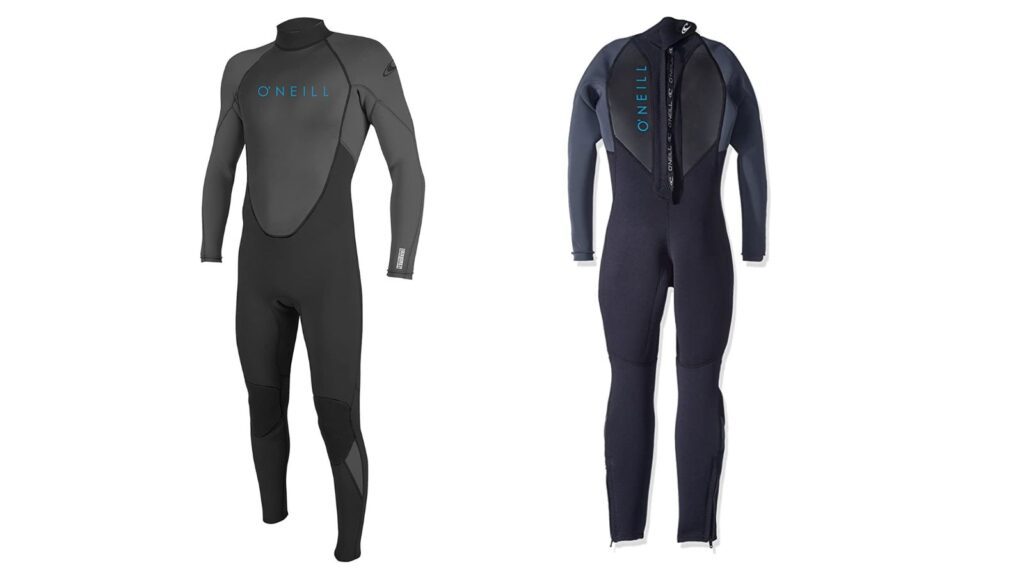 Made of ultra-stretch neoprene, the Youth Reactor-2 3/2mm Back Zip Full Wetsuit from O'Neill will help the kids stay warm even if the water isn't super toasty. A back zipper closure and ankle zippers help young swimmers get in and out of the long-sleeve wetsuit, which offers a soft and flexible fit with minimal seams for maximum comfort while in motion.
WATER WORLD: Your Guide to Discovery Cove, Orlando's Only All-Inclusive Theme Park
The entry-level full-body wetsuit comes in a range of colors and sizes to fit little kids up to teenagers. Parents praise the suit for its quality, fit, reasonable price point, and ability to keep their kids warm while snorkeling, paddleboarding, and surfing.
10. Unrealfind 3mm Neoprene Pull-On Kids Short Socks
Best snorkeling socks for kids
To prevent chafing and add extra insulation while snorkeling, your kids may want to wear a pair of Unrealfind 3mm Neoprene Pull-On Kids Short Socks. These low-cut water socks provide warmth for little feet while the family is doing any boating or water sports, including snorkeling.
CARIBBEAN DREAM: 10 Best Caribbean Beaches for Families (and Where to Stay)
The seams are blind-stitched and glued so water won't seep in. Your child can wear them with fins or on their own. The sizes run a tad large, so you may want to order a smaller size when purchasing these as part of any snorkeling gear for your kids.
More from FamilyVacationist:
Beth Luberecki also contributed to this report.