When you plan a family beach vacation, or even just a day at the beach, you don't want to forget any of the most important beach essentials. And while it's easy to remember the basics like kid-friendly sunscreens, beach towels, sunglasses, UPF clothing, and sturdy beach bags, often the most essential piece of sun-protective equipment isn't top of mind: beach tents.
The Best Beach Tents for Sun Protection and Shade
The essential qualities of the best beach tents are deceptively simple. They need to be lightweight, easy to transport, quick to set up, and a snap to take down. But the best easy-to-use beach tents take it to the next level with parent-friendly features that go above and beyond the basics. Here are this summer's top beach tents that come with all the extras.
FUN IN THE SUN: 10 Best All-Inclusive Beach Resorts in the World
1. Pacific Breeze Easy Setup Beach Tent Deluxe XL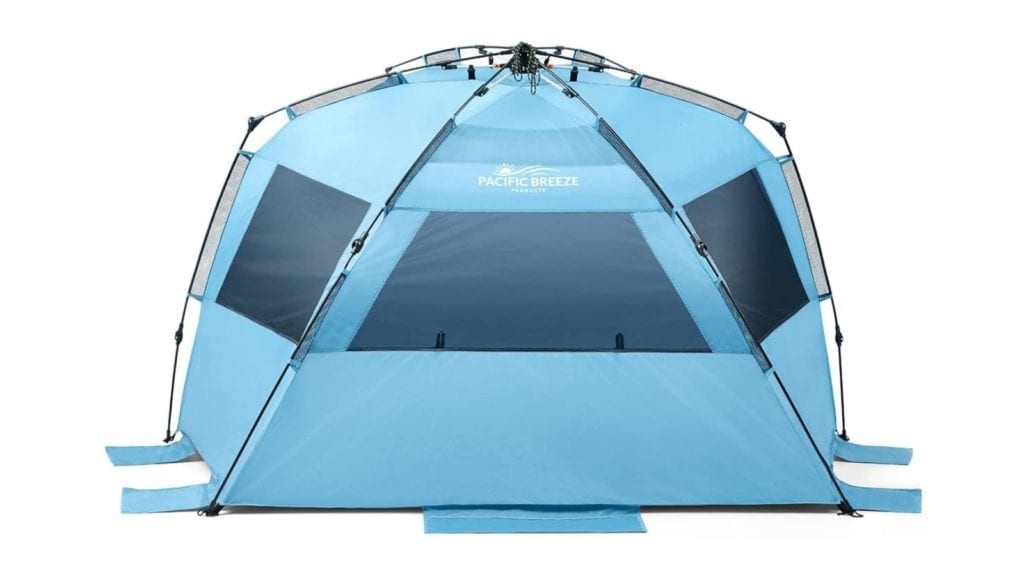 Weight: 6 lbs.
Dimensions: 95″ L x 52″ H x 51″ D
Not only is the Pacific Breeze Beach Tent easy to assemble, it's also easy to put away—which is half the battle when you're trying to rally the troops after a day at the beach. Just fold it up and put it in the included carrying case. It's that simple!
FLORIDA FUN: 6 Best Florida All-Inclusive Resorts for Families
This easy-set-up beach tent comes with four stakes and five side pockets for filling with sand to anchor to the beach, and an interior pocket is useful for easy access to sunscreen or your cell phone. The Pacific Breeze Easy Setup Beach Tent Deluxe XL can also be purchased with an extendable floor. All tents come with a one-year warranty.
2. Lightspeed Outdoors Quick Cabana Beach Tent Shelter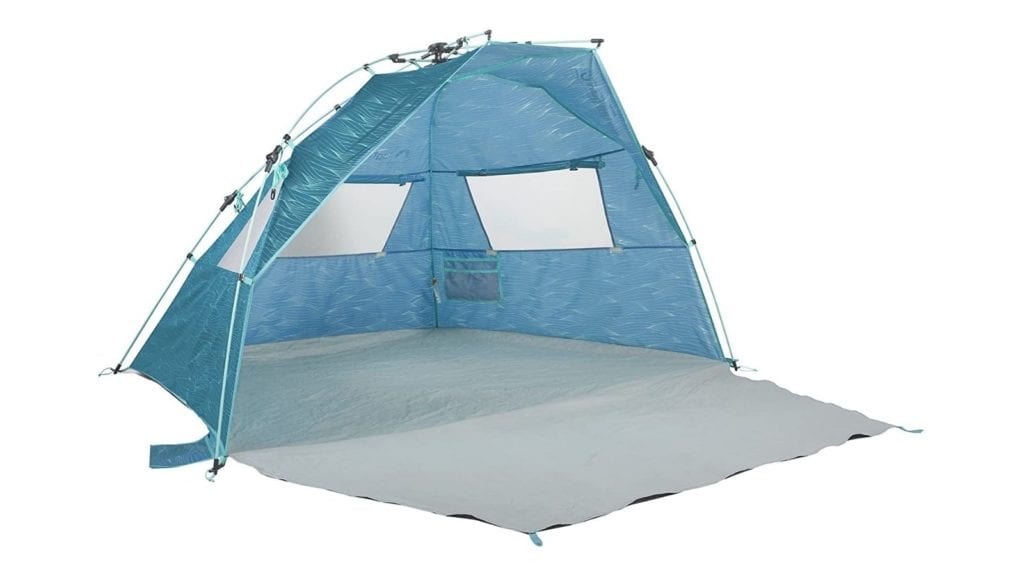 Weight: 6 lbs.
Dimensions: 96″ L x 52″ H x 48″ D
Beach tents don't get much easier than this, because the Lightspeed Outdoors Quick Cabana Beach Tent Shelter opens like a beach umbrella. Simply press the hub/base together and the tent opens. Other than stakes, sand bags, and a carrying case (all included), there are no additional poles or parts to put together, making it one of the easiest beach tents to set up.
BEACH VACATIONS: 10 Dreamy Florida Beach Resorts Perfect for Families
This beach tent features three mesh windows for air flow and offers UPF 50+ sun protection. It also has three interior storage pockets, and its extended floor means more space for kids and teens (and parents) to spread out.
3. WolfWise SplitWave R10 Beach Tent
Weight: 4.2 lbs.
Dimensions: 86″ L x 57″ W x 47″ H
One of the lightest beach tents on the market, the WolfWise SplitWave R10 weighs just over 4 pounds and comes with a convenient carrying case. Its exterior fabric offers UPF 50+ sun protection and is water repellant. The interior has two storage pockets.
UNDERWATER FUN: The Best Snorkel Gear for Kids
The beach tent offers 360-degree ventilation via two windows and a full-size front and rear entrance. Of course, setting it up is a cinch, too. It pops open in seconds. 
4. The California Beach Co. Pop N' Go
Weight: 7.2 lbs
Dimensions: 48″ L x 59 W"
Thanks to patented pop-and-release technology, this easy set up beach tent from the California Beach Co. does, quite literally, pop and go! And that's not the only reason to love it, either. The California Beach Pop N' Go is also a playpen, perfect for both indoor and outdoor use (think picnics, backyard movie nights, and other outings).
BEACH READS: 33 Books Like Harry Potter to Binge on Your Next Vacation
You can take the included UV sun protection shade off when you don't need it, and put it back on for a sunny day at the beach. This beach tent is ideal for babies and toddlers. Available in four colors, it also comes with a convenient carrying case. A self-inflating mattress pas and mattress cover are sold separately.
5. Neso Beach Tent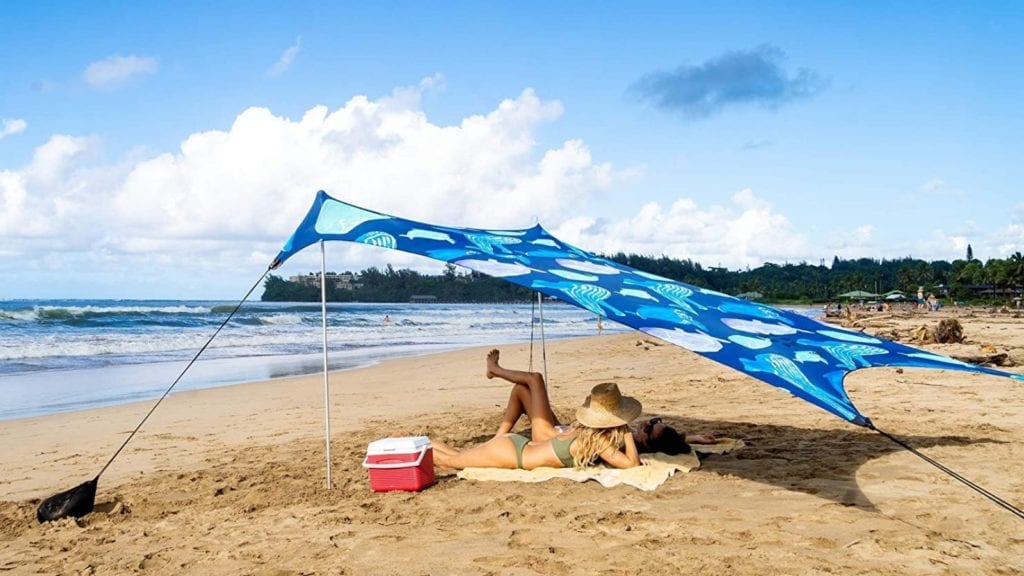 Weight: 4 lbs.
Dimensions: 92″ L x 80″ W x 66″ H
While they don't pop open like the other beach tents on our list, the classic and versatile Neso Beach Tents are still super easy to set up. Reinforced corners secure the tent in place, so it won't blow away like other beach tents, and its UPF 50+ sun-protective canopy ensures everyone will be protected from the sun. Like all the best beach tents, it comes with a carrying case. And, at just four pounds, it's lightweight and easy to transport.
More from FamilyVacationist: