If your favorite family vacation ideas involve lounging on a sandy beach or wrapping up after making a splash at an outdoor water park, you want beach towels that feel good against your skin and actually dry you or your kids off so no one's dripping wet on your family beach vacation. You want a beach towel that gets the job done, but looks good doing it, too.
The Best Beach Towels for Summer
The best beach towels come in all different shapes, sizes, and fabrics. From terry cloth to cotton towels, oversized options to towels made from lighter-weight and quick-drying materials, here are 10 perfect beach towels that earn the title of beach essentials for your summer vacations.
FUN IN THE SUN: 12 Best Beach Resorts in the U.S. for Families
1. Henbay Fluffy Oversized Beach Towel
Best cabana stripe beach towel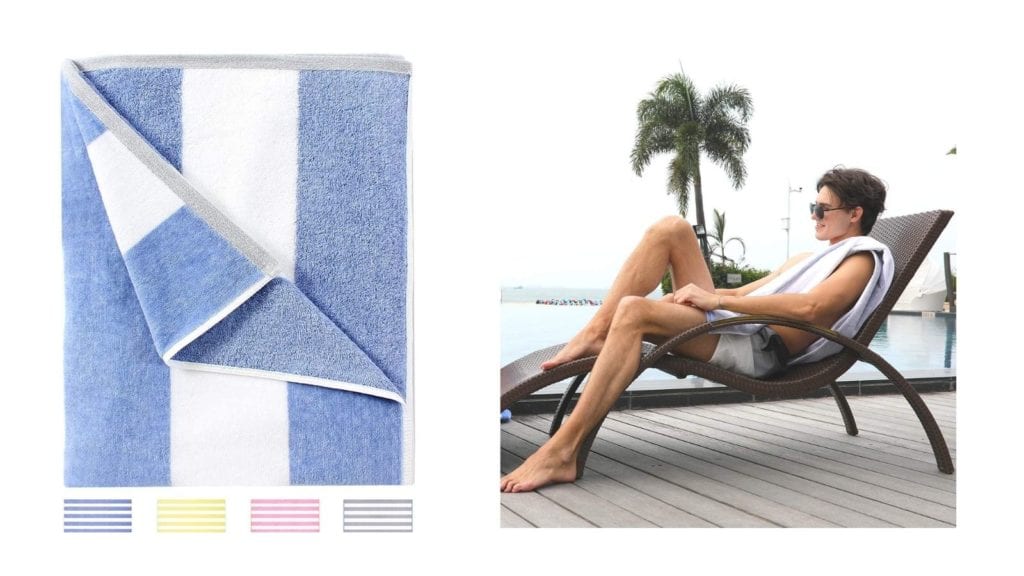 Cabana-striped towels are a classic for a reason. And this oversized beach towel from Henbay, made from 100 percent American combed cotton, uses special dying and textile processes to reduce fading and lint. Double-stitched edges help it hold up to washings and frequent use.
BEACH TIME: 10 Dreamy Florida Beach Resorts Perfect for the Whole Family
This beach towel strikes a good balance between a thin towel and a super-plush option, making it easy to pack in a suitcase or beach bag. A velour top means it feels soft when you're drying off, but it still absorbs water well. And it comes in a variety of striped color combinations to match any personal or decor style.
2. Wetcat Turkish Beach Towel
Best towel for traveling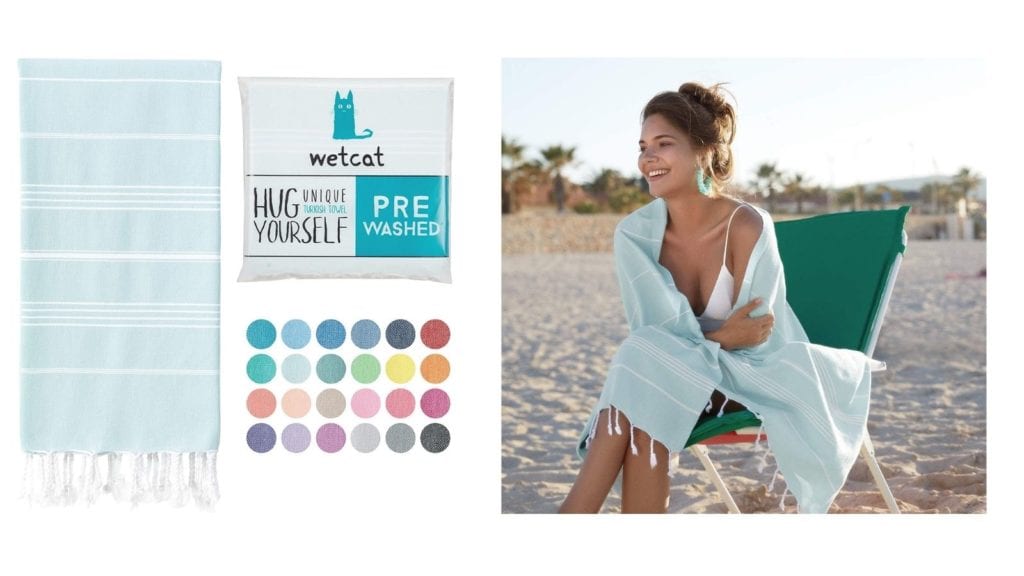 The lighter-weight and quick-drying Wetcat Turkish Beach Towel scores points for its ability to soak up water despite being thinner than other more-typical options. And because this Turkish beach towel dries quickly, you won't be stuck with a damp, slightly stinky towel after a day at the beach or pool.
DOUBLE DUTY: The Best Multipurpose Clothing for Travel
The towel is generously sized but folds up compactly, weighing less than a pound. That means it fits into a suitcase, beach bag, or kids backpack with ease. It's available in a rainbow of colors and can even double as a travel blanket.
3. Voova and Movas Beach Towel/Bath Towel with Hood for Kids
Best hooded towel for kids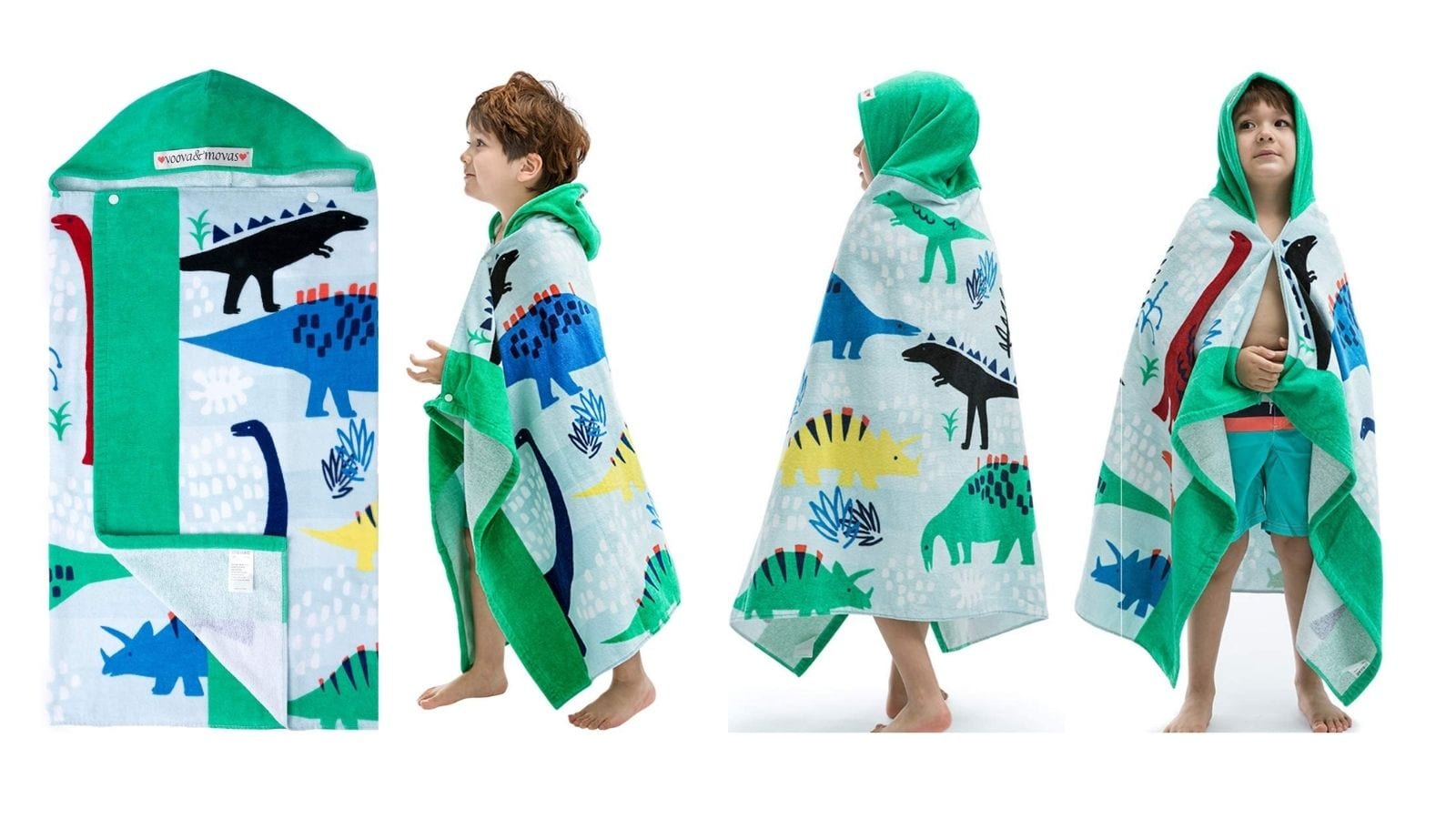 Is there anything cuter than a kiddo wrapped up in a beach towel with a hood? This hooded towel from Voova & Movas is made from 100 percent breathable cotton and features eco-friendly dyes and UPF 50+ sun protection. It's soft, fast-drying, and holds up well to frequent washings.
SPLASH ZONE: 14 Best Indoor Water Park Resorts in the U.S.
Prints range from the always-popular mermaid to colorful sharks, dinosaurs, and pirate designs. The towel's extra-large size means it can grow along with your kiddo, and a button closure helps make quick changes at the beach a breeze for little ones and their parents.
4. ECCOSOPHY Microfiber Beach Towel
Best microfiber beach towel
Multitasking items are always good to have on hand when traveling. This microfiber beach towel from ECCOSOPHY not only helps dry you off after a swim at the beach or pool, but it can also do double duty as a tablecloth, picnic blanket, beach blanket, or yoga mat.
KEEP IT COOL: 7 Best Cooler Backpacks for a Day at the Beach
The two-sided prints allow you to match your towel to your bathing suit color or mood, with prints ranging from bright stripes to tropical patterns. The lightweight, fast-drying towel comes with its own hanging loop and mesh carrying pouch, making it easy to toss into any bag. And after a day at the beach, the sand should just slide right off when you're folding the towel back up.
5. Sand Cloud Turkish Beach Towel
Best towel for leaving the sand at the beach
They might be a pricey option, but devotees swear by Sand Cloud Turkish Beach Towels's ability to dry quickly and repel sand. And they're even Shark Tank-approved. (The company made a deal with "shark" Robert Herjavec.)
FAMILY VACATIONS: 4 Best Hawaii All-Inclusive Resorts for Families
Made of 100 percent Turkish cotton, these beach towels are said to become softer with each wash. They're lightweight, easy to stash in your beach bag, and available in a range of colors and designs, from ocean-inspired prints to oh-so-cool tie-dye. And when all the sand shakes off easily at the end of the beach day, you'll likely consider the higher price tag money well spent.
6. Pottery Barn Kids and Pottery Barn Teen Beach Towels
Best towels for personalization
The bright and colorful beach towels from Pottery Barn Kids and Pottery Barn Teen come in all kinds of fun prints, from fish, unicorns, and mermaids for young beachgoers to tie-dye and ombre stripes for teens. The towels can be monogrammed in different font and color options for a personal touch (and to help kids keep track of their beach and pool gear).
BEACH DAY: 10 Sturdy and Stylish Beach Bags That Get the Job Done
Made from tightly knit, soft cotton, the towels help block UV rays when kids are drying off or wrapped up in them. And the imaginative designs make them easy to spot on the beach or at the pool, so you can easily remember where you're sitting after getting out of the water.
7. Wildkin Kids 100 Percent Cotton Beach Towel
Best towels for kids who like to coordinate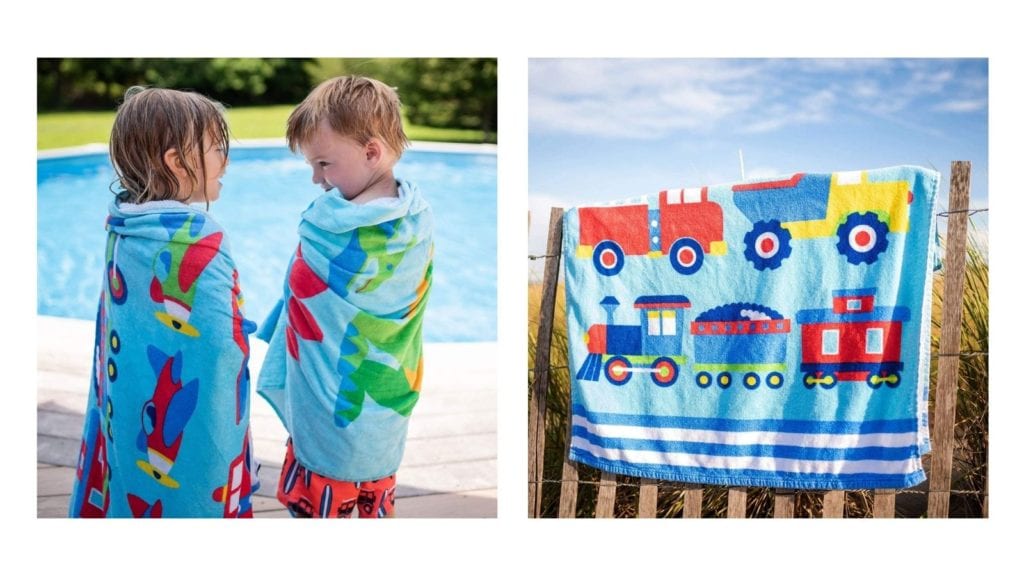 These plush cotton beach towels aren't just cute, though with design options that include unicorns, dinosaurs, and planes and trains, they definitely are cute. But what elevates the Wildkin Kids 100% Cotton Beach Towel to the ranks of the best beach towels is that they also have the OEKO-TEX Standard 100 textile label, meaning they've been tested for harmful substances and deemed harmless for human health because they're free of things like phthalates and BPA.
NO PASSPORT NEEDED: The 5 Best Puerto Rico All-Inclusive Resorts for Families
The oversized towel's extra roominess will keep up with growing kids. AThe available patterns coordinate with other Wildkin items, like lunchboxes, backpacks, and water bottles, so your kiddo will always be perfectly matched while on the go.
8. BeachTech Towel
Best eco-friendly beach towel
The absorbent, fast-drying, sand-resistant towels from BeachTech help protect the natural environment where you might be using them. The towels are made from fabric created from recycled plastic water bottles, and their compact size means they require less water to wash and minimal drying time.
STAYCATIONS: 10 Best Inflatable Swimming Pools for Backyard Family Fun
There are standard and hooded beach towels emblazoned with some of kids' favorite characters, like SpongeBob, the Smurfs, and the Paw Patrol crew, along with options in beachy prints featuring sunglasses, surfboards, and palm trees. Elastic straps make it easy to wrap up the towel or hang it to dry, and there are towels with pockets for stashing some of your beach essentials or carrying bags for easy packing.
9. Clowood Plush Oversized Beach Towel
Best soft and plush beach towel
The extra-large Clowood Plus Oversized Beach Towel is made from cotton and bamboo fibers, so it feels soft and fluffy whether you're wrapped up in it or stretched out on it by the water. But it's still breathable and also does a good job of getting rid of sand when you're ready to call it a day.
EASY BREAZY: This Summer's Best Pop Up Beach Tents
The absorbent towel is made by the same company that supplies towels for many five-star hotel brands, so it will give you that luxury vacation feeling no matter where you use it. It comes in a classic cabana stripe in several different colors that resist fading over time. The one thing to consider: It's a little more bulky than many of the other options on our list.
10. Old Navy Printed Loop-Terry Beach Towel for the Family
Best low-budget beach towel option
A great budget-friendly beach towel choice for the whole family, Old Navy's Printed Loop-Terry Beach Towel is made of soft 100 percent cotton. It's absorbent and easy to pack for a day at the pool or a beach vacation.
ALL-INCLUSIVE FUN: Beaches Resorts Vacations: What to Know Before You Book
The towel comes in an array of punchy prints, some of which coordinate extremely well with swimwear and accessory options also available at Old Navy. So your teen (or you!) can totally mix fashion and function without breaking the bank. There are also cute hooded beach towels for little ones made of the same soft loop-terry material.
More from FamilyVacationist: