Parents know that a day the beach with family isn't as easy as it used to be before the kids came along. With children in tow, beach days require specialized gear—and lots of it. From kid-friendly sunscreens and beach towels to sunglasses and snorkels, the list of beach essentials is a long one. And of course you need a place to put all that beach gear too. That's why choosing the best beach bags for your day trip or beach vacation is so important.
The Best Beach Bags for Summer
With all that stuff to haul around, you need a good beach bag (or two or three) to keep it safe and secure while you're finding a spot on the beach. Of course, "good" is subjective and depends entirely on what you're looking for in a beach bag. With that in mind, here are 10 sturdy beach bags that offer all kinds of features to make the load a little easier to carry.
Bodysurf Large Waterproof Beach Bag
Made of water- and sand-resistant recycled nylon canvas, the Bodysurf Large Waterproof Beach Bag looks simple but is high on function. An exterior pocket and hidden interior zippered pocket offer storage options, and there's plenty of room for all your beach day necessities.
STAY COOL: The Best Sunglasses for Babies and Kids
"It's lightweight, chic, and very spacious inside. The straps are comfortable and even when the bag is packed full, it's very comfortable to carry around," notes one reviewer. You can fold up the beach bag and place in its storage pouch to easily pack it in a suitcase for your next dreamy beach resort vacation. Other reviewers call these beach bags "large," "reliable," and "a great adventure bag."
FITFORT Mesh Beach Tote Bag with Detachable Beach Cooler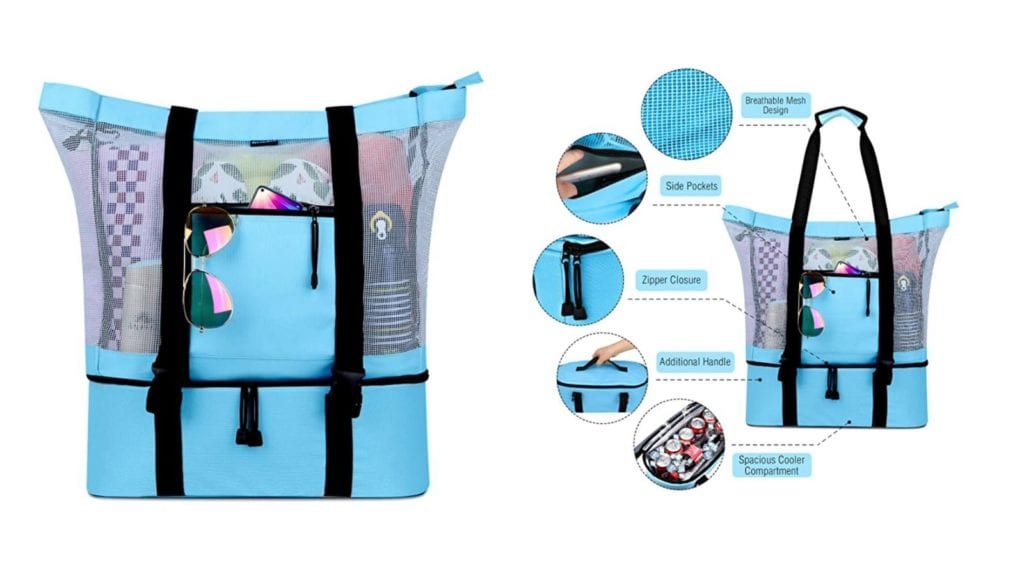 Pack everything you need for a day at the beach in the handy FITFORT Mesh Beach Tote Bag with Detachable Beach Cooler. A 12-can-capacity cooler clips onto the bottom of a roomy bag with plenty of space for towels and sunscreen. The zippered front pocket helps keep your phone, car keys, and money secure, while the main compartment's PVC mesh design lets the sand fall right out.
UNDER THE SEA: The Most Comfortable Snorkel Gear for Kids
And no matter how much you stuff into this beach bag, the padded handle makes it comfy to carry down to the sand. No wonder why one reviewer calls it "the beach bag to end all beach bags."
QOGiR Neoprene Multipurpose Beach Bag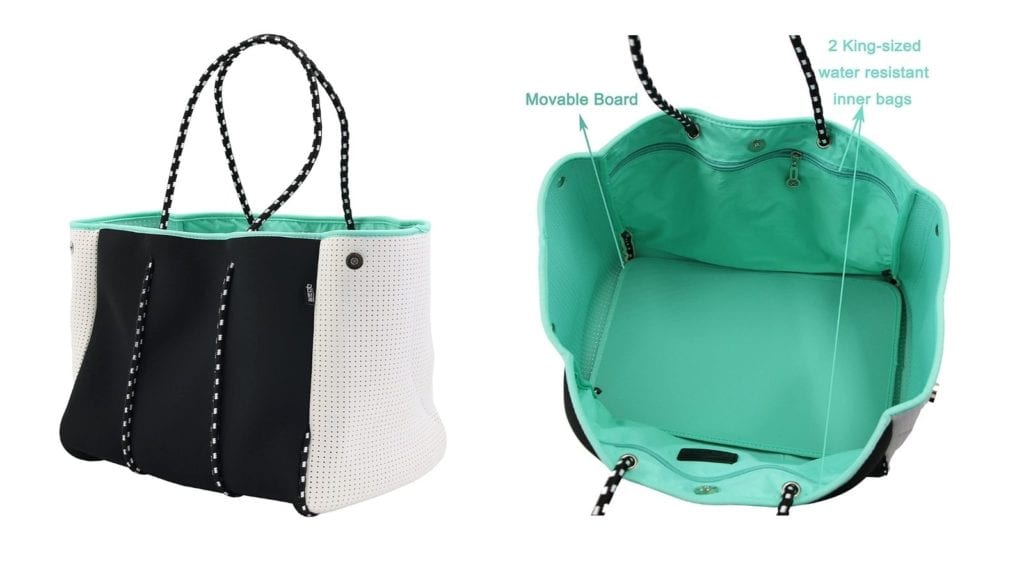 Make like a scuba diver and reach for this Neoprene Multipurpose Beach Bag from QOGiR that combines fashion and function. Available in large and extra-large sizes and a slew of colors, these beach bags feature two zippered interior pockets and offer "plenty of room for towels, magazines, laptop, shoes, [and] just about anything you could find to take with you," according to one reviewer.
FAMILY FUN: Why Sarasota Might Be the Perfect Florida Vacation Spot for Families
Rope handles plus a removable shoulder pad make it easy to carry, and snaps allow you to change the shape of the bag depending on how you want to use it. Another reviewer says, "Just used as a carry-on bag and it fit well underneath the seat. As we got to the destination we used it as a beach bag and it's amazing. Definitely order, you will not be sorry!"
Scout La Bumba Large Tote Bag
These large beach bags score points for their cute prints and easy-to-clean and water-resistant interwoven polypropylene exteriors. The top of the Scout La Bumba Large Tote Bag can be zippered closed or left open, and an interior zippered pocket offers a secure storage spot. The bag is easy to flatten and store when not in use, but springs back into shape when needed.
DOUBLE DUTY: The Best Multipurpose Clothing for Travel: 8 Essentials to Pack
"The inside easily holds multiple towels with plenty of room to pack pool snacks and water," writes one reviewer. And if you need a different option, Scout offers a range of beach bags in various shapes and sizes. Another reviewer says, "I have not found a Scout bag yet that I did not like! They hold up especially well at the beach!"
YETI Camino Carryall 35
Nope, it's not cheap. But the YETI Camino Carryall 35 can go from beach to boat and anywhere in between, and features a "big mouth" opening and molded, waterproof base to keep the bag upright.
WHAT TO WEAR: The Most Comfortable Travel Clothes Brands for the Whole Family
The puncture- and abrasion- resistant exterior of these beach bags is easy to clean and features the ability to attach on other YETI accessories (like an oh-so-handy bottle opener). Reviewers call these Yeti beach bags durable, well-made, and "worth every penny." Another says, "This bag is built to last and looks great too."
Ledaou Large Beach Tote Bag
Available in fun prints like "Pink Flamingo" and "Rainbow Mermaid," the versatile water-resistant and sand-proof Ledaou Large Beach Tote Bag includes a zipper closure and 10-inch drop handles for carrying comfort.
POOL DAY: 10 Best Inflatable Swimming Pools for Backyard Family Fun
These beach bags boast a roomy main interior compartment, separate wet compartment for swimsuits and towels, and lots of exterior pockets for sunglasses, water bottles, sunscreen, and other beach day essentials. You can also fold it up to easily take it with you on the go. Reviewers say it's "exactly what I've been looking for" and is "big enough to carry everything you need."
BeeGreen Swim Bag Mesh Backpack
With the Swim Bag Mesh Backpacks from BeeGreen, you can pack up your snorkel, goggles, sunscreen, towels, and anything else you might want for a fun-filled day in the water at the beach. The lightweight, durable beach backpack includes zippered pockets for holding a phone, wallet, or keys, plus a spot perfect for a water bottle.
WATER WORLD: Best Orlando Water Parks for Every Age Group
The mesh design dries quickly and makes it easy to find what's inside, and the adjustable, wide carrying straps allow these beach bags to work for both kids and adults. They're machine-washable and come in a variety of colors.
One reviewer says they "love that no sand gets trapped and wet toys can dry in the bag without mildewing." Another simply calls it a "perfect beach bag."
L.L. Bean Boat and Tote
The L.L. Bean Boat and Tote is a classic for a reason. These heavyweight cotton canvas beach bags with reinforced handles and bottom and double-stitched seams come in a variety of sizes and a choice of open or zipped top. Go for the traditional natural hue with contrasting-colored handles or choose newer single-hued options in versatile neutrals like black and olive green. Add a monogram to up the preppy beach vacation vibe. 
FOLLOW THE LEADER: Top Great Wolf Lodge Locations That Lead the Pack
One reviewer calls these beach bags "a must bag for everyone." Another says, "The two totes I bought have to be the best purchase I've made in a long time! So useful and the quality is amazing."
Roxy Sunseeker 30L Beach Bag
The Roxy Sunseeker Beach Bag's tropical print and nautical rope handles will make you immediately feel like you're on a Caribbean beach vacation. And its roomy interior offers plenty of space for towels, a good book or two, snacks, and any other beach must-haves, all kept secure with the bag's snap-button closure. "It's just too cute NOT to have for summer days or beach nights!" raves one reviewer.
Narwey Mesh Beach Bag
Leave the sand at the beach with the lightweight but sturdy Narwey Mesh Beach Bag, which is ideal for lugging beach toys and wet towels. "The sand falls out as you carry the bag, so your trunk doesn't end up full of sand," says one reviewer.
SPLASH ZONE: 14 Best Indoor Water Park Resorts in the U.S.
A wide opening means the kids can easily grab what they need without unpacking the whole bag. And these beach bags fold up into their own exterior pouch, making them easy to stash away or toss into a suitcase for your next trip. Other reviewers call these beach bags "perfect" and "awesome" for a day at the beach.
More from FamilyVacationist: