Whether you're traveling by plane, train, car, or cruise ship, it's important to ensure that you and your travel companions are as comfortable as possible. You want to pack travel outfits that will do double (or even triple) duty, and it needs to be clothing that's comfortable enough to keep you cozy on long flights and during airport layovers, but still packs enough of a style punch to keep you looking good at your destination.
The last thing you need on vacation is itchy fabric, a shedding sweater, a pair of shoes that pinches, or pants that cut off your circulation at the waist. Here's the good news: Comfortable travel clothes and shoes don't have to sacrifice style—and there are plenty of great options for the whole family.
WALK THIS WAY: 10 Comfortable Travel Shoes That Can Handle a Whole Day of Walking
Comfortable Travel Clothing Brands for the Whole Family
From stylish-yet-supportive walking shoes to comfortable travel clothing brands we love, here's one-stop inspiration for all the travel gear you'll need for the whole fam on your next trip.
Whether it's a weekend road trip or a longer family travel adventure, these comfortable travel clothing brands will keep you feeling great and looking fab no matter if you're museum-hopping in Paris, exploring a national park, hopping on a plane, or cruising your way around the world. These travel clothes have proven to be the foundation of many reliable and adaptable travel outfits, ready for everything from long-haul flights to nights out on vacation.
1. Allbirds
Most comfortable travel footwear for the whole family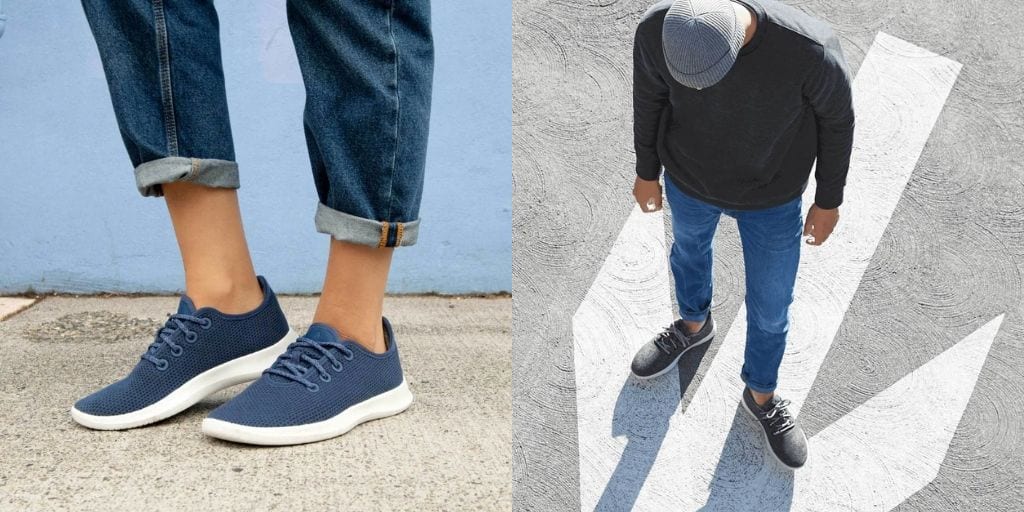 Allbirds is a cult-favorite wool sneaker brand and the unofficial shoe of travelers everywhere, thanks to its extreme comfort, simple design, and bonus points for sustainability. Since launching a unisex shoe in 2014, the brand has expanded into celebrity-favorite pairs of men's shoes and women's shoes; shoes for little kids and big kids; apparel for women and men; and even socks and undergarments. 
SUN PROTECTION: 13 Kid-Friendly Sunscreens the Whole Family Can Use
The sneakers are sturdy enough for a sprint through the airport and stretchy enough to keep feet comfy on long flights. And of course, a pair of Allbirds is chic enough to help you blend easily into most destinations around the world. 
Our picks: Tree Runners in men's and women's sizes.
2. Patagonia
Most comfortable travel clothes brand for outdoor lovers
Patagonia is well known for its ambitious climate goals and eco-friendly practices, and with that kind of love and support for the planet it's not surprising that the company makes much-loved travel clothing for enjoying outdoor activities of all kinds.
GRAB AND GO: 10 Wildly Adaptable Crossbody Bags That Are Perfect for Travel
The whole family can find reliable outerwear, clothing, and accessories for everything from skiing and hiking to surfing and mountain biking, gear made both for enjoying nature and helping to protect it. Patagonia's line of Capilene Cool Tees helps keep travelers dry and odor-free on the go, and the company even offers used and repaired gear at a discount to help keep clothing out of landfills.
Our picks: Baggies Shorts for men, women, and kids, and the company's original Snap-T Fleece for the whole family.
3. prAna
Most comfortable travel clothes brand for staying active on the go
With a range of stylish yoga and travel gear, prAna's outfits are made with both the environment and travelers in mind. They feature comfortable fabrics like organic cotton and recycled polyester. Known for clothes that can go "from trail to tavern," the brand's pants are many travelers' go-to for comfort.
SHOES MATTER: 10 Best Kids Sneakers for School, Travel, and Play
The brand's pants, shirts, dresses, and warm layers keep you comfortable and looking put-together on the flight, and allow you to hit the ground running (or hiking, or sightseeing) when you arrive at your destination.
Our picks: Women's Halle Straight Pant II and men's Stretch Zion  Pant II.
4. L.L.Bean
Most comfortable travel clothes brand with all-American style
Maine-based L.L.Bean has been a go-to brand for apparel and outerwear with classic preppy style since 1912. With swimwear, rain jackets, sweaters, and base layers, the company offers everything travelers need for outdoor adventures as well as less active pursuits.
SLEEP WELL: 10 Best Portable Travel Beds for Families
Best sellers include Pima cotton tees, waterproof windbreakers, zip-up fleeces, and kids' swimwear. The company offers a broad range of sizes and styles to back up its motto of "The outdoors is for every body," making its clothes inclusive for travelers of all kinds.
Our picks: Men's Carefree Unshrinkable Tee, women's Sweater Fleece Full-Zip Jacket, and kids' Airlight Full-Zip Hoodie.
5. Toad&Co
Most comfortable travel clothes brand for eco-conscious travelers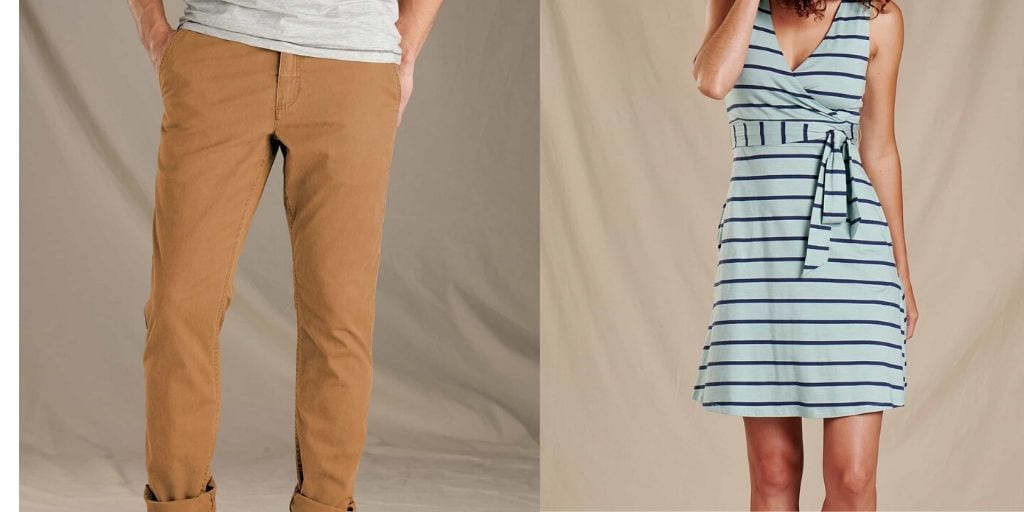 With a wide range of options that hold up on long-haul flights just as well as at business-casual dinners, Toad&Co's collections are chock-full of comfortable travel clothes for both men and women. And you won't just look good, either: You'll also be doing good when you choose the company's clothing.
BEST BACKPACKS: The Best Kids Backpacks for School, Travel, and Sports
Everything's made with sustainable fibers and/or fabrics, purchases can be shipped in a reusable mailer, and Toad&Co donates one percent of its sales back to environmental nonprofits. So while you're seeing the world in the company's travel dresses or ready-for-anything shorts, you're also playing a small part in helping to save and sustain it. 
Our picks: Women's Cue Wrap Dress and men's Mission Ridge Lean Pant (also available on Amazon).
6. Kühl
Most comfortable travel clothes brand for pants and shorts
Whether you're hiking, sightseeing, or spending time on or by the water, Kühl sells shorts and pants for men and women in a broad range of styles and colors fit for any activity you might participate in during your travels.
ON-THE-GO TECH: 10 Best Smartwatches for Kids with GPS, Text, and More
That includes quick-drying, water-resistant pants, lightweight pants with UPF sun protection, and shorts that can go from mountainside to city streets. When you want to pack light, items like convertible cargo pants and hybrid water shorts are great multifunctional choices.
Our picks: Women's Freeflex Roll-Up Pants and men's Renegade Shorts.
7. Bluffworks
Most comfortable travel clothes brand for mixing work and play
If your travels are one part business, one part pleasure, consider Bluffworks' hard-working, good-looking clothing for men and women that can go from strategy session to walking tour with ease. Because the brand ensures its clothing is wrinkle-resistant, moisture-wicking, and machine washable, it's a perfect choice for taking on the go.
SUPER STYLE: 7 Standout Vera Bradley Bags for Travel
The benefits don't stop there. Bluffworks' pants feature plenty of pockets for storing phones, credit cards, and cash. Its women's dresses have pockets too (hooray!), because the guys shouldn't be the only ones to enjoy the convenience. And for long travel days, its t-shirts are made of breathable, odor-resistant fabric.
Our picks: Men's Ascender Chino and women's Threshold V-neck T-shirt.
8. Smartwool
Most comfortable travel clothes brand for people who like adventures but not risks
While Smartwool is known first for its high-quality and high-performance soft Merino wool socks, if you stop at your feet, you're missing out. The brand also makes a range of comfortable travel clothes for everyone in the family.
WHAT TO WEAR: 10 Best Travel Leggings with Pockets, According to Reviewers
From base layers to outer layers, the naturally temperature-regulating fabric is ideal for both summer and winter activities. Many of the items in Smartwool's Merino wool lineup are even soft and comfy enough to do double duty as your plane outfit. And everything the company makes is backed by its "Go Far. Feel Good" guarantee. If you're not happy with your purchase within two years, the company will find a suitable replacement for you.
Our picks: Women's variety of base layers and kids' Merino Classic Thermal Merino  Base Layer Zip T (also available on Amazon).
9. Uniqlo 
Most comfortable travel clothes brand for budget-friendly stylish clothing
From basic tees and joggers to stretchy chinos and easy-breezy dresses, you'll find a range of clothing for men, women, and children from this popular brand that's easy on your wallet but still looks on trend when you're Instragramming your travels. Buying from Uniqlo is a great way to stock up on affordable graphic tees for kids emblazoned with their favorite characters before a trip to the Disney or Universal theme parks.
DOUBLE DUTY: 11 Multitasking Beauty Products That Make It Easier to Travel
The brand offers lots of clothing for men and women made with wrinkle-resistant fabrics for worry-free packing. You can also find plenty of reasonably priced accessories ideal for traveling, like hats that offer UV protection, stylish sunglasses, and socks for the whole family.
Our picks: Men's AirSense Pants, women's Ultra Stretch AIRism Sleeveless Dress, and kids' Warm Padded Washable Parka.
10. Outdoor Voices
Most comfortable travel clothes brand for athleisure that's ready for anything
With a mission to "get the world moving," Outdoor Voices' athleisure apparel for women and men is ready for whatever that entails. So whether it's a game of tennis, a stroll on the beach, an energetic hike, or an easygoing yoga session, the clothing brand has options to fit your mood and recreation style.
PACK LIKE A PRO: Best Packing Cubes for Travelers
You don't have to be a marathoner or fitness buff, either. If you're "doing things," as the company says, that's enough. The brand's versatile pieces can move from activity to activity with ease. Think shorts that can go from beach to bike, dresses that can go from hiking trail to farmers' market, and lightweight pants that can be worn almost anywhere. 
Our picks: Women's Exercise Dress and men's Sport Polo.
More from FamilyVacationist:
Beth Luberecki also contributed to this report.