Whether you're traveling by plane, train, car, or ship, it's important to ensure that you and your travel companions are as comfortable as possible. You want to pack travel outfits that will do double, or even triple, duty, and clothing that's comfortable enough to keep you cozy on long flights and during airport layovers, but still packs enough of a style punch to keep you looking good at your destination.
The last thing you need on vacation is itchy fabric, a shredding sweater, a pair of shoes that pinches, or pants that cut off your circulation at the waist. Here's the good news: Comfortable travel clothes and shoes don't have to sacrifice style for comfort, and there are plenty of great options for the whole family.
Comfortable Travel Clothing Brands for the Whole Family
From stylish-yet-supportive walking shoes to comfortable travel clothing brands we love, here's one-stop inspiration for all the travel gear you'll need for the whole fam on your next trip.
PACK LIKE A PRO: Best Packing Cubes for Travelers
Whether it's a weekend road trip or a longer adventure, these picks will keep you comfy and looking fab no matter if you're museum-hopping in Paris, exploring national parks, hopping on a plane, or cruising your way around the world. These travel clothes brands have proven to be the foundation of many reliable and adaptable travel outfits, ready for everything from long-haul flights to nights out on vacation.
Allbirds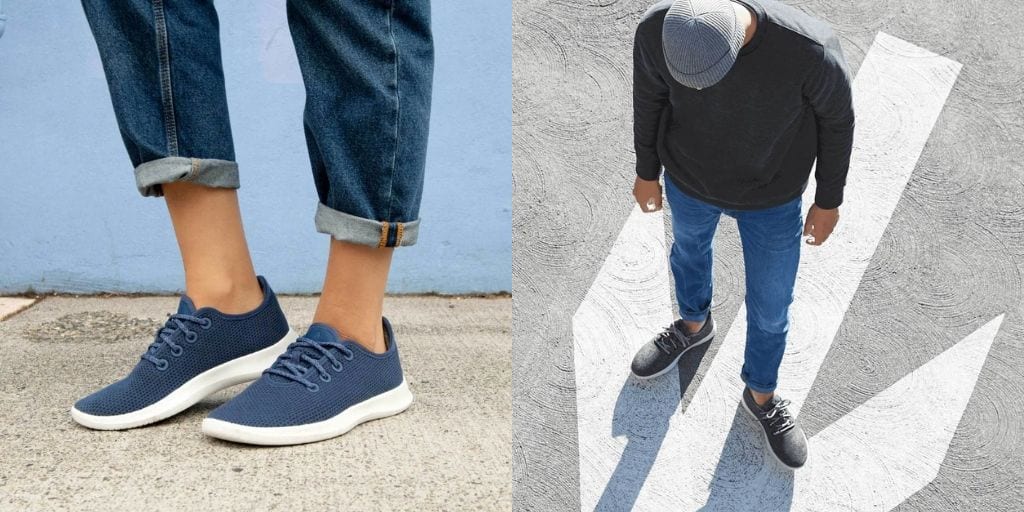 Comfortable travel clothing for: The whole family
Allbirds is a cult-favorite wool sneaker brand and the unofficial shoe of travelers everywhere, thanks to its extreme comfort, simple design, and bonus points for sustainability. Since launching a unisex shoe in 2014, the brand has expanded into celebrity-favorite pairs of men's shoes and women's shoes, as well as apparel for women and men, socks, and undergarments.
They're sturdy enough for a sprint through the airport and stretchy enough to keep feet comfy on long flights. And of course, a pair of Allbirds is chic enough to help you blend easily into most destinations around the world.
My pick: Tree Runners in men's and women's sizes.
prAna
Comfortable travel clothes for: Active parents, aunts, uncles, and hip grandparents
prAna's range of stylish yoga and travel gear is made with both the environment and traveler in mind, and features comfortable fabrics like organic cotton and recycled wool. Known for clothes that can go "from trail to tavern," the brand's pants especially are many travelers' go-to's for comfort.
SHOES MATTER: Best Kids' Sneakers for Travel, School, and Play
Pants, shirts, dresses, and warm layers keep you comfortable and looking put-together on the flight, and allow you to hit the ground running (or hiking, or sightseeing) when you arrive at your destination.
My picks: Women's Halle Straight Pant and men's Zion Lightweight Pant
Toad&Co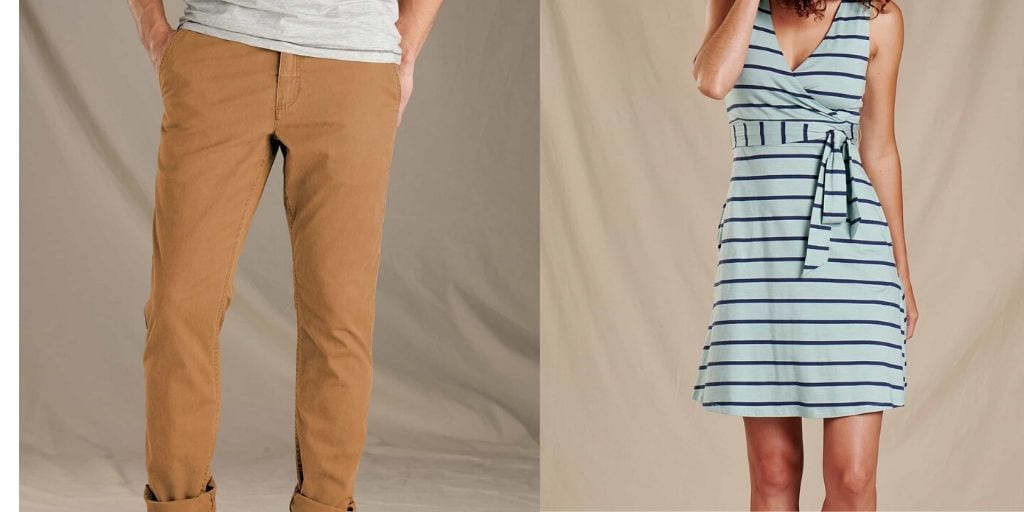 Travel clothes for: Active parents, aunts, uncles, and hip grandparents
Toad&Co's collections are chock-full of comfortable travel clothes for both men and women. The wide range of options holds up on long haul flights just as well as at business casual dinners. Sustainable and stylish, Toad&Co clothing helps you pack your sense of adventure.
My picks: Women's Wrap-Dress and men's five-Pocket Mission Ridge Pant (also available on Amazon).
Mountain Khakis
Comfortable travel clothing for: Parents, grandparents, and other adult family members
Mountain Khakis is another stand-out brand for casual yet sophisticated travel clothes. I have the brand's comfortable travel shirts in my closet, and love that many styles are made with a well-disguised, moisture-wicking fabric that's as helpful on overnight flights as it is on hot days in a destination. The brand also makes relaxed bottoms, sweaters, dresses, outerwear, and hats.
My picks: Women's Tallie Tank Top and men's Passport Long-Sleeve Shirt.
Smartwool
Travel clothes for: Outdoor family adventurers big and small
While Smartwool is known first for its high-quality and high-performance soft Merino wool socks, if you stop at your feet, you're missing out. The brand also makes a range of comfortable travel clothes for everyone in the family.
WHAT TO WEAR: 10 Best Travel Leggings with Pockets, According to Reviewers
From base layers to outer layers, the naturally temperature-regulating fabric is ideal for both summer and winter activities. Many of the items in Smartwool's Merino wool lineup are even soft and comfy enough to do double duty as your plane outfit.
My pick: Women's variety of base layers and kids' Merino 250 Baselayer Zip T (also available on Amazon).
LOOK by Crewcuts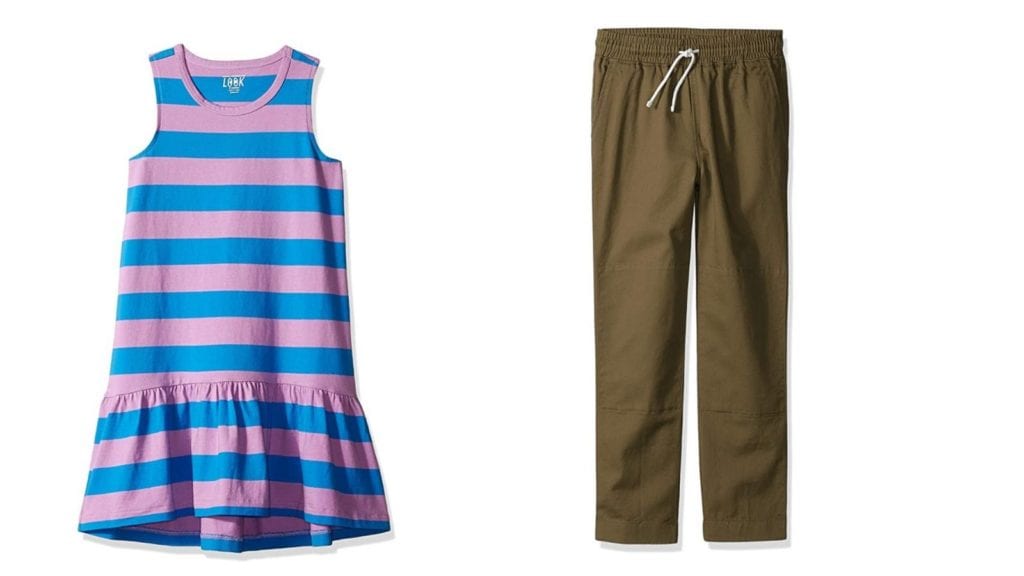 Comfortable travel clothes for: The kiddos
J.Crew designs meet Amazon prices with LOOK by Crewcuts, an exclusive-designed brand of machine-washable, casual kids clothes. From shorts to T-shirts to dresses, even the pickiest of kids will find comfortable travel clothes they love for your family's next adventure.
My picks: Boys' Pull-on Chino Pants and girls' Ruffle Hem Tank Dress.
The best travel outfits offer style, comfort, easy laundering, and wrinkle-free packability. As you're building your travel wardrobe, look for adaptable clothing that you can rely on as packing list standards. You'll cut down on packing time if you know you can depend on travel uniform favorites that are ready to go.
This article on comfortable travel clothes was originally published in February 2021. It has been updated to reflect the most current information.
More from FamilyVacationist: