Flying with kids is no easy feat even under the best of circumstances. Between seat assignments, boarding processes, long security lines, and gate checking your strollers and/or car seats (not to mention dealing with passports or child travel consent forms if you're headed outside the U.S.), there's so much to think about before you even set foot on the plane.
Flying with Kids: Tips for Success
But while flying with kids can be overwhelming at times, you might just be pleasantly surprised how smoothly things can go when you arrive at the airport prepared and in the right frame of mind. The key to success—like anything else when dealing with kids—is proper planning. (And, okay, maybe a glass of wine.) Follow the parent-tested tips below to ensure a smooth flight to no matter where you're flying with kids.
Flying with Kids Under Two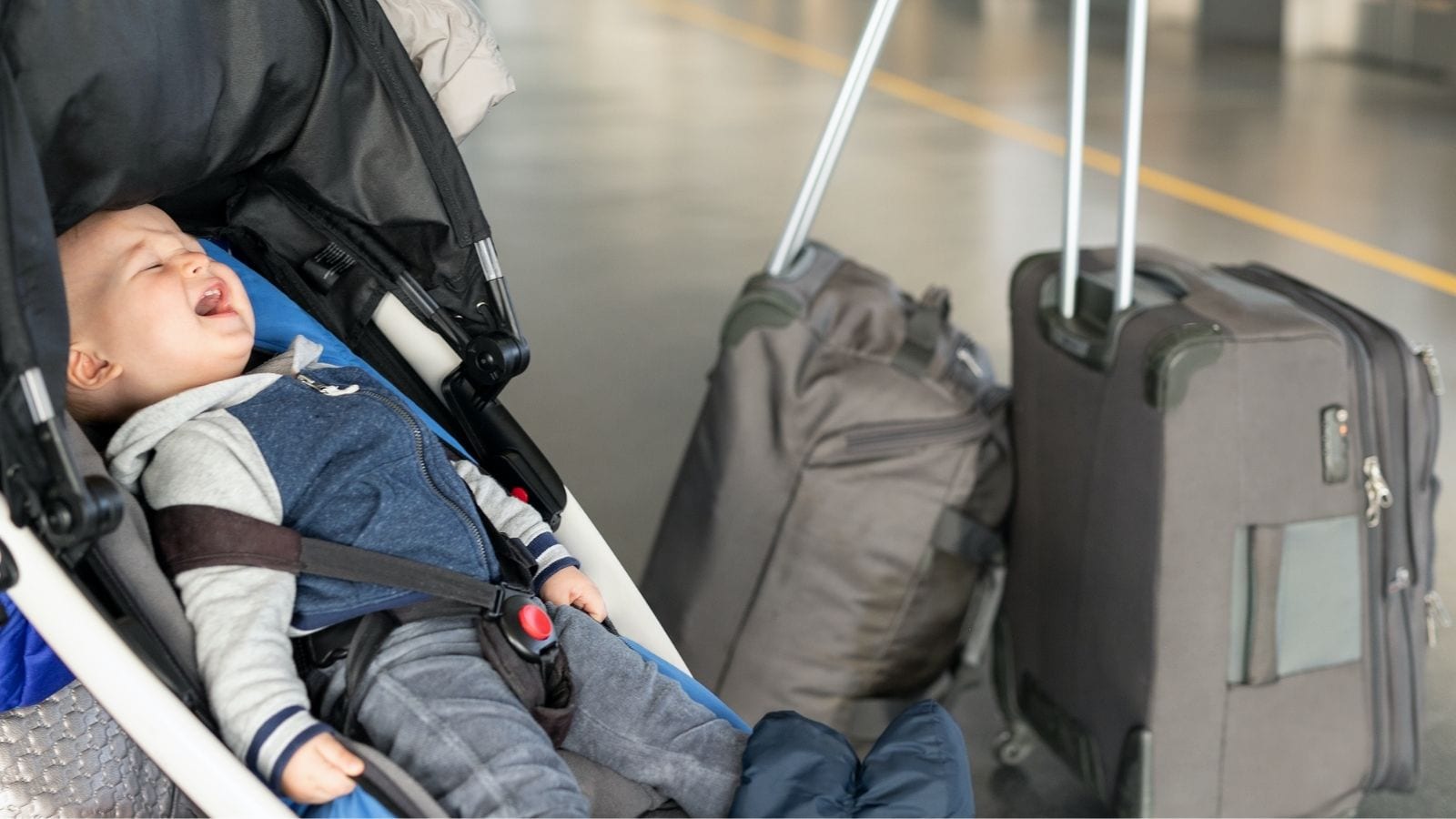 On most airlines, kids under age two fly free when they share a seat with an adult. But while that can certainly save money on airfare, some parents find their toddler needs a seat before they turn two. And depending on the length of your flight(s), you may find the additional cost of a seat worth it for your own comfort (and sanity) as well.
If you book a seat for your child who uses a car seat at home, bring the car seat on the plane with you. "My best tip is to bring a car seat that's certified to go in the cabin and strap the child in to keep them straitjacketed the entire flight," jokes Terry Ward, mom of two, travel writer, and co-founder of FloridaBeyond.com. "But really, if your kid does well in a car seat in a car, they'll do well in one on the plane, too. It's been a lifesaver for us on longer flights where we're paying for a seat anyway."
HEALTH AND SAFETY: Everything You Need to Know about Travel Vaccinations for Children
Ward also suggests introducing your kids to the flight crew, including the pilots. "The flight attendants are almost always happy to arrange this, and it really makes the kids feel like they're a part of the journey." Some airlines still pass out wings to junior flyers.
Bring a baby carrier on board if traveling with an infant. While you likely won't be able to wear it for takeoff and landing, you can wear it in-flight to stay comfortable and keep baby calm and secure. And make a baby packing list ahead of time so you don't forget anything important.
Be sure to indicate you're flying with a baby when booking your flight, too. Often there are social considerations around where babies can sit on the plane, especially if the child will be on your lap. Communicating your travel arrangements with the airline, including at check-in and when boarding, will help ensure an optimal (and safe) experience flying with kids.
FIND A DEAL: The Best Flight Comparison Sites for Cheap Airfares
And no matter which airline you fly, it's a good idea to call the airline before you book and ask about being seated together as a family. Airlines aren't legally required to seat families together, so it's possible your group will be split up in different areas of the plane.
Booking Your Flight
It's important to choose the right airline when flying with kids. Some carriers, like Southwest, have policies that benefit families better than others. "Southwest not only has a very flexible frequent flyer program, but it also allows each person to check two bags free [and] doesn't charge change or cancellation fees," notes Lyn Mettler, a travel writer and podcaster whose membership program teaches families how to fly for free. "You can even earn a Southwest Companion Pass, which lets one person fly free with you on as many flights as you can take for the [nearly two-year] life of the pass"
Thoughtfully consider timing when booking flights too. If you can avoid flights that take off during nap time, do it. If you can book an early-morning flight, also do that—it's your best possible chance of avoiding departure delays. Think about how a layover might affect your family too. While a flight with layovers may be cheaper than a direct or nonstop route, it may not be worth the added chaos and travel time.
If flying internationally, everyone needs a valid passport—even babies. In fact, most destinations require you to carry a passport that's valid for a period of time that extends beyond your travel dates. Research the passport and visa requirement for your destination before you book. And, if you're traveling with a child who is not your son or daughter (for example, a niece, nephew, grandchild, or family friend), make sure to get a completed child travel consent form ahead of time and carry it with you at all times.
NO PASSPORT NEEDED: The 20 Best Family Vacation Spots in the US
Consider getting TSA Precheck for one or more parents/guardians to avoid long lines and ease the overall process at airport security. If you plan to travel internationally, Global Entry is the better investment. It's good for five years and includes TSA Precheck.
At the Airport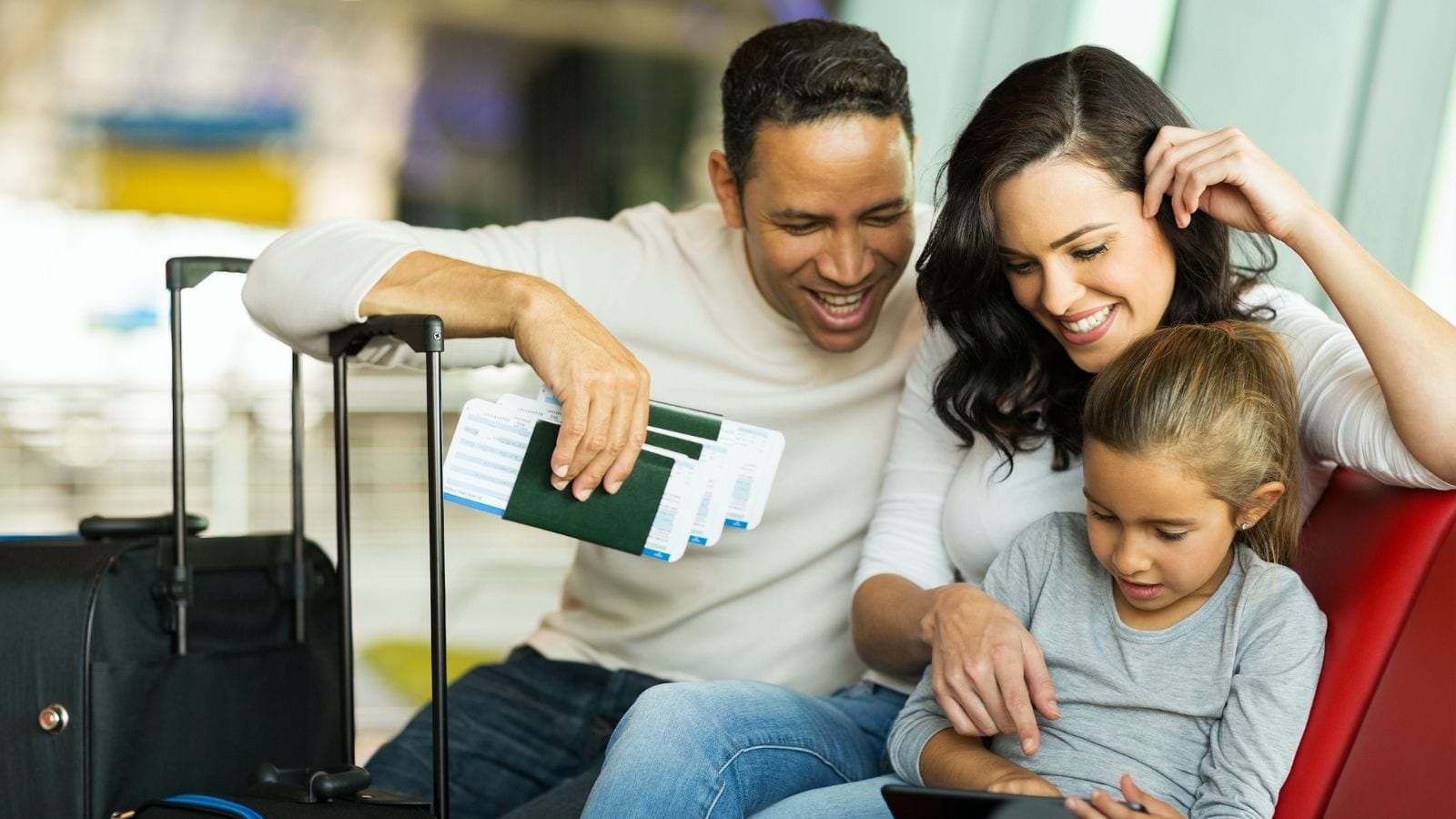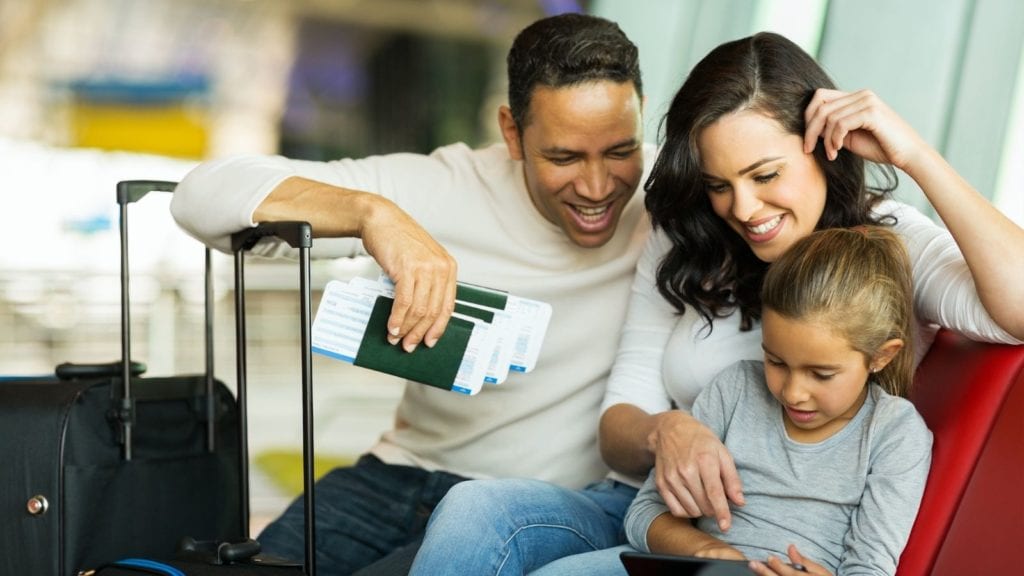 Practice the entire airport process at home, from checking in to waiting at the gate, so your kids have an idea of what to expect before you arrive. Research airport activities ahead of time so you can tire out the kids before you even board the flight.
Some airports have kids' activity centers, museums, even movie theaters. At the very least, walking a few laps (or more) around the terminal can keep your kids occupied and burn off some of their energy before flying.
Boarding the Plane
Resist the temptation to board early. While many airlines allow families with young children to get to their seats before other passengers, boarding early means you'll have to spend more time on the plane, which means more time for kids to get bored and antsy.
If bringing a stroller, the best travel strollers are the lightweight umbrella-stye variety. You can check your stroller at the gate before boarding for no additional cost. Simply let a gate agent know and they'll tag your stroller. In most cases, you'll be able to pick it up when deplaning (not at baggage claim).
On the Plane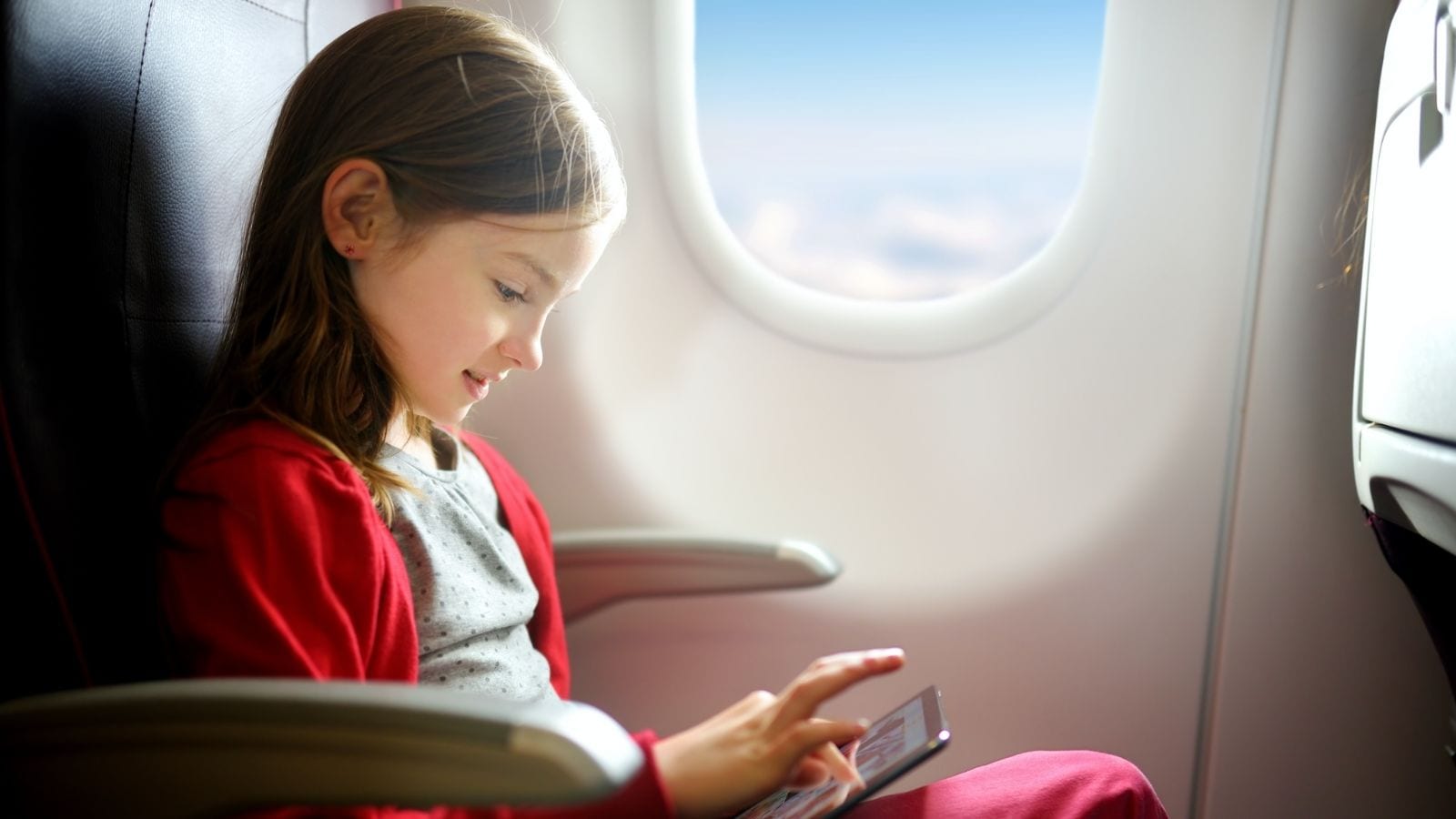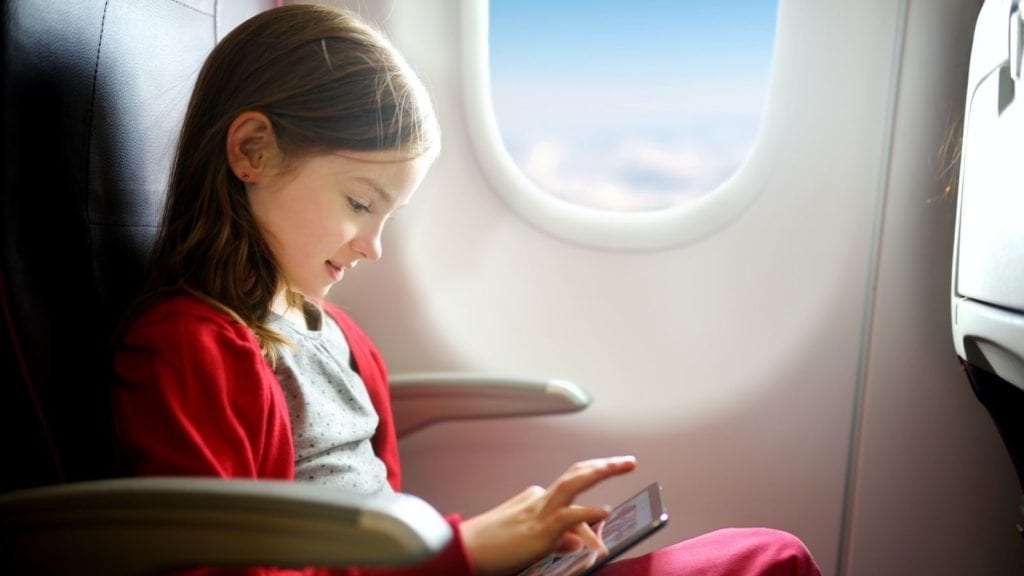 If your kids aren't fully potty-trained yet, pack overnight diapers in your carry-on bag. "We use overnight diapers on flights to minimize going to the bathroom," says Kathleen Porter Kristiansen of Triplepassport. "This limits exposure to germs in the bathroom." Pack a spray bottle with disinfectant or sanitizing wipes to be used when you board the plane and as needed in-flight, too.
It always seems to be freezing cold or stifling hot on the plane, doesn't it? Cabin temperatures are rarely regulated, so wear comfortable travel clothes and dress in layers. If traveling with a baby, bring a light blanket (which will also come in handy for blocking out bright light during nap times). Speaking of travel attire, make sure everyone wears slip-on shoes. TOMS and Native Shoes are especially ideal for kids, and slip-on shoes add that extra bit of comfort during the flight.
DON'T TOUCH: These Are the Germiest Surfaces at the Airport and on the Plane
Make flying with kids special for them by breaking some of your usual rules around snacks and screen time. "When my four kids were young, the rules were always broken if they behaved themselves, and they knew it," explains Nicole Hunter of Go Far Grow Close. "They knew they'd get McDonalds at the airport, that they'd be allowed a soda on the plane, or that I might even pull out a special treat. Find a rule that you normally follow at home and break it when you fly, provided your kids behave themselves." It's okay to break out the iPad. Load it with games, TV shows, and movies ahead of time, and don't forget the kids' travel headphones.
Bring lots of snacks and hand them out at intervals throughout the flight. Also pack chewing gum for potential ear popping during takeoff and landing.
Reusable stickers and water coloring books are fun, less-messy activities for the plane. We also love Squigz, since you can stick them on the seat back, tray table, or window. No matter what you bring, make each item a surprise, alternating toys and snacks for the duration of the flight.
Exiting the Plane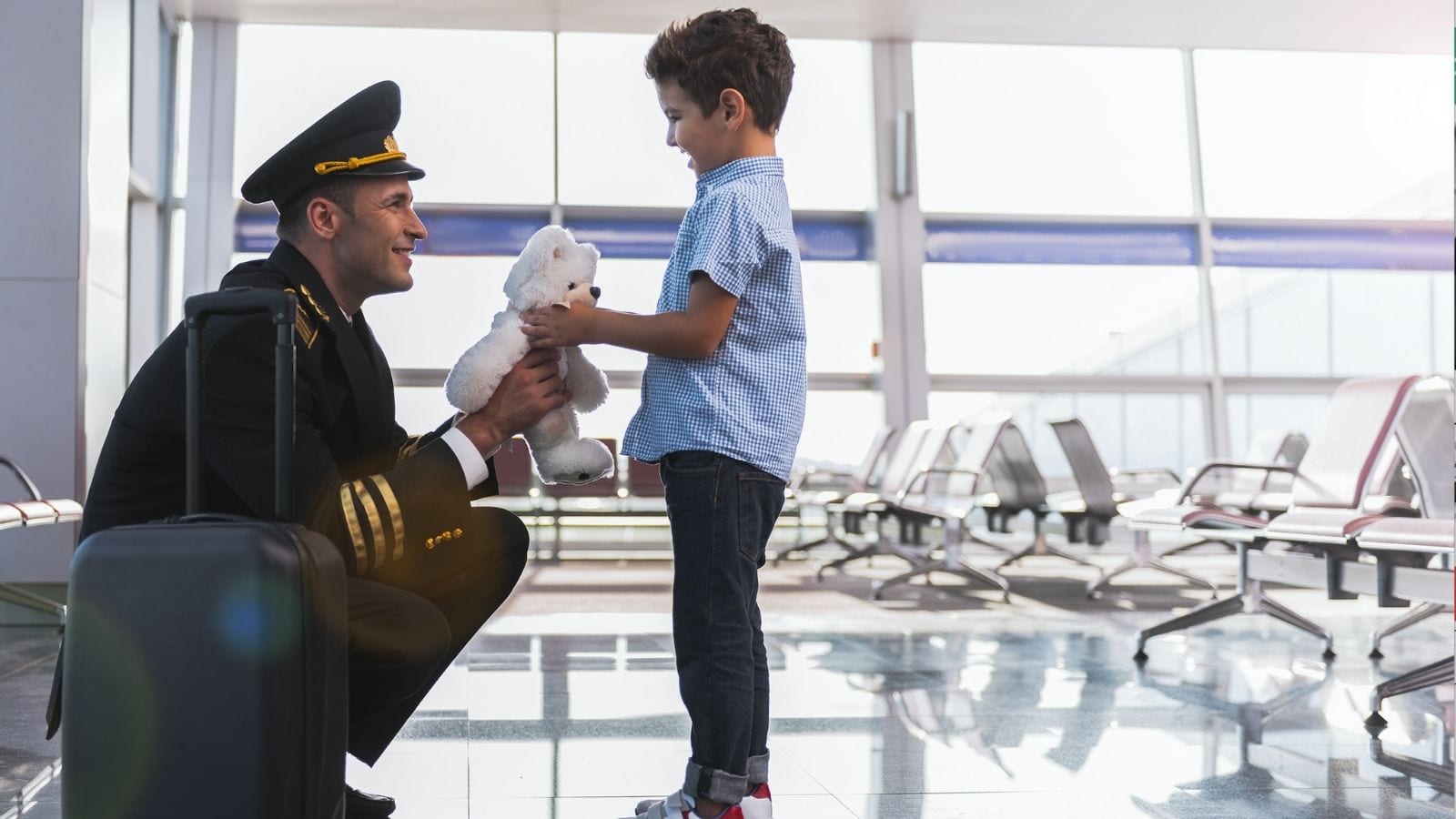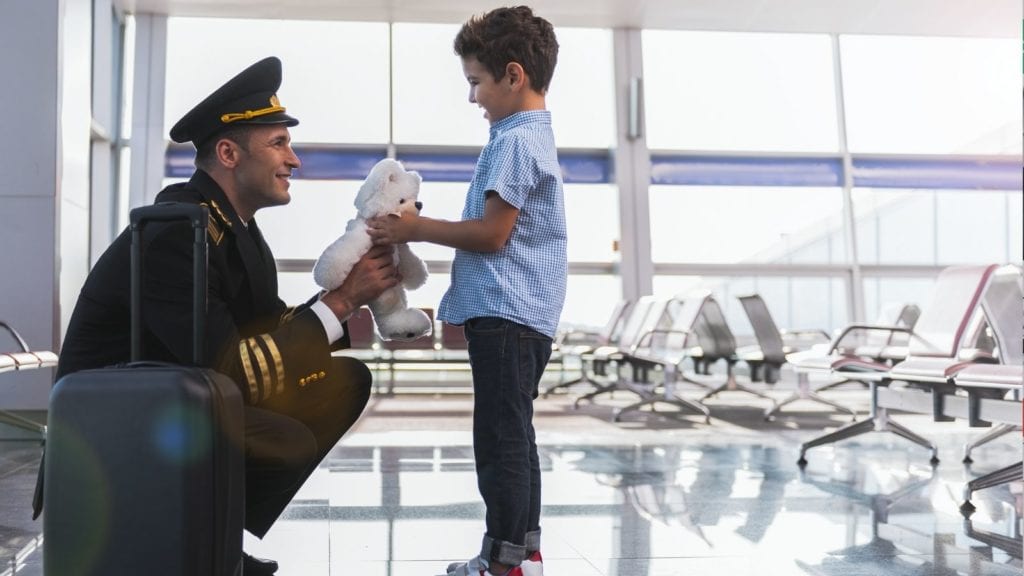 When it's time to get off the plane, look everywhere—seat-back pockets, under the seats, alongside the seats, you name it—to make sure you don't leave any travel essentials behind.
A little-known tip: If you're not in a rush, you can sometimes get a tour of the cockpit and a quick family photo after your flight! Politely ask a flight attendant if it's okay to do so. You'll just need to wait for everyone else to deplane.
Finally, and most importantly, breathe. "Just remember, it's a finite amount of time and this too shall pass," says Ward. "You're in survival mode with kids on a plane, so just do your best."
More from FamilyVacationist: