The absolute worst way to start a family vacation is with a sick kiddo. But missing nap times, eating airport food, and sharing the same space with hundreds of packed-in people is practically asking for immune system failure whenever you fly. While there's no surefire way to stay healthy on your family vacation, there are ways to reduce your risks of getting sick.
In their first 10 years of life, my children have traveled on more than 30 flights to 10 different countries. We've arrived and stayed healthy at our favorite family vacation spots on almost every trip, including during COVID and flu season, by sticking to some practical habits I've developed over the years as a school-based Speech-Language Pathologist (where I am regularly covered in spit and snot). 
So, how do I keep the germs away on our flying days? Here's what's worked for me and my family.
1. Pack with Health in Mind
Before heading to the airport, take time to prepare a family first-aid and wellness kit. Your carry-on bag essentials should include pain and/or fever medications such as ibuprofen and/or acetaminophen; anti-nausea medication in a preferred flavor and format; sanitizer, antibiotic ointment (30mL or less), special bandages, and alcohol wipes; lip-balm and a soothing moisturizer for dry airplane air; and gummies or hard candies to help with ear pressure during take-off and landing.
Editor's note: For a complete list of what to pack to keep everyone healthy and happy once you arrive at your destination, scroll to the end of this article.
2. Dress for Success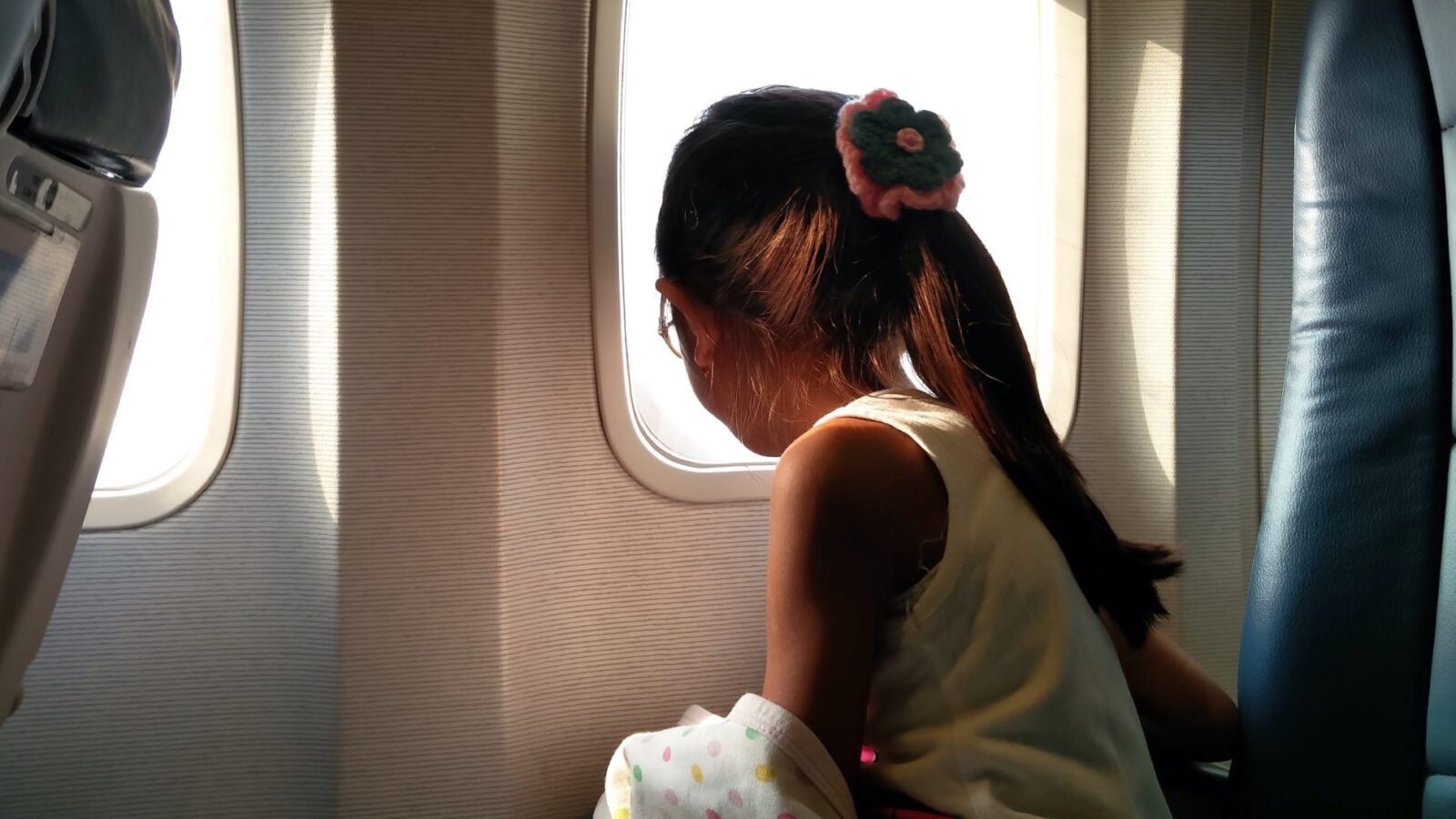 An uncomfortable kid is a miserable kid, and the same is generally true for adults. No matter where you're headed, dress in layers. Opt for breathable, lightweight materials, including comfortable pants, socks (or compression socks for adults), a t-shirt, and a zippered second layer. In addition to wearing comfortable travel clothes on the plane, turn the air vent to a medium level and angle it to just in front of your body to help regulate your body temperature.
3. Eat Well Before (and During) Your Flight
A meal that includes digestible whole grains, healthy proteins, and lots of fruits and veggies is a great way to start any travel day. You should also pack healthy high-fiber snacks to keep your metabolism moving. Although it may be tempting to buy candy and a soda at the airport, it's best to avoid sugary or high-fat treats until you reach your destination.
4. Give Yourself Lots of Time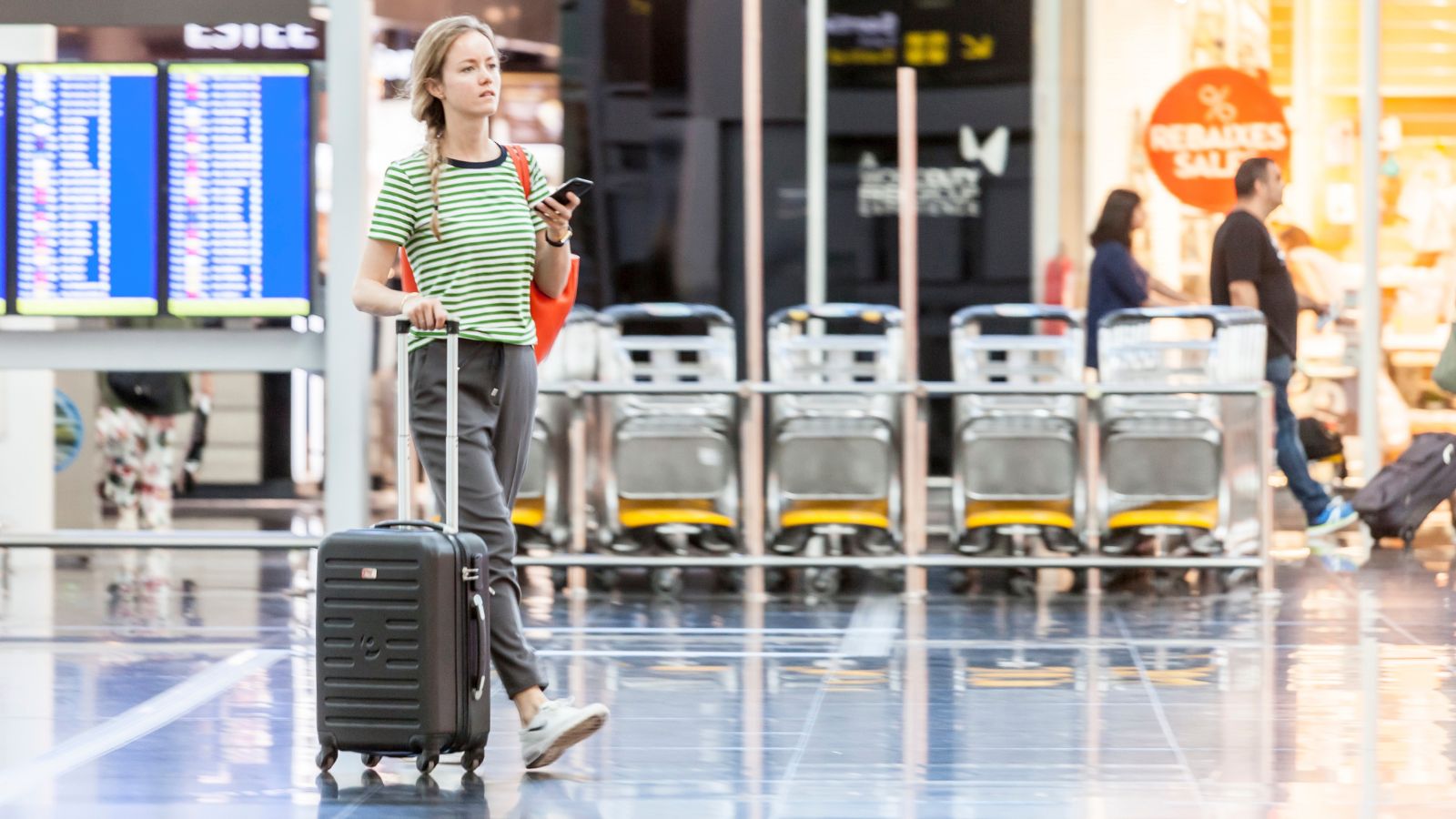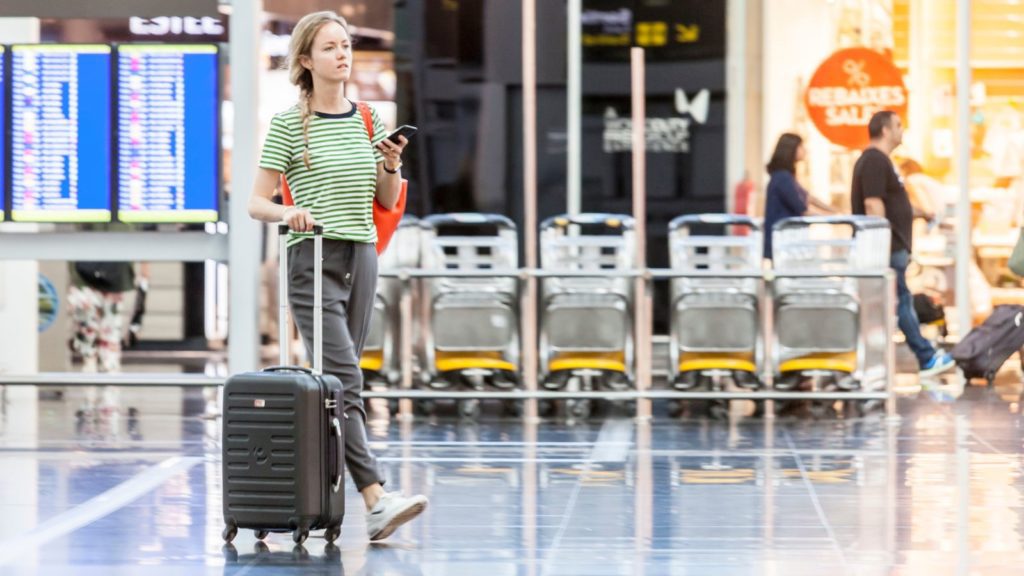 Avoid stressing your family's immune system by racing through the airport at the last minute. Plan to arrive two to three hours before any international travel and at least two hours for domestic flights. You can also make the experience faster by planning ahead to avoid long lines at the airport.
Checking in for your flight via an automated kiosk or smartphone app rather than in-person check-in line can save you time, and enrolling in the TSA's PreCheck system gives you access to dedicated screening lanes and (at many of the bigger airports) dedicated gatekeeper lanes.
5. Choose a Seat with a View
Sitting by the window will decrease your exposure to airborne germs for two reasons. First, you benefit from the way air is ventilated through the plane; and second, you avoid direct exposure to aisle traffic. Whenever possible, also choose a seat away from the washrooms for these same reasons.
6. Swipe, Wipe, and Wash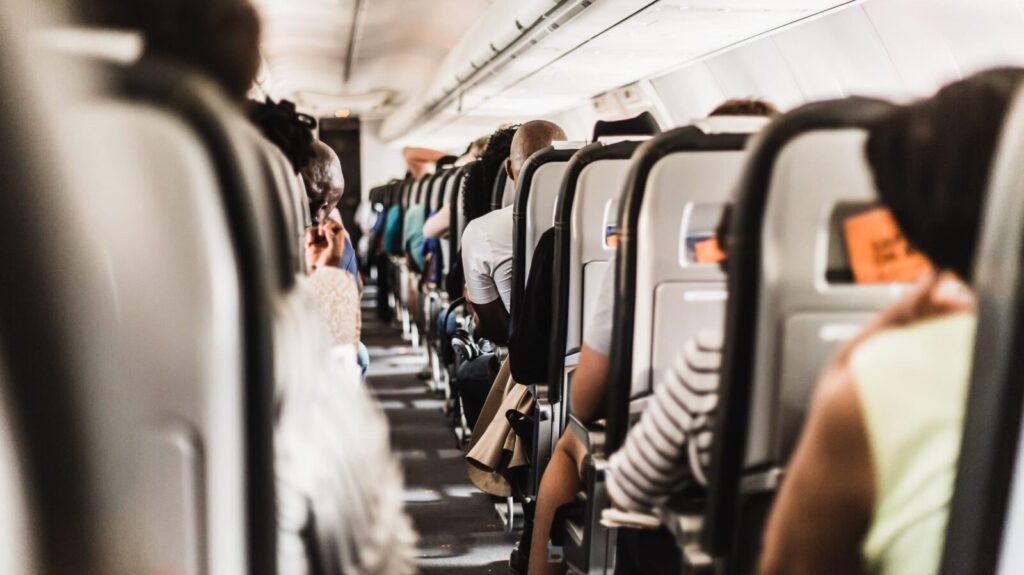 It's impossible to keep your kids' hands clean all the time, but frequent handwashing and sanitizing is essential. Buy sanitizing wipes to clean your entire seating area during your flight (armrests, seat backs, windows, and meal trays). I also bring a clean grocery bag to put inside the front pocket so that my kids don't end up digging through what was likely the previous passengers' garbage can.
7. Stay Hydrated
Brining a reusable water bottle and fill it at one of the water-filling stations near your gate once you're through security. I like ThermoFlask's water bottles because of the hidden spouts or straw lids for kids and handy lid loops for attaching to backpacks. Stay away from sugary juices (and dehydrating caffeinated or alcoholic drinks for adults). It's also okay to ask your flight attendant to refill your water bottle instead of using those tiny disposable cups.
8. Pack for Naps
If you're flying with kids over nap time or overnight, come prepared to help them sleep on the plane with the comforts of home to replicate established routines. Bring a small stuffy, use an eye mask, and consider using noise-canceling headphones with soothing melodies or ambient noise to drown out the dispruptive sounds of the plan. A clean microfiber towel is a good multipurpose travel essential that can be used to cover seats and act as a compact germ-free blanket.
9. Combat Cabin Fever
Both adults and kids can get squirrelly on long flights. Take movement breaks every hour or two by walking up and down the aisles. Pause at the back and front of the plane to stretch out those cramped limbs. My family's favorite stretches include giraffe reaches (mountain pose), elephant dips (forward bends), calf stretches, and owl twists. If you're particularly worried about getting sick on the plane, wear a tight-fitting N95 mask (they come in different sizes for kids and adults) when moving around outside of your seat.
10. Boost Your Immune System
Despite your best efforts, you will still be exposed to a menacing microbe or two during your travel day, so give your body the best chance of fighting off anything that's made it through your prevention strategies. Pack shelf-stable probiotics to improve gut flora, a multivitamin, and immune boosters like Vitamins C and D. Allow your family a calmer first day and insist on reasonable bed times to ensure the rest of your trip can be packed full of adventure!
Healthy and Safety Packing List for Travelers
You want your family vacation to be memorable because it was fun, not because someone got sick. The trick is to balance fun and relaxation with extra steps to help you stay healthy away from home. The following items will go a long way toward supporting your family's travel health.
Travel Disinfectant Wipes
From your seatback tray table to the TV remote at your hotel, just about every surface you encounter during your vacation is probably covered with germs. Especially if you're traveling with little ones who like to touch everything, you'll want to wipe down any surfaces within reach using travel disinfectant wipes. Keep in mind that it may take a few minutes for the germs to be fully eradicated, so check the product instructions for details.
UV Light Sanitizing Wand
An alternative to wiping everything down with travel disinfectant wipes is to scan germy areas with a UV light sanitizing wand, which kills more than 99 percent of bacteria and viruses. These are particularly handy for surfaces that are tricky to sanitize with a wipe, such as hotel beds or sofas.
Hand Sanitizer
When soap and water aren't available, hand sanitizer is the next best thing to protect your travel health. Rub a little into your hands before treating yourself to a snack or touching your face.
First Aid Kit
Bandages, antibiotic ointment, pain relievers, and a thermometer are wise additions to any family travel packing list so you can deal with minor illnesses and injuries without having to see a doctor. While you can easily put together your own first aid kit, there are plenty of travel-friendly first aid kit options on the market so you can buy everything you need with one click.
Bug Spray
Wearing insect repellent isn't just a matter of preventing annoyingly itchy bug bites; more importantly, it's a way to protect your family from tick- and mosquito-borne diseases such as Lyme disease, Zika virus, and West Nile virus. The Centers for Disease Control and Prevention (CDC) recommends insect repellents containing ingredients such as DEET and picaridin for maximum protection.
Phone Sanitizer
Not-so-fun fact: Your phone is 10 times dirtier than a toilet seat. If you, like most people, have been a little lax about keeping it clean, consider investing in a UV sanitizer specifically built for phones. Many phone sanitizer cases will also charge your device while they're cleaning, so there's no excuse not to use them every night of your vacation.
Sunscreen
If you'll be spending any time outdoors (even on cloudy days), sunscreen is a must to prevent sunburn. Apply it at least 15 minutes before you go outdoors and reapply regularly throughout the day, particularly after spending time in the water. If you'll be swimming or snorkeling in an area with coral reefs, wear reef-safe sunscreen to avoid damaging the delicate ecosystem.
Healthy Snacks
You can only eat so much junk food on the road before everyone starts to feel a little icky. Pack a few healthier snacks such as fruit, nuts, and trail mix so you don't need to resort to McDonald's or convenience stores every time you need a snack. For family road trips, consider bringing a travel cooler or cooler backpack for storing perishable items such as yogurt or carrot sticks.
Water Purifier
If your vacations include family camping or travel to developing countries, you'll need a plan for making sure your drinking water is safe. Instead of relying on bottled water, consider a more eco-friendly alternative like the LifeStraw Go, a reusable water bottle that filters out bacteria, protozoan parasites, and microplastics. Another alternative is the SteriPen, which uses UV light to treat water for bacteria, viruses, and protozoa.
Water Bottle
The magic of bringing your own water bottle is that it helps you build the routine of hydration, and that's vital for staying healthy on vacation. Since water is a key part of a healthy immune system, making sure you get plenty of liquids is an easy and effective healthy habit.
Find a water bottle that best fits your needs and style: If you want perfect-temperature water, try a Hydro Flask (or the cheaper Amazon version). For people looking to travel light, an option like a Nomader Collapsible Water Bottle or a Vapur Flexible Water Bottle can be a just-right fit. There are plenty of kids water bottles sized for smaller hands as well.
More from FamilyVacationist:
Healthy and safety packing list for travelers provided by Sarah Schlichter.