When it comes to packing food for a day out, not all options are equal. Throw your food into a regular backpack and it's going to heat up fast. And sweaty cheese? Yuck. A picnic basket is charming, but it's neither comfortable to carry or practical when you're traveling. The best option is a cooler backpack, which offers an easy way to tote food, drinks, and everything else you need for a fun day.
The best cooler backpacks look enough like regular backpacks that you can even use them as daypacks—just the sort of multipurpose item that earns insulated backpacks a spot on your vacation packing list.
What Are the Best Cooler Backpacks for Travel?
Here are our favorite cooler backpacks with key features like padded straps, extra-cooling insulation, and additional organizational pockets.
COMFORT AND STYLE: 10 Best Travel Leggings with Pockets, According to Reviewers
1. Yeti Hopper M20 Backpack Soft Cooler
Ultra ergonomic and serious about keeping things cool, Yeti's Hopper M20 Backpack Soft Cooler is the Cadillac of cooler backpacks. Magnets keep the pack sealed and an ultrawide opening makes it easy to access everything when you're ready to eat and drink. An external loop grid makes it easy to attach accessories like Yeti's Dry Gear Case for additional storage.
KICKS FOR KIDS: 11 Best Kids Sneakers for School, Travel, and Play
The interior is roomy (even with a 2:1 can-to-ice ratio, the pack can still hold 18 cans), and padded and adjustable straps make it comfortable to carry even when it's full.
Where to Buy: YETI
2. Arctic Zone Titan Deep Freeze Backpack Cooler
Affordable, no-nonsense, and built to last, Arctic Zone's Titan Deep Freeze Backpack Cooler earns its fan base. This 24-can backpack cooler is lightweight, and though it doesn't have the extended cooling power of some of the pricier backpack coolers, it's a great option if you're looking for something simple and roomy that will keep food cool for a few hours.
BACKYARD FUN: 10 Best Fire Pits for Staycations, Plus Portable Options and DIY Tips
It's a relatively leak-proof cooler bag, and the interior can be easily wiped down between uses. I've had one for years and continue to be impressed with its durability.
Where to Buy: Arctic Zone | Amazon
3. Carhartt Cooler Backpack
This genius Carhartt cooler backpack is truly both a cooler and a backpack. The insulated cooler compartment is roomy enough to hold up to 12 cans (or a whole mess of sandwiches), and the large main compartment can hold whatever else you have that doesn't need to stay cool.
STANDOUT SUITCASES: 10 Stylish Luggage Brands Built to Last
Though this insulated backpack was designed with the job site in mind, it's a perfect option for travel since it really does double duty. External netted water bottle pockets and padded shoulder straps multiply the utility even more.
Where to Buy: Carhartt | Amazon
4. Igloo Ringleader Rucksack Cooler Backpack
Rucksack style meets insulated cooling with the Igloo Ringleader Rucksack Cooler Backpack. Zippered side pockets separate items from the main compartment, bungee cording on the front offers more space to stash items, and a 32-can capacity main compartment leaves plenty of room to stash both necessities and items that need to stay cool.
BEACH DAY: 10 Sturdy and Stylish Beach Bags That Get the Job Done
The design includes extra insulation to keep items cool for longer. And padded air-mesh straps make for comfortable carrying.
Where to Buy: Dick's Sporting Goods
5. Coleman Backpack Soft Cooler
Want a backpack that just happens to also have serious cooling action. Coleman's Backpack Soft Cooler has got you covered. The 28-can cooler looks like a standard backpack, but is actually a cooler backpack in disguise.
TRAVEL-READY PURSES: 10 Crossbody Bags That Are Perfect for Travel
Its low-profile approach makes it a perfect fit for vacation, since it looks at home in both a museum and on a picnic. Heat-welded seams prevent leaks, and adjustable padded straps keep things comfy. Reviewers say this backpack really shines at all-day outdoor events and trips to theme parks.
Where to Buy: Amazon
6. Everlasting Comfort Insulated Cooler Backpack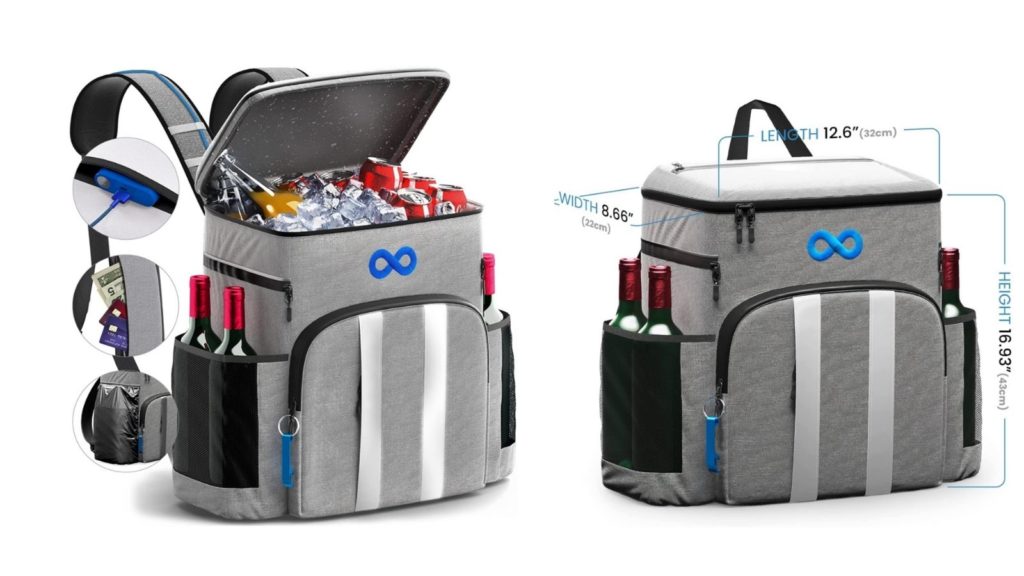 So you need a cooler backpack with lot of room? Like, a lot? Then meet the Everlasting Comfort Insulated Cooler Backpack. To give you a sense of how much it can lug, check out the external pocket that holds not one but two bottles of wine. The main compartment is sized to carry 54 cans plus four pounds of ice.
MOVIE MAGIC: 11 Best Outdoor Projector Screens for Your Backyard Movie Night
Thick insulated foam keeps this cooler backpack's contents cool for up to 24 hours, and a big front pocket easily stashes wallets, keys, and other travel or beach essentials. This pack looks more like a cooler than some on the list, but if you've got a lot of food and drinks to carry and want backpack comfort, this is a standout option.
Where to Buy: Amazon
7. Otterbox Backpack Cooler
Sleek, efficient, and as ready for both urban sightseeing and a day at the beach, the Otterbox Backpack Cooler is a great all-arounder. It shines with a 24-can capacity and the power to keep things cool for nearly two full days. Two exterior pockets plus a water bottle holder makes good use of every inch, and it comes with a reusable ice pack and built-in bottle opener.
Both the back and shoulder straps are padded, which offers a comfortable carry even when it's fully loaded up. And the wide opening at the top makes it easy to get your food and gear in and out.
Where to Buy: Otterbox
More from FamilyVacationist: