"How early should I get to the airport?" Over the years, I've found there are essentially two camps when it comes to this question: those who live for the adrenaline rush of making a run for it through the terminal and those who make a point of arriving comfortably early.
But how early you should arrive at the airport isn't that cut-and-dried. A lot of factors come into play, like the time of year, when your flight departs, if you're checking a bag, if you're flying domestic or international, and if you're flying with kids.
Here's everything you need to know about how early to get to the airport so your family vacation doesn't run into turbulence before you even leave the terminal.
FIND A DEAL: 16 Best Flight Booking Sites for Cheap Airfares
How Early Should I Get to the Airport for a Domestic Flight?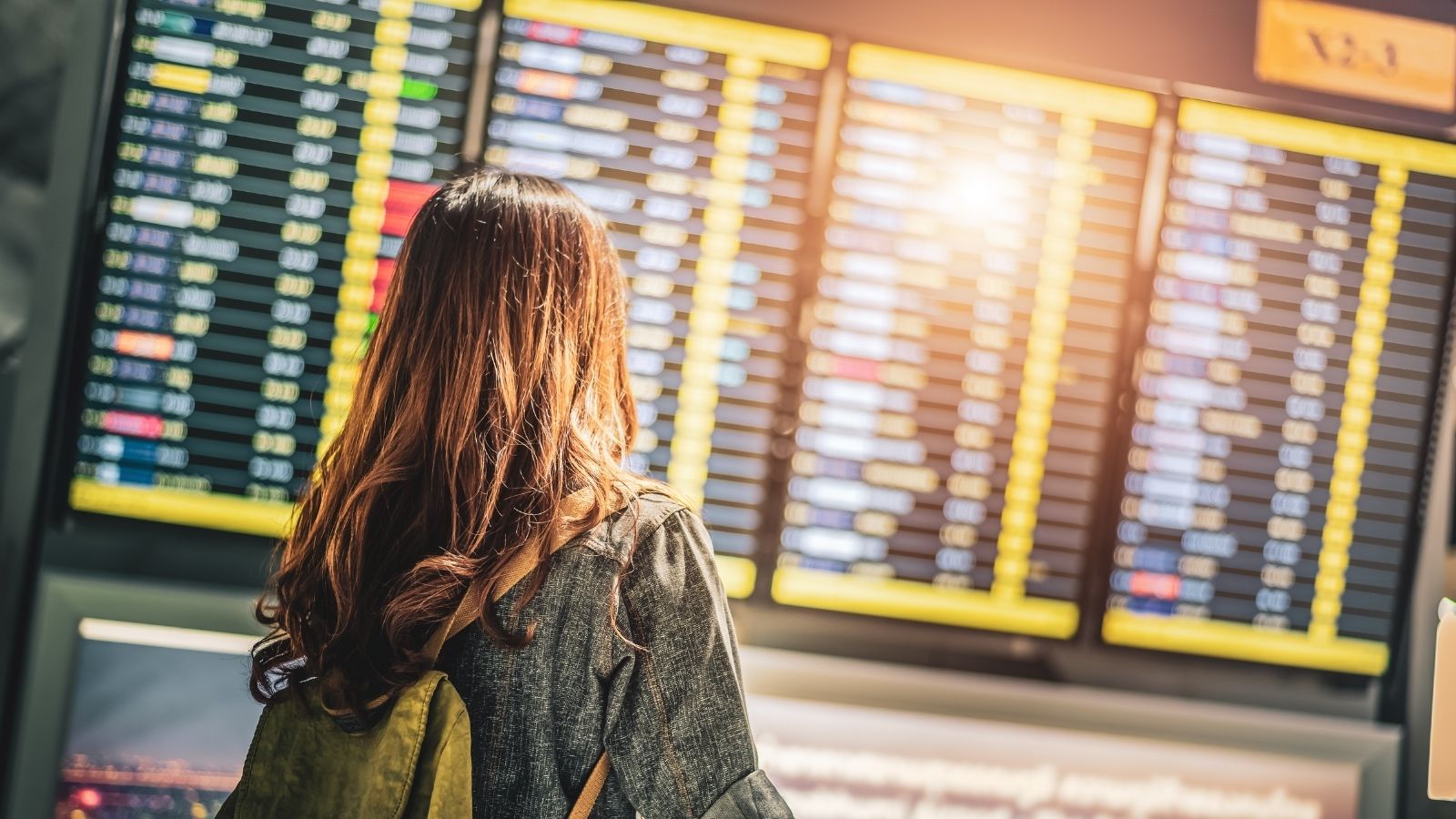 Domestic flights generally allow more wiggle room for arrival times, since there's less paperwork and you may be flying out of a smaller airport. But the general rule for domestic flights is to arrive one to two hours ahead of time, especially when traveling with kids.
"We tend to arrive two hours early, just so we're not completely stressed out," says Lindsey Daigle, a travel photographer, blogger, and mother of six. Daigle's family travels by air at least once a month. "With younger kids, it takes more time to go through bags and through security. And with kids, you just never know when someone's going to decide that that's the moment they have to eat something or go to the bathroom."
KIDS ON PLANES: What You Should Know Before Booking a Flight for Unaccompanied Minors
When determining how early to get to the airport, another factor is how busy the airport tends to get—and whether that may lead to congestion in security and other checkpoints. Some of the busiest domestic airports include Atlanta, Los Angeles, Chicago O'Hare, Dallas/Fort Worth, and Denver. Airports that serve any of the top family vacation spots in the U.S. also tend to be busy. If your flight takes off from a busy airport, you may want to build in more of a buffer.
Even veteran travelers experience delays when they don't expect them. "I've flown in and out of Jackson Hole several times this season, and I've arrived much earlier than usual because they're just so understaffed," says Regan Cleminson, a.k.a. The Venture Travelist, a veteran travel blogger. "You would think that because the airport is so small, it's a breeze, but especially with more gear like my ski bags, you do have to get there earlier."
If two hours seems like it's too early to get to the airport for you and your crew, there are a few ways to expedite the process.
Prep your family ahead of time for what to expect.
Check in online.
Sign up for TSA PreCheck or other security services like Clear that let you bypass lines.
Know what can and can't be brought through security, especially liquids like formula, breast milk, and other baby travel essentials.
If you can swing it, invest in premium seats which usually have shorter check-in lines.
"It definitely varies based on your home airport and the time of day you're flying," says Willis Orlando, a Senior Product Operations Specialist at Scott's Cheap Flights. "If you're flying first thing in the morning or late at night, you can cut those numbers down a bit, but I'd still give myself two hours because you don't want to get caught in a long line or something unexpected."
How Early Should I Get to the Airport for an International Flight?
For international flights, arrive at the airport about 2.5 to three hours ahead of time. That may feel like an eternity for some travelers, but international flights require more paperwork, passports have to be checked manually, and you're more likely to check luggage.
FLYING WITH KIDS: When Do You Need a Child Travel Consent Form?
You may also find more crowds at the airport at unexpected times. Flights to Europe from the East Coast often mean taking a red-eye flight regardless of airline, which contributes to a rush of people checking in at the same time. 
Of course, COVID-19 guidelines have added even more complications. "The biggest disruption is at the check-in counter, where staff have to enforce COVID-19 documentation rules to enter," says Orlando. "Airlines are trying to do more online, but nobody's gotten it right yet."
Arrive at the Airport Earlier Than You Think You Need to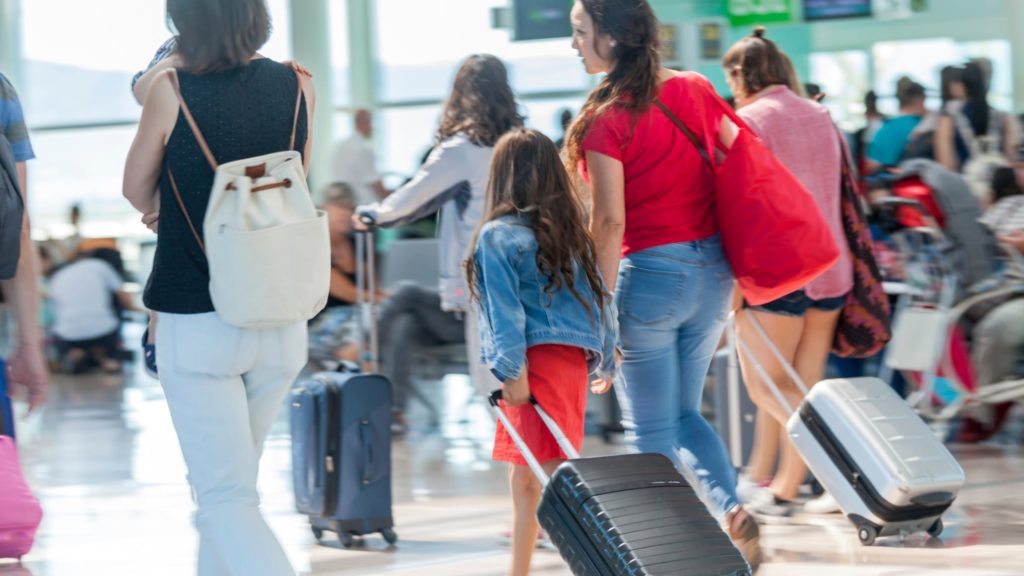 Ultimately, how early to get to the airport comes down to your own comfort level when it comes to managing your travel anxiety. You know your own family better than anyone. If your kids take forever to put on their socks and shoes in the morning before school, you're probably going to need to arrive at the airport earlier than you think.
KID-FRIENDLY FLIGHTS: 4 Best Airlines for Families in the U.S.
Not all airlines are created equal when it comes to smooth check-in processes, either. Many are experiencing staffing shortages, and that can add up especially if you're going to be checking bags, travel strollers, or car seats.
"You can't discount the staffing issues at airlines and at airports," says Orlando. "During the holidays, wait lines were very, very long, partially because of staffing shortages, but also because the new staff wasn't up to speed yet."
"Budget airlines in particular can be much more chaotic," notes Cleminson.
What to Do if You're Running Late to the Airport
First, know that not every flight leaves on time. According to the U.S. Bureau of Transportation, nearly 25 percent of all flights are delayed or canceled because of the airline, weather, security, or other reasons. So even if you're cutting it close, don't panic.
PARENT'S GUIDE: Traveling with Food Allergies: How to Plan, Pack, and Enjoy Your Vacation
"If you've arrived at the airport and there's hope that you can still catch the flight, there are a few things you can do," says Cleminson. "First, go straight to the front of the line for check-in and explain your situation as politely as you can to the person working at the front. If there's no one there, stand in the premium lane and explain your situation when you're called up."
And as a last resort? "Ask the people in front of you if you can move forward," advises Cleminson.
It may be embarrassing, but it sure beats missing your flight.
More from FamilyVacationist: