Breastfeeding can be exhausting, and breastfeeding while traveling can be an even bigger challenge. But it can be done—easily and with very little hassle, in fact. Here's everything you need to know about packing for breastfeeding and pumping, bringing breast milk through airport security or on the road, and shipping milk safely, regardless of whether you're bringing baby with you or not.
EVERYTHING ON HAND: The Complete Baby Packing List: What to Pack for Babies When You Travel
How to Fly with Breast Milk
If you're wondering if you can fly with breast milk even with the TSA's airport security liquid restrictions, the answer is yes. Here's what (and how) to pack as well as what to expect at airport security when you're flying with breast milk or planning to breastfeed while traveling.
AIRPORT TIPS: How to Avoid Long Airport Lines at Check-in, Security, Customs
What to Pack for the Airport and Plane
Breast Pump Storage Bag: There are dozens of options available, and you don't need to buy any one specific breast pump storage bag. All that matters is finding an appropriately sized bag that fits all of your breast pump parts and is comfortable to carry at the airport.
Breast Pump and Pump Parts: Triple-check you've packed all of your breast pump parts, including your breast pump charger. It may be helpful to pack extras of any essentials just in case anything gets lost in transit (and for extra peace of mind).
Wet Bag: Pack a wet bag for dirty breast pump parts that you plan to clean when you arrive at your destination. The Skip Hop Waterproof Wet Dry Bag has worked well for me.
MORE SPACE TO SPREAD OUT: 19 Best Vacation Rental Booking Sites for Families
Breast Milk Storage Bags: Be sure your milk storage bags are sealed as tightly as possible when traveling with breast milk. While the goal is for your milk to remain frozen during travel, the bags are prone to leaking as soon as the frozen milk begins to defrost. An insulated cooling bag—either a small one specifically for breastfeeding that you can stash in another bag, like the Medela Breast Milk Cooler and Transport Set—or any number of larger general purpose insulated bags if you're bringing significant amounts of frozen breast milk are also helpful.
Breast Pads: Since you might go longer than usual without pumping, it's a good idea to wear some disposable breast pads in case your breasts leak.
Breast Therapy Pads: Have some gel pads on hand in case you aren't able to pump as soon as you'd like and your breasts begin to feel full and tender. Put them with your frozen milk (if packed) to keep them cold and ready for use in transit.
Nipple Cream: Don't forget any comfort items you regularly use at home, such as nipple cream.
BOOK LIKE A PRO: 10 Best Hotel Booking Sites for Cheap Prices
Breastfeeding Supplements: If you use Sunflower Lecithin or any other breastfeeding supplements you find helpful for boosting milk supply and maintaining milk production, be sure to pack them as well.
Breastfeeding Cover-Up: I like the buttery softness of the KeaBabies Multi-Use Cover and the Copper Pearl Multi-Use Cover, both of which provide full coverage for breastfeeding while traveling. Their versatility makes them especially ideal for airports, road trips, and anywhere else you might find yourself while traveling.
Best Breast Pumps for Travel
If you regularly use an electric pump, consider also bringing a manual pump or a battery-powered pump that can be charged in advance and packed in your carry-on bag. Your electric pump can then go in your checked luggage. Here are some great options to consider:
Medela Harmony: A tried-and-true manual breast pump, the Medela Harmony is perfect for travel.
Motif Luna or Motif Duo: These breast pumps are battery powered, quiet and lightweight (so lightweight, in fact, that the Motif Duo weighs less than half a pound).
Of course, you can bring your electric pump on the plane and forgo the additional manual or battery-powered pump. These pumps are just bulkier and often trickier to use on the go.
Getting Through Airport Security with Breast Milk
Breast milk is not subject to the TSA's 3.4-ounce liquid rule, which means you can bring breast milk in "reasonable quantities" through airport security and onto the plane, frozen or not, whether you are traveling with your baby or not. You will, however, need to remove any milk from your bag as it will need to be screened separately from the rest of your luggage. You can also bring ice packs through airport security, but if they aren't frozen, they are subject to the 3.4-ounce rule.
VACATION TIME: 16 Best Flight Booking Sites for Cheap Airfares
While the TSA may ask you to test your breast milk, you can refuse and have the security agent swab the outside of the milk, advises Katie Clark, a Certified Lactation Educator and Certified Breastfeeding Specialist I spoke with for this guide. Clark also recommends printing out the TSA guidelines for breast milk in case any questions arise during the screening process.
If you're traveling with bagged or frozen breast milk, bring a cooler bag as your carry-on bag and use another bag, such as your purse or a backpack, as your personal item. A rolling cooler bag is a convenient and ergonomic option. Most airlines consider breast pumps to be medical devices, and they are permitted in your carry-on bag.
Breastfeeding at the Airport
It is legal to breastfeed anywhere you like at the airport or on the plane, with or without a cover. However, if you want a quieter and cleaner place, look for a lactation pod. Clark advises using the Mamava app to help you find a place near you to pump or nurse. "You can also look for dedicated breastfeeding rooms," she says.
How to Drive with Breast Milk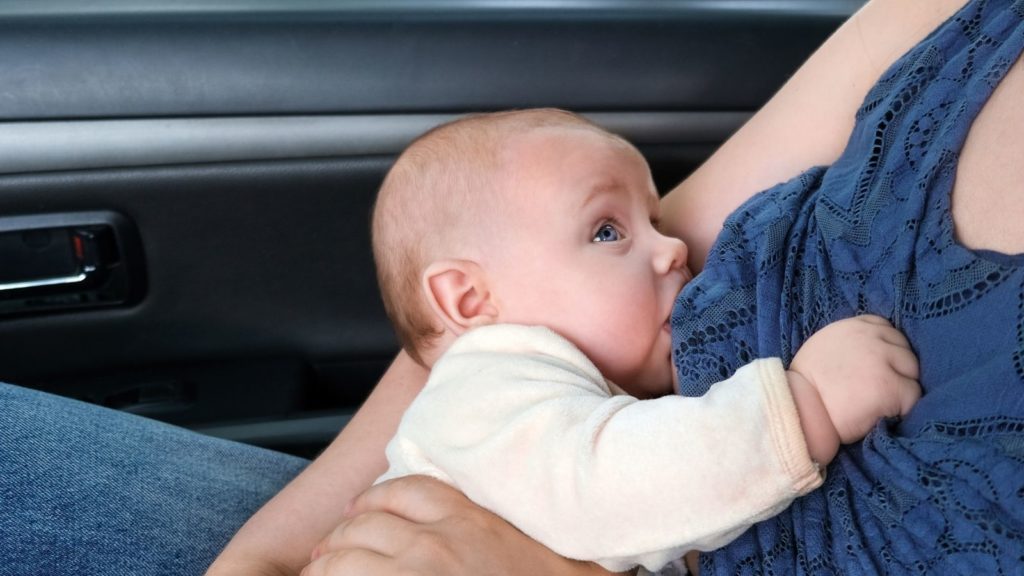 If you're breastfeeding on a road trip and you plan on pumping, a cooler is vital to store milk. To keep your milk frozen, "brick it" in gallon-size freezer storage bags. Stop to buy ice and add it to your cooler as needed. Bring resealable plastic bags to contain the ice and make it easy to swap out ice as needed.
HIT THE ROAD: 10 Best Car Rental Booking Sites for Finding Cheap Deals
How to Ship Breast Milk
If you want to completely avoid flying or road tripping with breast milk, you can ship it to your destination. There are a few options for shipping breast milk:
Milk Stork: Milk Stork is the only service solely dedicated to shipping breast milk. Everything can be done online, and Milk Stork ships all packaging essentials right to you. You can ship milk to your destination, and then back home if you have excess milk at the end of your trip.
FedEx: FedEx also provides shipping services for breast milk. You'll need to place an order for a cold shipping box a few days in advance of departure, and then package and drop off your milk at a FedEx location.
You can also seek breast milk donations ahead of your trip by visiting Human Milk 4 Human Babies and Eats on Feets on Facebook. These groups have state-specific pages where caregivers can look for milk, either by browsing recent posts or posting a request. Excess milk is donated free of charge by other members, and you can feel free to screen donations—ask question about the donor's diet, current medications, etc.—to help ensure their milk is a good fit for your baby. Be wary of scams in which you're asked to pay for the breast milk, however.
Whether you're sticking to exclusive breastfeeding or use human milk in conjunction with infant formula, planning ahead will help smooth the way to a happy baby (and happy you) while traveling.
Where to Stay: Best Types of Accommodations for Breastfeeding While Traveling
If you're traveling for vacation, consider booking a vacation rental instead of a hotel. At a rental property, you'll have access to a full-size fridge and freezer for milk storage, whereas at most hotels you'll only have access to a mini-fridge, which may or may not come fully pre-stocked.
If you're traveling for work or a vacation rental isn't an option at your destination, find out if your preferred hotel offers suites with full-size fridges with freezers. Alternatively, look for all-suite hotels that offer this option. Homewood Suites, Staybridge Suites, and Extended Stay America are all good options with refrigerators and freezers.
More from FamilyVacationist:
Posted: May 2021
Updated: July 2022