Hotels aren't always the best fit for traveling families and groups. When you need perks like a kitchen, a private pool, more space to spread out, or the chance to live like a local, it's time to seriously consider a vacation home rental. Whether you're looking for a beach house, an urban apartment, a summer vacation rental, or a country vacation home, you'll be able to find it on one of the best vacation rental sites.
Click on any site in the list below to go straight to the vacation rentals booking site and start your search, or scroll down and read our reviews detailing what you'll get from each platform, plus its relative strengths and weaknesses. And keep reading for tips on finding the best vacation rental site for you.
Best Vacation Rental Booking Sites (alphabetical)
The Best Vacation Rental Sites for Groups and Families
There are a lot of vacation rental sites out there, and it may not be immediately clear what makes one better than another. There's also the complicating factor that there are two different types of vacation rental websites:
Vacation rental booking platforms (also known simply as vacation rental sites) that act as a third-party pass-through between property owners and guests.
Vacation rental booking agencies, through which you can book directly, and which tend to offer more protection and service.
In this story, we'll focus on the best vacation rental booking platforms like Airbnb, Vrbo, and others. But be sure to check out our story on vacation rental booking agencies for a simple explanation of the benefits and a look at some of the best agency websites if you want to go that route.
GET AWAY: 10 Best Hotel Booking Sites for Groups and Families
Even when you narrow your search to just the best vacation rental websites, you're still going to find a lot of variation in the approach these booking platforms take. There are some like Airbnb that mix full-house rentals with room rentals in private homes. There are online travel agency (OTA) sites like Booking.com, Hotels.com, and Expedia that function both as hotel booking sites and vacation rental booking sites, and mingle both in listings. And there are also dozens of smaller vacation rental sites, many of which offer region-specific short term rentals.
We're going to tackle all of it and turn you into an expert who knows exactly how to find the best vacation rental home for your group or family.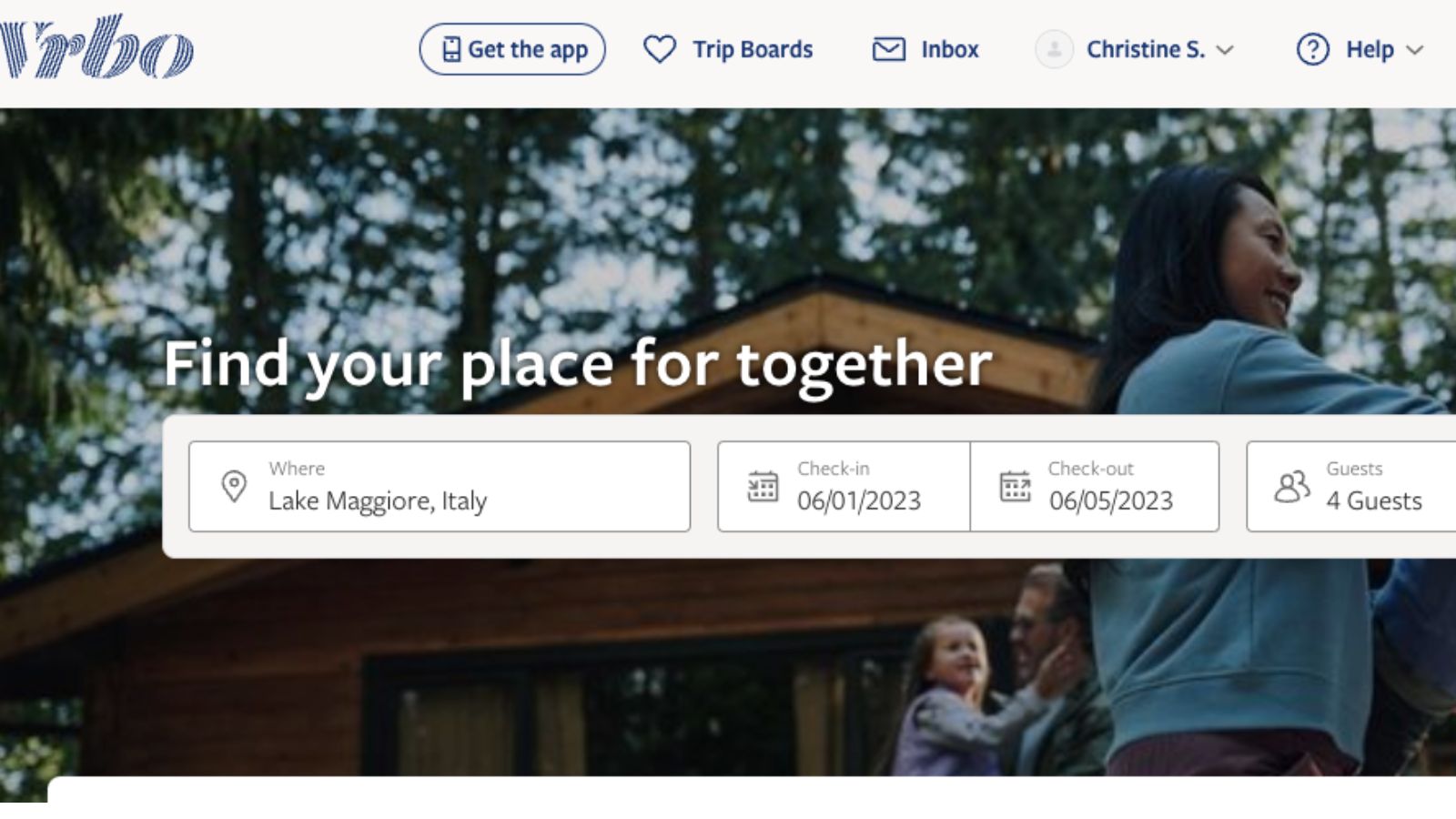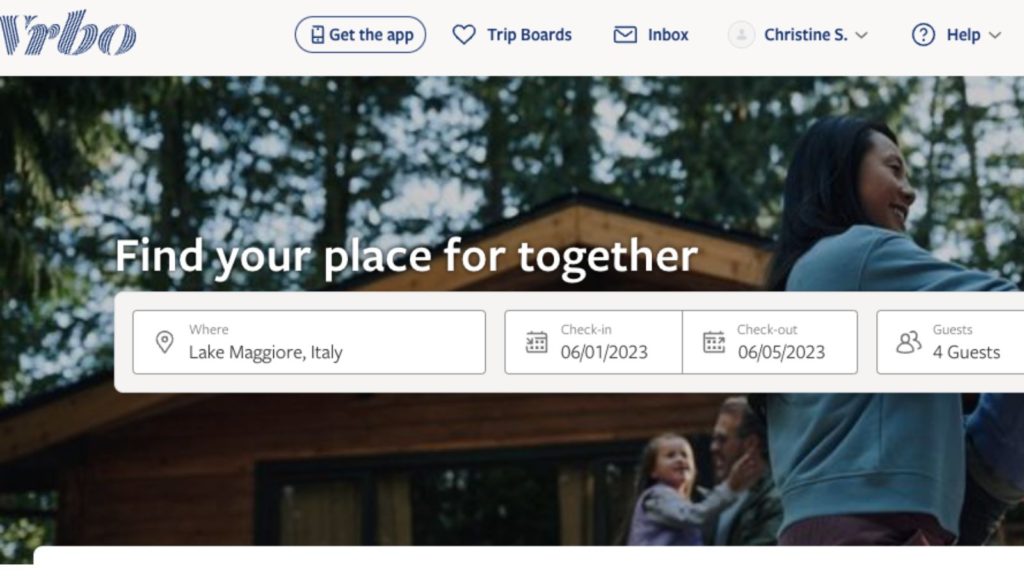 Looking for Homeaway on this list? You won't find it: In June 2020, Expedia opted to retire the brand and focus instead on concentrating all its vacation rental listings on HomeAway's sister site, Vrbo. Family travelers were a major part of this decision: Expedia CEO Peter Kern explained, "Through the years, the Vrbo brand has consistently outperformed HomeAway with family travelers. Unifying our vacation rental brands under Vrbo allows us to focus our energies on providing the best travel experience for families everywhere."
Vrbo is owned by Expedia, and is a major vacation rentals booking site in the U.S. and 15 other countries. It, along with Expedia's other vacation rental sites—Abritel (in French), FeWo-direkt (in German), Bookabach (New Zealand based), and Stayz (Australia based)—offer a massive inventory of vacation rentals around the world.
BEST FLIGHTS: 16 Best Booking Sites for Cheap Airfares
Vrbo has a clean and easy-to-navigate interface and, with its Trip Boards, makes it simple to save, organize, and share listings for multiple cities or vacations. Abundant filters make narrowing down properties easy. In addition to the number of bedrooms and bathrooms, you can specify neighborhoods, reviews, safety features, accessibility, property type, and amenities.
You can also screen for properties that are especially family-friendly or that allow events, and you can see and sort by "Premier Partners," i.e., highly rated owners and managers. The free cancellation date deadline is displayed on search results pages; there's also a filter where you can sort by properties that allow free cancellations until a certain number of days out.
Vrbo clearly lists the total cost—including taxes and fees—as well as the nightly rate for each listing. You also get clear language before you book about charges for damages and cancellation fees. Vrbo has fraud-screening measures, payment protection, and helps with last-minute rebooking if owners cancel within 24 hours of the booked stay.
Wondering how to say Vrbo? Rather than pronounce each letter, say "Verbo."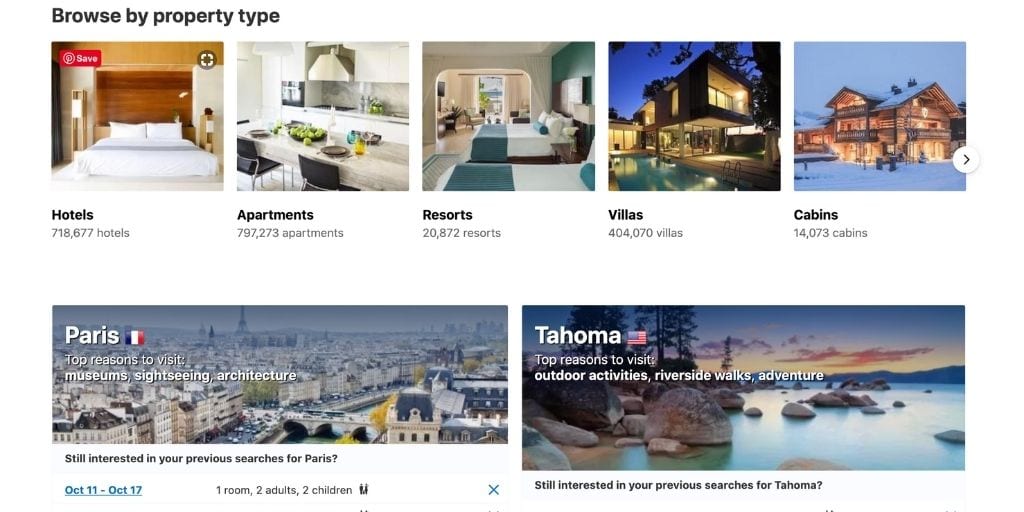 Booking.com is best known as a hotel booking site, but it's also a vacation rental booking site, and a good one at that. If you're considering booking a vacation rental home, but want to compare your options against hotels in your destination, Booking.com offers an easy way to do just that.
If, however, you want to narrow your search to just vacation rentals, you need to put in your search parameters, wait for results, and then choose the "Entire Homes and Apartments" tab on the left side of the search results page. Booking.com labels its properties by type so it's easy to understand what's what. Expect to see Apartments, Holiday Homes, Villas, Aparthotels, and even Chalets, depending on the location.
POPULAR FOR A REASON: 11 U.S Tourist Attractions That Live Up to the Hype
Filters are abundant on this vacation rentals site, and they include price range, amenities (swimming pools, air conditioning, pets allowed, etc.), property score, location, and a very specific list of accessibility options (including wheelchair accessible vacation rentals, rental homes with Braille visual aids, bathrooms with lower level sinks and higher level toilets, and more). You can sort by properties with a free-cancellation option, though cancellation is generally only free up to a certain date before your booking.
There's a lot that's great about using Booking.com for vacation home rentals, but one point of frustration is that the site doesn't always display the total price, which can make comparing prices across vacation rental booking sites more difficult. However, Booking.com has a good price-match guarantee on accommodations that will refund you the difference (with restrictions) for pricing you find up to 24 hours in advance of your reservation date. To set it apart even more, Booking.com is one of the few vacation rental sites that doesn't charge guests a booking fee. So it might be worth the extra legwork.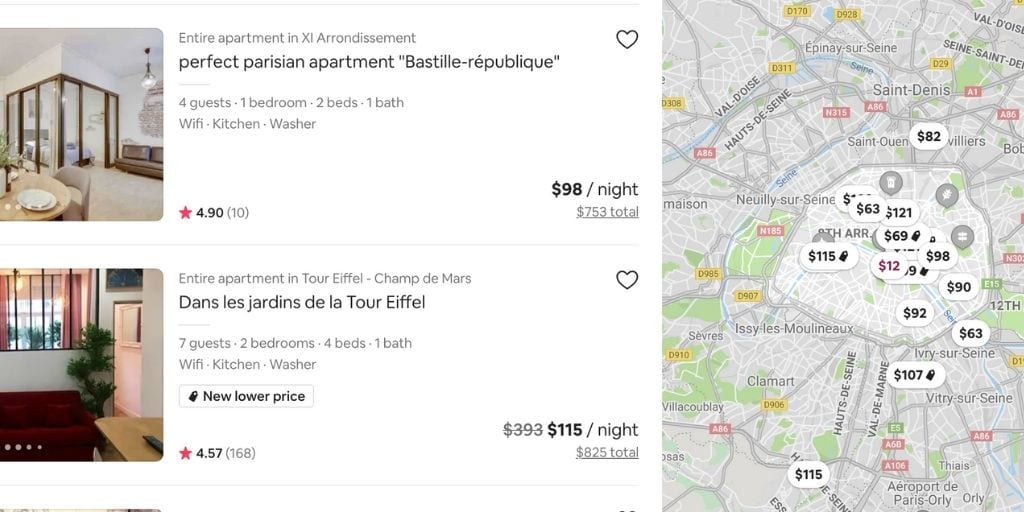 Airbnb offers a clean, easy-to-navigate platform, one that manages to feel minimalist in design but also has all the filters you want. Because this vacation rentals site mixes in whole-house rentals, private rooms, and even hotel rooms, you'll want to specify (with the "Type of Place" button at the top of search results pages) if you want to have your entire rental to yourself. Individual listing pages are similarly easy to browse, with important information surfaced at the top, and a clear outline of the total pricing, including cleaning fees, service fees, taxes, and so on.
EASY BREEZY: This Summer's Best Pop Up Beach Tents
There are also filters that allow you to surface upscale vacation rentals, accessible vacation rentals, and rentals managed by "Superhosts" (Airbnb-speak for property owners and managers that are highly rated by guests). Also handy? The side-by-side map so you can scroll listings and see exactly where they are within a city or region. Airbnb does offer a way to search for vacation home rentals with flexible cancellation policies, but it's not as specific a search as those offered by Vrbo and others.
Guests are charged a variable service fee that Airbnb says is "typically under 14.2% of the booking subtotal (the nightly rate plus cleaning fee and additional guest fee, if applicable, but excluding Airbnb fees and taxes)." Also note that Airbnb has had some high-profile fails when it comes to protecting guests from last-minute cancellations and questionable booking behavior on the part of property owners and managers. But the sheer scale of options and the by-and-large good booking experiences of guests keep people coming back to this ultra-popular vacation home rental site.
Tripadvisor is a surprisingly lesser-known major player on the vacation rental booking scene. Its size is in large part due to the number of vacation rental sites in its portfolio. In addition to Tripadvisor Vacation Rentals (the Vacation Rentals tab on Tripadvisor), the company owns FlipKey, HolidayLettings, and Niumba (Spanish). These vacation rental sites share inventory, so using the vacation rentals tab on Tripadvisor will yield the same results you find on the other sites. With listings in more than 200 countries around the world, there are a lot of options. 
In browsing vacation rental listings by destination, you can easily see the neighborhood, number of bedrooms and bathrooms, maximum occupancy, and reviewer rating. Photos vary in quality; some are clearly amateur snaps while others are clearly the work of a pro. You can scroll through the pictures without clicking away from the main search results page, and, while on the same page, you can opt to see more information (like a list of amenities) as well. There's also an easy way to save properties you like; just click the heart on the property's listing page.
PURA VIDA: Your Guide to Planning a Costa Rica Family Vacation
Amenities are specific and clearly outlined—you can check for everything from hair dryers to hot tubs—and you can scroll through available dates on the calendar. Tripadvisor is an expert in user reviews, and vacation rental reviews are, by and large, specific and helpful (and a great place to get a sense of the property owner or manager's customer service skills). There's a button to send a message to the property owner even before you book, and vacation rentals prices are shown as both nightly rate and bundled as the total cost.
Navigating can be somewhat frustrating, though. Switching dates or destinations isn't as seamless as you'd expect. Clicking through on individual listings opens a new window but doesn't display the original search, so if you want to avoid the extra legwork of entering your dates and destinations multiple times, you'll need to keep the original window open,
Tripadvisor's portfolio of vacation rental sites charge guest booking fees between 8 percent and 16 percent. Properties booked through Tripadvisor vacation rental sites are covered by a Payment Protection guarantee that promises a full refund if you're "prevented or denied access to your rental when you check in" or if the property is misrepresented.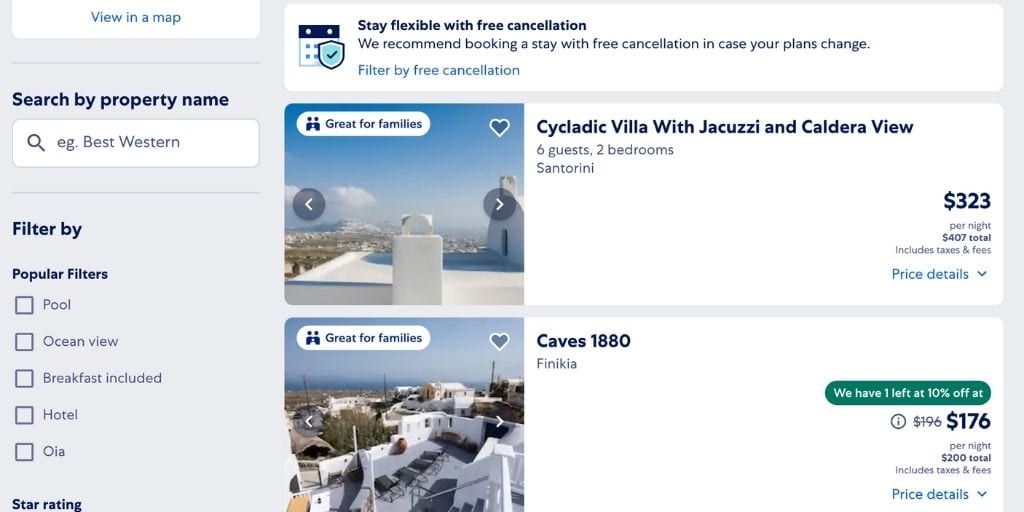 Expedia owns Vrbo (and other global vacation rental sites Homelidays, Abritel, FeWo-direkt, Bookabach, and Stayz), but because the browsing and booking experience is different by virtue of Expedia being a traditional OTA, we're reviewing its vacation rental booking platform separately.
Vacation rental searches on Expedia are a lot like hotel searches on the mega-OTA. In fact, at first, they're virtually indistinguishable: You start by entering your dates, destination, and number of guests into the Stays field and let the results display.
At that point, though, you can turn your general accommodations search into a vacation-rental-specific search by scrolling down to the Property Type filter on the left and specifying preferences. Depending on the destination, you may be able to choose among vacation rental types including apartment, apart-hotel, cabin, condo, condominium resort, cottage, home, private vacation home, and villa.
PACK THE TENT: 10 Best Campgrounds and RV Parks for Families
Expedia's vacation rental listings have some nice features. When you put in more than two people, Expedia starts flagging properties that are good for families, though it doesn't always display number of rooms on the search results page (you may have to click through to see).
Filters are abundant, and include the usuals like price, guest rating, amenities, and number of bedrooms, plus highly specific filters like accessibility options (accessible bathroom, roll-in shower, etc.), neighborhood, and a box to check if you're looking for family friendly vacation rentals. You can also filter by properties that offer free cancellation or a reserve-now, pay-later option.
Photos are, by and large, high quality, and make it easy to see what you're getting. There's a tiny map at the top of the results page, but to make it big enough to see you'll need to click on it.
Expedia displays the total price plus the nightly rate in the search results. Expedia does charge booking service fees, though its Terms of Use is page very cagey about how much (the fees are bundled into taxes and fees in the total price).
Agoda is owned by Booking.com, but the user experience is different enough that we're reviewing it separately in this list of best vacation rental sites.
Agoda is Asia's largest online travel agency. It has a booming hotel business, but it also has abundant vacation rental options woven into search results. On the Agoda homepage, just look for the tabs labeled "Hotels & Homes" or "Private Stays" in the main search box, or click on the "Apartments" tab along the top of the site. There's also a "Long Stays" option in that main search box, which mixes hotel, resort, and vacation rental options.
Right off the bat, you can identify your needs as a family or group traveler looking for a vacation rental property. When you specify location and dates, click on the number of people—there you can specify if you're a family traveler; traveling in a group; or are a solo, couple, or business traveler. Once you get search results, you can drill down more with filters like "Family/Child Friendly." In certain destinations, Agoda also lets you filter by properties that don't need a credit card up front—a nice perk if you're trying to pay out as little as possible up front.
BEACH READY: 11 Beach Essentials Every Family Needs
Filters are pretty standard on Agoda, with the ability to sort by price, rating, amenities, etc. You can also sort by multiple types of guest ratings including overall guest ratings and ratings of the location. Another filter lets you sort by properties offering discounts and deals.
Agoda, like its parent company Booking.com, offers a great best-price guarantee on bookings. Unlike Booking.com, however, Agoda sometimes charges a guest booking fee, though it's hard to know what it will be until you look at the price breakdown for an individual vacation rental property.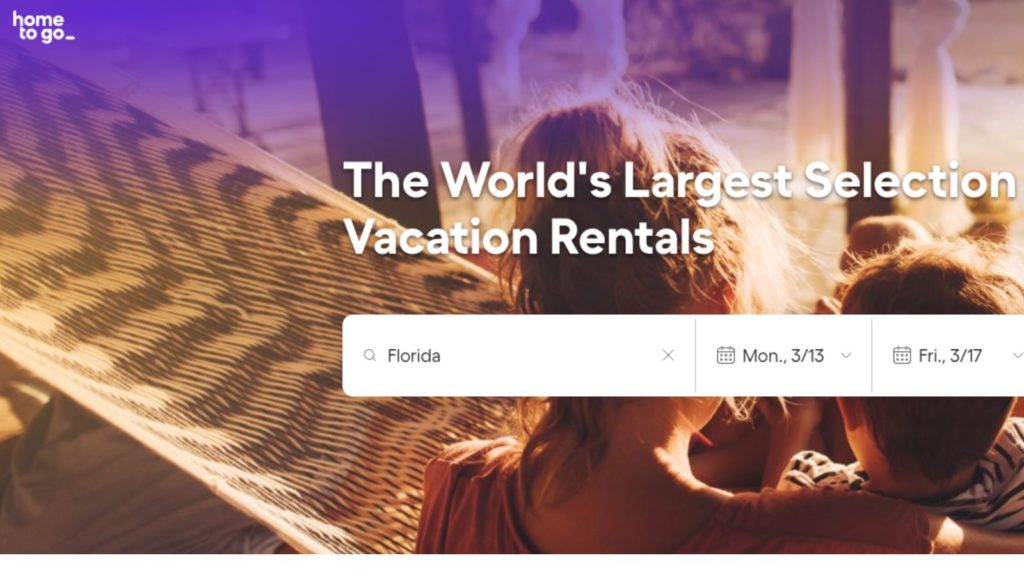 HometoGo doesn't have its own inventory; instead, it's a vacation rental metasearch site that displays more than 18 million listings around the world. When you do a search, this vacation rentals site pulls in listings from big vacation booking sites like Vrbo and Booking.com, but also searches thousands of smaller and regional booking sites to see what's available.
Search results are clean and easy to read, and you can narrow results with filters including amenities, price, rating, and free cancellation. Results are displayed alongside a map, so it's easy to see where the rental property you're considering is located.
FLY AWAY: 16 Best Flight Booking Sites for Cheap Airfares
When you're choosing the number of guests in your party, you can specify children's ages; this allows for more accurate pricing displays. Beyond being able to drill down to find rental properties with family-friendly amenities like cribs and fenced yards, there are not specific ways to find family-friendly vacation home rentals.
Once you click "view deal" on a specific listing, you'll either be routed to the vacation rental booking site or, in many cases, you can complete the booking without leaving HomeToGo. According to the site's fine print, it makes its money from commissions on referrals.
HomeToGo also owns Tripping.com, a metasearch vacation rental site with similar functionality and listings to its parent company. The company also owns Casamundo, a regional vacation rental website with 700,000 listings in Europe and the U.S.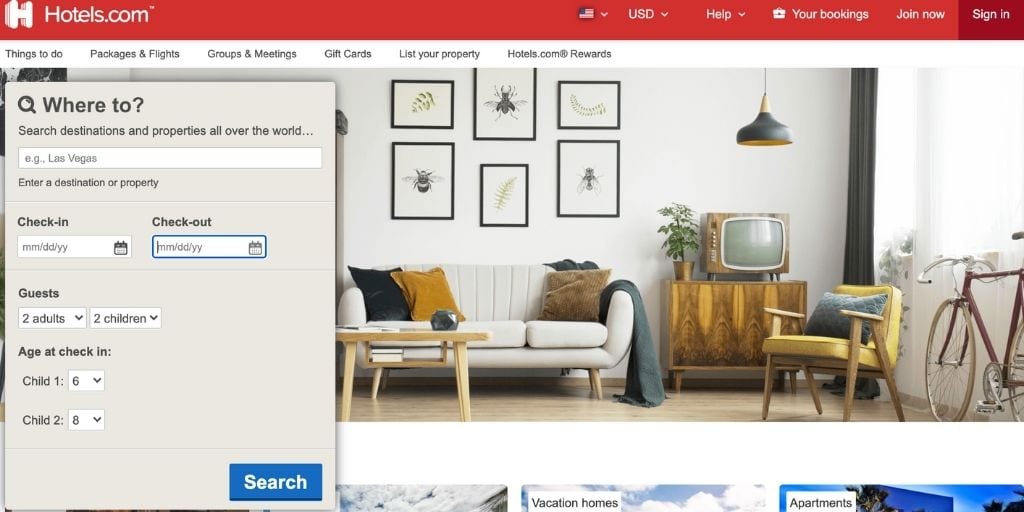 Hotels.com's vacation rental booking site has improved over time, and earned itself a place on this list.
Because it's an established online travel agency, Hotels.com has helpful infrastructure in place. You can see properties on a map, check distances to well-known attractions easily, and find competitive prices. Filters are abundant, and let you drill down on certain vacation rental types, including apart-hotels, apartments, caravan parks, cottages, houseboats, and villas. There's also filters that lets you sort by traveler experience preferences including family-friendly, LGBTQ welcoming, and business friendly.
Hotels.com also has an incredibly comprehensive breakdown of accessibility options, and includes the ability to search properties with accessible parking, accessibility equipment for the deaf, braille signage, wheelchair-accessible rooms, and more.
The site touts its "free and easy" online cancellation for most properties and offers different payment options, including paying online or at the property. Hotels.com also has a price guarantee up to the day before check-in.
HOW TO CHOOSE: Hotels vs. Vacation Rentals: Which Is Better for Your Family?
There are some drawbacks, however. Search result pages are cluttered with things like secret and member prices to unlock, extra stamps to collect, etc. While this can be good for savings (especially if you use the site often and earn loyalty points), it makes it difficult to scan quickly and see accurate prices up front. It's also not always easy to scan for basic information; for instance, you may have to dig to see how many bedrooms a property has.
On the default "Featured" listings, properties are partially ranked by Hotels.com's commission rates, so it's a good idea to sort by guest rating, price, or another filter to get an unbiased sort order. But good news: though the site used to make it a multi-step process to see the total price of the property (rather than just the base price), it now displays the total price in find print on the search results page.
Regional Specialist Vacation Rental Booking Sites
Not all vacation rental sites go broad; some focus on listings for specific regions or countries. Here are some of the best vacation rental sites if you want to search by region.
COMPARE AND SAVE: 10 Best Car Rental Booking Sites for Cheap Prices
Which Is the Best Vacation Rental Booking Site?
There's no one agency or platform that shines above others for families, but we can provide some conclusions based on our vacation rental site reviews and years of using these booking platforms.
If you're looking for budget alternatives to conventional hotels, start with one of the giant booking platforms—that's where you'll find the bulk of the low-priced options. Go to a regional specialist platform if you want more options.
For rentals in the U.S., do a local search in addition to checking the larger vacation rental booking platforms.
Cast a wide net. Check with as many different sources as you have time and patience for. And keep in mind that many rentals will list with more than one booking platform, but a few stick to one or two. Prices are almost always the same.
Avoid booking vacation rentals through Craigslist or eBay. Although both list vacation rentals, they provide almost no consumer protections.
Where Can I Find High End Vacation Rentals?
If you're looking for an upscale rental, and especially one with lots of bedrooms, start with either a worldwide managed agency or area specialist. By going with a managed agency, you have the peace-of-mind of working with an established rental agency rather than an owner who may be hard to track down if there's an issue.
THE BIG QUESTION: Should You Book with a Vacation Rental Agency or Booking Platform?
Renting a high-end vacation rental through a managed vacation home booking agency generally incurs less risk than renting through a booking platform because if you encounter a problem, you know how to reach a responsible party, or who to request a refund through. This is a particularly important detail if you're renting an expensive property based solely on online descriptions and pictures.
More from FamilyVacationist: