What comes to mind when you think of popular U.S. tourist attractions? Crowds? Long lines? Souvenir stands? It's no wonder many travelers go out of their way to avoid them. Of course, there's a reason these places became famous in the first place. Use these strategies to beat the crowds and make your visit to the best American tourist attractions a great one.
Tips for Visiting U.S. Tourist Attractions
There's a lot you can do to make a visit to a popular tourist attraction go more smoothly. One is to make sure you get your admission ticket ahead of time. Many U.S. tourist attractions permit you to buy in advance online, allowing families to avoid the lines at the entrance. And ticket-bundling packages like CityPASS will bundle admission to multiple attractions together into a single discounted price.
Also, consider visiting the most popular U.S. tourist attractions first thing in the morning or towards the end of the day. The best chance of avoiding the pack is to get there before they do (or after they've left). Get the kids up early, and promise them a special treat for doing so—perhaps a favorite snack or a souvenir of their choosing after visiting the site. The throngs thin out toward the end of the day as well. Take the kids for an afternoon nap and head to your chosen US tourist attraction towards the end of the day.
Finally, don't forget that many US tourist attractions are open year-round. Families typically visit during summer vacations or holidays, but midweek and off-season will have many fewer people.
Here are the popular U.S. tourist attractions that are totally worth a visit and actually live up to the hype.
Statue of Liberty and Ellis Island – New York City, New York
Perhaps the most recognizable symbol of New York City is Lady Liberty. This gift from the people of France was dedicated in 1886, and the Statue of Liberty is now both a national monument and UNESCO World Heritage Site. In 2019, a new Statue of Liberty Museum opened to illuminate the history, impact, and legacy of the site. The Statue of Liberty sits on Liberty Island, and is accessible only by ferry.
BUDGET-FRIENDLY TRIPS: 10 Cheap Family Vacations That Are Super Fun
Ferry tickets can be purchased up to six months in advance at the Statue Cruises website or at the box office in Battery Park in Manhattan or Liberty State Park in New Jersey. Remember, the Statue Cruises ferry is the only service authorized to dock at Liberty Island. The Statue of Liberty Museum allows visitors to explore heirlooms and aspects of the site even when the Statue's interior (pedestal and crown) are closed.
Ellis Island welcomed 12 million immigrants to America between the late 1800s and 1950s. This National Museum of Immigration allows families to get a sense of the immigrant's journey via its collection of artifacts. Similar to the Statue of Liberty, Ellis Island can only be reached by ferry. Again, Statue Cruises is the only ferry service authorized by the National Park Service to dock at Ellis Island. Guests do not need a ticket to enter the Ellis Island Museum of Transportation, but there is a charge for the Statue Cruises ferry to the island.
In addition to the Statue of Liberty and Ellis Island, New York City is loaded with iconic attractions from towering skyscrapers to world-famous museums and great food. Other famous New York tourist attractions perfect for a Big Apple family vacation include Times Square, Broadway, the Brooklyn Bridge, the Empire State Building, and Central Park.
Where to Stay in New York City
Midtown's Kimpton Muse is less than a block from Times Square and Broadway and within walking distance to the Empire State Building, Central Park, and Grand Central Station to get you to other attractions. All Kimpton hotels are family friendly, come with two-bed guest rooms and free use of bikes, are welcoming to pets, and host free evening receptions.
Niagara Falls, New York
America's most famous waterfall isn't just one of the most popular U.S. tourist attractions. It's also the site of the first state park in the country, designed by Frederick Law Olmsted (architect of New York City's Central Park). Niagara Falls State Park's manicured 400 acres allows visitors to experience the natural essence of the falls as well as some classic Americana attractions.
GRANDPARENT TIME: A Grandparent's Guide to Safe Travel with Kids
Families will find a free observation tower with spectacular views of American and Bridal View Falls with Horseshoe Falls in the distance. The tower houses the elevator to the Maid of the Mist boat tour, in operation since 1846 and now operating with electric ferries. Brace yourself aboard the ship's deck, and enjoy a ride directly into the white water spray itself. If you need to get even closer to Niagara Falls' power, take a hike to the Cave of the Winds. Wooden walkways and staircases affixed to the gorge walls lead to a "Hurricane Deck" buffeted by tropical storm force winds and water.
Be sure to take advantage of the free Discover Niagara Shuttle to navigate the entire region along the Niagara River and also the historic Erie Canal.
Where to Stay in Niagara Falls
Sheraton Niagara Falls is within walking distance to Niagara Falls State Park, and next door to the Conference & Events Center located on Old Falls Street, USA. This three-block entertainment district connects the conference center with the state park, and is often used for pedestrian-only outdoor festivals.
Walt Disney World – Orlando, Florida
At 40 square miles, Walt Disney World resort is nearly twice the size of Manhattan and packs in four world-class theme parks, two themed water parks, a shopping and entertainment complex, and more than 25 resort hotels ranging from basic budget style to ultra-deluxe. The Magic Kingdom is the classic castle-park, and celebrates its 50th anniversary in 2021.
BUCKET LIST TRIPS: 27 Family Vacation Ideas for the Best Trip Ever
If you can only go to one Walt Disney World park, the fan-favorite Magic Kingdom is it, and features classic rides including Pirates of the Caribbean, Space Mountain, Dumbo the Flying Elephant, it's a small world, and more.
But why limit yourself to one of the Orlando theme parks or Disney water parks? The incredible Star Wars: Galaxy's Edge at Disney's Hollywood Studios allows Star Wars fans to fly the Millennium Falcon and take on First Order Stormtroopers. Disney's Animal Kingdom mixes live animals, rides, and attractions with fantastical lands like Pandora – the World of Avatar. Epcot gives families a glimpse of 11 different countries around the globe as well as futuristic attractions.
Where to Stay at Walt Disney World
Our family's favorite place to stay is Disney's Wilderness Lodge right on Walt Disney World property. It gives us the outdoor vibe of the best national park lodges, and even has a "geyser" that erupts hourly. Disney's Wilderness Lodge has easy access to the Magic Kingdom by boat.
Hollywood Sign – Los Angeles, California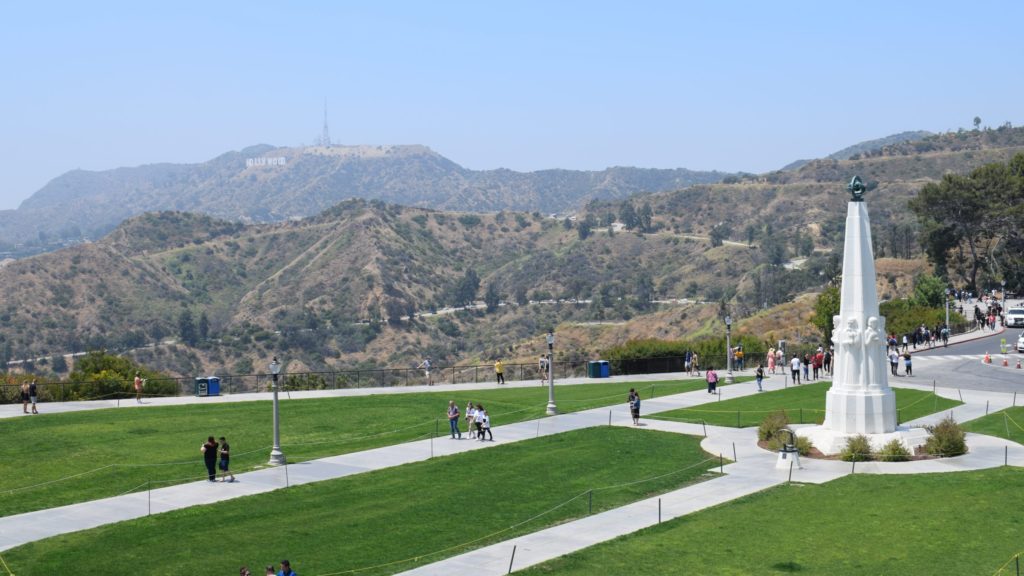 When most people think of Los Angeles, Hollywood comes to mind (might have something to do with the LA neighborhood plastering its name on a peak in the Santa Monica Mountains). Hollywood Boulevard is the center of LA's film history and hosts a number of attractions including the TCL Chinese Theatre with celebrity footprints and handprints in the courtyard, the El Capitan Theatre (Disney's historic 1926 theater with pipe organ and soda fountain), Dolby Theatre (home of the Oscars), a variety of stars on the Hollywood Walk of Fame, shops, dining, and plenty of other stops.
HIT THE ROAD: 11 Road Trip Ideas the Whole Family Will Love
In addition to Hollywood, Los Angeles is a destination with a little bit of everything—parks, beaches, museums, and theme parks. Pop culture fanatics (especially teens) will enjoy seeing the places where their favorite movies and shows are made. Other not-to-miss U.S. tourist attractions for a La La Land family vacation include: Beverly Hills, Griffith Park, The Getty Center, Santa Monica Beach, Universal Studios Hollywood, and Disneyland (technically not in LA, but too close not to include).
Where to Stay in Los Angeles
Loews Santa Monica Beach Hotel is a AAA Four Diamond resort located right on the beach and steps away from the iconic Santa Monica Pier. When your kids are tired of sand and saltwater, they can soak in the hotel pool overlooking the beach. Standard rooms include two queen beds, and oceanfront fire pit rooms include a private patio to lounge by the fire. Pets are welcome.
Golden Gate Bridge – San Francisco, California
One of the most immediately recognizable U.S. tourist attractions, the 1930s Art Deco Golden Gate Bridge spans the mile straight between the San Francisco Bay and Pacific Ocean. The bridge offers an amazing walk, and both ends are located within the Golden Gate National Recreation Area filled with trails and overlooks.
On the San Francisco (south) side of the bridge is The Presidio, a national park filled with trails, beaches, and open space in the heart of the Bay Area. The Presidio has 24 miles of hiking trails and 25 miles of biking trails, as well as three miles of scenic coastline, eight overlooks, multiple picnic areas, and stunning views of the Golden Gate Bridge, city skyline, and Bay.
WINE COUNTRY FUN: The Perfect Healdsburg Weekend (with or without Kids)
The setting was the site of a Spanish military fort dating back to 1776 and became a U.S. Army post between 1846 and 1994 when the Presidio evolved into a national park. Today the grounds are home to lodging, dining, golf, multiple museums including the Golden Gate Bridge Welcome Center, Walt Disney Family Museum, Presidio Officers' Club museum, Fort Point National Historic Site, and more. Opening soon is Presidio Tunnel Tops a new 14-acre area with an Outpost playscape created by landscape architect James Corner Field Operations, makers of New York City's High Line.
Where to Stay Near the Golden Gate Bridge
Families can stay in the national park at the Inn at the Presidio. Two-room family suites are available with a gas fireplace and over 500 square feet of space. The historic building dates back to 1903 and served as the officers' quarters for the Army Base. Breakfast is served in the refurbished "mess hall." Other hotel features include an outdoor fire pit, the perfect spot to gather in the evening.
Las Vegas Strip – Las Vegas, Nevada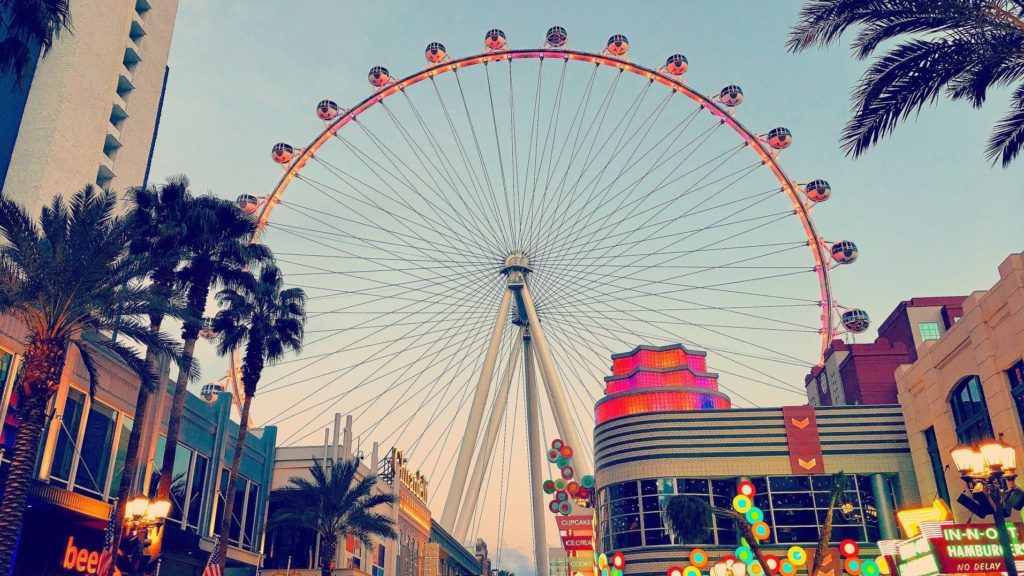 The Las Vegas Strip is one of those U.S. tourist attractions that draws visitors from around the world, but it's rightfully known as an adult destination. While the Las Vegas Strip is primarily for grown-ups, there are attractions for those under 21 including roller coasters, amusement parks, water parks, and even the Las Vegas Monorail, which is both a fun ride for kids and a handy way to get up and down the Strip. In addition, there are many family-friendly shows on the Las Vegas Strip that offer earlier performances (around 7:00pm) including the Cirque Du Soleil productions, Blue Man Group, and a number of magicians.
SUMMER FUN: The Best Summer Vacation Ideas for Families
Only a 20-minute drive from the Las Vegas Strip is Red Rock Canyon National Conservation Area. This park has a 13-mile scenic drive that combines spectacular landscapes and natural history including centuries-old petroglyphs. Speaking of natural wonders, Las Vegas makes for a great starting point for trips to some of America's great national parks including Death Valley, the Grand Canyon, and Zion. Just keep in mind that Las Vegas is not called "Sin City" for nothing, and everywhere you turn on the Las Vegas Strip there's temptation and adult imagery.
Where to Stay in Las Vegas
If you're going to stay on the Vegas Strip, Bellagio Las Vegas is hard to beat. Families will be entertained by the fountain show that takes place every 30 minutes. The massive resort has nearly 4,000 rooms – standard accommodations are over 500 square feet with two queen beds. Fountain view rooms are available as well as suites for larger families.
Old Faithful Geyser – Yellowstone National Park, Wyoming
The U.S. National Park system was described by noted film director Ken Burns as "America's Best Idea," and Yellowstone National Park was the first such park established not only in this country, but also the world. Made up of hydrothermal features, geologic wonders, and plenty of wildlife, Yellowstone makes for a fantastic family vacation. Old Faithful is Yellowstone's most famous geyser, named for its frequent, regular, and predictable eruptions.
EPIC NATIONAL PARK STAYS: 12 Best National Park Lodges in the USA
Many people visit Yellowstone, watch Old Faithful erupt, and call it a vacation. However, those visitors miss out on so much of the Yellowstone experience. The park contains many different ecosystems including Mammoth Hot Springs, Canyon Village, Yellowstone Lake, and the numerous other geyser basins. Take a day to get away from the crowds, wander the boardwalks of the geyser basin to less regularly erupting features, sit and wait for the show. While you wait, there's a good chance you'll see tons of wildlife such as playful marmots, elk, bison, or perhaps even bears and wolves.
Where to Stay at Yellowstone
Old Faithful Inn defined the "Parkitecture" style with its massive stone fireplace and mission-style furnishings. The log structure is located just steps from the boardwalk surrounding Old Faithful geyser, making it easy to catch the display at many different times of day.
Grand Canyon National Park – Arizona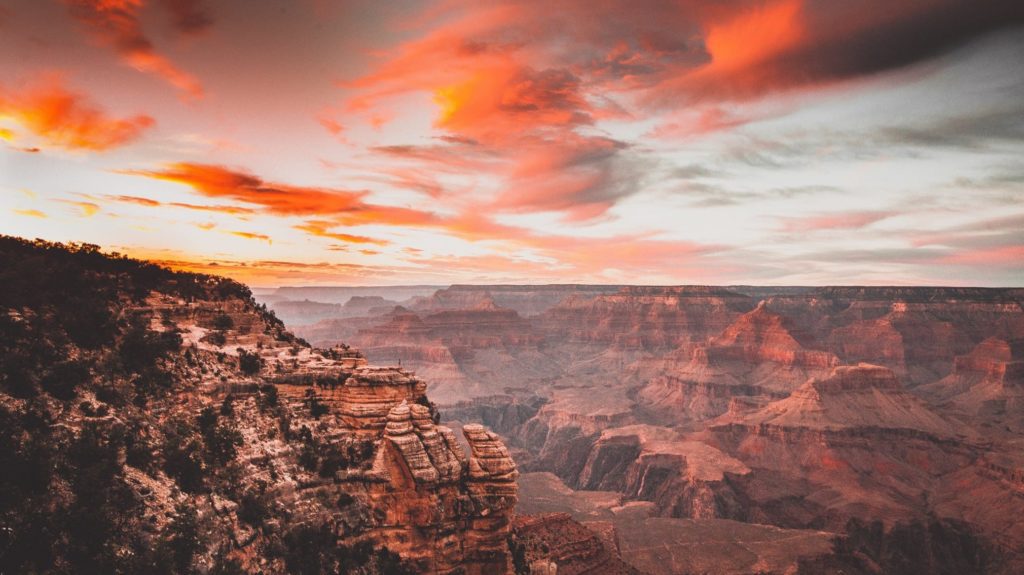 A UNESCO World Heritage Site, the Grand Canyon is a vast spectacle of ongoing geological change continually carved by the Colorado River. Grand Canyon National Park is also a wonderful place for family adventures filled with activities such as camping, hiking, mule rides, river rafting, ranger programs, and just taking in the natural wonder itself.
MAKE THE MOST OF IT: How to Make a National Park Trip Better and Easier This Year
Not everyone knows that the Grand Canyon is actually two distinct U.S. tourist attractions in one. The South Rim of the Grand Canyon gets the biggest crowds and heaviest traffic, and contains the most famous scenic views. The more remote North Rim of the Grand Canyon, by contrast, is only open seasonally and gets far fewer visitors. The North Rims views may not be quite as "grand," but they are awe-inspiring nonetheless. Mule rides are offered from the North Rim into the canyon as well, and the dining room in the Grand Canyon Lodge offers dinner and a view that can't be beat.
Where to Stay at the Grand Canyon
Treat the family to the historic El Tovar Hotel that sits on the South Rim of the canyon itself. The views are magnificent! The El Tovar was the epitome of style and elegance when it opened in 1905 hosting many dignitaries in its day. Family-friendly suites are available.
Zion National Park – Utah
Zion National Park is a natural wonder with mountains, canyons, rivers, arches, and other geologic formations located in the southwest corner of Utah. This is one of the most popular national parks in the system, and can get crowded during the summer tourist season as people line up to catch the park shuttle for the scenic drive into the canyon.
WATCH IT ON THE BIG SCREEN: 10 Best Outdoor Movie Screens for Your Staycation
Popular hiking trails include the Riverside Walk and The Narrows. These trails allow you to wade into the river and cool off while you take a break from the desert valley sun. While the majority of crowds pack into Zion Canyon, there are less crowded and just as scenic regions of the park. Kolob Canyons is in the northwest sector of the park, and offers hiking trails and a scenic drive past the red rock formations. The Zion-Mt. Carmel Highway to the East Entrance of the park is another scenic drive peppered with turnouts where you can admire the view. And the Zion Tunnel, with its window views, is an engineering wonder unto itself.
Where to Stay at Zion
At the east entrance to Zion National Park is Zion Ponderosa Ranch Resort. This expansive resort features plenty of activities including swimming, horseback riding, ATV rentals, and tours. In addition, there's a wide range of family-friendly accommodations such as two-room cowboy log cabin suites, covered wagon glamping sites, and camping.
National Mall – Washington, D.C.
Cherry blossoms, museums, and monuments make Washington, D.C., an ideal destination for a family vacation. The National Mall is "America's front yard" and stretches from the Lincoln Memorial to the U.S. Capitol. All around its perimeter are the museums of the Smithsonian Institution and national memorials. Not too far off the National Mall is the White House, and DC's famous cherry trees ring the Tidal Basin to the Jefferson Memorial.
BLISSFUL BREAKS: 10 Best Vacation Spots for Couples
One of the best things about a Washington, D.C., family vacation is that most of the memorials and museums are all free. Many of the most popular Smithsonian Institution museums—including the National Air and Space Museum, National Museum of African American History and Culture, American Art Museum, National Museum of American History, and National Zoo—require timed-entry passes, but there is no admission charge. Make sure to schedule your admission online ahead of time.
Where to Stay in Washington, D.C.
Dupont Circle's pet-friendly Hotel Madera features large, family-friendly suites with two queen beds and a sofa bed. Parents will enjoy the discounted happy hours at the Firefly restaurant, and kids and adults alike will enjoy the hotel's complimentary milk and cookies.
Colonial Williamsburg – Williamsburg, Virginia
Colonial Williamsburg is the world's largest living history museum and has exhibits, shows, and activities that replicate life in 18th-century Virginia. Families can take a carriage ride throughout the Historic Area, tour the Governor's Palace and other historic sites, or fire a reproduction 18th-century flintlock musket. Be sure to take the family to dine at one of the historic taverns and take in a performance as well.
KID-FRIENDLY TRIPS: 20 Best Family Vacation Spots in the U.S.
In addition to Colonial Williamsburg, the greater area also includes Yorktown, where George Washington secured victory in the American Revolutionary War; and historic Jamestown, site of the first English settlement in America in the 1600s. There's plenty to do beyond these history-focused U.S. tourist attractions, too, including Busch Gardens Williamsburg theme park, Water Country USA, golf, and shopping.
Where to Stay in Williamsburg
Kingsmill Resort is a AAA Four Diamond property with multiple restaurants, as well as one-, two-, and three-bedroom condos with full kitchens perfect for all kinds of families and multigenerational family vacations. Kingsmill Resort is a great home base to take in Colonial Williamsburg, Yorktown, Jamestown, and Busch Gardens Williamsburg. When not exploring the attractions, families can drift away at the Lazy River Pool, tee it up on three championship golf courses, or enjoy hiking, biking, and water sports at the marina.
More from FamilyVacationist: