It's hard to describe the feeling that washes over you when you pass through the entrance to Star Wars: Galaxy's Edge at Walt Disney World's Hollywood Studios theme park in Orlando for the first time. This immersive Star Wars land (and its twin park in Anaheim) is the only place in the world where Star Wars fans young and old can fly the Millennium Falcon, mingle with Star Wars characters, and build their own custom astromech droids and lightsabers.
The Star Wars land is set on the outer-rim planet of Batuu in a village known as Black Spire Outpost. Isolated on the galaxy's edge (hence the name), Black Spire Outpost's location has made it something of a haven for smugglers and scoundrels—and maybe even a few members of the Resistance.
SPACE VOYAGES: Star Wars Hotel: The Ultimate Guide to Disney's Star Wars: Galactic Starcruiser
Star Wars Theme Park Guide
There are so many things to see and do during your time at Star Wars: Galaxy's Edge, and a few of those things require advance planning and reservations, so here's everything you should know before your visit to that galaxy far, far away.
Jump to a Section:
Tips for Visiting Star Wars: Galaxy's Edge in Orlando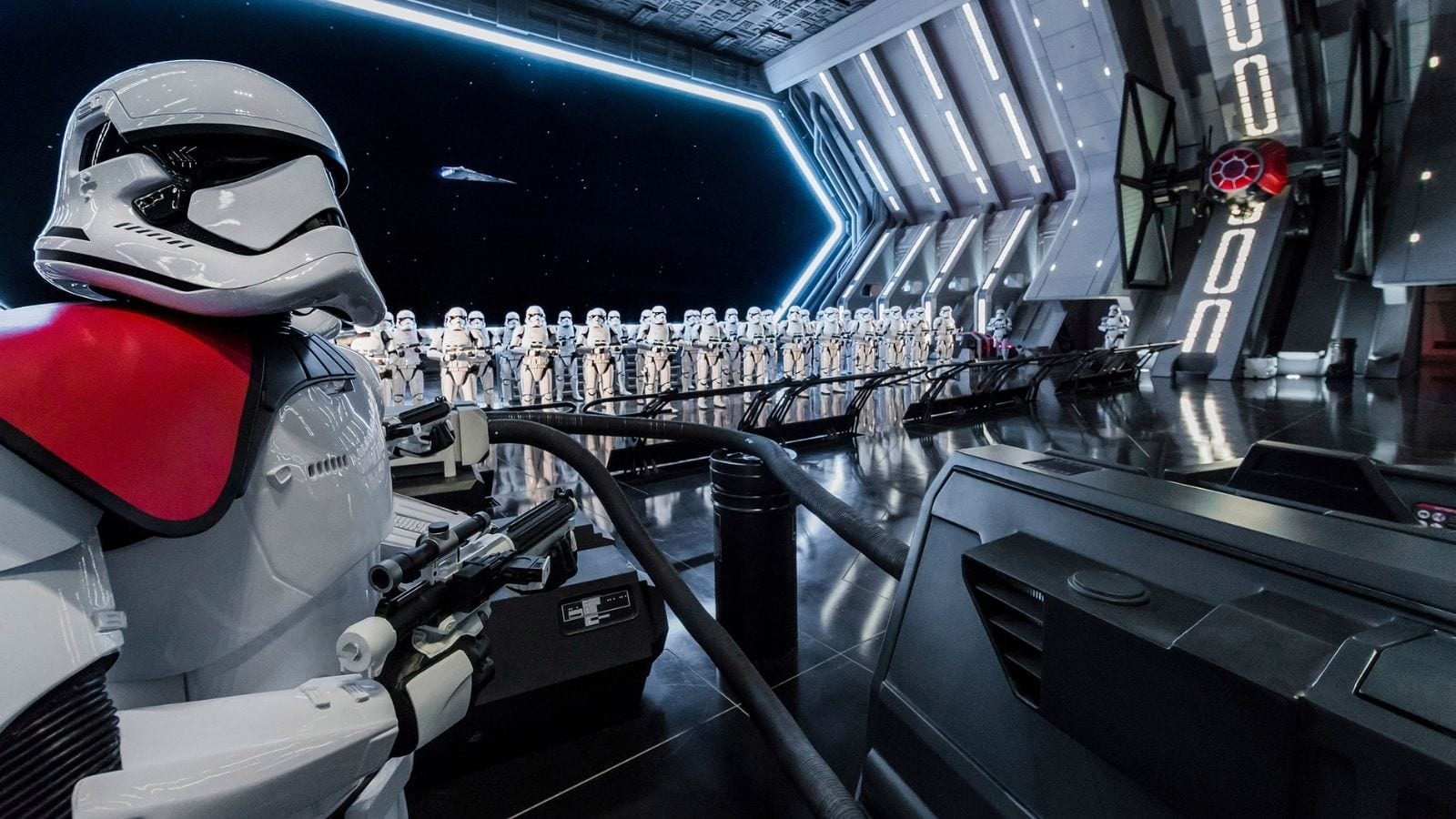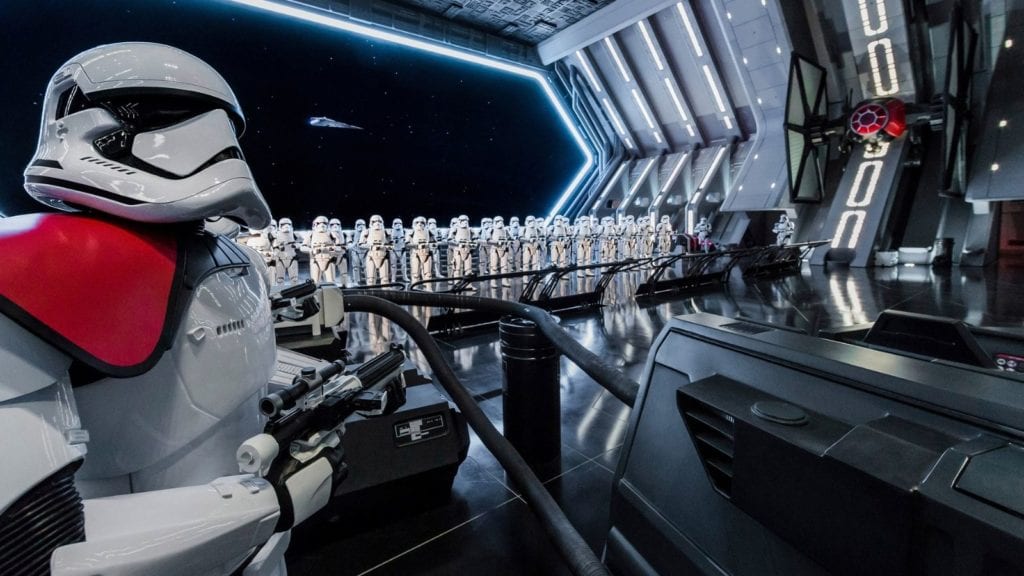 Star Wars: Galaxy's Edge is the newest and most immersive land at Disney's Hollywood Studios. To visit this Star Wars land, you'll need both a valid admission ticket and Park Pass reservations for Disney's Hollywood Studios on the same date (for guests ages three and older). The only exception is if you park-hop to Hollywood Studios, as you currently only need a Park Pass reservation for the first park you visit on a given day.
KNOW BEFORE YOU GO: How Disney Genie and Genie+ Are Changing the Way We Visit Disney World and Disneyland
There are two entrances to the Star Wars land, one at the back of Toy Story Land and the other past Muppet Vision 3D on Grand Avenue. The Toy Story Land entrance is closest to the Star Wars: Rise of the Resistance ride, while the Grand Avenue entrance puts you closer to the Galaxy's Edge shops and restaurants. The Millennium Falcon: Smugglers Run ride is in the back of the Star Wars land, and no matter which entrance you choose, the reveal of turning a corner and seeing the Millennium Falcon will take your breath away (and possibly make you shed a tear if you're the nostalgic type).
Shopping at Star Wars: Galaxy's Edge in Orlando
You won't find any Luke Skywalker action figures or shirts emblazoned with "Star Wars" on Batuu. The shops at Star Wars: Galaxy's Edge are just as authentic as the Star Wars land itself, offering interplanetary garb, fighter pilot helmets, and fuzzy animal pets (okay, those are just stuffed animals).
Here's where to find the droids (or anything else) you're looking for.
Savi's Workshop
This is a "secret" workshop where you can build your own custom lightsaber. Walk-ins may be accepted based on availability, but reservations are highly recommended and can be made up to 60 days in advance. Choose from a variety of parts to make it your own and bring it to life with your chosen kyber crystal. Lightsabers come with a carrying case. For each reservation, one guest can join you inside the workshop.
Droid Depot
Here, you can build a custom BB-series unit or R-series astromech droid. Like Savi's Workshop, there are various parts to choose from, reservations are recommended, and one builder plus a guest may enter the shop for each reservation. Each droid comes with a storage box. Backpacks and other accessories are available for an additional fee.
WATER WORLDS: 7 Best Orlando Water Parks for Every Age Group
Dok-Ondar's Den of Antiquities
Even if you don't plan to buy anything, Dok-Ondar's shop is worth a visit. The walls are covered with galactic memorabilia, and you'll find things like lightsabers, holocrons, kyber crystals, and character costumes and accessories here.
First Order Cargo
Unfortunately for the Resistance, the First Order has also come to Batuu and they brought plenty of gear with them. This small shop has all your First Order clothing, accessories, and souvenirs if you tend to lean toward the dark side of the Force.
Resistance Supply
If you'd rather fight the First Order than join them, head to Resistance Supply. You can get costumes, accessories, and other souvenirs emblazoned with the symbol of the Resistance.
Street Market Stalls
Near Ronto Roasters and Docking Bay 7 lies an open-air street market where you can browse the wares of assorted shops. Black Spire Outfitters sells robes and other clothing, Toydarian Toymaker is Batuu's version of Toys 'R' Us, Jewels of Bith sells Black Spire Outpost branded souvenirs, and at Bina's Creature Stall you can bring home your very own Porg, Kowakian Monkey-Lizard, and other alien creatures. Kat Saka's Kettle serves colorful, uniquely-flavored popcorn.
PARK SECRETS: 5 Things You Didn't Know You Could Do Inside Star Wars: Galaxy's Edge
Food and Restaurants at Star Wars: Galaxy's Edge in Orlando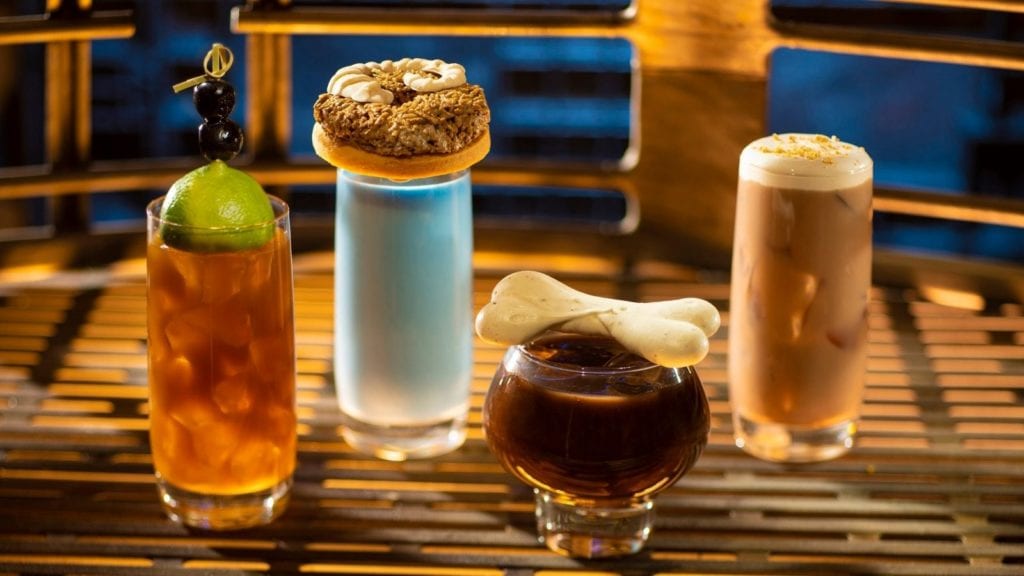 The food in Star Wars: Galaxy's Edge is unlike any other theme park food on the planet (or the galaxy). Here's a look at the quick-service dining, drink, and snack kiosks, as well as the sit-down restaurant options in Disney's Star Wars land.
Oga's Cantina
Oga's is the only dining location that requires advance reservations, and you can make those up to 60 days ahead of your visit. The vibe inside is energetic and vibrant, with DJ droid R-3X (or DJ-Rex) spinning tunes for the crowd. Alcoholic and non-alcoholic drinks are available, as well as a selection of snacks. There is a maximum of two alcoholic drinks per guest and, due to high demand, a time limit of 45 minutes per party.
PLAN YOUR TRIP: When Is the Best Time to Visit Disney World and Disneyland?
Ronto Roasters
Situated next to the street market, Ronto Roasters serves a variety of pita wraps, cocktails, and snacks. Reservations are not required and mobile order is available.
Docking Bay 7 Food and Cargo
Where Ronto Roasters has mostly handheld foods, Docking Bay 7 serves up plated meals like pot roast and chicken salad that require a knife and fork. it also has some kid-friendly meals. Reservations are not required and mobile order is available.
Milk Stand
This outdoor stand near Oga's Cantina is the spot to find the blue and green milk you've seen all over Instagram. These Batuuan beverages are more like fruit smoothies than milk, and grown-ups can order the blue milk with rum or green milk with tequila.
Beer Stand
Across from the Milk Stand is a small kiosk serving beer on tap, including Gold Squadron Lager, which can otherwise only be found inside Oga's Cantina and Docking Bay 7.
THEME PARK MAGIC: The Ultimate Guide to The Wizarding World of Harry Potter at Universal Orlando
Rides at Star Wars: Galaxy's Edge
Though there are only two rides in Star Wars: Galaxy's Edge, they are by far two of the most immersive and technologically advanced attractions in all of the Orlando theme parks. Here's what you need to know about each ride before you blast off.
Millennium Falcon: Smugglers Run
Take up your rightful place in the Millennium Falcon's cockpit in one of three roles (pilot, gunner, or engineer) in this Star Wars ride. Each role has different responsibilities during the experience, but if you want to be the one to "punch it" to hyperspace, try to get the right side pilot's seat. The minimum height requirement for Millennium Falcon: Smugglers Run is 38 inches and rider swap is available.
Star Wars: Rise of the Resistance
I don't want to give away too much about this Star Wars ride, so I'll just tell you it's a trackless dark ride with many, many surprises. Instead, let's focus on how to actually get on this uber-popular Star Wars land attraction. To ride Star Wars: Rise of the Resistance you'll need a ticket and Park Pass reservation for Hollywood Studios in order to secure a boarding group to join the virtual queue. There is no standby line for this ride.
Currently, virtual queue access opens at 7:00 am and 1:00 pm, and the boarding groups are typically gone in less than a minute. For the 7:00 am opening, you do not need to be inside Hollywood Studios to secure your spot. You can do it from the comfort of your hotel room and then get a few more minutes of sleep. For the 1:00 pm group, you do need to be inside the park.
ORLANDO VACATIONS: 12 Best Things to Do in Orlando Besides the Theme Parks
To secure a spot, open the My Disney Experience app on your phone a few minutes prior to the distribution time and choose "Star Wars: Rise of the Resistance Virtual Queue" on the home screen. My preferred method is to begin refreshing this screen about 10 seconds before the clock flips to the distribution time and, if the Force is with you, you'll see the option to "Join Virtual Queue."
After confirming your party, you'll receive a boarding group number and estimated return time. Make sure notifications are turned on for the My Disney Experience app to receive a push notification when it's your time to return. The minimum height requirement is 40 inches and rider swap is available.
How to Have the Best Orlando Star Wars: Galaxy's Edge Experience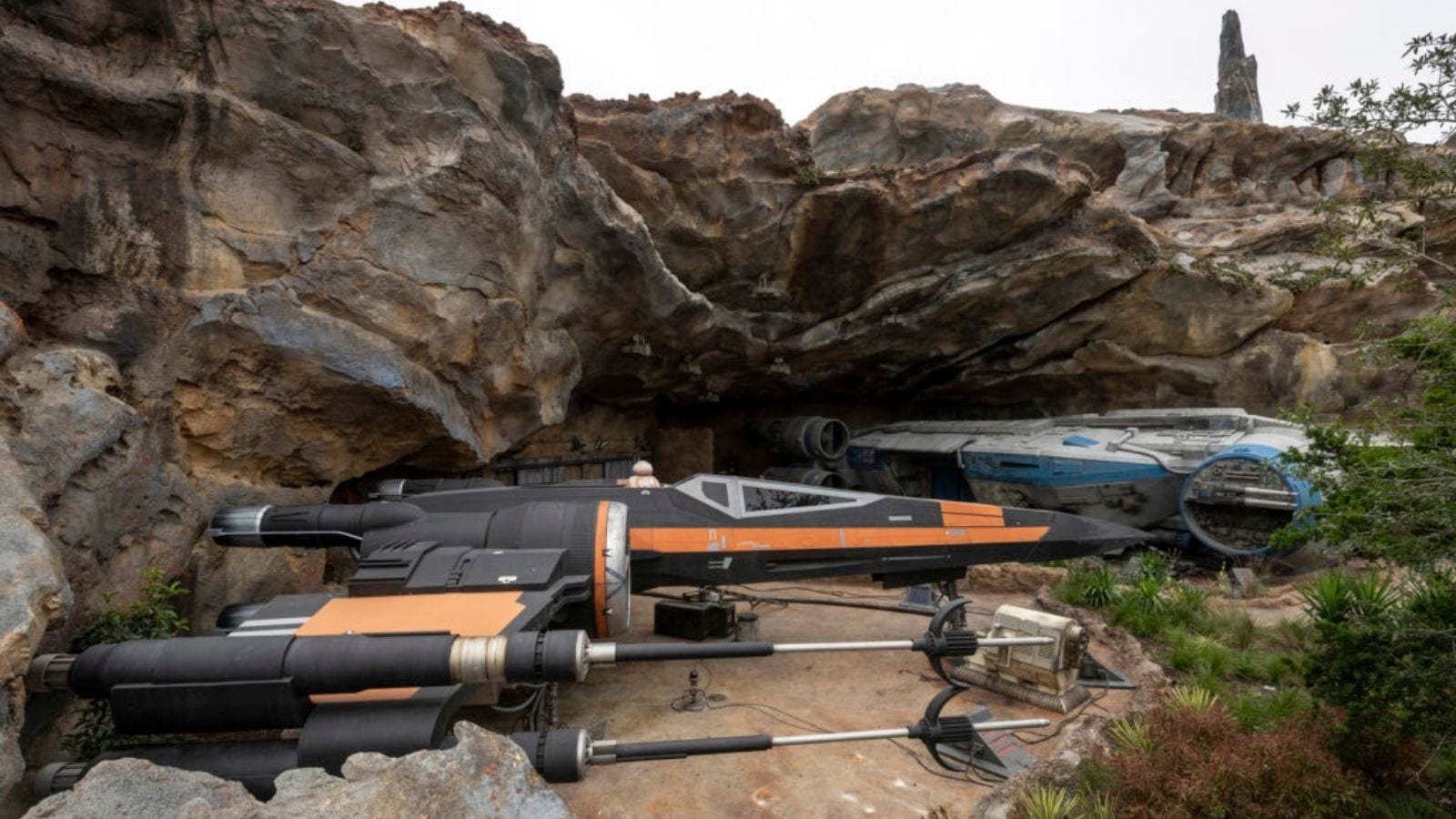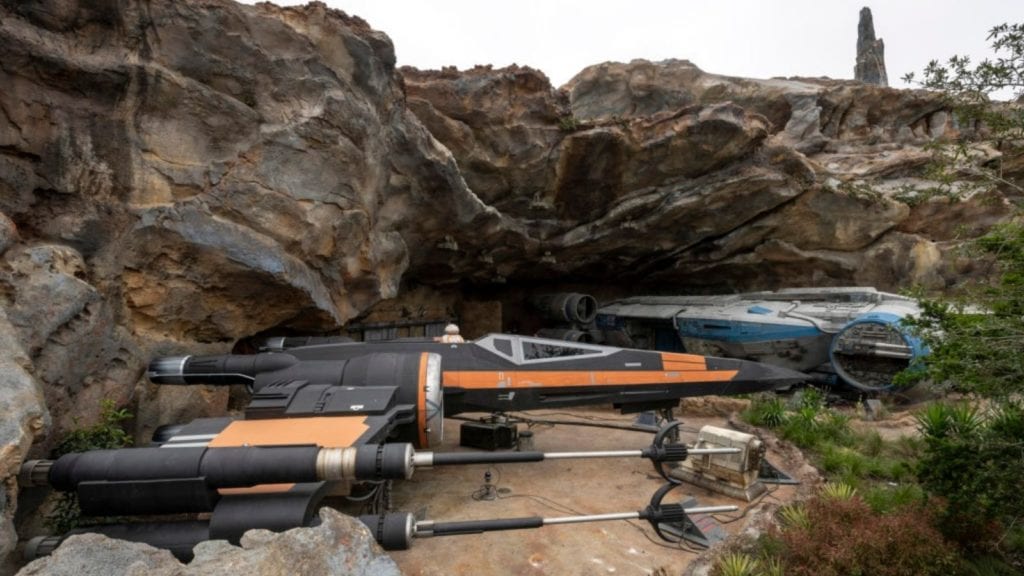 You don't need to be a Star Wars expert to have a good time at Star Wars: Galaxy's Edge, but these tips and tricks will definitely enhance your Star Wars land experience.
1) Plan Ahead if You Want to See All of Star Wars: Galaxy's Edge in One Day
If you plan to build a droid or lightsaber and visit Oga's Cantina, you will need to secure reservations up to 60 days in advance. There isn't much to munch on at Oga's, so I recommend making a late morning reservation for Savi's Workshop or Droid Depot and an early afternoon one for Oga's. Make note of those times so you can bounce around the rest of the land without missing your reservation.
Plan to arrive at Hollywood Studios about 30 minutes before the posted opening time so you can already be through the gates when the park opens. Head straight back to Millennium Falcon: Smugglers Run inside the Star Wars land and knock that out. If you are ready for brunch after your flight, grab a Ronto Morning Wrap at Ronto Roasters.
KNOW BEFORE YOU GO: 10 Best Orlando Theme Parks for Every Age and Interest
Now you have plenty of time to explore the shops, grab a drink or snack, and check out the fun PhotoPass opportunities like the Baby Yoda photo near the Toy Story entrance to the Star Wars Land, a photo with the Millennium Falcon, and the Super Zoom Magic Shot video near First Order Cargo. There are no standard character meet-and-greets, but as you wander, you'll likely encounter Storm Troopers, Kylo Ren, Chewbacca, Rey, or Resistance spy Vi Moradi.
If you have a reservation for Oga's Cantina, head there for the galaxy's most interesting cocktails and non-alcoholic beverages. If you need a little more to fill you up, stop by Docking Bay 7 after your visit. Now you are free to see anything you missed or leave Disney's Star Wars land to check out the rest of Hollywood Studios.
2) Get a Little Batuu Backstory Before Your Visit
There are a few fun books you can read if you want to catch up on the Star Wars land, characters, and backstory of Batuu before you visit Star Wars: Galaxy's Edge. Star Wars: Galaxy's Edge: Traveler's Guide to Batuu and The Art of Star Wars: Galaxy's Edge delve into the details of the land itself, while Galaxy's Edge: Black Spire and Star Wars: Galaxy's Edge are fictional adventure stories that take place on Batuu.
3) Look for Star Wars Easter Eggs and Nods to the Films
There are entirely too many to list (and giving them all away diminishes the fun of searching for them), but here are a few favorites:
The droid tracks embedded in the pavement were made using R2-D2's tread. Disney Imagineers took rubbings of the tread, turned them into wheels, and rolled them through wet cement.
There is a tiny Millennium Falcon hidden underneath the real Millennium Falcon. Look for it underneath the cockpit (or maybe ask a Cast Member for assistance).
The numbers 77, 80, and 83 are painted on the cargo ship above Docking Bay 7. These are a nod to the years the films in the original trilogy were released.
What's the Difference Between Star Wars: Galaxy's Edge in Orlando and Anaheim?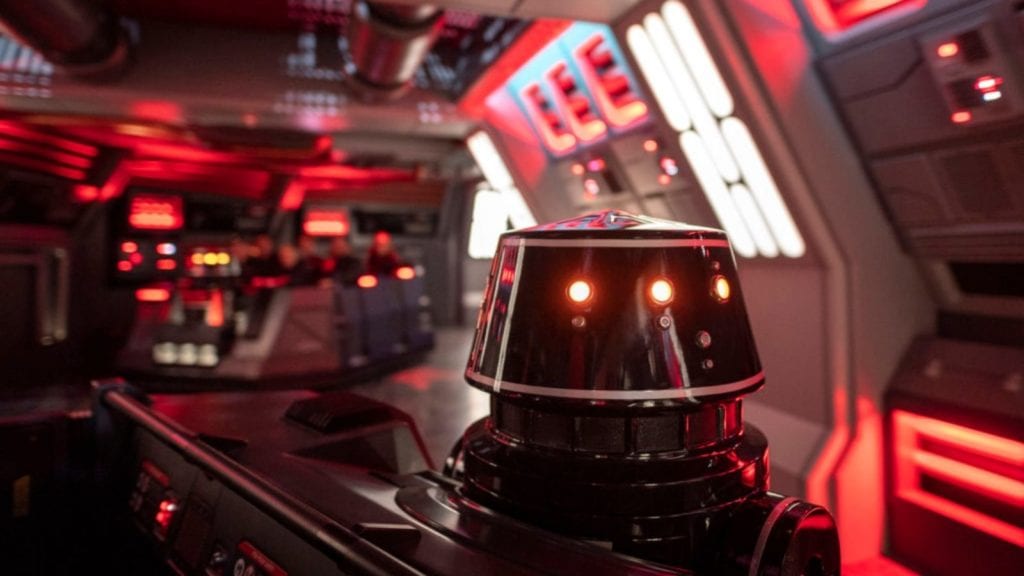 For all intents and purposes, the Disney World and Disneyland Star Wars lands are nearly identical. The rides, restaurants, shops, and even the layouts are virtually the same. Chances are, if you visited Star Wars: Galaxy's Edge at Disneyland in Anaheim, California, you wouldn't even notice the differences, but here are a few:
In Disneyland, there are three entrances to Galaxy's Edge, while Disney World only has two.
Oga's Cantina is the only place in Galaxy's Edge where you can purchase alcohol, which means only non-alcoholic blue and green milk are available at the Milk Stand.
There are slight menu differences at Docking Bay 7 and Ronto Roasters, too.
Guests staying at Disney's Star Wars hotel in Orlando can visit the Star Wars land on a shore excursion-style day trip from the Galactic Starcruiser as part of a fully immersive live-action storyline.
What Else is Happening at Star Wars: Galaxy's Edge?
Disney's Star Wars-themed hotel, the Star Wars: Galactic Starcruiser, opened in March 2022 and is an unlike any other hotel at Disney.
You'll check in for a two-night "adventure" aboard the Halcyon, a high-end starcruiser that will immerse you into the world of Star Wars. Every corner of the hotel is themed, including your sleeping cabin, which features a "window" with views into deep space. You will also be able to board a transport for a planet excursion on Batuu (a.k.a. Galaxy's Edge), as the hotel is conveniently located just behind Hollywood Studios theme park.
Two immersive new Star Wars experiences also made their debut in 2022 onboard Disney Cruise Line's impressive Disney Wish cruise ship: Star Wars: Hyperspace Lounge is a high-end space lounge that goes adults-only in the evenings, and Star Wars: Cargo Bay is a fully themed interactive kids' play area inside the ship's Oceaneer Club with a storyline that ties directly into Bina's Creature Stall at Galaxy's Edge.
More from FamilyVacationist: