When you think about theme park food, you're probably imagining chicken fingers, fries, and pizza. And while you can get all of those things at Disney World, you might be pleasantly surprised to discover that your Disney World food choices go way beyond those old amusement park staples.
Many of the best places to eat at Disney World offer next-level dining options that are flavorful, interesting, and inspired by iconic Disney characters and cuisines from all over the world (and a few from a galaxy far, far away). 
GUIDE TO DISNEY FOOD: These Are the 25 Best Disney World Restaurants for Table Service Meals
How Does Disney Dining Work?
Table Service vs. Quick Service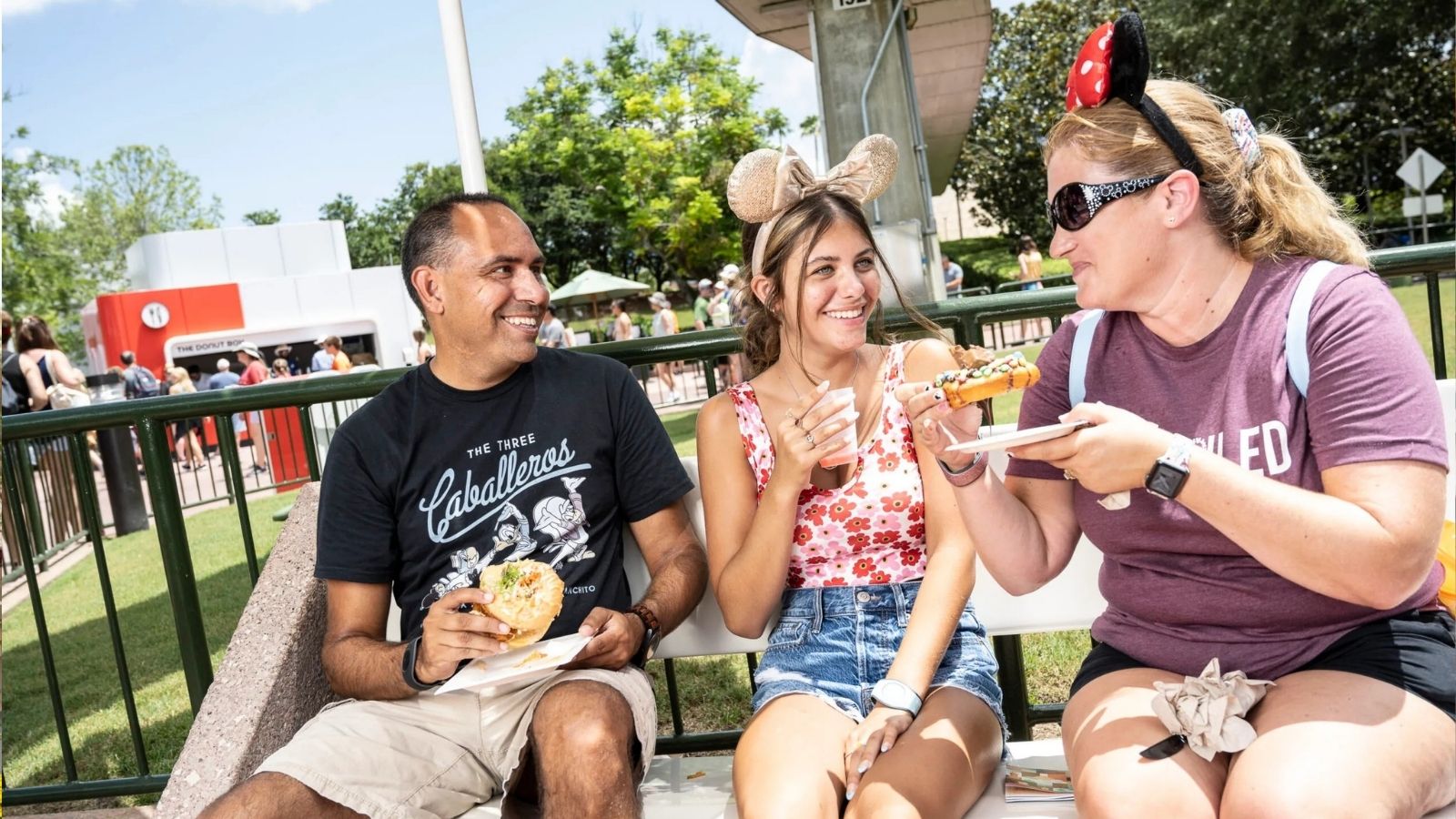 The first thing you should know about Disney World food is that Disney separates its restaurant offerings into two categories. Whether you're looking for Magic Kingdom food, EPCOT food, or something to eat at any of the other Disney theme parks (and Disney water parks), your two dining options are table service and quick service.
Table service restaurants at Disney World offer a traditional restaurant experience with both indoor and outdoor seating options (where available). If you want to eat at one of the 90 sit-down restaurants on Disney property, you will almost certainly need to make reservations in advance. You can do this up to 60 days ahead of time. If you have specific restaurants in mind, you should hop to it, since the most popular spots often get booked as soon as they become available.
KNOW BEFORE YOU GO: Everything You Need to Know About Disney Genie and Genie+
Quick service restaurants at Disney World take a more relaxed approach to dining. Most of these Disney food options only outdoor seating (or no seating at all). You can find quick-service Disney restaurants all over the parks, ranging from simple snack carts to lounges and bars. At most quick service restaurants, you can order ahead with Mobile Order through the My Disney Experience Mobile app and save yourself some time in line.
Note: Disney has temporarily suspended operation of its popular pre-paid Dining Plan. At this time there's no word on when it will resume.
The Best Disney World Food and Where to Find it in the Parks
There is no one single type of Disney food. Yes, there are some Mickey-shaped snacks (including a few that made it onto this list) and the standard theme park fare, but the most distinguishing feature of Disney World food is its sheer variety. The menus at Magic Kingdom, EPCOT, and Disney's other Orlando theme parks rotate based on seasonality, special events like the EPCOT Food and Wine Festival, and park celebrations and anniversaries.
WATER WORLDS: Tips for Visiting Disney's Blizzard Beach and Typhoon Lagoon in Orlando
Among the permanent Disney dining options offered year-round, though, there are some snacks and meals so good you may find yourself park-hopping just to grab another bite. Here are the best foods (and best places to eat) at Walt Disney World in Orlando.
1. Dole Whip – Multiple Locations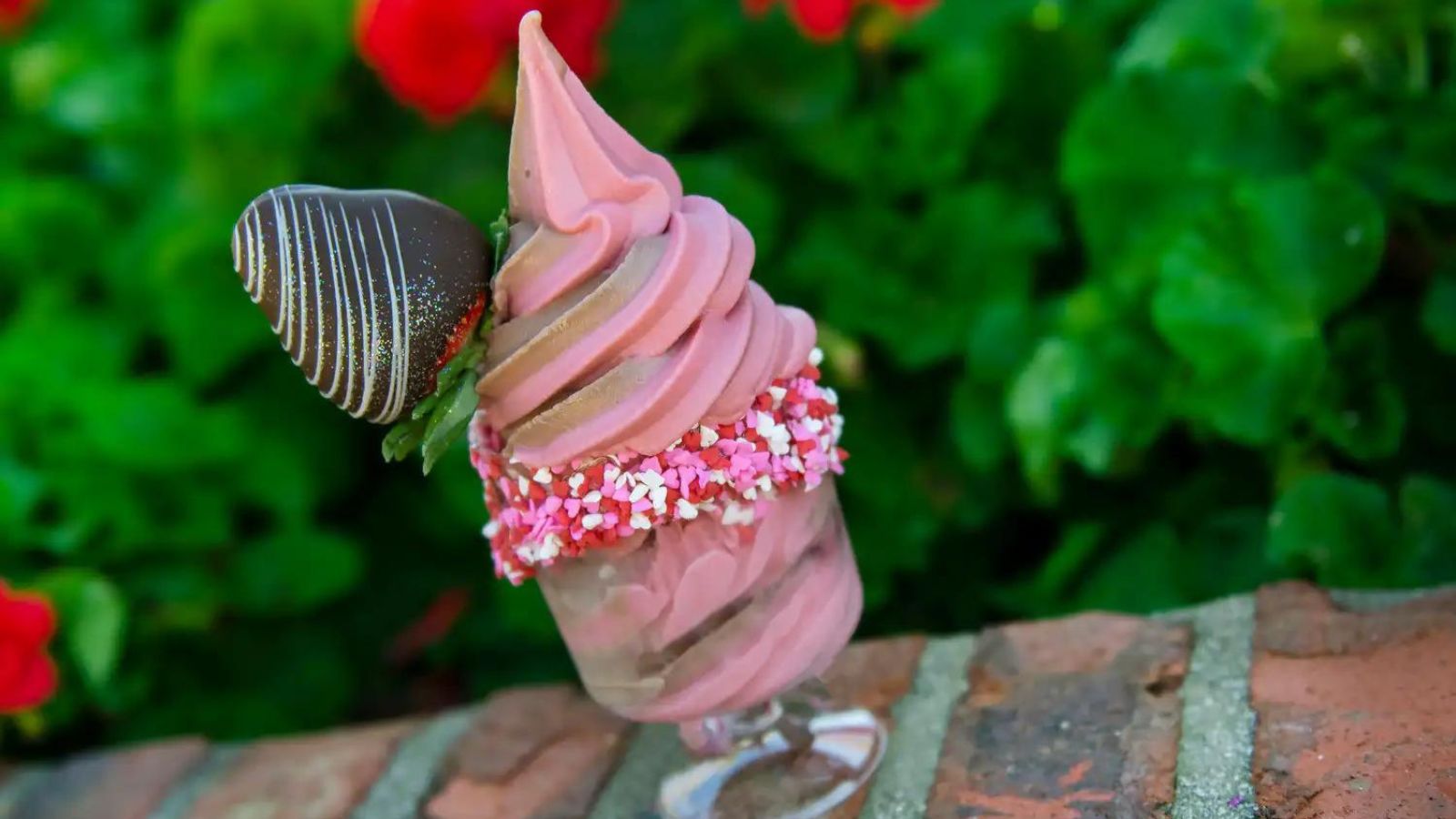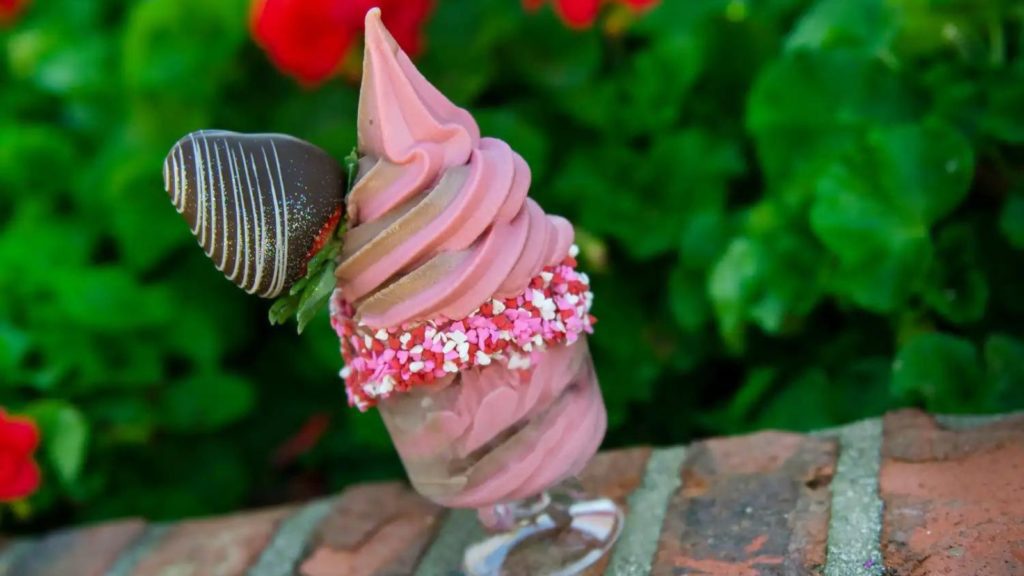 This vegan soft-serve pineapple treat is a cult favorite for a good reason: It's delicious and refreshing under that hot Florida sunshine. It's become so popular that you can find Dole Whip in several parks: Aloha Isle in Magic Kingdom's Adventureland; Tamu Tamu Refreshments in Animal Kingdom; and at several spots at Disney's Polynesian Village Resort, one of the best Disney World resort hotels in Orlando. At Disney Springs (a.k.a. Disney's shopping and dining district in Orlando), a kiosk called Swirls on the Waters serves up classic Dole Whip treats alongside unique new combos.
PACKING TIPS: What to Pack for a Disney World or Disneyland Vacation
There are few things better than coming off Jungle Cruise and slurping down a classic Dole Whip. And every year Disney releases new twists on this classic snack, from a mango-lime swirl Dole Whip to an upside-down pineapple cake.
2. French Patisserie – EPCOT Food at the French Pavilion
Imagine you're strolling down the cobblestoned streets of your favorite arrondissement in Paris, the smell of fresh bread wafting through the open window of a boulangerie. You can simulate this experience with not one but three different quick-service restautants tucked into the back of EPCOT's French pavilion: La Crêperie de Paris, Les Halles Boulangerie, and L'Artisan des Glaces.
SHOW YOUR LOVE: 10 Best Disney Suitcases and Carry-on Bags for Fans
Try the classic hazelnut-chocolate crepes at La Crêperie, macaron ice cream sandwiches at Les Artisan des Glaces (with flavors ranging from classic vanilla to fleur de sel or cinnamon caramel), or a simple croissant from Les Halles. Bon appétit!
3. Pizza – EPCOT Food at Via Napoli Ristorante e Pizzeria
You can get pizza all over the parks, but that pizza is not the same as the wood-fired Neapolitan-style pies at Via Napoli Ristorante e Pizzeria at EPCOT's Italy pavilion. If you, like me, live too far away from both Naples and New York City to get truly great Italian pizza, here is your chance to dig in, Disney food-style. The classic margherita passes the picky-eater pizza test, but branch out for the carciofi or the prosciutto e melone and practice your Italian
AVOID THE LINES: When Is the Best Time to Visit Disney World and Disneyland?
4. Colossal Cinnamon Roll – Animal Kingdom Food at Kusafiri Coffee Shop
Before heading out on your safari expedition at Kilimanjaro Safaris, stop at Kusafiri Coffee Shop, a literal hole-in-the-wall in Africa at Animal Kingdom. This is not your average cinnamon roll, not least because it's shaped like Mickey Mouse and is the size of your head!
READY, SET, GO: 10 Things You Should Know Before Your First runDisney Race
The cinnamon roll is only available for breakfast, but it's worth arriving early at Animal Kingdom anyway since that's when you're most likely to see animal activity throughout the park.
5. Mickey's Premium Bar – Multiple Locations
If you only have one ice cream treat while you're at Disney World, make it a Mickey's Premium Bar. My family has a rule that we have to wait until at least 9:00 a.m. to get our first Mickey bar of the day—the creamy vanilla ice cream and a rich chocolate coating are that good.
HAPPIEST PLACE ON EARTH: 8 Best Hotels Near Disneyland for Families on a Budget
You can find Mickey Premium Bars at snack carts all over the parks. Fair warning, though: The bars destabilize as you eat them, so definitely commit to it (and maybe grab a few extra napkins, too).
6. Blue Milk – Hollywood Studios Food at the Batuu Milk Stand
If you've ever wanted to try a delicacy from a galaxy far, far away, head to Disney's Star Wars land, Galaxy's Edge, at Hollywood Studios. You can get both blue milk and green milk (plant-based!) as well as with an alcoholic twist for the adults at the Milk Stand in Batuu.
GALAXY QUEST: The Ultimate Guide to Disney's Star Wars Hotel
Blue Milk has already become a cult favorite at the parks, though if I had to choose an adults-only beverage, I'd rather saddle up to Oga's Cantina for one of their Star Wars-inspired cocktails like the Jedi Mind Trick or the Fuzzy Tauntaun.
7. Dessert Trio – Magic Kingdom Food at Be Our Guest
"Try the grey stuff, it's delicious!"
The enchanting Be Our Guest restaurant may be one of the toughest reservations to snag at Disney World's Magic Kingdom, but the immersive theming makes it a can't-miss experience that's worth the splurge. While the menu changes constantly, you'll find classic, well-prepared meals, and a dessert trio (usually including the Grey Stuff, a chocolate mousse tart) that will have you singing with the dishes.
BUDGET TRAVEL: 9 Cheap Theme Park Hotels in Orlando Near Disney, Universal, and SeaWorld
If you're not able to get a coveted reservation, though, you can still try the cookies-and-cream-flavored Grey Stuff over at Gaston's Tavern in Fantasyland, which offers a cupcake version that's, well, delicious. (And this make-at-home recipe isn't too shabby, either.)
8. Bread service – Animal Kingdom Food at Tiffins and Nomad Lounge
Animal Kingdom's newest signature restaurant, Tiffins, is one of the most interesting and flavorful restaurants in the Disney parks right now. While everything from the veal to the surf-and-turf is thoughtfully prepared, it's the bread service that keeps me coming back. Warm flatbreads paired with red pepper hummus, coriander yogurt, and ginger-pear chutney work perfectly after a long day riding big coasters.
FUN WITH THE KIDS: 7 Florida Attractions That Are Just as Much Fun as Disney and Universal
If the price tag scares you, try to get a spot at Nomad Lounge, Tiffin's cool cousin. The lounge takes walk-ins only but the porch has a relaxed open vibe and it's a great place to watch the sun set over Animal Kingdom as the bioluminescence of Pandora come to life. (And if you need a cocktail after that long day, Nomad Lounge has some of the best Disney drinks you'll find anywhere in the parks.)
9. Jumbo Turkey Legs – Multiple Locations
Love them or hate them, turkey legs remain one of the most iconic Disney foods of all time. And let's be real: There are few things funnier than watching a child attempt to eat something larger than their own head.
EPCOT FOOD: The Swan and Dolphin Food and Wine Classic: The Ultimate Foodie Weekend at Walt Disney World
You can find Jumbo Turkey Legs all over the Disney Word parks, but they are reliably available at Liberty Square Market in Magic Kingdom and Block and Hans in EPCOT.
10. Small Plates – EPCOT Food at Spice Road Table
If you want a front-row seat to EPCOT's newest fireworks show, Harmonious, you want to grab a table at Spice Road Table in the Morocco pavilion. (The other best spot is at La Cantina de San Angel in the Mexico area, which is also worth a trip.)
FUN HOTELS: 17 Kid-Themed Hotel Rooms That Will Delight the Whole Family
Mediterranean-style small plates like hummus fries, Lamb Kefta, stuffed grape leaves, and more make this a secret Disney food gem.
11. Mickey Waffles – Multiple locations
You can't leave Disney without trying at least one Mickey-shaped snack. And while you can choose from everything from pasta shapes to Rice Krispie Treats, it's the fluffy Mickey waffles that are the real winners.
FAMILY FUN: Everything You Must Do at the EPCOT International Festival of the Arts
You can get Mickey waffles at pretty much any location that serves Disney breakfast food, but if you want to go big—and believe me, you do—grab the loaded waffle sandwich at Sleepy Hollow in Magic Kingdom's Liberty Square.
More from FamilyVacationist: